Happy Tuesday!
Today I'm sharing with you one of the most addictive (and simple) desserts that you'll ever make!
These 4 ingredient cake mix cookie bars are one of my go to desserts to make for parties or family gatherings.

If you follow me on Instagram and Facebook, I promised to share this recipe a few weeks ago and am finally sitting down to write the post.
Life is so crazy right now.
We leave for a weekend with Robbie's family in Florida on Friday (which is in less than 3 days) ….and I have way too much on my to do list!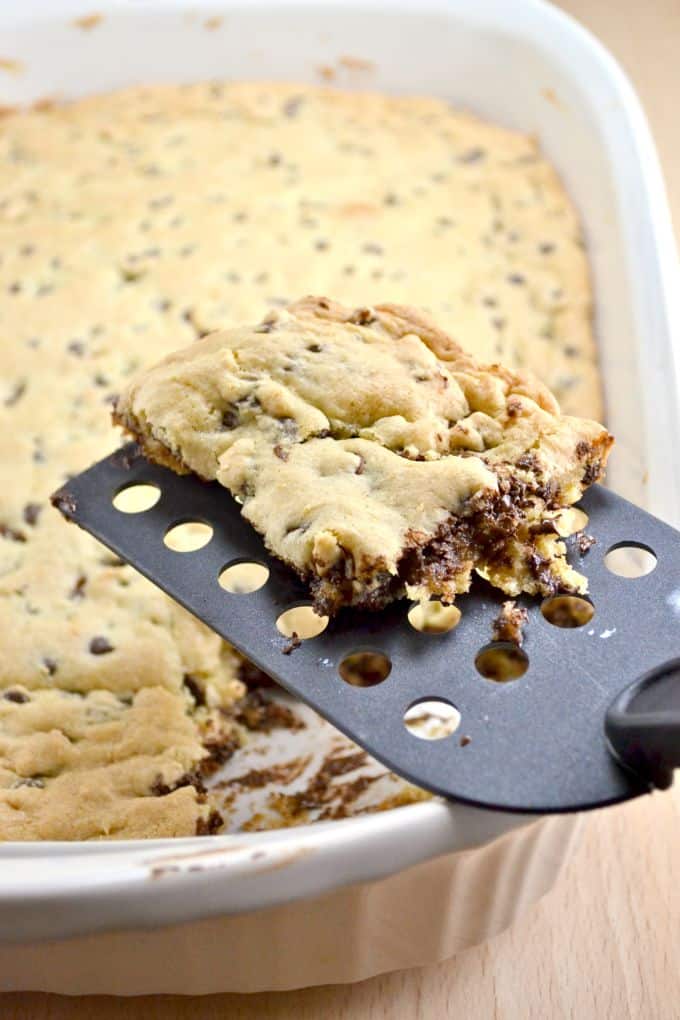 I could really use a batch of these to de-stress.
These 4 ingredients Cake Mix Cookie Bars are seriously so good.
One bite and you will wonder how you ever lived without trying one!
They are unbelievably easy to make and so freaking good.

This recipe uses just four ingredients – yellow cake mix, eggs, applesauce, and chocolate chips!
It's also dairy free for anyone with allergies!

The texture of these bars is the thickness of a brownie with the taste of a chocolate chip cookie.

The bars stay soft and chewy even after they cool.
Just make sure to cover or store in an airtight container!

It took me and my husband a whopping 2 days to eat the whole 9 X 13 dish.
They were amazing!
I loved how chewy and rich they were, without being overly sweet.

I mean seriously…how can you resist that gooey chocolate chip cookie bar staring you in the face ?!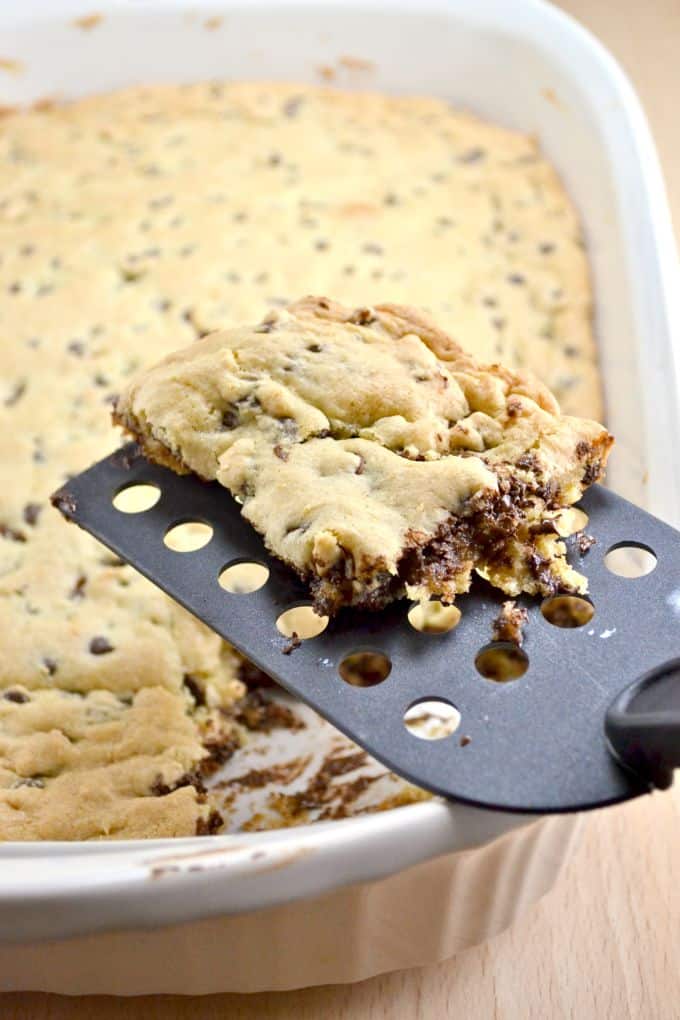 Go make yourself a batch of these and let me know in the comments how you like them!

4 Ingredient Cake Mix Cookie Bars
Ingredients
1 (21 oz) box of yellow cake mix
2 eggs, beaten
⅓ cup applesauce
1½ cups dairy free chocolate chips
Instructions
Preheat oven to 350
Beat eggs in a small bowl
Combine all ingredients and mix until well combined (batter will be very thick)
Grease a 9 X 13 baking dish
Spread batter evenly in the dish (this was a little difficult - it is sticky & thick)
Bake at 350 degrees for 25 minutes, or until done
Once cooled, cover or store in an airtight container
Enjoy!
Notes
The batter will be thick and hard to spread (this is normal) I found that using a rubber spatula and a spoon made it easier to spread into the pan. It may take a couple minutes, but it's so worth it!