30 Minute Sweet Potato Refried Bean Nachos recipe with homemade cheese sauce. A meal that looks impressive but requires just half an hour to make!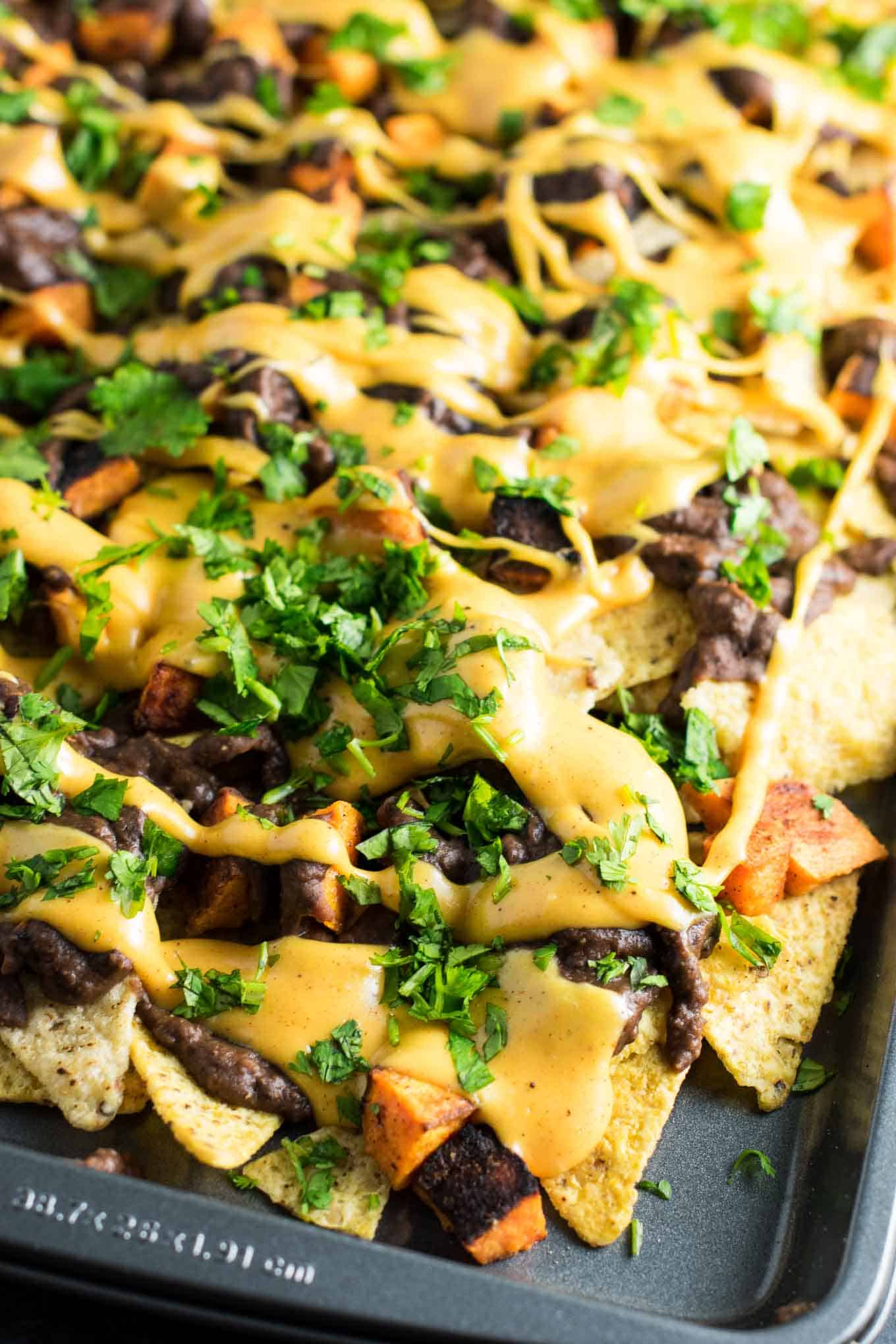 I recently asked you guys on my facebook page what recipes you would like to see more of, and one of the top answers was quick and healthy dinners.
These 30 minute sweet potato refried bean nachos are just that!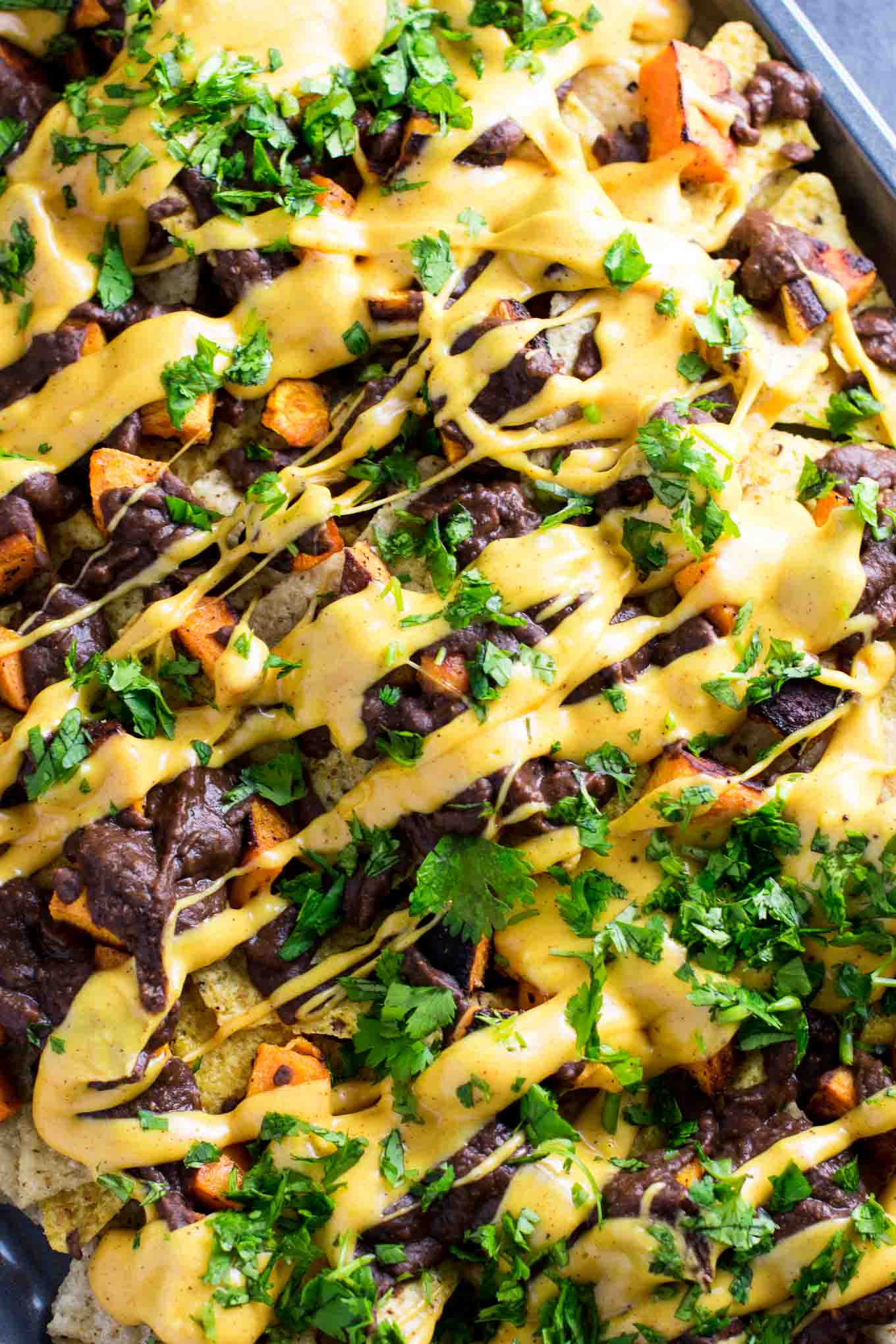 Sweet potatoes are one of my favorite vegetables, but they can take sooo long to cook.
I'm not about to spend an hour prepping vegetables when I have a cranky baby who is getting near his bedtime!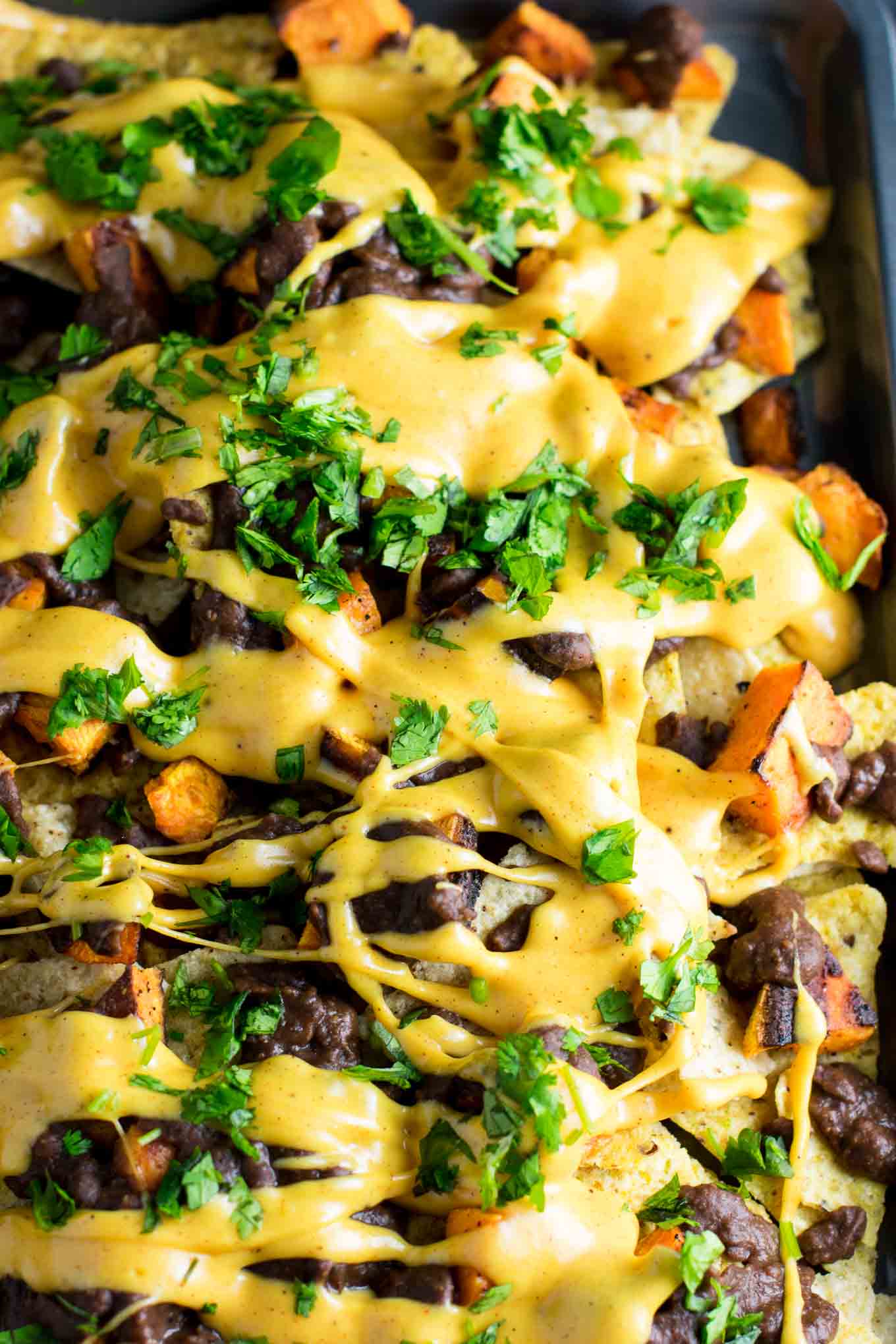 Once I discovered this trick to making sweet potatoes in just 20 minutes (!!!) I was hooked.
No microwaving, and no prep work except chopping.
Just dice it up, toss with some oil and spices and it goes straight in the oven!
I love the crispy edges that the sweet potatoes get!
I also used my 5 minute Refried Beans for this recipe because they are just so darn tasty and so easy to make.
While the sweet potatoes are roasting, you will make the refried beans and the cheese sauce.
I've never made cheese sauce for nachos before this and I'm not sure why!
This cheese sauce is simple and literally done in 5-7 minutes tops. Now that's what I'm talking about!
It tastes like the cheese sauce you would get at a concessions stand. This would be a great recipe to make for game day!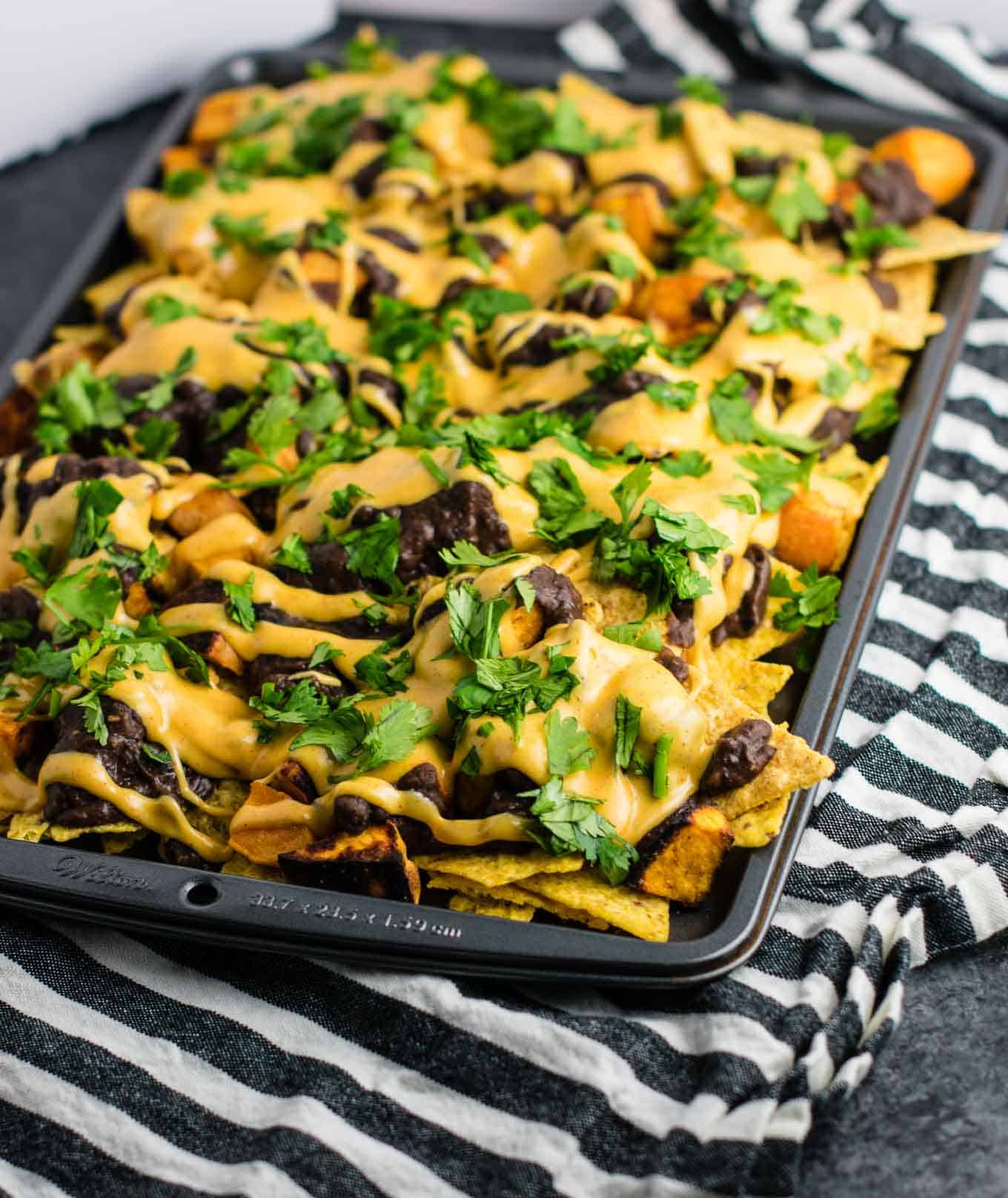 Robbie requested it for football season, it is SO SO good.
Even Crosby loved the pieces of sweet potato that he ate covered in cheese!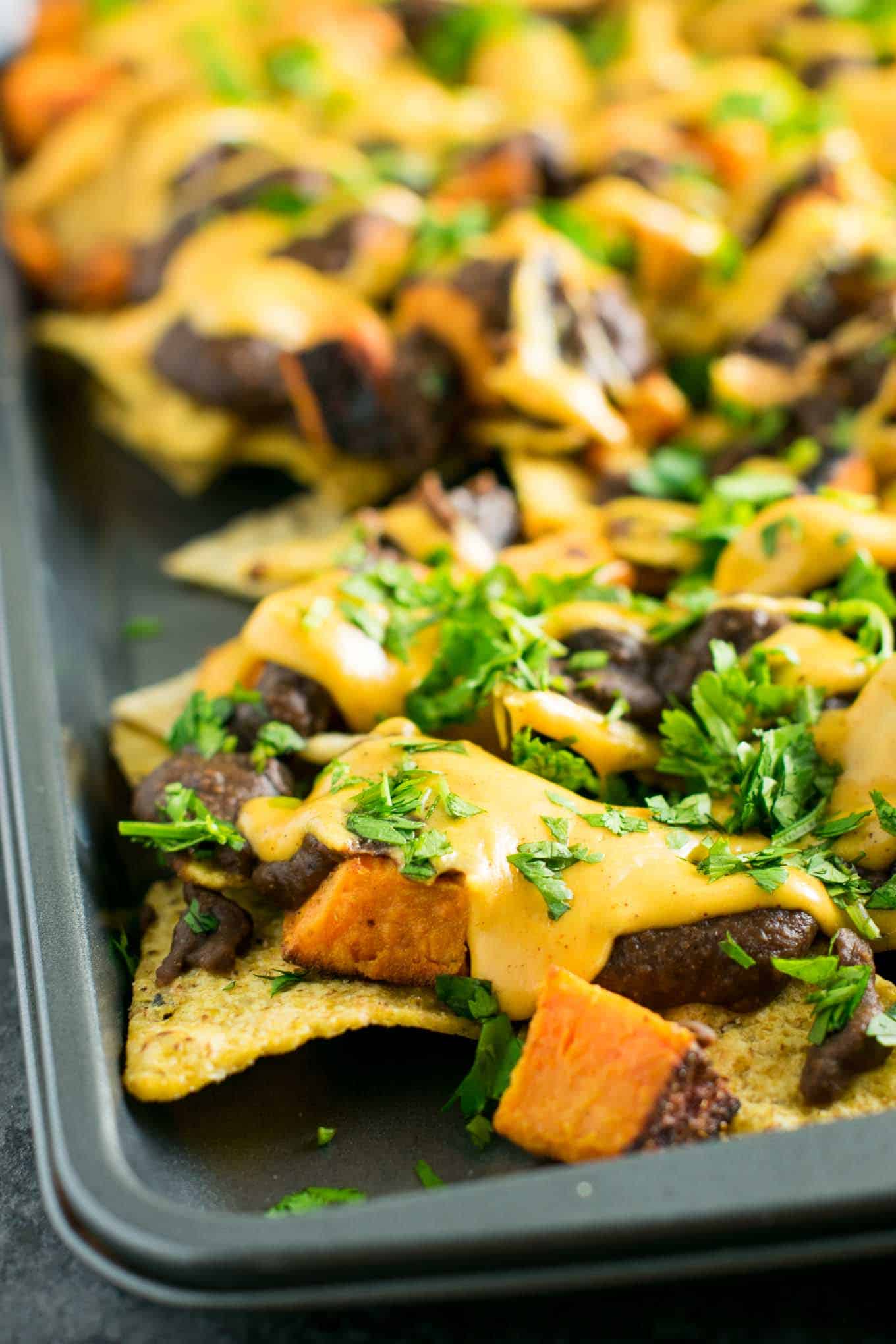 Once the sweet potatoes are done, all you need to do is assemble.
Spread corn chips in a single layer then put down sweet potatoes, refried beans, and cheese sauce.
Top with freshly chopped cilantro and dinner is served!
Making this recipe? I wanna see! Tag me on instagram @buildyourbite and hashtag #buildyourbite! 
Click below to Pin these 30 Minute Sweet Potato Refried Bean Nachos:
30 Minute Sweet Potato Refried Bean Nachos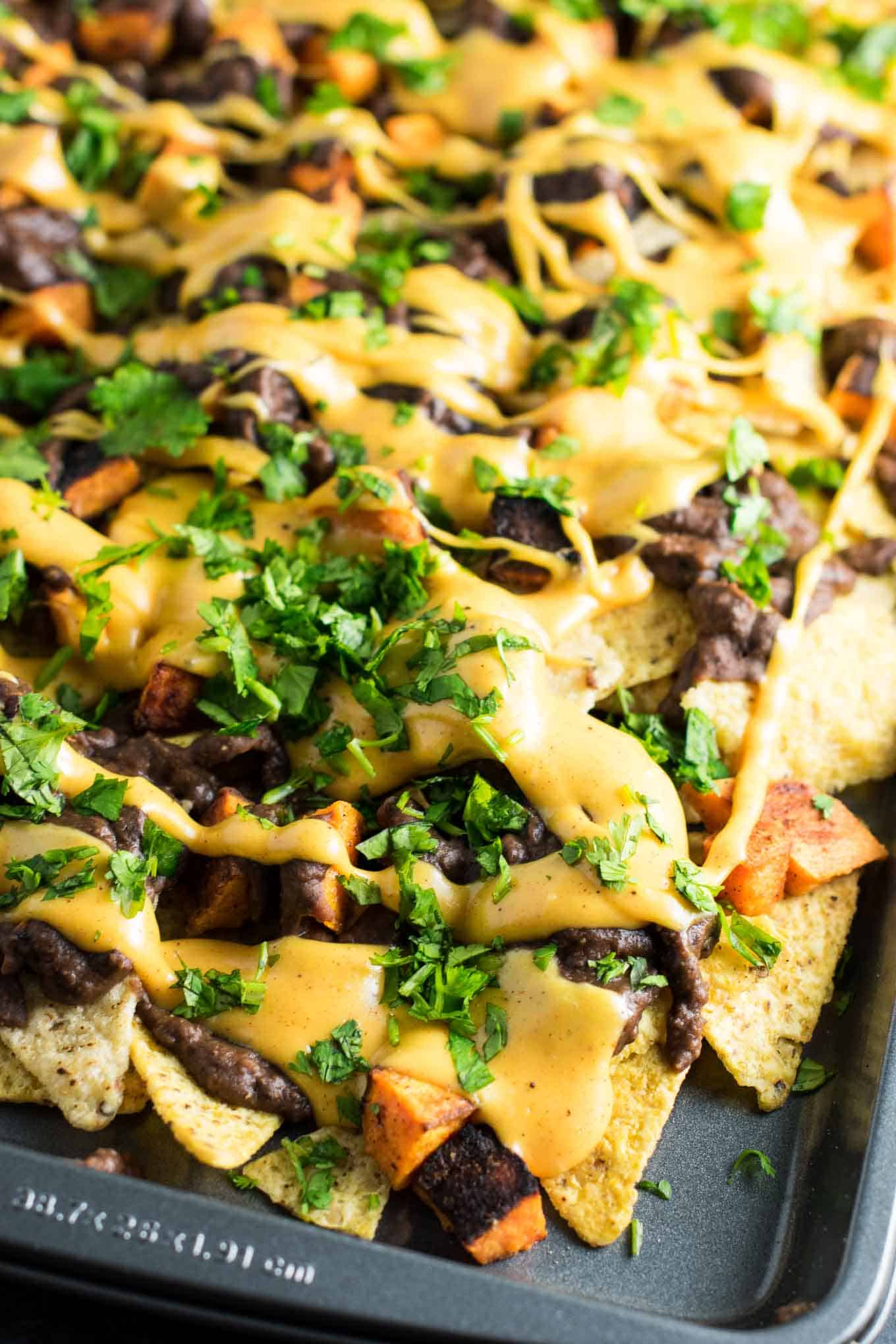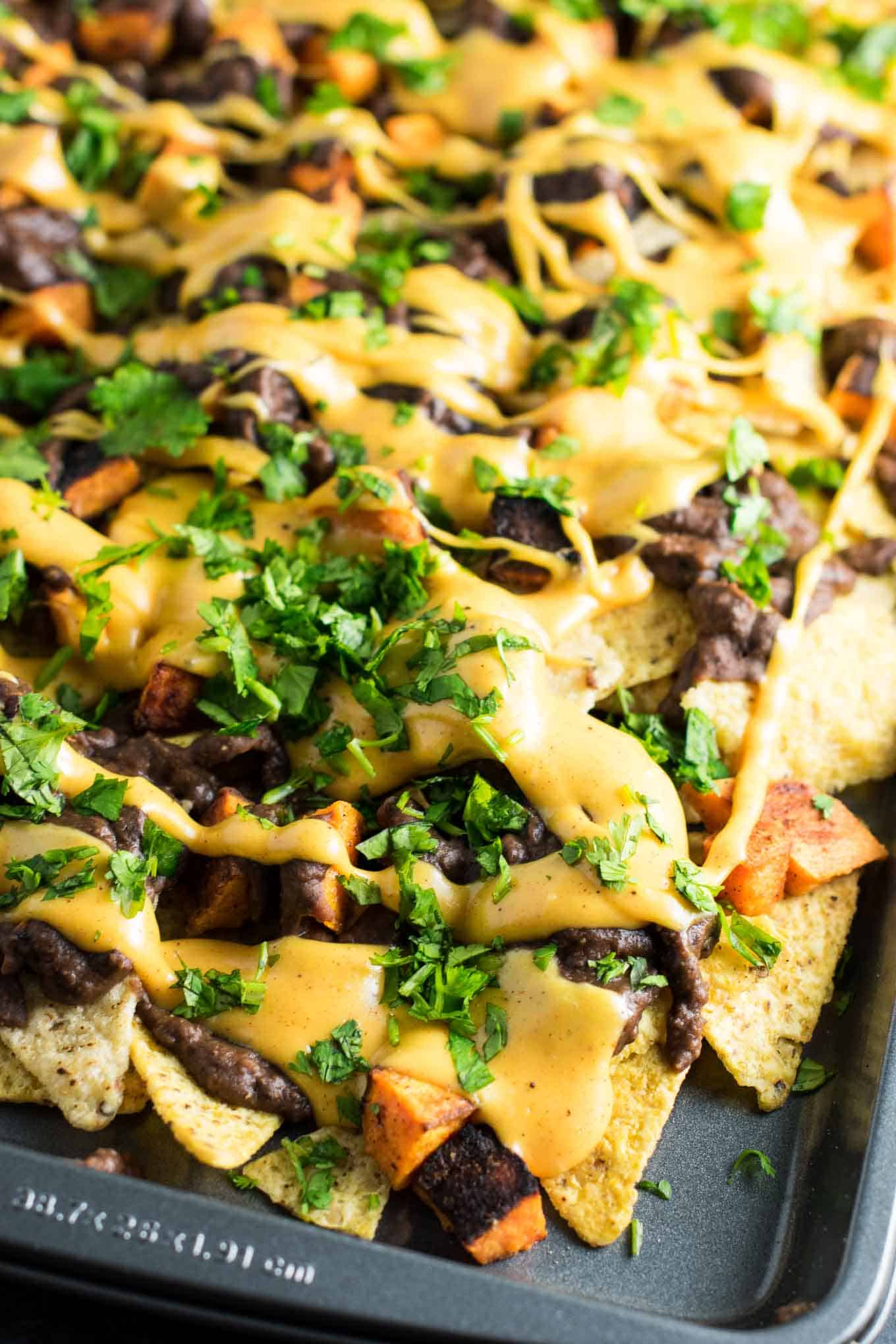 These 30 minute sweet potato refried bean nachos are made with homemade refried beans and cheese sauce. A healthy and delicious dinner that's ready fast!
Ingredients
For the Sweet Potato
1

large sweet potato, diced into small chunks

1/4

teaspoon cumin

1/2

teaspoon salt

1/2

teaspoon garlic powder

1/8

cup olive oil
Instructions
Preheat oven to 450 degrees
Chop sweet potato into small chunks and toss with cumin, salt, garlic powder, and olive oil
Spread sweet potatoes in a single layer on a baking sheet
Bake at 450 for 10 minutes, then flip and roast another 10 minutes (checking every 5 minutes to make sure they do not burn.) - See Notes section
While sweet potatoes are cooking, make one batch of 5 Minute Refried Beans and set aside
Next, heat a sauce pan on medium heat and make one batch of 5 Minute Nacho Cheese Sauce
Whisk until thick and creamy (around 5 minutes or less)
Once sweet potatoes are done cooking it's time to assemble it all!
Spread a single layer of corn chips on a large baking sheet
Spread out sweet potatoes
Pour refried beans over evenly
Pour cheese sauce over and top with chopped cilantro
Serve immediately
Recipe Notes
The sweet potatoes will blacken on the edges (this is good!), but we want to make sure that they aren't smoking/burning. This will depend on your oven how quickly they cook. You want them to be blackened and soft throughout, but not burnt