Thanks to Mezzetta for sponsoring this delicious taquito recipe that I'm bringing to you today!
Whether your an avid football fan or you just attend big game parties for the food, this recipe is for you!
These baked taquitos are crunchy, cheesy and loaded with flavor!
With only four ingredients, they are simple and easy to whip up for game day!
One version of these taquitos features Colby Jack cheese melted with these sliced jalapenos from Mezzetta.
These jalapenos are super fresh and add the perfect bite without being too spicy.
The other taquito version is stuffed with pepper jack cheese and these roasted bell pepper strips!

Fair warning: you're not going to want to share these with your guests…or anybody!
We made these and my husband ate 5 and we took some over to our friends' house and they devoured them!
They are ridiculously good and so easy to throw together! I can't decide on which flavor is my favorite…I've had votes on both sides!
Yield: 16 taquitos
4 Ingredient Baked Taquitos (two ways)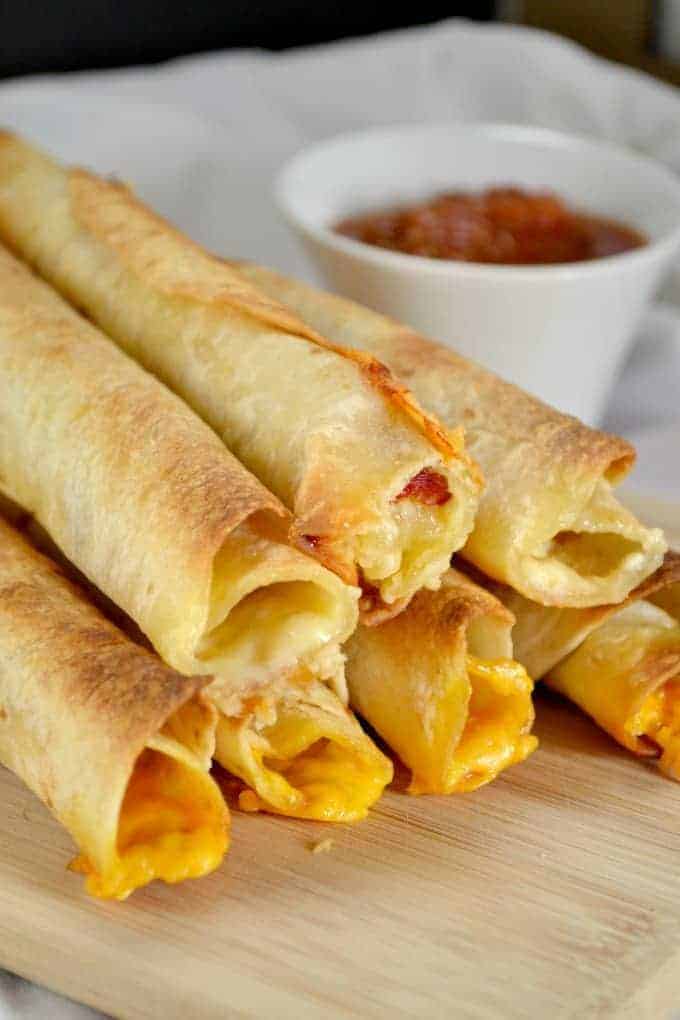 4 ingredient baked taquitos
Ingredients
16 whole wheat tortillas
cream cheese
pepper jack cheese
colby jack cheese
Mezzetta sliced jalapeno peppers
Mezzetta roasted red bell peppers
Instructions
Preheat oven to 400 degrees
Microwave tortillas for 1-2 minutes, or until soft but not hot (it will make them easier to roll without breaking)
Grease the bottom of a 9 X 13 baking dish with a layer of olive oil
For jalapeno taquitos: spread a thin layer of cream cheese down the center of 8 tortillas, add a thin layer (strips or shredded whatever you have) of colby jack cheese, and 3 slices of jalapeno. Roll tortilla as thin as possible and place in dish
For roasted red bell pepper taquitos: spread a thin layer of cream cheese down the center of remaining 8 tortillas, top with pepper jack cheese, and 1-2 roasted red bell pepper strips. Roll tortilla as thin as possible and place in dish
Brush tops of taquitos with a layer of olive oil (this will help them brown)
Bake at 400 degrees for 25-30 minutes, checking often, until brown. (Note: I ended up brushing some additional olive oil on and also using the broiler for a short amount of time) You want the taquitos to get a nice crispy without burning.
Serve with salsa and sour cream!
Notes
You may need more than one dish to bake these in, depending on how thin you are able to roll the taquitos. Just make sure to grease the bottom of each dish used.
Nutrition Information:
Yield:
16
Serving Size:
1
Amount Per Serving:
Calories:

152
Total Fat:

6g
Saturated Fat:

3g
Trans Fat:

0g
Unsaturated Fat:

2g
Cholesterol:

5mg
Sodium:

237mg
Carbohydrates:

20g
Fiber:

4g
Sugar:

2g
Protein:

5g