This shop has been compensated by Collective Bias, Inc. and its advertiser.
8 must haves for all new dads in your life!
Father's Day is special this year, as my husband Robbie celebrates his first Father's Day as a new dad!
Our son Crosby was born in August of last year and he is the light of our lives. Robbie is such an amazing father and it's so special to see Crosby's face light up when he sees his dada!
In honor of this first Father's Day, today I'm sharing a list of 8 must haves for all new dads or dads to be!
8 Must Haves for New Dads
1. Baby Development Books
While this seems like an obvious choice for moms to be, this is also a very important must have for new dads!
Whether or not you think you know much about babies, they change so incredibly quickly.
One day they'll be taking 5 naps a day and the next they'll drop down to two.
Read up on things like teething and sleep regressions to keep you sane when it seems like your baby has changed overnight!
All new dads can benefit from taking the time to read up on what to expect for your baby's rapid development in the first year of life.
2. A Sound Machine
I can't stress this one enough! Our son Crosby sleeps with a sound machine on full blast.
Whether it's the heart beat sound or the waves crashing in the ocean, a sound machine will help baby sleep well (and dad too!)
It's one of the longest lasting must haves for new dads.
We still use it for traveling with kids of any age!
3. An infant carrier
Whether you prefer a wrap or a sling, be sure that new dads have something that they feel comfortable wearing the baby in.
Wearing your son or daughter is a great way for dads to bond while also being able to be mobile and get stuff done!
4. Swaddles
If you know a new dad with a newborn, swaddles are a must!
My husband was known as the swaddling master, I could never wrap the baby quite as snuggly and comfy as he could.
5. Every burp cloth known to man
Ok I exaggerated a little! But I still remember how amazed we were by how much spit up one tiny baby could have.
My husband can tell quite a few fun stories of being covered in baby fluids.
It's ALWAYS a good idea to have more burp cloths than you need, because you will inevitably go through more than you think in just a day.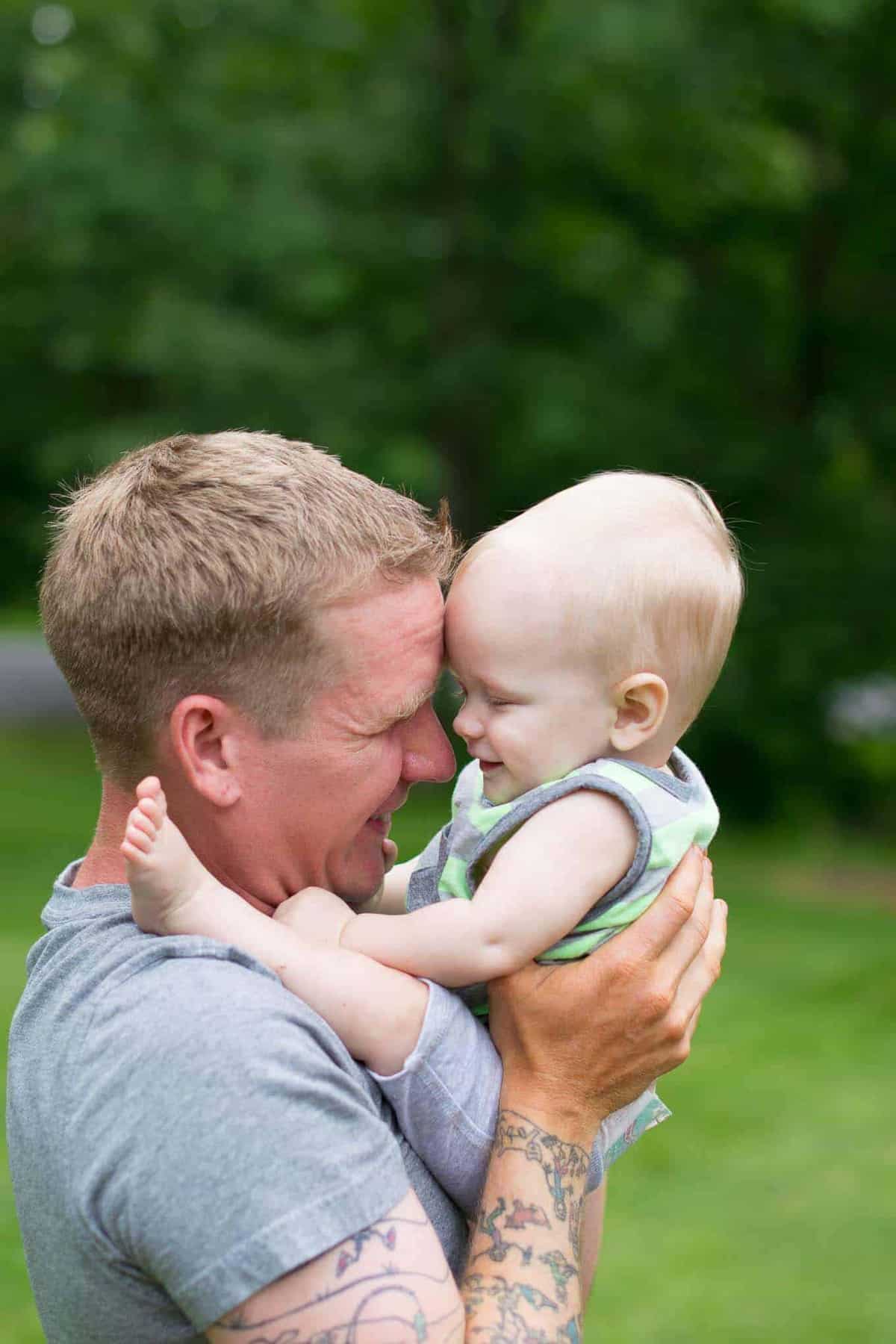 6. A comfortable rocking chair or recliner
This one is so important for the first 3 months especially.
We purchased a double recliner a few months before Crosby was born and it ended up being a great purchase!
Robbie spent many many many nights holding Crosby while watching football, or doing skin to skin, or letting him nap on him.
A comfortable recliner is absolutely one of the must haves for new dads.
For several months Crosby did not want to nap not on a human, so daddy would come home from work and give me a break!
Robbie spent many hours as a new dad on that recliner.
7. A camera
No matter what kind of camera you have (even a cellphone!), you need to capture those precious moments that fly by way too fast.
New dads – be sure to snap some selfies while holding that baby and some of your wife too!
It will be amazing to look back on those days once they have flown by.
8. A Video Monitor
Last is my most important must have for new dads: a video monitor.
The VTech VM981 Expandable HD Video Baby Monitor with 1 Wi-Fi Camera from Amazon is a great way for new dads to have peace of mind.
Before we got a video monitor we worried constantly about our son while he was asleep.
Either Robbie or I would go in ever 2-3 minutes to make sure he was still asleep and ok.
This VTech monitor has brought us such peace of mind knowing that we can see him in real time and run to him just as soon as we see him wake up.
It is easy to set up and easy to use, and even has IOS and Android apps to see the monitor right on your cell phone!
With night vision and motion alerts, this monitor really does do it all.
New dads can rest easy and be able to see their baby through the monitor using your own wifi!
The monitor also supports additional cameras for your growing family!
Do you have a new dad in your life? Tell me about him!
What are your 8 must haves for new dads?
More posts you might like: