This best ever mushroom lasagna recipe is one that I've been wanting to share for a long time.
Layers of juicy mushrooms and a mixture of parmesan, mozzarella, and ricotta cheeses makes this every mushroom lover's dream.
It's no secret that mushrooms are one of my absolute favorite vegetables.
Pasta + Mushrooms? My DREAM.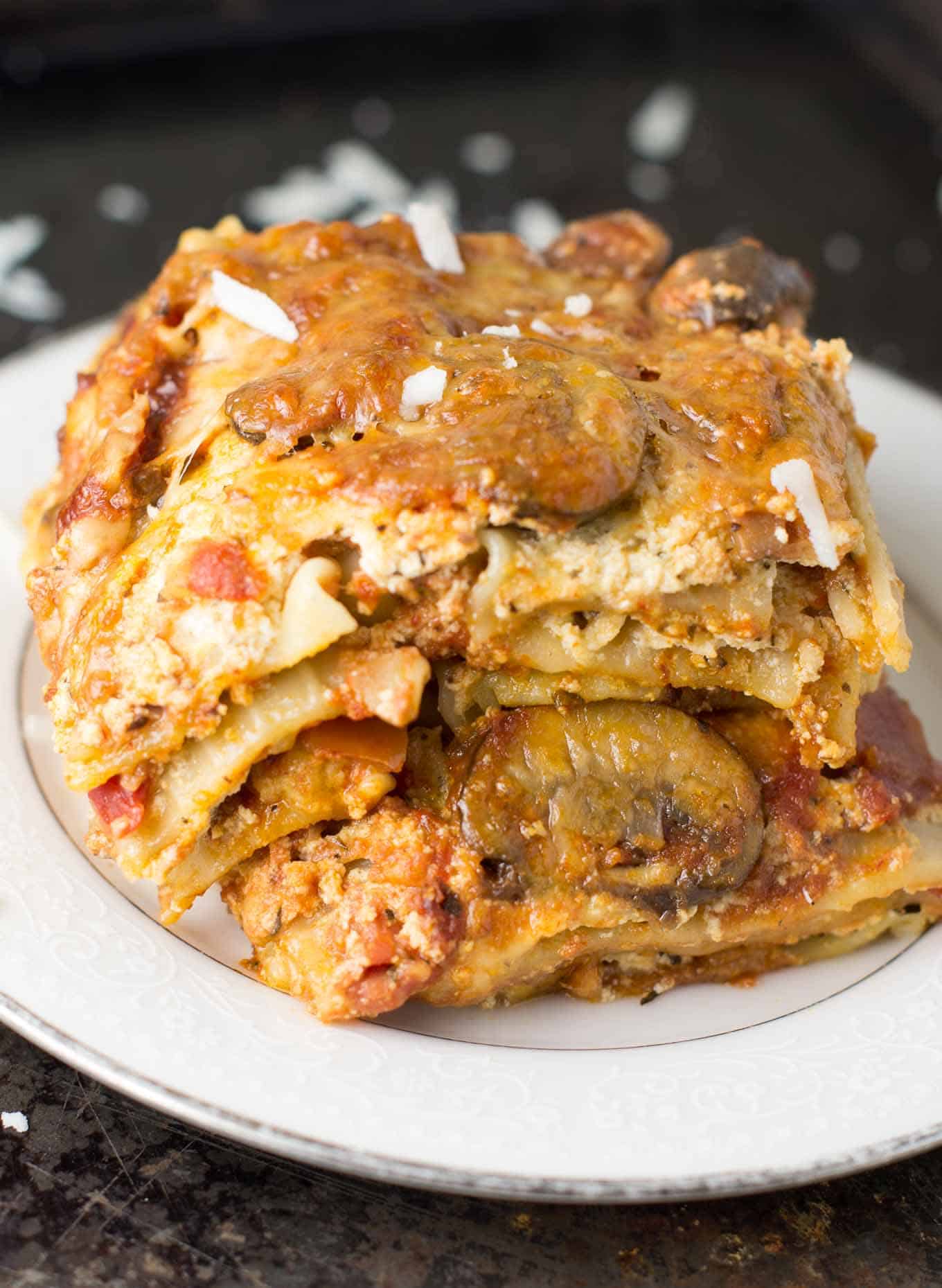 The reason why I never got around to sharing this recipe is because I was never able to get any good photographs.
For as insanely delicious as this lasagna is, it is definitely one of the ugliest foods I've tried to photograph.
For what it lacks in aesthetics, this lasagna more than makes up for in flavor.
My husband and I have made this SO many times and it is our go to lasagna recipe.
Serve with some crusty garlic bread for total comfort food bliss!
Love this recipe? You might also like these: Vegetable Bolognese, Spicy Vegetarian Baked Spaghetti, Meaty Vegetarian Lasagna, Loaded Veggie Meatless Spaghetti.
Pin this Best Ever Mushroom Lasagna:
Best Ever Mushroom Lasagna
Layers of juicy mushrooms and a blend of parmesan, ricotta, and mozzarella cheeses make this lasagna to die for.
Ingredients
16 oz baby bella mushrooms, sliced
1/4 teaspoon salt
1/4 teaspoon pepper
1/2 teaspoon garlic powder
1 teaspoon olive oil
15 oz ricotta cheese
1 egg
1 teaspoon dried basil
1 cup freshly grated parmesan cheese
1 (25 oz) jar of pasta sauce (I used mushroom flavored)
1 3/4 cups shredded mozzarella cheese
9 oven ready lasagna noodles
Directions
Wash and slice mushrooms
Sautee mushrooms in a large skillet with salt, pepper, garlic powder, and olive oil
Sautee 5-10 minutes, or until mushrooms release their liquid and cook down
Add pasta sauce and stir to combine
In a bowl, combine fresh parmesan, basil, ricotta, and egg. Stir well to combine.
Spray a 9 X 13 casserole dish with cooking spray
spread ⅓ cup of sauce mixture on the bottom of the dish
place 3 noodles in a row across the dish
top with 1 cup of ricotta mixture, spreading it out evenly
add 1 cup of sauce mixture
top with 1 cup of shredded mozzarella
Place 3 more noodles
Add 1 more cup of ricotta mixture
repeat same amounts of sauce and mozzarella on top
Add last 3 lasagna noodles
top with remaining ricotta, sauce, and mozzarella
Cover with foil and bake at 375 degrees for 60 - 70 minutes, or until bubbly
Let rest 10 minutes before serving
Loading nutrition data...