Chinese broccoli with garlic sauce recipe. Make takeout at home in your kitchen with this easy to make recipe which includes a homemade garlic stir fry sauce!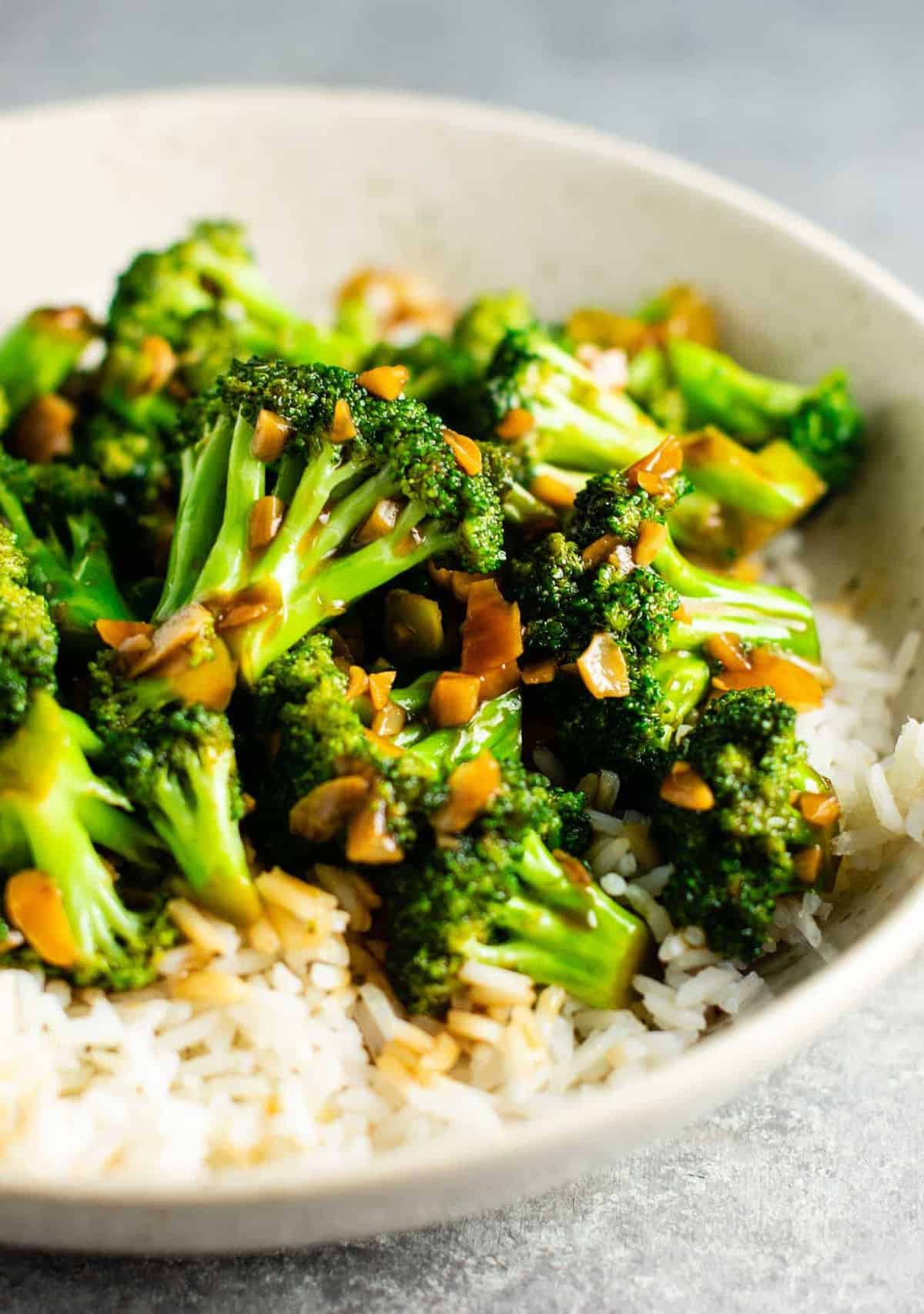 Broccoli with garlic sauce is one of my favorite dishes to order at Chinese restaurants.
We have a local sit down Chinese place that my favorite thing to order is just a big old plate of broccoli marinated in that finger licking good garlic stir fry sauce.
Every time I go there, I always order the same thing.
Garlic sauce is my very favorite thing about takeout, and I decided to recreate that same amazing lick-the-plate-clean taste in my own kitchen!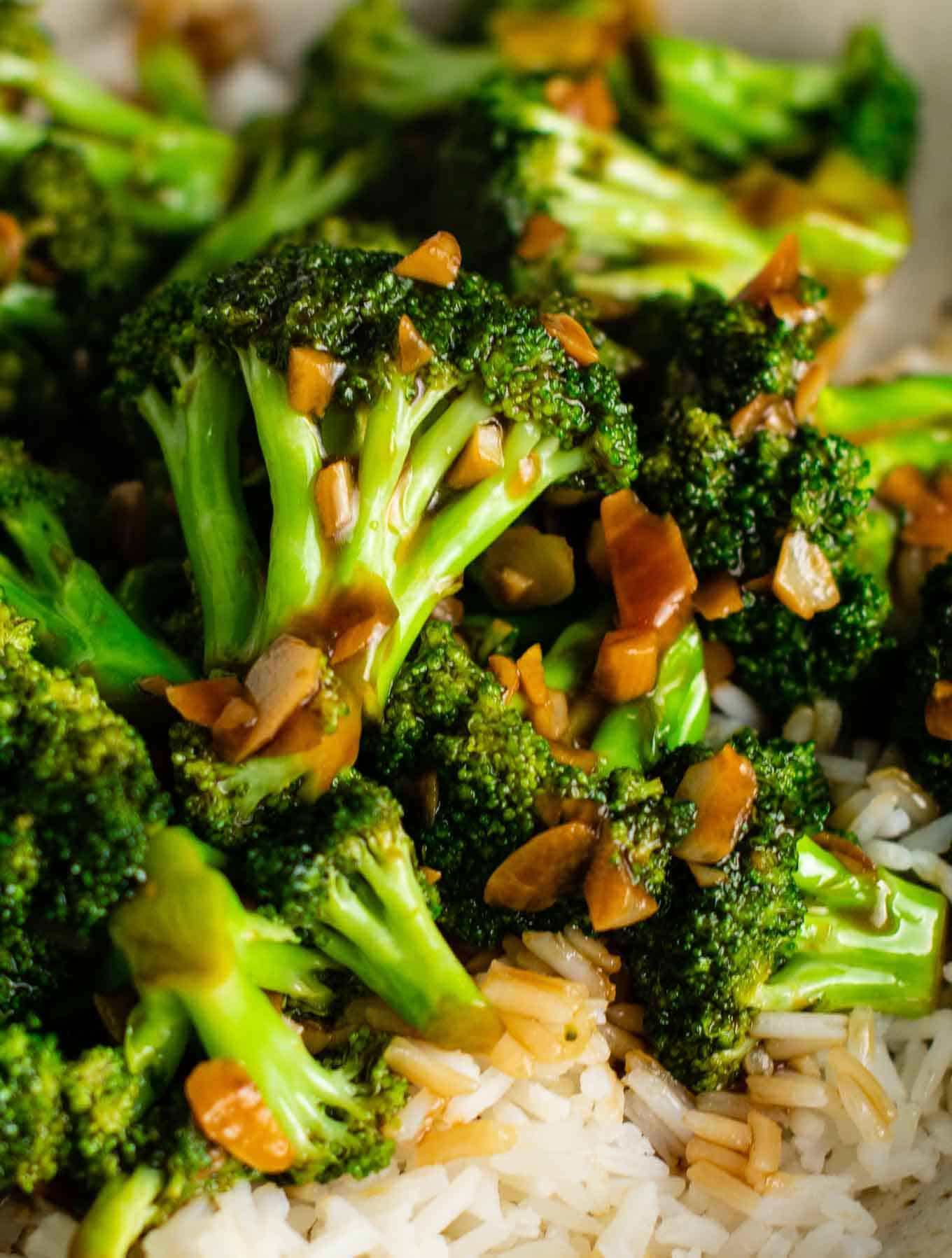 My dad used to order Chinese every single Sunday when I was growing up, and we always got some form of garlic sauce in our meal.
Everyone loved it, and my favorite was the tofu and broccoli with garlic sauce.
If you have ever tried my stir fry sauce recipe, you know that it has changed my life!
It is only 3 ingredients, and transforms boring stir fry into holy wow this is amazing stir fry!
I write all about how it's the perfect sauce in my post about How do You Thicken Stir Fry Sauce?
I'm using that same incredible stir fry sauce to make this chinese broccoli not only crazy good, but crazy easy to make!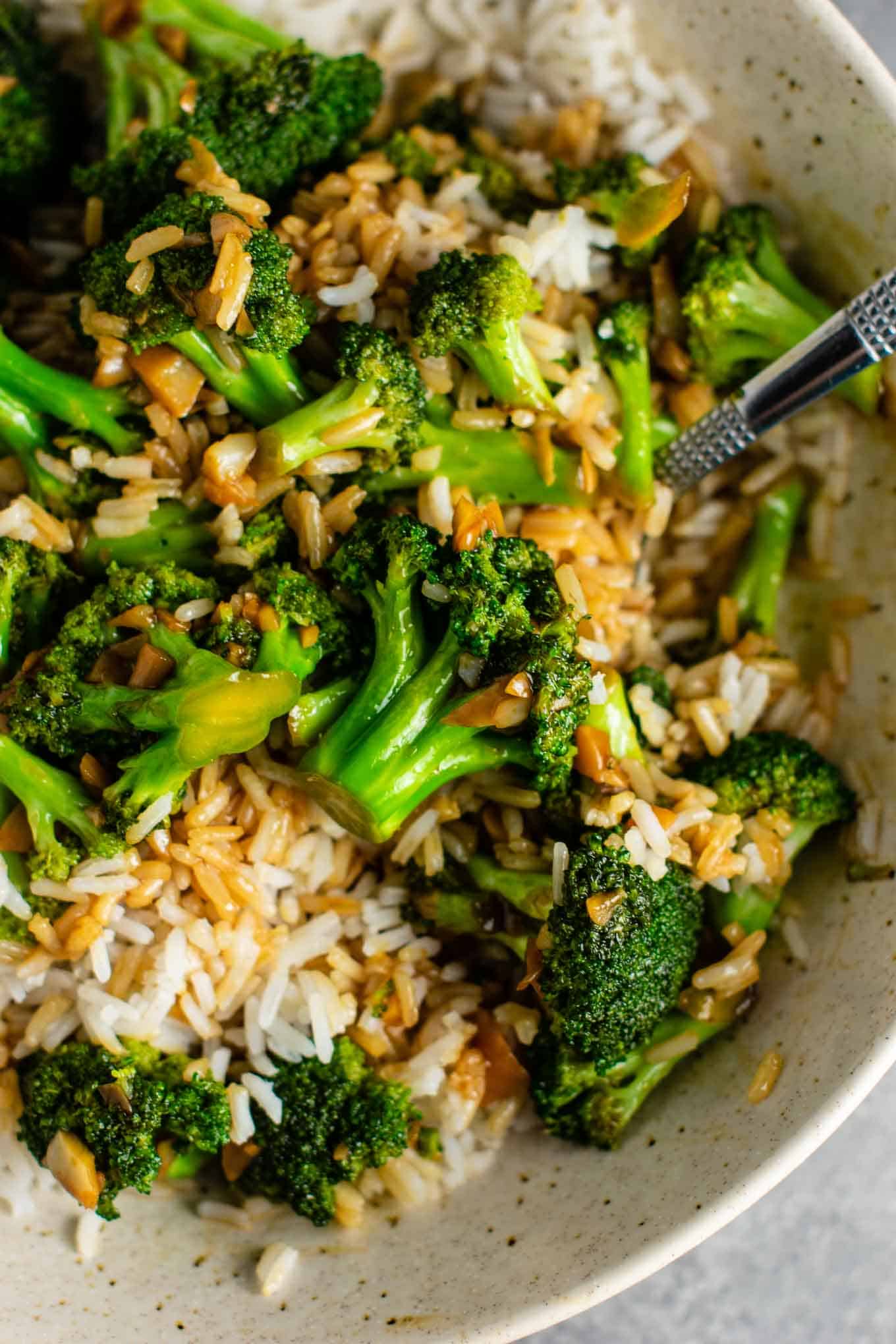 Ingredients to make broccoli with garlic sauce
fresh minced garlic
sesame oil
raw broccoli florets
stir fry sauce
white rice, to serve
That's it!
So simple and it took me less than a half hour to make!
My kitchen smelled heavenly.
I'm already so excited to make this recipe again!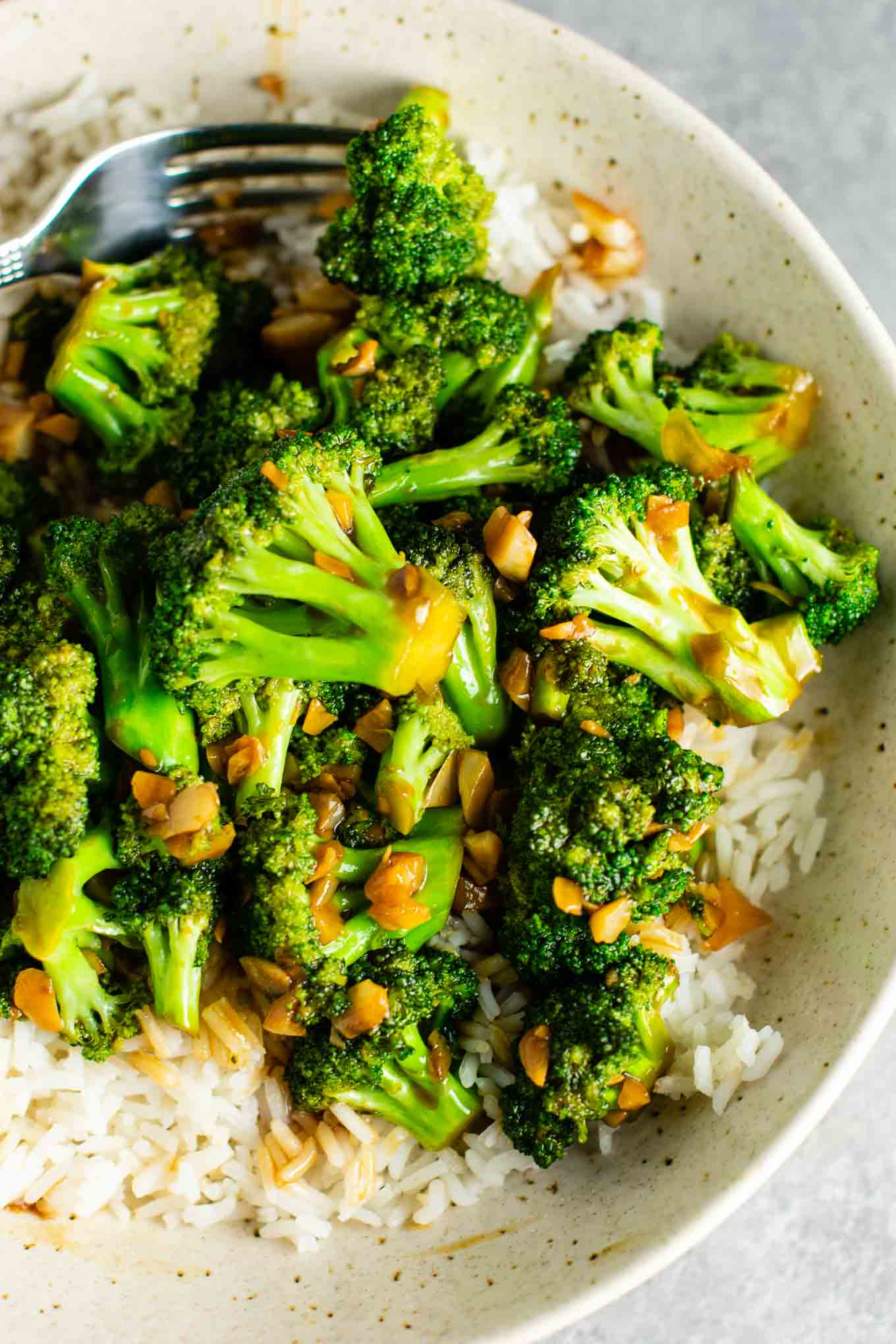 I can see this easily becoming our own Sunday tradition in my little family!
This recipe is very similar to my broccoli tofu stir fry recipe, but minus the tofu.
I wanted to create a stand alone recipe for anyone who loves broccoli in garlic sauce as a side dish or a main dish!
To make it a full meal, you could add your favorite protein of choice!
Broccoli is one of my favorite vegetables to put in stir fry.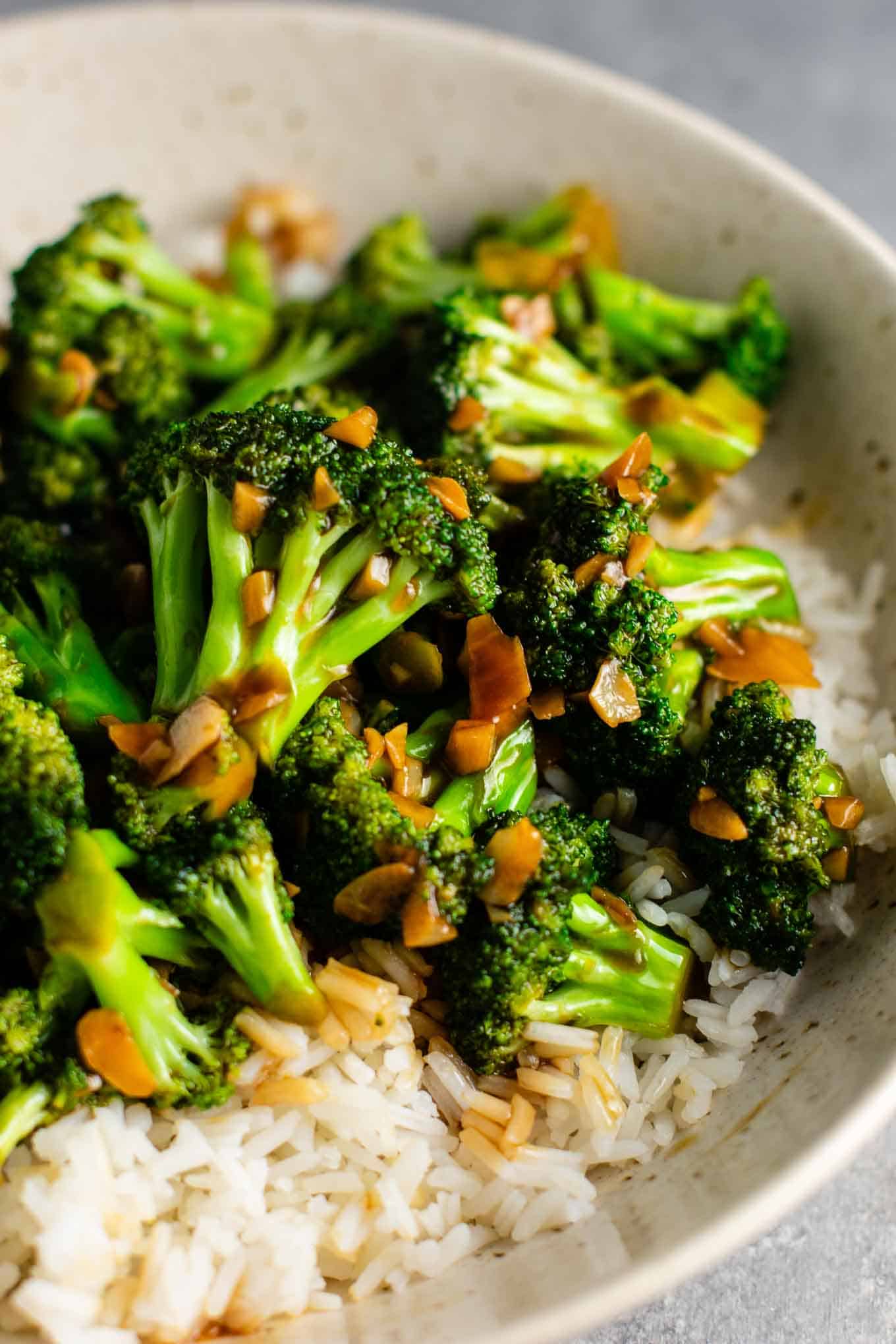 How to make broccoli with garlic sauce
First, mince up your garlic with a knife or garlic mincer and measure out ⅓ of a cup.
You need lots of garlic because we are making garlic sauce, so it is the star!
Tip for buying fresh garlic
I used probably around 2 heads of garlic.
I recommend buying the pre packaged bags where the garlic is already peeled.
These save so much time, and I always buy my garlic this way now.
Note: I am talking about the already peeled garlic that comes in bags, not the pre minced jar stuff.
We definitely want fresh for this recipe!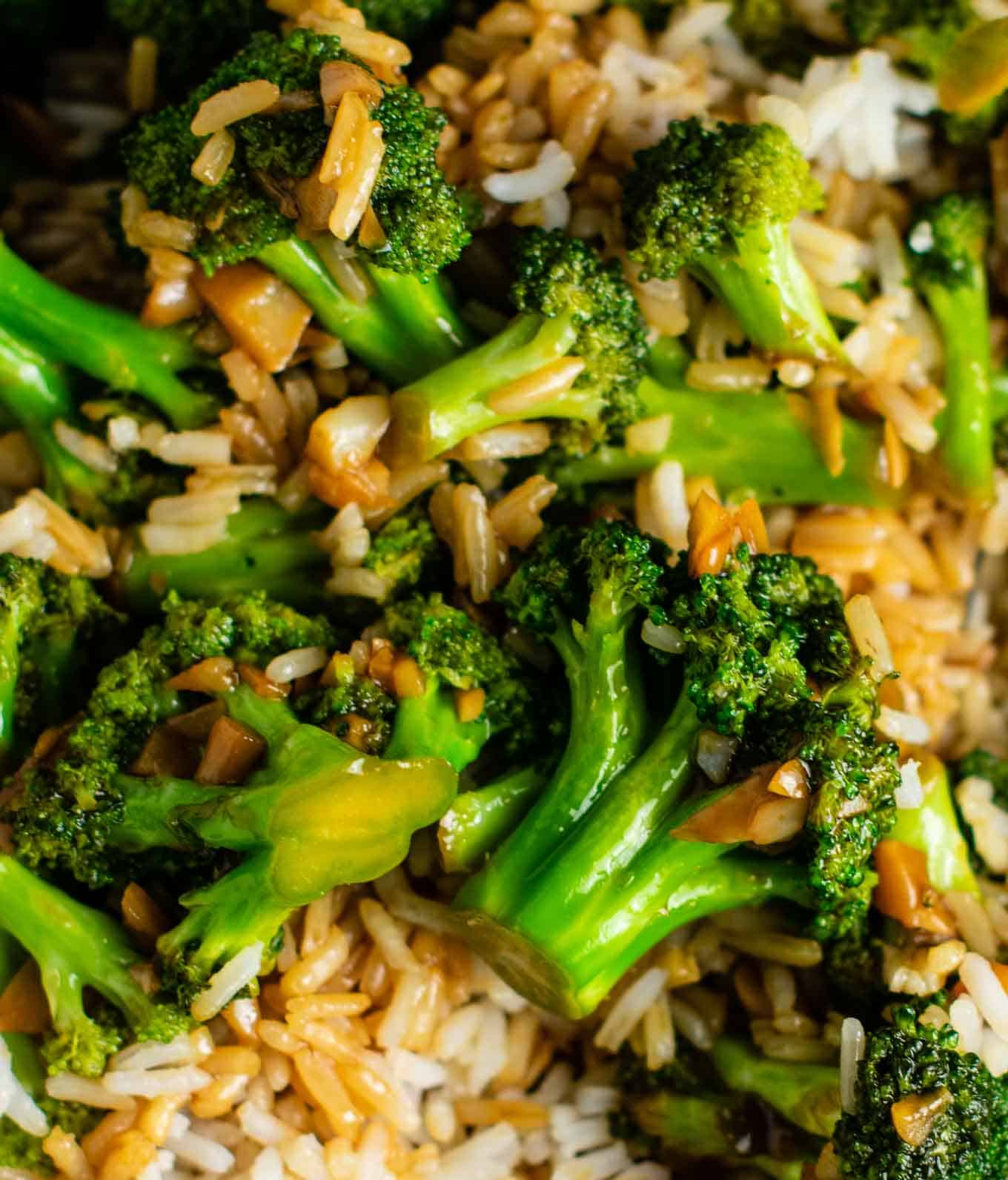 How to make the best sticky rice
While you are getting everything chopped up, get your rice cooking.
I highly recommend investing in a rice cooker, because the flavor and texture is perfect every time.
If you do not have a rice cooker, just cook your rice on the stove.
Make sure you do not salt the rice, as the sauce from the broccoli has more than enough salt in it to flavor the rice.
Next, chop up your broccoli into florets.
You can use between 8 and 9 cups for this recipe.
Next, shake together a batch of 3 ingredient stir fry sauce and set aside.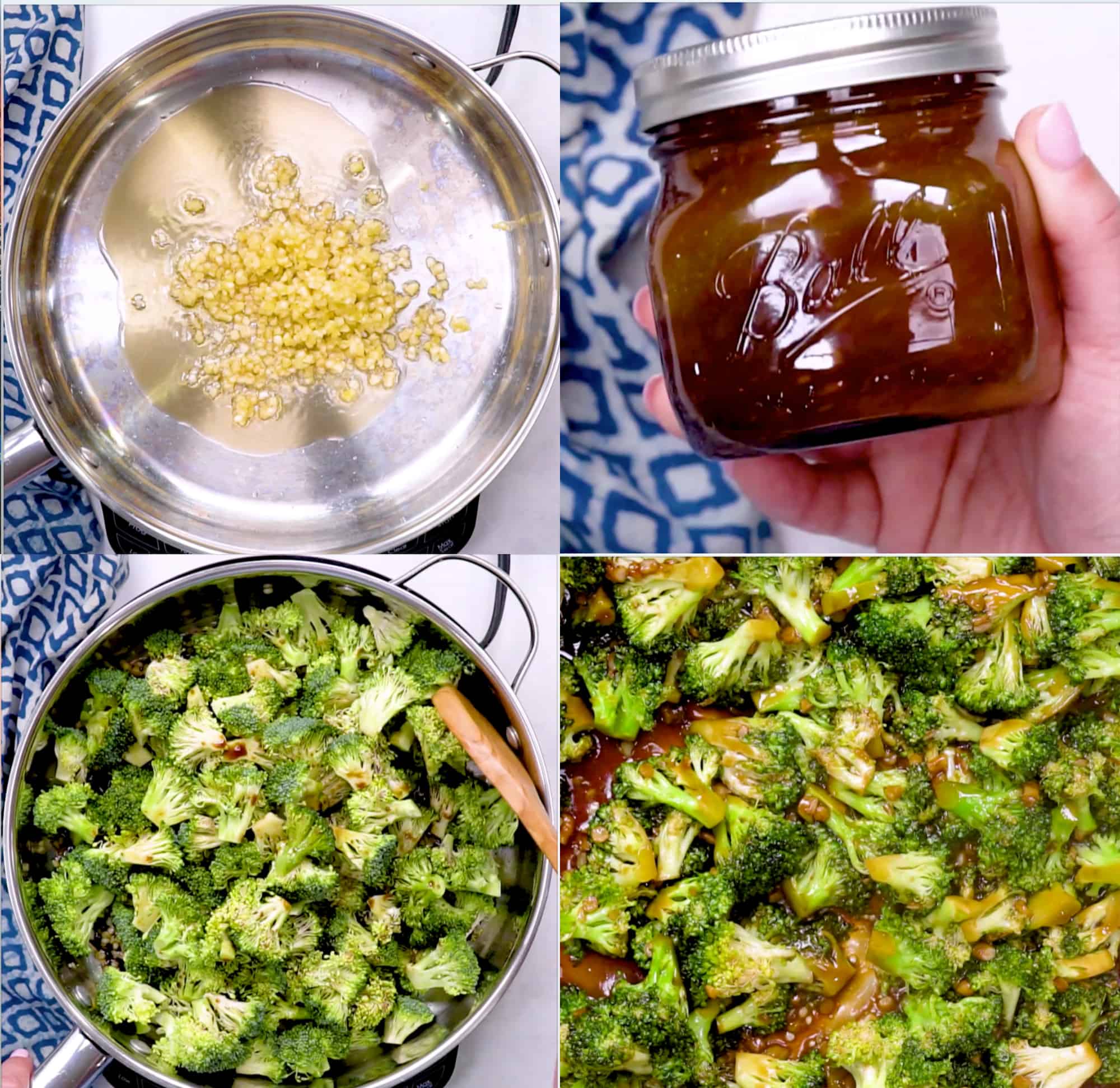 Cooking your broccoli
Grab a big skillet or jumbo cooker and add 2 tablespoons of sesame oil and heat to medium.
Add the garlic and cook for 3 – 5 minutes, stirring often, until it begins to brown.
Be careful not to burn the garlic.
Add the broccoli and stir fry sauce and cook an additional 10 – 15 minutes, stirring often, until broccoli is desired texture.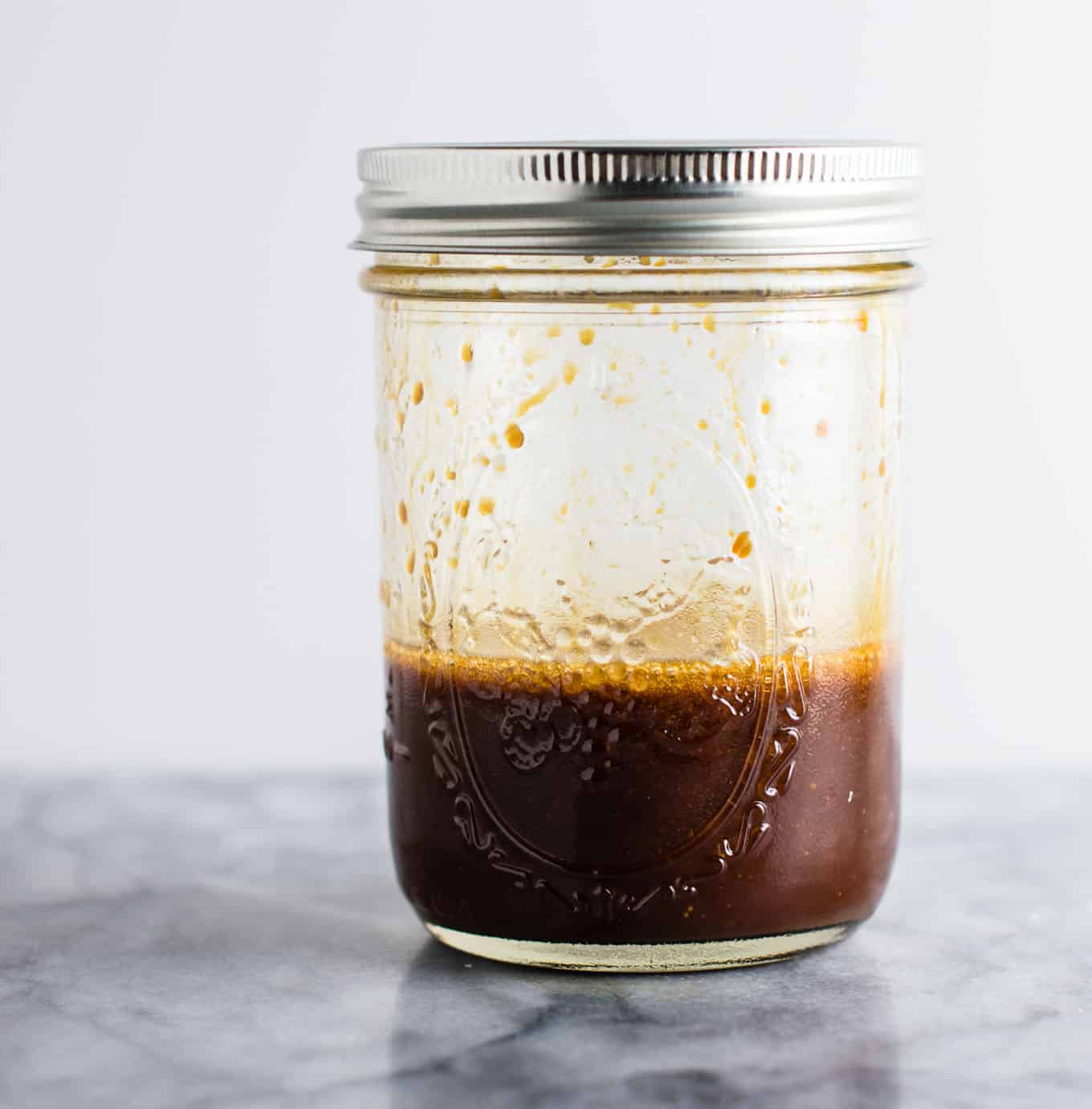 This recipes uses my favorite stir fry sauce!
Just 3 ingredients and so simple to make.
I use it in every stir fry recipe I cook.
I personally like my broccoli with a little crunch, so right around 10 minutes was the perfect cook time for me.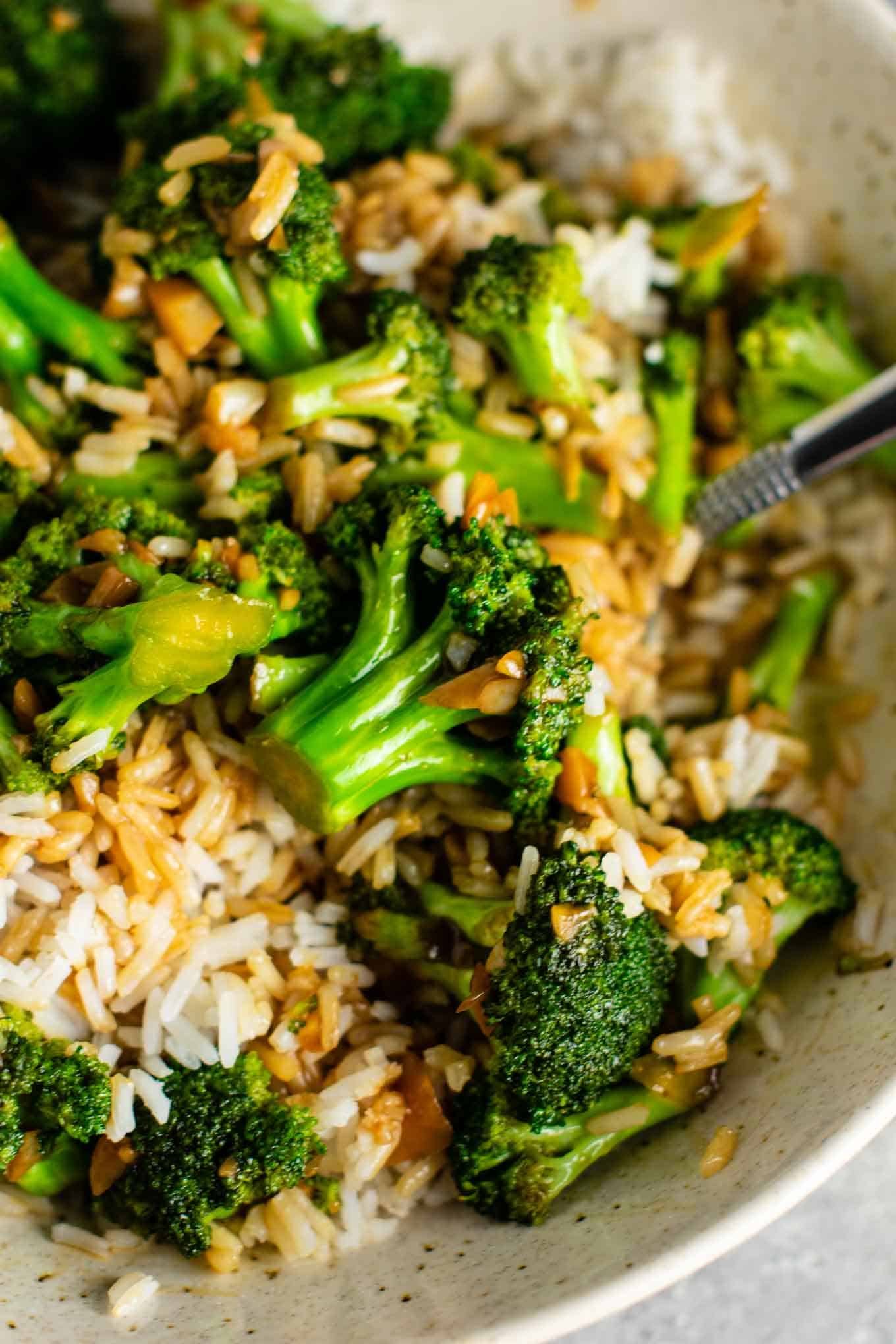 Tips for cooking the broccoli
When cooking broccoli, stir often to ensure it is cooking evenly.
Since broccoli florets are large, they need to be stirred often so all sides cook well.
Next tip: make sure that you do not cook the broccoli too long!
No one likes mushy broccoli.
Texture is important here.
I've found the best broccoli I have eaten still has some crunch to it.
It just tastes so much fresher this way!
I have had totally soft broccoli from takeout before and just couldn't eat it.
The texture is so important!
Once your broccoli with garlic sauce is done, serve it over white rice (or brown rice!) for the ultimate combo.
OMG! I never have to buy this as takeout again! So good! I didn't have enough sesame oil left, so I was only able to make ¼ of the stir fry sauce and used avocado oil to fry the garlic and it's still delicious! THANK YOU!!!!! – Stephanie
Hungry for more? Try these delicious stir fry recipes!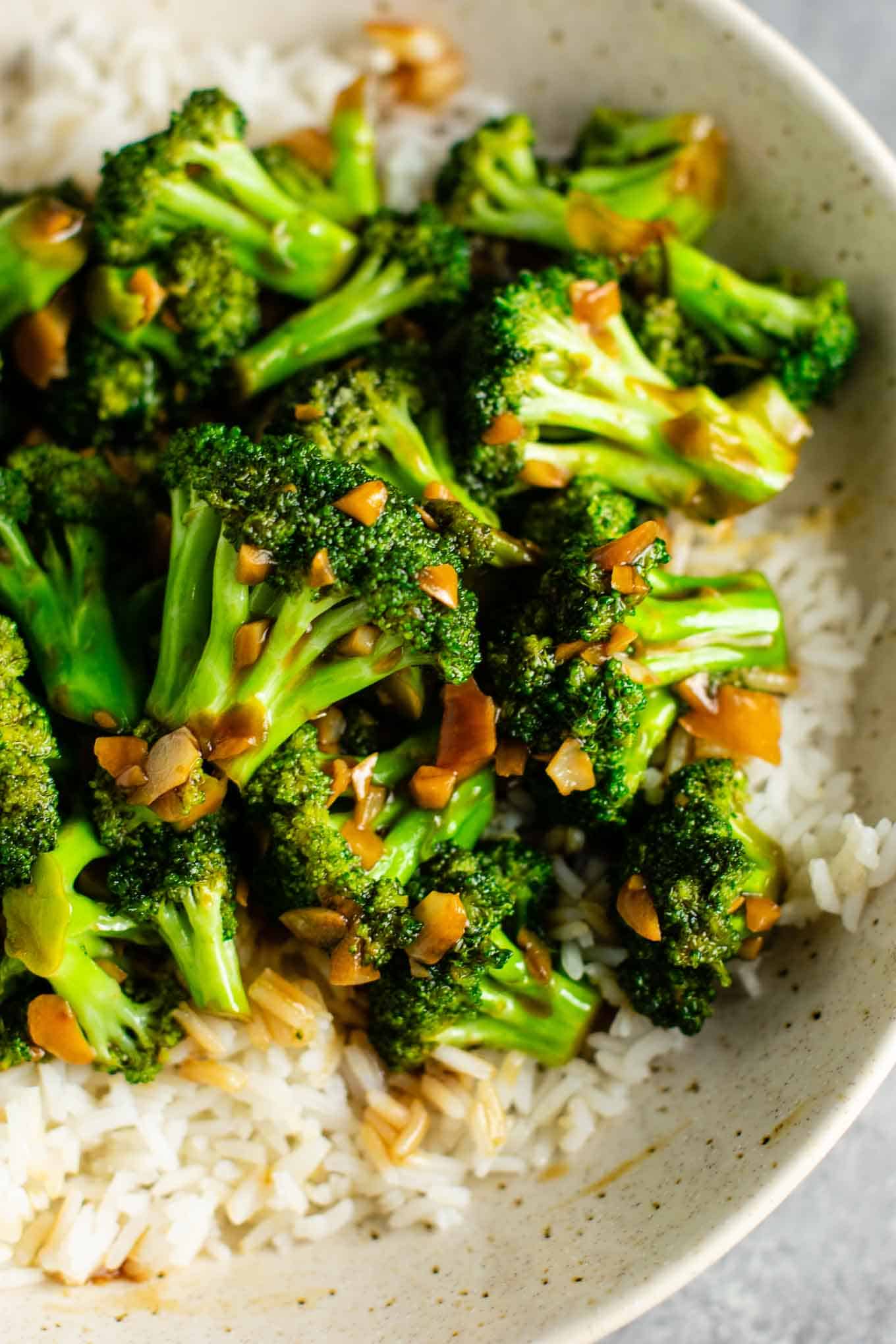 Are you making this recipe? I want to see! Don't forget to tag me on instagram @buildyourbite and hashtag #buildyourbite with your recipe creations!
Be sure to pin this recipe for later and follow Build Your Bite on Pinterest for all the latest delicious recipes!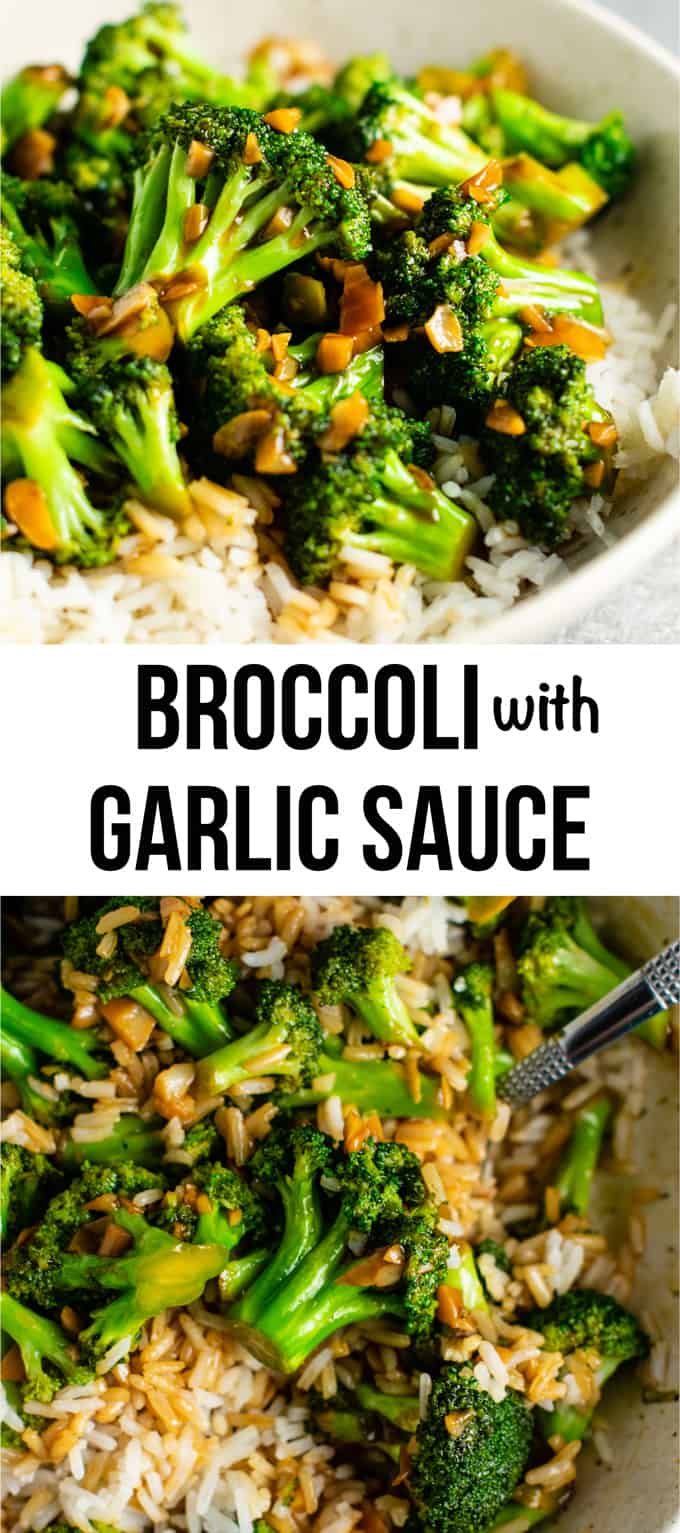 Did you make this recipe? Be sure to leave a star rating below!
Broccoli with Garlic Sauce
Easy and delicious Chinese broccoli with garlic sauce that tastes just like your favorite takeout!
Ingredients
⅓ cup minced fresh garlic
2 tablespoons sesame oil
8 - 9 cups fresh broccoli florets
1 batch of homemade stir fry sauce
unsalted white rice, for serving
Instructions
In a large skillet, add 2 tablespoons of sesame oil and heat to medium
Add minced garlic and cook for 3 - 5 minutes, stirring often, until garlic begins to brown
Add broccoli florets and stir fry sauce to the skillet and cook an additional 10 - 15 minutes, stirring often, until broccoli is desired texture (I prefer mine with a little crunch, so right around 10 minutes was perfect)
Serve over unsalted white rice (see notes below)
Notes
This recipe and amount of sauce is intended to be served over unsalted white rice for even distribution of saltiness and flavor.
If you serve this over salted rice or noodles, it will be far too salty. Or alone without rice, it will be too salty. The sauce is very concentrated and goes a long way!
I do not recommend using powdered garlic or jarred garlic for this recipe.
Frozen broccoli is also not recommended as it would be mushy and watery in this recipe.
Recommended Products
As an Amazon Associate and member of other affiliate programs, I earn from qualifying purchases.
Nutrition Information:
Yield:

6
Serving Size:

1
Amount Per Serving:
Calories:

228
Total Fat:

8g
Saturated Fat:

1g
Trans Fat:

0g
Unsaturated Fat:

6g
Cholesterol:

0mg
Sodium:

138mg
Carbohydrates:

35g
Fiber:

9g
Sugar:

3g
Protein:

7g