Croutons are something that I love to make for an easy way to add extra protein and flavor to my salads.
The croutons in this recipe were made using millet bread (so they are gluten free), however, I usually use Ezekiel bread (can be found in the frozen organic section at your local grocery store).
If using Ezekiel bread, make sure to defrost it by putting it in the toaster for one cycle so that it is the consistency of normal bread, but not crispy.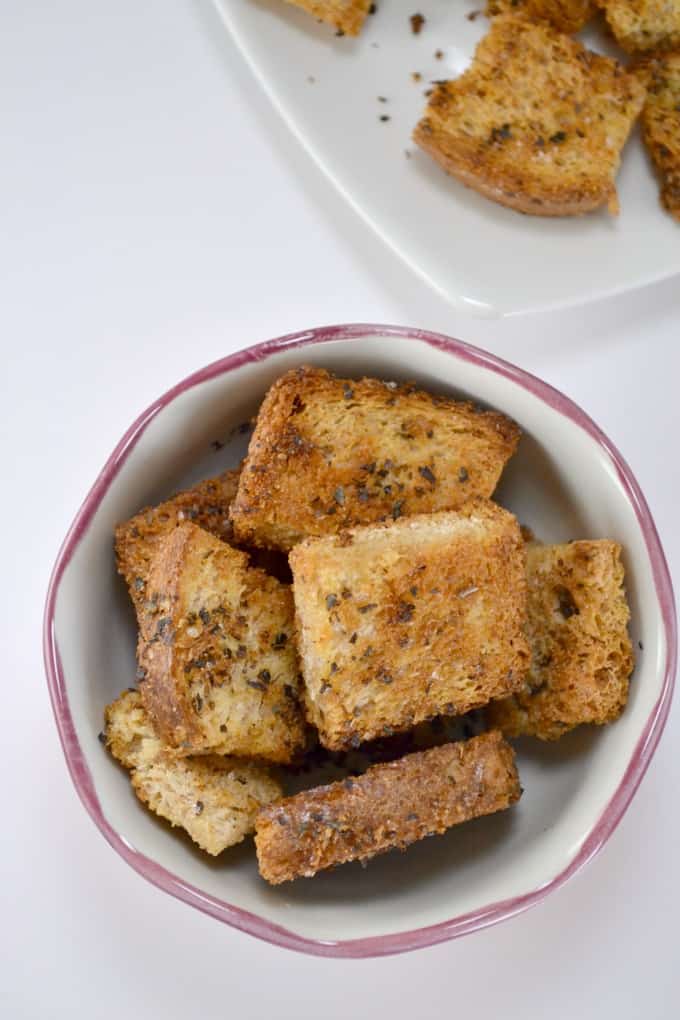 My favorite way to eat these are on a big romaine salad with veggie burger chunks and tuscan italian dressing. It is a delicious and easy weeknight meal.
I also love it with shredded kale salad for a sweet and salty combo.
This makes a large batch of croutons (I'm cooking for an ultra runner!).
This recipe should easily provide enough croutons for 5-6 people as a topping.
We love using lots of croutons for added protein so this recipe would feed about 3 for me 🙂
*Note: make sure to watch croutons carefully if cooking on a darker baking sheet, to avoid burning.
Enjoy!
Easy Homemade Croutons
Ingredients
10 pieces of Ezekiel bread (or buy gluten free bread if desired)
1/3 cup extra virgin olive oil
2 tablespoons garlic powder
1 tablespoon basil
1 tablespoon oregano
1 teaspoon salt
1/2 teaspoon pepper
Directions
Combine all ingredients on a baking sheet and toss well. Add more oil if necessary.
Bake at 375 degrees for approximately 10-14 minutes or until crispy
*Note: These should be eaten same day, for they do not store well.
Loading nutrition data...