I love potatoes! They are such a comfort food for me. I love roasting them, making baked potatoes, hashbrowns, and eating them in many different ways. My fiance Robbie tells me every time I make potatoes that he really usually doesn't like them. I think I've made them at least 5 different ways now and he has loved every single recipe and asked for more. I win 😉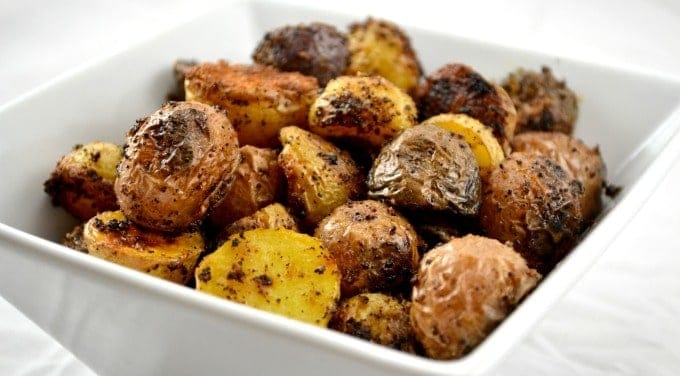 This recipe is super easy to make, and delicious!
When you roast potatoes, the flavor is so rich. I love roasting them until crispy, they make the perfect easy side!

Try these tonight for an easy and quick side dish! I love them dipped in ketchup 🙂

Easy Roasted Potatoes
Ingredients
3 lbs baby potatoes, halved
1 Tablespoon sea salt
½ teaspoon freshly cracked black pepper
1½ tablespoons garlic powder
slightly less than ½ cup olive oil (or enough to coat)
Instructions
Combine all ingredients on a baking sheet and toss to combine
Roast at 425 degrees for 15-25 minutes, checking and stirring every 10 minutes, until desired crispiness