This famous crispy potato casserole is so good! Perfectly crispy potatoes slow roasted to perfection. This crowd pleasing side dish won't have any leftovers. One of the best vegan potato recipes!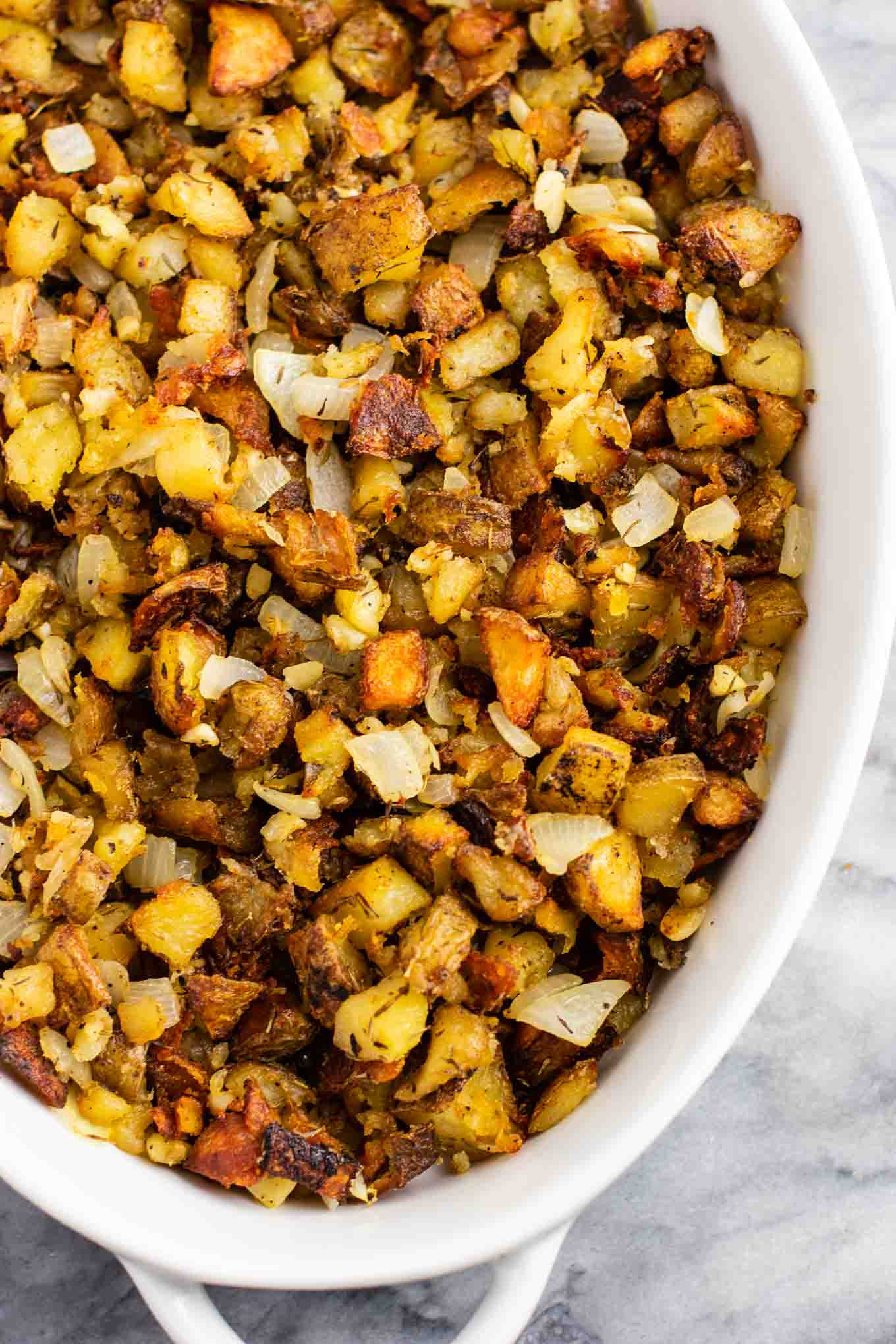 This recipe I am sharing today is one of my all time most loved recipes.
Everyone goes crazy for it!
This dish is the perfect casserole to make for any family get together (or fancy weekend breakfast/brunch).
Anyone that knows me knows how much I love potatoes – they are just so versatile!
Buy a bag of potatoes and you can easily make a tasty and affordable side dish.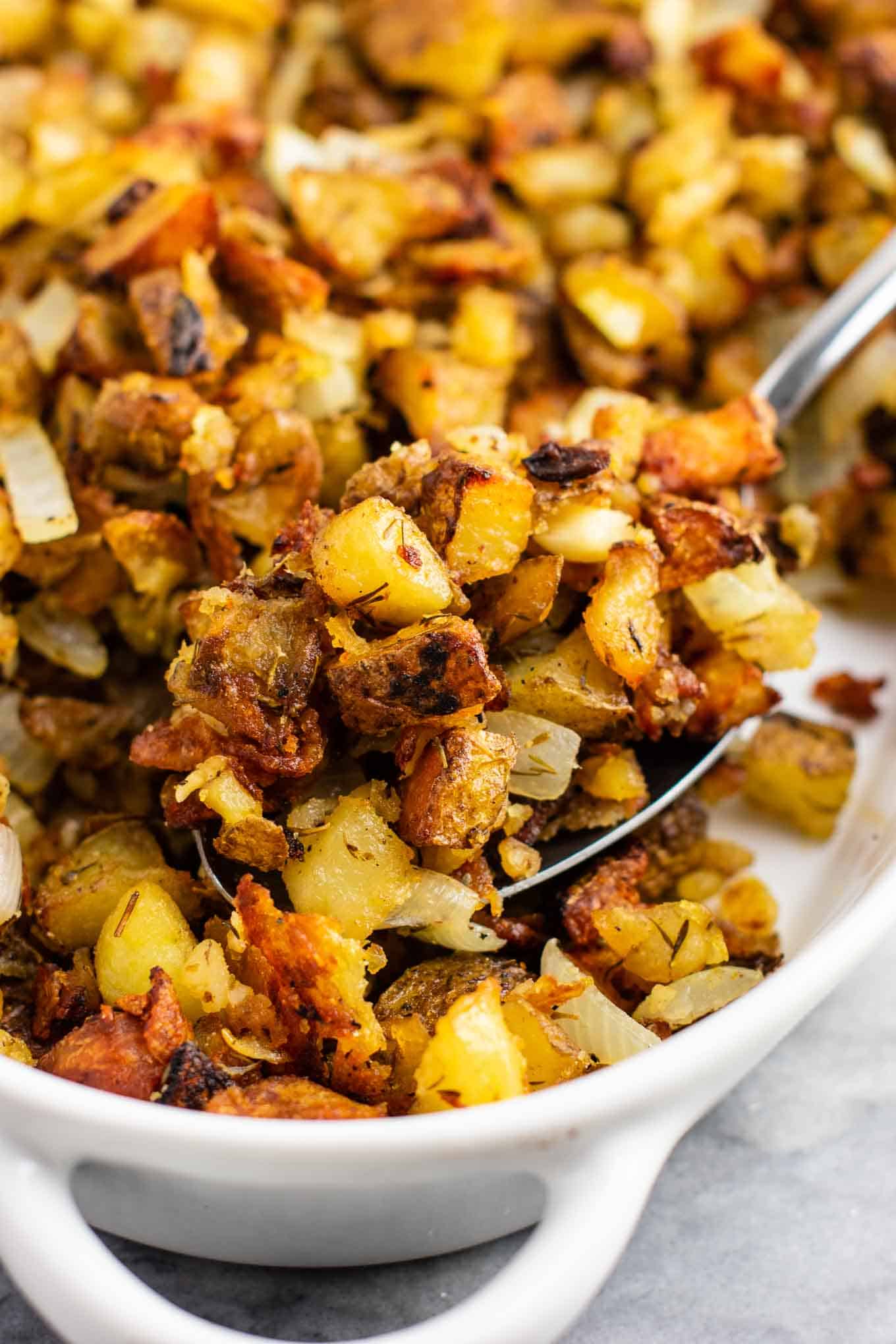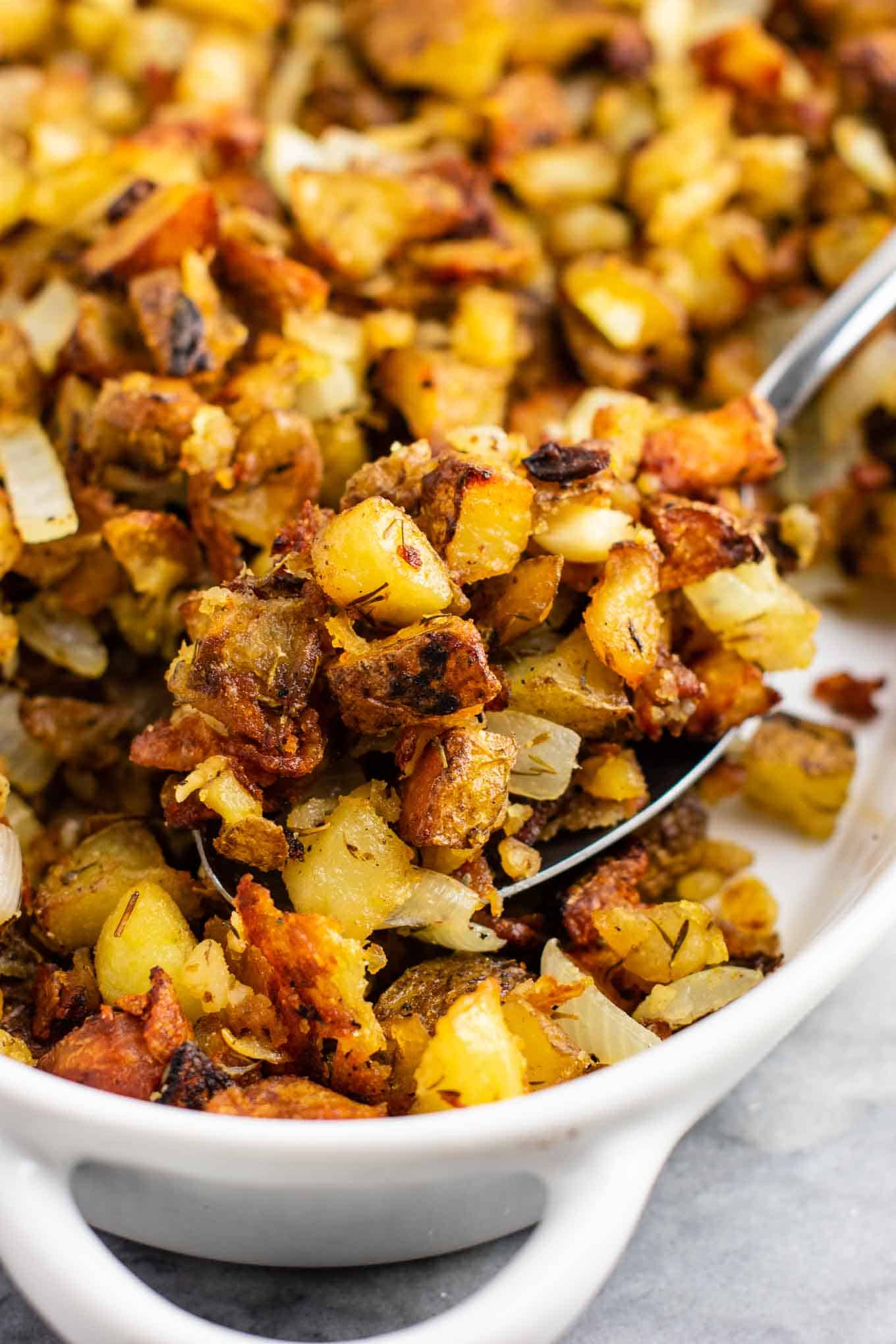 Vegan potato recipes
Case in point?
All of these are vegan potato recipes on Build Your Bite!
Can you tell I love potatoes?!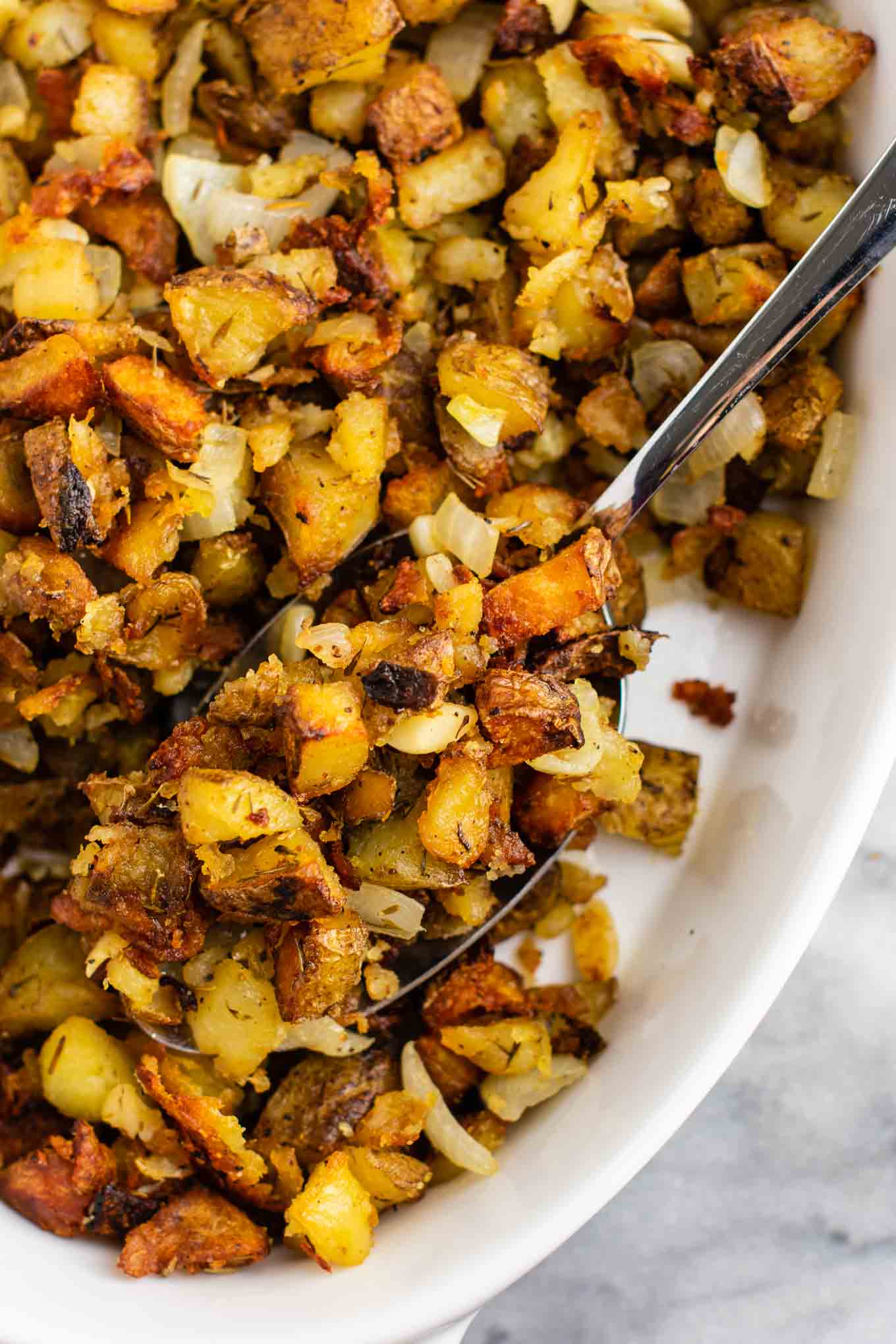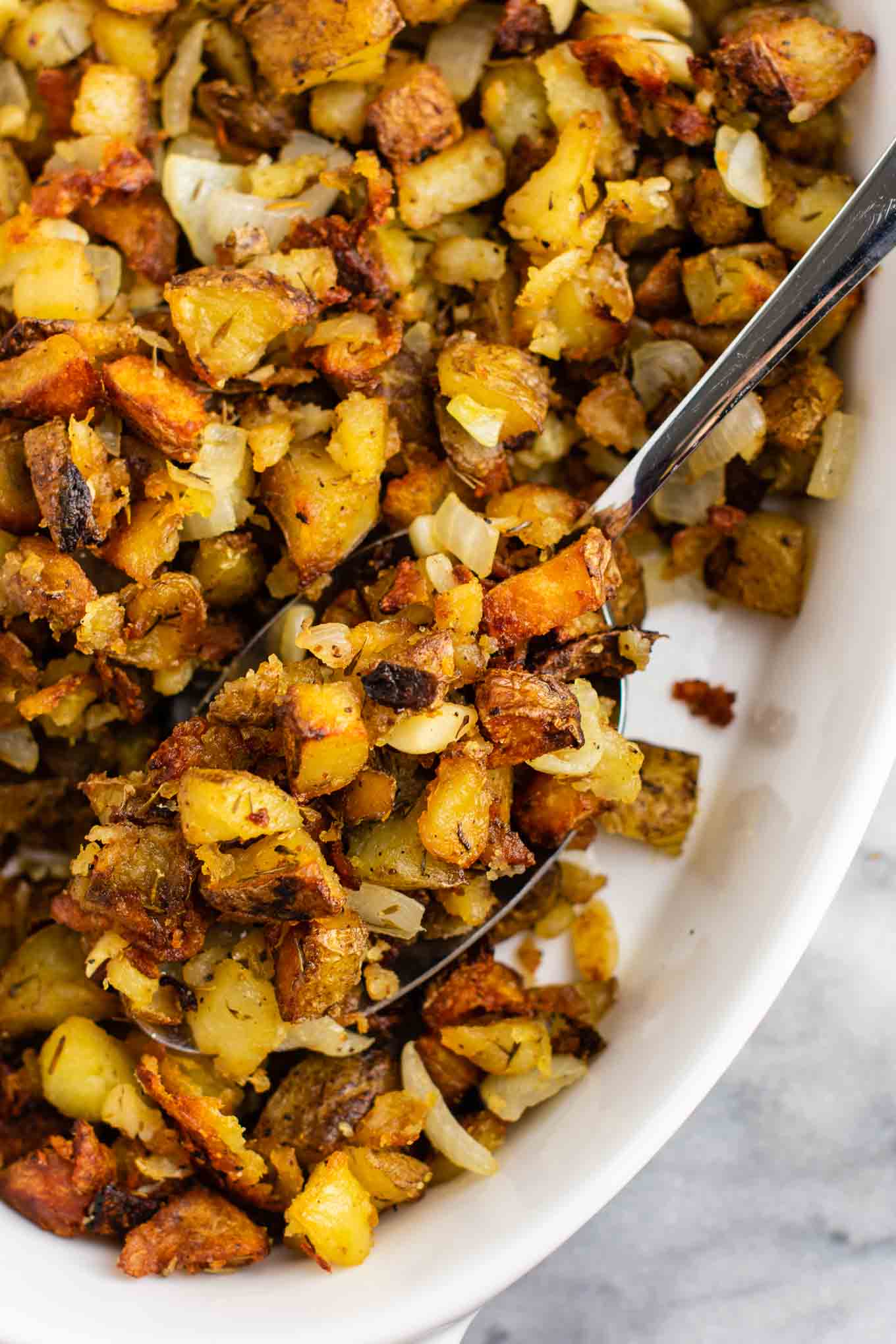 Although I love potatoes in many forms, this Famous Crispy Potato Casserole is arguably my favorite potato recipe ever.
I make this recipe often for family get togethers or cookouts and it's always a huge hit!
Everyone RAVES over it.
There are rarely any leftovers.
Just today I made it for lunch with eggs and it was amazing!
ingredients to make crispy potato casserole
russet potatoes
dried thyme
sea salt
pepper
garlic powder
onion powder
olive oil
yellow onion
garlic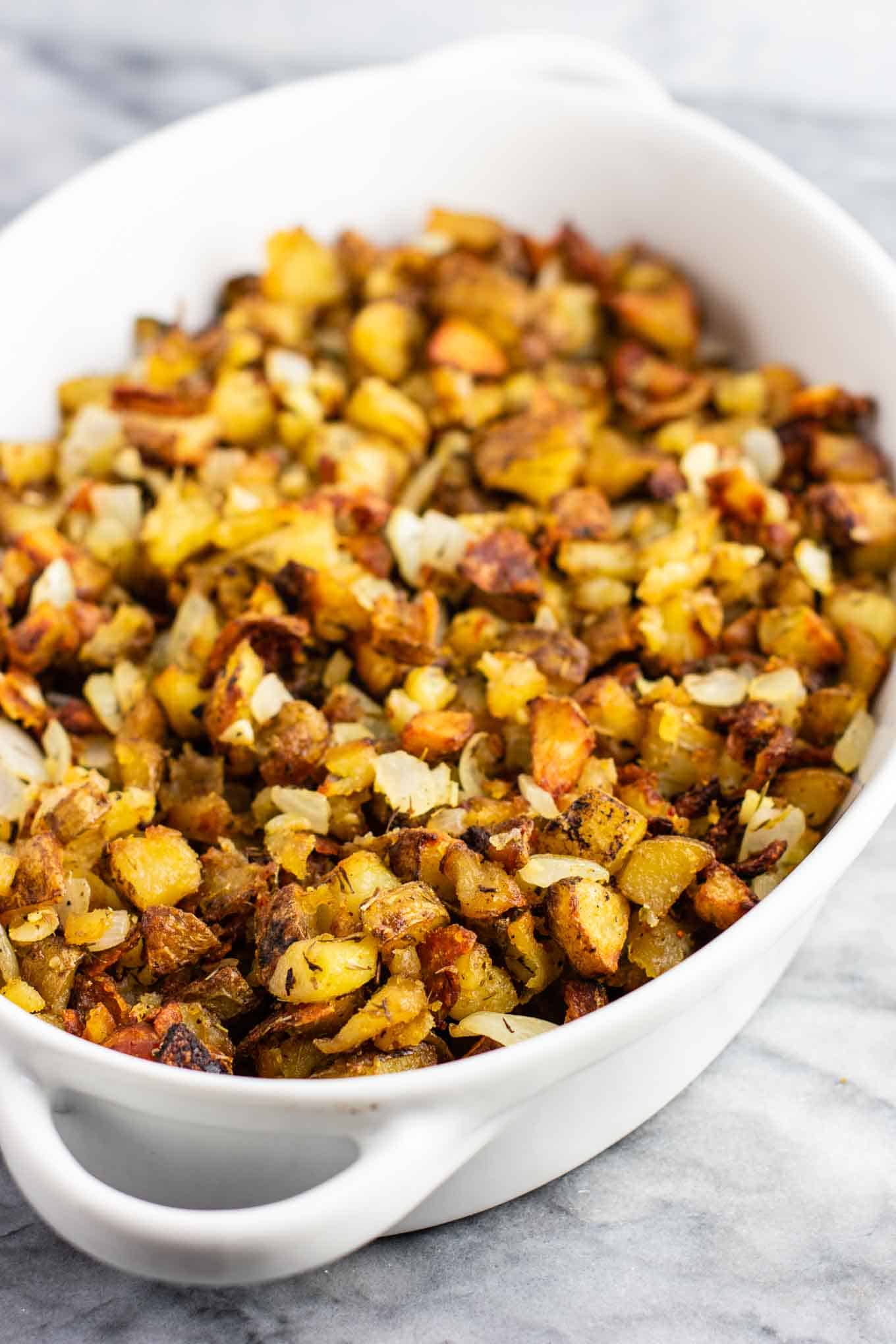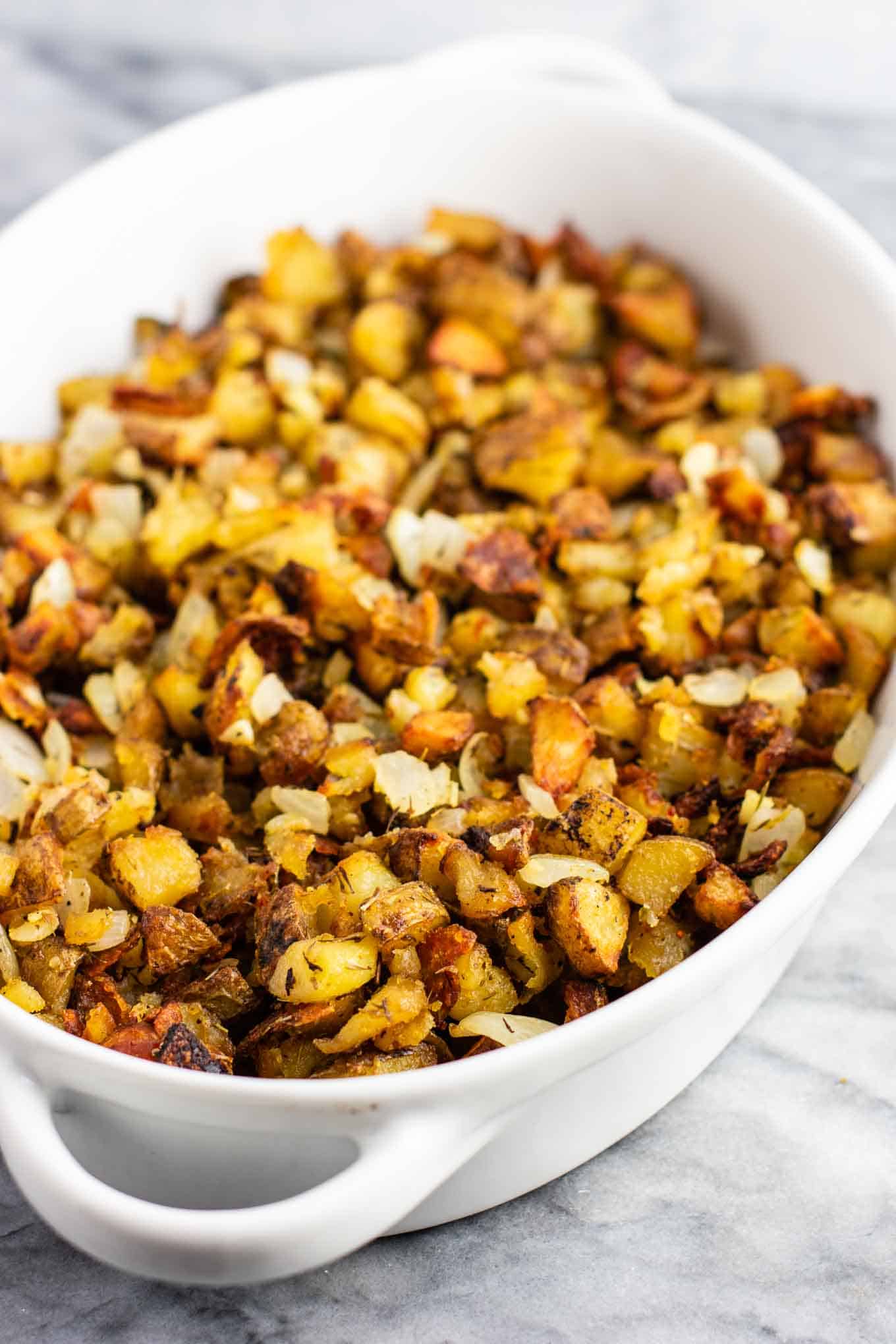 How to make Crispy Potato Casserole
First, was the russet potatoes and pat them dry.
Next, dice them into small chunks and place in a glass casserole dish.
Sprinkle on the thyme, salt, pepper, garlic powder, and onion powder.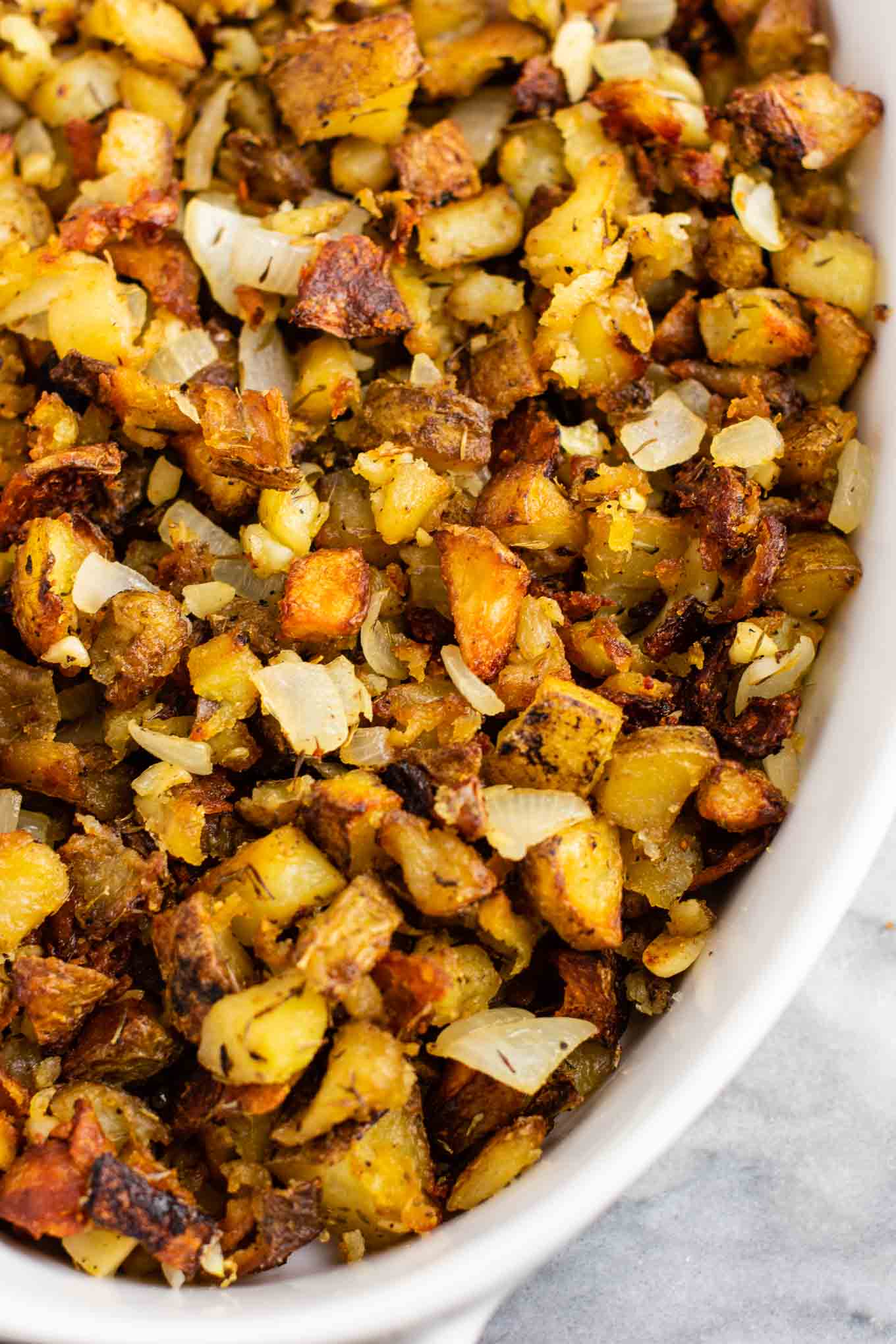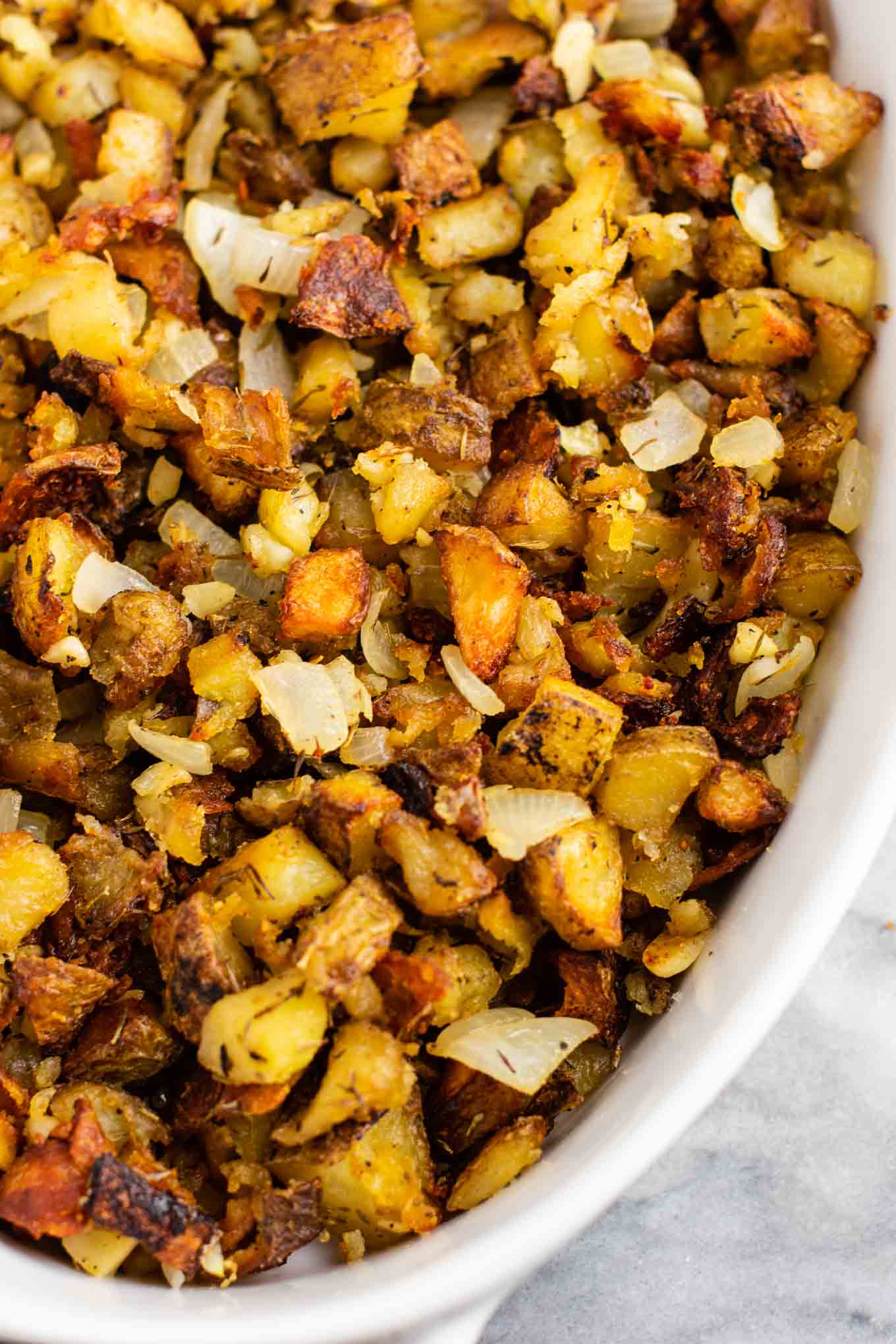 Drizzle the olive oil over the potatoes and use your hands to toss them until the oil coats the potatoes.
The potatoes should be well coated in oil, which will help get them super crispy on all sides.
Spread out the potatoes in an even layer to make sure that they cook evenly.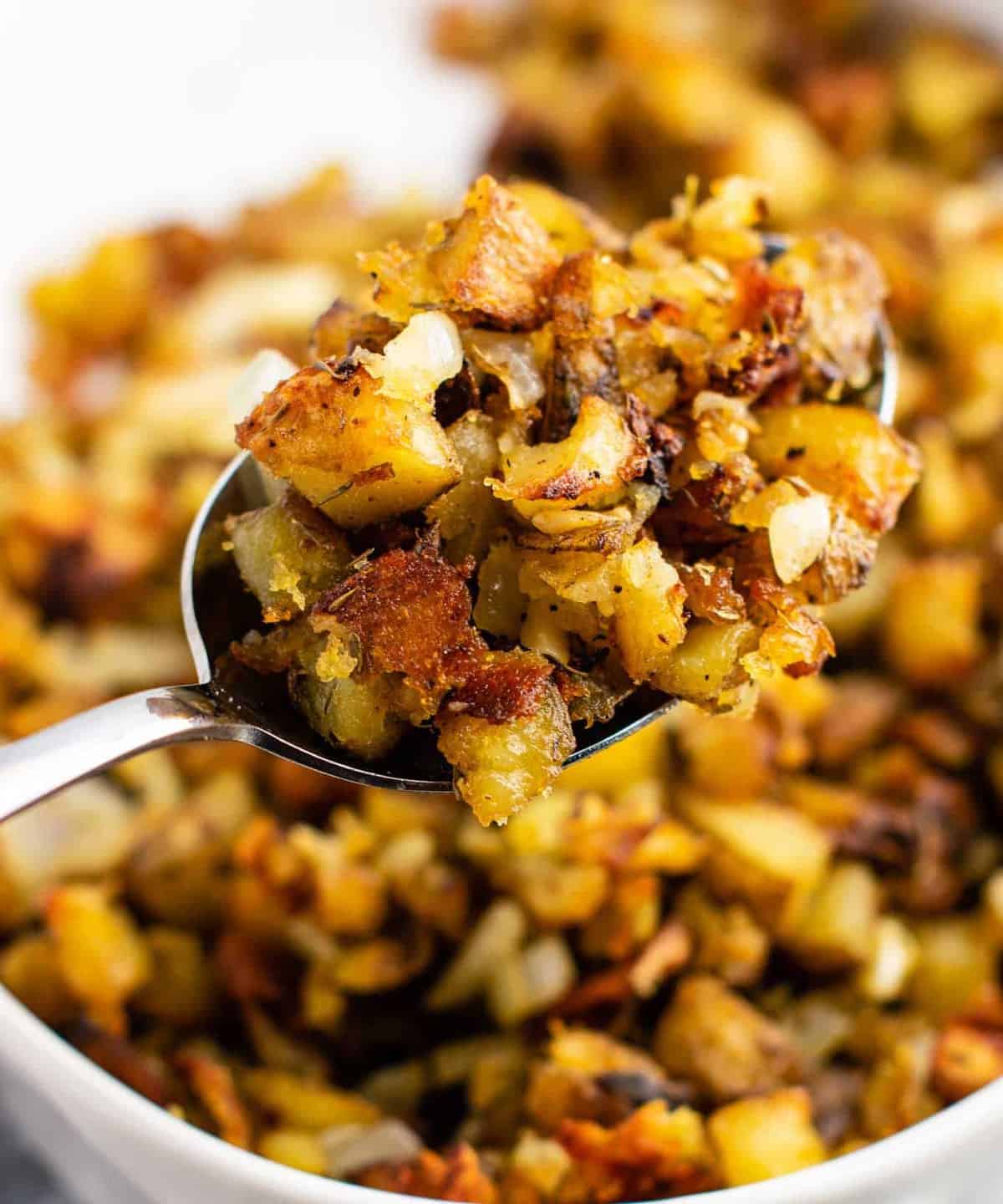 Roast at 425 degrees until potatoes are crispy on all sides, stirring and flipping every 15 – 20 minutes.
Pro tip: use a spatula every time to scrape up potatoes that stick to the dish.
This is where you get all those delicious crispy bits from!
The secret is in the depth of flavor you get from roasting the potatoes for hours.
The ingredients themselves are simple..but the real magic happens in the oven!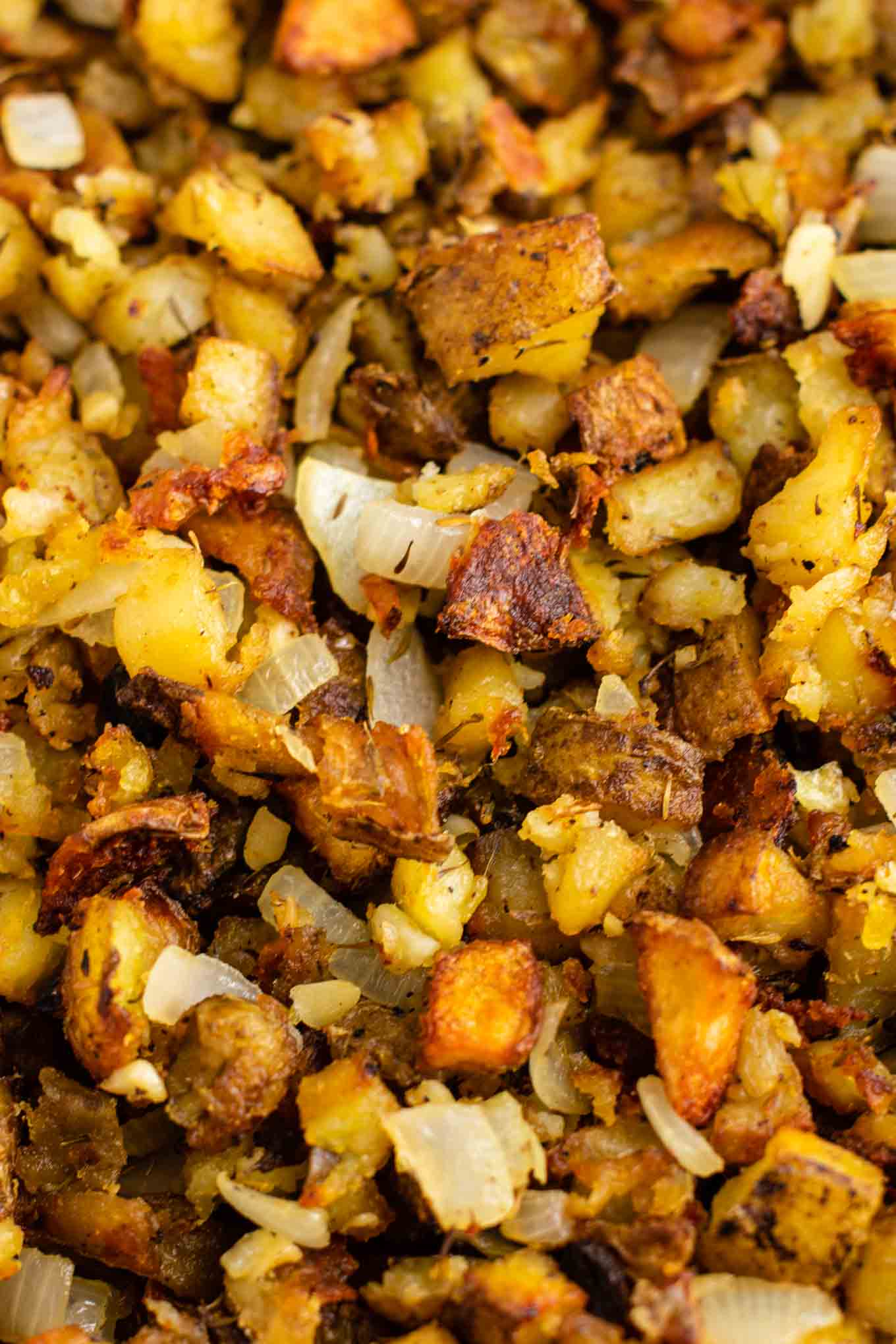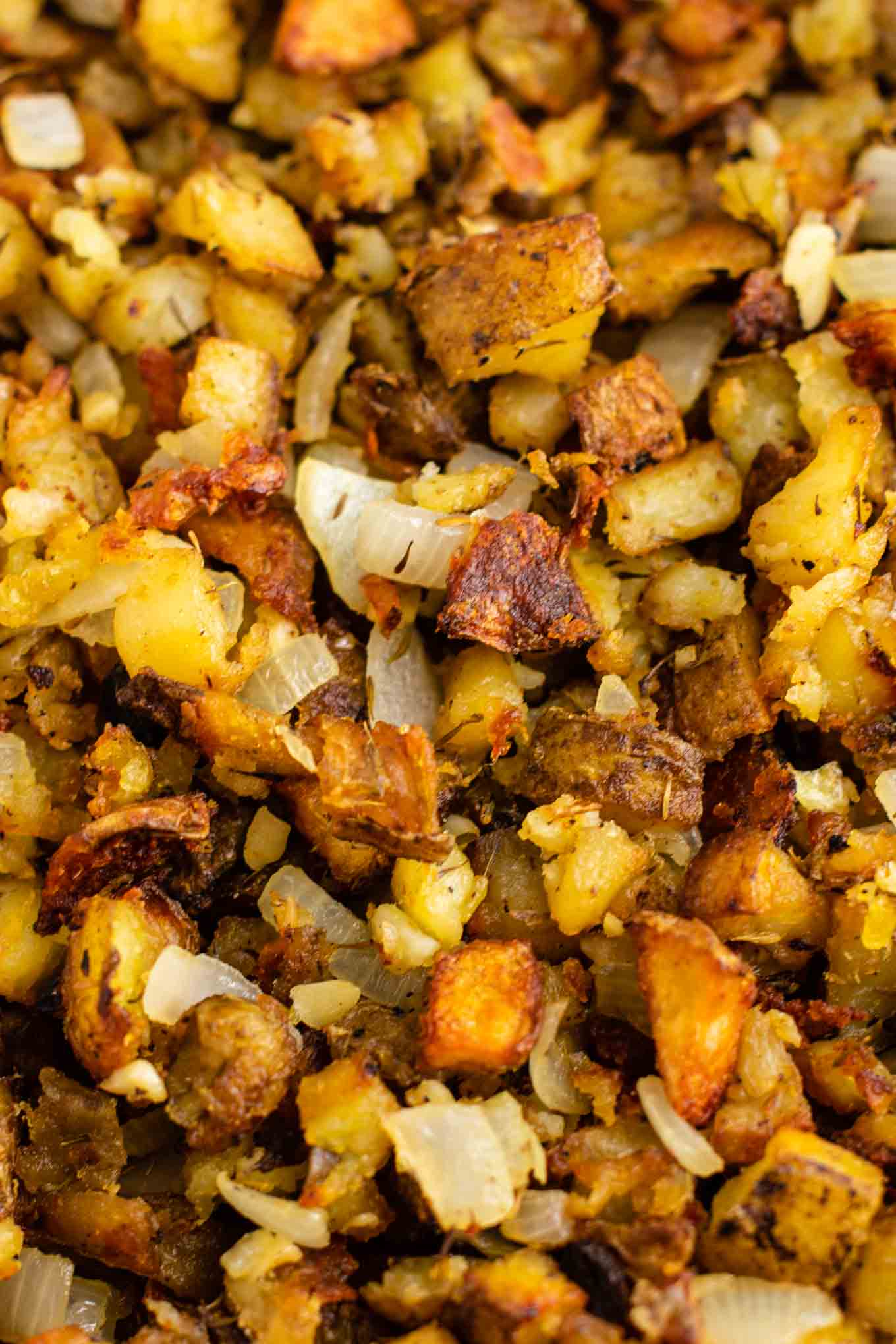 Once the potatoes are almost done cooking, make your garlic and onion mixture.
Dice up the fresh garlic and onion and add it to a skillet with a touch of olive oil.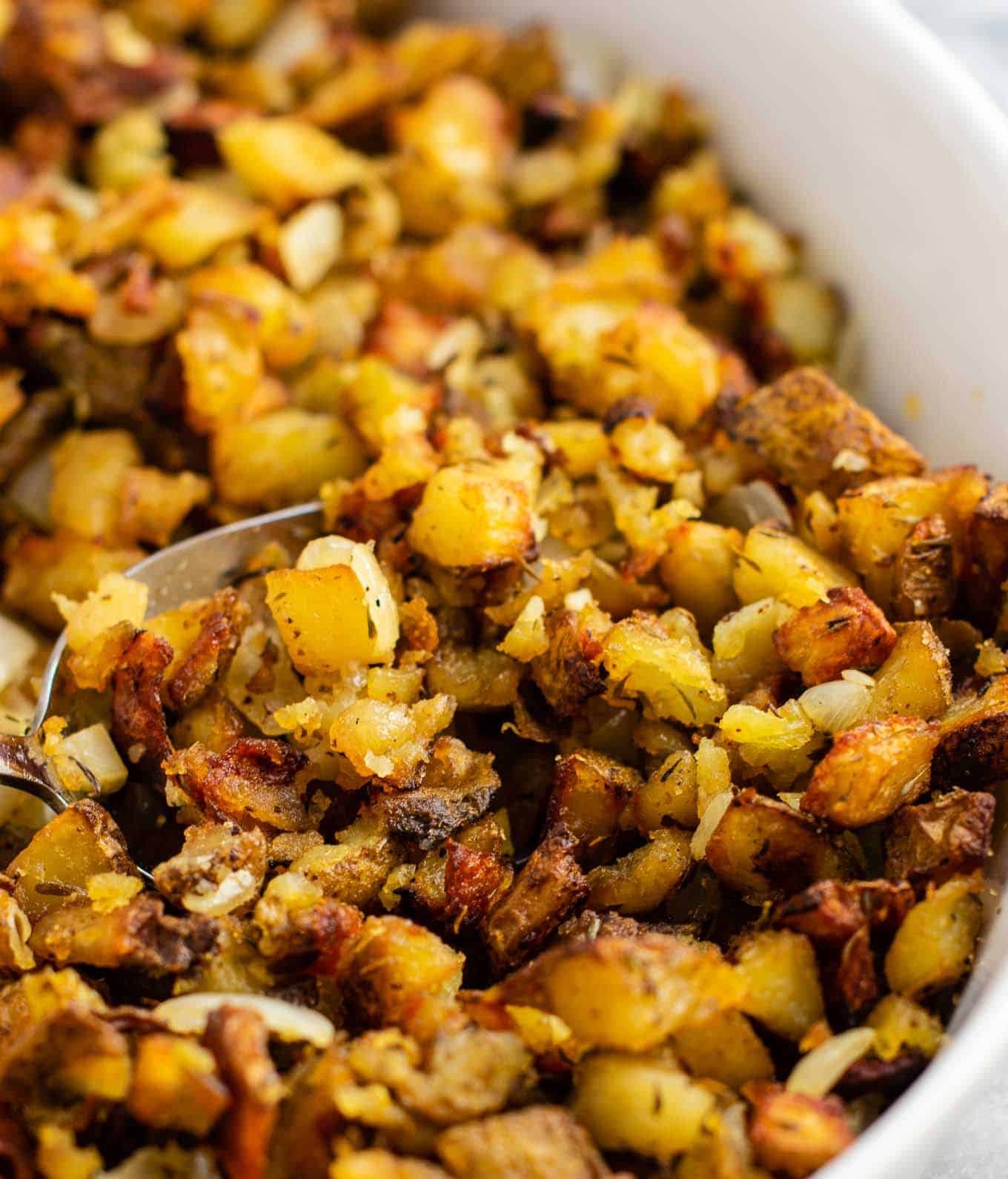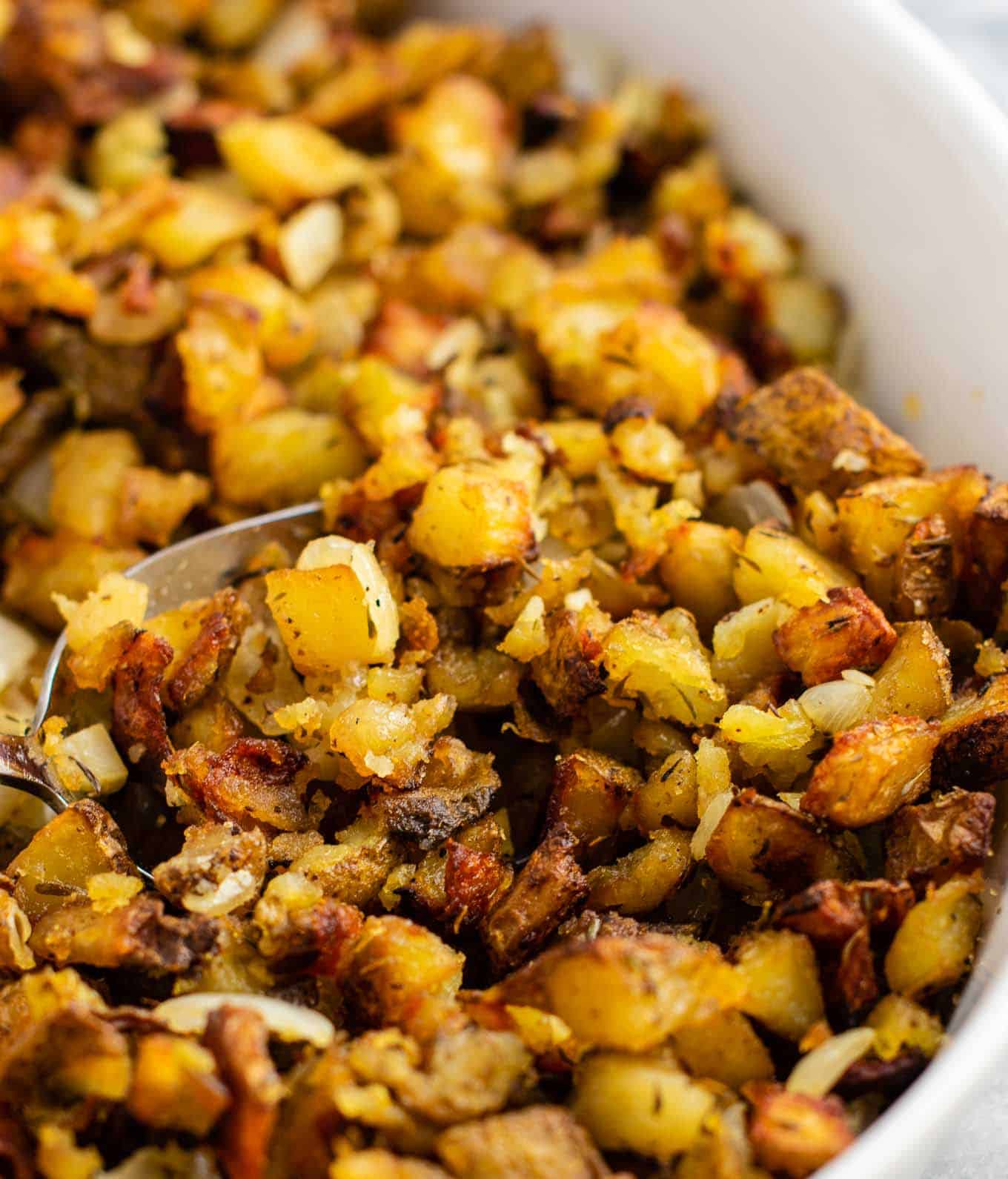 Cook for 10 – 15 minutes , stirring often, until onions are caramelized and soft but not burned.
Those caramelized bits will add a next level of flavor to this dish!
Once the potatoes are done, you will mix in the caramelized onion and garlic with a spoon until it is all combined.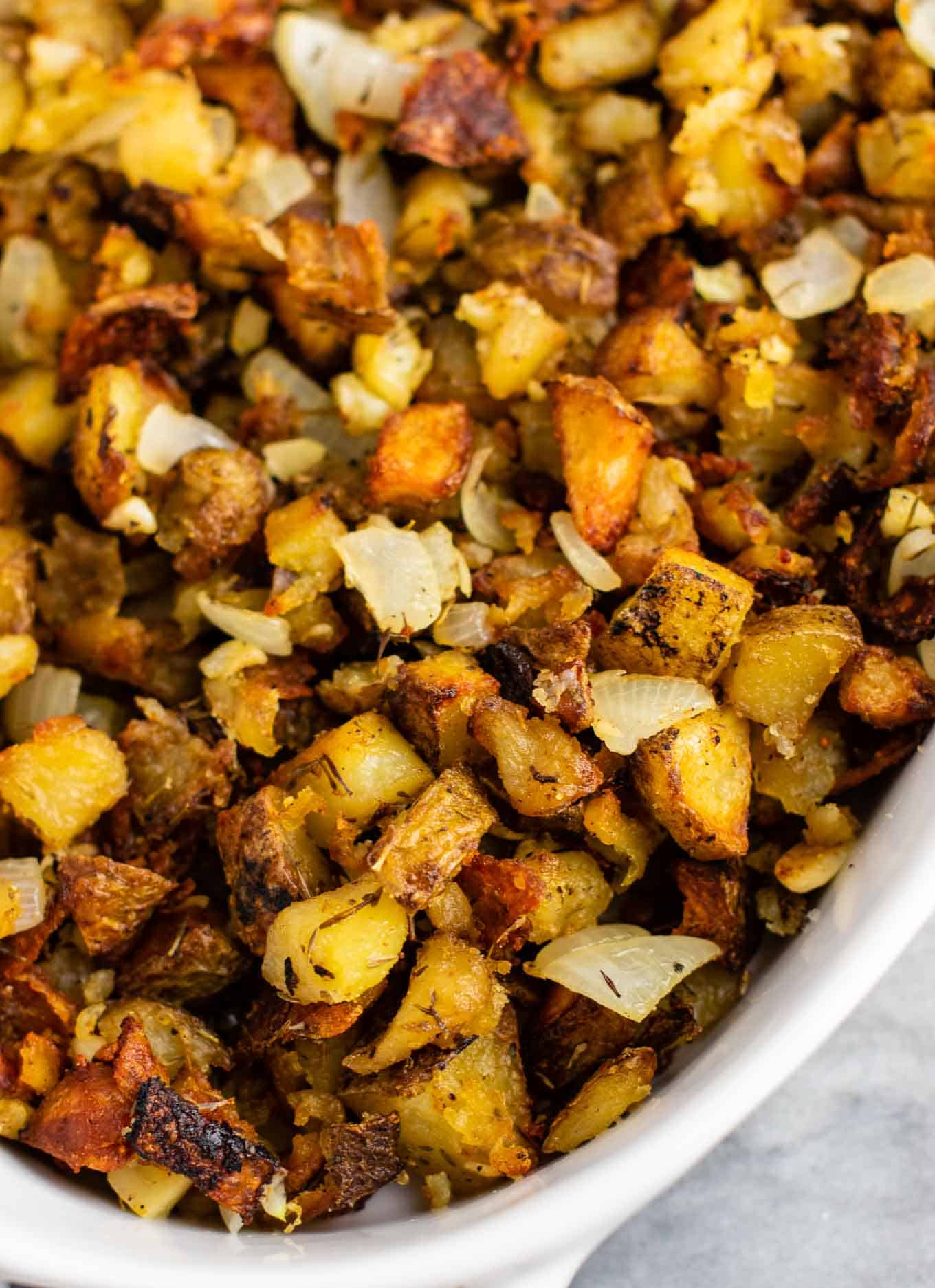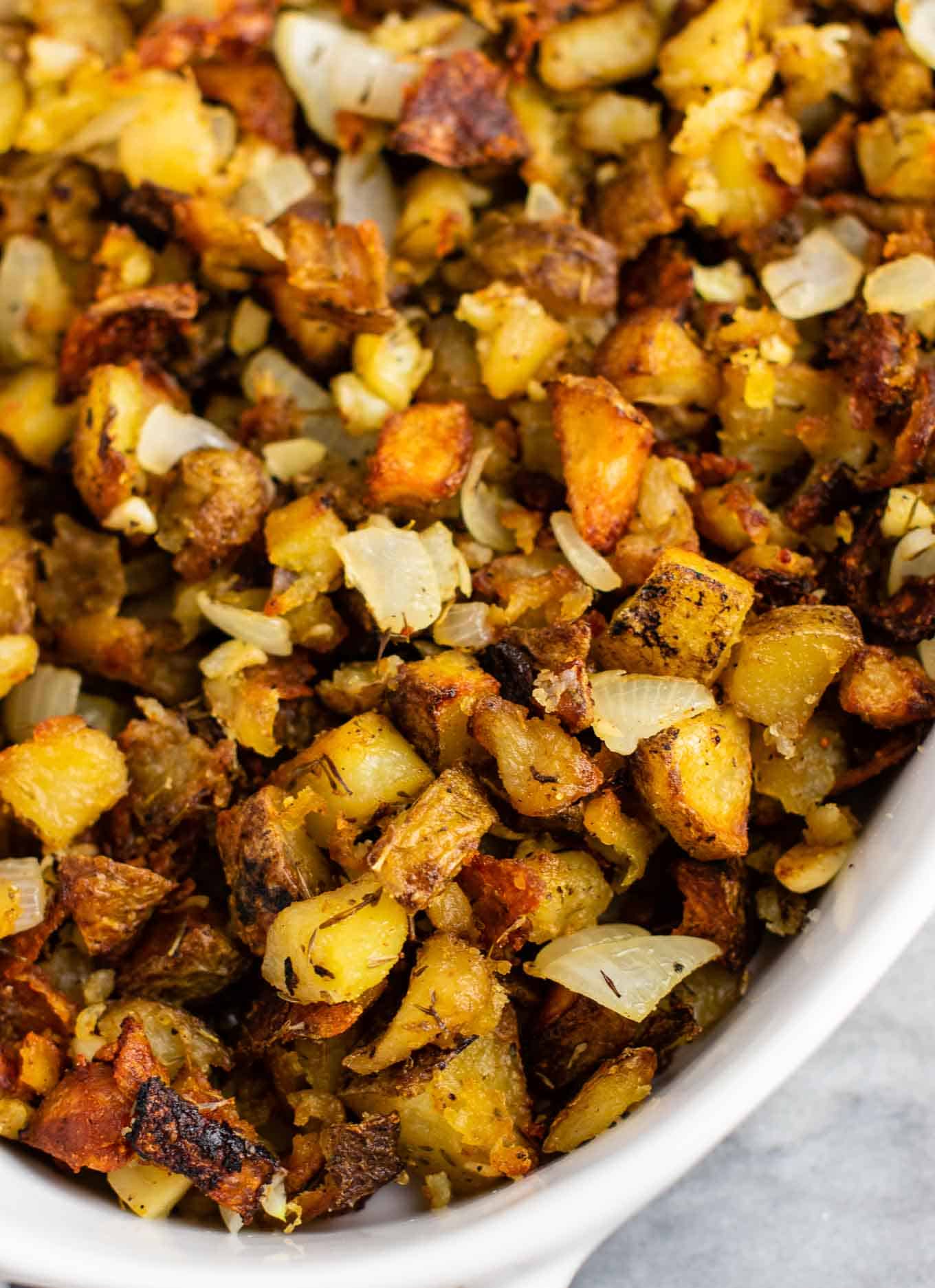 The goal is to get the potatoes as crispy as possible without burning.
You will take them out every 20ish minutes and scrape and stuck pieces from the bottom of the pan.
The easiest way to do this is to use a spatula upside down to scrape up any stuck potato edges.
The method is the same one that I use to make my simple vegan breakfast hash and my sweet potato hash.
I even use hash in my vegan breakfast burritos for crazy flavor!
At the end, you will have tender potatoes with crispy bits that just melt in your mouth.
I could literally eat this every week and never get sick of it!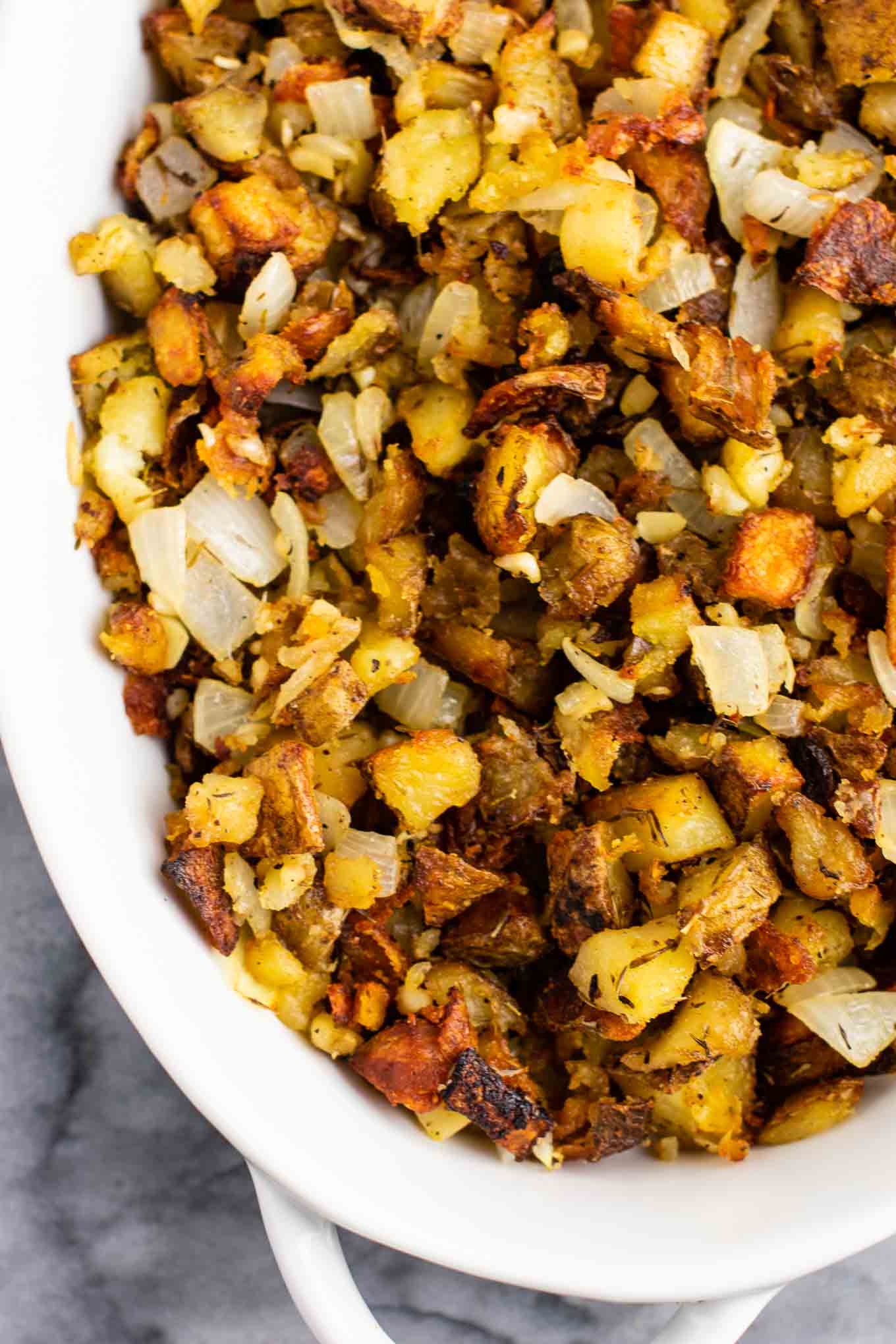 And trust me…the cook time is so worth it. Just wait until you see how fast it will disappear when you make it!
I usually make a double batch when I take it anywhere.
And there are no leftovers when I do!
If you make just one new recipe this week, try this!
Love potatoes for dinner? Be sure to try this Sheet Pan Vegetarian Kielbasa and veggies!
Are you making this recipe? I want to see! Be sure to tag me on instagram @buildyourbite and hashtag #buildyourbite with your recipe pictures!
Follow Build Your Bite on Pinterest for all the latest delicious vegan and vegetarian recipes!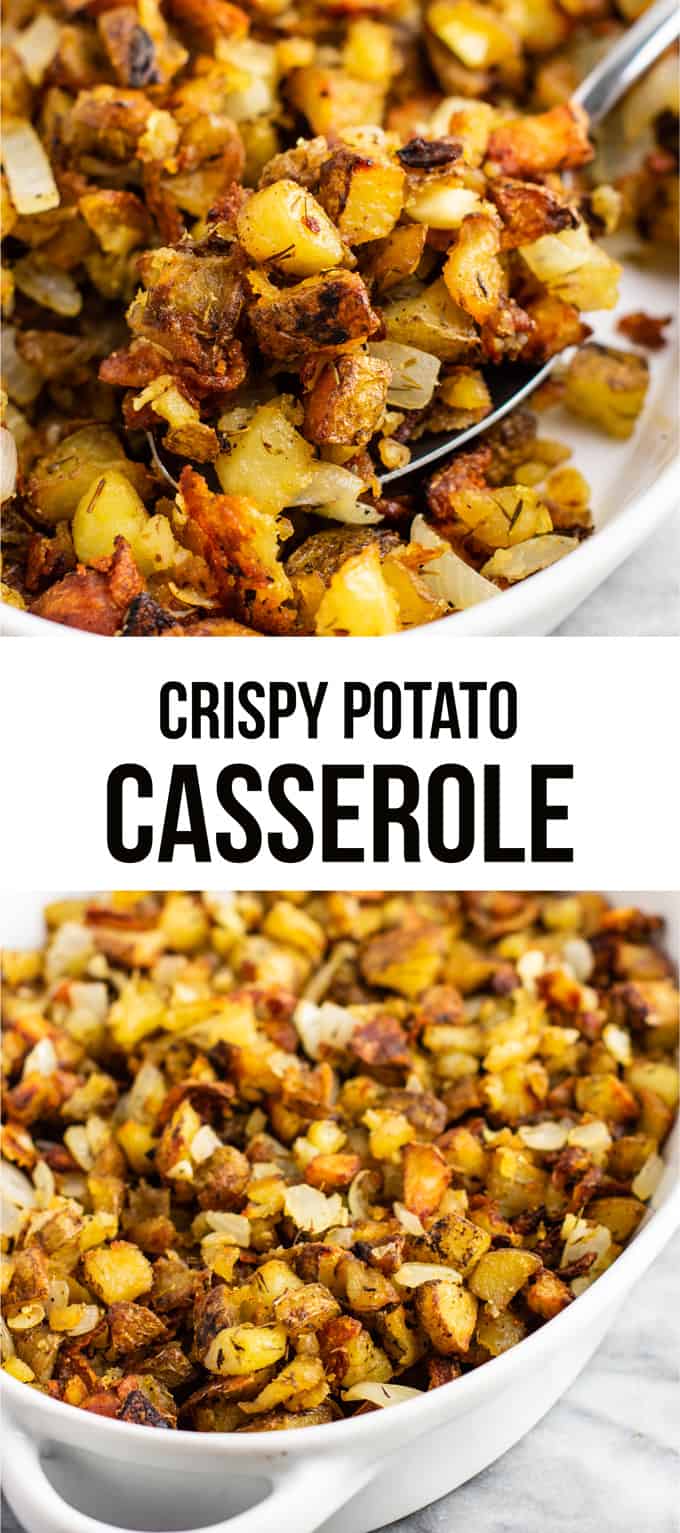 Did you make this recipe? Be sure to leave a star rating below!
Crispy Potato Casserole Recipe
Famous Crispy Potato Casserole
Cook Time:
1 hour
30 minutes
Total Time:
1 hour
50 minutes
This famous crispy potato casserole is a guaranteed crowd pleaser! The holy grail of vegan potato recipes!
Ingredients
3 pounds russet potatoes, diced into small chunks
2 teaspoons dried thyme
2 teaspoons sea salt
1 teaspoon pepper
1 tablespoon garlic powder
1 teaspoon onion powder
scant ½ cup olive oil
1 yellow onion, diced
6 cloves of garlic, finely diced or minced
Instructions
Preheat oven to 425 degrees
Dice potatoes and place in a glass 13 X 9 pyrex baking dish
Sprinkle potatoes with thyme, salt, pepper, and garlic and onion powder
Pour on olive oil and toss the potatoes until spices and oil are well coated (it will be very oily - you will need the oil to help with roasting)
Spread out potatoes into an even layer so that they cook evenly
Roast potatoes at 425 degrees for around 1.5 hours, checking every 20 minutes
Every 20 minutes, remove potatoes from oven and use a spatula to scrape any stuck pieces from the bottom of the pan and toss potatoes around.
Cook for approximately 1.5 hours, or until potatoes are crispy and tender
Once potatoes are almost done, dice up a yellow onion and 6 cloves of garlic
Sautee onion and garlic with a touch of olive oil in a skillet on medium high heat
Sautee for 10-15 minutes, or until caramelized and cooked down
Once potatoes are finished cooking, transfer onion mixture to the dish with the potatoes and stir
Serve and enjoy!
Notes
1. It's important to check on the potatoes every 20 minutes since we are roasting at a high temperature. To avoid burning, make sure to use a spatula to scrape sticking pieces from the bottom and toss around.

2. The potatoes will soften as they are out of the oven, but the flavor is insanely good! They reheat well, just keep in mind that they will be more crispy straight out of the oven.
Nutrition Information:
Yield:

6
Serving Size:

1
Amount Per Serving:
Calories:

401
Total Fat:

19g
Saturated Fat:

3g
Trans Fat:

0g
Unsaturated Fat:

15g
Cholesterol:

0mg
Sodium:

921mg
Carbohydrates:

54g
Fiber:

7g
Sugar:

3g
Protein:

7g