When I first started blogging, I had absolutely zero idea what I was doing. I still feel overwhelmed most days with all of the things that I have yet to figure out. It is so hard when you're first learning food photography to try to find how to improve your pictures. The number one recommendation that I would make to any blogger is to build a light box!
A month or so into blogging, I was so discouraged. My pictures just weren't cutting it. I tried submission after submission to foodgawker and everything was denied. I knew that I needed to improve my photography if I ever wanted my blog to be read.
Enter this light box. My sweet husband is always looking for ways to help me with my blog, and jumped at the chance to build me a light box. I take most of my blog pictures at night, and when I do have time in the day, it's not necessarily sunny enough to use natural daylight. This light box has been a lifesaver to me. While I still feel like my photography has a ways to go, the difference between my photos using this light box is night and day! My blog wouldn't be what it is today without me working constantly to keep improving my photography!
Here's some before-and-after shots just to give you an idea of how far my photography has come.

The before pictures are washed out, dull lighting, not crisp, and just not pretty to look at. The light box has allowed me to take pictures no matter what time of day and get a great shot!
Another thing I recommend is buying Pinch of Yum's Tasty Food Photography ebook (there's a link in my sidebar where you can purchase it.) This book is an awesome resource that teaches you in easy to understand words how to use the manual settings on your camera. It has everything you need to know about food photography!
I can't afford to spend hundreds (or thousands) of dollars on a light box, not many bloggers can. I love how affordable this box is to make, under $100! I spend more on props, backgrounds, etc, so I love that this was so cheap to make. My husband used this tutorial from Angela at Oh She Glows with some modifications.
We did ours slightly different, here's some of my recommendations, based on what we did:
1. Used a white sheet (you can use tissue paper, but this option is cheap and more durable.)
2. Originally, we made the box as pictured by Oh She Glows, but ended up cutting the fabric out of the top. This is essential for me to be able to get those great overhead shots, like the pizza picture above.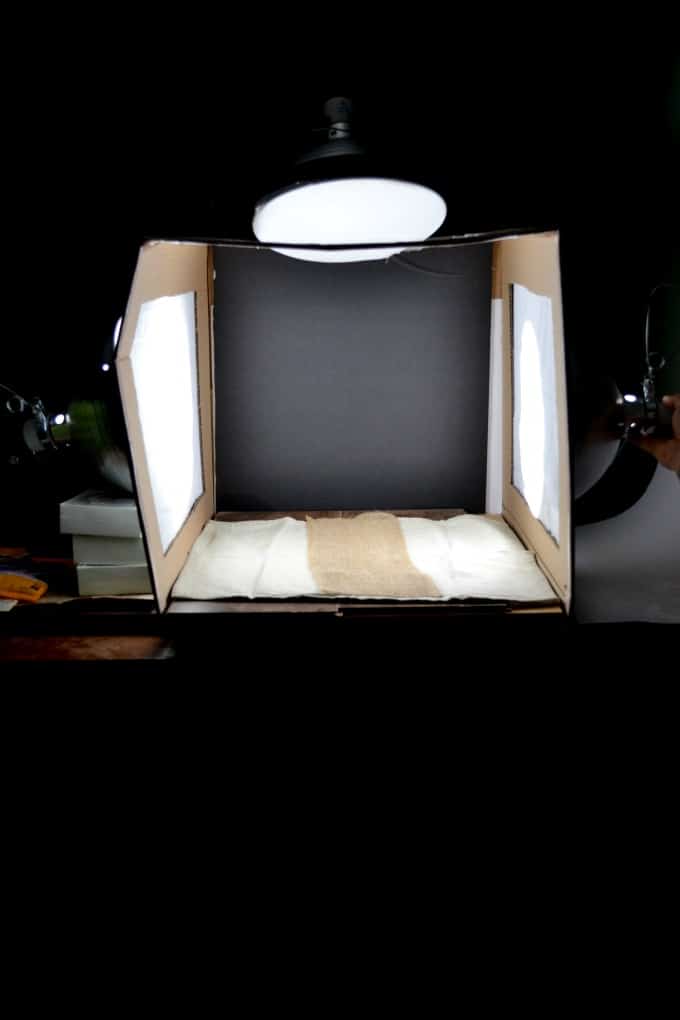 3. Since we cut out the overhead sheet, we duck taped an extra piece of white sheet over the top light to act as a diffuser. Yes, it sounds like a fire hazard, but we never leave the lights on for longer than 5-10 minutes while shooting pictures.

4. Use a black foam poster board cut to fit in the back.
5. At first, I used either a black poster board on the bottom (where the food sits), but now I have a cutting board there. I happened to luck out and find one at Bed Bath & Beyond that fits perfectly. If you don't have a cutting board, just using fabric or the plain paper on the bottom is a good place to start.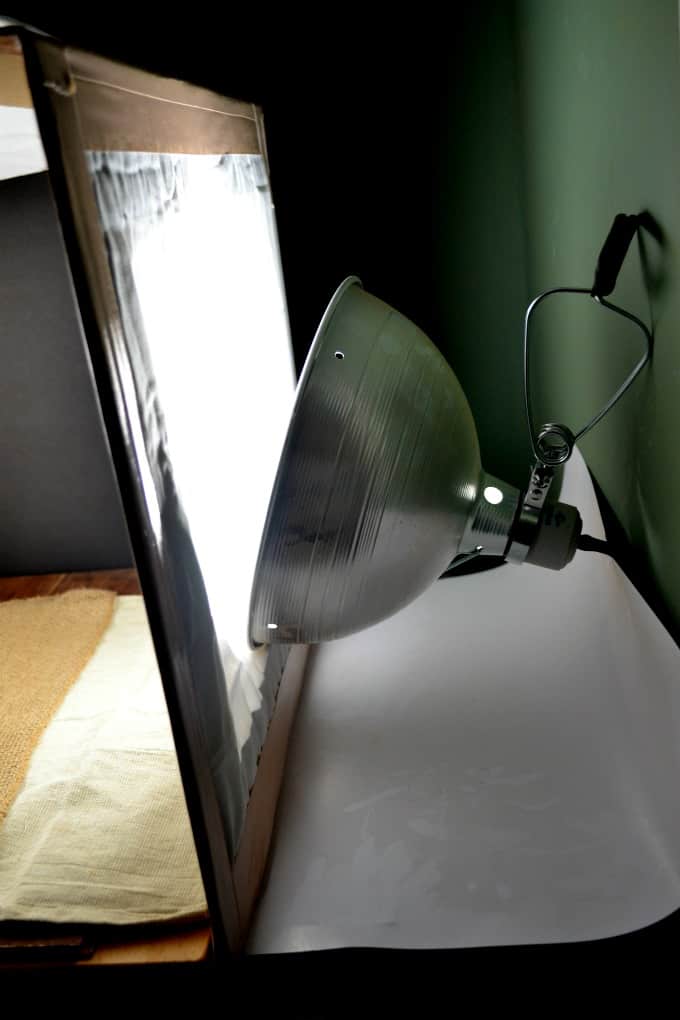 We had to play around with how to position the lights while taking pictures. Sometimes I need the overhead light and sometimes I don't. I usually take a few pictures, and make lighting adjustments, as well as manual adjustments on my camera until it starts to look how I want it.
Here's what you'll need to make the light box (and the cost breakdown)

Under $70! This light box is so affordable to make, much cheaper than buying one already made. I highly suggest making a light box if you want to improve your photography!
Please comment below if you have any question. Happy light box making!