As of today, there are only a little more than 10 weeks until my due date…say what?!
It's hard to believe that somewhere around August 6th (or sooner), there will be a new addition to our family.
My normally overly stressed self is handling this well (read: in complete denial). Hah. This child needs to stay in there cookin' until his due date – we have SO much left to do yet.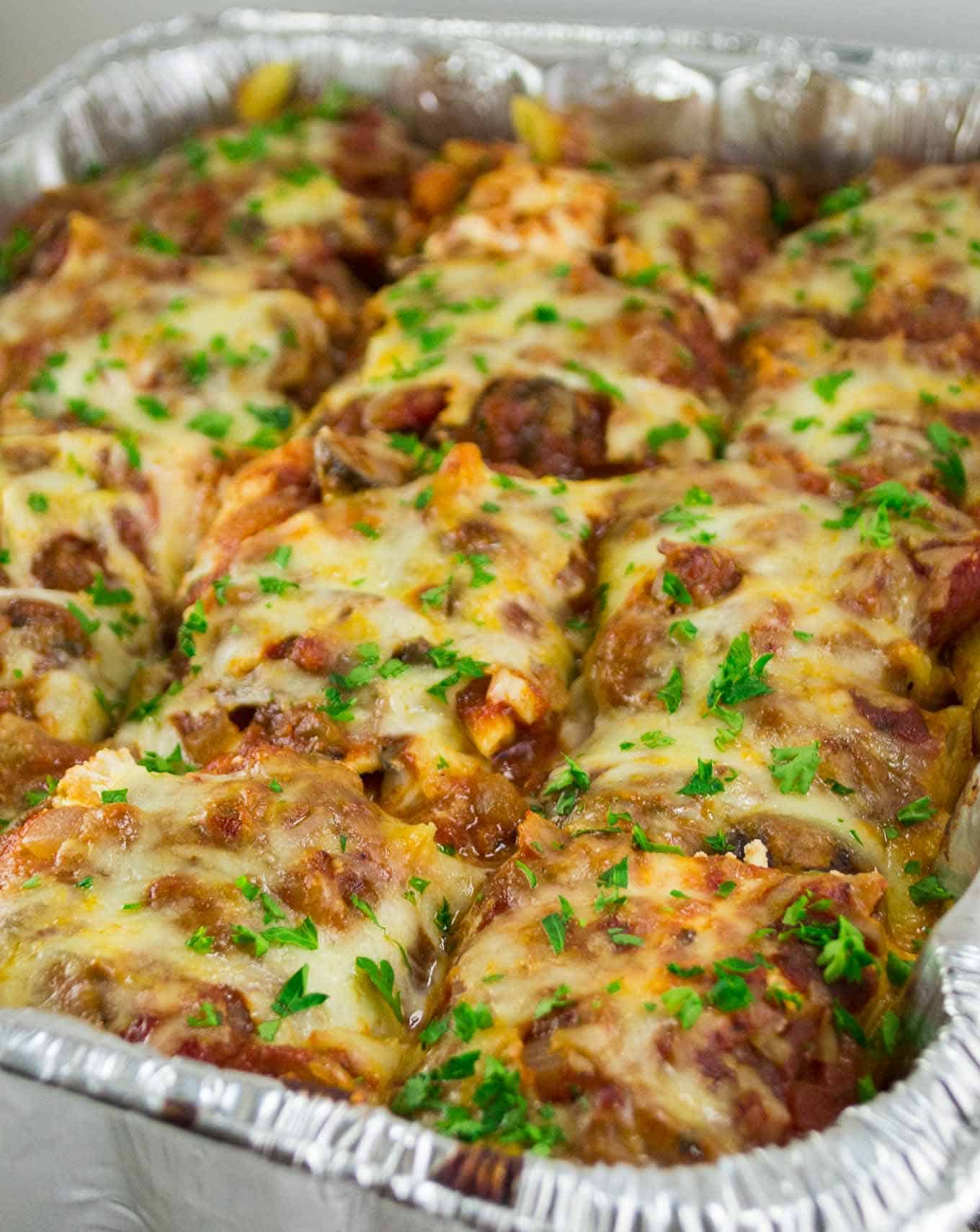 One of the items on my before-baby to do list is to stock up our freezer with some dinners.
I'm really hoping to have at least several dinners and these cookies in the freezer before little man comes.
This freezer friendly oven baked ziti would be a perfect freezer meal to make ahead for an easy dinner! It would also be great to take over to any new mommas that you know!
With all the overwhelming responsibility of a newborn mommas need all the help they can get!
I loaded up this ziti with tons of fresh baby bella mushrooms, and added fresh garlic and onion to add tons of flavor!
I bought giant 13 X 9 foil pans to make this ziti in. This recipe will fit perfectly up to the top of a deep 13 X 9 pan (mine were marked as x large lasagna pans.)
You're going to cook the noodles until slightly before they should be done, rinsing immediately after with cold water to stop the cooking process. This will make sure they don't get too soggy during cooking.
First, you'll place a layer of noodles to cover the bottom (use half of the noodles.)
Then top with provolone slices and half of the ricotta mixture.
Add half of the sauce mixture.

Add the rest of the ricotta mixture (spread it out once you place it down.)
Add the remaining sauce to cover the top.
Sprinkle the top with shredded mozzarella cheese.
From here you can either freeze as is or go ahead and pop it into the oven!
Bake from fresh at 350 for 30 minutes, or until cheese is bubbly.
Crank up the heat towards the end if you want to get a little bit of brown on top!
We loved this meal! Serve with garlic bread for an easy side.
This recipe easily serves 4-6 people. We ate on ours for several days!
Just look at that melty cheese and fresh mushrooms!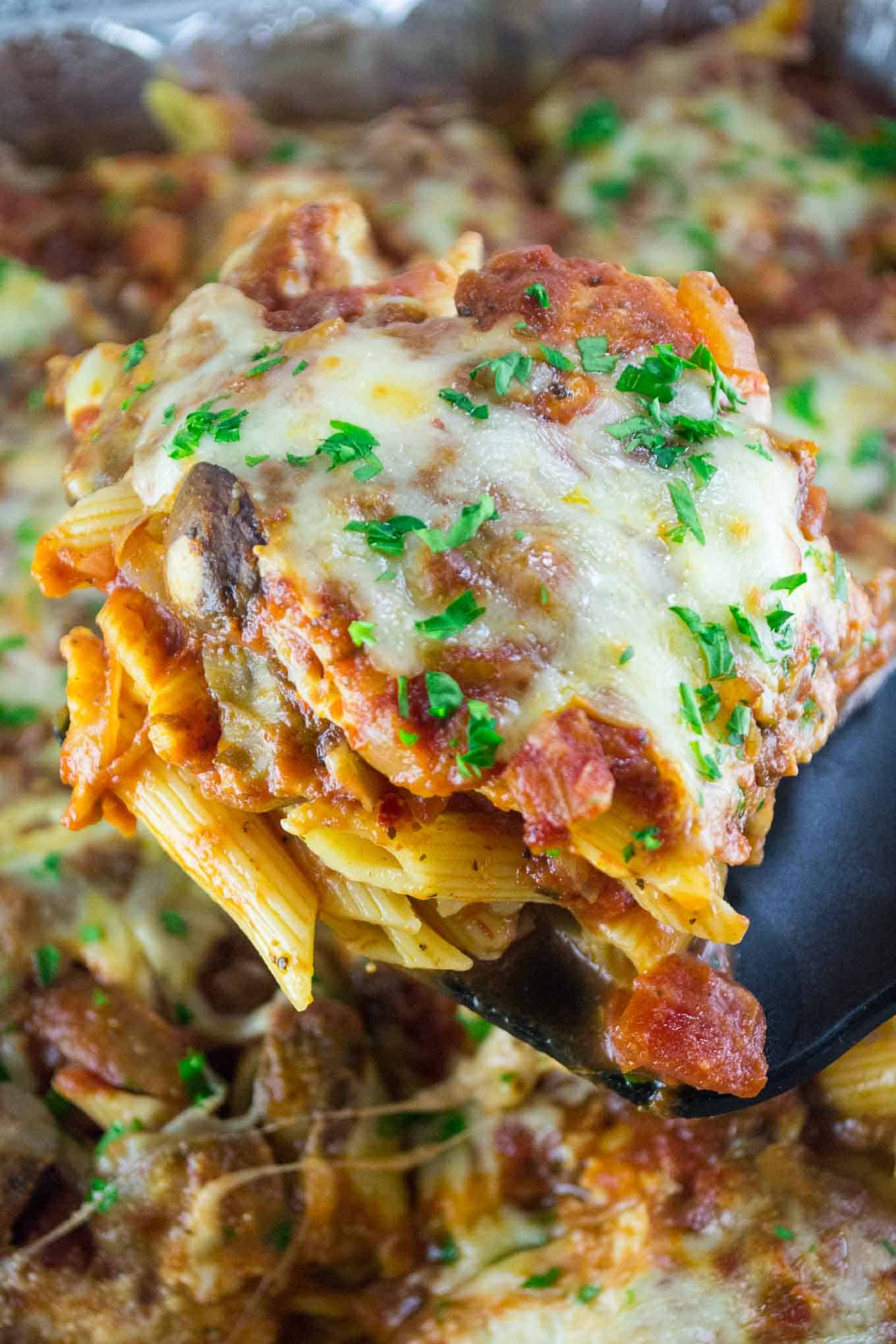 Seriously can't wait to make this again!
If you're a ziti lover like me, be sure to also check out my Easy Crockpot Baked Ziti!
Yield: 4-6 servings
Freezer Friendly Oven Baked Ziti
A delicious and easy recipe for freezer friendly oven baked ziti!
Ingredients
1 large onion, diced (yellow or white will work fine)
8 cloves of garlic, finely diced or minced
16 oz sliced baby bella mushrooms
1 tablespoon olive oil
½ teaspoon sea salt
½ teaspoon pepper
1 cup freshly grated parmesan cheese
6 oz shredded mozzarella cheese
15 oz ricotta
1 egg
1 lb. penne pasta
2 (25 oz) jars pasta sauce
4 slices provolone cheese
½ teaspoon red pepper flakes
chopped parsley, for topping (optional)
Instructions
Boil noodles according to package instructions, but cook them 2 minutes less than recommended time.
Drain noodles and rinse with cold water to stop cooking process.
In a large skillet, sautee garlic, onion, mushrooms, olive oil, salt and pepper on medium high heat. Cook for 10-15 minutes, or until mushrooms have cooked down and released liquid.
Once mushrooms have cooked, add the sauce and red pepper flakes to the skillet and stir to combine with the mushroom mixture.
In a small bowl, combine ricotta, egg, and grated parmesan. Mix well.
Using a 13 X 9 deep baking dish, first place down half of the noodles.
Follow with 4 slices of provolone and half of the ricotta mixture. Spread the ricotta out to cover evenly.
Layer on half of the sauce mixture.
Add the remaining noodles, followed by the remaining ricotta mixture, then the remaining sauce mixture.
Top with the shredded mozzarella.
Bake at 350 for 25-30 minutes, or until cheese is bubbly (see notes for instructions on baking from frozen)
Notes
If baking fresh: cook at 350 for 30 minutes
If freezing: follow all steps and top with mozzarella last. Cover with several layers of aluminum foil and keep in the freezer up to a month. Once you are ready to cook the ziti, let it first defrost in the fridge for around 24 hours (otherwise it will take a long time to cook). Once defrosted, cook at 350 for 30 minutes, or until cheese is melted and bubbly
Nutrition Information:
Yield:
8
Serving Size:
1
Amount Per Serving:
Calories:

400
Total Fat:

20g
Saturated Fat:

10g
Trans Fat:

0g
Unsaturated Fat:

7g
Cholesterol:

75mg
Sodium:

839mg
Carbohydrates:

33g
Fiber:

4g
Sugar:

5g
Protein:

24g