This ultra creamy gnocchi macaroni and cheese recipe with peas is comfort food ready in less than 15 minutes!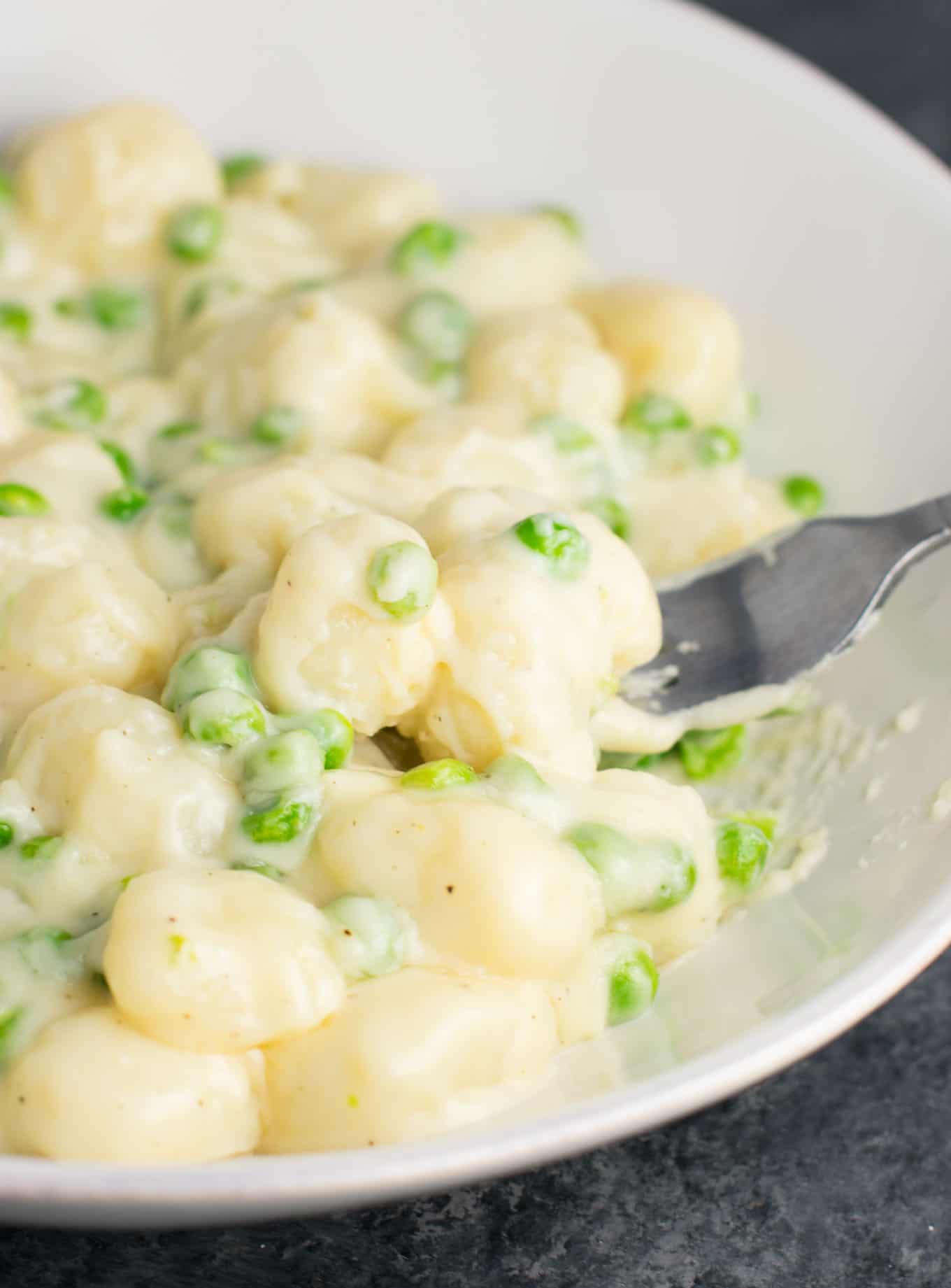 I have been wanting to try gnocchi for months now.
I keep seeing it everywhere and was so intrigued by these pillowy clouds of not-quite pasta that seemed so versatile and popular among the food community.
Last week I finally remembered to buy some gnocchi (I like Delallo brand) and got to work deciding how I would cook it.
Since gnocchi is such a rich comfort food, I would try it in replacement of one of my favorite recipes – macaroni and cheese.
Mac and cheese is the quintessential comfort food in my book. I love adding peas like in this recipe, so I threw some in this time as well.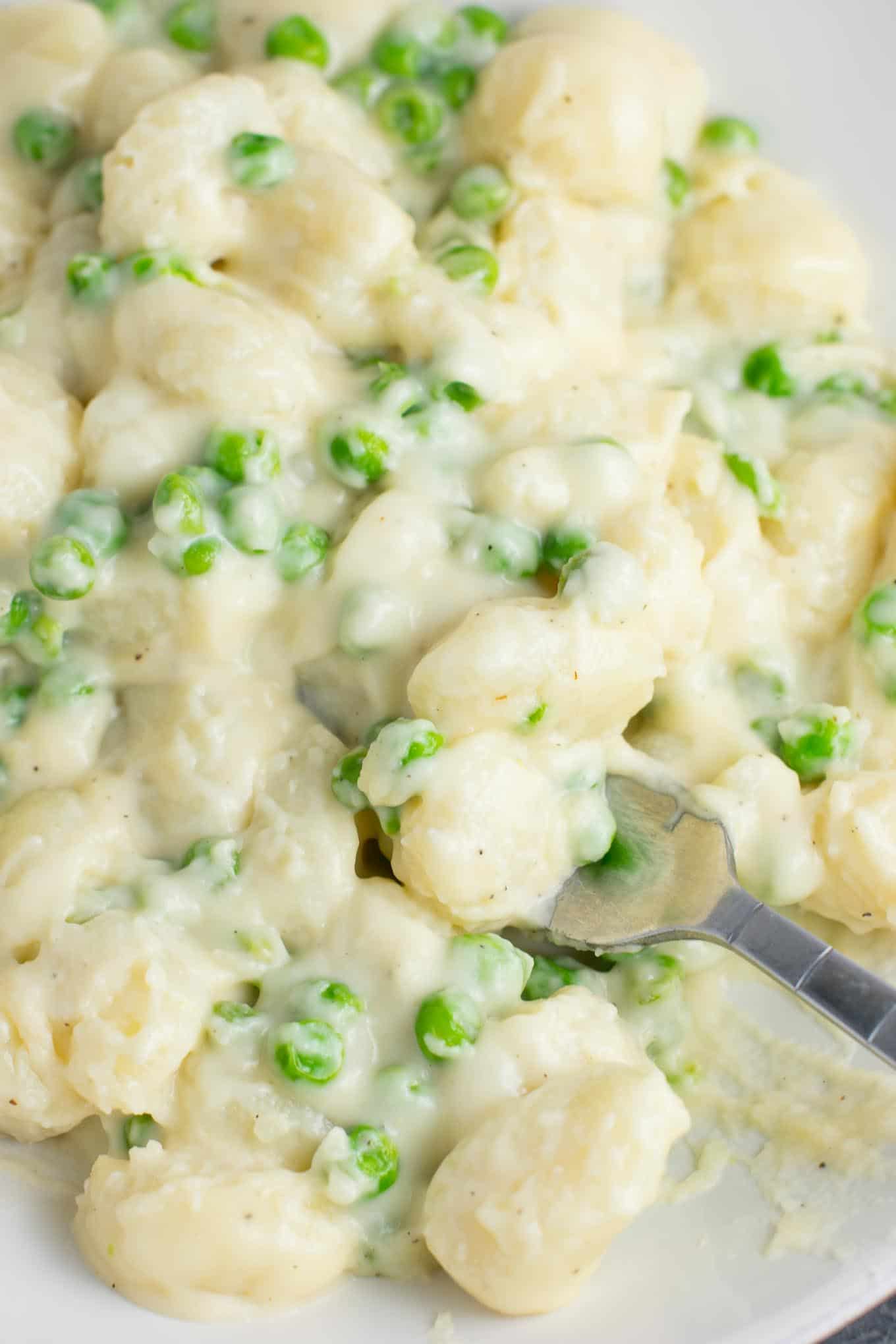 The #1 awesome thing about gnocchi (in my opinion) is that it cooks in less than 5 minutes. (!!!)
This whole dish was ready from start to finish in just 15 minutes, making it just as fast as boxed macaroni and cheese but much more delicious.
I used half sharp cheddar cheese and half parmesan cheese and we loved the blend of flavors.
I wasn't sure what to expect when I took the first bite, but I LOVE gnocchi!
While it is hard to describe the taste to someone that hasn't had it, I would describe it as tasting like a hybrid between the texture of noodles with the slight taste of mashed potatoes (but in a really good way.)
Sound weird? Trust me it's not!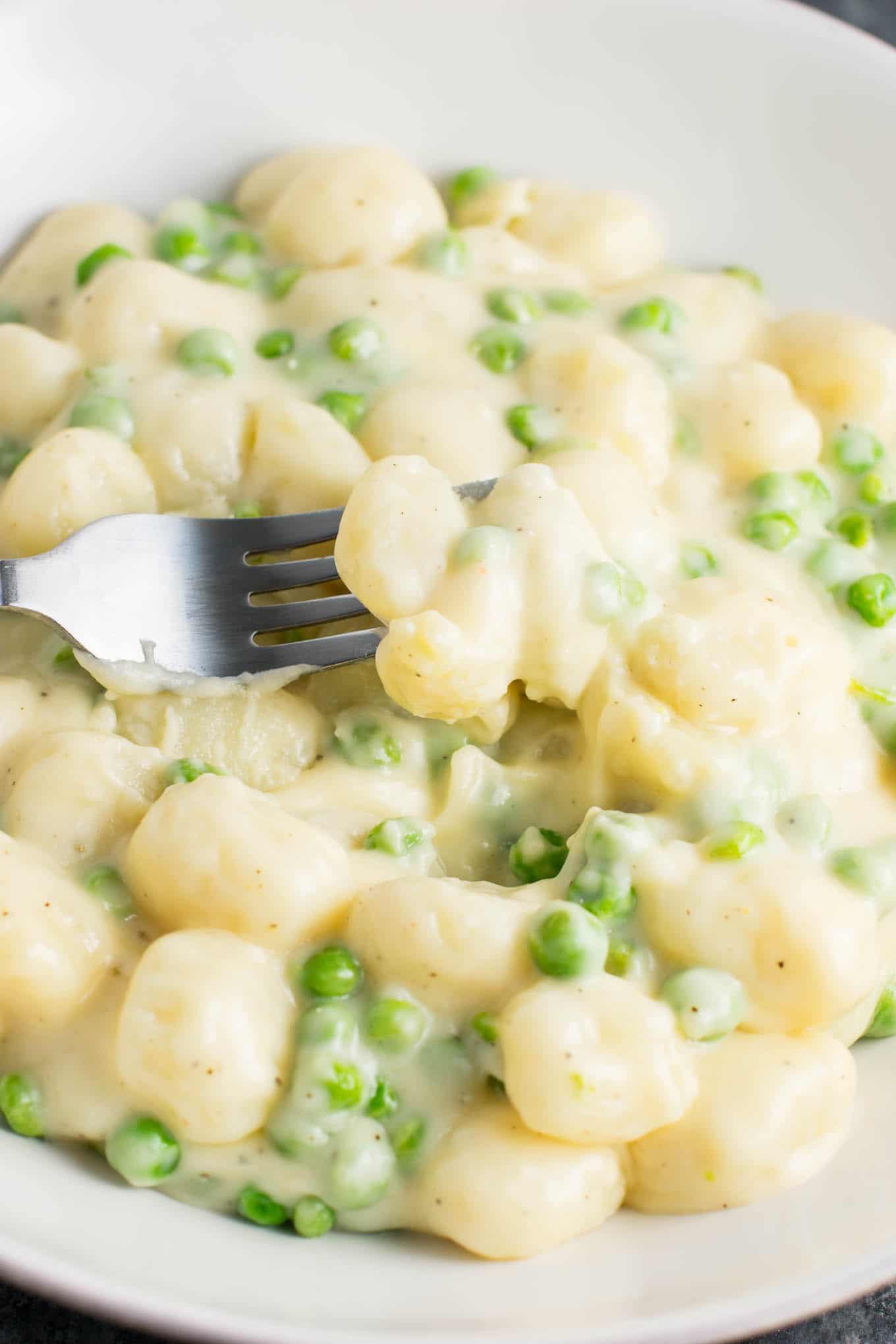 I added in some frozen peas to make myself feel like we were getting a few veggies in, but this recipe is definitely a comfort food.
It's indulgent, cheesy, creamy, and downright heavenly.
I was surprised how quickly I was full and only had a small bowl full.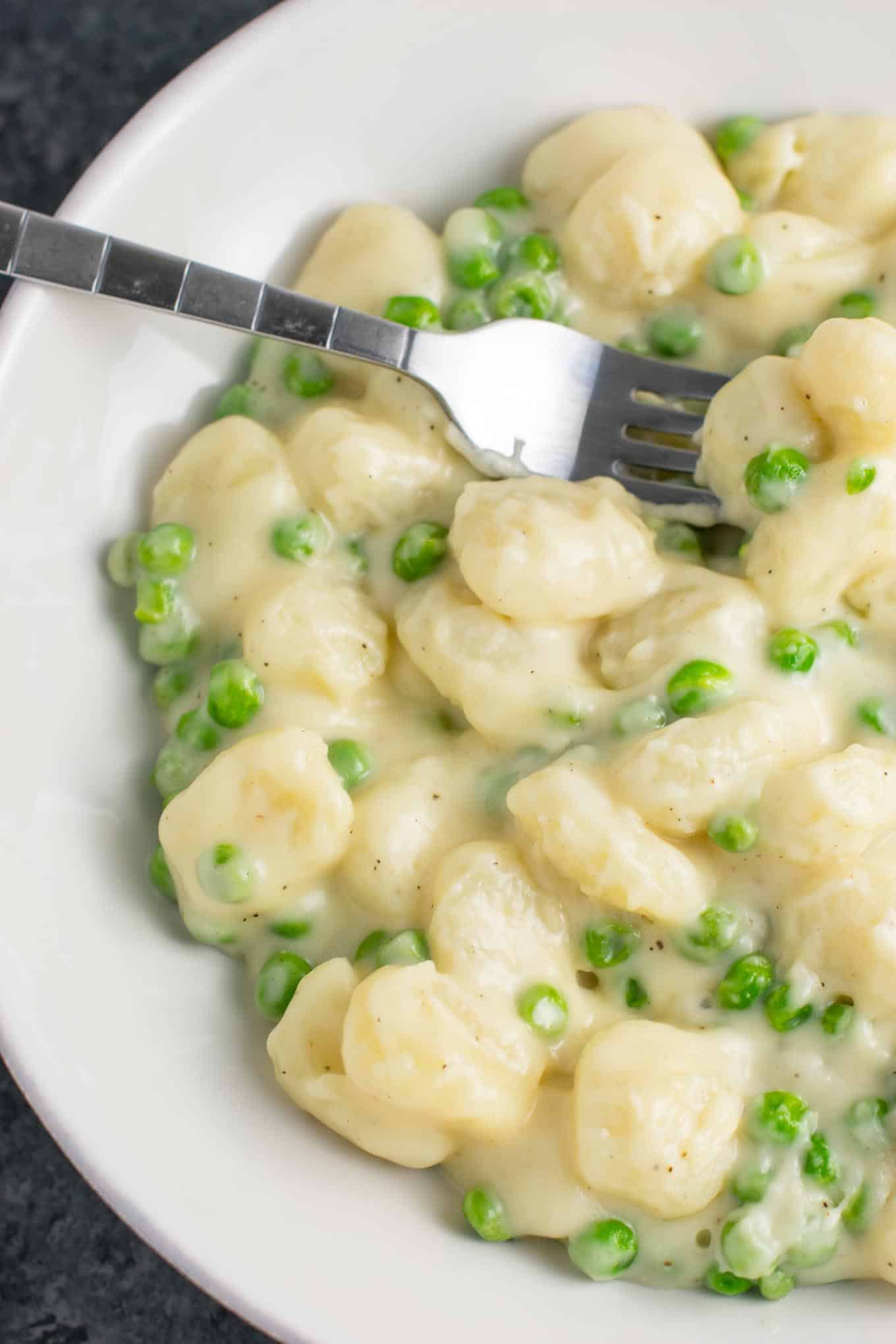 If you haven't tried gnocchi yet, you should!
I'm brainstorming more ways to use gnocchi now, let me know if you have a favorite recipe in the comments below!
Gnocchi Macaroni and Cheese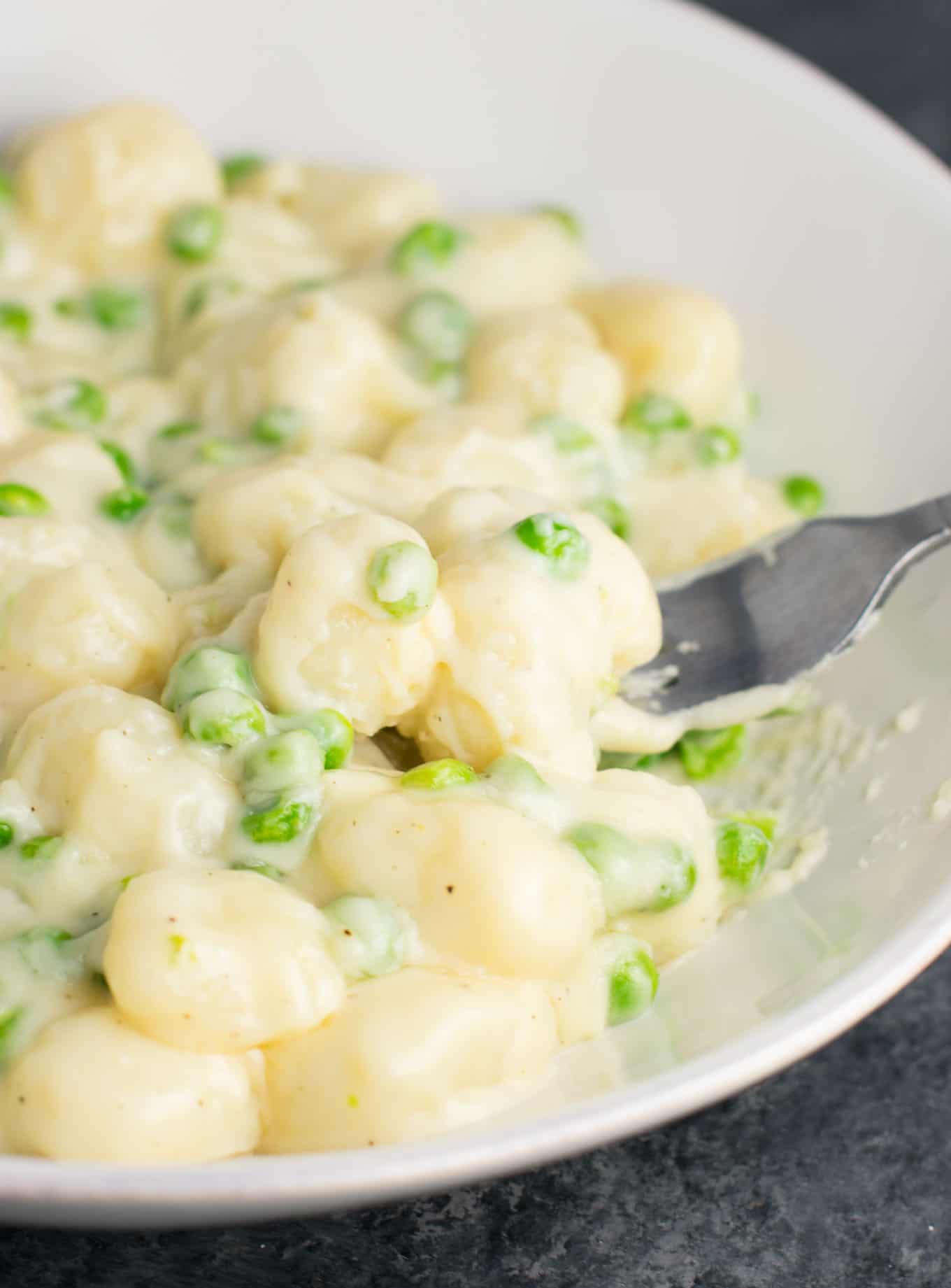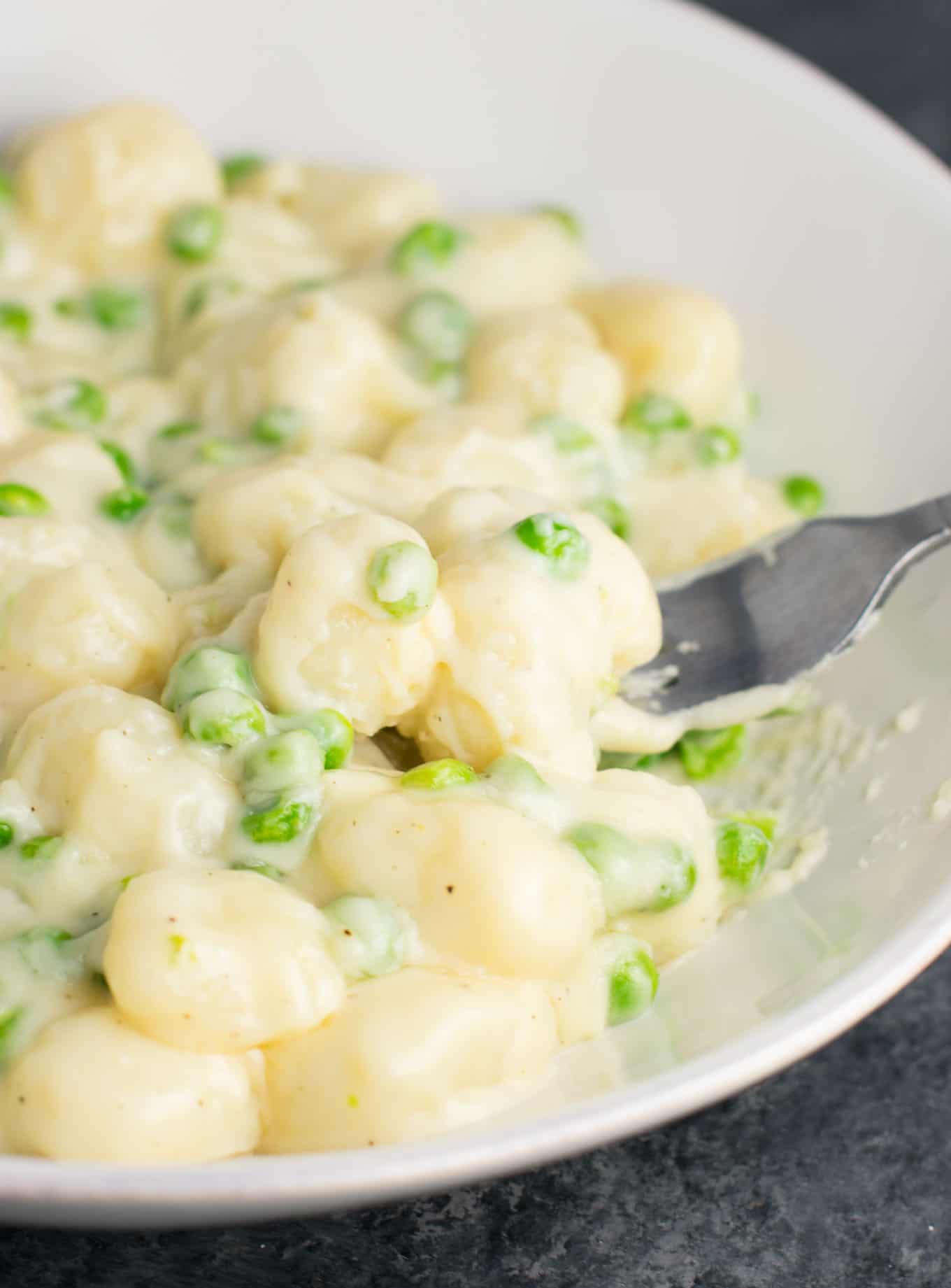 Ultra creamy gnocchi macaroni and cheese recipe with peas. A cheesy gnocchi comfort food recipe made in less than 15 minutes.
Ingredients
2 (1 lb. each) packages of potato gnocchi
2 cups freshly grated sharp cheddar cheese
2 cups freshly grated parmesan cheese
6 tablespoons butter (or vegan butter)
1/4 cup all purpose flour
1 1/3 cups 2% milk
1-2 teaspoons salt
1 teaspoon pepper
10 oz frozen peas
Directions
Cook gnocchi according to package instructions (I did not add salt to the water while boiling)
While gnocchi is cooking, add butter to a sauce pan and melt on medium heat
Once butter is melted, add flour and whisk to form a roux
Whisk for one minute constantly
Add milk and whisk for 3-5 minutes, or until it thickens
Add cheese and stir until melted
Once gnocchi is cooked, add it to the pan with the cheese sauce in it
Add peas and stir until thawed
Salt and pepper to taste (I used around 1-2 teaspoons of salt)
Loading nutrition data...