These Healthy Pumpkin Cream Cheese Swirl Muffins made with whole wheat pastry flour and without butter or oil.
You would never guess that these are better for you!
As I'm typing this it is 69 degrees outside and I'm wearing plaid. I'm in full on fall mode my friends!
Ever since mid August I have been dreaming of all things pumpkin (you can see from this recipe I posted a few weeks ago!)
Today I decided to make a batch of healthy pumpkin cream cheese swirl muffins.
I have seen several pumpkin cream cheese swirl muffin recipes floating around on facebook and pinterest which inspired me to see if I could come up with a healthy way to enjoy this delicious fall treat!
I'm all about indulging in delicious fall flavors, but I'm also all about finding ways to lighten up desserts to make them not so unhealthy.
Don't get me wrong, I'm all for indulging at times.
However, if I eat too much junk and sugar, I'm left feeling draggy and bloated which is NO fun.
That's why I made these pumpkin cream cheese swirl muffins with NO butter, NO oil, and whole wheat pastry flour!
One bite of these and you just might not believe me when I tell you how healthy they are!
We are definitely not sacrificing flavor in this recipe!
While I still use sugar in this recipe, these muffins are not overly sweet.
They are savory and perfectly pumpkin spiced with a sweet cream cheese topping mixed in.
These muffins are my dream dessert because I can eat several without feeling bad!
In fact, I would say they're even great for a quick grab and go breakfast.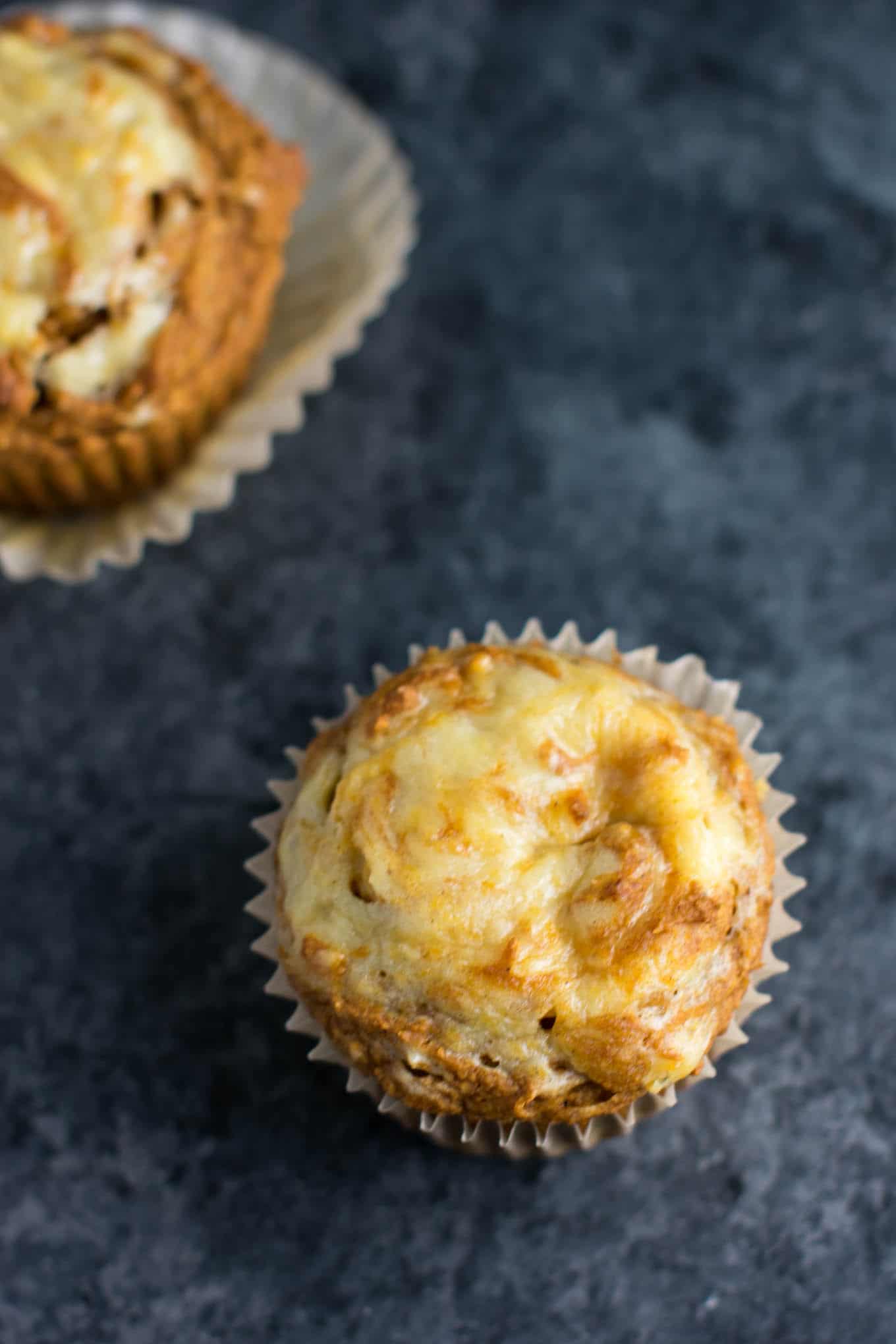 This dessert is the perfect way to transition from eating the zucchini bread muffins of summer to pumpkin spice everything!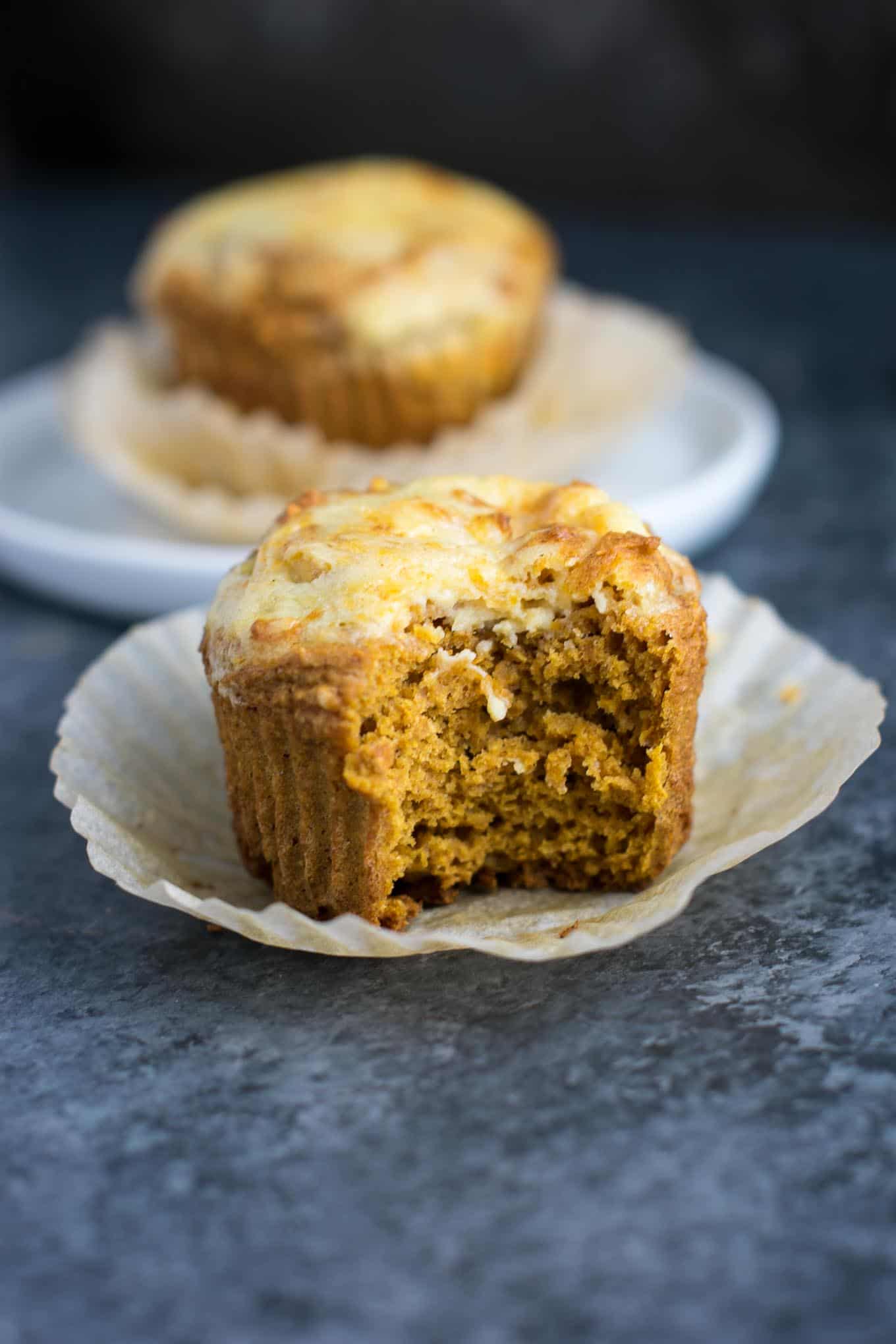 The combination of pumpkin puree and a little bit of greek yogurt leaves these muffins soft and moist without the use of any oil or butter at all, which majorly cuts down on calories!
If you're looking for a healthier fall dessert, this recipe is for you.
They are best served cold straight from the fridge.
Breakfast or dessert? I say who cares!
Some muffins turned out prettier than others, it's all in the toothpick swirl.
Regardless, they turned out delicious.
Here's to fall and pumpkin everything 🙂
If you make these, let me know in the comments how these turn out!
Yield: 22 muffins
Healthy Pumpkin Cream Cheese Swirl Muffins
Healthy Pumpkin Cream Cheese Swirl Muffins made with whole wheat pastry flour and without butter or oil. You would never guess that these are healthy!

Prep Time 20 minutes

Cook Time 20 minutes

Total Time 40 minutes
Ingredients
For the Muffins
2 1/2 cups whole wheat pastry flour
1 1/2 tablespoons vanilla extract
15 oz canned pumpkin (NOT pumpkin pie filling)
2 eggs
3/4 cup brown sugar
1/3 cup pure maple syrup
2 teaspoons baking soda
1 1/2 teaspoons baking powder
2 1/2 teaspoons pumpkin pie spice
1/2 teaspoon cinnamon
1/4 cup plain 0% greek yogurt
For the Cream Cheese mixture
8 oz cream cheese
1 egg yolk
1 tablespoon vanilla extract
1/4 cup sugar
Instructions
In a bowl, whisk together flour, baking powder, baking soda, pumpkin pie spice, and cinnamon. Set aside
In a separate bowl, add pumpkin, vanilla extract, brown sugar, maple syrup, greek yogurt, and eggs
Whisk until well combined
Add dry ingredients to wet, whisking until just combined (do not overmix)
To make the cream cheese mixture, first beat cream cheese with an electric mixer until fluffy
Add egg yolk, vanilla extract, and sugar and beat until well combined
Line muffin tins with muffin liners
Fill muffin liners to 3/4 full (I made 22 muffins)
Start by placing one heaping teaspoon measure of the cream cheese mixture on top of each muffin. If you have any leftover at the end, add more to the muffins as necessary
Use a toothpick to swirl the cream cheese mixture into the tops of the muffins
Bake at 350 degrees for 18-21 minutes, or until toothpick inserted comes out clean
Store in the fridge and serve chilled
Nutrition Information:
Yield:
22
Serving Size:
1
Amount Per Serving: Calories: 225Total Fat: 6gSaturated Fat: 3gTrans Fat: 0gUnsaturated Fat: 2gCholesterol: 39mgSodium: 219mgCarbohydrates: 37gFiber: 4gSugar: 15gProtein: 6g