Our second son Hudson Cade Shull was born into this world on February 12th, 2020 weighing 8 pounds 8 oz and 21 inches long. I am sharing his birth story today! If you are just here for the recipes no worries, be sure to check out this cabbage stir fry recipe that is going crazy on pinterest! I'll be back to creating new recipes and sharing old favorites every day on my blog!
I wrote down Hudson's story while we were still in the hospital so that I would remember as much as I could.
I'm so glad I brought my camera to capture the moment's after this sweet boy came into the world.
If you love hearing birth stories like me, here is my story 💙
Hudson Cade Shull's birth story
I knew from the beginning that I wanted to have an unmedicated birth with Hudson, but I was prepared to hire a doula this time, switch to the wonderful midwife care, and educate myself so that I could advocate for the birth that I wanted this time.
While I did have an unmedicated birth with my first son Crosby, it was not what I could call a positive experience and I wanted this birth to be different.
On Monday February 10th I had a midwife appointment.
Erin my midwife that visit felt the baby and couldn't tell for sure which he was facing, and wondered if he was sunny side up so she checked to see if they could squeeze me in for an ultrasound.
I happily agreed because I was not about to turn down a chance to see my baby!
His position was fine and he was just turning his head back and forth constantly.
Amy the ultrasound technician estimated his size to be 8 lbs 14 oz and we got a few 3D pictures of his little chubby cheeks!
I spent the rest of the day in a funk after finding out that my baby was possibly 90th or more percentile, measuring over 40w, and with a head measuring 41w.
I am thankful for the kind people who encouraged me with their own birth stories and tried to give myself acceptance and just not worry about it (it didn't really work too well).
On Tuesday I was 39 weeks and I decided I'd give it my best go to try to jump start labor.
Crosby my first son was born at 39+3, so I was fairly confident/hopeful that Hudson would come in his 39th week.
That morning I mopped the whole house, and in the afternoon we went outside in the beautiful 61 degree weather and I walked for 1-2 hours while Crosby scootered until my whole back hurt.
I texted my mother in law that night that I guess Hudson didn't scare easy because there were still no signs.
With both pregnancies I never had any signs of labor or Braxton Hicks or any contractions until the real deal.
Wednesday morning I was restless and sleeping through some mild contractions without totally waking until 4:45.
It was then that I realized it could be happening and started to time a few.
At that point they were extremely mild and only in my stomach.
They were coming every 8-10 or so minutes.
After timing a few, I knew I should try to rest if I could sleep through them so I forced myself to lay back down.
A few more contractions which felt way more painful laying down paired with my excitement and I just decided to go ahead and get up and wait.
Robbie and Crosby woke around 6:30 and I rocked in the glider and timed contractions while I waited for them to wake up.
After they woke up I decided to go ahead and call my doula Debbie of Special Treasure Doula Services and let her know that I was in early labor.
She told me to go ahead and start doing the rebozo exercises that I could.
At that point I had no idea how long to expect before the hospital.
With Crosby I labored at home around 20 hours most of that mild labor before going to the hospital, then another 8 hours until he was born.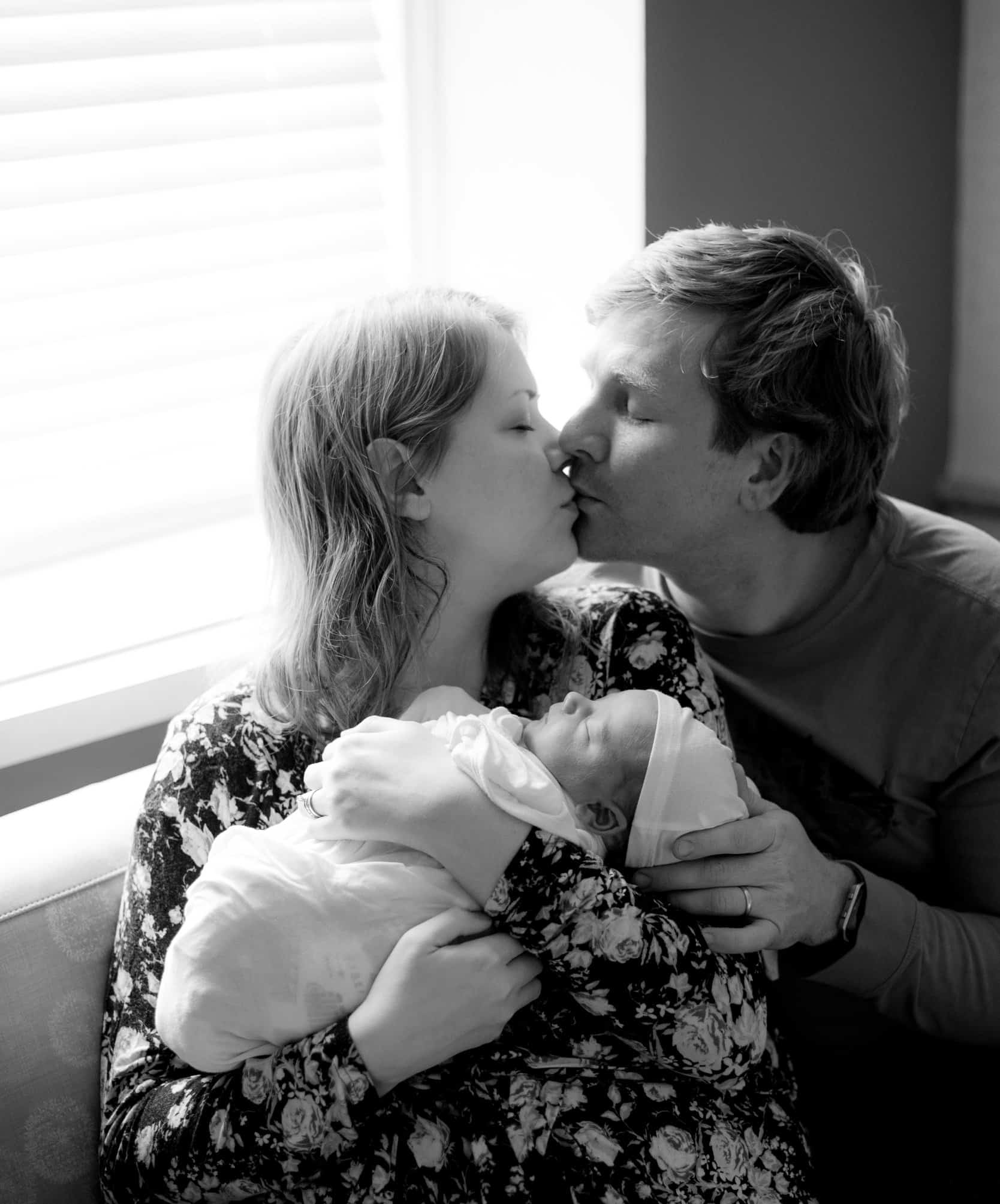 An hour later the contractions were getting noticeably stronger and more painful with pain in my back also.
I tried to choke down a cliff bar and some fruit and started checking off the remaining items that I hadn't packed for the hospital bag.
Robbie called his parents and told them to plan to leave that morning when they could.
I let my friend/neighbor Laura and Crosby's memaw and papa know the plan for Crosby and that I would keep them posted as to when I would plan to go to the hospital.
I kept trying to finish getting everything in place and before I knew it it had been hours and I still hadn't done the rebozo.
At that point I sent Crosby over to Laura's until memaw and papa arrived so that's we would be able to focus on the exercises.
I called Debbie and she said she was ready for us to meet at the hospital anytime that I wanted.
I started to get very hot with contractions and knew that things were progressing quickly at that point.
Around 9:30 we finally started rebozo and the contractions started coming so close together that I knew I needed to leave soon.
I called Debbie and she could tell by my voice through a contraction that I was definitely in active labor at this point.
Debbie told me to try to do at least 3 inversions (I hate them so much and freak out upside down) but I managed to do several before getting in the car to try to encourage baby to get in the right position.
Robbie packed up the car and I called Debbie again to figure out how on earth I was going to ride in a car for 20 plus minutes.
I ended up sitting facing backwards.
The whole car ride was torture and the first song on the radio was "living on a prayer" and I was just a little bitter because it felt like it was mocking me 😆
I probably had 5 or more contractions on the way while Robbie tried to warn me of turns while also trying to comfort me in any way.
At this stage it was his fingernails scratching on my skin to distract me from the pain.
We got to the hospital right before 11 and Debbie was there to meet us.
I hugged her and held onto her as we went inside.
I had to stop for 2-3 contractions before we made it to a room.
Debbie has me already checked in and a room ready to go.
Our midwife was Clair McStacy and our nurse was Jessica.
I asked Debbie about both and was relaxed as I could be once I heard her speak so highly of both of them.
Clair observed me and commented that I was definitely in very active labor.
They checked me and I was 8 cm dilated upon arrival and I'm pretty sure my face was 😳 as this was about 6 hours after the first extremely mild contraction I timed.
I asked what time it was and someone told me it was a few past 11 and I commented that Crosby had been born at 11:47 am.
Debbie felt my back and told me that Hudson was in the perfect position and lined up exactly how he needed to be and I am pretty sure I cried from relief that those inversions and our rebozo work had paid off.
We didn't do any positioning of him and jumped straight into transition which happened fast.
I started on my hands and knees on the bed with my arms hanging over the back.
Every single contraction I'm pretty sure I was screaming "my backkkkkk" because the pain was all the way up my entire back and I was writhing.
At first we thought that this had meant he may be in the wrong position but Debbie later told me that it was most likely due to just how big he was (over 90th percentile).
Every contraction I was doing my breathing through and beating my hands in the back of the bed to try to get any kind of distraction that I could. Debbie did some magic of tying the rebozo around my belly so tight that it took some of the pressure off my back to where the contractions were a tiny bit more tolerable.
When it came off for a contraction I yelled for it to please come back because it was the only thing helping at all.
When I needed to violently squeeze someone I yelled for robbie so as not to damage my doula midwife or nurse 😂 he was a good sport about it and I did a good job communicating my needs and anything I thought might help during a contraction.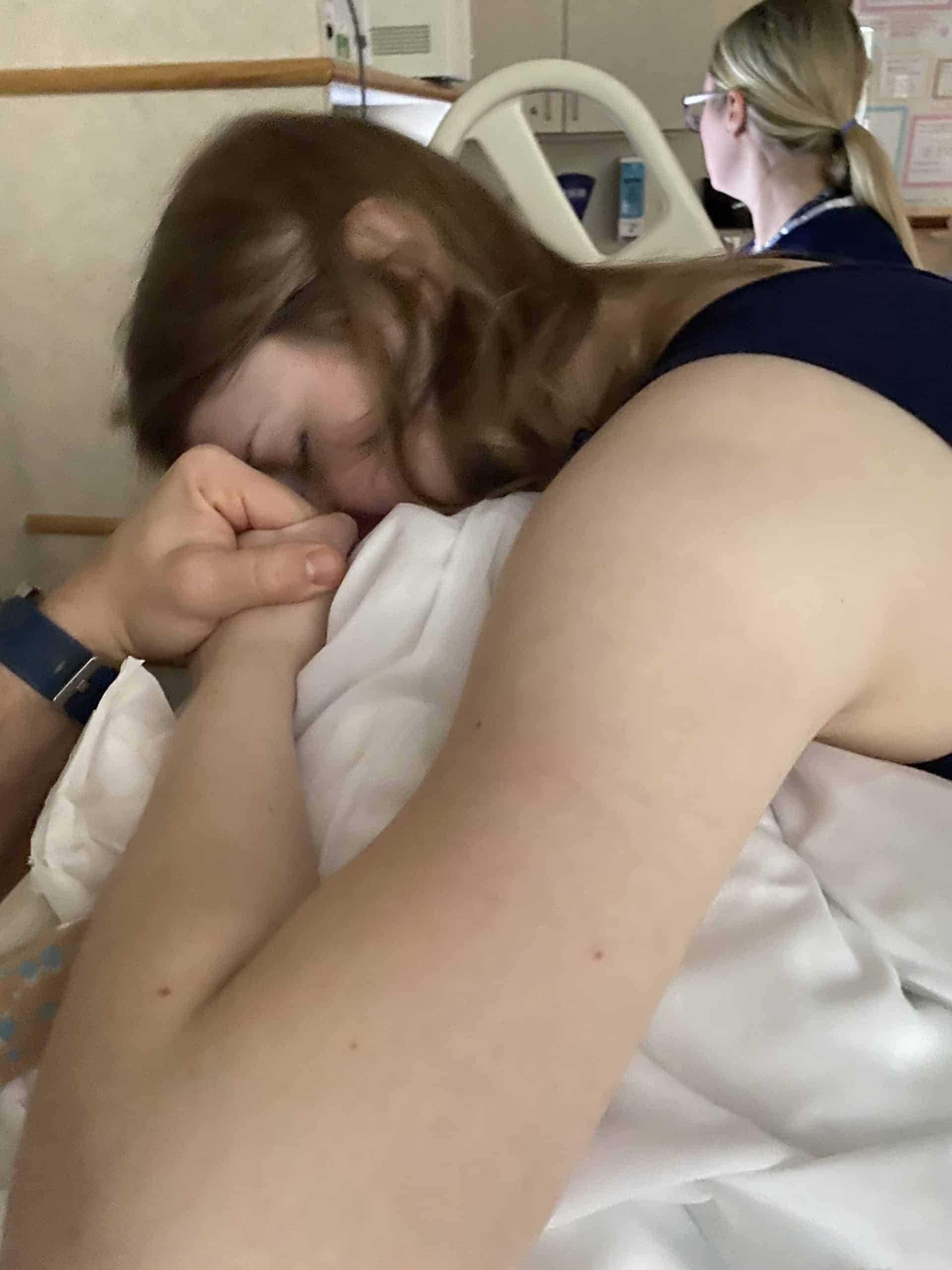 Or yelling "music" to change the song if it was annoying me.
I can't remember the order but I'm pretty sure I stayed on my hands and knees a good while and did cat cow to try to work baby down between contractions.
When one hit I had trouble moving at all from the intensity of my back pain, but I did my best to rock my hips and do anything Debbie said to keep working him down.
Every contraction that hit I felt like I wasn't able to control my breathing enough and that is when I started with the deep groaning exhales.
Debbie was quick to remind me when my voice got too high and panicked and I would switch to the deep moans during contractions and It felt so relieving.
At some point Clair asked if I wanted to be checked since I wondered how dilated I was.
She was so wonderful and not pushy and wouldn't have even checked me had I not asked.
She trusted my body. I was curious so she checked and sure enough I was a 10.
I pushed some on my hands and knees and it felt good to start pushing and I felt like I was actually doing something productive during contractions.
I did this for awhile but felt like I wasn't getting anywhere and I was getting super tired from holding myself up.
I pushed for awhile and Clair commented that my water still hadn't broken and that there was a chance he could be born en caul.
Debbie suggested laying on my side so we tried that.
At this point I was pushing with every contraction when it felt right.
My birth team was coaching me on and telling me to keep working that baby down.
Pushing is now hazy for me but we think it was around 30-50 minutes of really intense pushing.
I was struggling to catch my breath and running out of energy.
At one point I stopped pushing and just breathed through a contraction because I felt like I just couldn't push again and I was so very tired.
My water broke at some point and I can't remember which side I was laying on.
At first I was shouting affirmations and telling Hudson that I wanted to meet him, but my energy was fading.
At one point Debbie suggested we try the opposite side laying to see if baby would come down better that way and she was right.
Each contraction I held my left leg and curled my body around Hudson to try to push him out.
Debbie was right there telling me I was safe and Clair was ever patient and so encouraging telling me that every push was getting me closer to my baby.
I started to feel discouraged because I thought he was never going to come and I was so tired I didn't know how I could keep going but I did.
With Crosby I had no epidural but I was also going on 20 hours no sleep and my body went naturally numb.
I pushed Crosby on my back because I didn't know my options and did coached pushing for 2 hours resulting in a 2nd degree tear.
I literally felt nothing when pushing Crosby and had no idea what I was doing or how to push.
And the doctor who delivered him was impatient because I pushed for over 2 hours with him, which I knew later was totally standard for a first birth.
With Hudson I was fully completely there mentally and physically and it was insanely intense painful and incredible.
I felt literally everything. I could feel the ring of fire I felt his big old head coming down and wondered how on earth I would survive the pain.
I kept pushing when my body needed to and his head came what felt like so slowly down.
He would get so close then slide back, over and again.
Debbie and Clair encouraged me, telling me that he was working hard to stretch me and that this was exactly what needed to happen.
I don't remember the exact push but I finally got his big ole head out and Clair pulled the rest of him right out.
She immediately unwrapped the cord from his neck and brought him straight to my chest and I got to meet him!
We were able to leave the cord on to get all those amazing nutrients before Robbie cut it with clair's help.
Less than one hour after birth Hudson latched flawlessly and I thought this must really be heaven.
Crosby never latched in the hospital and had a tongue tie and used a nipple shield for weeks before I was able to wean him off and it was really a struggle in the beginning.
I was in disbelief that not only did he latch but he stayed there for almost an hour.
It was at this point that things got the scariest for me.
Anyone knows and fears the after birth uterus pounding from the nurses, but once the placenta came out they realized that I had a lot of blood clots and was losing a lot of blood.
I freaked out and asked Clair if I needed to be worried and she said not yet and we will tell you.
I was so scared.
What felt like every few minutes they came back to pound on my uterus while I clung to Debbie and Robbie for support and tried to focus on Hudson on my chest.
The pain made me shake til my teeth were chattering and severely nauseous.
They stuck Cytotec up my bottom to try to stop the clots and let me tell you that was real fun.
I lost 1,000 ml of blood and they said it was most likely due to his size.
We finally found out how much Hudson weighed after a solid hour and a half or more of skin to skin first.
He was a perfect 8 lbs 8 oz, only 6 oz off from the ultrasound guess. He was 21" long just like big brother.
Clair checked me for tearing and told me that I had no tears at all.
I started crying and could hardly believe it.
With Crosby and coached pushing I had a second degree tear and recovery was extremely rough.
Hudson weighed 1 lb 9 oz more than Crosby and not a single tear 😭
I didn't end up leaving for mother baby until 3 hours after Hudson was born and they were sure that my bleeding was starting to get under control and finally let me eat something.
I managed to eat half a grilled cheese and a protein ball which felt like a massive victory with how horribly nauseous I was from the pain.
The real fun part is thanks to my Ulcerative Colitis I can't have the typical nSAIDS pain killers so after a drug free birth all I've had is Tylenol.
Wonderful Debbie gave me some homeopathic things to help with the pain.
I spent the rest of the day in awe that I had such a vastly different birth experience this time and in awe that I actually did it.
My bleeding was under control and they didn't have to do anything else.
Aside from dizziness from blood loss I actually felt pretty great!
At 36 hours post birth the most pain I had besides after birth pains is soreness in my arms and my knees which I discovered today from the hands and knees position.
I'm totally shocked that not only am I not swollen or torn but I have zero pain down there and total feeling without any numbness.
This was all from listening to my body and pushing when it told me to, not anyone else.
A few days later and I've had my share of tailbone and spine pain and generally feeling sore but overall I have been able to manage it and do everything I can to help my body heal.
No matter what kind of birth you have, the sheer amount that you go through to give birth to a child means that recovery will be hard to an extent.
But it was light years better than Crosby's recovery was, and I was much more prepared.
Debbie came to visit me the morning after and told me that I sustained most of the birth pain in my left hip and my right shoulder which she then massaged out for me for which I can't even thank her enough.
Besides feeling like I can't lift my arms and general body soreness I felt really good physically the next day which just absolutely blows my mind.
I went into this pregnancy so much more prepared and with the right people around me this time.
And I knew that I had options and that I needed to advocate for myself and what I wanted and it just blows my kind how positive and amazing this birth was.
Clair McStacy – my midwife who delivered Hudson was the epitome of the perfect care provider.
She was non pushy non center and there when I needed her to be.
She had such a quiet grace about her and encouraged me but never forced or demanded that I do things any certain way.
She encouraged me to listen to my body.
Jessica my nurse – not asking me a million unimportant questions when I arrived in transition.
She was kind and sweet and had such a gentle spirit.
Again, she was there if I needed her and gently echoing suggestions that others had said or encouraging me.
Robbie – there for me to lean on and listened to everything I told him I needed from him.
He was my anchor.
And Debbie Perdew – where do I even begin?
Anyone who has ever met Debbie will understand how hard it is to describe her in words because the only word that truly describes her is magic.
Her presence, ability to calm, read people, encourage, her strength, knowledge of literally everything related to birth…She was the constant calming voice right there with me.
She never wavered from her faith in my body to do this, while constantly reassuring me that I was safe and I could do this.
I asked her later how she does it and she said it's a mix of adrenaline and Jesus.
To me she's just pure magic and I'll forever be thankful for her 💙
It was everything I could have wished for.
Birth is such an intensely sacred experience and Hudson's birth was nothing short of perfection, and I am so thankful.