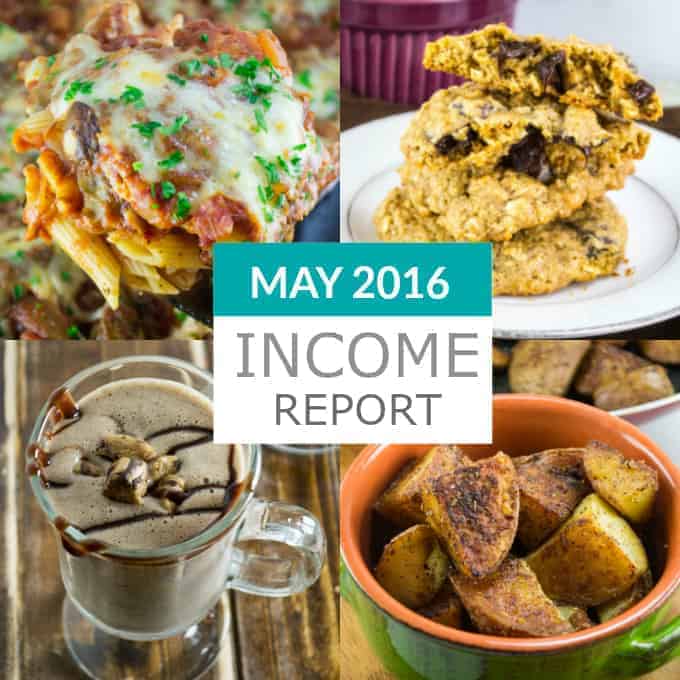 Welcome back to my monthly traffic and income report series! If you're here for the food, you can stop reading here and go check out this cheesy hashbrown casserole (cracker barrel copycat)! Lots of exciting things happened for Build Your Bite in May and today I'm sharing all of the details!
INCOME THIS MONTH
Sponsored posts: $150
MediaVine: $531.85
TOTAL May Income: $681.85
May RPM = $7.07
EXPENSES
Media temple (hosting) – $20.00
Amazon (hosting) – $8.68
Vaultpress – $5.00
Facebook Ads – $11.88
Food Blogger Pro – $29.00
Google Aps – $5.00
Adobe photoshop – $5.00
Brunch Pro theme – $56.21
Food Expenses – $36.35
Food Photography Board supplies – $17.61
Total expenses: $194.73
Expenses were a little higher this month as I purchased some things that are not just recurring monthly expenses. In May I decided to jump in and change over my child theme to Brunch Pro and have been really happy with it so far. I also purchased supplies to create my own food photography boards. My hubby has made me two so far and I can't wait to add more to my collection! You can see an example of one of the boards in this post.
THE TRAFFIC
May was my highest ever month in traffic which was pretty exciting! I came tantalizingly close to that 100k monthly goal that I would love to meet one day! As you can see from the picture, I had a huge traffic spike at the end of May. My Easy Crockpot Baked Ziti got picked up by several sites and resulted in my highest traffic day on May 31st – 11,165 page views!

I watched as my active users climbed from the normal 10-20 ish to over 160 (this is the closest screenshot that I got.) That was pretty exciting to see! I got pretty good residual traffic for a few days after also. This is really the first time I've gone semi "viral" in a day so that was fun! Sadly highs can't last forever, but it was definitely a nice little boost!
A FEW THOUGHTS…
May was my highest traffic month to date, resulting in my highest ad income to date. I made $531.85 just in ads this month which is amazing! I consider ad income as passive so having over $500 in passive income in one month is awesome for me!
It's hard to believe that in a few months I'll be coming up on 2 years of blogging. My goal from the start was to be able to bring in part time income so that when my husband and I decided to start a family I would be able to stay home with our children. The ad income that I earned in May as well as some additional income from June will both be paid out in August which is when our baby boy is due. It's great to know that when I'm on maternity leave from my "real job" that I will still be able to bring in some income for our family! Blogging has been a trying and difficult journey but I am finally starting to see the payoff of my time. Hard to believe that our little boy will be here in 6 weeks (or less!)
SOCIAL NUMBERS
Facebook – 1,049

(up 79)

Pinterest – 1,694

(up 46)

Instagram – 344

(up 13)

Twitter – 325

(up 10)

Email Subscribers – 810

(up 750)
This month I added the email subscribers to my social numbers list. I added an email pop up to my website which resulted in gaining 750 subscribers in May alone! I don't plan on always having a pop up but seeing this much growth in just a month was pretty awesome!
Lastly, I thought I'd share some of the other income reports that I myself read and find useful each month. If you have any good ones to share, send them my way!
That's all for this month! If you have any questions or comments, drop me a line in the comments below or email me (joy@buildyourbite.com)!
– Joy