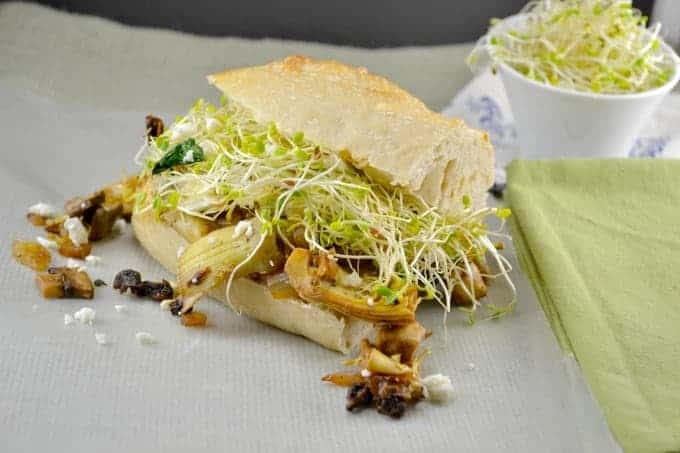 Today's recipe is inspired by one of my favorite places to eat: Mellow Mushroom.
Although I've only been there two or three times, I'm in love. I wish we had one where I live!
My hubby and I have been lucky to find them on road trips to visit his family in Florida. We also ate there on our honeymoon!

The portobello & cheese hoagie is my favorite thing that I've tried from Mellow Mushroom.
Now, granted I've only been there a few times, but it's so good I order it every time!
I love the rich mushrooms and artichokes, the sundried tomatoes, two cheeses, and fresh sprouts!
The flavor profile is just insane and all the ingredients just mesh together so well.

I recreated all of the flavors in this dish and it was AMAZING.
I couldn't find just the right bread this time (a little too thick), but the taste was spot on!
Definitely a comfort food! If you love Mellow Mushroom, you've got to try this recipe!
Mushroom and Cheese Hoagies
Ingredients
1 loaf of bread (I used a 12 oz bakery bread) - (there will be enough filling for 4 sandwiches, so buy more bread accordingly)
1/2 large yellow onion, diced
4 large cloves of garlic, minced
1 cup white mushrooms (or portobello if you have it), chopped
2 (14 oz) cans of quartered artichoke hearts, drained
4 sundried tomatoes in oil, plus 1 tablespoon of oil from jar
2 teaspoons dried oregano
1/2 teaspoon sea salt
1 cup packed fresh spinach
Vegan mayonnaise
low fat crumbled feta cheese
Provolone cheese slices
fresh sprouts
Directions
Combine onion, garlic, mushrooms, sundried tomatoes and oil, oregano and sea salt in a skillet
Sautee for 7-10 minutes on medium-high heat, or until mushrooms release and cook out their liquid
Add drained artichoke hearts to skillet and sautee for 6-10 more minutes, until everything starts to get a little crispy
Toss the spinach in at the last minute and stir, remove from heat
Cut bread in half and bake if necessary
Spread a thin layer of vegan mayonnaise on the top and bottom of the bread, on the inside
Place ½ slice of provolone cheese down on the bottom of the bread
Top with mushroom mixture, crumbled feta cheese, and fresh sprouts
Enjoy!
Loading nutrition data...