This shop has been compensated by CollectiveBias, Inc. on behalf of its advertiser, ZonePerfect. #SnackandRally #CollectiveBias


One of the things that I have struggled with most during my pregnancy is getting enough calories and protein to keep me going all day long and help me avoid crashing mid day.
During the first trimester especially, I had a difficult time eating anything, let alone foods that would help me stay energized to keep up with our busy life.
As much as I would have liked for life to just go "on pause" when I don't feel good, that just doesn't happen!
ZonePerfect® Nutrition Bars have been a total life saver for me these last few months!
During the first trimester, I would often wake up either in the middle of the night or very early in the morning and be absolutely starving.
I kept these by my bed and ate one every time this happened.
Growing up, my mom often included a ZonePerfect® Nutrition Bar in my lunches and I have loved them ever since!
My current favorites are the chocolate chip cookie dough flavor and the chocolate peanut butter flavor!
My husband really loves the fudge graham ones.
There is rarely a week that goes by that we don't buy at least a box or two of ZonePerfect® Nutrition Bars to snack on throughout the week!
We buy ours at Walmart (the aisle is located near the pharmacy.)
It's so easy for me to feel that mid-day crash coming on if I don't eat properly.
With a never ending to do list (seriously, will it ever go away?!), I can't afford to just take a 3 hour nap in the afternoons, as much as I would like to!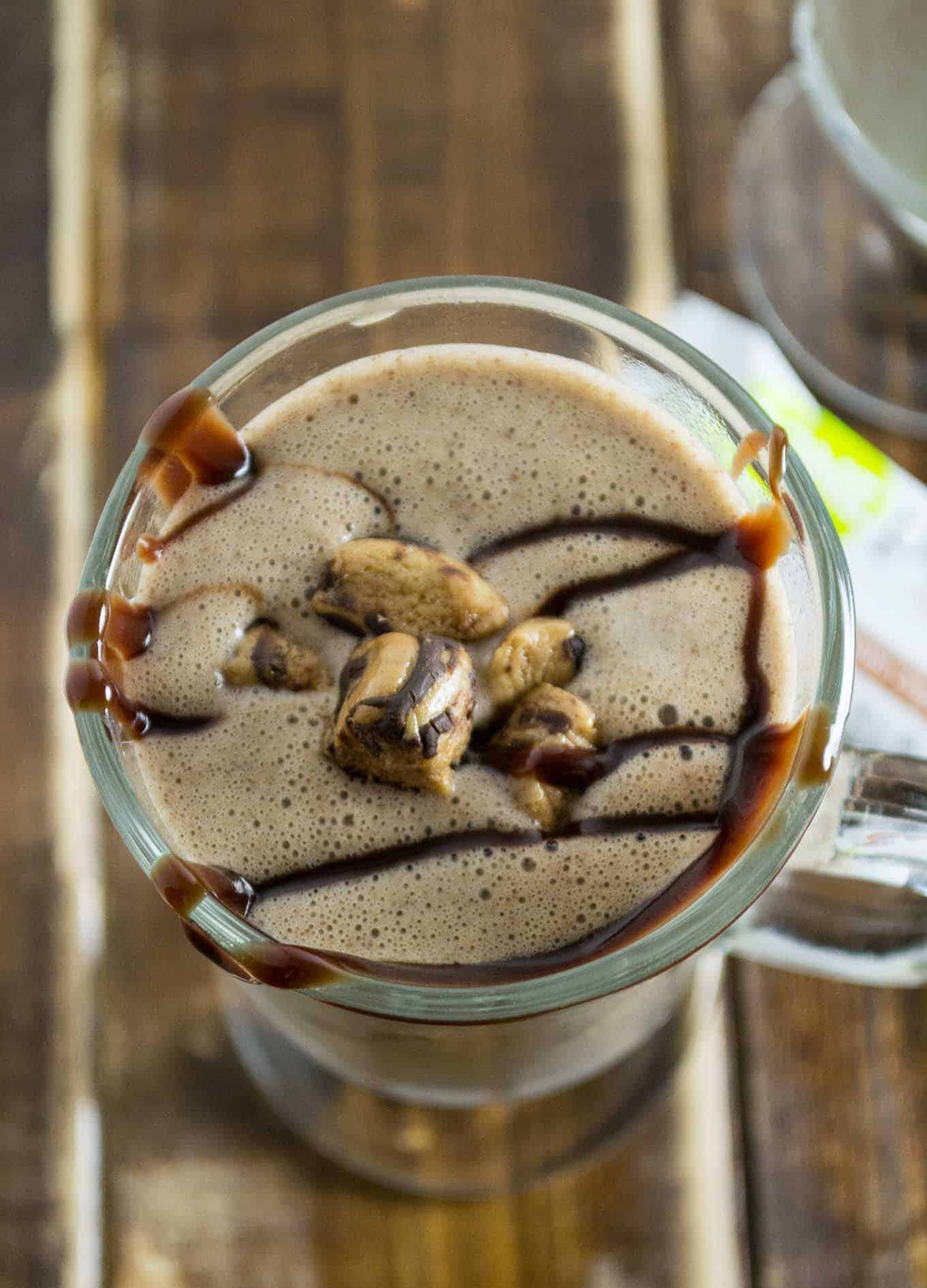 I created this insanely good Oatmeal Cookie Dough Protein Smoothie as a sweet (and healthier) afternoon snack to help me get past the mid day slump.
I really don't know how they did it, but the Chocolate Chip Cookie Dough ZonePerfect® Nutrition Bar tastes exactly like cookie dough.
My husband and I are obsessed! Who wouldn't love a protein nutrition bar that tastes like dessert??
The Chocolate Peanut Butter flavor is also delicious and tastes like a candy bar to me!

Walmart has a special offer right now: Buy 2 boxes of ZonePerfect® and save up to $4!

This smoothie tastes like a cookie dough chocolate dream!
Let me know what your favorite flavor of ZonePerfect® Nutrition Bar is in the comments below!

Oatmeal Cookie Dough Protein Smoothie
Ingredients
1 medium frozen banana
¼ cup rolled oats
½ teaspoon cocoa powder
⅓ cup ice
¾ cup milk (I used 2%, almond milk or soy milk would also work fine)
1 Chocolate Chip Cookie Dough ZonePerfect® Nutrition Bar
Instructions
Combine all ingredients in a blender and blend until combined
Top with optional chocolate syrup and crumbled cookie dough bar