Growing up in my house was interesting. I had a mother who tried her best to feed us healthy food (whether we liked it or not) and a father who fed us nothing but fast/frozen food when we were at his house.
While you would assume that any child would choose the fast food every time (and I did love my McDonald's back in the day), I loved the food my mom fed us just as much (most of the time.)

As I grew up and taught myself to cook, I ended up pursuing my own favorite tastes and textures, and ended up deciding that I wanted to eat both for health and flavor.
One of the oddest meals that my mom fed us were these quick and easy vegan tacos.
But they were also my favorite and I could eat them nonstop!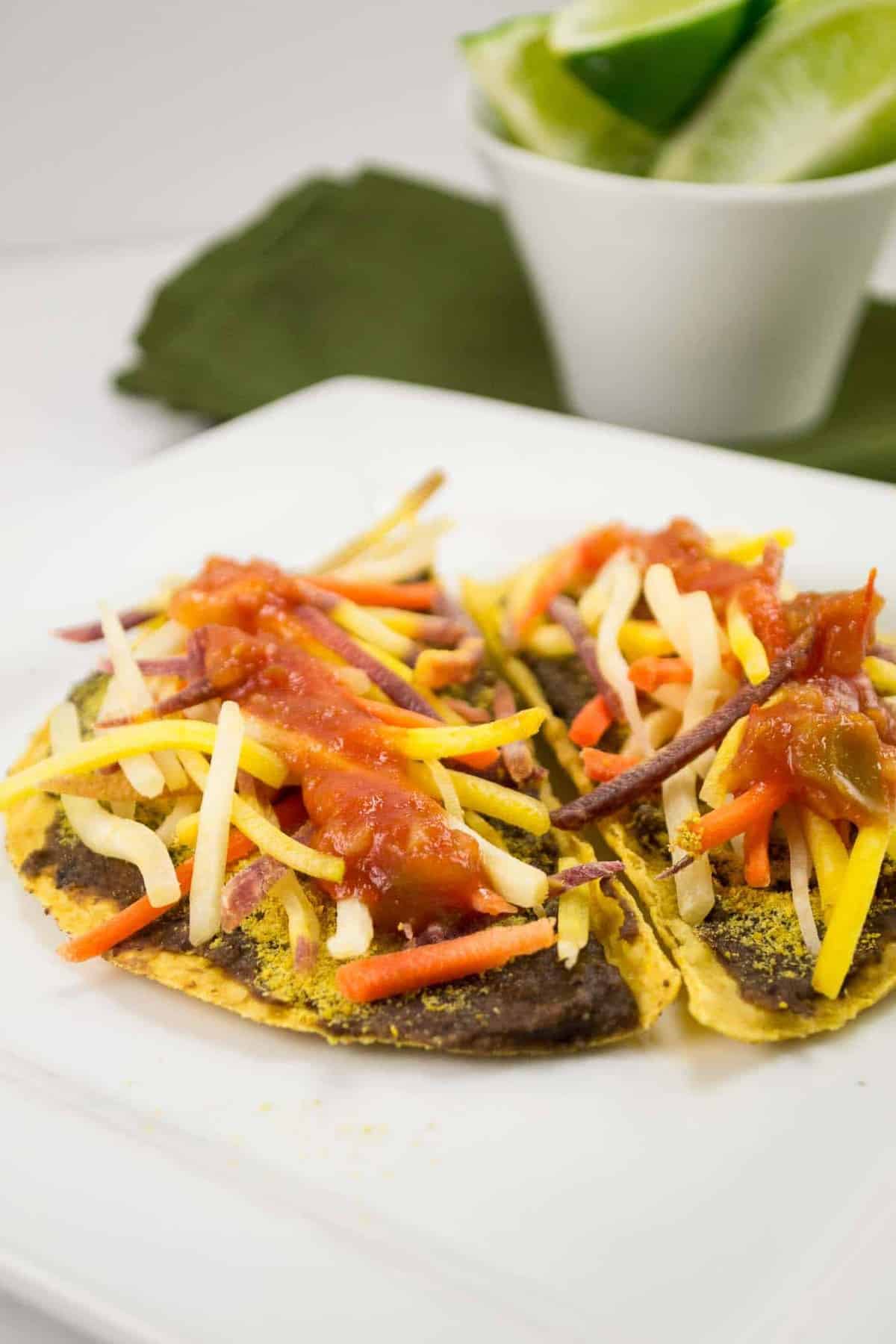 I have to credit my mom with my undying love of quick & easy vegan tacos.
They are a regular staple in our house!
Even after becoming vegetarian again, I still prefer "yeast cheese" (nutritional yeast) to normal cheese on these tacos. When I was dating my husband, I cooked for him almost every night we were together (which was pretty much every night.)
We didn't have a lot of money so most of our dates were spent at my house, flirting and cooking dinner together.
I introduced my 30 year old meat-eating man to my world of "weird foods" …and he loved it.
He actually prefers yeast cheese on these tacos too and devours them just as quickly as me!
I use my 5 minute homemade refried beans for these tacos, top with a few toppings and serve on corn tortilla taco shells and that's it!
I could eat these every week for the rest of my life and never get tired of them.
And shredded carrots on tacos? Just trust me on that one. They are crunchy and just a little sweet and really tie all the flavors together! Try these tacos for your next #tacotuesday!
Yield: 4
Quick & Easy Vegan Tacos
quick and easy vegan tacos with refried beans!
Ingredients
Yellow corn taco shells
nutritional yeast
shredded carrots
salsa
1 lime, cut into wedges
Instructions
Make 5 Minute Homemade Refried Beans according to instructions
While beans are heating up, cook taco shells in the oven according to package instructions
Serve tacos with refried beans and topped with nutritional yeast, shredded carrots, salsa, and a squeeze of fresh lime juice
Nutrition Information:
Yield:
4
Serving Size:
1
Amount Per Serving:
Calories:

68
Total Fat:

1g
Saturated Fat:

0g
Trans Fat:

0g
Unsaturated Fat:

1g
Cholesterol:

0mg
Sodium:

88mg
Carbohydrates:

13g
Fiber:

3g
Sugar:

3g
Protein:

3g