I love taco nights!
As a mostly vegetarian/vegan eater, it is one of the easiest and most flavorful dinners to make! I make it different every time and it is delicious!
This meal was spicier than I usually make, but I loved it! The red onion and peppers add a nice spiciness to the dish, without being too overwhelming.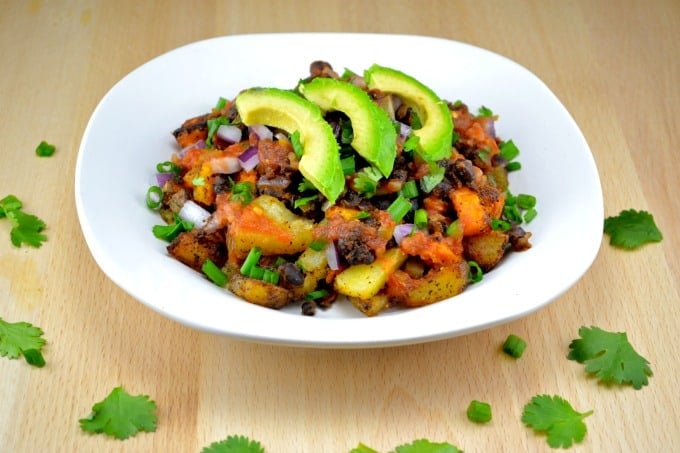 Potatoes are one of my favorite foods to eat.
Sweet potatoes are also a fun change from just using russet potatoes, I like the mixture of both!

Lime juice is the perfect acidic topping to this dish to complement the heat.
The salsa and lime really balance out the spiciness of the dish. The avocado was a perfect topping as well!

Another thing I love about taco night is how cost efficient it is.
This whole meal was probably less than $15 and feeds 4-5 people! Added bonus: it's vegan and good for you too!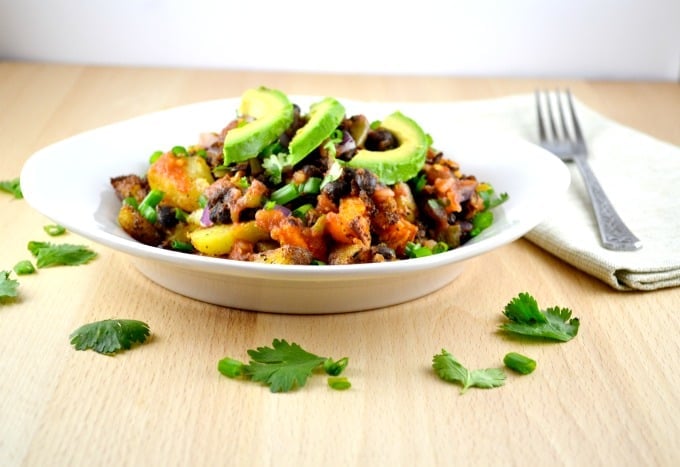 Try making this for your next taco night!

Spicy Potato Taco Plate
Ingredients
2 large sweet potatoes, peeled and diced
2 large russet potatoes, diced
1 teaspoon sea salt
½ teaspoon pepper
3 tablespoons garlic powder
⅔ cup extra virgin olive oil
1 cup diced red onion (use yellow onion for less of a spicy flavor)
5 large cloves of garlic, minced or finely diced
3 Hungarian wax peppers, diced (use bell peppers for less of a spicy flavor)
2 (15 oz) cans black beans, drained and rinsed
2.5 teaspoons cumin
½ teaspoon smoked paprika
1 teaspoon chili powder
Salt and pepper to taste (I used about 1 teaspoon sea salt and ½ teaspoon pepper)
green onions for topping
raw red onion for topping
cilantro for topping
Limes
Salsa
Avocados
Corn chips
Instructions
Dice potatoes. I microwaved mine for 6 minutes once diced so that they would cook quicker. You can also roast them without microwaving
Combine first 6 ingredients (sweet potatoes, russet potatoes, sea salt, pepper, garlic powder, and olive oil) in a glass baking dish (I had to use two) and mix well.
Roast at 450 degrees for 30-45 minutes, checking and stirring, until crispy
Combine diced red onion, garlic, peppers, a splash of olive oil and a sprinkle of salt pepper in a skillet and sautee for about 5-7 minutes until well cooked.
Add black beans, cumin, smoked paprika, chili powder, and salt and pepper to taste. Sample and adjust seasonings if necessary
Layer potatoes, followed by bean mixture. Top with optional red onion, cilantro, and green onions. Squeeze lime juice on top and add salsa. Top with avocado if desired.
Serve with corn chips!