It's been over a week since I've posted a new recipe (insert sad face here.)
Last week we took my car in for an inspection and found out that it needed too expensive of a repair to justify fixing it.
Adding to it some other family stress and not having a car to take the baby anywhere in (can you say cabin fever??), it made for a not so fun week.
While it is a piece of junk, I've had my car since I was 16 years old.
It's the car I drove to my first job (and 2nd, 3rd, and 4th).
The car I drove to high school and then college.
The car I drove to my first date with my husband in.
The car we packed up so tightly enough stuff to stay 3 weeks in Florida and get married.
The car we drove to our honeymoon.
The car we drove to the hospital and the car we brought our son home in.
While to some it might look like a beat up piece of junk, it sure does hold a lot of memories for me.
Do you have special memories of your first car? Tell me about it!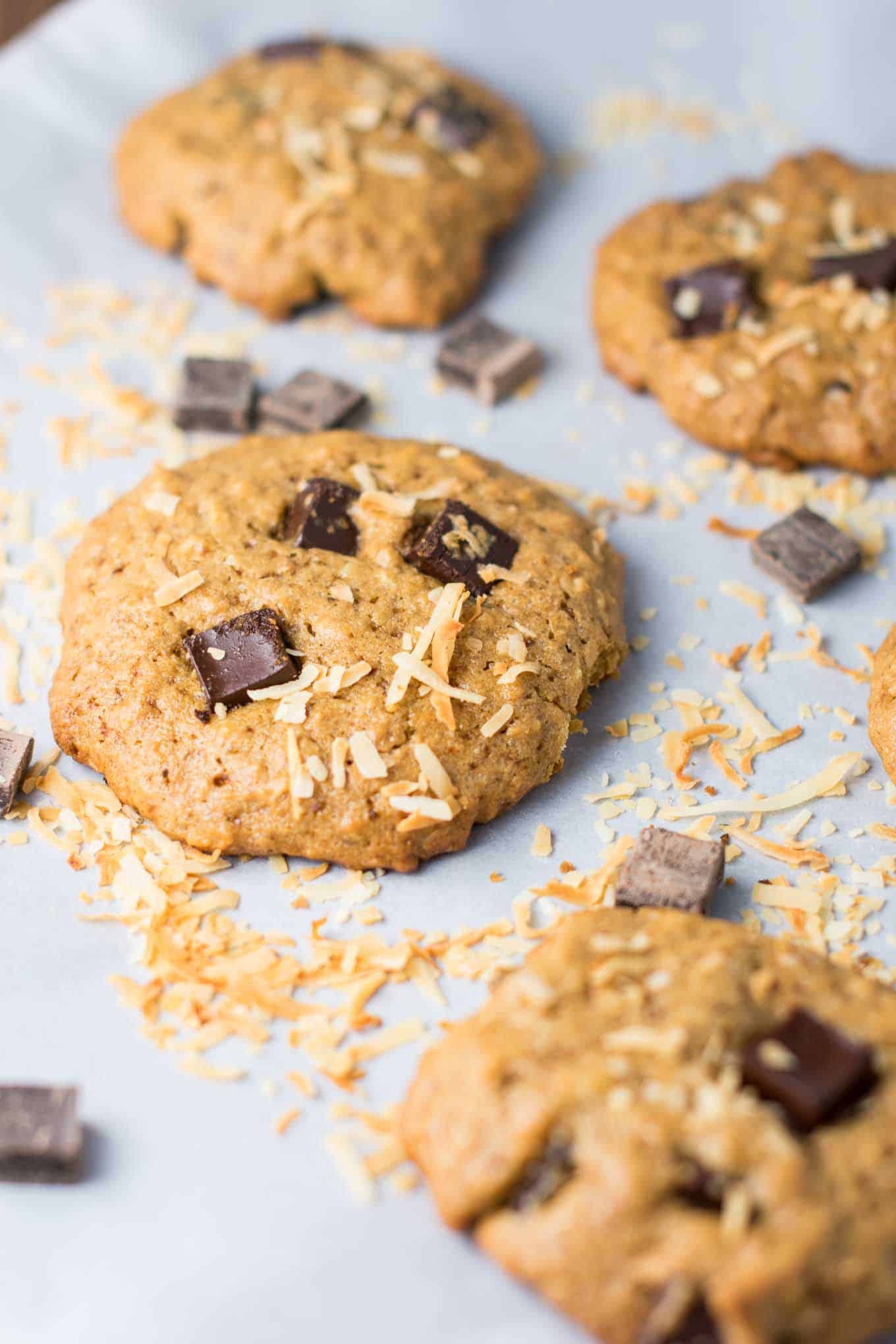 These toasted coconut cookies were on the list of recipes I wanted to make last week and I finally got to them over the weekend!
After making my coconut lime bread, I instantly became obsessed with using flaked coconut in recipes.
After toasting the coconut, I stirred it into the batter of these cookies and sprinkled a little on top.
It added a subtle nutty sweetness to the recipe and I just can't get enough!
I don't know that there is an official comfort food, but I would like to think chocolate chip cookies are it.
And I promise you these ones do not disappoint!
Yield: 30 cookies
Toasted Coconut Chocolate Chunk Cookies
toasted coconut chocolate chunk cookies
Ingredients
2 cups unsweetened flaked coconut
2 cups whole wheat pastry flour
1 teaspoon salt
1 teaspoon baking soda
1 cup coconut sugar
1/2 cup white sugar
1/2 cup coconut oil, melted
1/4 cup olive oil
1/4 cup vegan butter, melted
1 1/2 tablespoons vanilla extract
2 eggs
10 oz dark chocolate chunks
Instructions
Preheat oven to 350 degrees
Line a baking sheet with parchment paper
Place coconut on parchment paper and bake at 350 for 5-7 minutes, stirring every 2 minutes, until browned and toasty
Whisk together flour, salt, and baking soda and set aside
In a separate bowl, use a mixer to cream together coconut sugar, white sugar, vegan butter, olive oil, coconut oil, and vanilla extract
Add eggs and beat well
Add the dry mixture to the wet, mixing until well combined
Fold in toasted coconut and chocolate chunks
Drop by rounded spoonfuls onto a baking sheet
Bake for 10-13 minutes, until desired doneness is reached
Enjoy!
Nutrition Information:
Yield:
30
Serving Size:
1
Amount Per Serving:
Calories:

251
Total Fat:

13g
Saturated Fat:

8g
Trans Fat:

0g
Unsaturated Fat:

4g
Cholesterol:

19mg
Sodium:

158mg
Carbohydrates:

32g
Fiber:

3g
Sugar:

17g
Protein:

4g
Sharing is caring!