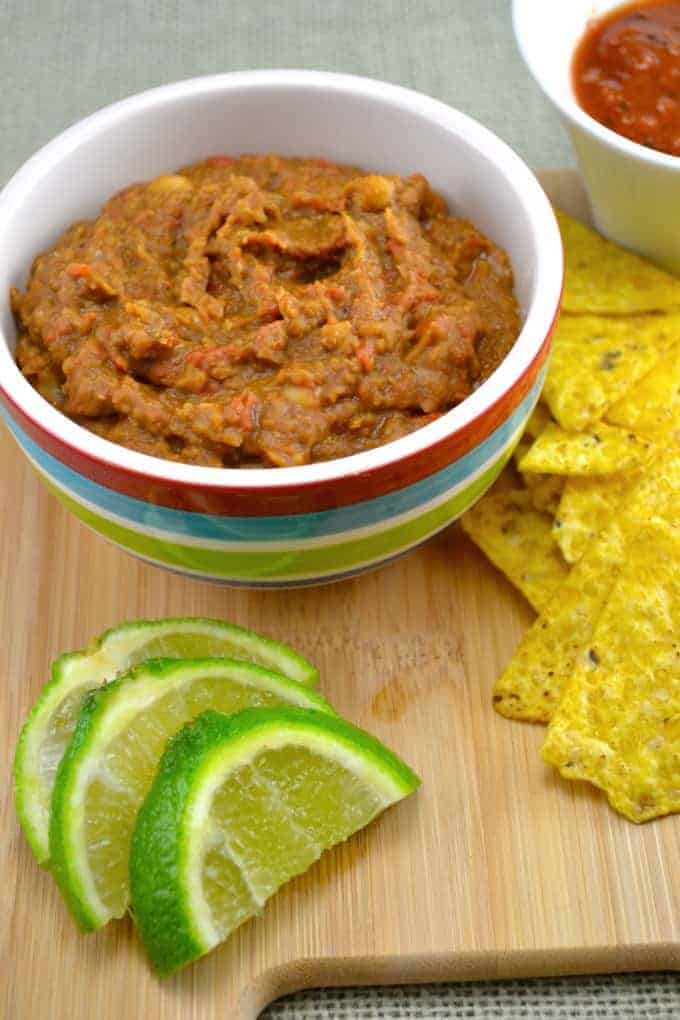 Refried beans are one of those things that I've been meaning to make but never tried.
I loved a brand of refried beans that I'd been buying from Fresh Market, so I didn't think that homemade would be much better.
Man was I wrong!
I was eating these straight from the pan with chips. The flavor cannot even be compared to store bought!
Plus they only take 20 minutes to make!

I was also surprised how easy they were to make.
I just guessed on spices as to what I'd normally do in a taco meal and it came out perfectly!
You can also make these in one pan for minimal cleanup!
We had ours as burritos with nutritional yeast, lime juice, and salsa.
They next day we used them to make a nacho plate. I can't wait to make these again!

Twenty Minute Refried Beans
Ingredients
2 (15 oz) cans of great northern beans, drained
1 medium onion, diced
7 cloves of garlic, finely diced or minced
1 red bell pepper, chopped
2 tablespoons of olive oil
½ teaspoon cracked black pepper
1 teaspoon sea salt
¼ teaspoon cayenne
3 teaspoons chili powder
2 tablespoons cumin
½ teaspoon smoked paprika
Instructions
Combine all ingredients except beans in a skillet and sautee for 5-7 minutes on medium heat, or until onion and bell pepper are cooked.
Add drained beans to the skillet and mix well. Cook and stir for an additional 3-5 minutes, to let flavors combine
Use an emulsion blender in a pan to blend together bean mixture until its mostly pureed. If you don't have an emulsion blender, just pour mixture in a blender and blend until smooth
Serve with chips, on burritos, quesadillas, or your favorite mexican dish!