Disclosure: this post was compensated by the Tofurky Company. All thoughts and opinions are my own.

Every once in awhile, you come across one of those recipes that's so modest that it looks too easy. These crispy smashed vegan potatoes are seriously easy to make, and unbelievable to taste! Not only are they delicious, but they are also vegan! Some people believe that vegan = boring and tasteless. Well, in my world vegan is anything but!

As a vegetarian, I like to find ways to spice up my meals and add extra protein. Anyone that knows me knows that I'm always buying Tofurky products! I love Tofurky's mission and the fact that they have so many different meat free products! I personally am a huge fan of their tempeh bacon, chorizo crumbles, and their deli style 'meats'. The flavor that they are able to get into their products always blows me away!

I used Tofurky's smoked maple tempeh bacon for this recipe. I had never tried tempeh bacon before Tofurky, so I wasn't sure what to expect.

All I can say is that I was blown away! The sweet maple bacon flavor mixed with the roasted potatoes and spices…I could have died it was so good!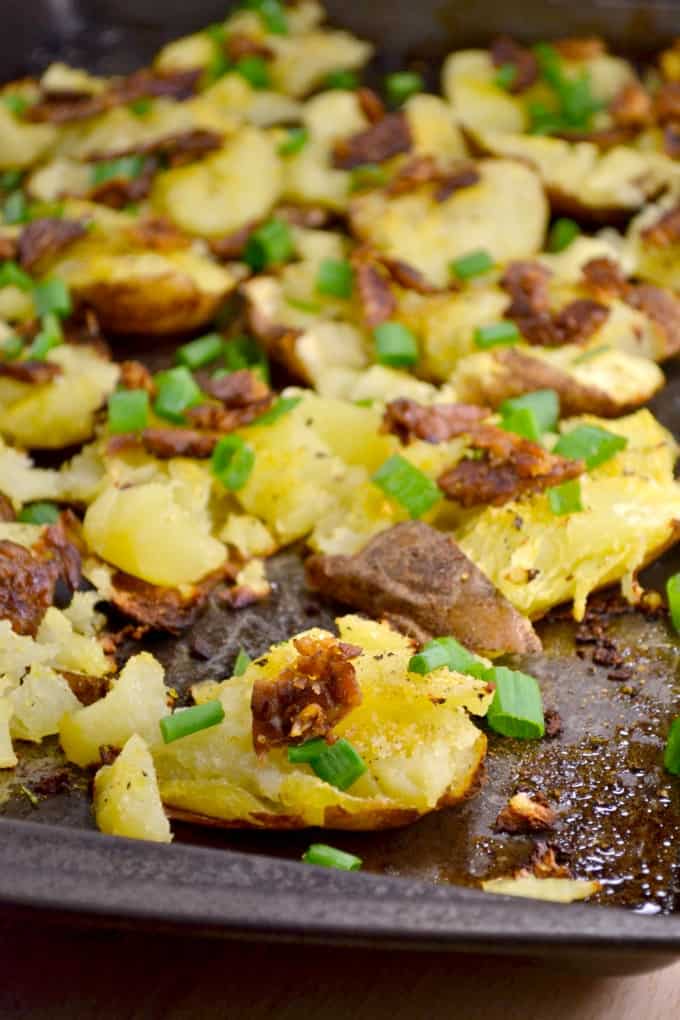 These were so good that I only ate these for dinner…straight off the pan. My husband came home a little after these were done and declared them one of his favorite things I'd ever made! We have a standing joke that he claims he usually doesn't like potatoes…well I think this is about the 8th potato dish I've made that he devours! These taste like crispy buttery potato skins topped with maple bacon…but they're vegan!

I really wish I could send you the taste of these potatoes over the internet. Seriously, they will change the way you see vegan food! We ate the whole sheet pan in about 5 minutes flat…and I made a whole new batch the next night which we paired with crispy pan fried barbeque tofu!

I love the simplicity of this recipe. It barely takes any effort and the result is amazing! Try making this as a side for your next dinner…or if you're like me just eat these for dinner!
Yield: 4 servings
Vegan Smashed Potatoes with Maple Tempeh Bacon
vegan smashed potatoes with maple tempeh bacon
Total Time
1 hour
10 minutes
Ingredients
5 medium russet potatoes (about fist sized)
extra virgin olive oil
Vegan butter
nutritional yeast flakes
garlic powder
sea salt
pepper
6 slices of Tofurky Smoky Maple Bacon Tempeh Strips
Green onions, for topping
Instructions
Wash potatoes and pat dry
Place potatoes on a baking sheet and rub with olive oil to coat
Bake at 425 degrees for 45 minutes, or until potatoes are soft and easily pierced with a fork
Cut potatoes in half, then in half again, smashing each quarter lightly with the knife or a spatula
Spread vegan butter over the tops of the potatoes
Sprinkle the potatoes with a generous amount of sea salt
Sprinkle on freshly ground pepper, garlic powder, and nutritional yeast
Bake potatoes an additional 15 minutes, or until sizzling
Cook Tofurky bacon according to package instructions
Using a spatula, break cooked bacon into small pieces
Remove potatoes from oven and top with bacon pieces and chopped green onion
Enjoy!
Nutrition Information:
Yield:
4
Serving Size:
1
Amount Per Serving:
Calories:

812
Total Fat:

38g
Saturated Fat:

8g
Trans Fat:

2g
Unsaturated Fat:

24g
Cholesterol:

16mg
Sodium:

1750mg
Carbohydrates:

69g
Fiber:

12g
Sugar:

4g
Protein:

50g