This vegetarian bolognese recipe is made with mushrooms, carrots, celery, garlic, and onion. A delicious meatless vegetarian "meat" sauce recipe that everyone will enjoy!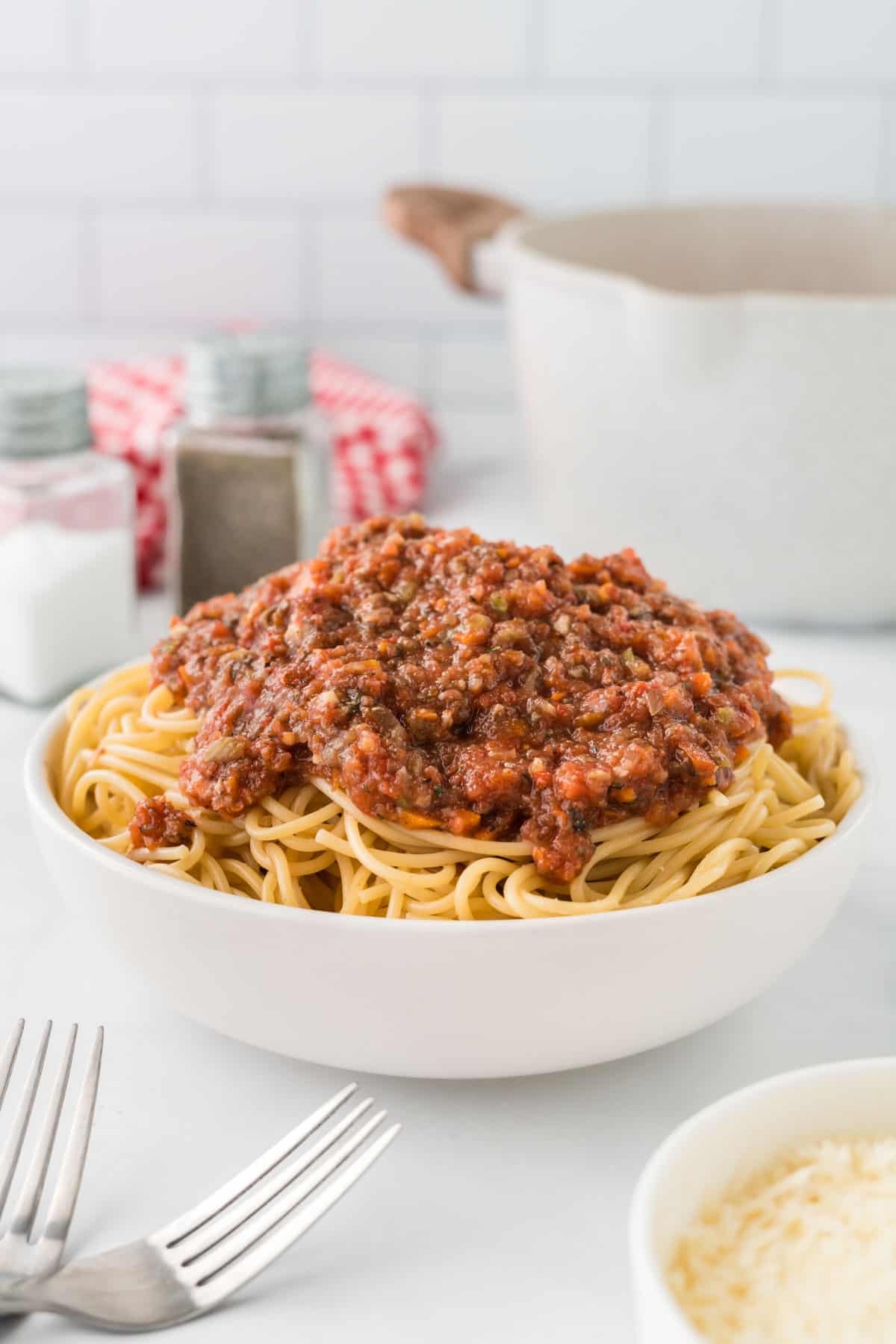 Bolognese sauce is a classic family favorite dish.
Today I'm sharing a delicious alternative to the traditional bolognese sauce. vegetarian bolognese sauce!
As a vegetarian (and just a carb lover in general), pasta is one of my favorite meals.
It's a great way to get lots of veggies, pasta, and protein for a well rounded meal.
I love to vegetarian-ize classic recipes like bolognese sauce, vegetarian meatloaf, and million dollar baked ziti.
This vegetarian bolognese recipe is a great meatless substitute for "meat sauce." It is super satisfying, packed full of good for you ingredients, and tastes amazing!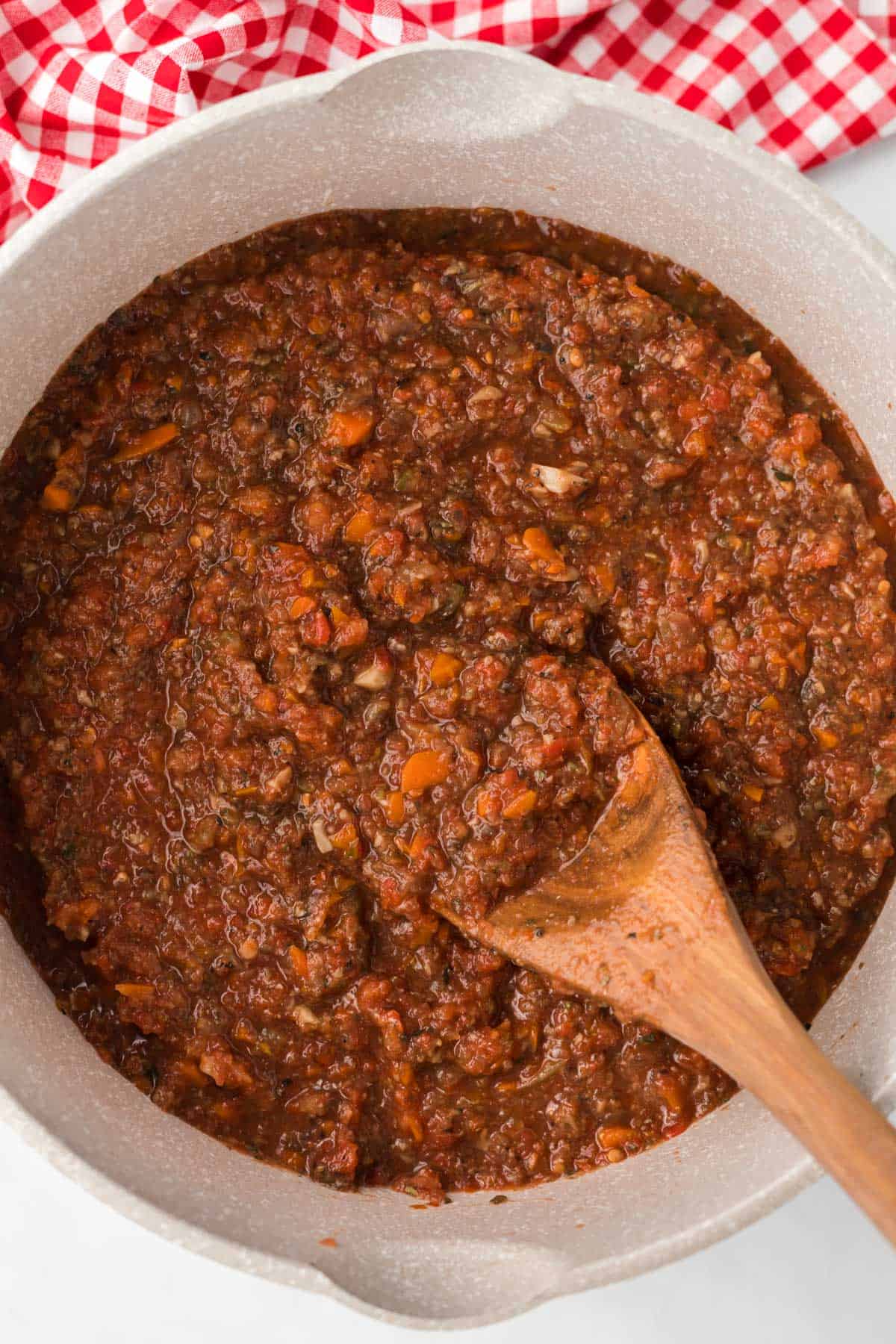 ingredients to make meatless bolognese sauce
baby bella and golden oak shitake mushrooms: these really give the bolognese that "meaty" taste
celery
carrots
garlic
onion: you can use yellow or white onion for this recipe
diced fire roasted tomatoes: the depth of flavor from fire roasted tomatoes is so important to this recipe, don't skip this!
dried basil and oregano: or you can use italian seasoning
sugar: just a touch to offset the acidity of the tomatoes
nutritional yeast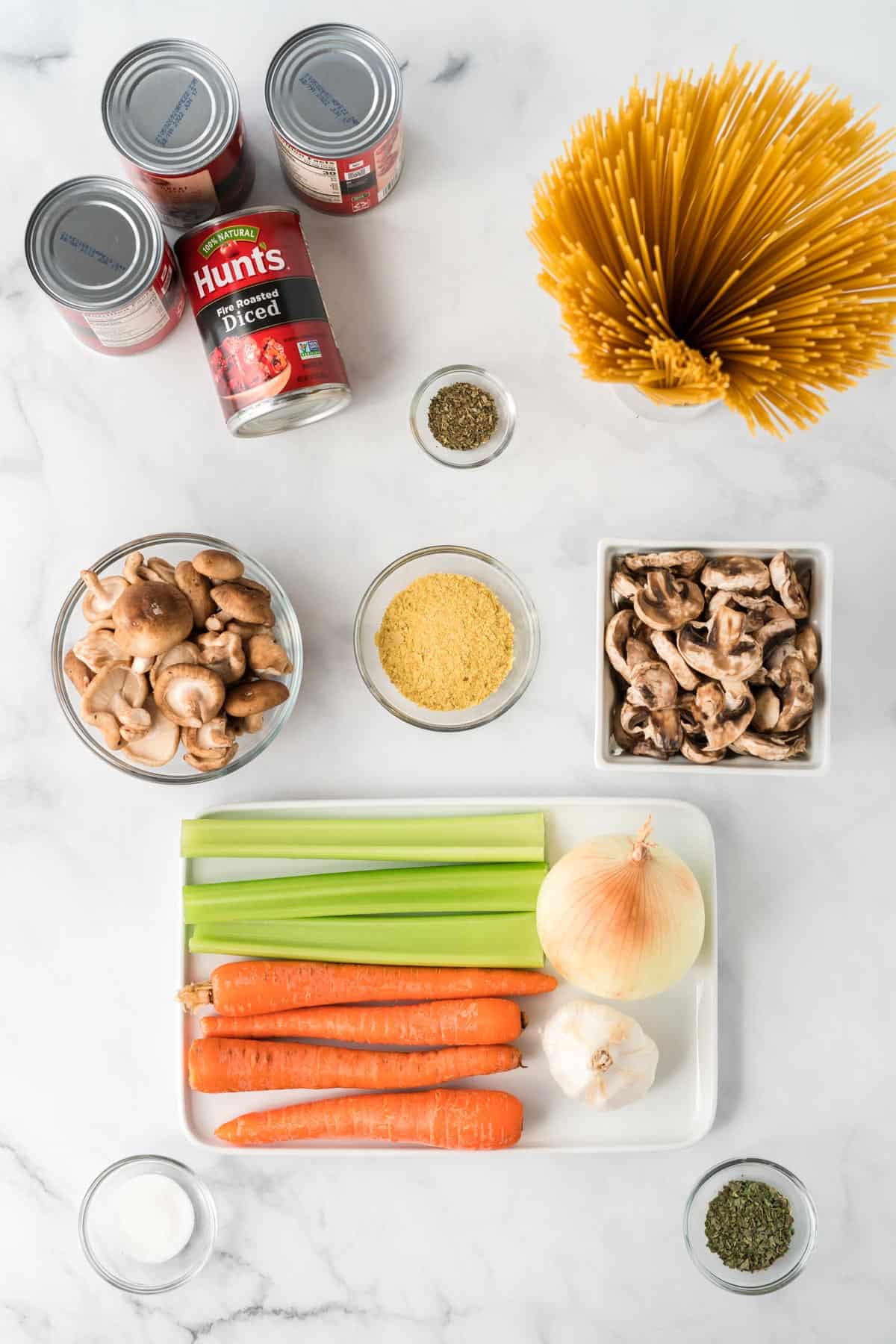 How to make vegetarian bolognese sauce
Step 1: Add the baby bella and shitake mushrooms to a food processor and either pulse or shred them.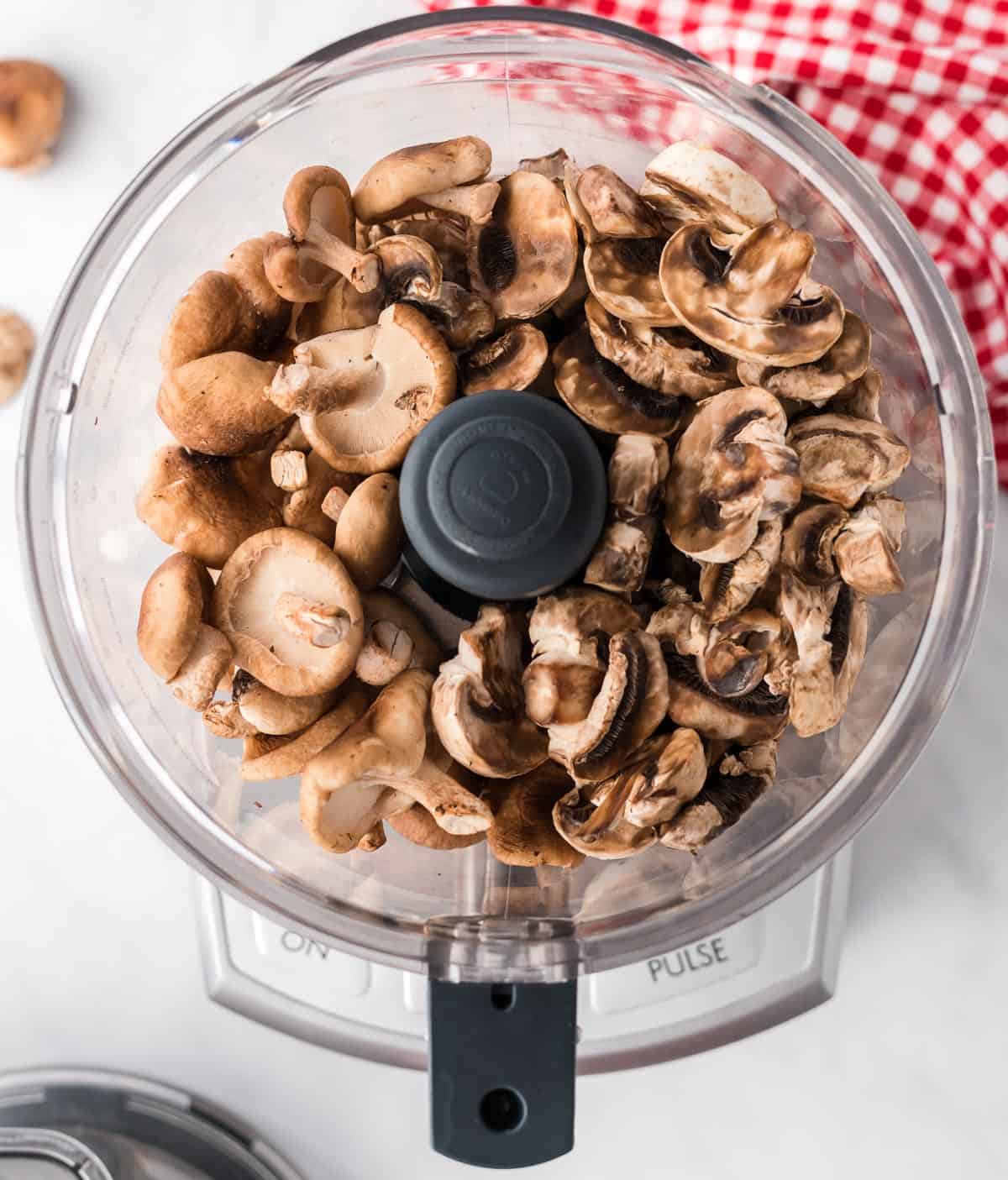 Process the mushrooms up until they are in minced like texture like the picture below.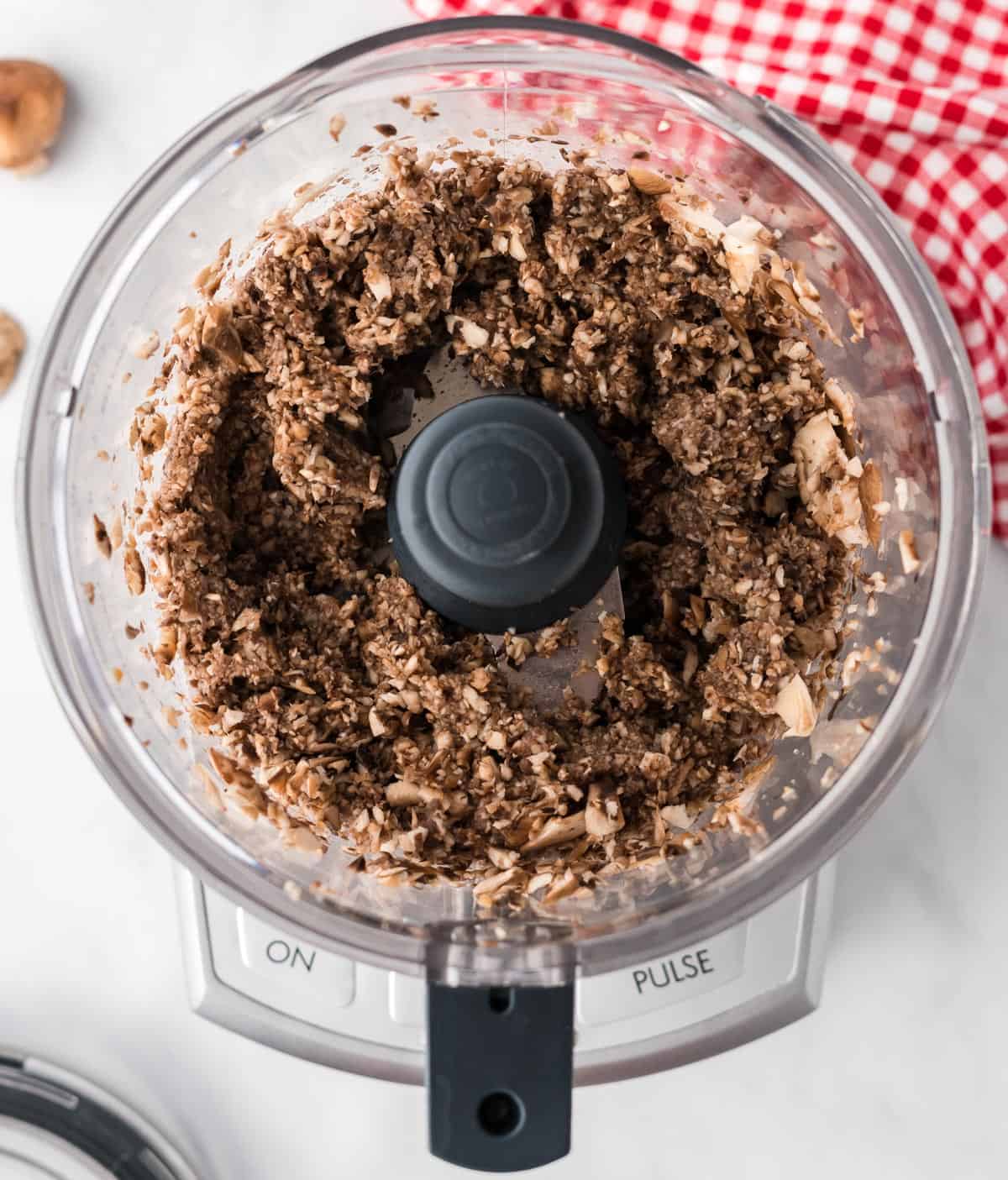 Step 2: Transfer the mushrooms to a skillet, and add the celery, carrots, garlic, and onion to the food processor.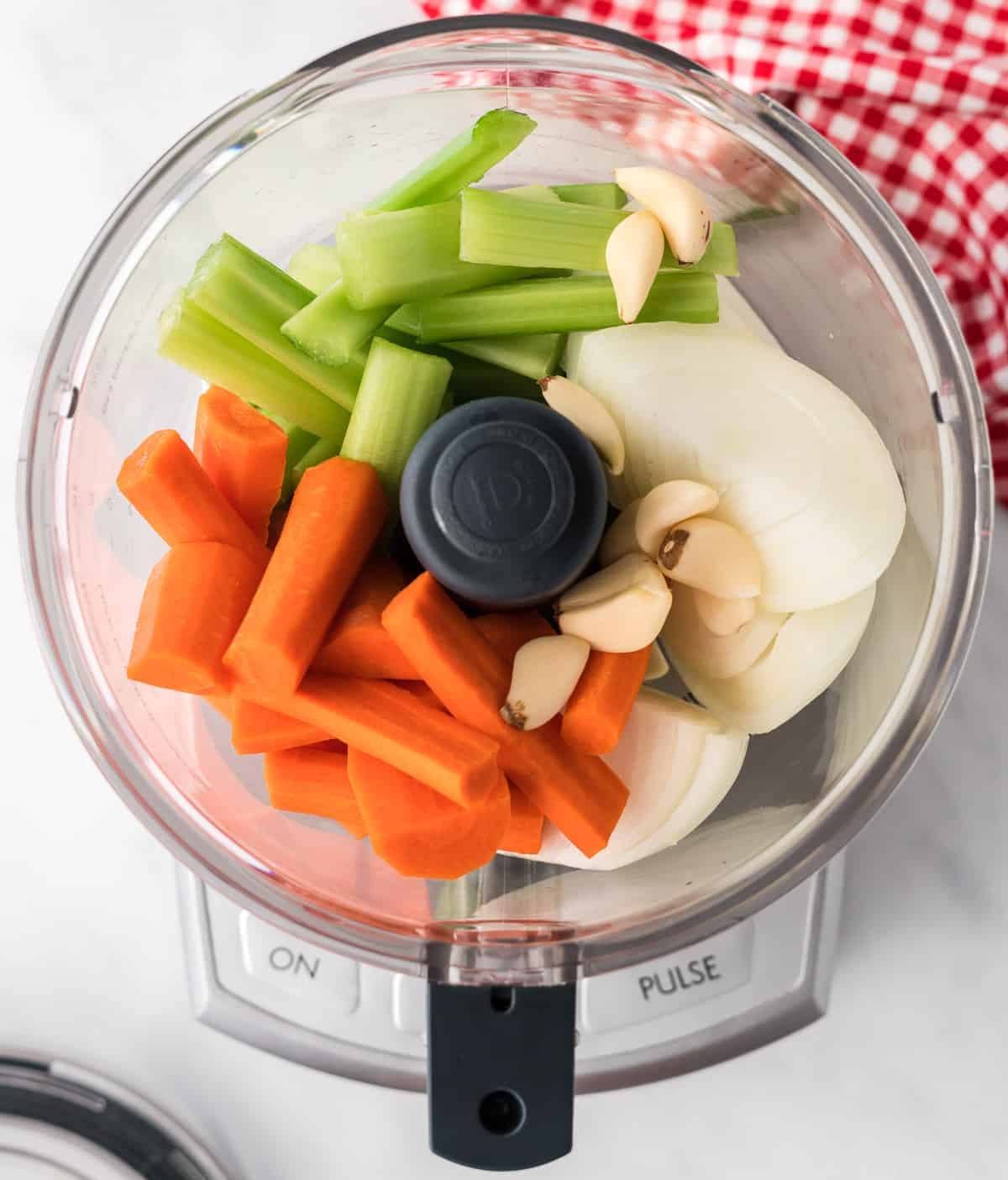 Mince it all up in the food processor until it is in tiny pieces like the mushrooms.
Once it's all processed it will look like this picture below.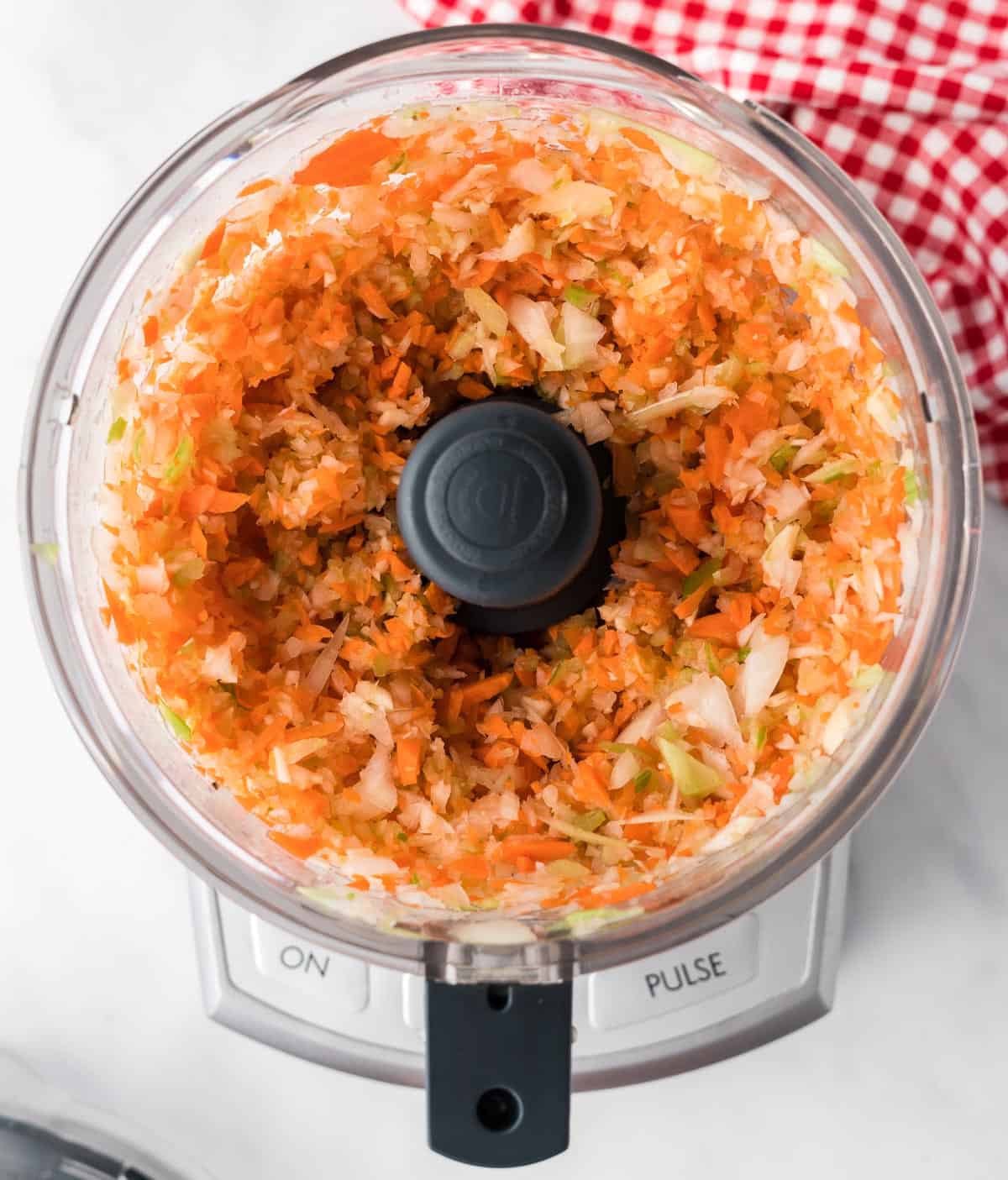 Step 3: It's time to let the veggies sweat and cook the liquid out.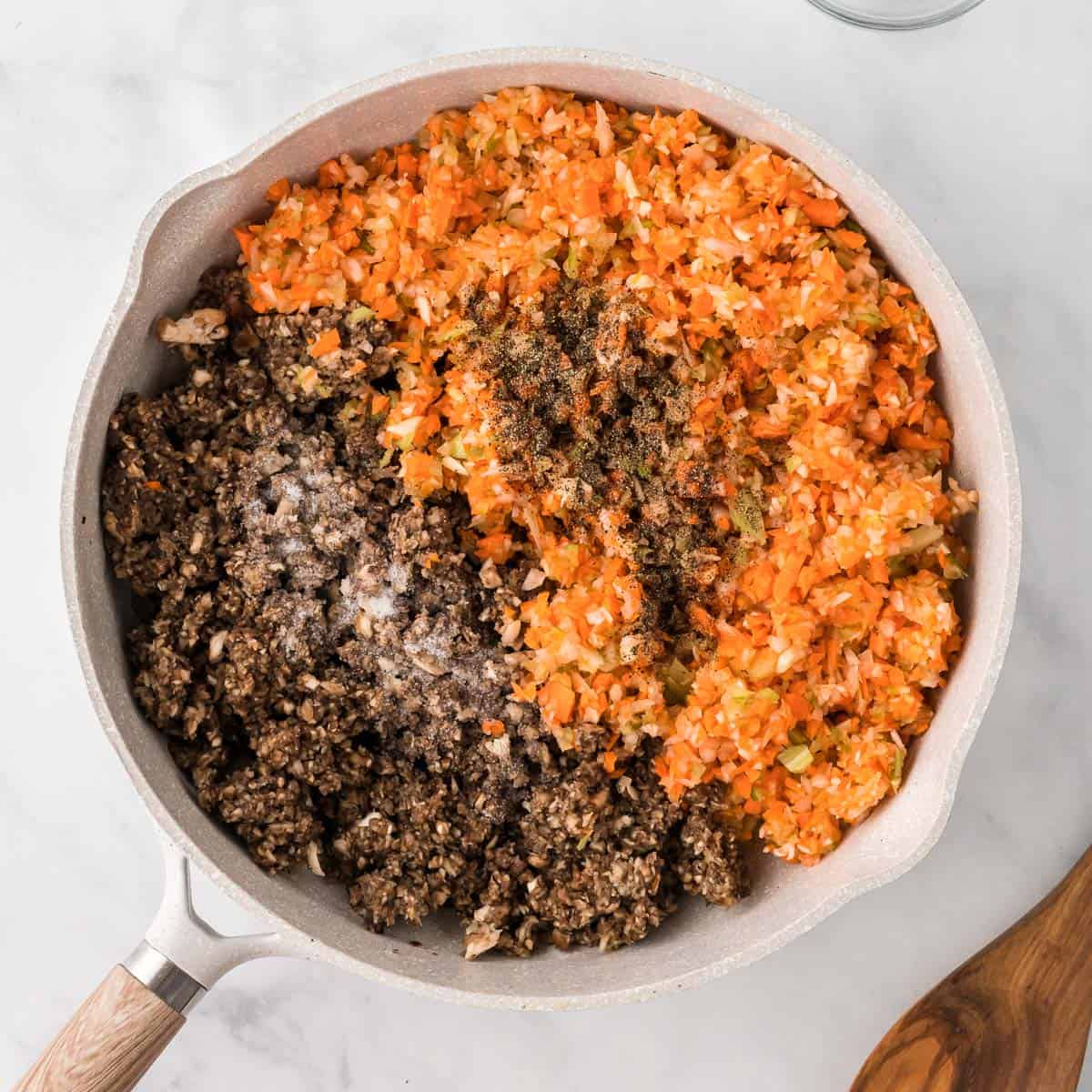 Cook the minced mushroom, garlic, onion, carrots, and celery with the salt and pepper in a large skillet for around 25 – 30 minutes, until most of the liquid has evaporated and the vegetables have reduced in volume.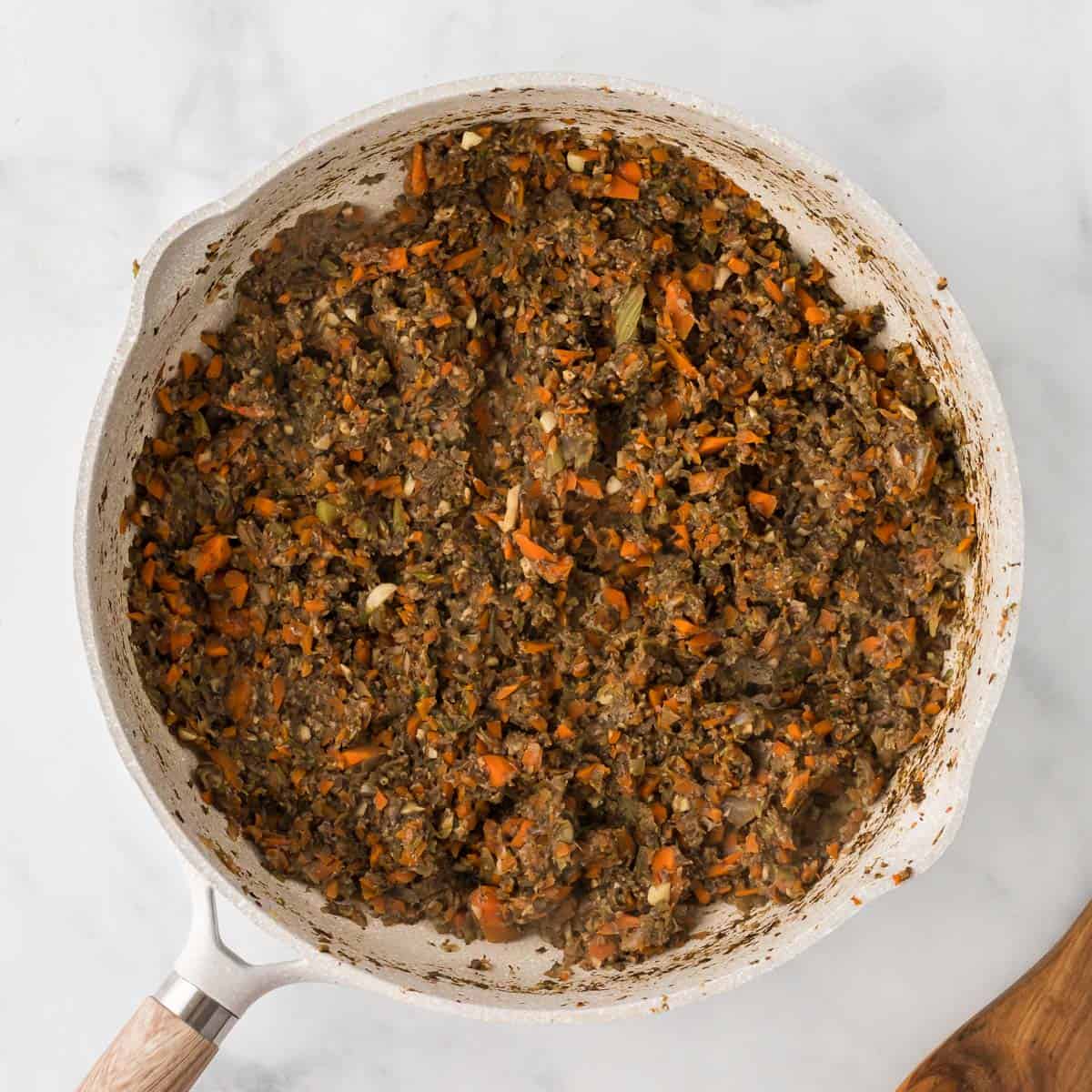 Step 4: Next, puree the fire roasted tomatoes in the food processor until smooth.
The fire roasted tomatoes add a great depth of flavor, and the spices help round it all out.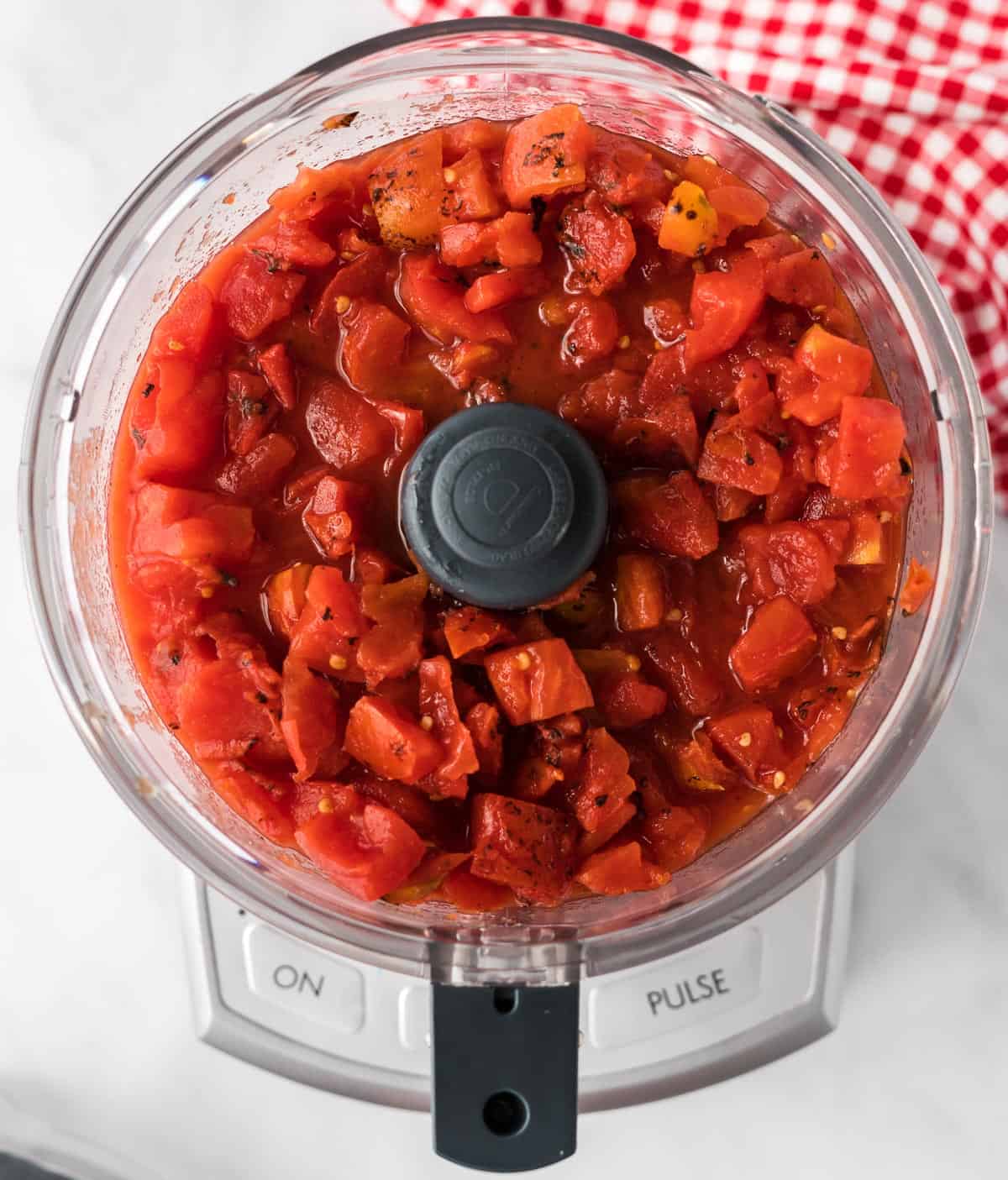 The flavor is key to nailing the perfect vegetarian bolognese sauce!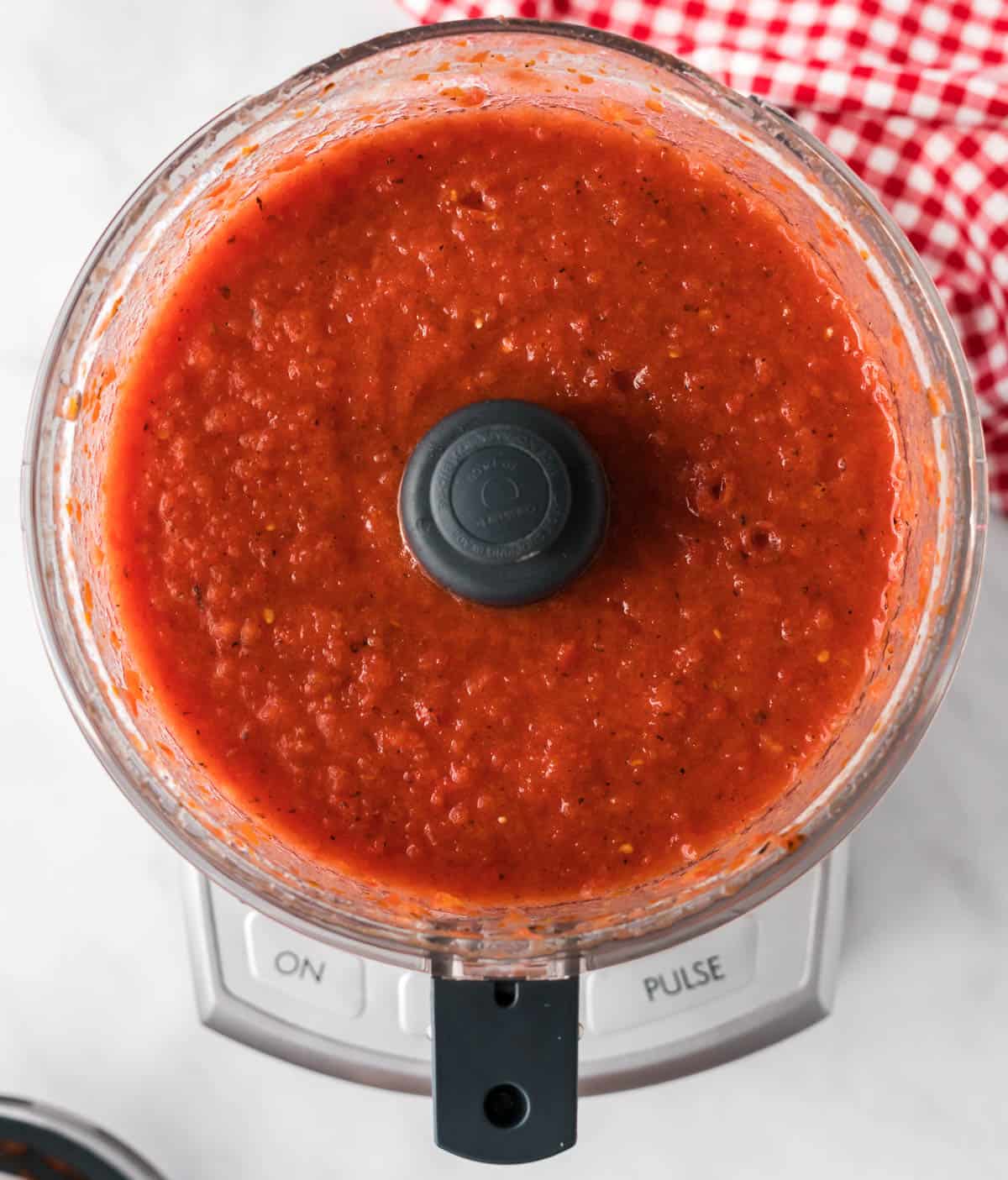 I have had a few people tell me that they cannot find fire roasted tomatoes.
I buy mine in the same aisle as the other canned tomatoes. If you are unable to find them, just substitute regular canned diced tomatoes, and adjust the spice amounts as necessary.
Step 5: Add the tomatoes, basil, oregano, nutritional yeast, and sugar to the vegetables. Stir until hot and it is ready to serve!
The texture of the vegetable bolognese is so meaty.
I was genuinely surprised that it felt to me that I was eating meat sauce!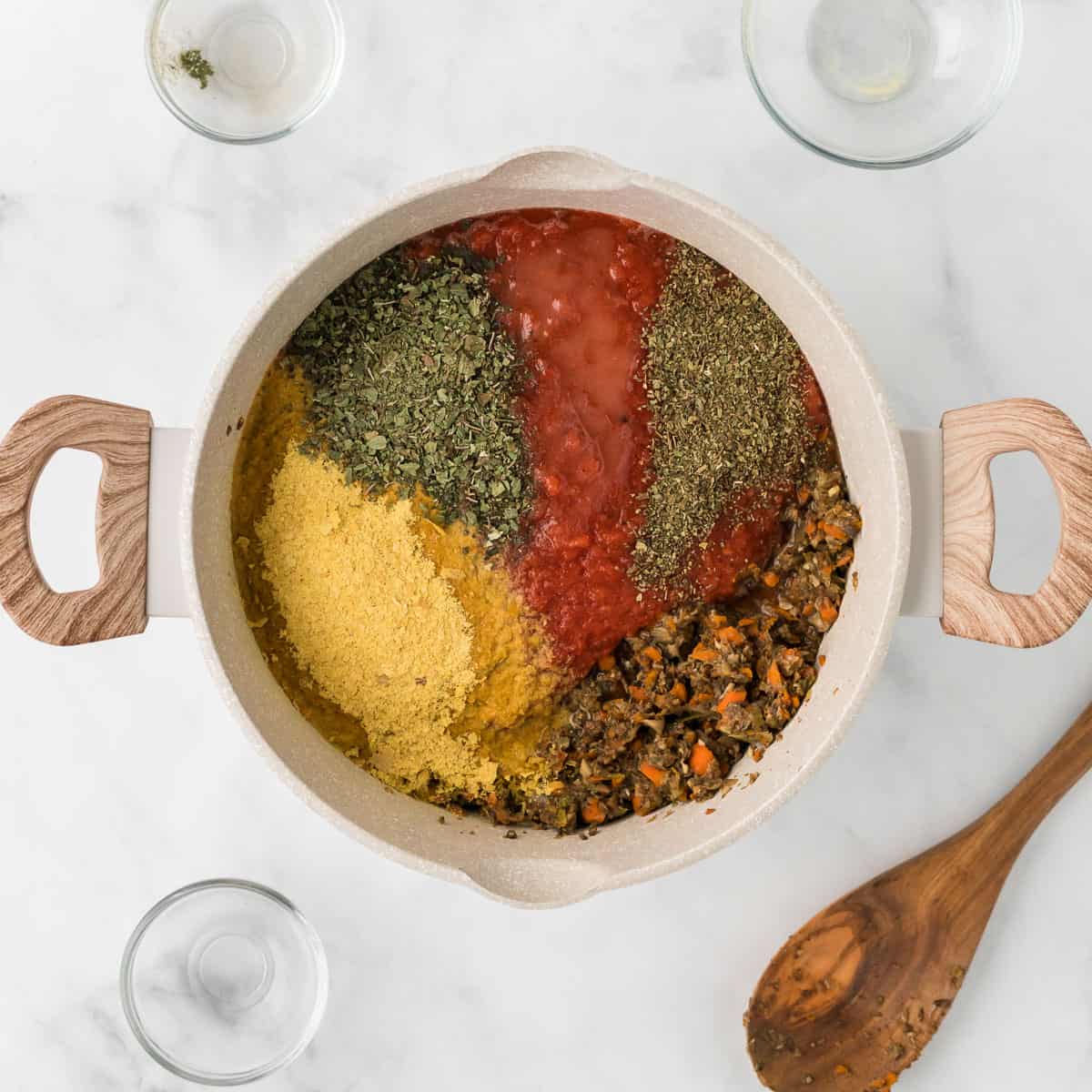 Made this today and LOVED it, thank you so much, it's such a great idea! I make normal bolognese all the time and even my kids didn't notice anything different about it.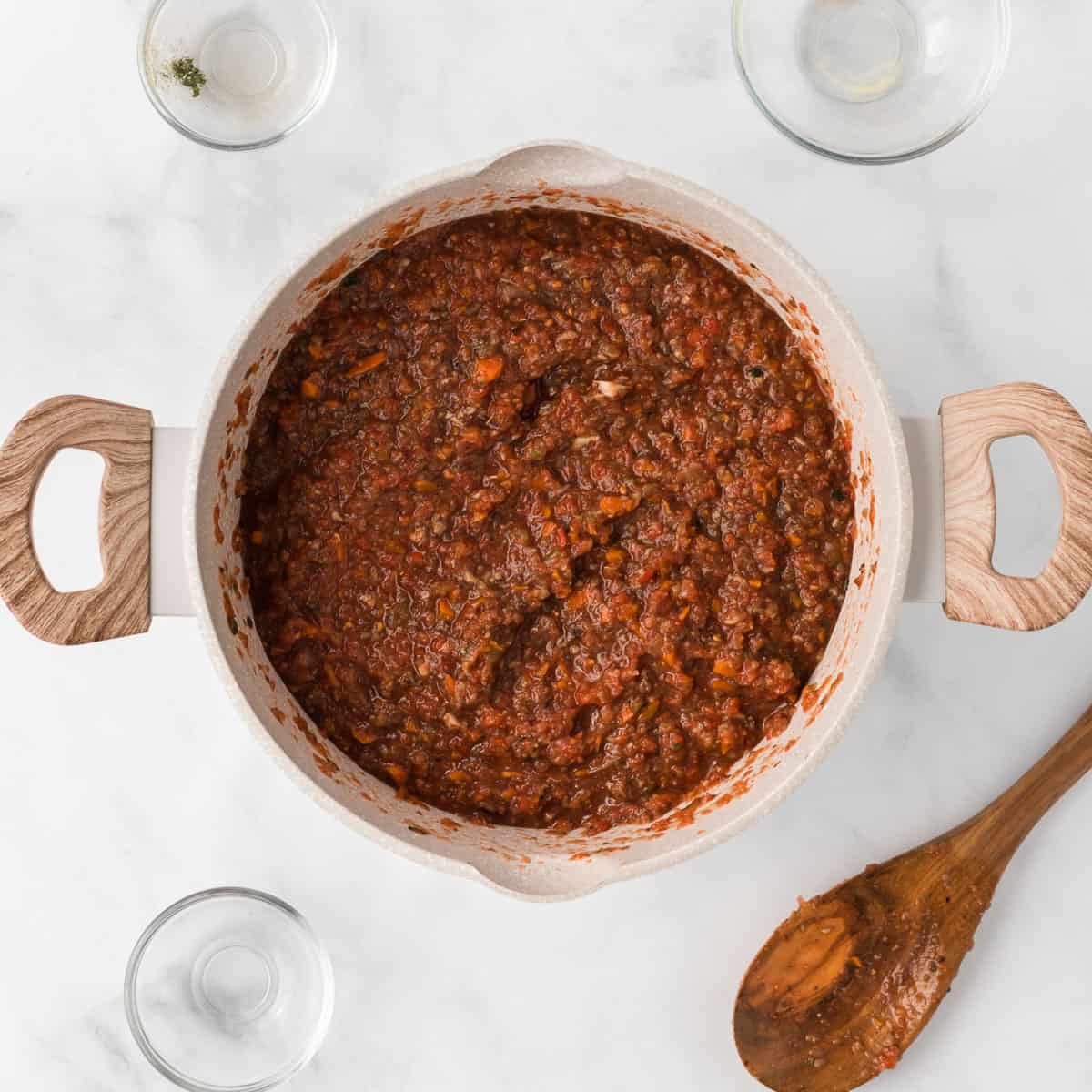 Top with fresh chopped parsley if you want for more added flavor.
I like to do this for that little extra garnish and flavor.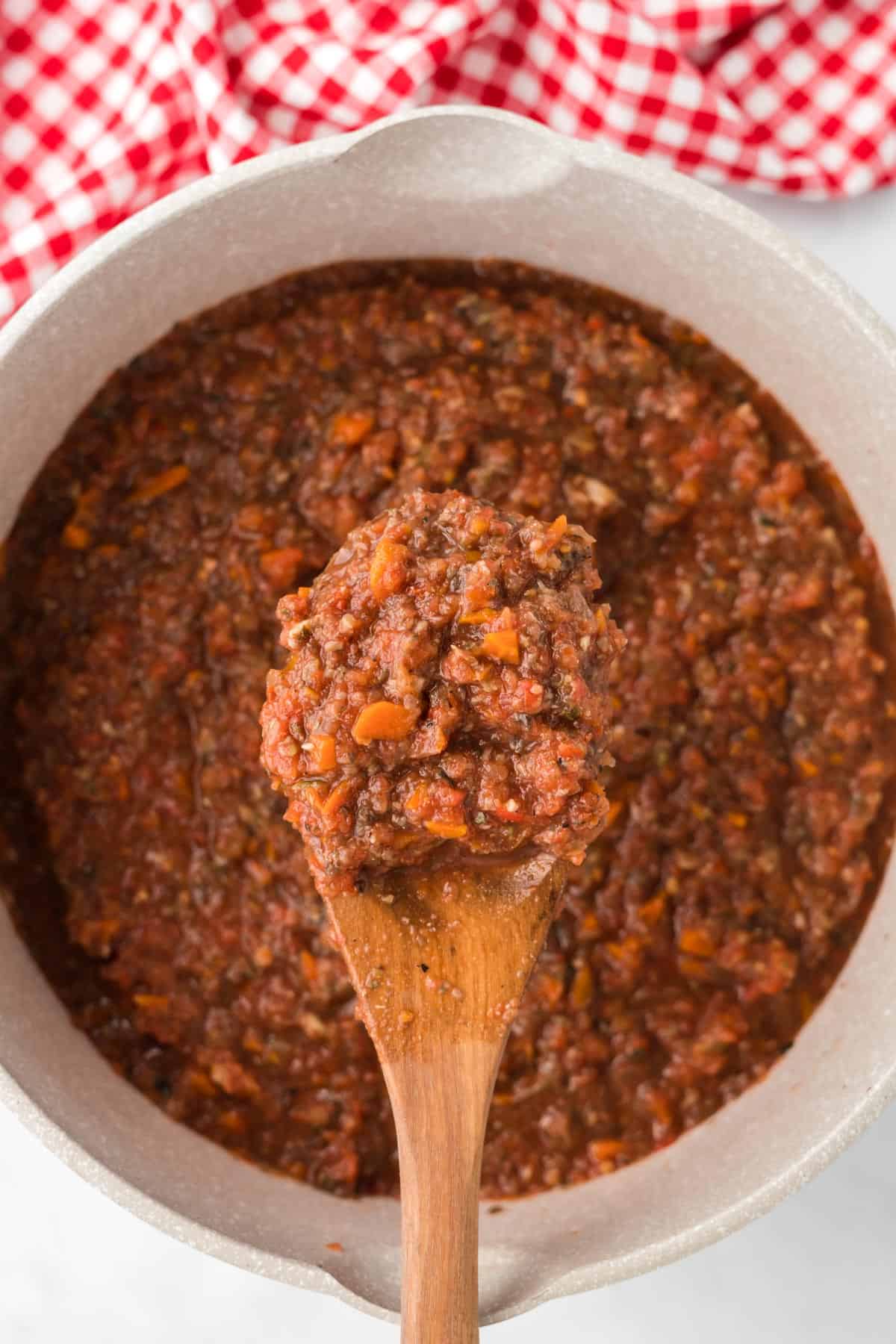 I totally love this recipe! It's so delicious and my 2 years old picky eater devoured it. Yay happy mom over here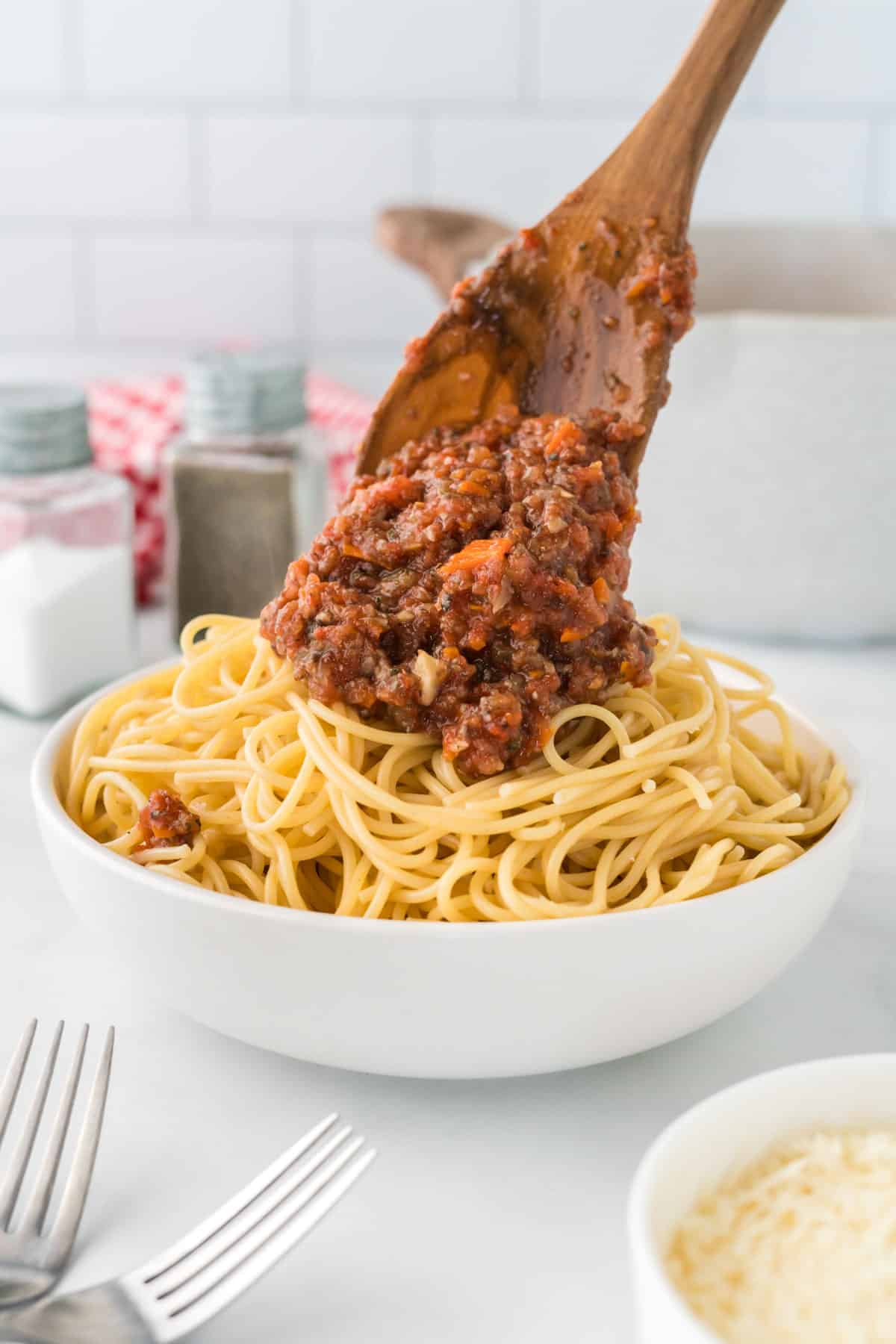 If you're vegetarian and not vegan (like me), parmesan cheese is a great topping for this recipe.
Freshly grated is best!
Otherwise, this bolognese sauce is vegan as written.
You could also top with vegan parmesan or nutritional yeast to keep it dairy free.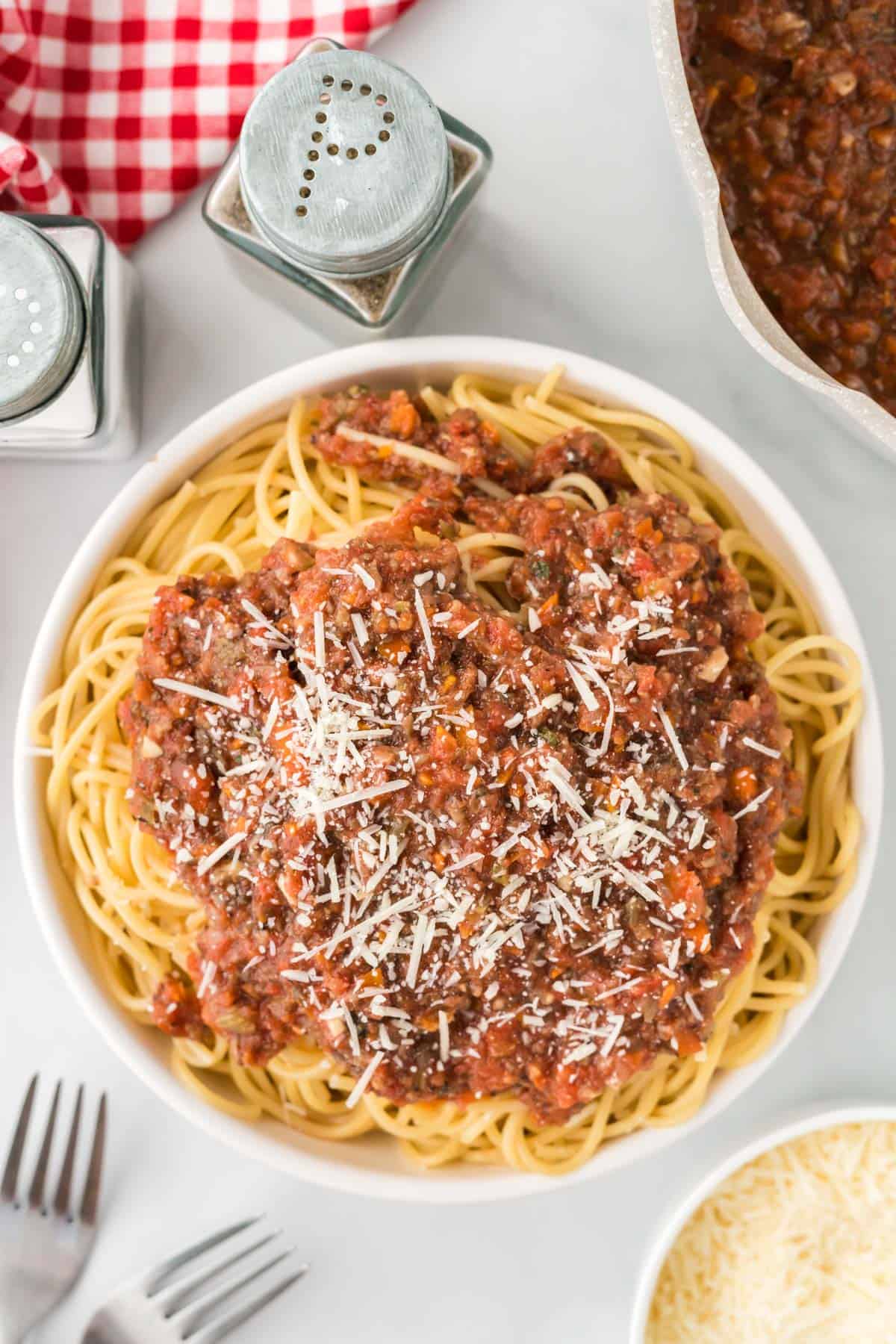 It's honestly so delicious and so filling.
You won't miss the meat at all!
For more yummy inspiration, be sure to read our 25 best vegetarian recipes.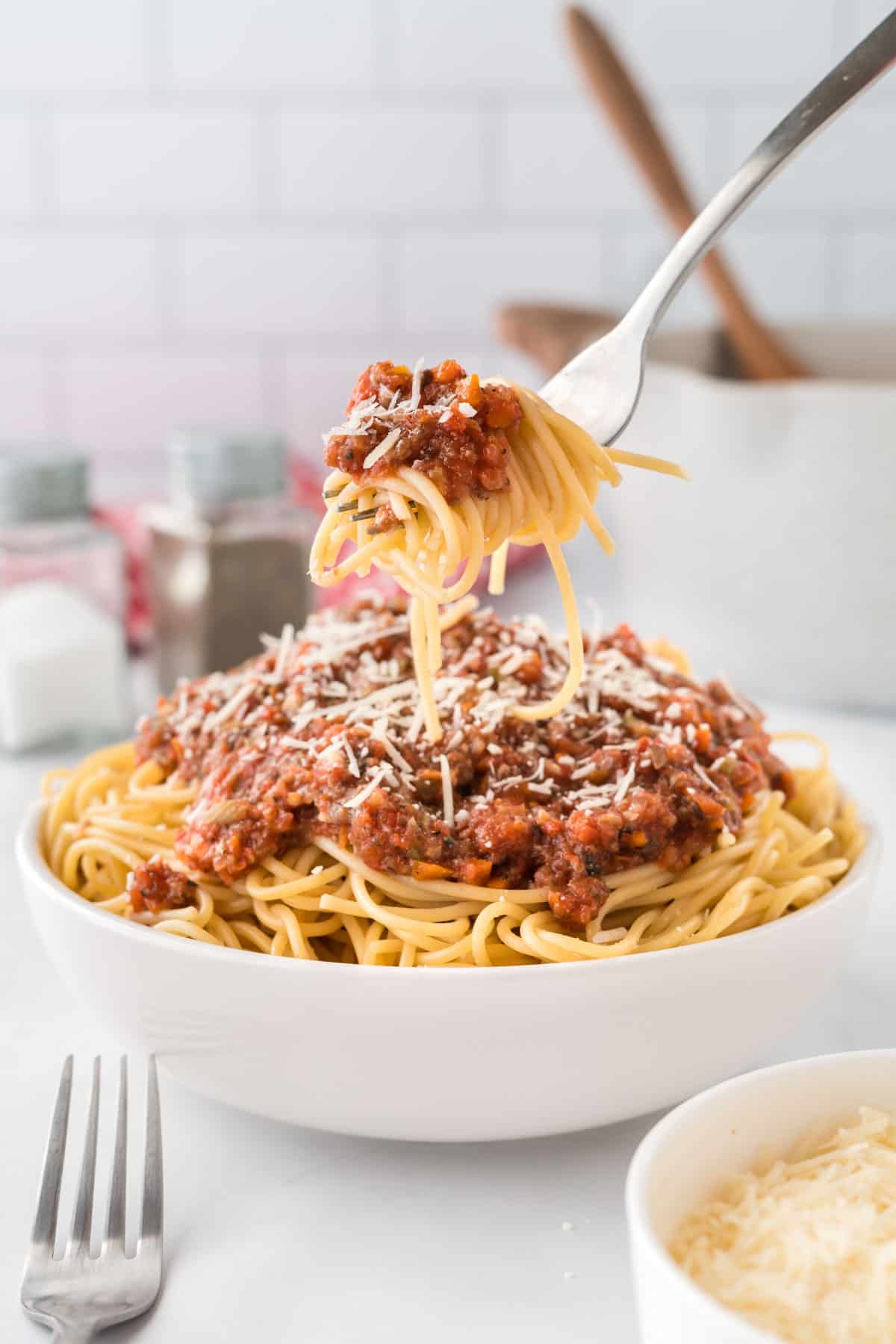 This recipe makes a huge batch of sauce so it is great to feed a lot of people!
More vegetarian pasta recipes
Are you making this recipe? I want to see! Don't forget to tag me on instagram @buildyourbite and hashtag #buildyourbite with your recipe creations!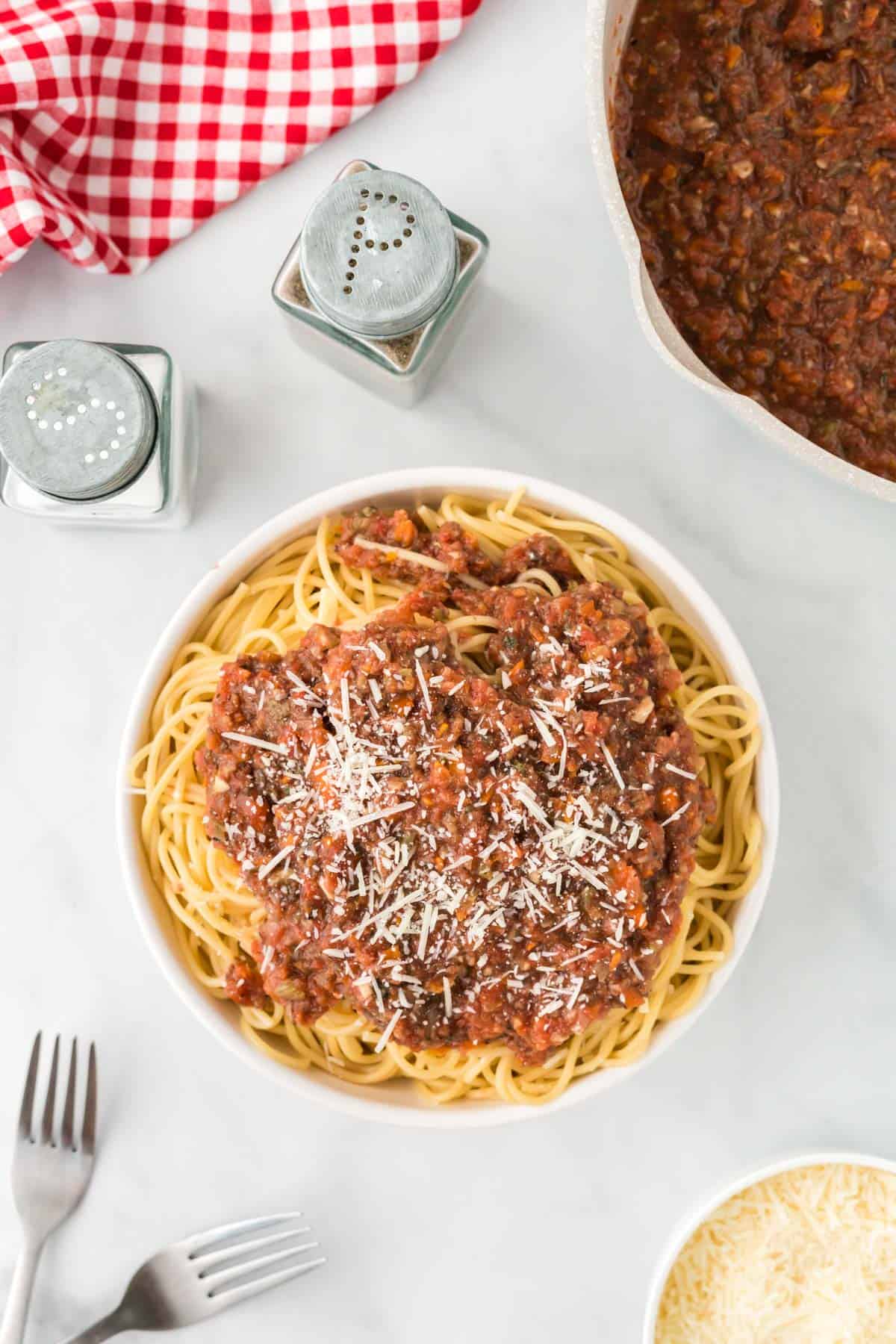 Be sure to pin this recipe for later and follow Build Your Bite on Pinterest for all the latest delicious recipes!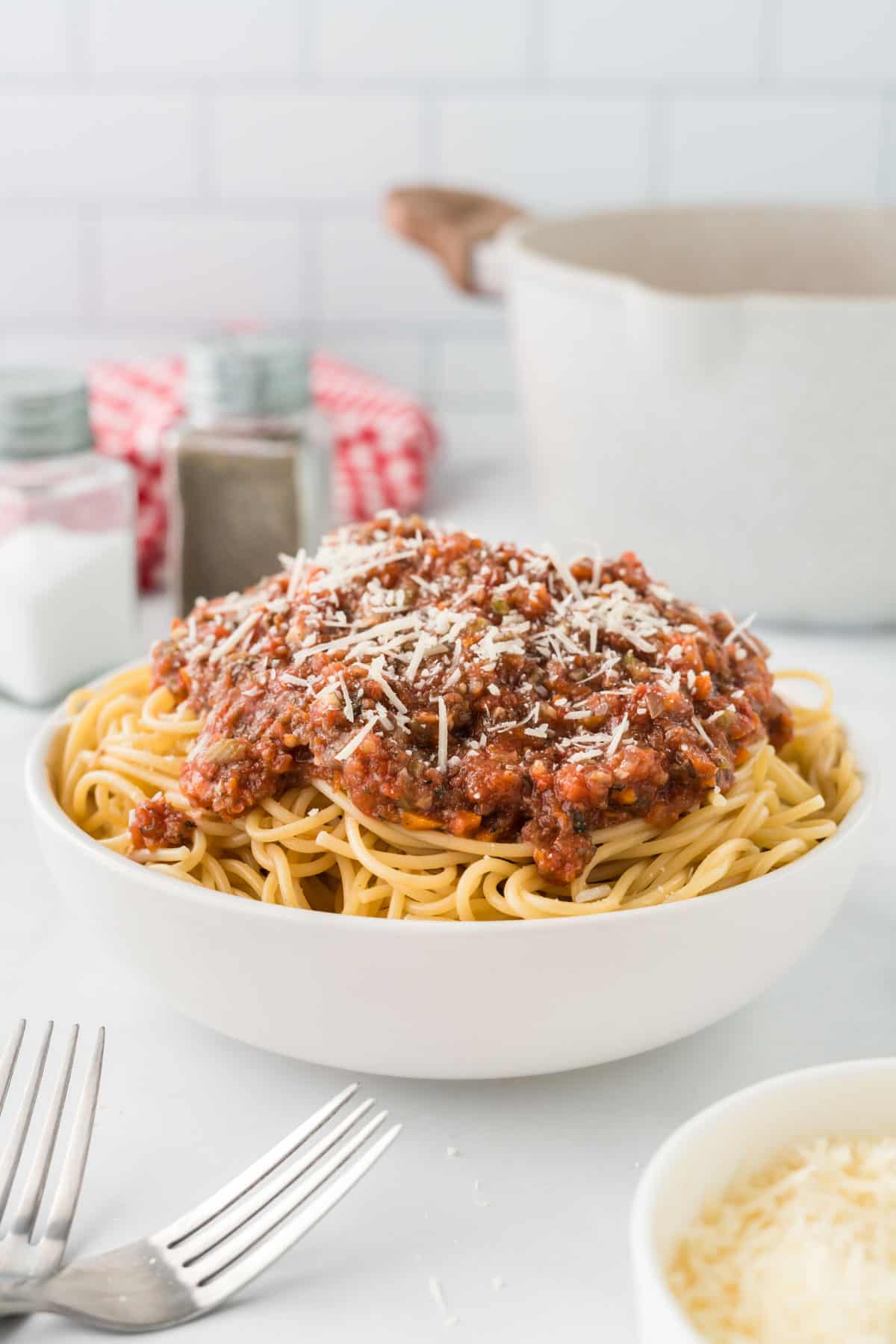 Did you make this recipe? Be sure to leave a star rating below!
Vegetarian Bolognese Sauce Recipe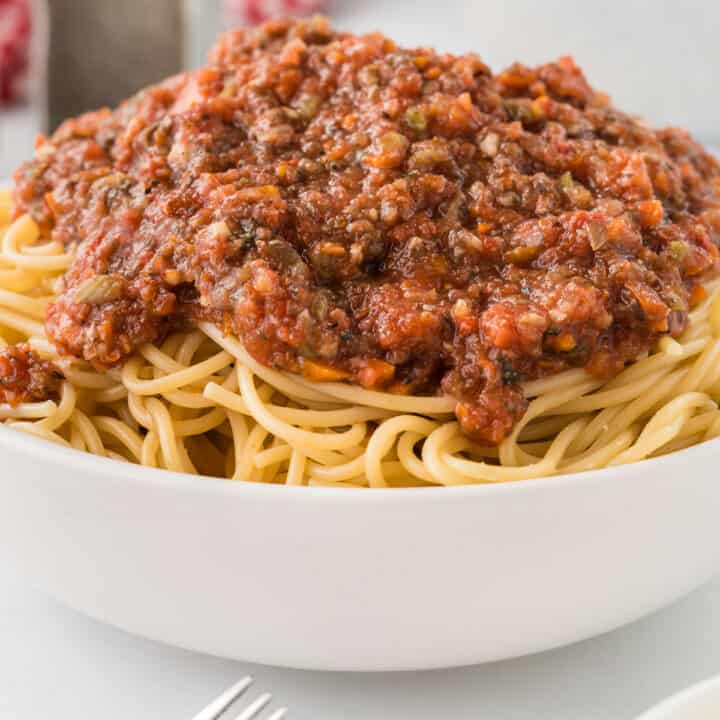 Vegetable Bolognese Recipe
This vegetable bolognese sauce recipe is made with mushrooms, carrots, celery, garlic, and onion. A delicious meatless vegetarian "meat" sauce recipe.
Ingredients
8 oz sliced baby bella mushrooms, rinsed and patted dry
5 oz golden oak shitake mushrooms, rinsed and patted dry
3 celery stalks, ends cut off and cut into 3 pieces each
4 medium carrots, peeled and cut into 3 sections each
10 cloves of garlic
1 medium onion, quartered
4 (14.5 oz each) cans of diced fire roasted tomatoes
1 teaspoon dried basil
2 teaspoons dried oregano
1 tablespoon sugar
¼ cup nutritional yeast
Spaghetti, for serving
Instructions
Add baby bella and shitake mushrooms to a food processor and either pulse or shred, until minced
Transfer mushrooms to a large skillet or dutch oven
Add celery chunks, carrot chunks, garlic cloves, and onion pieces to the food processor and pulse/shred
Add the celery/carrot/garlic/onion mixture to the mushrooms in the pan
Add 1 teaspoon of salt and ½ teaspoon of pepper to the vegetables
Turn the burner on medium high heat and sautee vegetables for 25-30 minutes, stirring often, until vegetables cook down and most of the liquid evaporates
Puree diced fire roasted tomatoes in the food processor until smooth
Add the pureed tomatoes to the vegetables along with the basil, oregano, nutritional yeast, and sugar
Taste and add any seasonings if necessary (if it tastes too acidic, add a little more sugar as necessary)
Heat until hot throughout, then serve
Serve over spaghetti and topped with parmesan cheese, if desired
Nutrition Information:
Yield:

8
Serving Size:

1
Amount Per Serving:
Calories:

85
Total Fat:

1g
Saturated Fat:

0g
Trans Fat:

0g
Unsaturated Fat:

1g
Cholesterol:

0mg
Sodium:

43mg
Carbohydrates:

17g
Fiber:

5g
Sugar:

5g
Protein:

5g