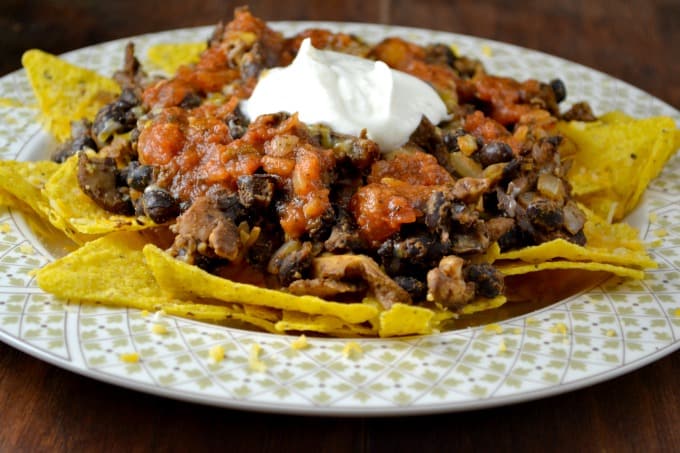 Nachos are one of those foods that just sounds unhealthy. When most people think of nachos, they may think of high calorie indulgences that may leave them feeling tired and crummy the next day.
This recipe prove that nachos can be both healthy and delicious!
I made these vegetarian mushroom and bean nachos for my husband and I on Super Bowl Sunday this year. They had tons of flavor and are so easy to throw together!
I used the leftover filling that I had from making these burritos.
I melted some colby jack cheese on organic tortilla chips, topped with the bean mixture, and served with sour cream, salsa, and lime juice!
They were so full of flavor, we loved them! These are delicious as a snack or a meal!
Vegetarian Mushroom and Bean Nachos
Ingredients
Filling from this burrito recipe
organic tortilla chips
salsa
fresh lime juice
colby jack cheese
organic sour cream
Instructions
Cook mushroom/bean mixture according to directions.
Layer chips on a plate, cover with colby jack cheese. Microwave for 30 seconds
Top chips with bean mixture, additional cheese, salsa, fresh lime juice, and sour cream
Enjoy!