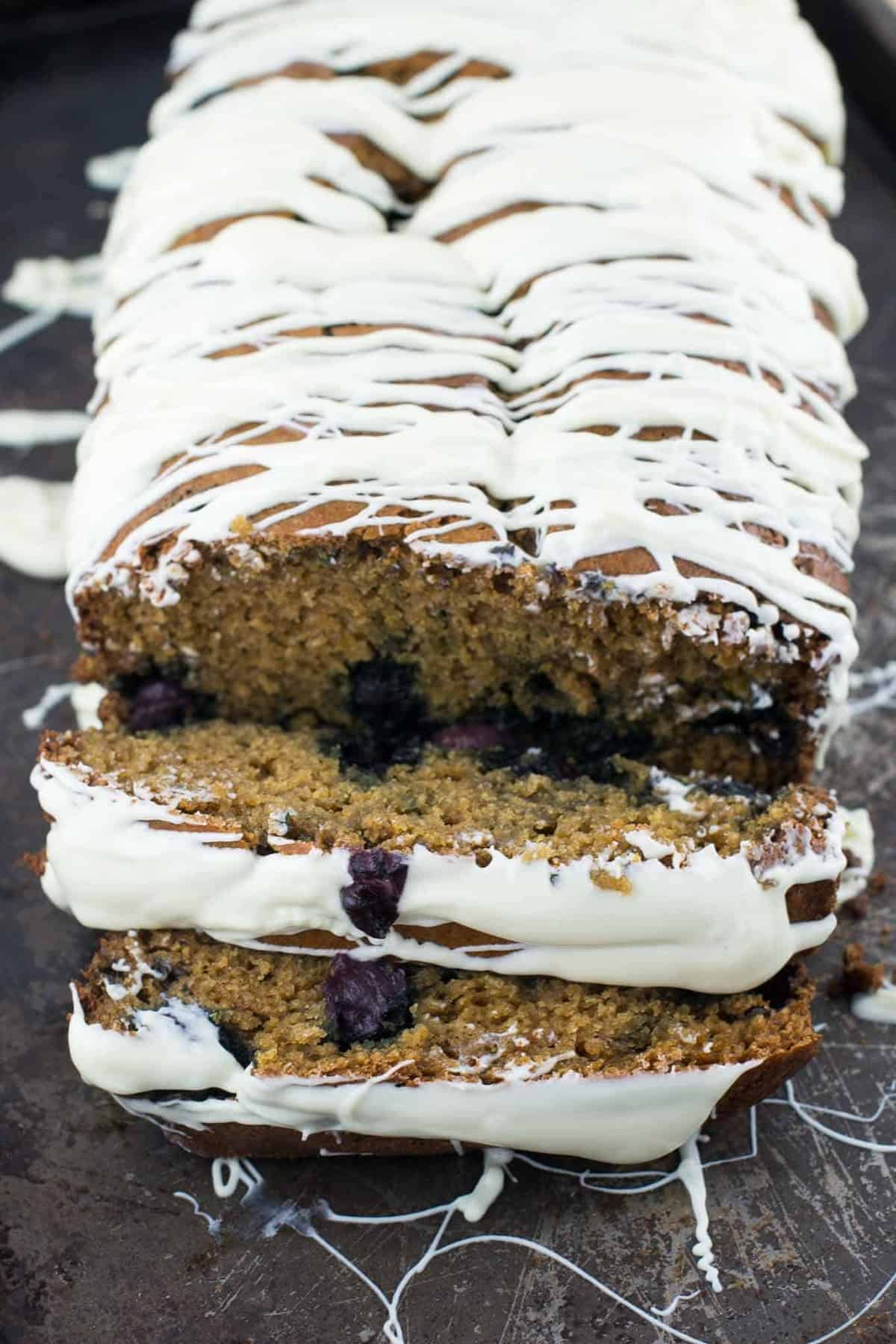 We are big fans of quick breads around my house.
I love quick breads because they are super easy to make, no rising required, and great for make ahead breakfasts or snacks!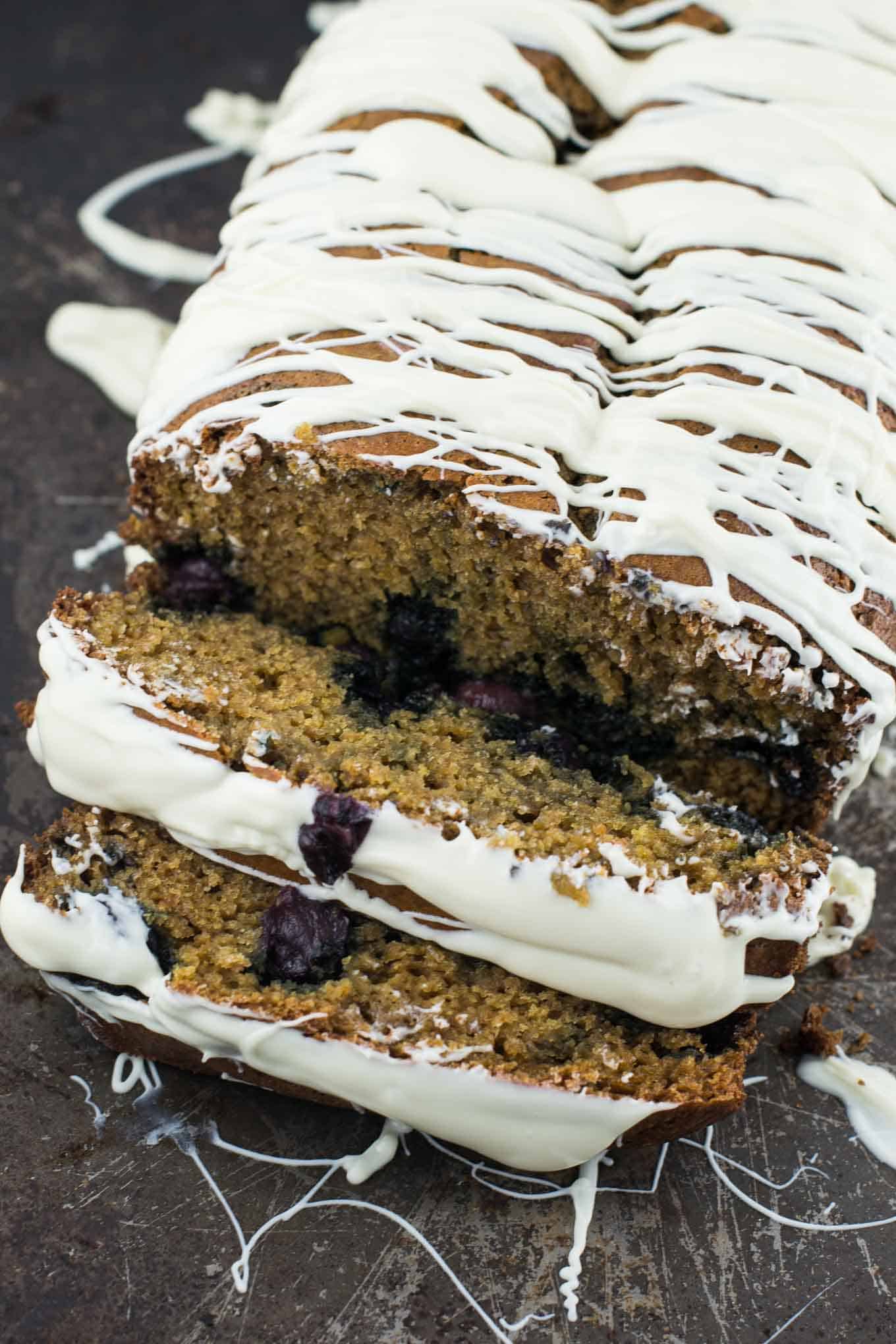 While I love a good banana bread, I was in the mood for something different.
I loved my White Chocolate Cranberry Eggnog Bread and used it as my inspiration for this recipe.
I love the texture and flavor of banana bread and wanted to replicate that in this quick and easy white chocolate blueberry bread.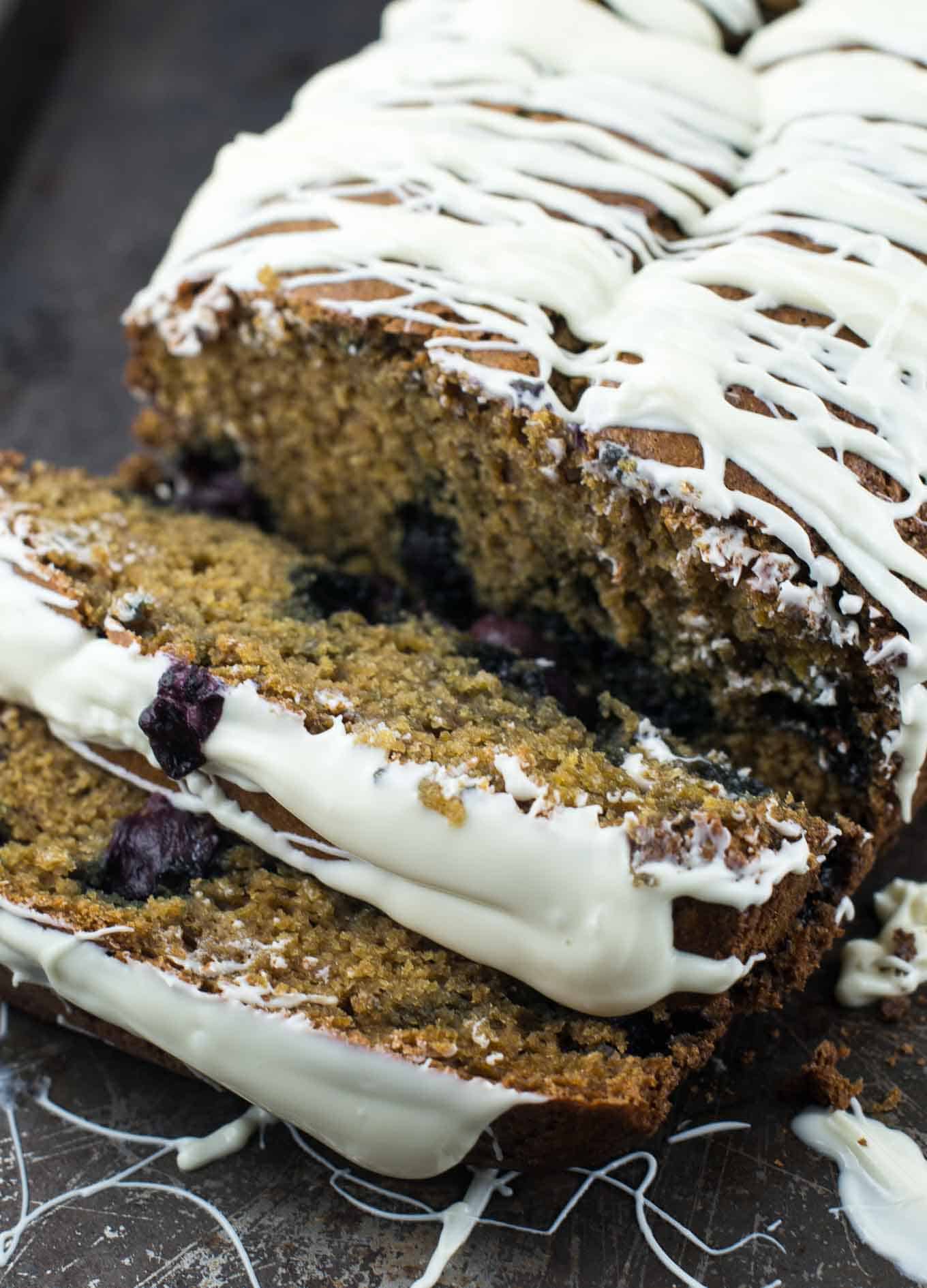 This bread is filled with healthier for you ingredients and comes together in just minutes!
I used frozen blueberries for freshness that you can buy year round.
The texture is very similar to banana bread, as it is super moist and delicate.
I love this bread cold, as the white chocolate will harden up to form a sort of icing (so good!)
My husband loved this bread and I stored it in the fridge for a quick and easy breakfast or snack!
Perfect paired with coffee and breakfast, but sweet enough to enjoy for a lightened up dessert.
White Chocolate Blueberry Bread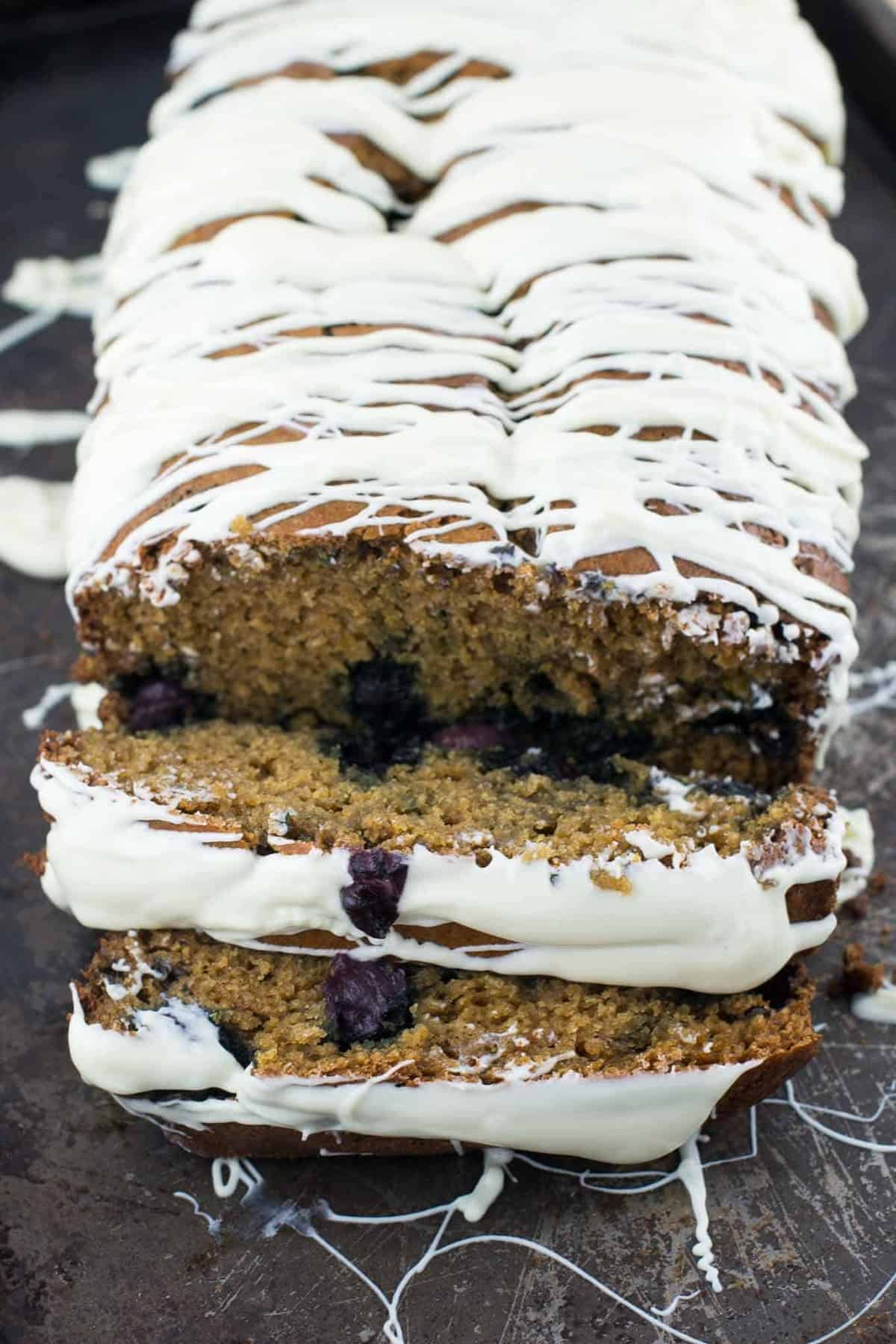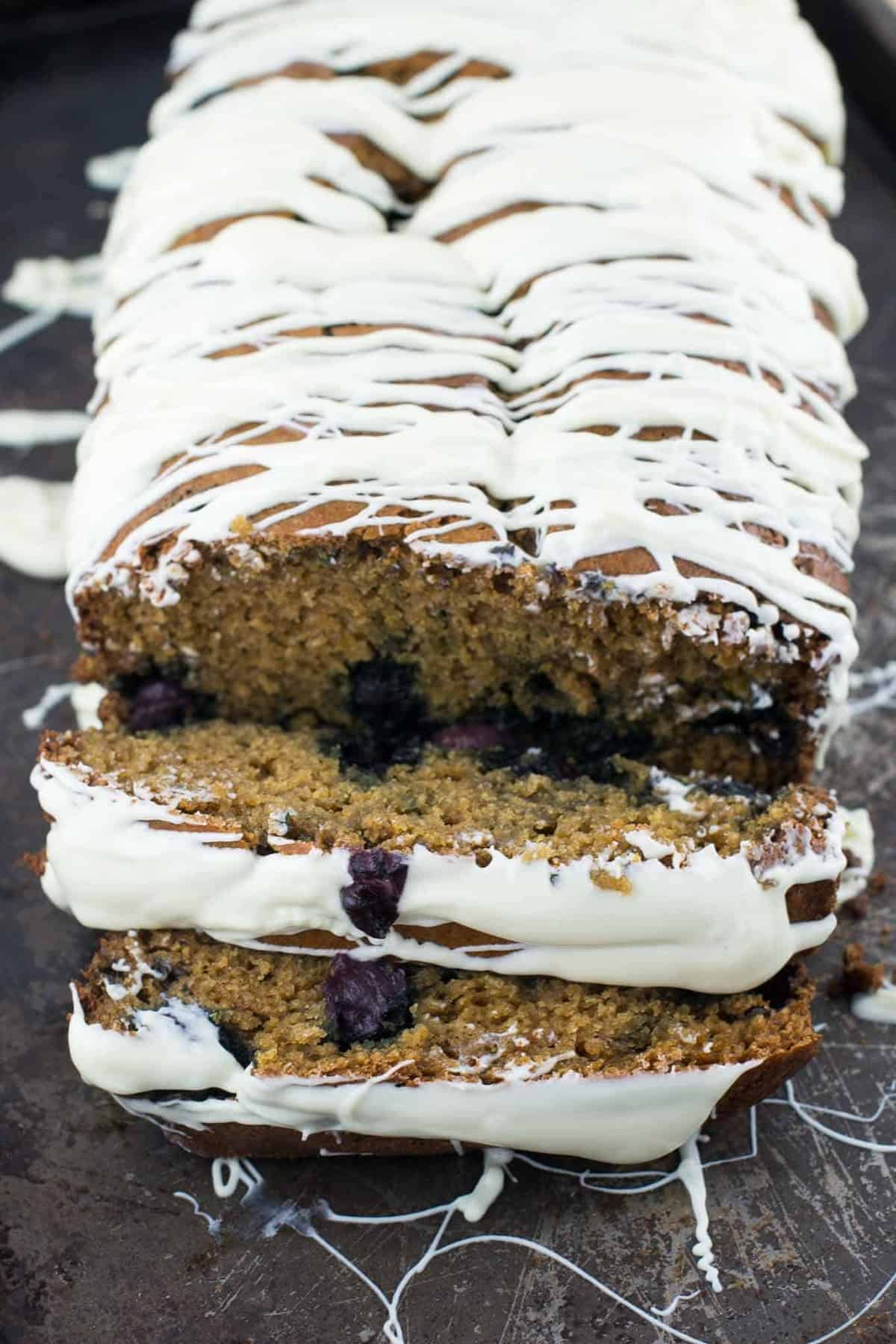 Ingredients
1/3 cup olive oil
1 cup coconut sugar
2 eggs
1 cup 2% milk
1 1/4 teaspoons baking soda
1/2 teaspoon salt
1 3/4 cups whole wheat pastry flour
1 1/3 cups frozen blueberries
1 tablespoon vanilla extract
2 tablespoons lemon zest
1/2 cup white chocolate chips, melted
Directions
Preheat oven to 350 degrees
In a large bowl, cream together olive oil, brown sugar, eggs, vanilla extract, lemon zest, and milk
In a separate bowl, whisk together flour, baking soda and salt
Add dry ingredients to wet, mixing until well combined
Fold in frozen blueberries
Pour batter into a greased loaf pan
Bake at 350 degrees for 55-65 minutes, or until set and toothpick inserted comes out clean
Once bread is finished cooking, transfer to a cooling rack
Melt chocolate chips in the microwave until smooth consistency
Drizzle white chocolate over bread
Store bread in refrigerator for 3-5 days
Loading nutrition data...