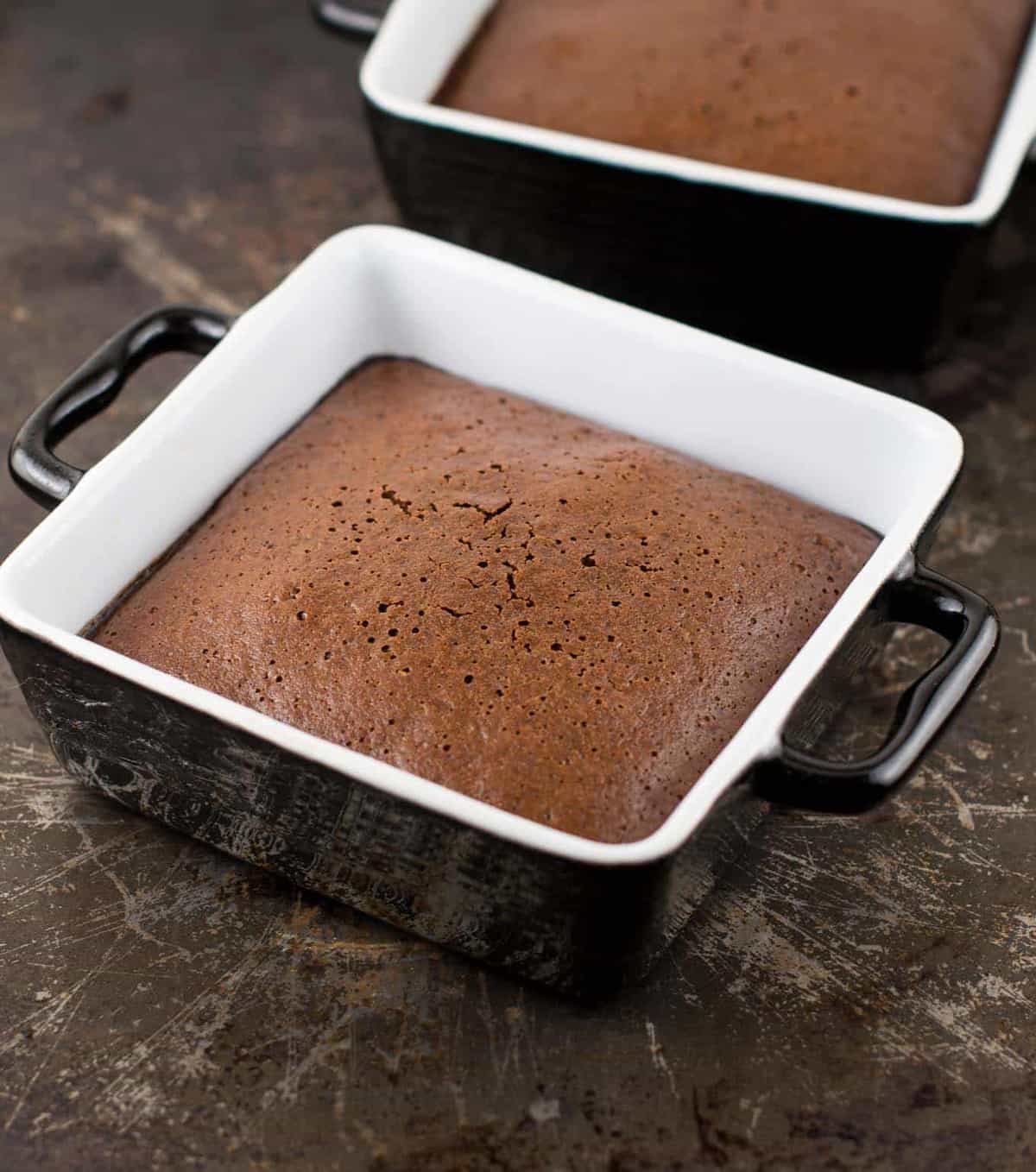 The only thing better than a slice of chocolate cake is a whole chocolate cake all to yourself… am I right?!
A couple months ago, I found some really cute baking dishes at T J Maxx. They were a steal (only around $5) for a two pack, and I was excited to make some single serve desserts in them!
These baking dishes measure 5″ X 5″ X 1 and 3/4″. They are perfect for a single serving of dessert!

Chocolate is a must have in my house, but I usually make mug cakes.
I had yet to make one in the oven, so I set out to create a recipe for just two servings of chocolate cake.
Each person gets their own personal sized delicious chocolate cake (and you don't have to share!)
Try halving the recipe if it's just for you!
I added extra chocolate to make these cakes even more delicious.
They're also dairy free and made using whole wheat flour!

Drizzle with a little chocolate syrup (like we did), or serve with ice cream.
You won't believe how good this recipe is!

Whole Wheat Chocolate Cake for Two
Ingredients
¼ cup peanutbutter
2 tablespoons applesauce
¼ cup honey
1 tablespoon raw cacao powder
1 tablespoon carob powder
2 tablespoons whole wheat flour
½ teaspoon baking powder
2 eggs
½ cup semi sweet dairy free chocolate chips
1 teaspoon vanilla extract
¼ teaspoon sea salt
Instructions
Using a microwave safe bowl, heat peanutbutter in the microwave for 15 seconds (it should be a little runny)
Add remaining ingredients to the bowl and stir to combine well
Divide batter evenly into two baking dishes (pictured size is 5" X 5" X 1 and ¾")
Bake at 350 degrees for 25-30 minutes, or until center is cooked through