Wholesome carrot apple muffins made with greek yogurt and maple syrup. A super healthy breakfast or snack!
Welcome back to MOTW (Muffin of the Week!)
Every week of February I am posting a new muffin recipe that I have made in an attempt to get my 18 month old to eat more variety.
For previous posts, visit my breakfast recipes archive.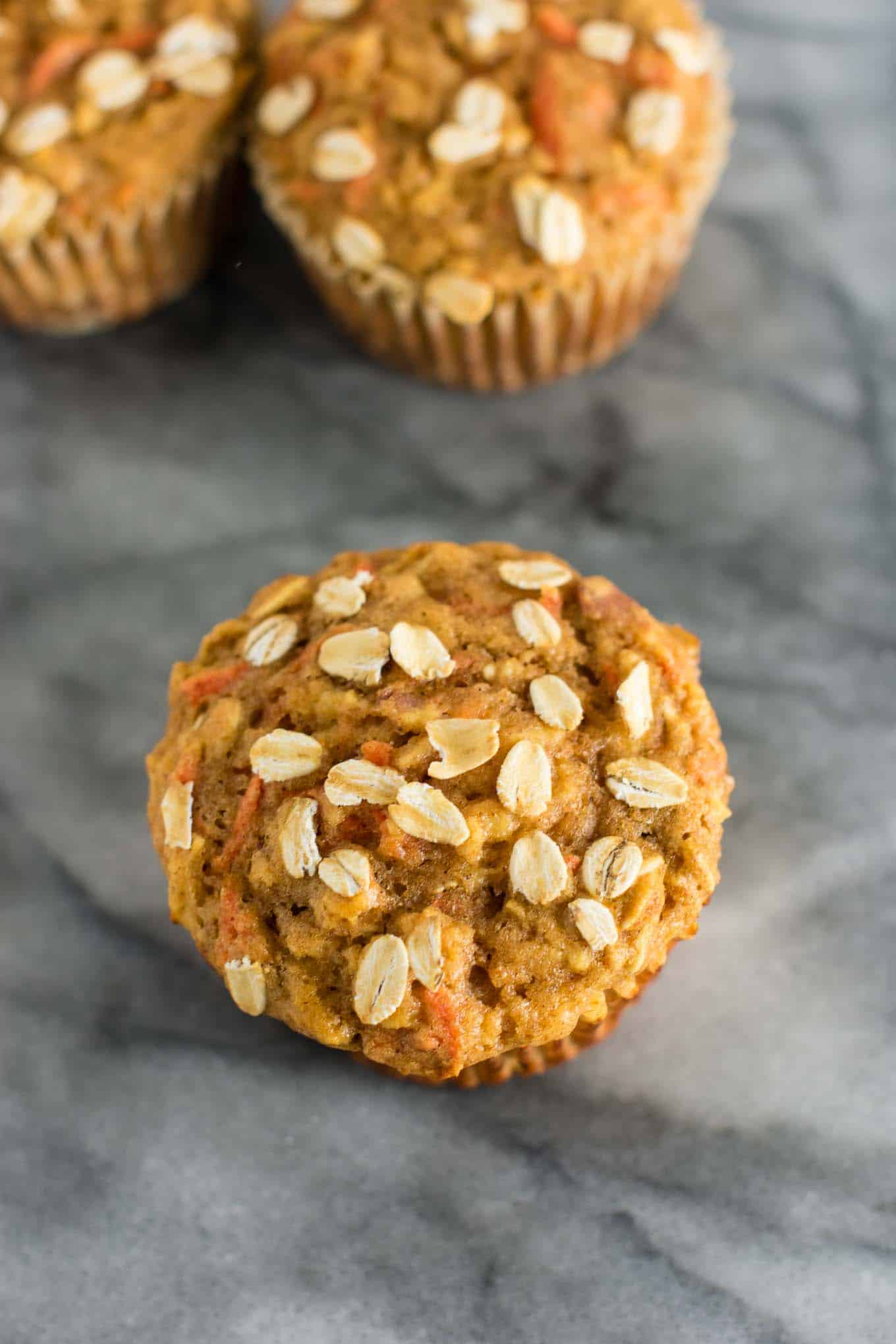 These wholesome carrot apple muffins are incredibly healthy and completely oil free.
We're using feel good ingredients like whole wheat flour and greek yogurt (added protein!)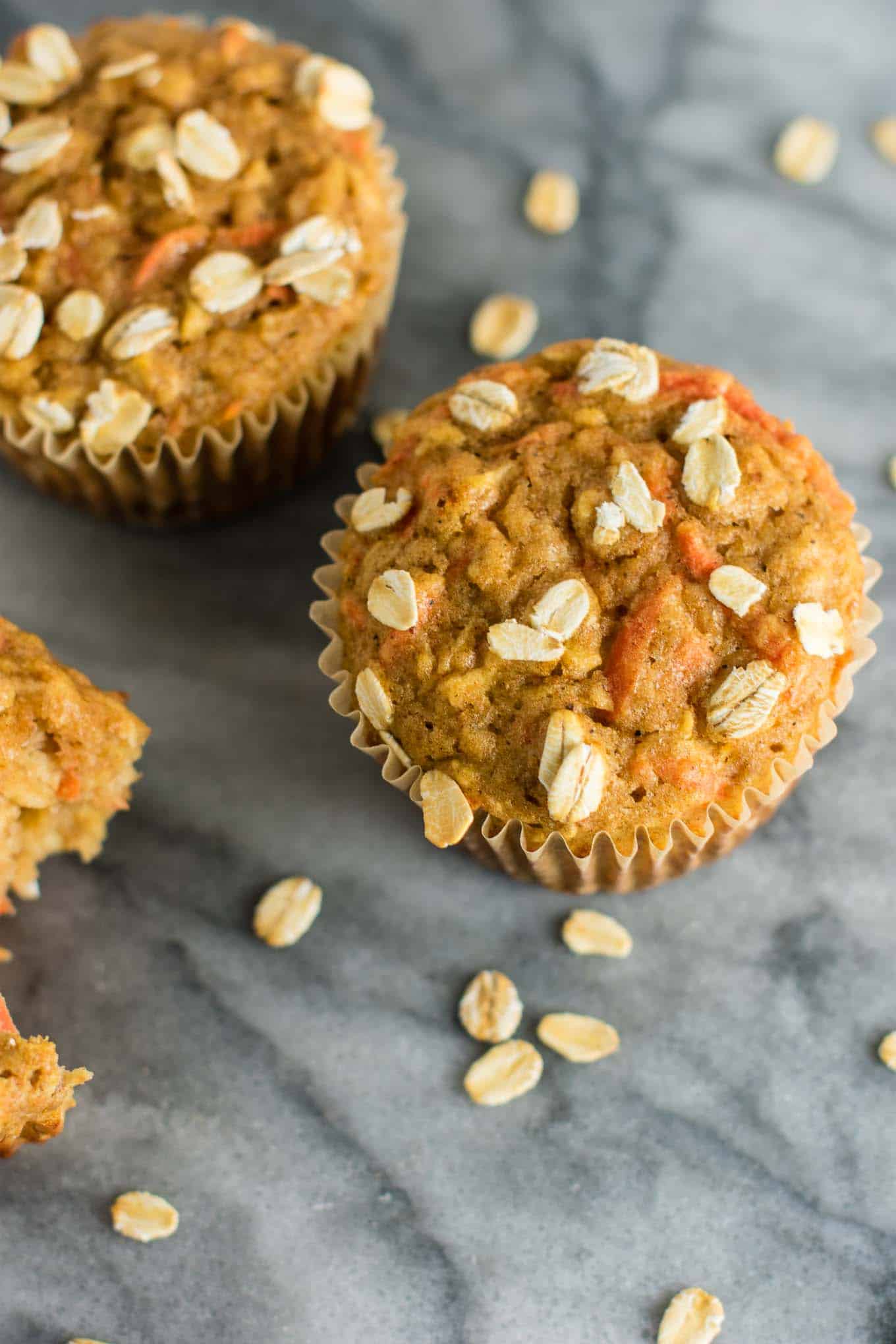 These muffins are naturally sweetened thanks to the sweetness of the apples and the addition of pure maple syrup.
I love using maple syrup when baking for a healthier sweetener.
I used nutmeg and cinnamon for spices, as they pair so well with the taste of apple.
Crosby hasn't tried these yet (he is still napping), but I can't wait to see if he will eat one when he wakes up!
Moms of toddlers know how frustrating it is to try to get your kid to eat anything of nutritional value and the struggle is definitely real in our house.
Crosby is just terribly picky, but we have good luck with things like healthy muffins and he LOVES green smoothies.
These muffins have a healthy dose of both fruits and veggies thanks to our grated carrots and apples.
Robbie tried one and he liked it so hopefully Crosby thinks the same (he wants to be just like his daddy.)
These aren't your traditional muffins, and the insides taste almost like apple pie filling.
Soft muffins might just be my new favorite thing!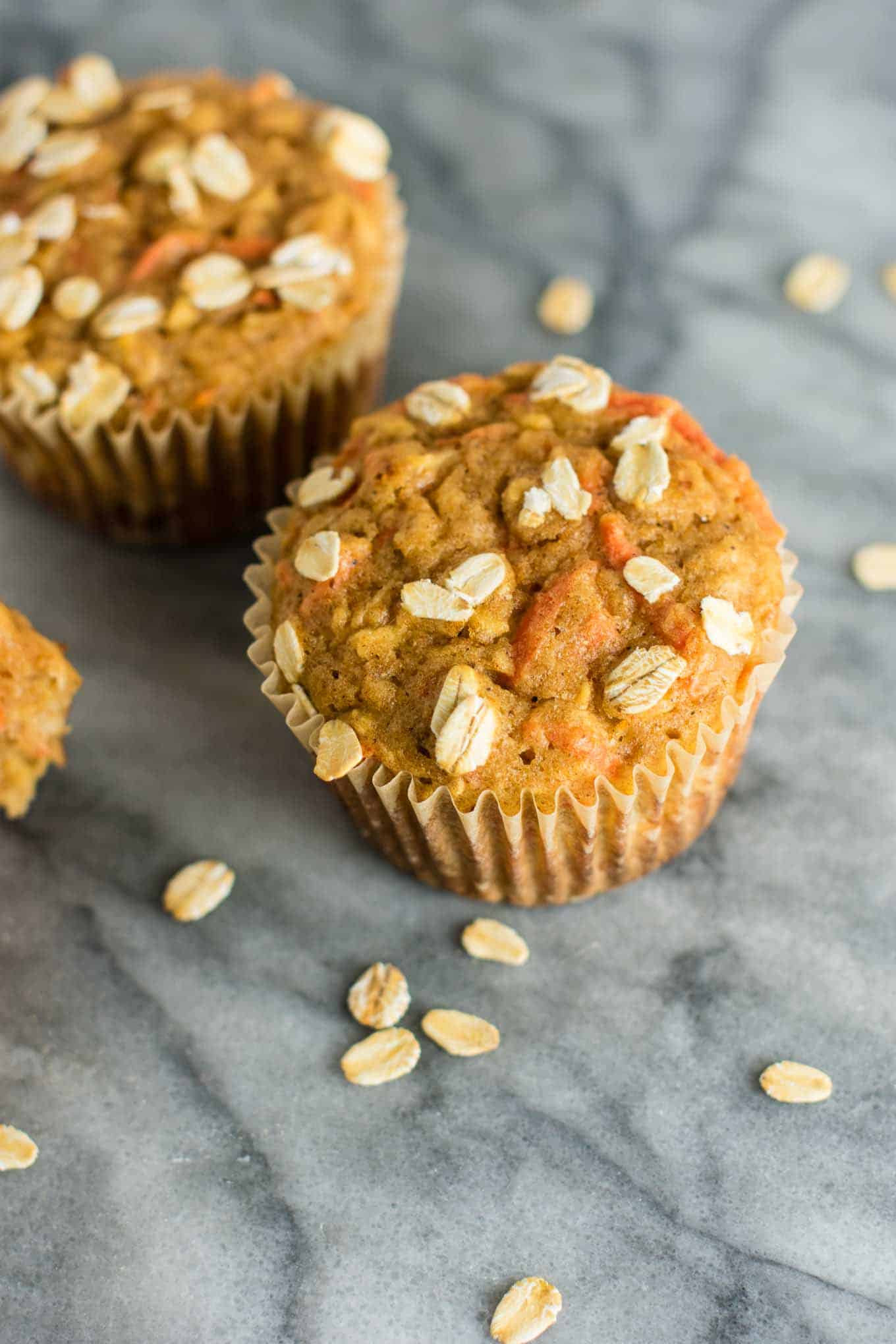 More muffin recipes I love:
Click below to pin these wholesome carrot apple muffins:

Wholesome Carrot Apple Muffins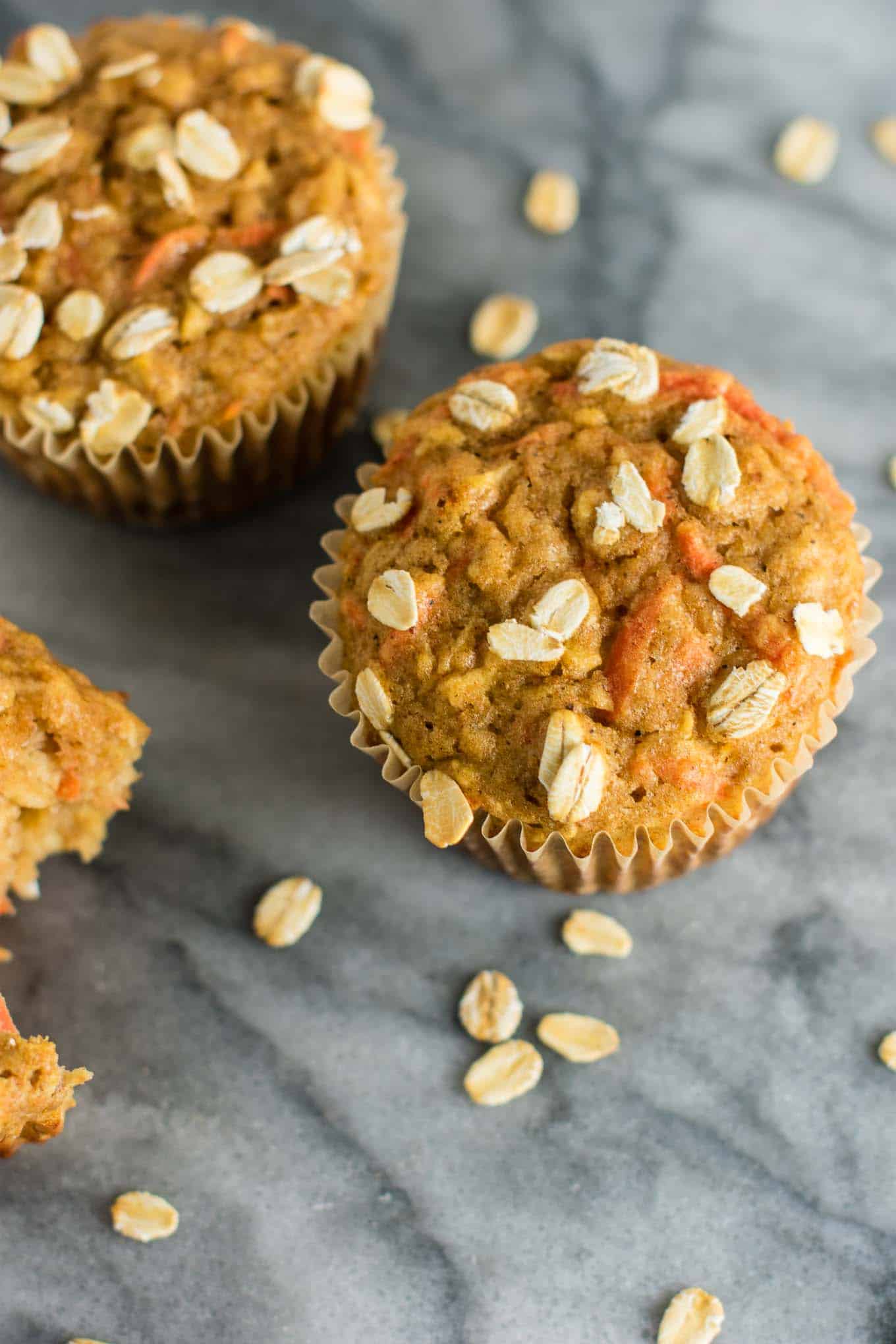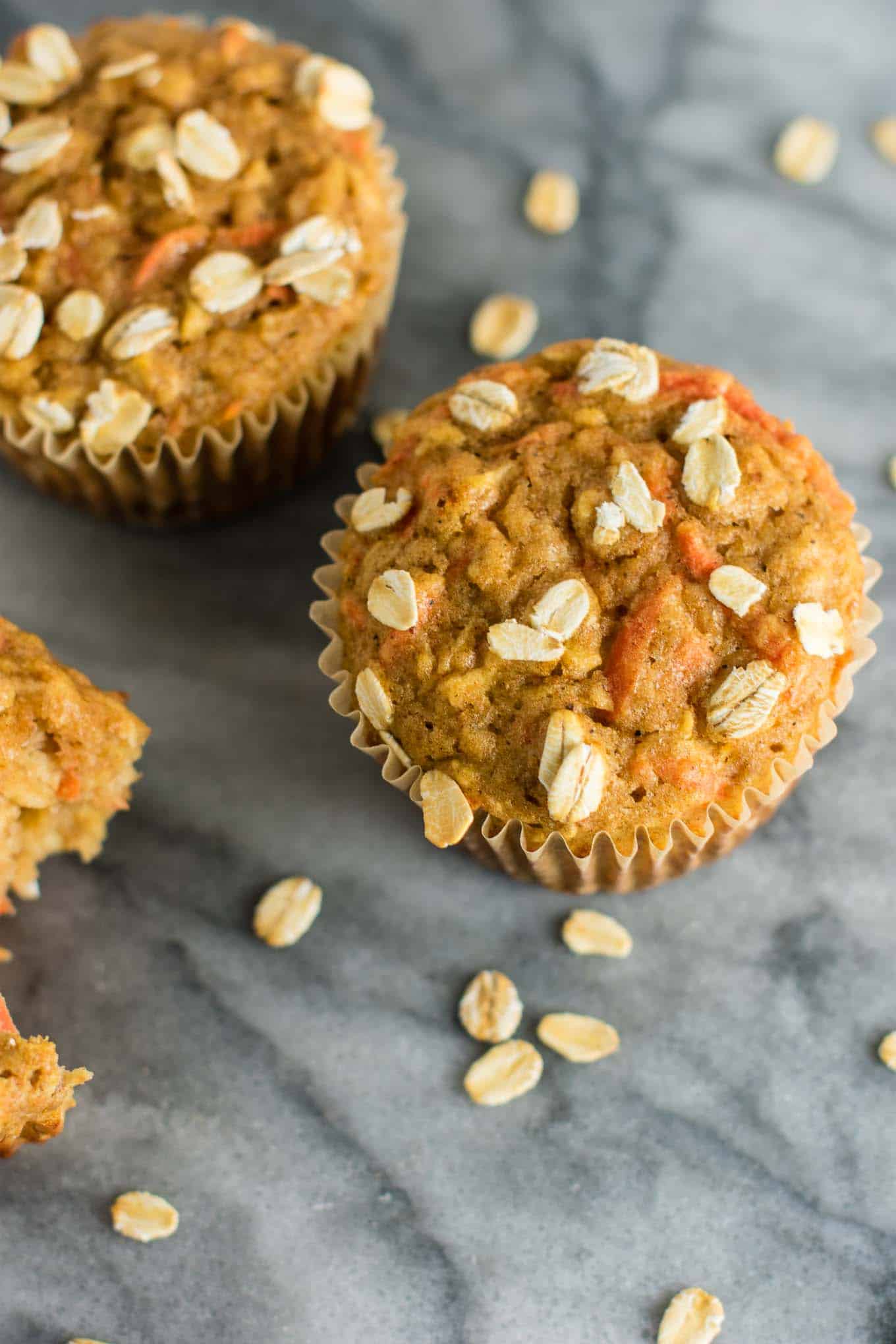 Wholesome carrot apple muffins made with whole wheat flour, greek yogurt, and sweetened with pure maple syrup
Ingredients
1 cup whole wheat flour
1/2 cup rolled oats
2 teaspoons vanilla extract
1/4 teaspoon salt
1/2 teaspoon cinnamon
1/2 teaspoon nutmeg
1 teaspoon baking powder
1/4 teaspoon baking soda
1 cup plain 0% greek yogurt
2/3 cup pure maple syrup
1 cup grated carrots (peel first)
3/4 cup grated apple
2 eggs
Directions
Use mixers to beat together greek yogurt, eggs, maple syrup, vanilla extract, carrots, and apples
In a separate bowl, whisk together flour, oats, salt, cinnamon, nutmeg, baking powder, and baking soda
Add the dry mixture to the wet, and use a rubber spatula to mix until just combined (do not over mix)
Distribute batter into lined muffin tins, and fill cups 3/4 of the way full
Sprinkle tops with additional oats
Bake at 400 degrees for 18 - 25 minutes, or until a toothpick inserted comes out clean
Cut a muffin in half to see if it is cooked through (the muffins will be soft from the apples so don't confuse this for raw batter)
Recipe Notes
I made 12 very large muffins, but if you want to spread the batter out to 3/4 of the way full, this will make 12 - 16 muffins
Cook time will vary depending on the size of your muffins
Loading nutrition data...