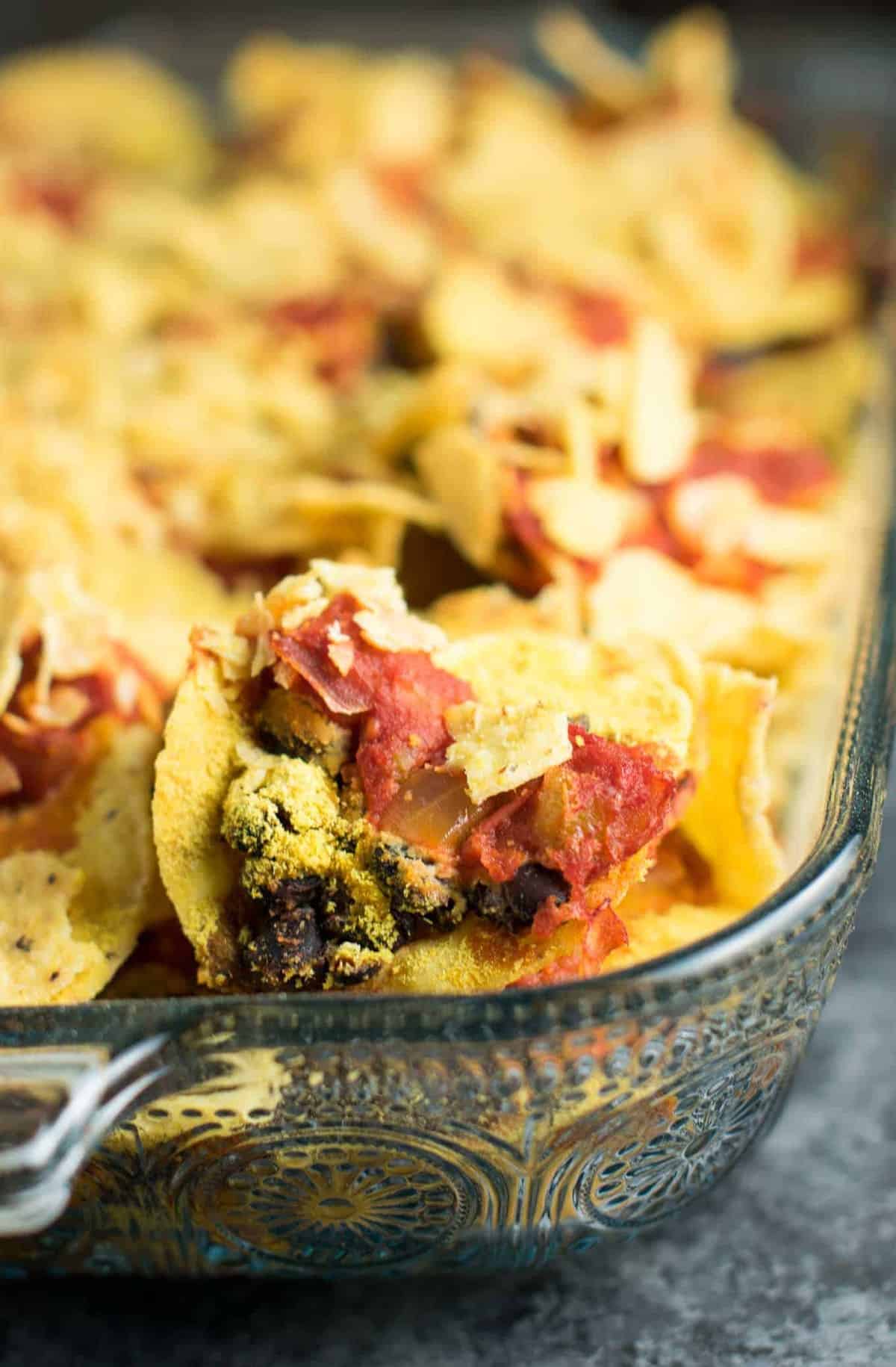 I honestly cannot believe I've waited almost 3 years of blogging to share one of my ultimate favorite recipes.
While I've posted both this delicious vegan taco casserole and this Spicy Vegan Taco Bake (both similar recipes), this recipe I'm sharing today is my ultimate go to for a fast and fuss free dinner.
I've been making this easy vegan taco bake for years and never get sick of it!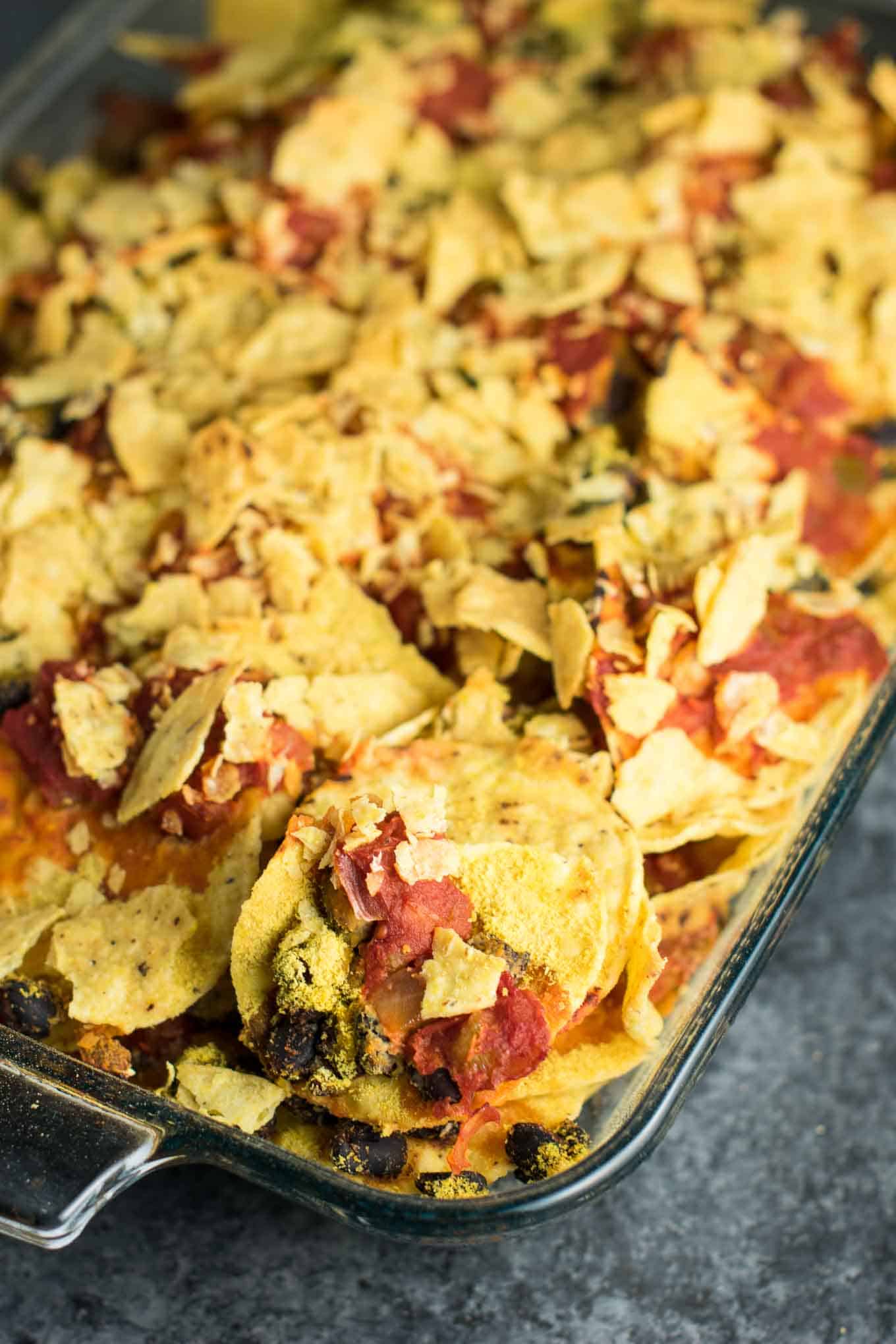 While at first glance it may not seem like much, the flavor is delicious!
I'm a HUGE fan of nutritional yeast, or as I call it, "yeast cheese." This is a staple food for many vegans and really is the star in this vegan taco bake.
The #1 reason why I love this recipe is how insanely easy it is. You can have it prepped and ready for the oven in just 5 minutes!
Even on a crazy night, I can prep this super fast and put it in the oven. Dinner is ready in just 30 minutes!
If you're not a fan of a little spice, I suggest leaving out the paprika and use a mild salsa.
It's not too spicy, but this definitely adds a little bit of a kick.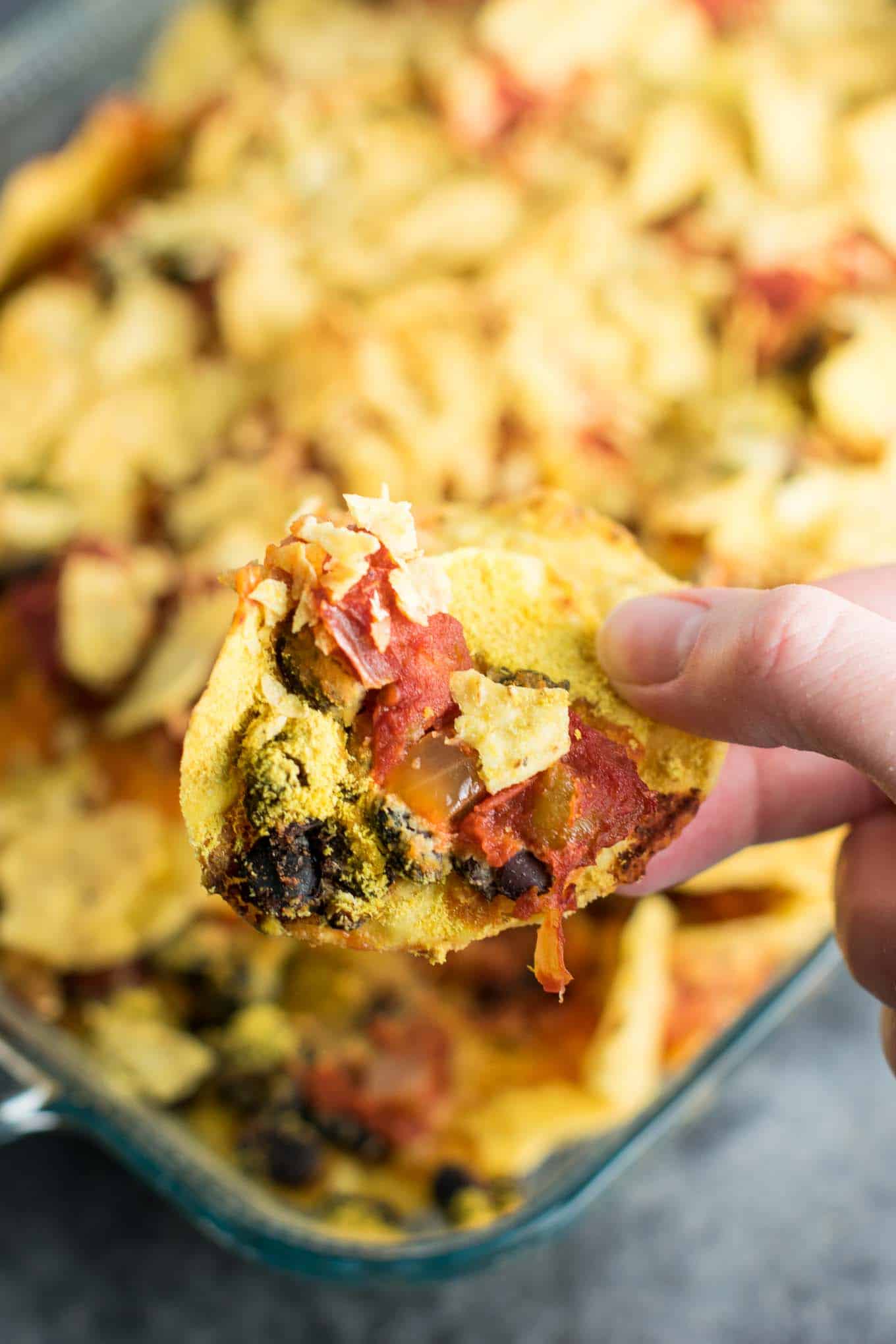 The key garnish is to serve it hot from the oven with tons of fresh squeezed lime juice on top (can't stress this enough as it really accentuates all of the other flavors).
My husband and I can usually polish off most of a 13 X 9 casserole dish by ourselves, it is that good!
If you're reheating leftovers, be sure to use the oven or it may get soggy.
And one more note – I've tested many kinds of tortilla chips until I found the most sturdy ones that stay crispy in this taco bake.
If you don't mind a little softness this isn't a concern, but if you're like me, choose a chip that is more sturdy for optimal crunch factor.
Otherwise just serve with a few extra tortilla chips if you need that crunch!
Easy Vegan Taco Bake
This easy vegan taco bake will be your new go to recipe for a quick dinner!
Ingredients
1

large bag of tortilla chips (13 oz)

1

can of black beans, drained

1/4

teaspoon salt

1/4

teaspoon pepper

1/8

teaspoon paprika (see notes)

1/4

teaspoon garlic powder

1/4

teaspoon onion powder

1/2

teaspoon cumin

1/2

teaspoon chili powder

1/2

of a lime, juiced

1/2

cup nutritional yeast

2

cups of salsa

sliced lime, for serving
Instructions
In a bowl, add drained black beans, salt, pepper, paprika, garlic powder, onion powder, cumin, chili powder, and the juice of ½ of a lime
Stir ingredients until well combined
Get out a 9 X 13 casserole dish and lay down an even layer of tortilla chips
Spoon evenly half of the bean mixture over the tortilla chips
Cover with ¼ cup of nutritional yeast
Add 1 cup of salsa, spreading out evenly
Repeat steps of chips, beans, nutritional yeast, and salsa
Top with remaining tortilla chips, crushed into small pieces
Bake at 350 degrees for 25-30 minutes, or until browned
Serve hot with fresh lime juice squeezed on top
Be sure to reheat any leftovers in the oven for best results
Recipe Notes
If you don't like spicy things, omit the paprika and use a mild salsa
Use more sturdy tortilla chips for optimal crunchiness after baking