This stir fry sauce is so easy to make! All you need is just 3 ingredients and the flavor is so much better than any store bought stir fry sauce!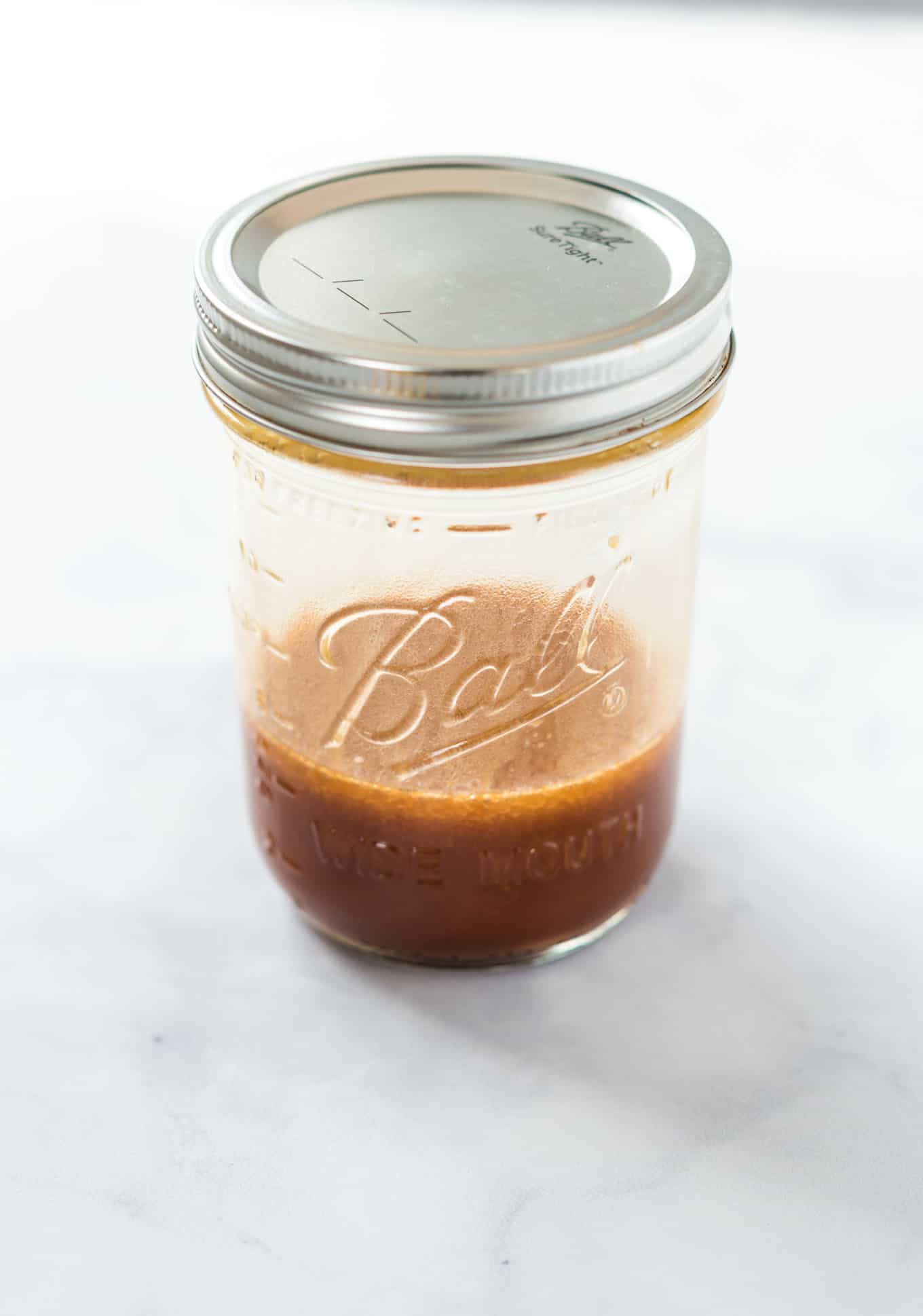 Why this is the best easy stir fry sauce
Only three ingredients: all you need for bold flavor is soy sauce, sesame oil, and corn starch
Highly Concentrated: a little bit of this sauce goes a long way.
Pairs well with any kind of stir fry: Stir fry veggies, ramen noodles, chicken, tofu, pork, you name it. This sauce pairs beautifully with any kind of stir fry recipe.
The key to the best ever stir fry is in the sauce recipe. I have tried endless store bought sauces, and none of them ever tasted good enough to get that takeout taste that I was craving.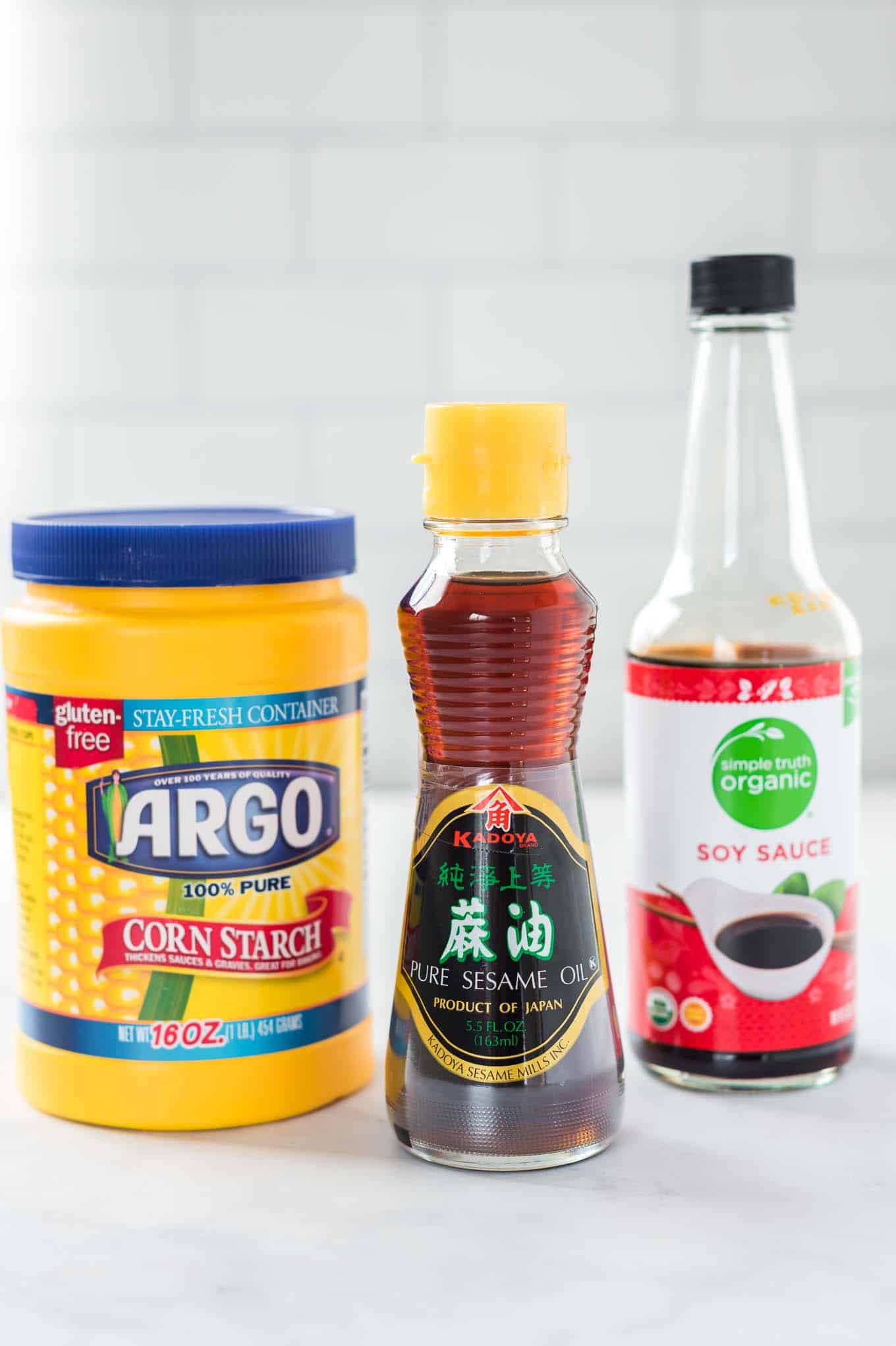 How do you make stir fry sauce from scratch?
Add the corn starch, sesame oil, and soy sauce to a mason jar.
Close the lid, and shake to combine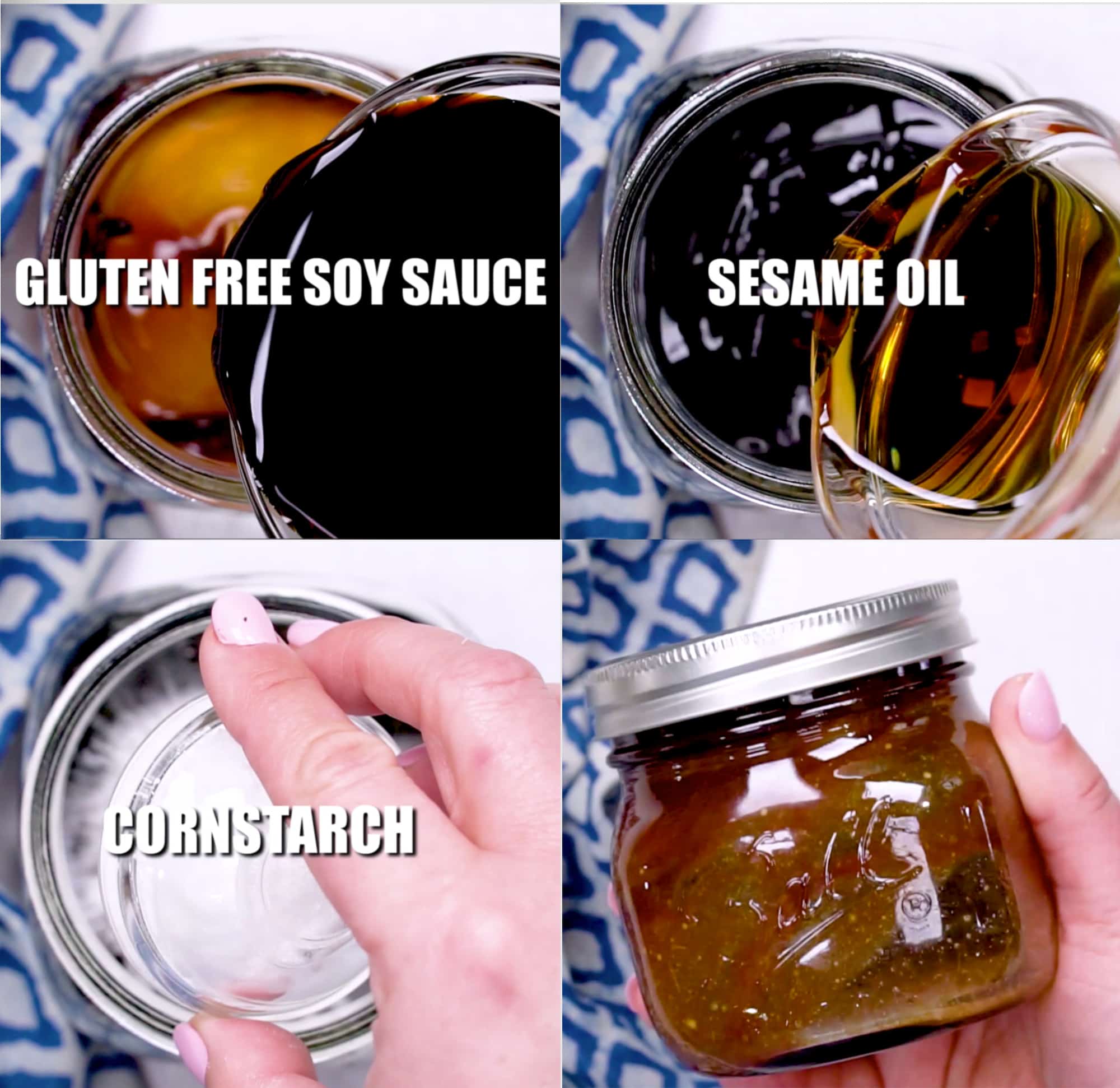 This sauce does not mess around. It is bold, so flavorful, and a little bit goes a long way. If you make the whole batch, it will be enough to flavor 6 – 8 generous servings of food.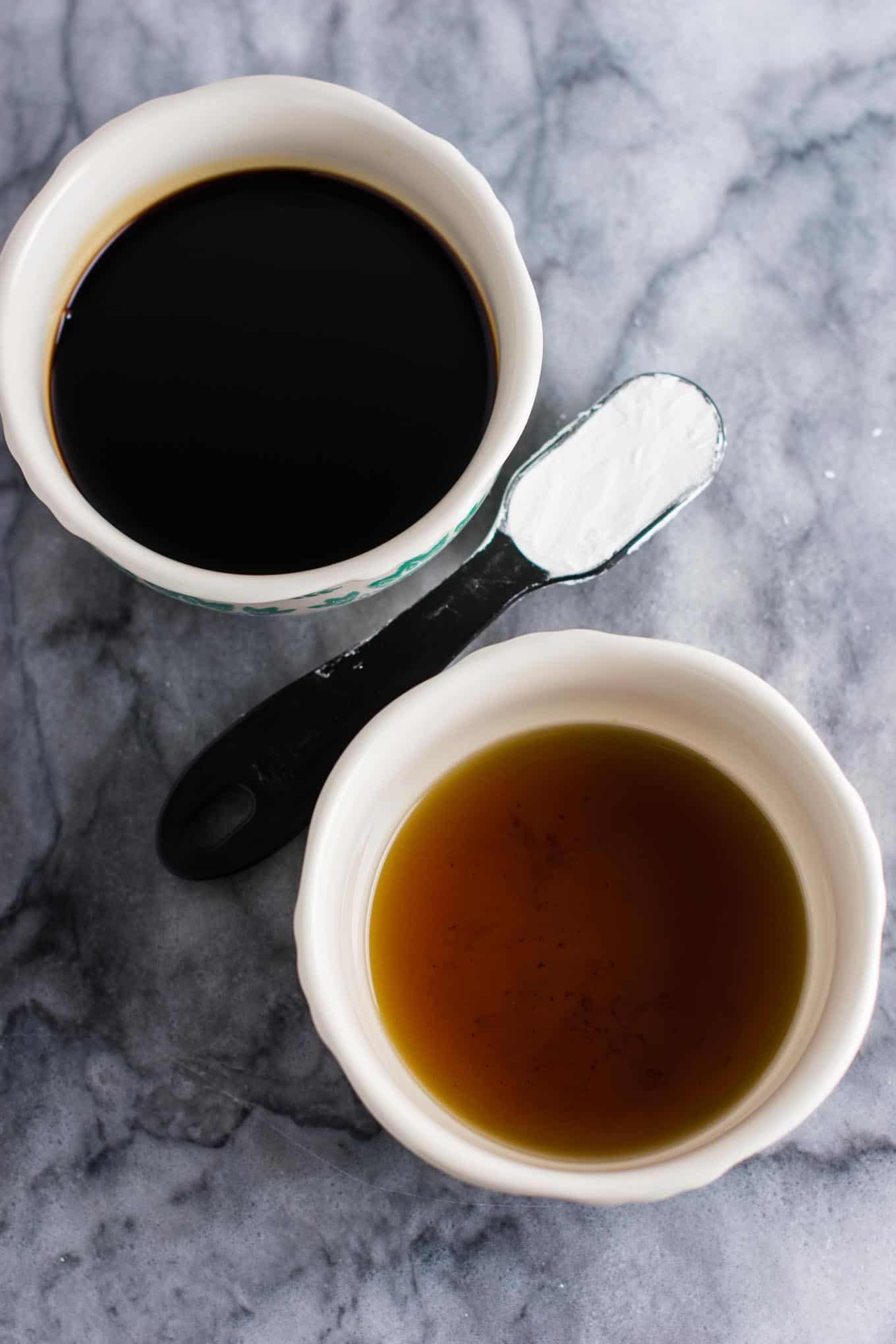 What is stir fry sauce used for?
You can use stir fry sauce for just about anything, but commonly used best vegetables for stir fry include
Mushrooms
Carrots
Sugar snap peas
Broccoli
White or yellow onion
Bell peppers, any color
Green onion
Water chestnuts
Baby corn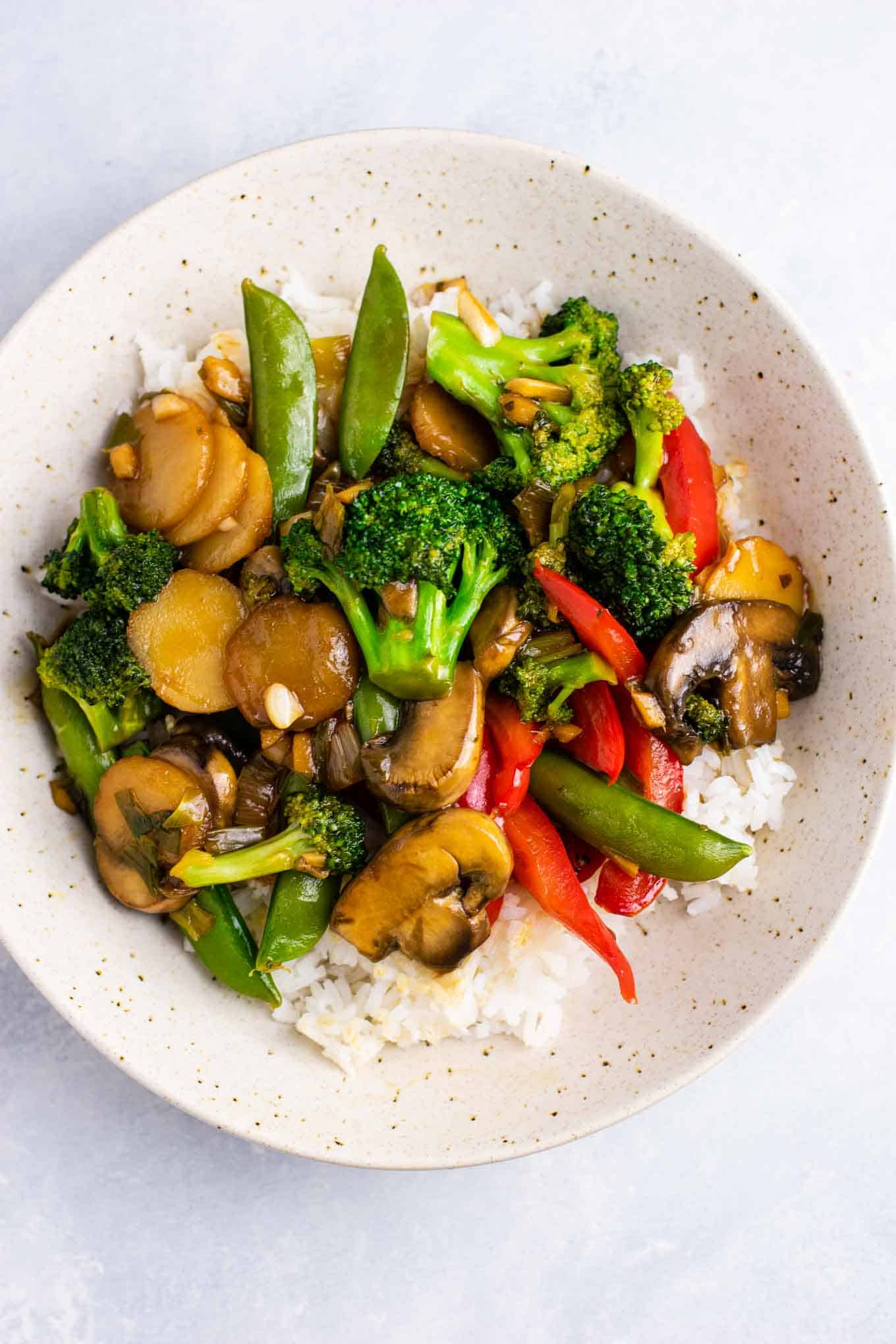 What should I put in my stir fry?
Vegetables: our go to vegetables include onion, garlic, ginger, brococli, mushrooms and bell pepper
Protein: beef, chicken, tofu, chickpeas, tempeh
Noodles or rice: white rice, brown rice, ramen noodles, brown rice noodles, pad thai noodles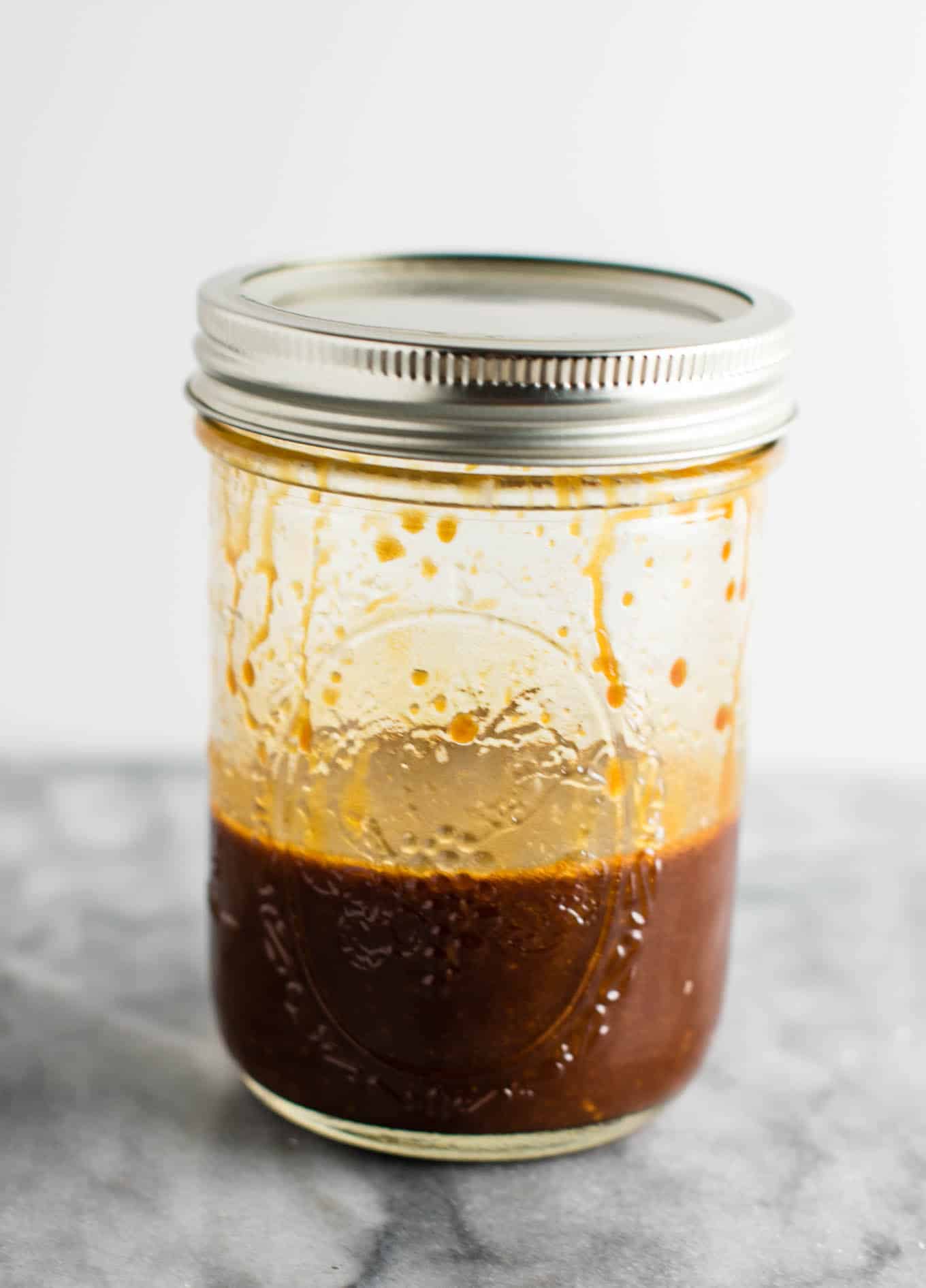 Stir Fry Sauce Tips
Make the sauce first: Prepping this ahead makes it easier to add as you need it when making your stir fry. You can either cook your ingredients in this sauce, or add it at the end of cook time.
Add a little bit at a time: If you are unsure of how much sauce to use, I recommend cooking your ingredients first in sesame oil, then adding this sauce to taste in the last 3-5 minutes of cook time to taste.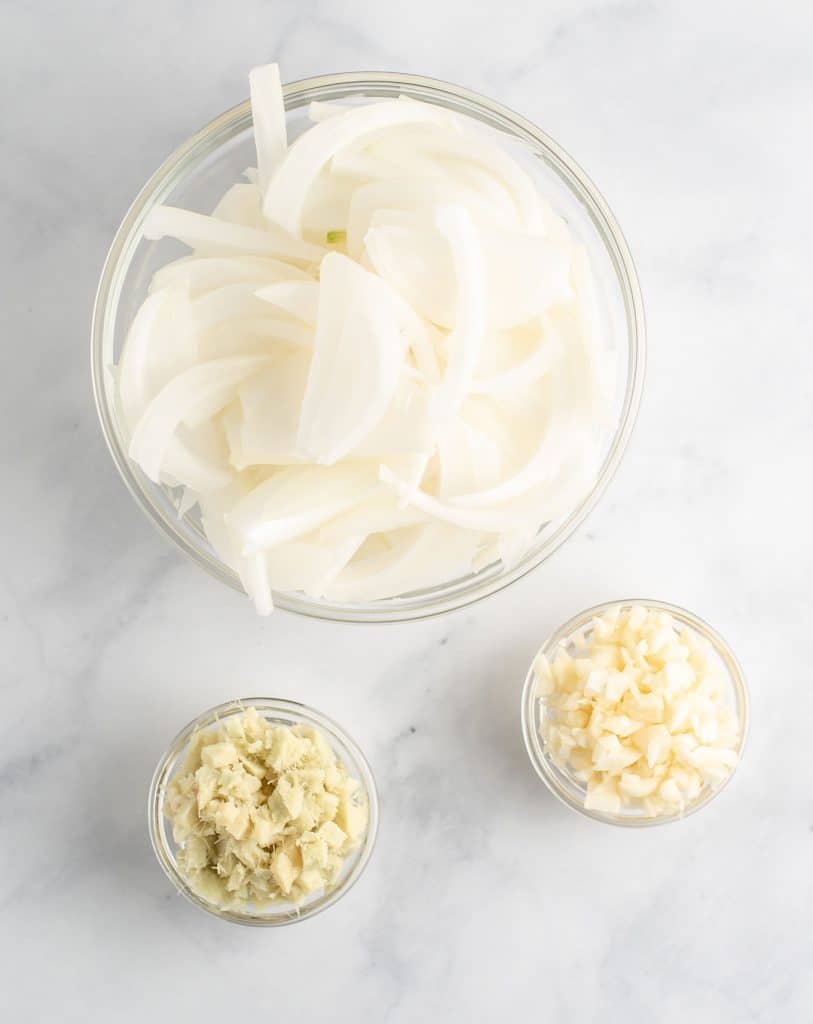 What can I add to stir fry for flavor?
I have one recommendation, and that is to always use this together with fresh garlic and fresh ginger. Do not skip this step.
These are not a part of the sauce, but they are part of the full recipe that you will make. I have found this to be the best way to bring out all of those flavors and I highly recommend doing this.
If you skip this step and tell me that the recipe is bland, it is because you did not add the garlic and ginger!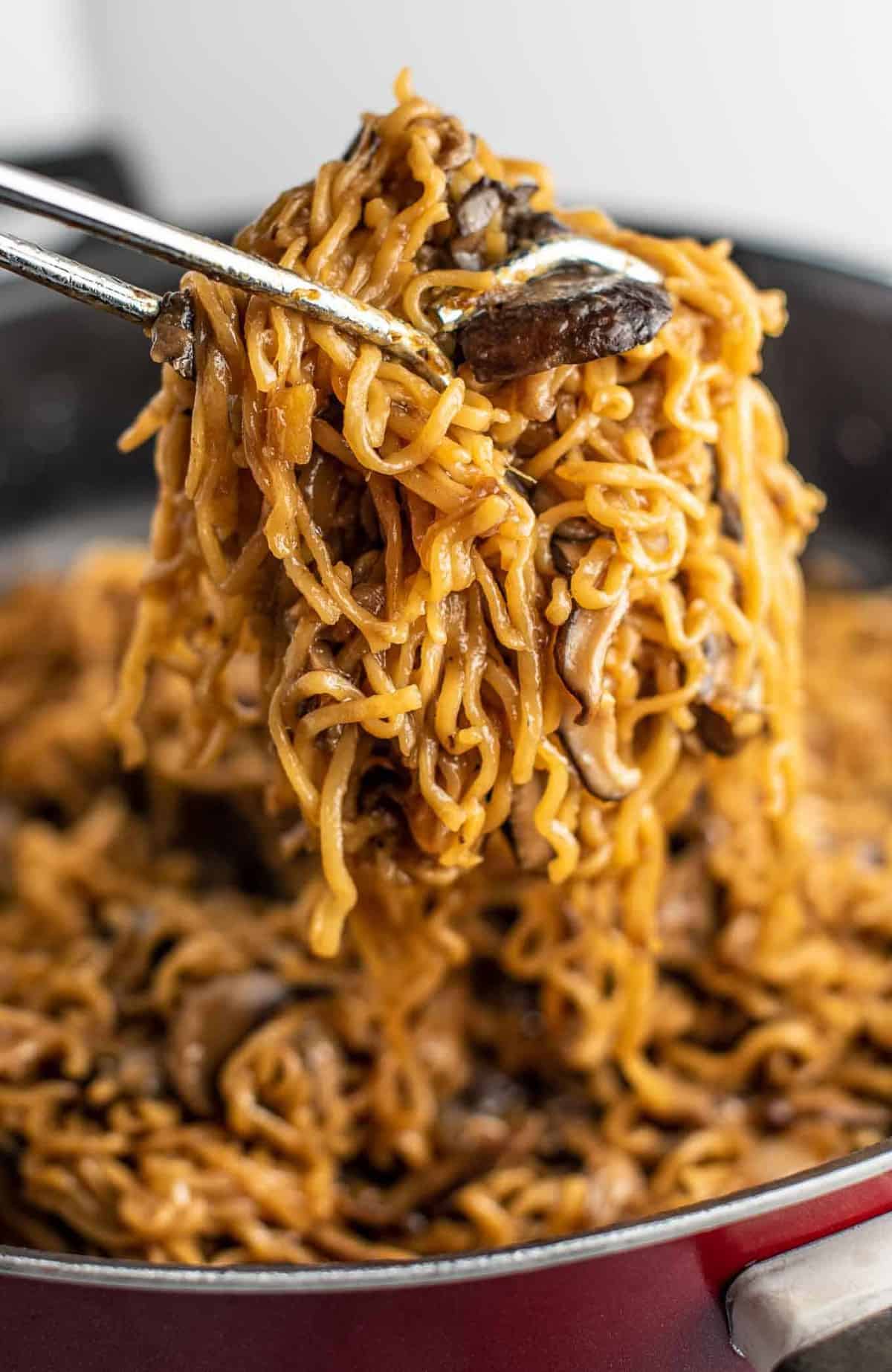 How to thicken stir fry sauce
Cornstarch acts as an easy thickener in this stir fry sauce recipe. It is is a great way to thicken sauces when you want a quick recipe.
There is no need to cook out a raw flour flavor like you would when cooking with a roux. Most sauce recipes use a corn starch slurry to thicken them.
Instead of that, we are simply mixing it with the other ingredients and once well shaken it will thicken the same way.
I have tested this easy recipe time and time again and it is always incredibly delicious.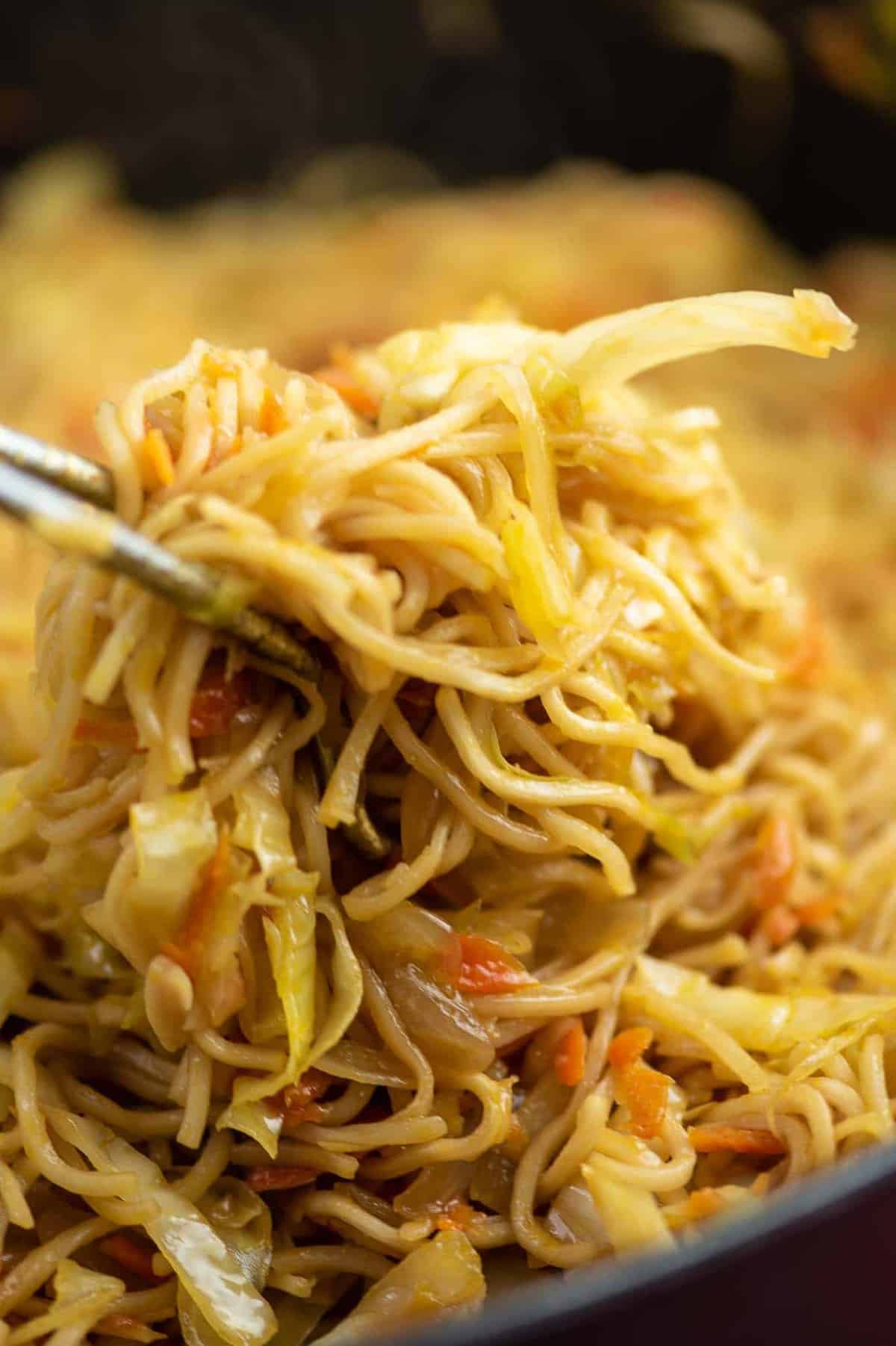 "OMG Joy! I have been searching for the true stir fry sauce" for everything " and this is it! Made shrimp broccoli and mushroom stir fry tonight and and I'm still licking up the sauce from the pan!"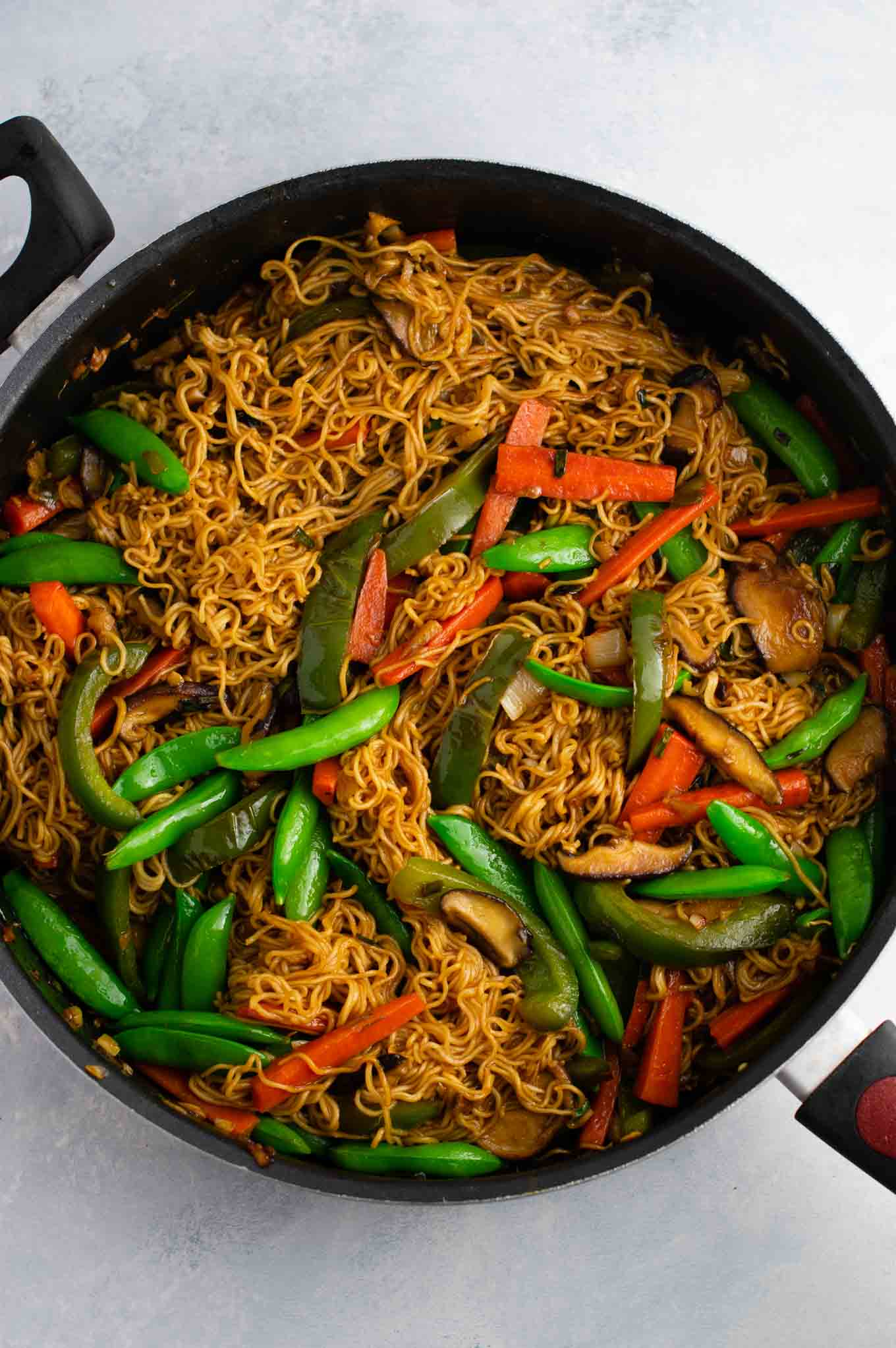 "This recipe seemed to be too easy, but it works better than more complicated recipes. This will be my go to."
More Stir Fry Recipes You'll Love
Are you making this recipe? I want to see! Don't forget to tag me on instagram @buildyourbite and hashtag #buildyourbite with your recipe creations!
More Recipes from Build Your Bite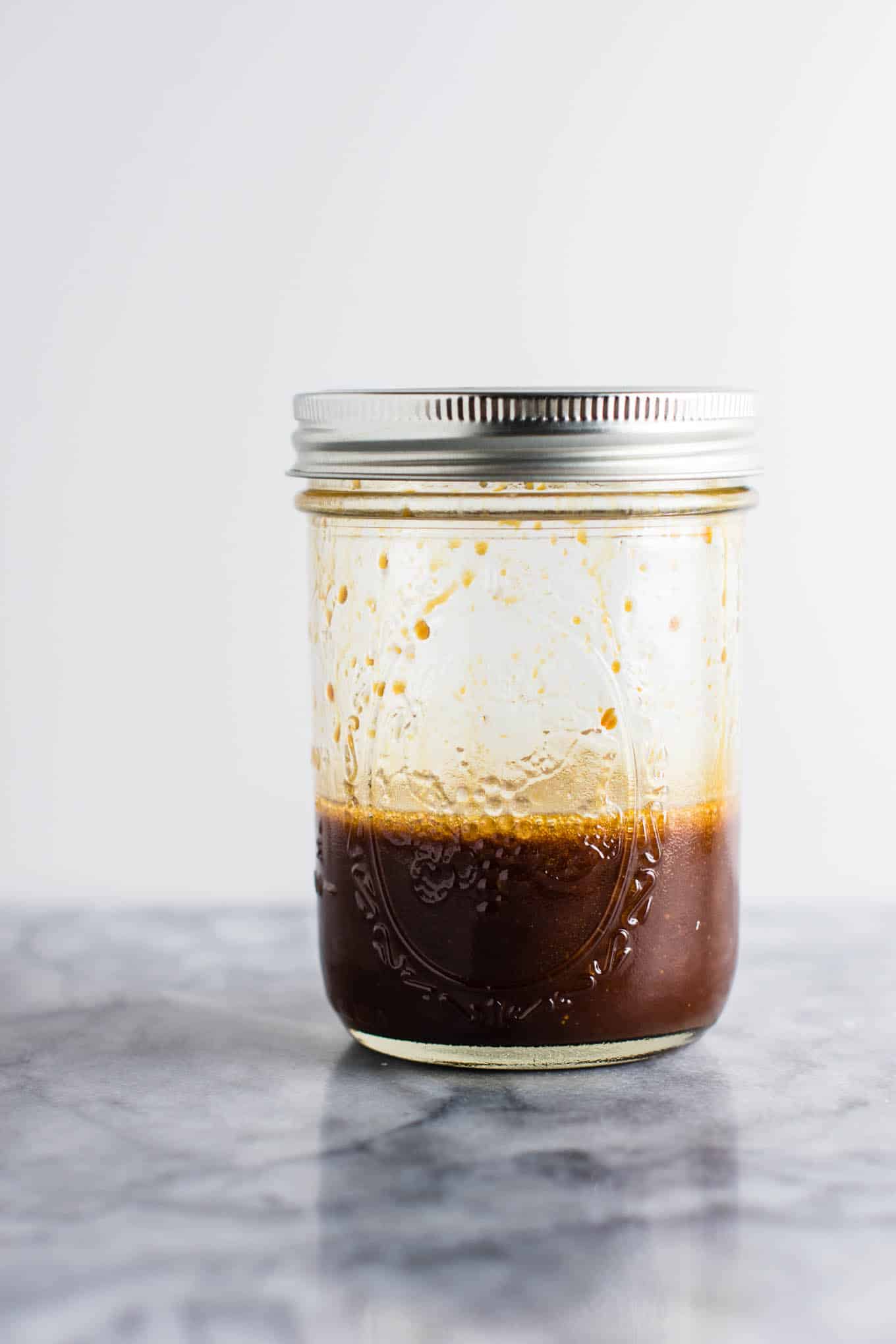 Be sure to pin this recipe for later and follow Build Your Bite on Pinterest for all the latest delicious recipes!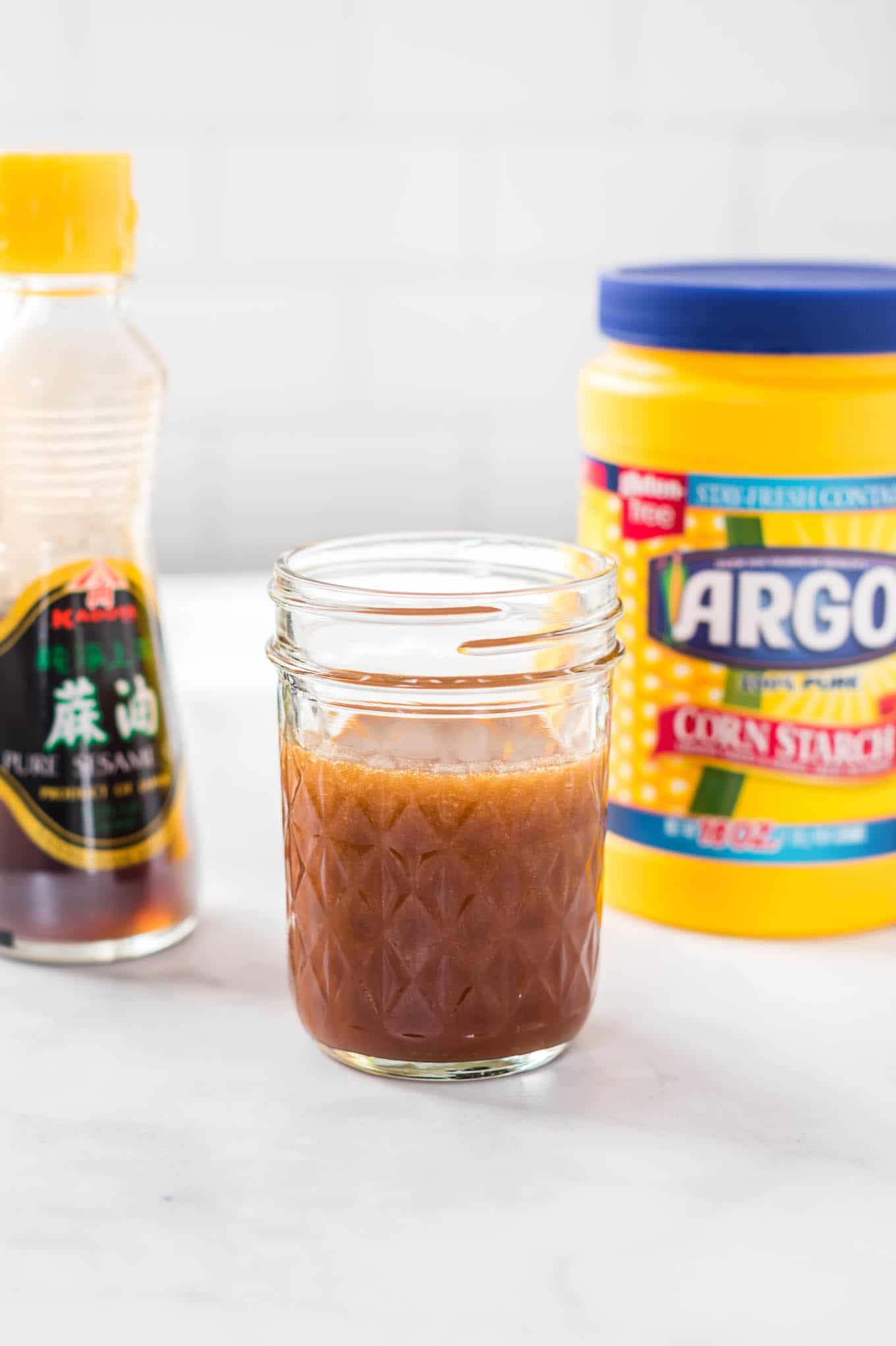 Did you make this recipe? Be sure to leave a star rating below!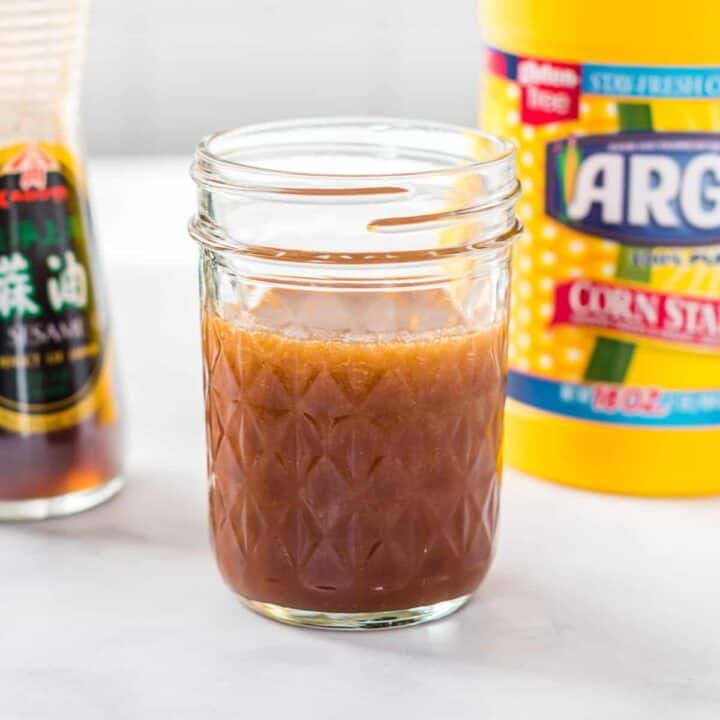 Stir Fry Sauce
Yield:
around 8 servings concentrated
Easy homemade stir fry sauce recipe made with just 3 ingredients!
Ingredients
⅓ cup + 2 tablespoons reduced sodium soy sauce or tamari
¼ cup sesame oil
1 tablespoon cornstarch
Instructions
Add soy sauce, sesame oil, and cornstarch to a mason jar. Screw on the lid and shake to combine
Be sure to use this stir fry sauce with fresh minced garlic and fresh minced ginger in your stir fry (cooked with your vegetables/protein), as stated in the post. This is what will give it the "wow" factor.
Once your stir fry is mostly cooked, add the stir fry sauce and heat an additional 3 - 5 minutes, or until sauce thickens. This is important, as the corn starch needs a few minutes to thicken up.
READ THIS RECIPE NOTE - this is intended to cover around 8 servings of stir fry, served over UNSALTED rice or noodles. Otherwise it will be too salty. It is a highly concentrated sauce. A little goes a long way! If you are making a small stir fry, start by adding a few tablespoons of sauce at a time until desired saltiness.
Nutrition Information:
Yield:

8
Serving Size:

1
Amount Per Serving:
Calories:

66
Total Fat:

7g
Saturated Fat:

1g
Trans Fat:

0g
Unsaturated Fat:

6g
Cholesterol:

0mg
Sodium:

131mg
Carbohydrates:

1g
Fiber:

0g
Sugar:

0g
Protein:

0g