These peanut butter oatmeal chocolate chip cookies are made without any flour or dairy. A naturally sweetened gluten free cookie that everyone will love!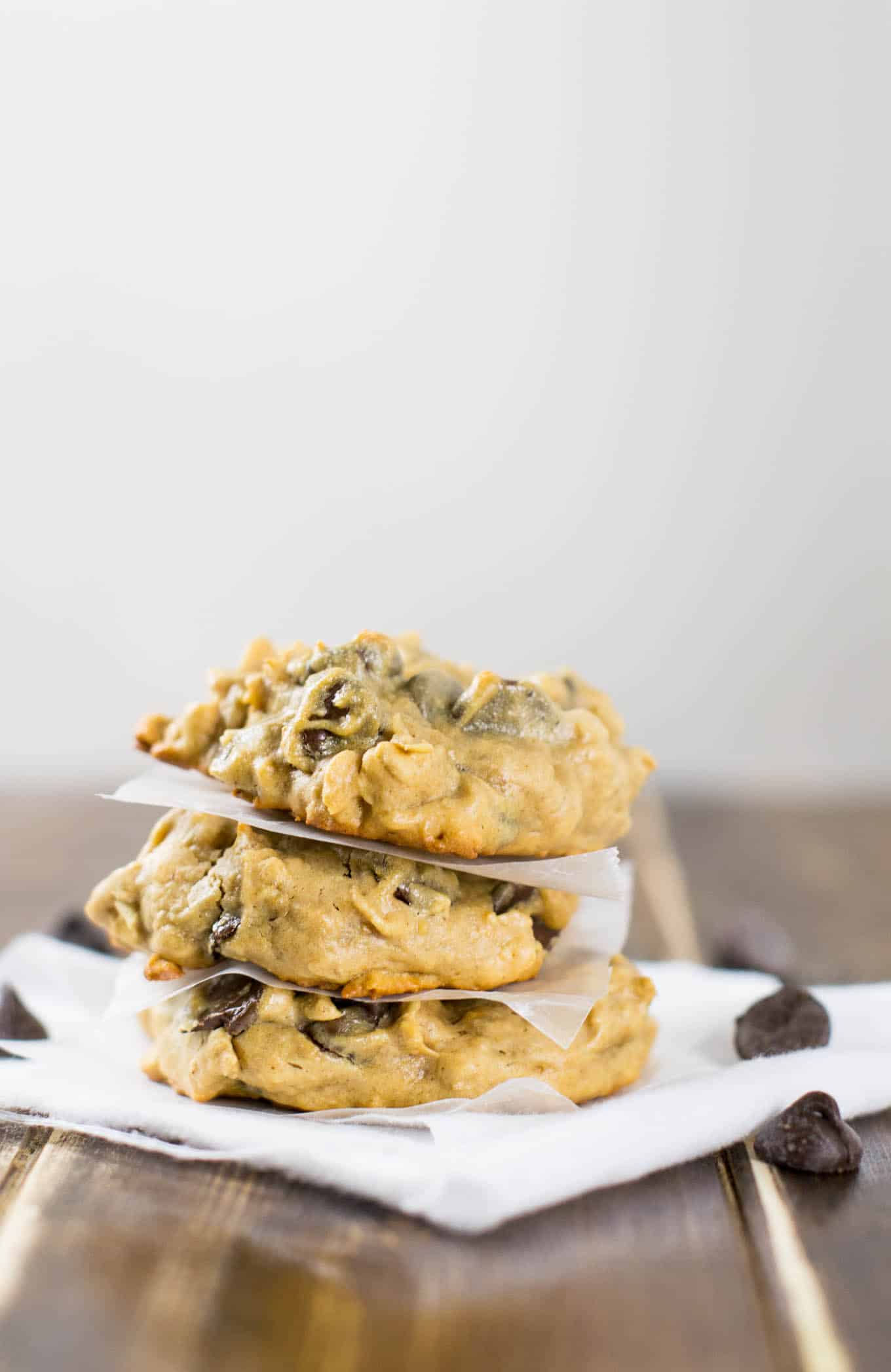 I don't think I've ever met anyone who didn't like chocolate chip cookies.
Is that even a thing?
If so, I've never heard of it.
They're just one of those desserts that is guaranteed to please everyone.
While I have made many different versions of this classic cookie, this is my first recipe that I made to be flourless.
These peanut butter oatmeal chocolate chip cookies are thick, chewy, gluten free, and dairy free!
You would never know by tasting these cookies that they are healthy!
How to make flourless chocolate chip cookies
To make cookies without flour, you will need gluten free rolled oats that will mix with the peanut butter to form a chewy cookie texture without any flour.
These are also known as old fashioned oats.
If you do not want to use peanut butter, you can also use other nut butters as a substitute.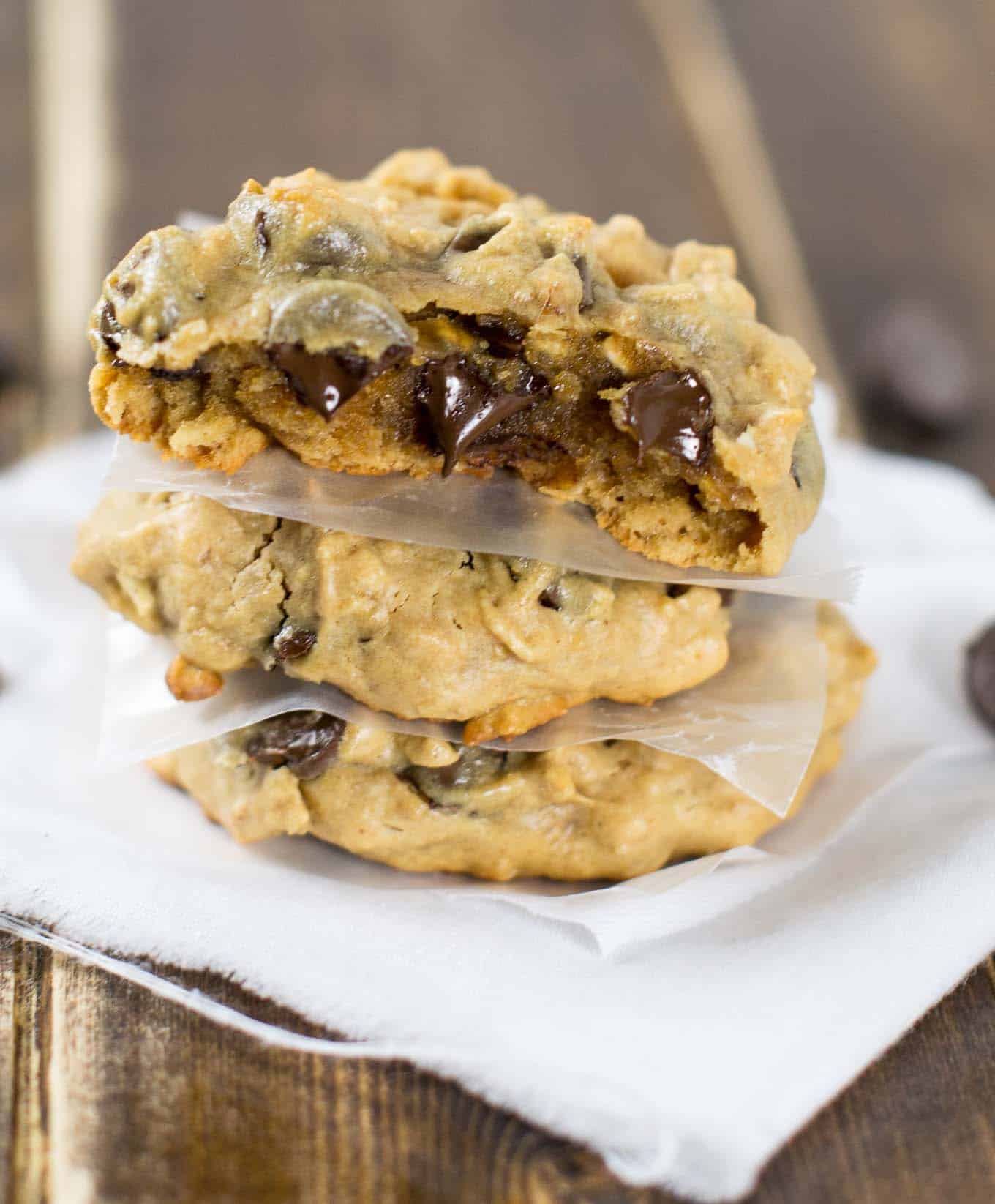 I get so many compliments when I make these oatmeal chocolate chip cookies, and no one can believe that they don't have any flour in them!
Many readers have commented how remarkably normal (and delicious!) they taste, and you wouldn't guess that they do not contain the typical flour used to make chocolate chip cookies.
Reviews on these healthy peanut butter oatmeal cookies:
From Anita: "OK, so here's the deal… literally just made these.
Don't have any maple syrup so I substituted honey.
I baked for 10 minutes and when I took out they were still soft but as they're cooling they are getting firmer.
I just ate one because I couldn't resist… They smell so good. They are TO DIE FOR,!!
Thank you thank you for this recipe. LOVE LOVE LOVE"
From Celina: "THESE ARE MAGICAL!! And low fodmap depending on the chocolate you use!!
I am beyond impressed. I never really leave reviews or comments but these were SO easy and JUST what I needed!
Thank you so much! -a dairy free gluten free low fodmap lady looking for some good foood"
From Tatum: "I took these to a party and they were a hit! I was afraid they wouldn't be good (not a lot of healthier cookies are), but these were delicious.
Many people asked for the recipe.
I made them with natural crunchy peanut butter that had salt, and followed the recipe as is.
I can't wait to make these again.
I made one cookie without chocolate chips (it was the last of the batch) and it made a great peanut butter cookie."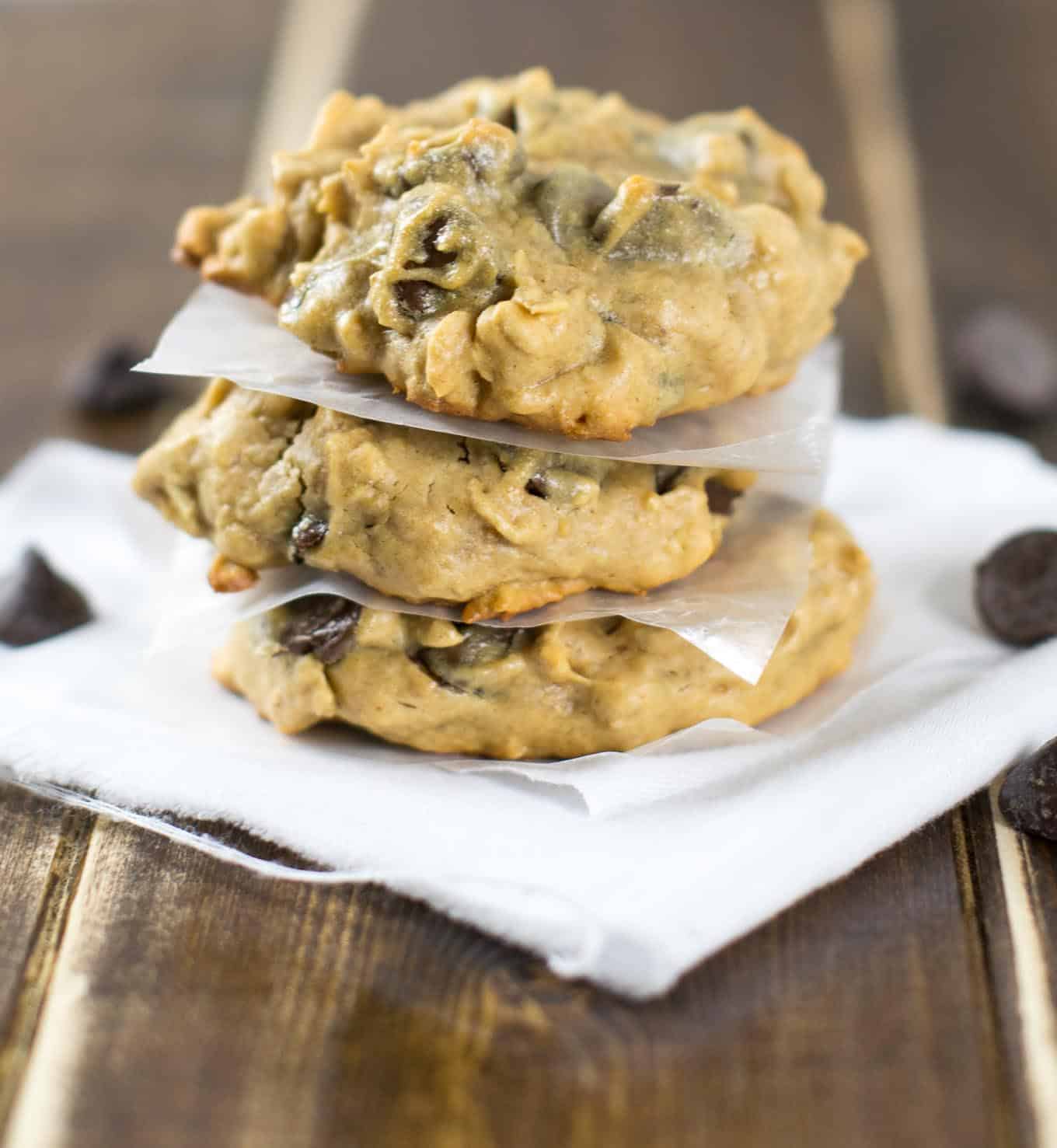 While I personally don't have a gluten intolerance, there are many people that do, as well as those who just wish to avoid flour as much as possible.
This is one of my favorite recipes to show how easy and delicious it can be to make a healthy dessert.
You don't have to compromise on flavor when you are making a healthy lifestyle change!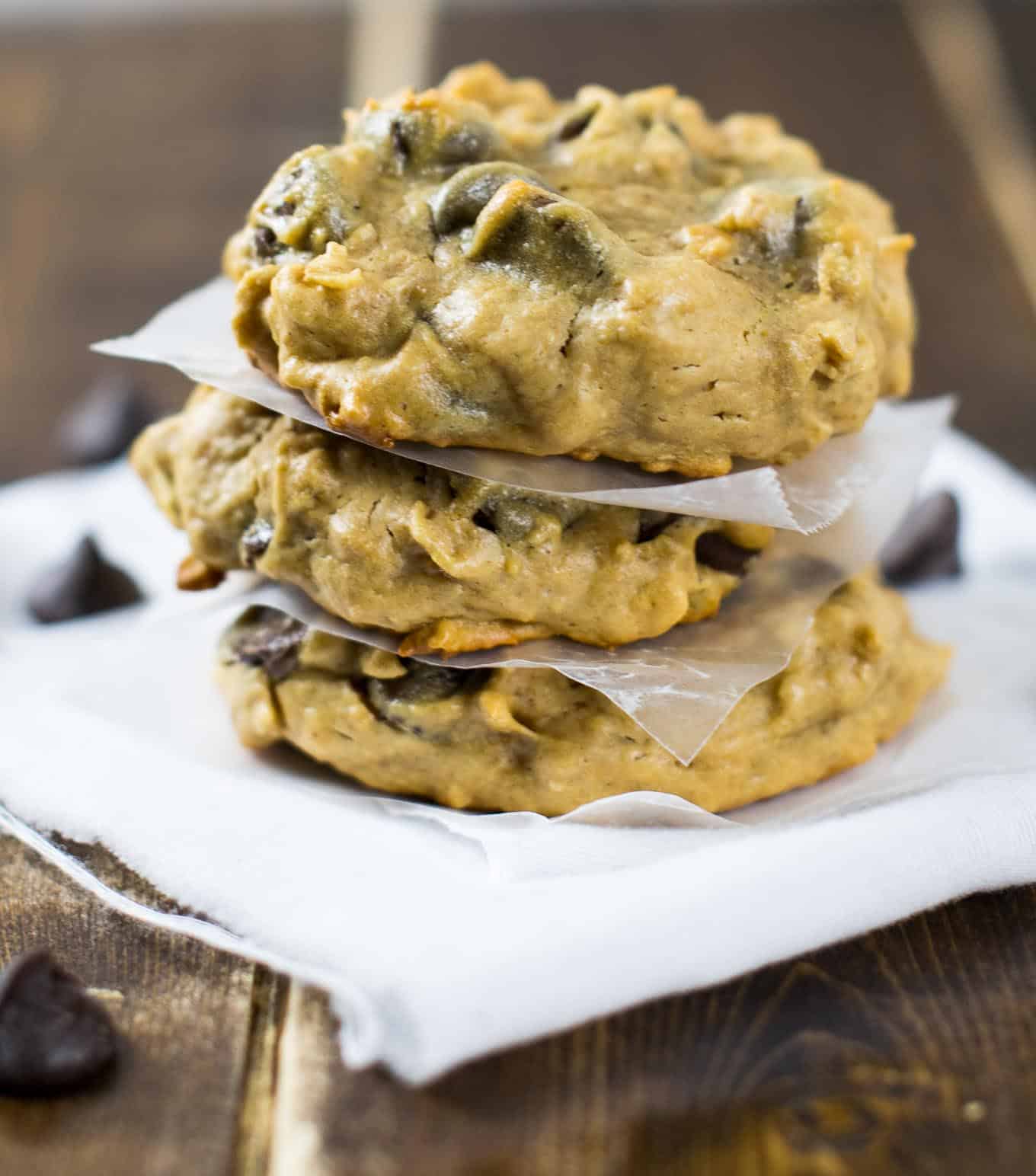 My mom is gluten intolerant and these are her absolute favorite cookies to make to curb her sweet tooth.
She has complained (like many people who are gluten free) that it is really hard to find a chocolate chip cookie recipe that doesn't involve the use of some obscure or crazy expensive flour.
That is why you will never see me post a gluten free recipe that involves the use of a store bought gluten free flour blend.
In my opinion, they are overpriced to take advantage of those who are gluten free and need to find a way to enjoy the foods that they love.
I use gluten free oats in this recipe and no flour at all.
Super easy to find ingredients and so simple to make.
The texture is really satisfying you feel like you're eating just a regular cookie!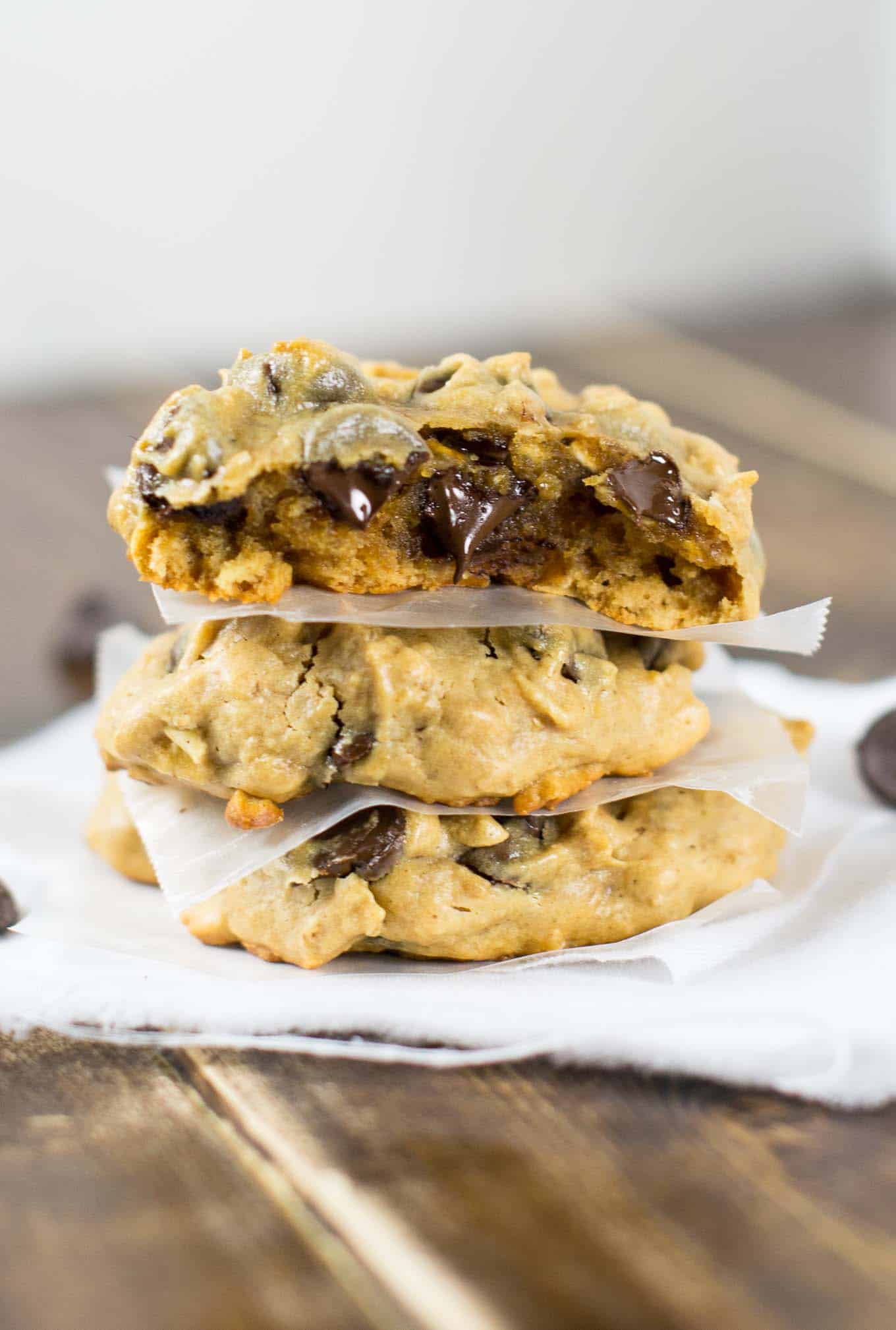 While this recipe calls for maple syrup, some readers in the comments below have substituted honey for great results.
I personally use maple syrup and honey interchangeably, so feel free to use whichever one you have on hand!
I buy grade a pure maple syrup regularly, and use it all the time for baking recipes.
It doesn't taste maple syrup-y at all.
It's a healthier alternative to white sugar and you won't ever taste the difference!
I actually buy my maple syrup specifically for baking.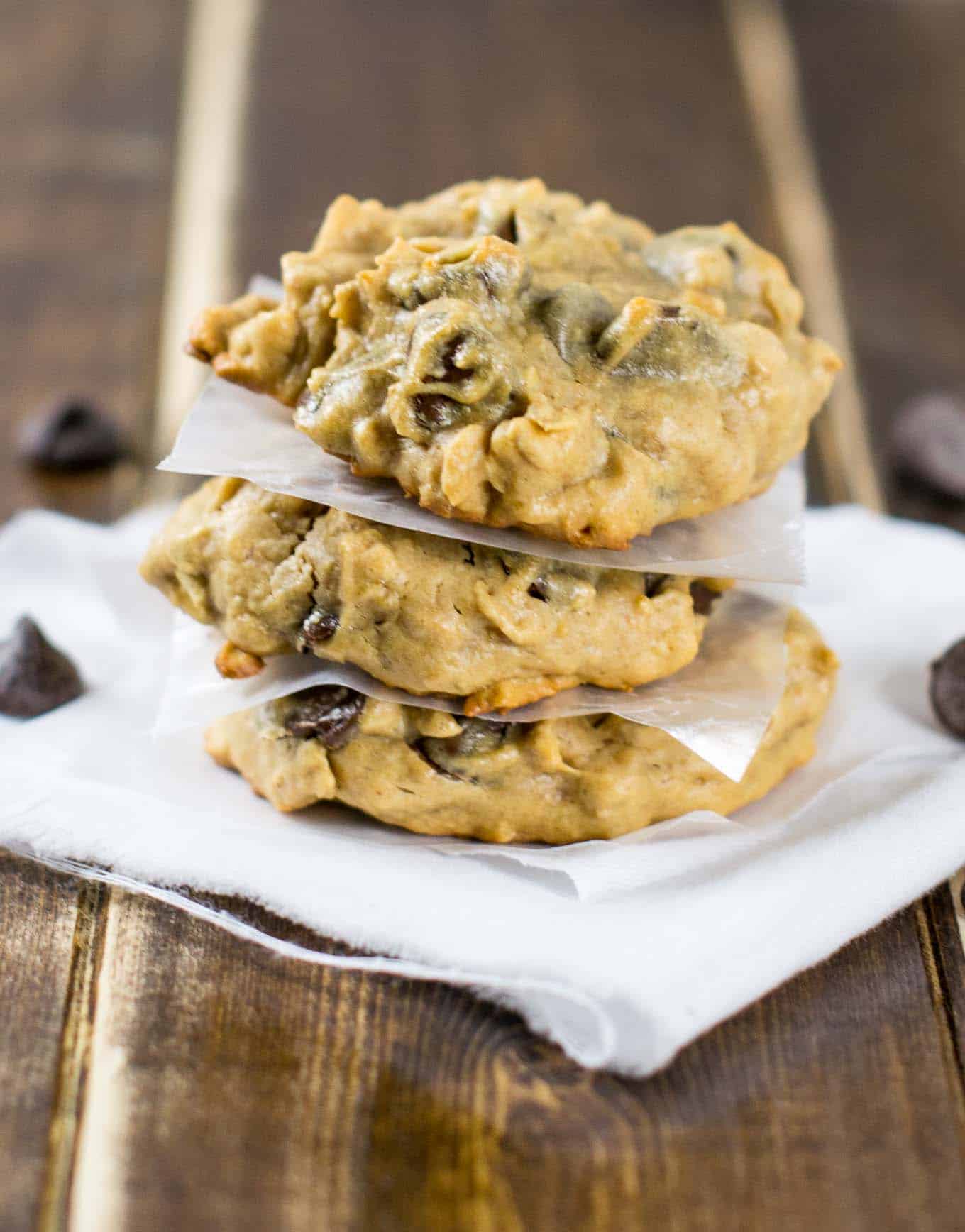 The only sweetener that I cannot recommend for sure is anything powdered as I have not tested it.
If you try this recipe with normal sugar please let me know how it turns out in the comments!
Healthy Peanut Butter Oatmeal Cookies FAQ
Can these be made without peanut butter?
Yes! Just substitute another butter, such as almond butter or sunflower seed butter.
You can see my recipe for almond butter chocolate chip cookies here.
Do you grind up the oats first?
Nope! Just use whole gluten free old fashioned rolled oats, no need to grind them up.
Can you use PB2 in place of peanut butter?
I haven't tried it, so I cannot guarantee results.
Let me know if you try it!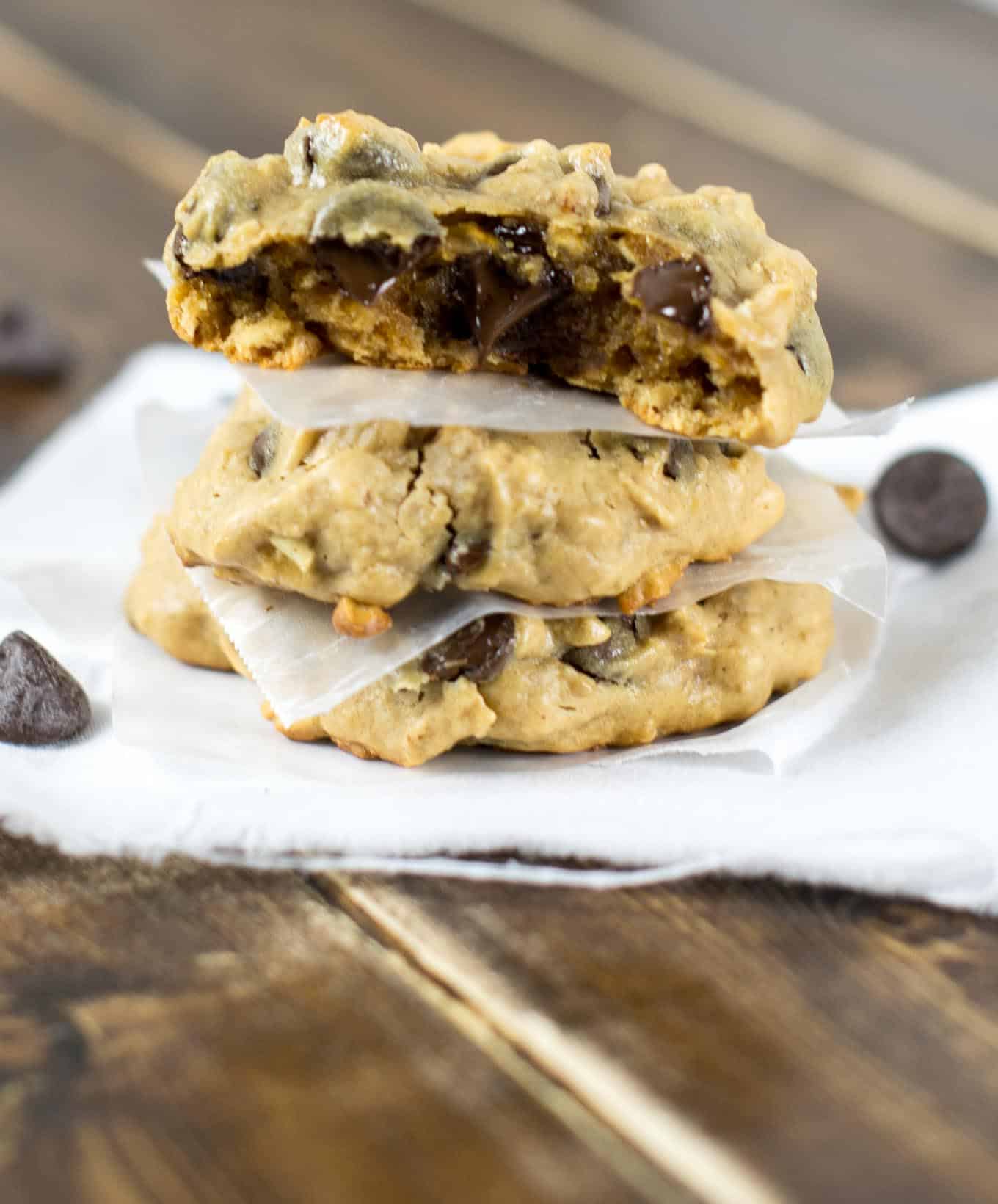 I love how light these taste.
They are chewy and sweet and the texture isn't exactly like normal cookies (obviously), but it is addictive!
I had a hard time making myself stop eating them!
I made these cookies for my mom (who avoids wheat because of a slight gluten intolerance), and she loved them!
She was so excited to be able to eat cookies again that didn't require fancy instructions or a special gluten free flour blend.
If you feel the same way, give these cookies a try.
Also, be sure to check out my roundup of 25 gluten free dairy free desserts!
More gluten free dessert recipes
Gluten Free Peanut Butter Cookies
No Bake Peanut Butter Truffles
Gluten Free Chocolate Chip Muffins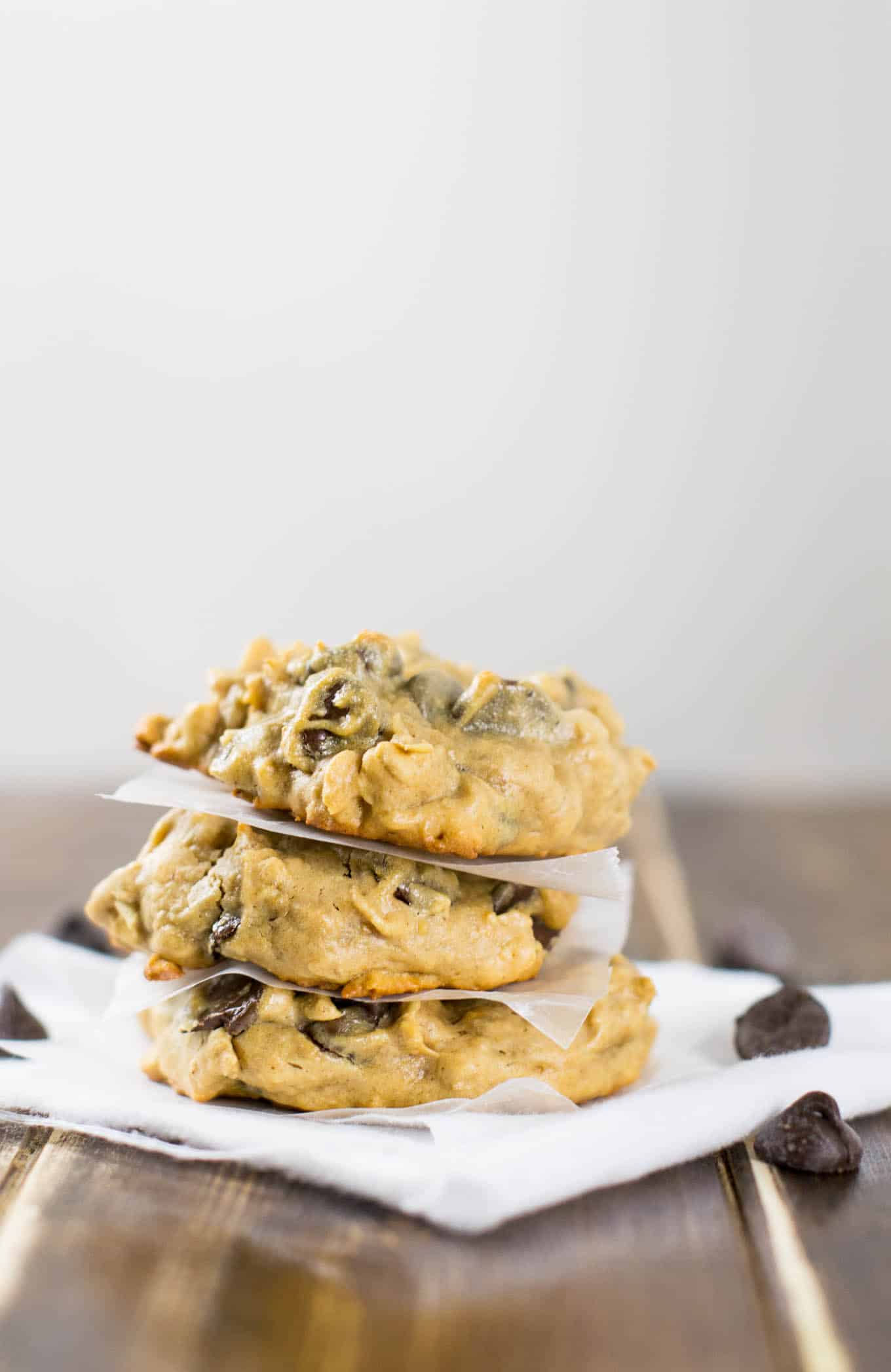 Try these flourless peanut butter oatmeal chocolate chip cookies for a way healthier cookie with all of the flavor that you will love!
Don't believe me?
Just read some more of the reviews in the comments below!
Are you making this recipe? I want to see! Don't forget to tag me on instagram @buildyourbite and hashtag #buildyourbite with your recipe creations!
Be sure to pin this recipe for later and follow Build Your Bite on Pinterest for all the latest delicious recipes!
Peanut butter oatmeal chocolate chip cookies recipe:
Yield: around 20 cookies
Flourless Peanut Butter Oatmeal Chocolate Chip Cookies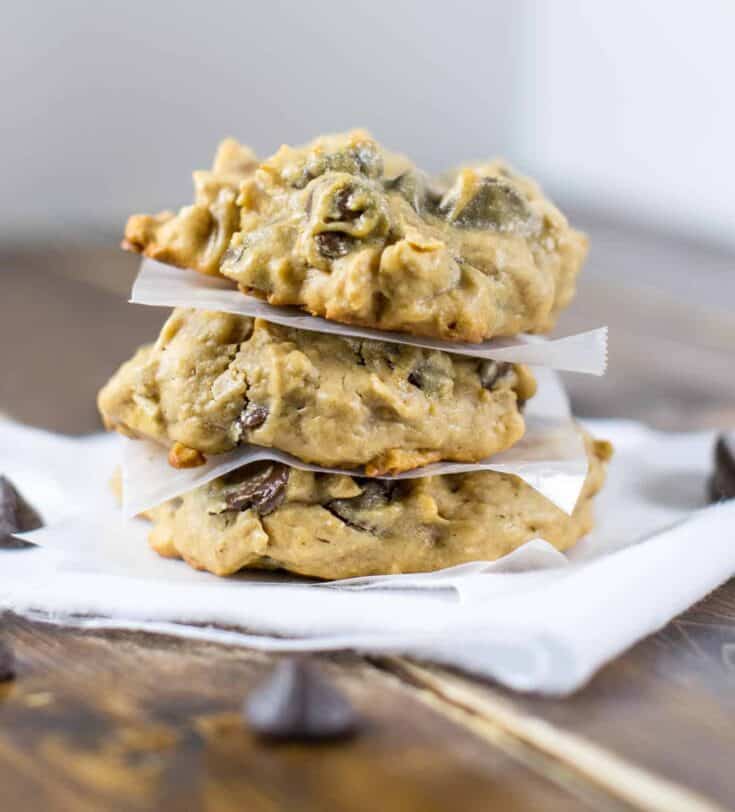 Easy gluten free peanut butter oatmeal chocolate chip cookies
Ingredients
1 cup creamy peanut butter
1/2 cup pure maple syrup
1 tablespoon vanilla extract
1 cup gluten free rolled oats
1 cup semi sweet chocolate chips
2 eggs
1/2 teaspoon baking powder
1/8 teaspoon sea salt
Instructions
Preheat oven to 350 degrees
In a bowl, beat peanut butter, maple syrup, eggs, and vanilla.
In a separate bowl, whisk together the oats, baking powder, and salt
Add dry mixture to wet and beat until combined
Beat or stir in the chocolate chips
Drop by spoonfuls onto a baking sheet
Bake at 350 degrees for 8-10 minutes, or until the center is cooked through
Recommended Products
As an Amazon Associate and member of other affiliate programs, I earn from qualifying purchases.
Nutrition Information:
Yield:
20
Serving Size:
1
Amount Per Serving:
Calories:

163
Total Fat:

10g
Saturated Fat:

3g
Trans Fat:

0g
Unsaturated Fat:

6g
Cholesterol:

19mg
Sodium:

96mg
Carbohydrates:

17g
Fiber:

2g
Sugar:

11g
Protein:

4g