This Easy crock pot baked ziti recipe is a guaranteed crowd pleaser. The perfect slow cooker pasta dinner recipe!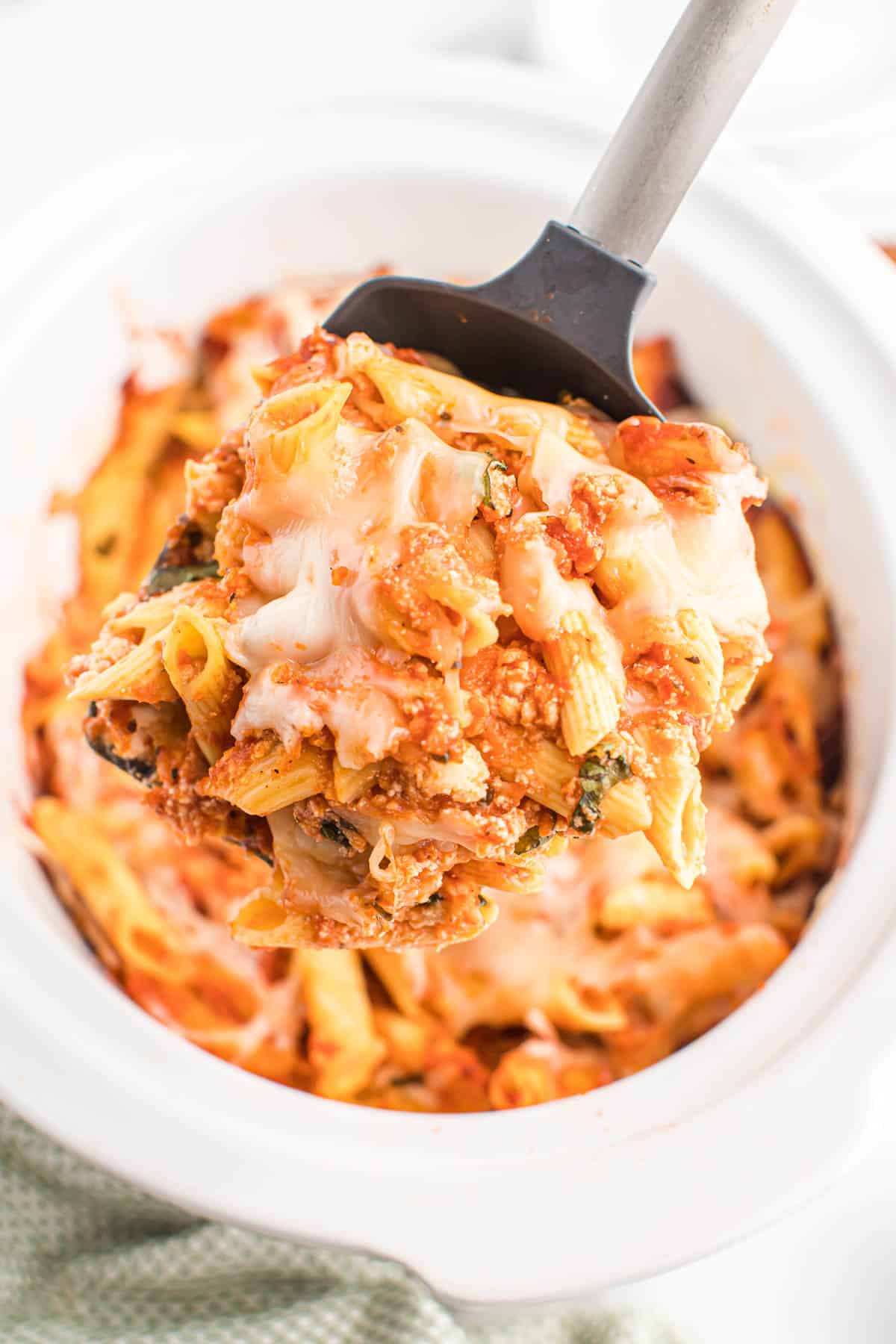 This crockpot Baked Ziti with Ricotta will change your life!
Crockpot pasta is one of my very favorite ways to make an easy dinner.
Your slow cooker is not just for chili my friends!
So I have something to tell you guys.
Something that will change the way you make pasta!
Well if you read the title of this post, you know that the recipe is for Easy CrockPot Baked Ziti.
Yes, ziti in a crockpot! And the best part?
It's ridiculously easy to throw together (you don't have to cook anything first!) and makes your house smell amazing while it cooks!
Can You Cook Pasta in the Crock Pot?
Yes, yes you can!
While I love a good Vegetarian Baked Ziti, sometimes I just want the slow cooker to do the work for me.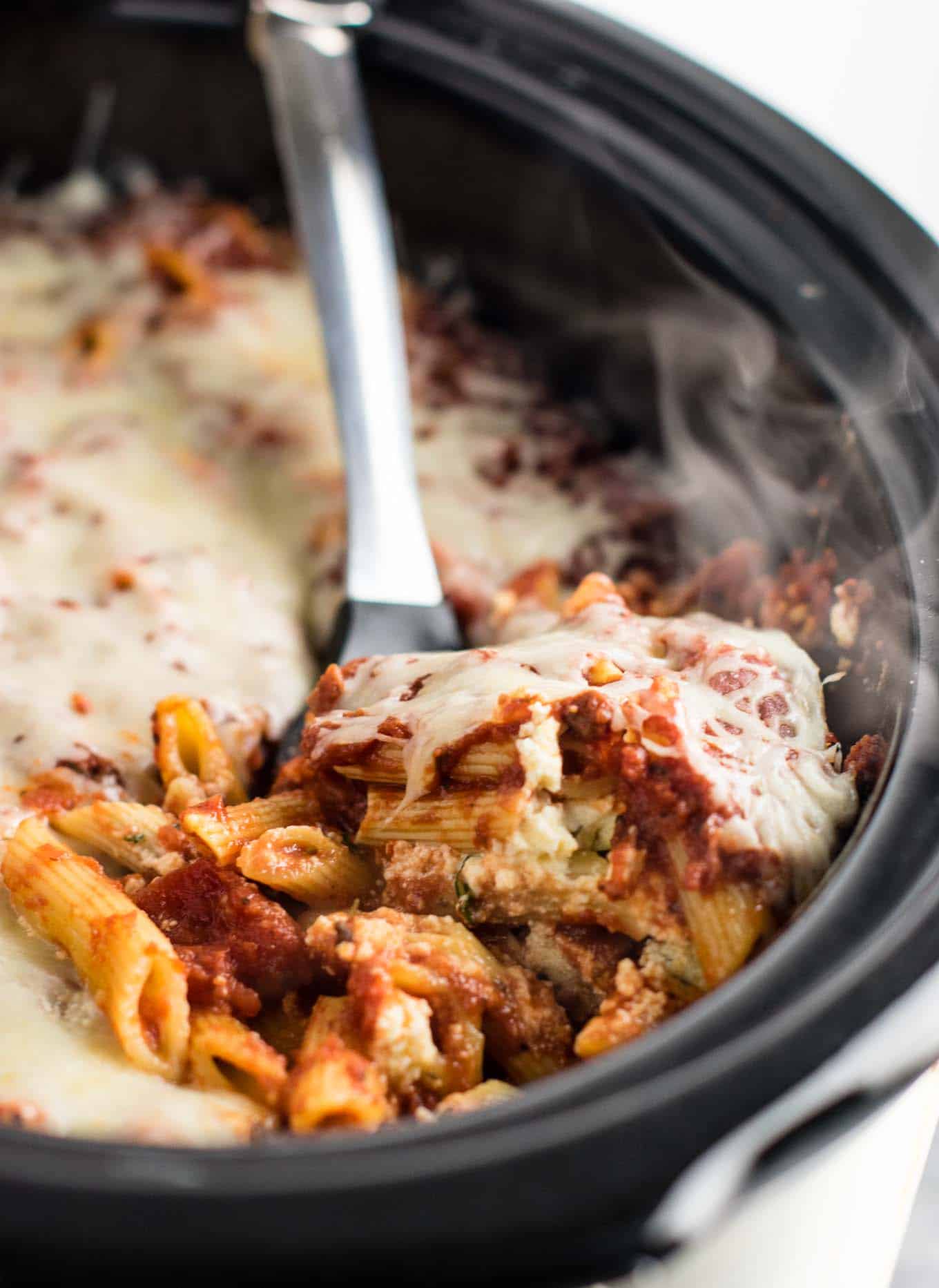 I love that the slow cooker does all the work for me with just a few minutes of prep work.
Normally when making a pasta dish, I would spend extra time dicing up onion and garlic to get that extra depth of flavor.
For this baked ziti crock pot recipe I didn't add any extra spices (except fresh basil) and it was so good!
Ready for the step by step? I'll show you just how simple it is! (full ingredient amounts are included in a recipe card at the bottom of this post).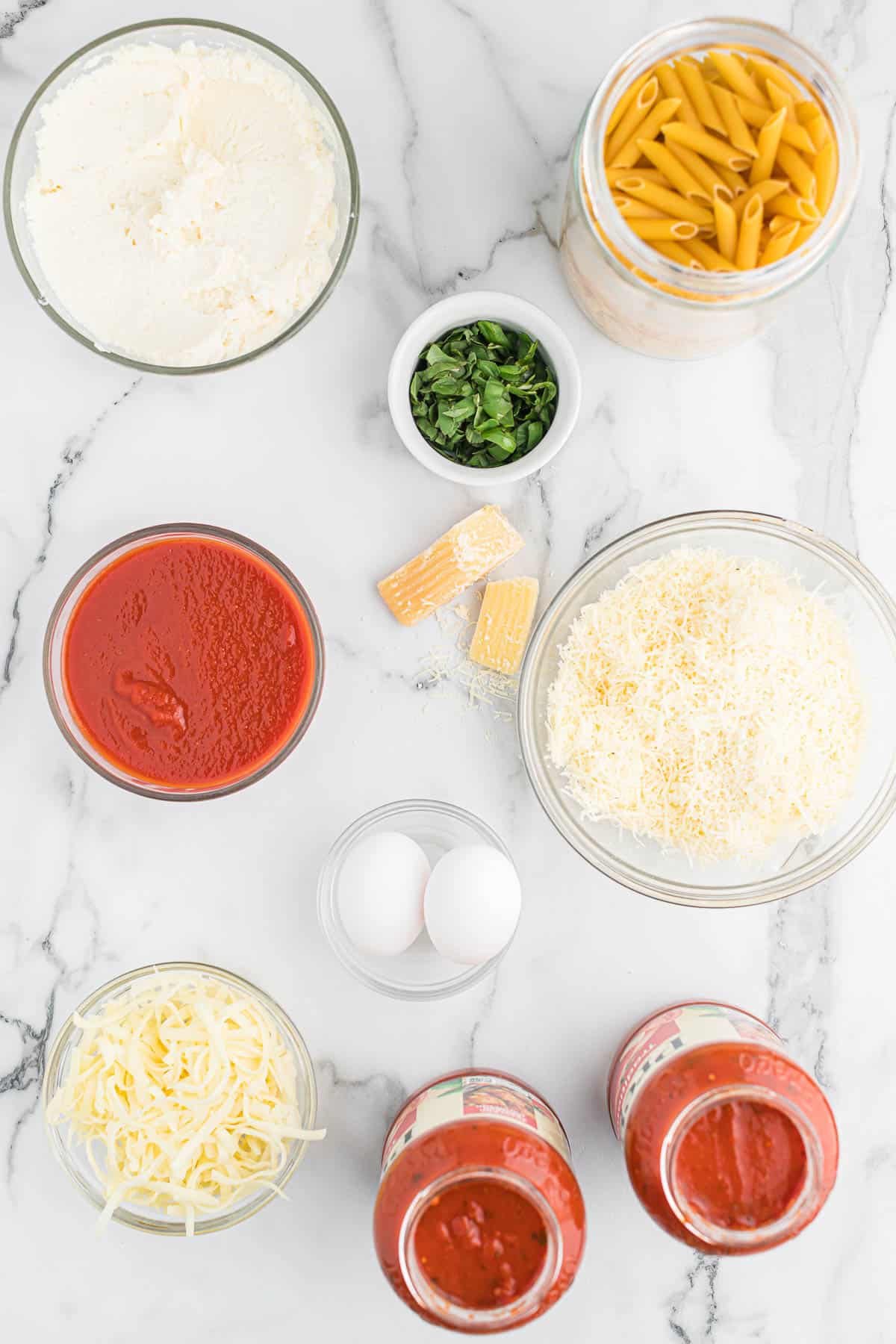 Ziti Recipe ingredients
Jarred pasta sauce
Tomato sauce
Uncooked penne pasta
Ricotta cheese
Eggs
Freshly chopped basil
Freshly grated parmesan cheese
Mozzarella cheese
How to make crock pot Baked Ziti
First, add 15 oz of ricotta cheese, basil, and 2 eggs to a bowl.
Mix it up until it looks like what is pictured below.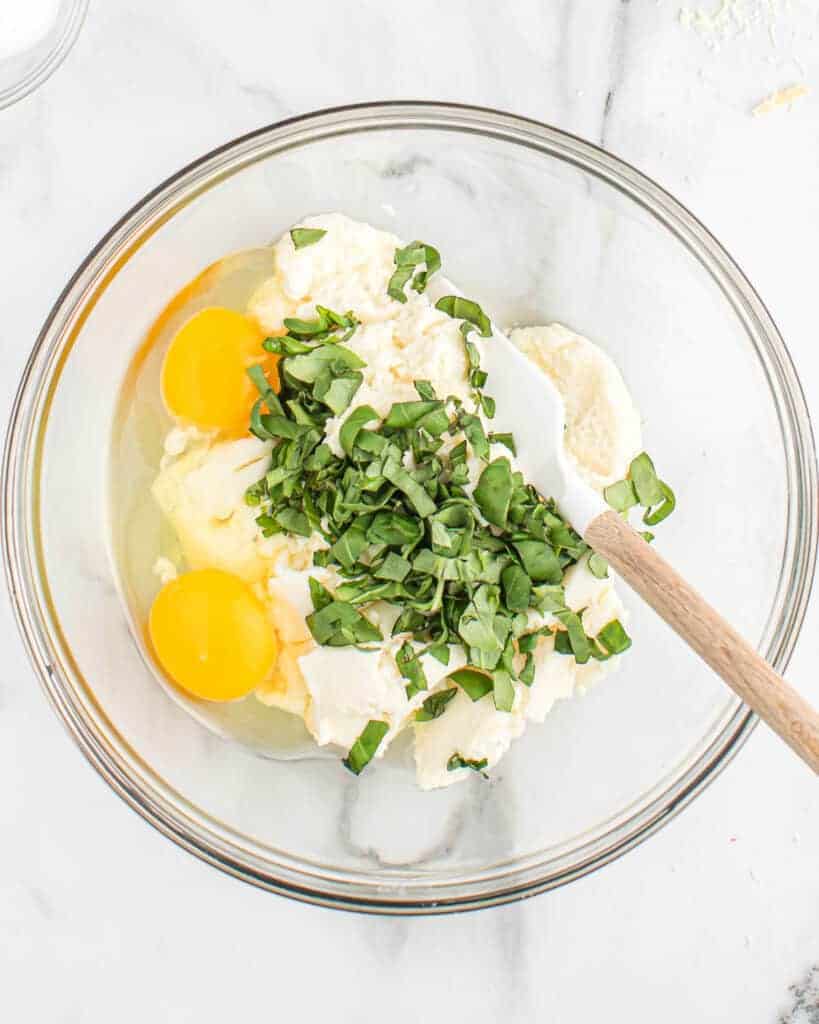 Fresh basil really adds a lot of flavor, so don't leave this part out!
3. Mix together the pasta sauce and tomato sauce in a bowl and divide your penne pasta into three equal amounts. Now it is time to assemble the baked ziti.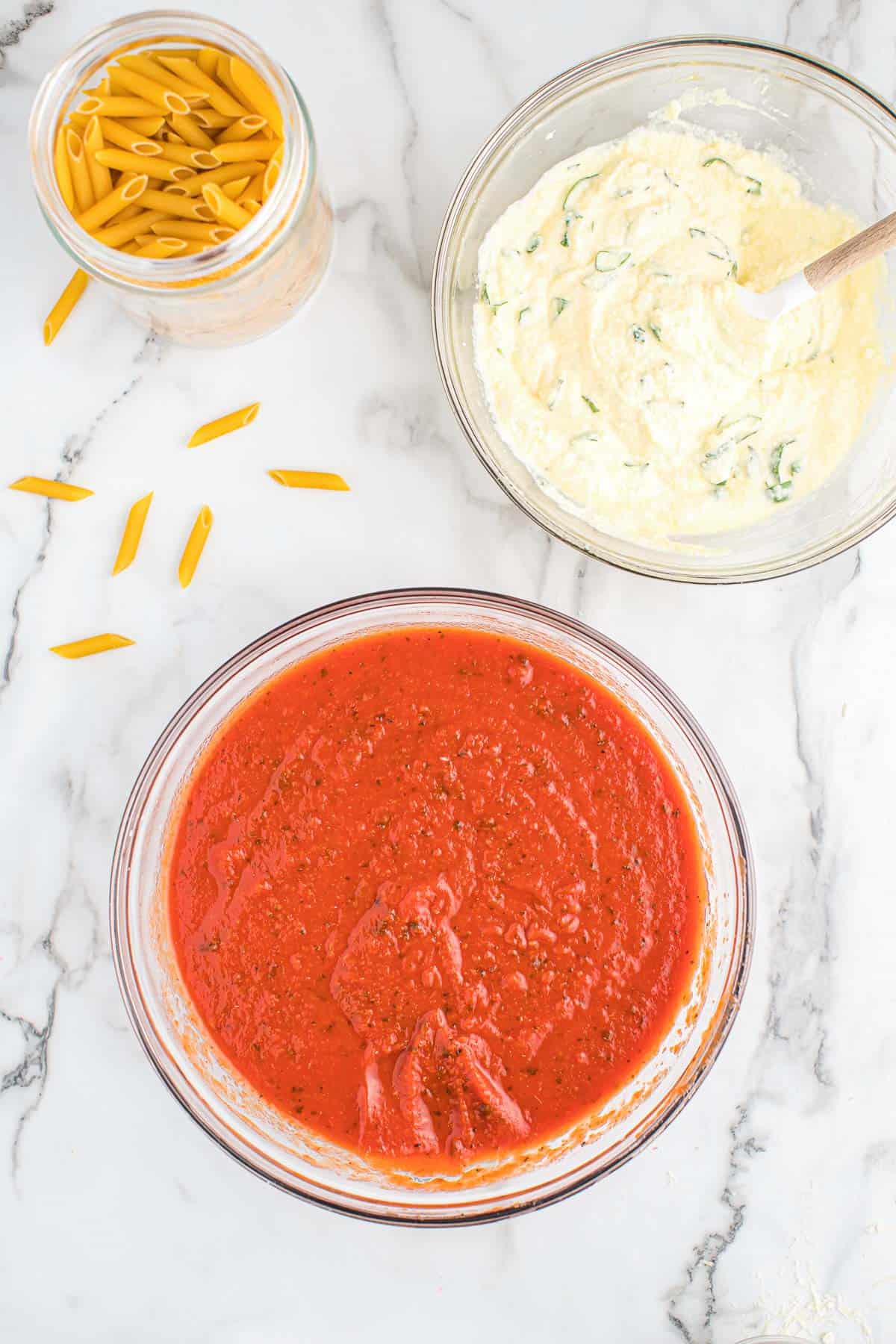 Before beginning, spray your crock pot with cooking spray. This will help cleanup be a lot easier!
Measure out 2 and ⅓ cups of sauce mixture and pour it into the bottom of the crock pot.
Next, measure the penne into three equal amounts and add ⅓ of it to the top of the sauce.
I have eye balled it in the past and usually mess it up, so it's worth taking the extra minute to divide evenly into three bowls before you begin layering.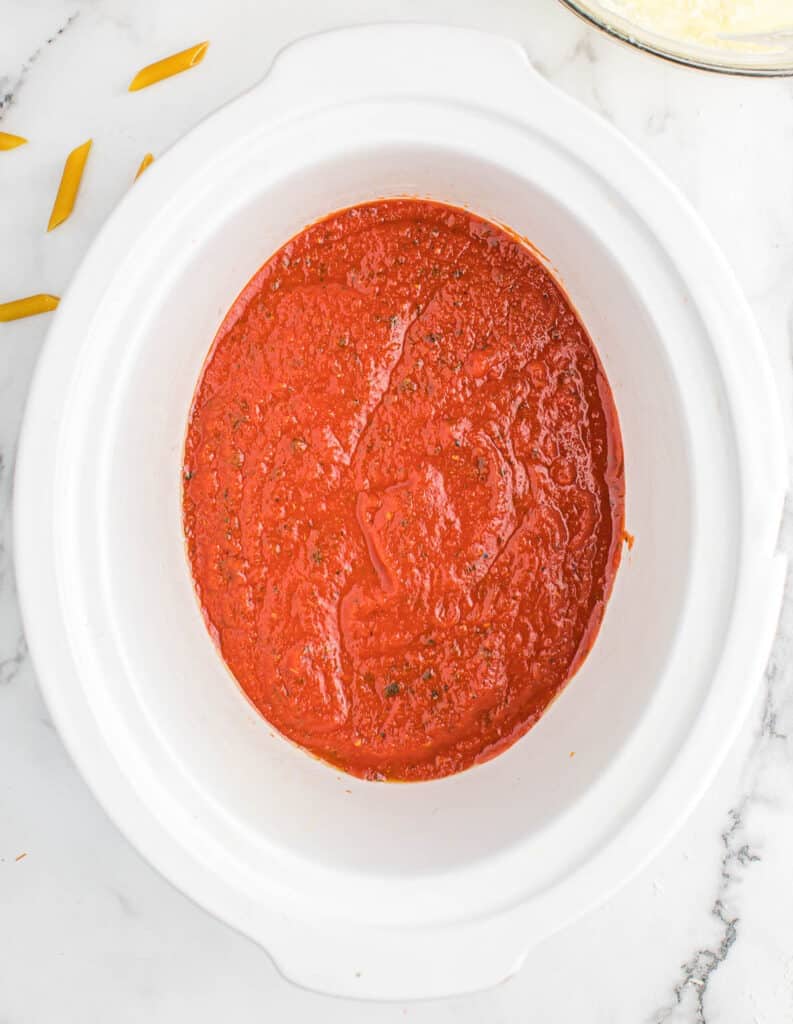 Next, add half of the ricotta/egg/basil mixture.
You can either add the ricotta in dollops, or spread in an even layer.
Next up, add half of the parmesan cheese in an even layer.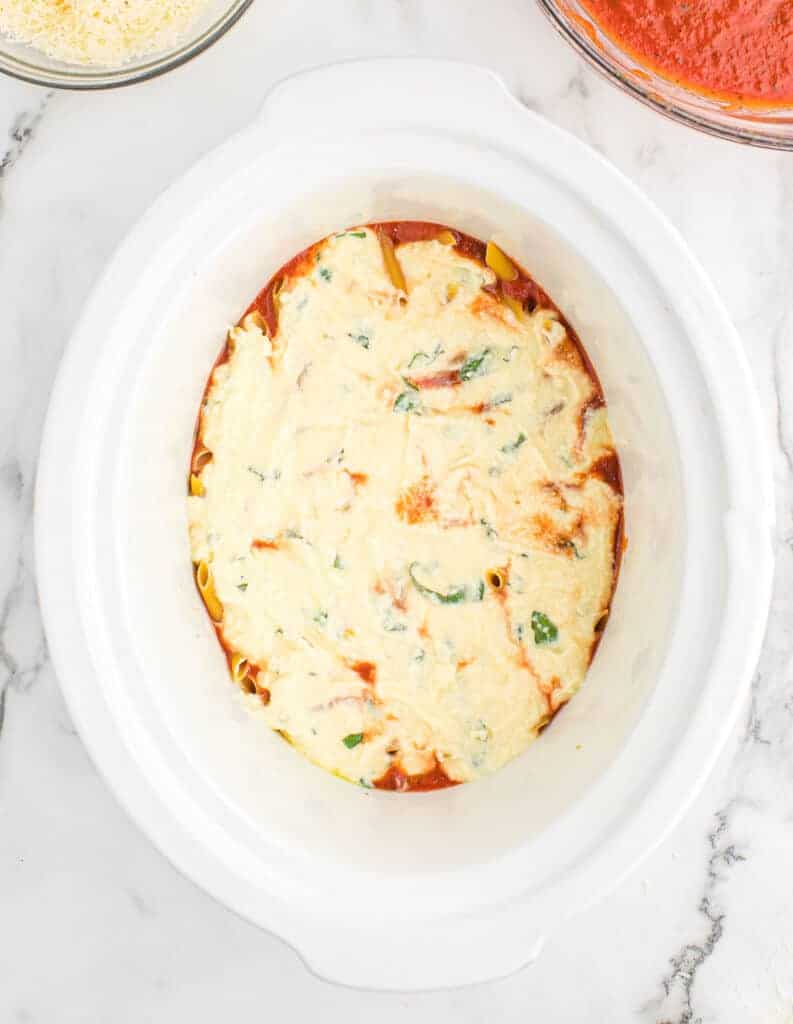 Time for the next layer!
Add another 2 and ⅓ cups of sauce.
Add another ⅓ of the uncooked penne.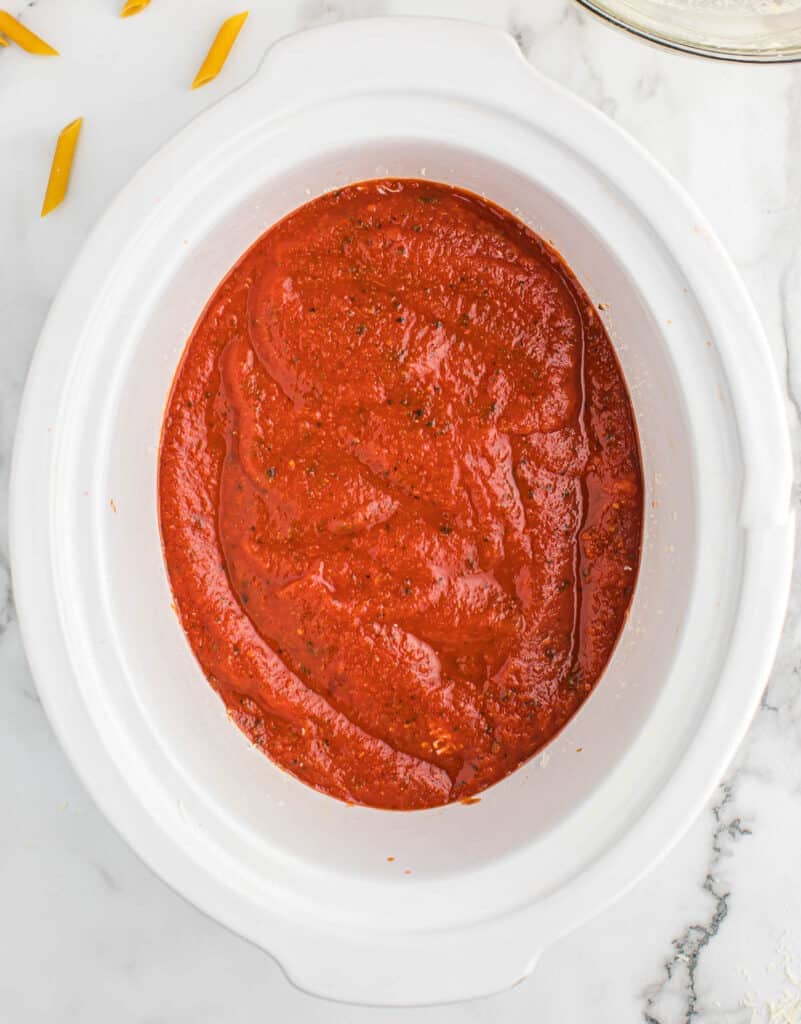 Follow with the rest of your ricotta mixture.
Next, the remaining parmesan cheese.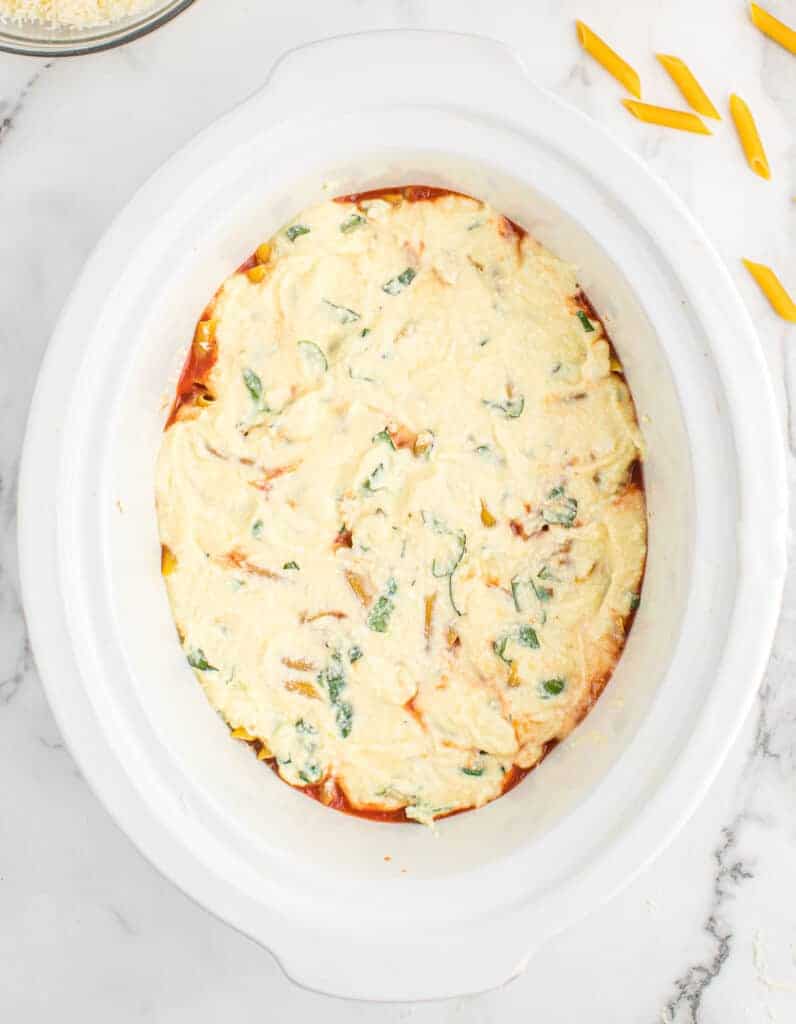 Add the rest of your penne on top.
And lastly, the rest of your sauce!
Spread it out as evenly as you can, so that the noodles on top cook properly.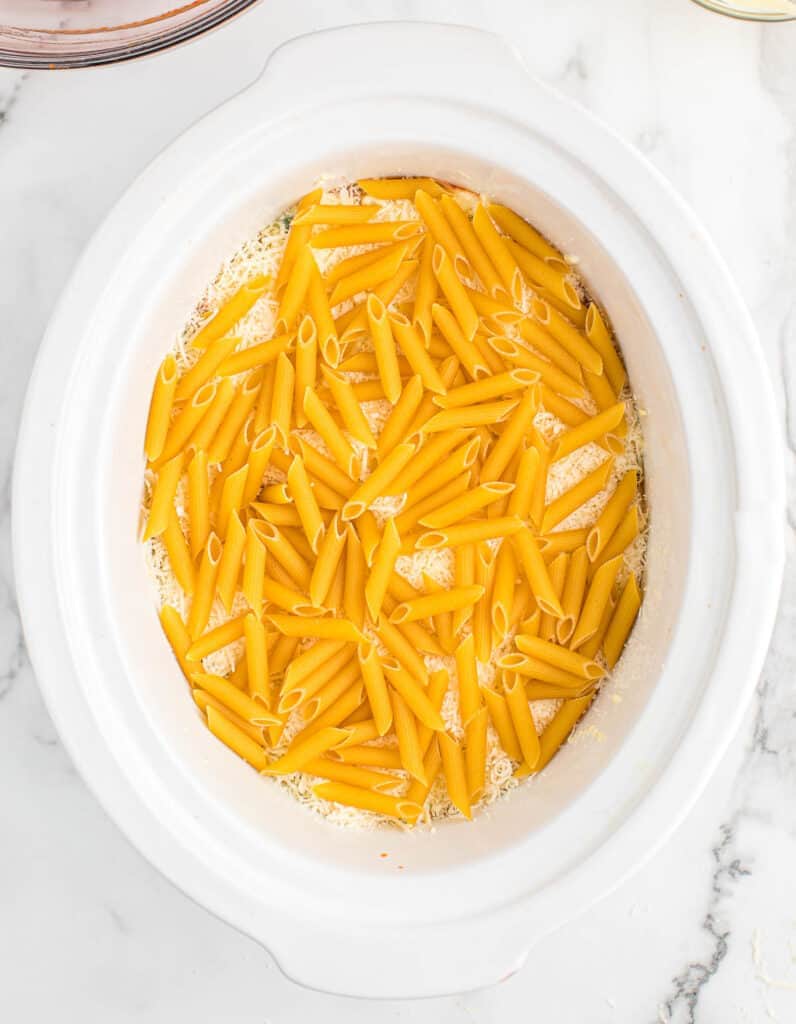 Place the lid onto your crock pot and cook the baked ziti on high for 2 hours and 15 minutes.
I have tested this recipe several times, and the perfect amount of cook time appears to be right around 2 and a half hours, before the noodles get too soft.
After the 2 hours and 15 minutes, it should look like this image below.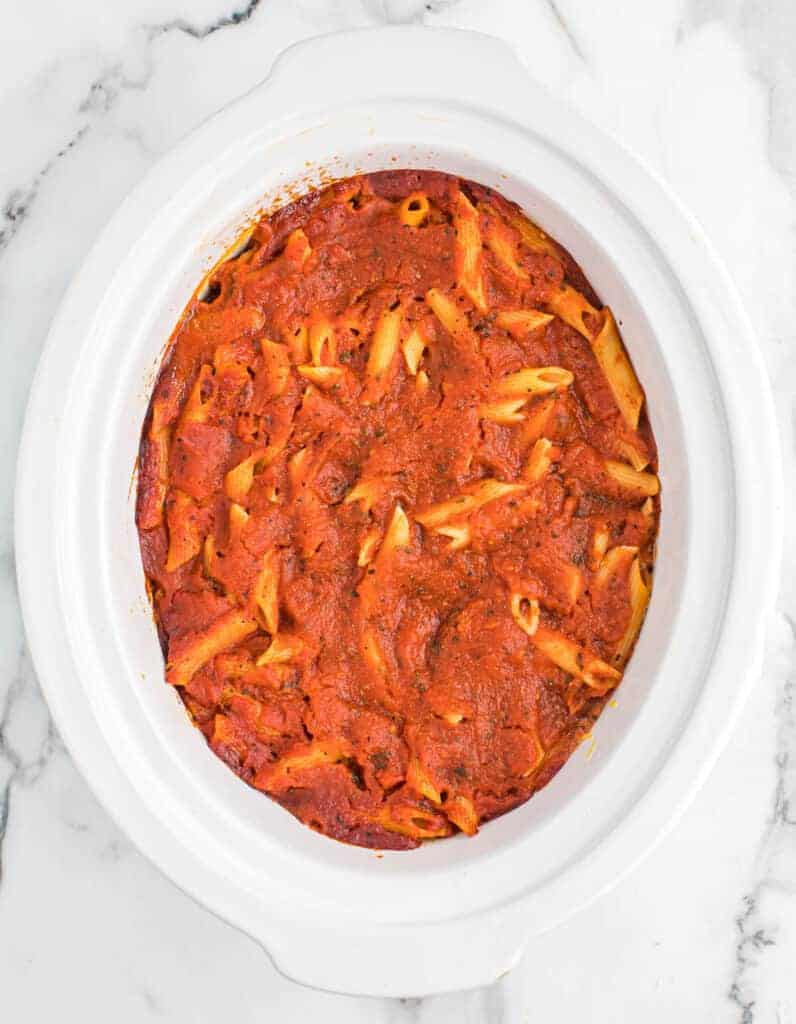 Time for the last step which is the mozzarella cheese on top!
I have used both asiago and mozzarella, and both are delicious.
Basically any italian cheese you can get your hands on will be great!
Several readers have commented with their substitutions that turned out to be delicious.
After the remaining 15 minutes of cook time, the cheese will look all melted and amazing like this.
It's time to eat!
One note: this makes enough to feed a crowd, so you will need a 6 quart or larger slow cooker.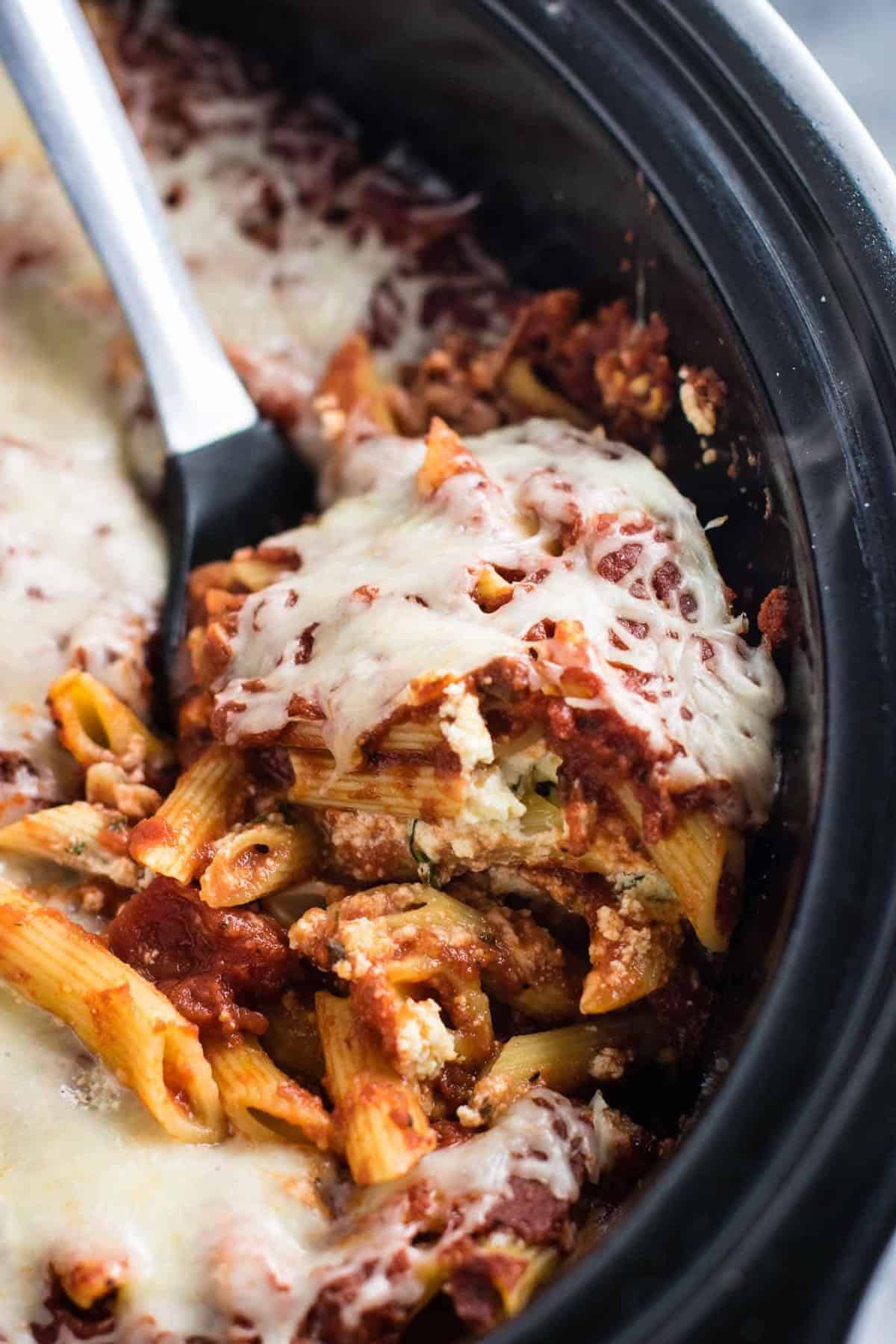 The flavor of this crockpot pasta is just out of this world good.
If you have never made pasta in a crock pot, this is a great recipe to start with!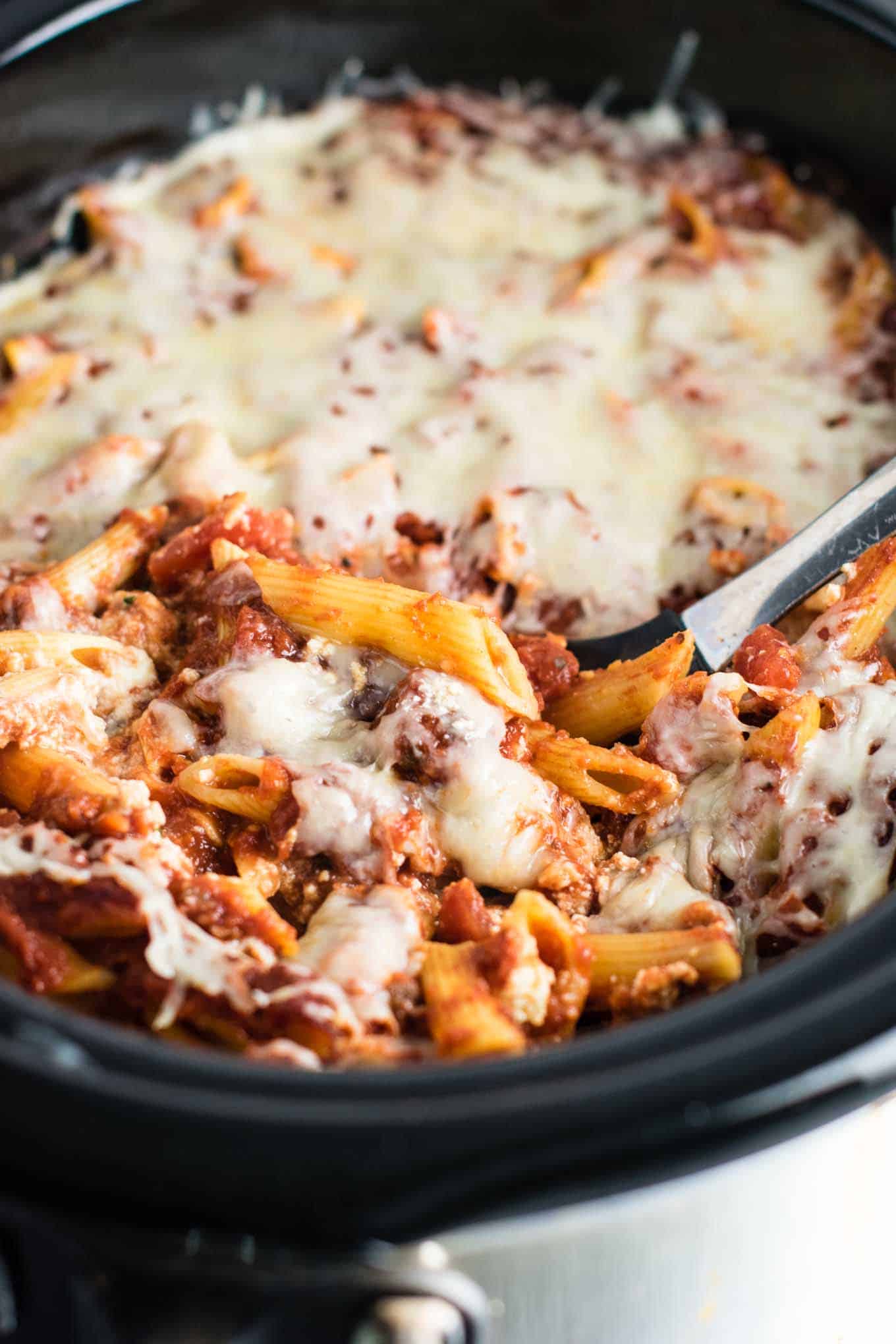 Have any doubts? Just read the tons of readers below who have tried and loved this one!
Here's what you guys have been saying.
Crockpot baked ziti reviews
From Deborah: Made this as a vegetarian option to the oven baked ziti I was making for a family get-together. Everyone liked this one MORE, even without meat. Super easy, too. Thanks for the recipe.
From David: This dish is brilliant and has become my go-to for pot lucks and easy family meals. It is extremely easy to make, serve and clean up. Thanks for sharing this great dish!
From Ame B: Turned out amazing. My very picky family each had 2 servings! Very simple and tasty.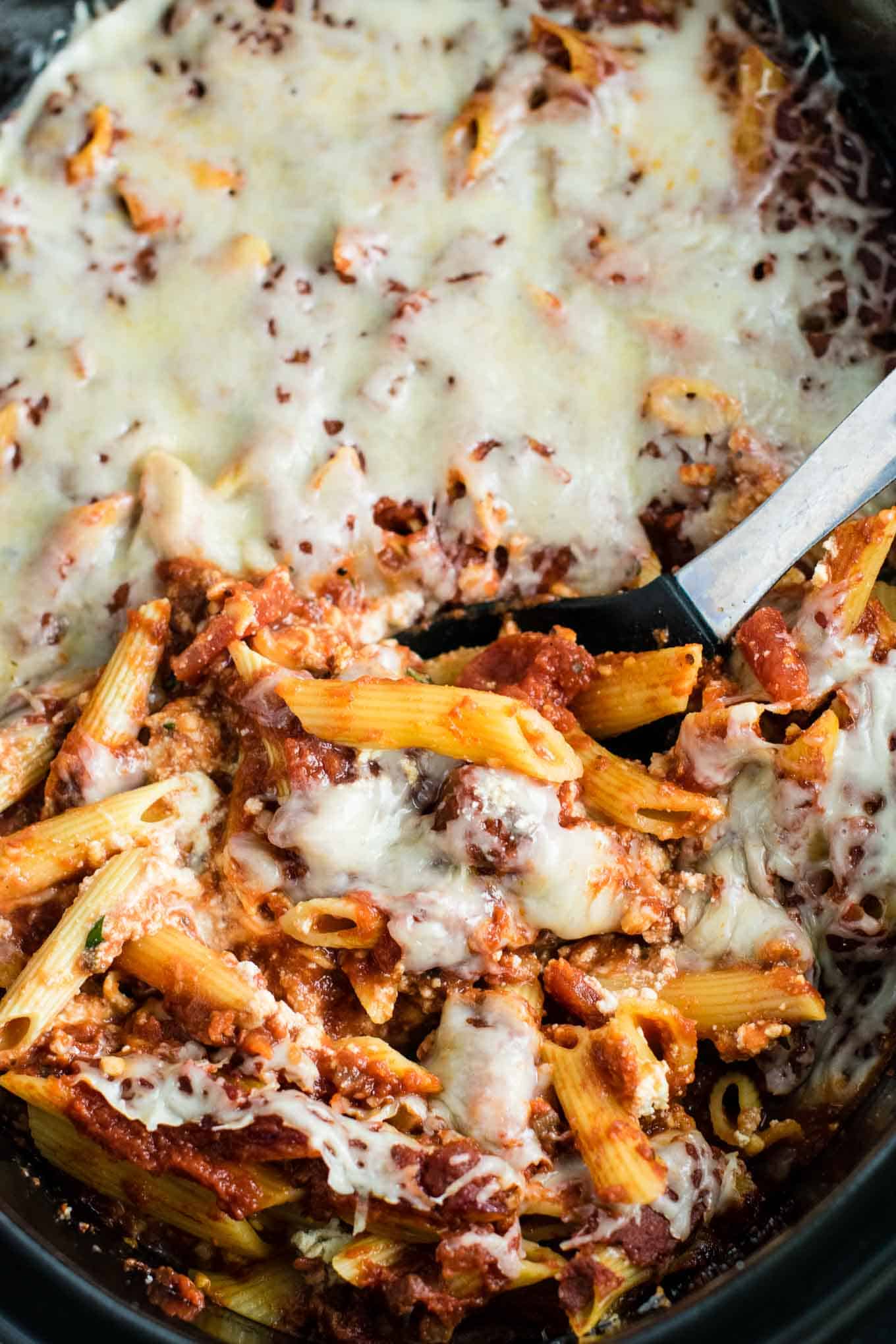 This is a family favorite in our house, and I can always count on it coming out perfect every time!
I have tested this recipe to perfection and it gets RAVE reviews every time I make it.
How to serve Easy Baked Ziti
We like serving ours with roasted veggies and garlic bread!
My favorite is pairing it with my oven roasted frozen broccoli.
Super simple and delicious dinner with barely any cooking!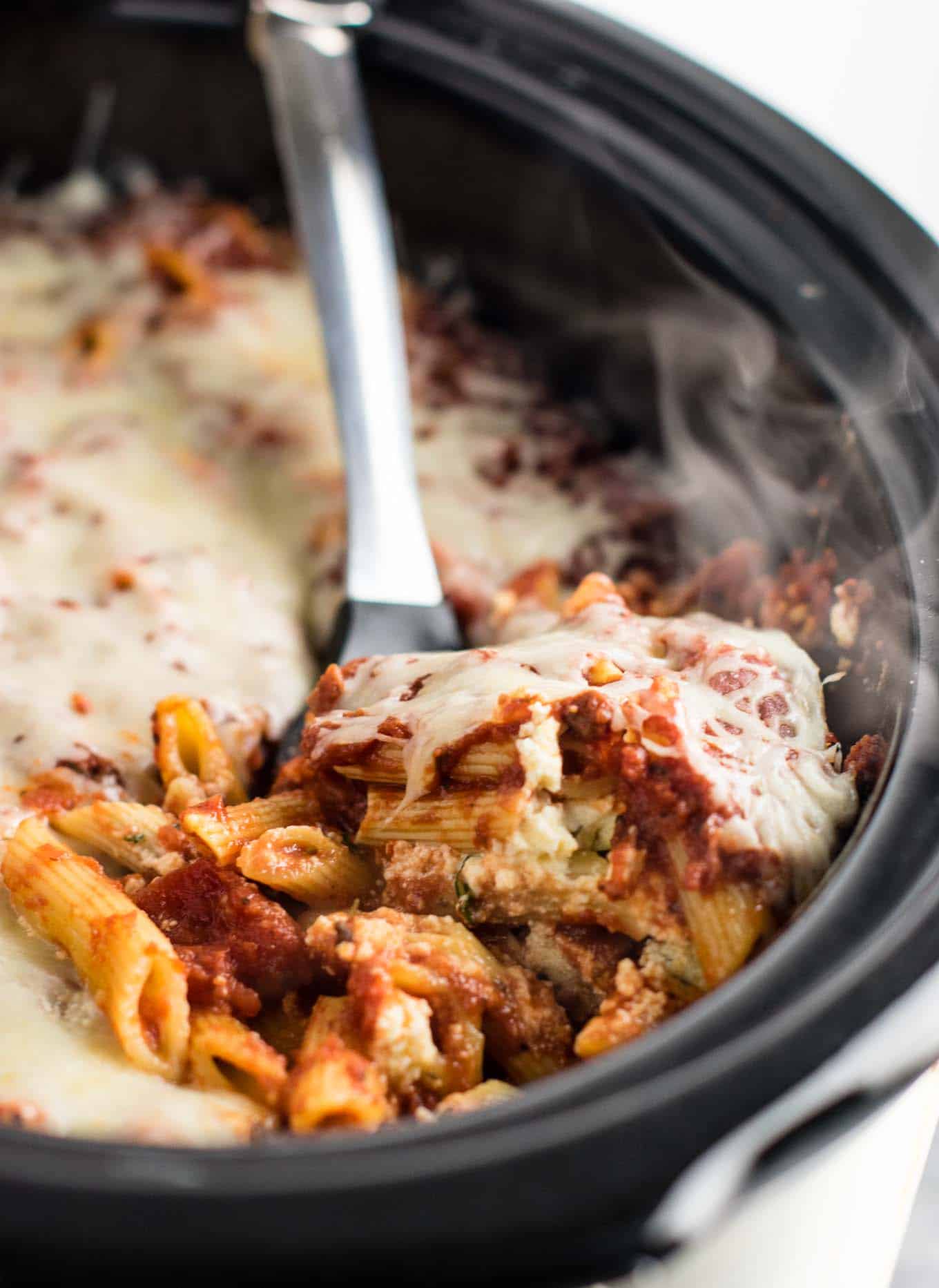 I was so ready to eat this from the amazing smell in my house that we ended up eating our dinner at 4:30 p.m.
I'm not even sorry!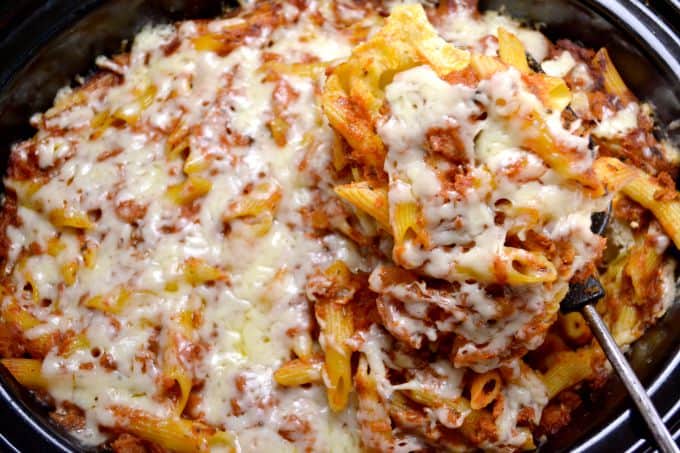 The layers of pasta and cheese are so good. I love getting the bites of fresh ricotta and basil.
And the noodles cook in the sauce so they soak up all the yummy flavor!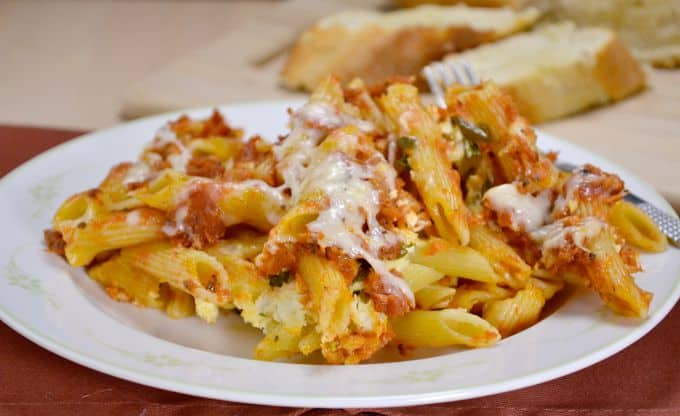 Best Baked Ziti Recipe storage
Leftover baked ziti can be stored in an airtight container in the refrigerator for 4-5 days.
Baked Ziti Recipe with Ricotta FAQs
What's the difference between baked ziti and lasagna?
Baked ziti and lasagna are both Italian pasta favorites, but the difference is in the type of noodles used to prepare these dishes.
Baked ziti is commonly used to describe any pasta dish using penne or ziti pasta.
Lasagna is made using similar ingredients like ricotta cheese, parmesan cheese, and pasta sauce, but instead uses layers of large flat lasagna noodles.
What can I use instead of ricotta cheese in baked ziti?
Cottage cheese is a commonly used substitute for ricotta in baked ziti as it has a similar texture. You could also try using cream cheese in place of the ricotta.
Reader Dee says, "Cottage cheese works just fine, the eggs act as a binder. Cream cheese also works well. I've made this recipe many times."
What is ziti vs penne?
Like ziti, penne is a tubular pasta, but it has diagonal cut ends. Ziti and penne are both commonly used in baked ziti dishes.
How do you make ziti not dry?
Always cover your ziti with a final sauce layer before adding the cheese on top. This helps to coat the pasta and prevent it from drying out.
Watch your ziti carefully when cooking and do not overcook it. This will ensure that the pasta is al dente and saucy instead of dry and mushy.
More Pasta Recipes You Will Love
Did you make this recipe? Be sure to leave a star rating below!
More Recipes from Build Your Bite
Crockpot Pasta Recipe
Best Baked Ziti Recipe with Ricotta
Cook Time:
2 hours
30 minutes
Total Time:
2 hours
50 minutes
This easy crock pot baked ziti is always a crowd pleaser and so simple to make! The best penne dinner pasta recipe for the slow cooker.
Ingredients
2 (25 ounce) jars of pasta sauce
15 oz tomato sauce
1 pound UNCOOKED penne pasta
15 oz ricotta cheese
2 eggs
⅓ cup freshly chopped basil
2 cups of freshly grated parmesan cheese
1 cup shredded mozzarella cheese
Instructions
Combine ricotta, eggs, and basil in a bowl and stir well
In a large bowl, combine both jars of pasta sauce and the tomato sauce together.
Grate the Parmesan cheese and set aside.
Grease the inside of a 6 qt slow cooker
Add 2 ⅓ cups of pasta sauce to the bottom of the slow cooker
Add ⅓ of the uncooked penne.
Dot on half of the ricotta mixture and spread out evenly.
Add half of the Parmesan cheese (1 cup)
Add another 2 ⅓ cups of sauce mixture
Add an additional ⅓ of the uncooked penne.
Dot on the remaining ricotta and spread out.
Sprinkle on the remaining parmesan cheese (1 cup)
Add the last ⅓ of the uncooked penne.
Top with the remaining 2 ⅓ cups of sauce mixture
Cover and cook on high for 2-3 hours, or until pasta is al dente (we cooked ours for around 2 ½ hours)
During the last few minutes, add the mozzarella cheese to the top and allow to melt
Serve alone or topped with red pepper flakes and served with garlic bread
Enjoy!
Recommended Products
As an Amazon Associate and member of other affiliate programs, I earn from qualifying purchases.
Nutrition Information:
Yield:

10
Serving Size:

1
Amount Per Serving:
Calories:

278
Total Fat:

13g
Saturated Fat:

7g
Trans Fat:

0g
Unsaturated Fat:

4g
Cholesterol:

73mg
Sodium:

803mg
Carbohydrates:

23g
Fiber:

2g
Sugar:

3g
Protein:

18g