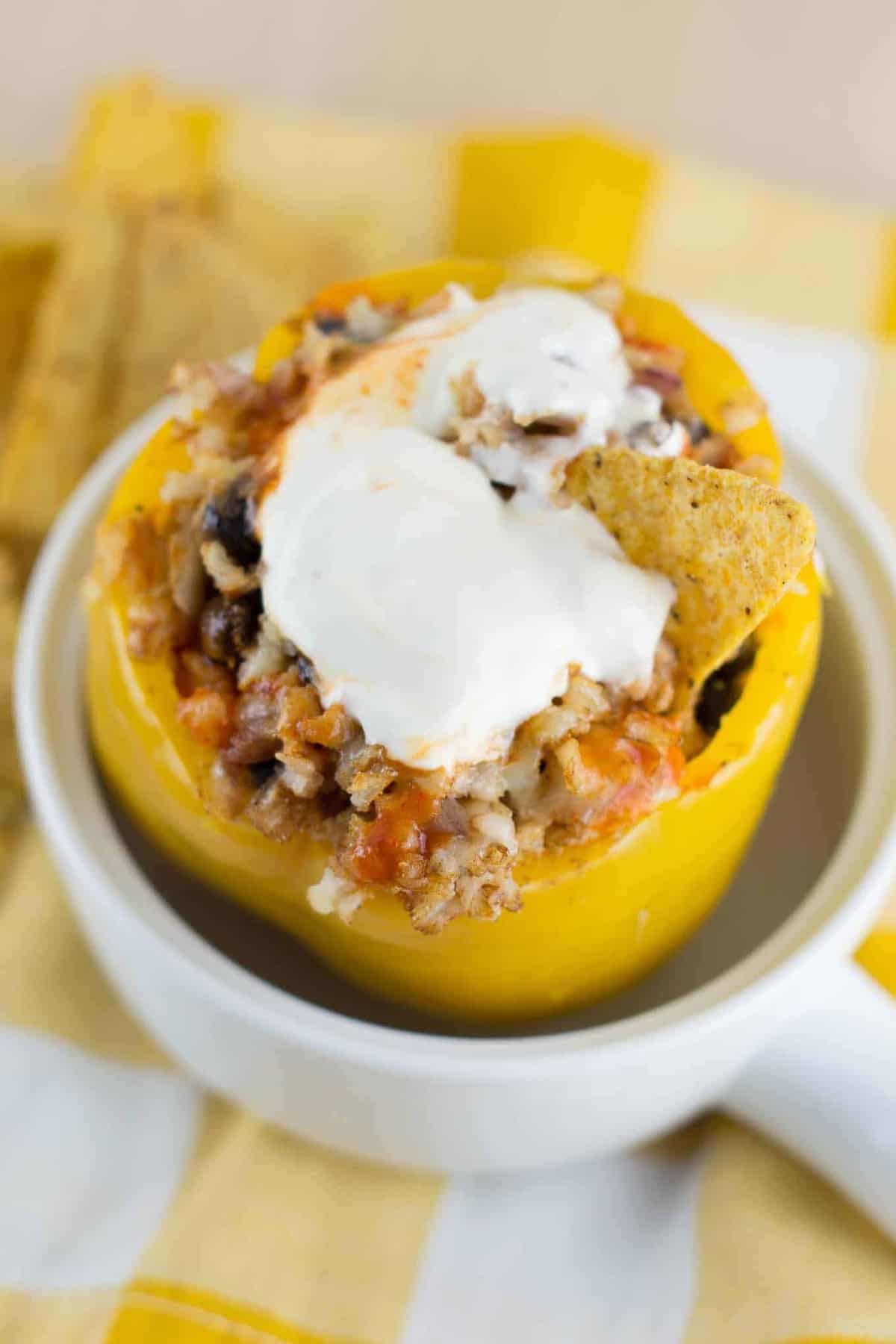 Today I'm bringing you the magic that is stuffed peppers! In case you can't tell, Mexican food is a staple in our house!
Last week I decided to try my hand at making these vegetarian crockpot stuffed peppers for the first time. I love crockpot meals because they are so easy to just set and forget.
This recipe is no fuss, and literally takes less than 15 minutes to throw together and put in the crockpot!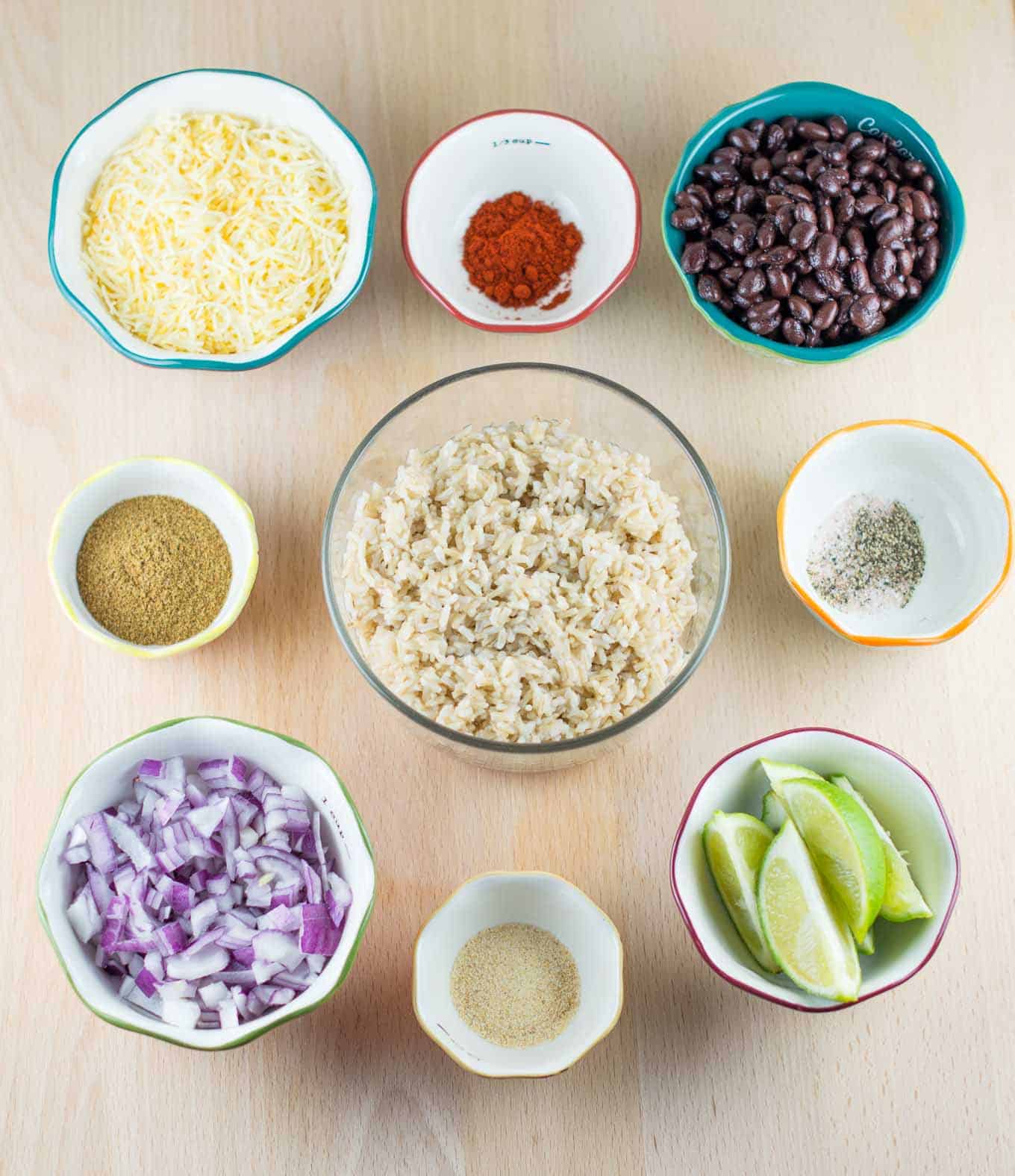 Plus your house smells awesome while it's cooking!

First, cut the tops off of 4 bell peppers and remove the ribs and seeds. Place them in the bottom of your crockpot.
I found that 4 large peppers fit perfectly in my crockpot and wedged well enough to keep any from falling over.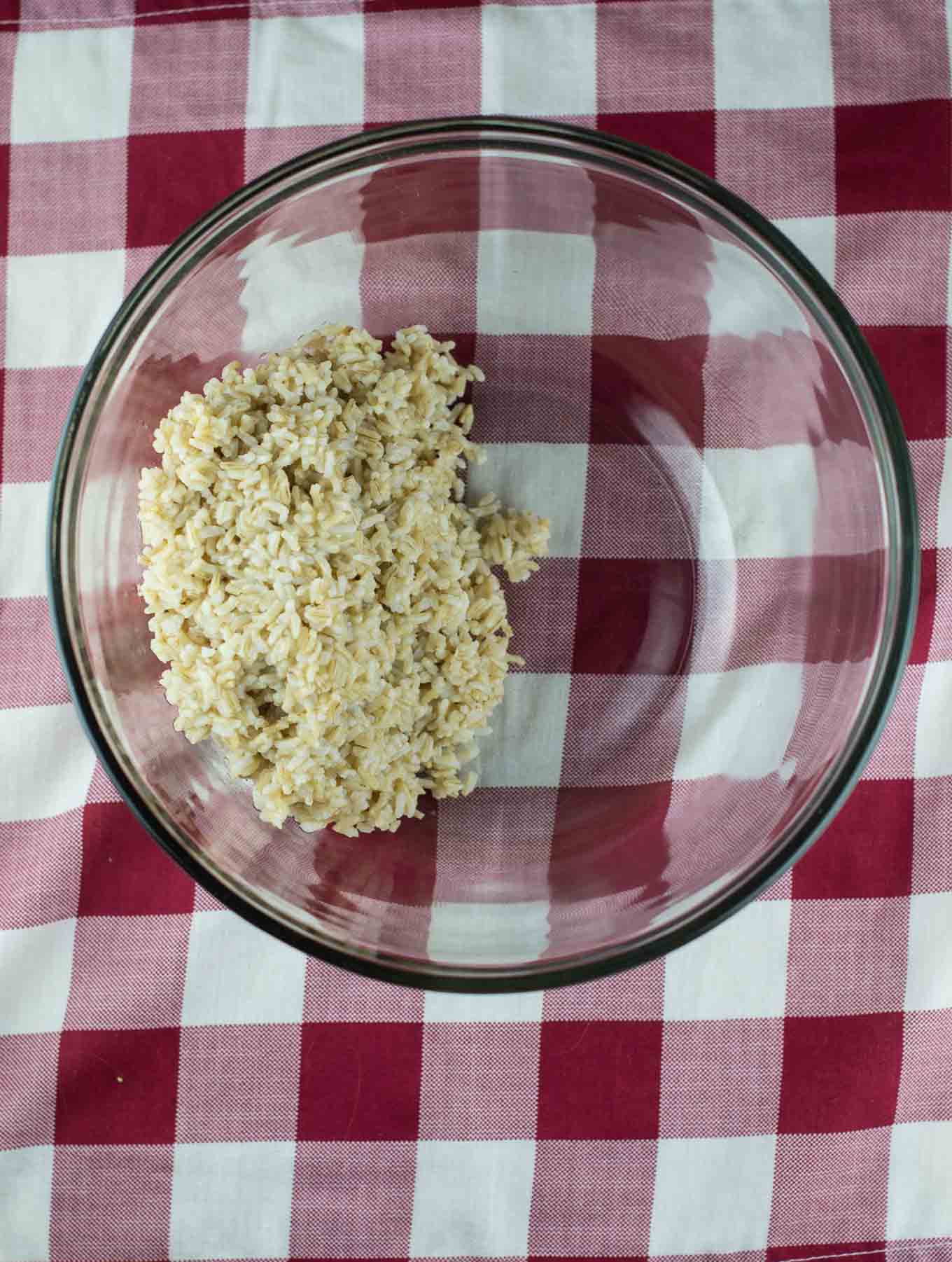 Grab a bowl and we will start with some instant brown rice.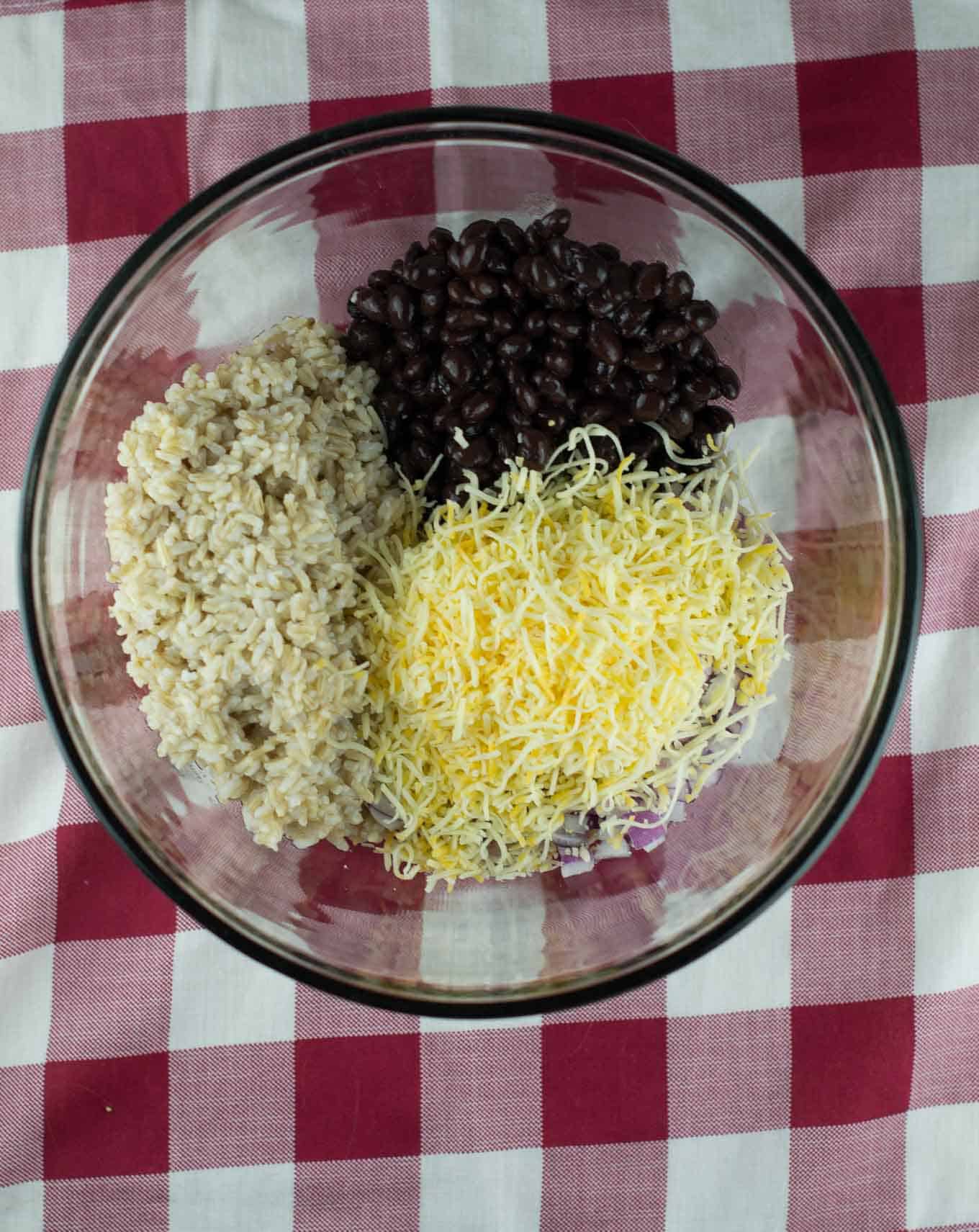 Add some black beans, mexican cheese, and diced red onion.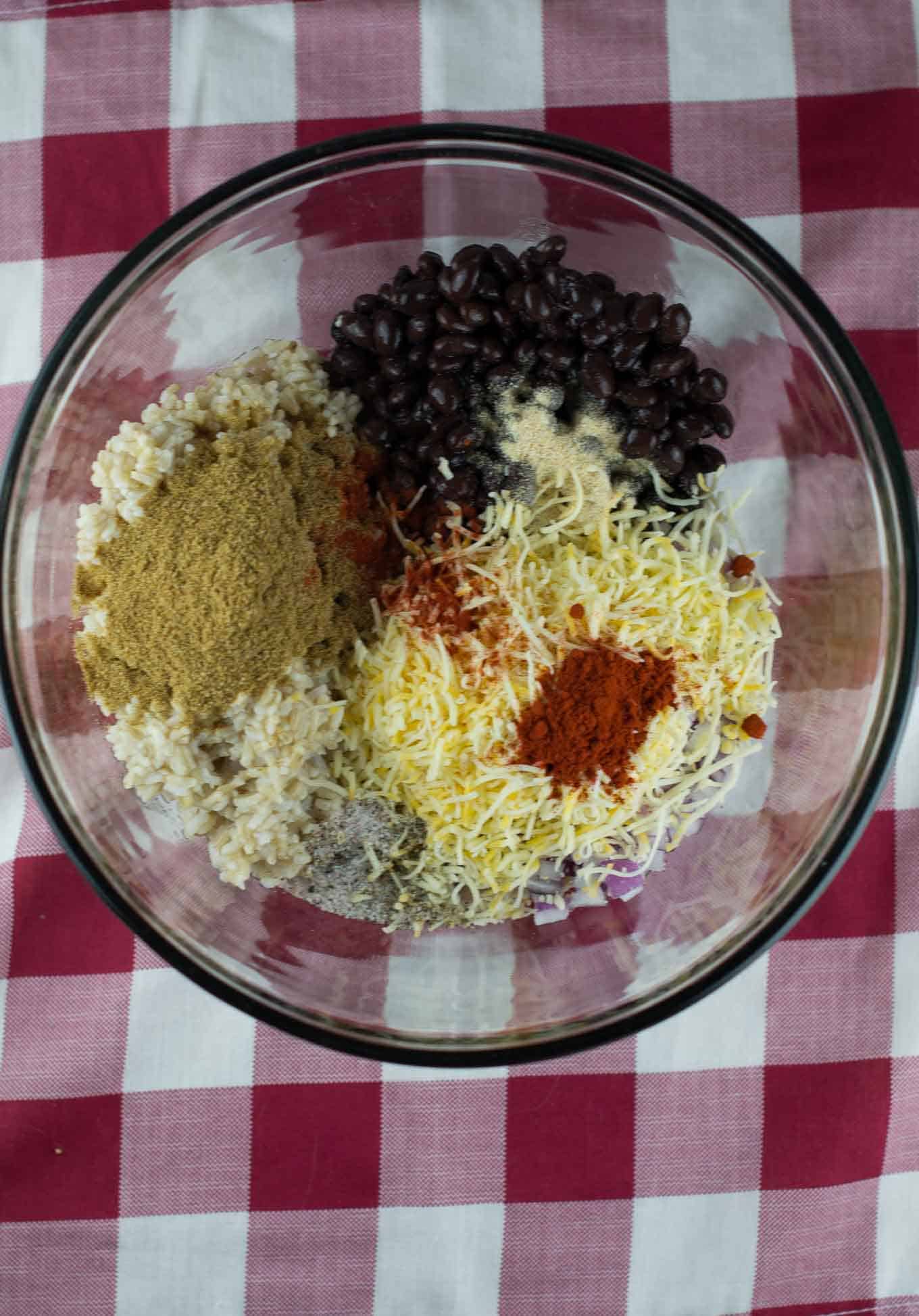 Throw in a few spices and some fresh lime juice.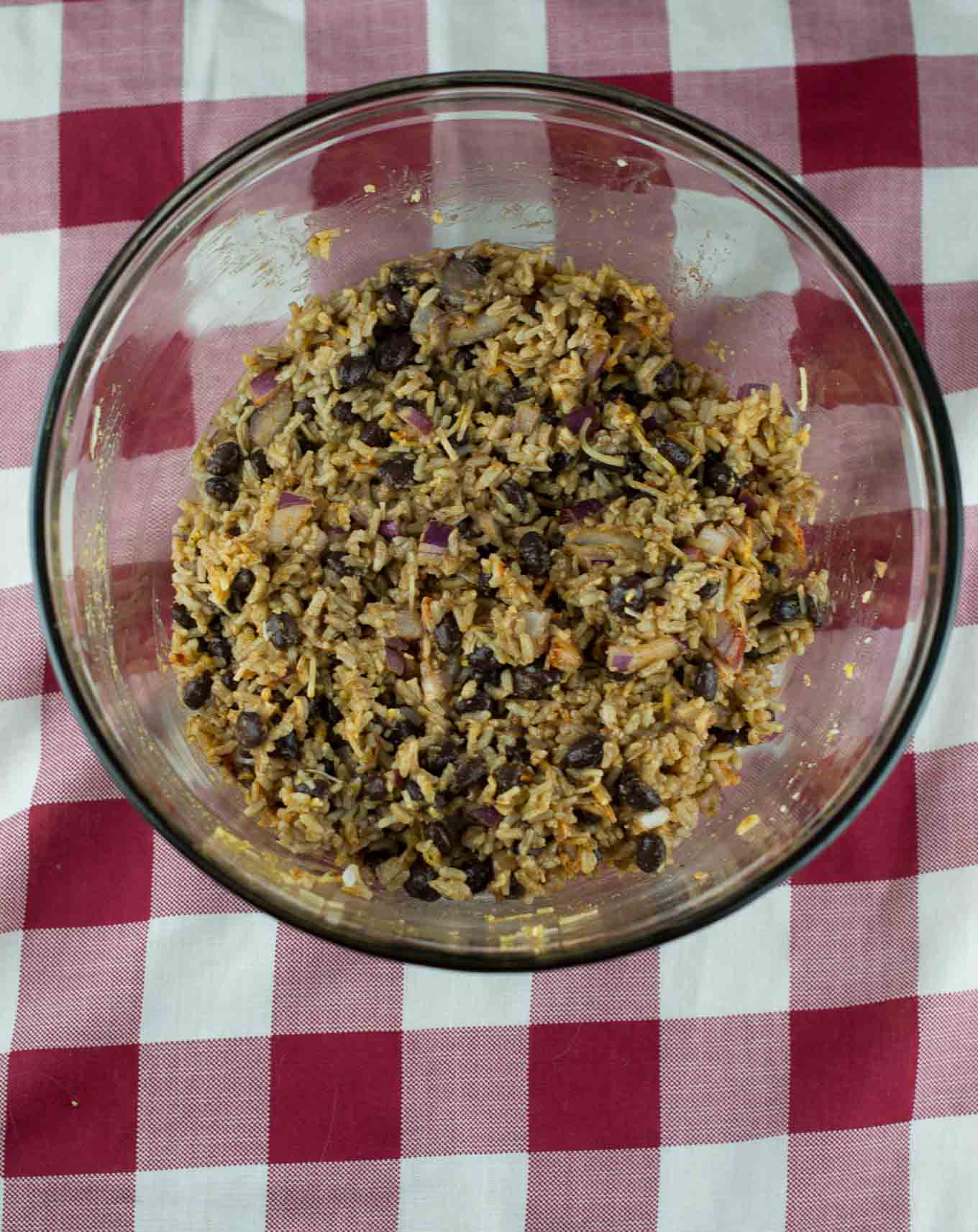 Stir it all up!

Distribute the filling evenly into the 4 bell peppers.
Before cooking, pour 1/2 cup of water into the bottom of the crockpot, this will help the peppers to cook and not stick to the bottom of the crockpot.
Cook the peppers on high for 2.5 to 3 hours.
During the last 10 minutes of cooking, remove lid and top peppers with additional shredded cheese.
Place lid back on and continue to cook for a few minutes, or until the cheese has melted.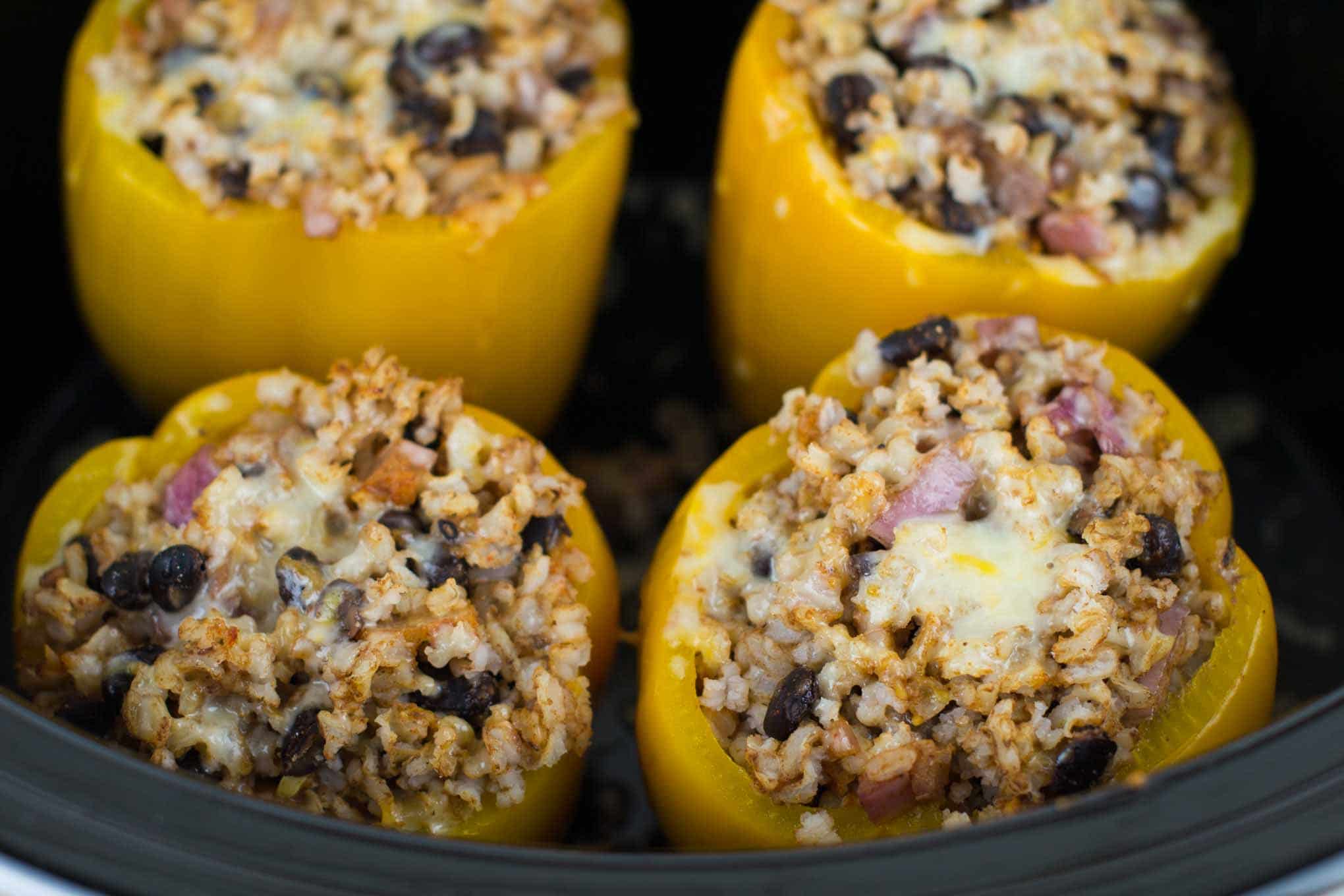 The cheese will be all melty and gooey and delicious!
You can skip the extra cheese on top if you're watching calories, but I highly recommend it.
You don't need much and it really adds to the dish!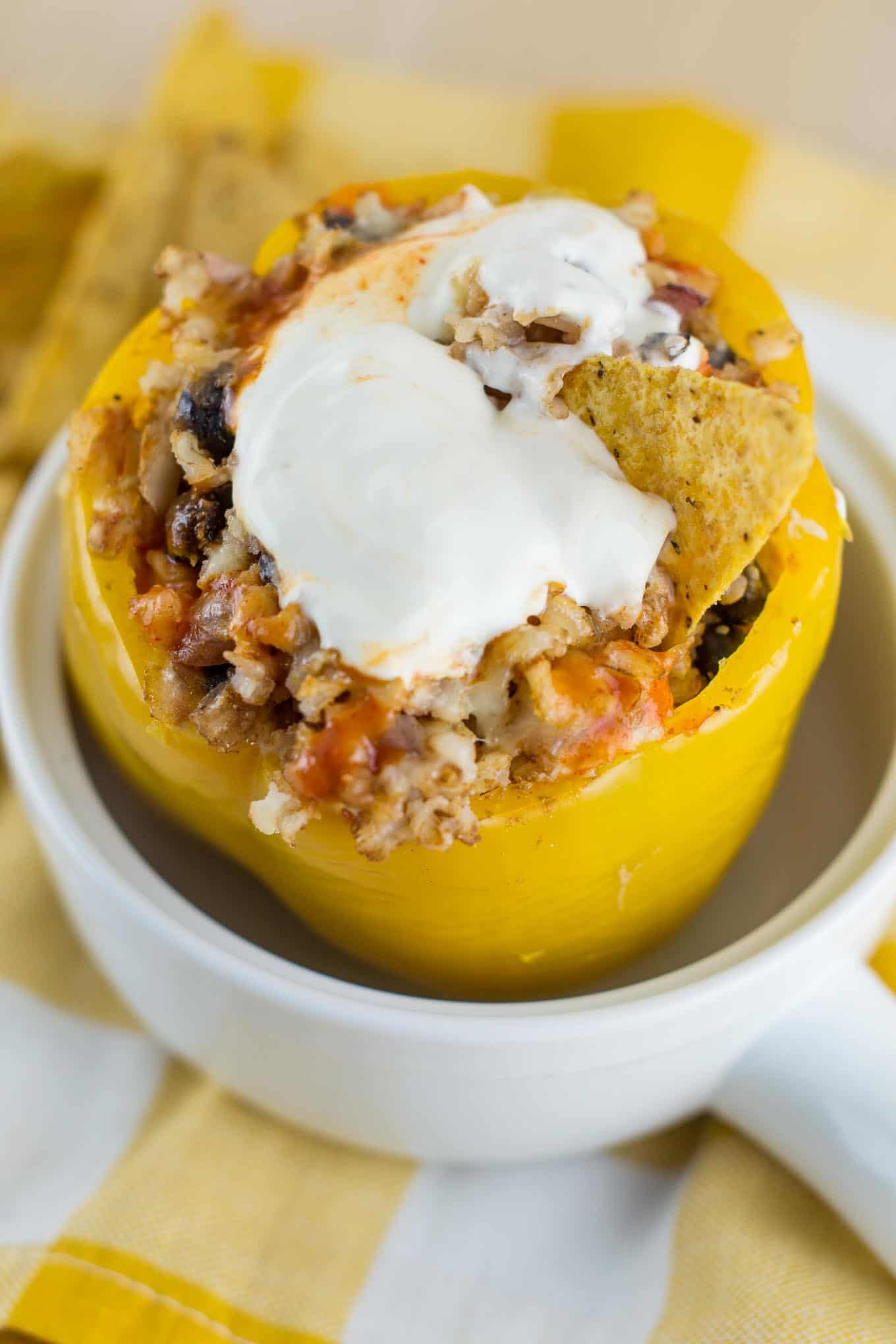 These were amazing and so easy to throw together!
I love mexican food (and so does the hubby), so these were a great dinner for us to have.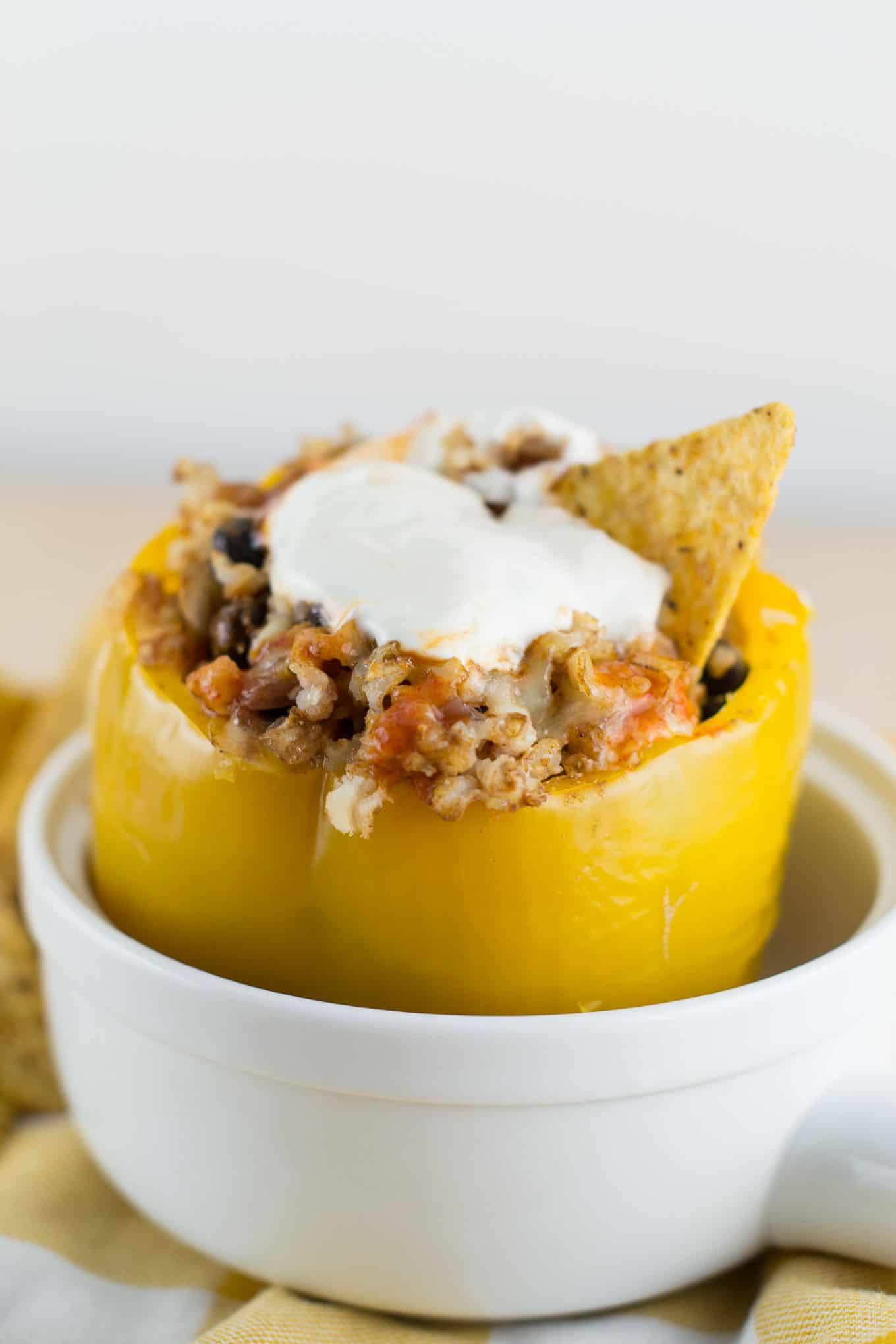 Top your peppers with hot sauce, sour cream, and more fresh lime if you want, and serve with tortilla chips!
We had leftovers for lunch the next day and they were just as good!
Vegetarian Crockpot Stuffed Peppers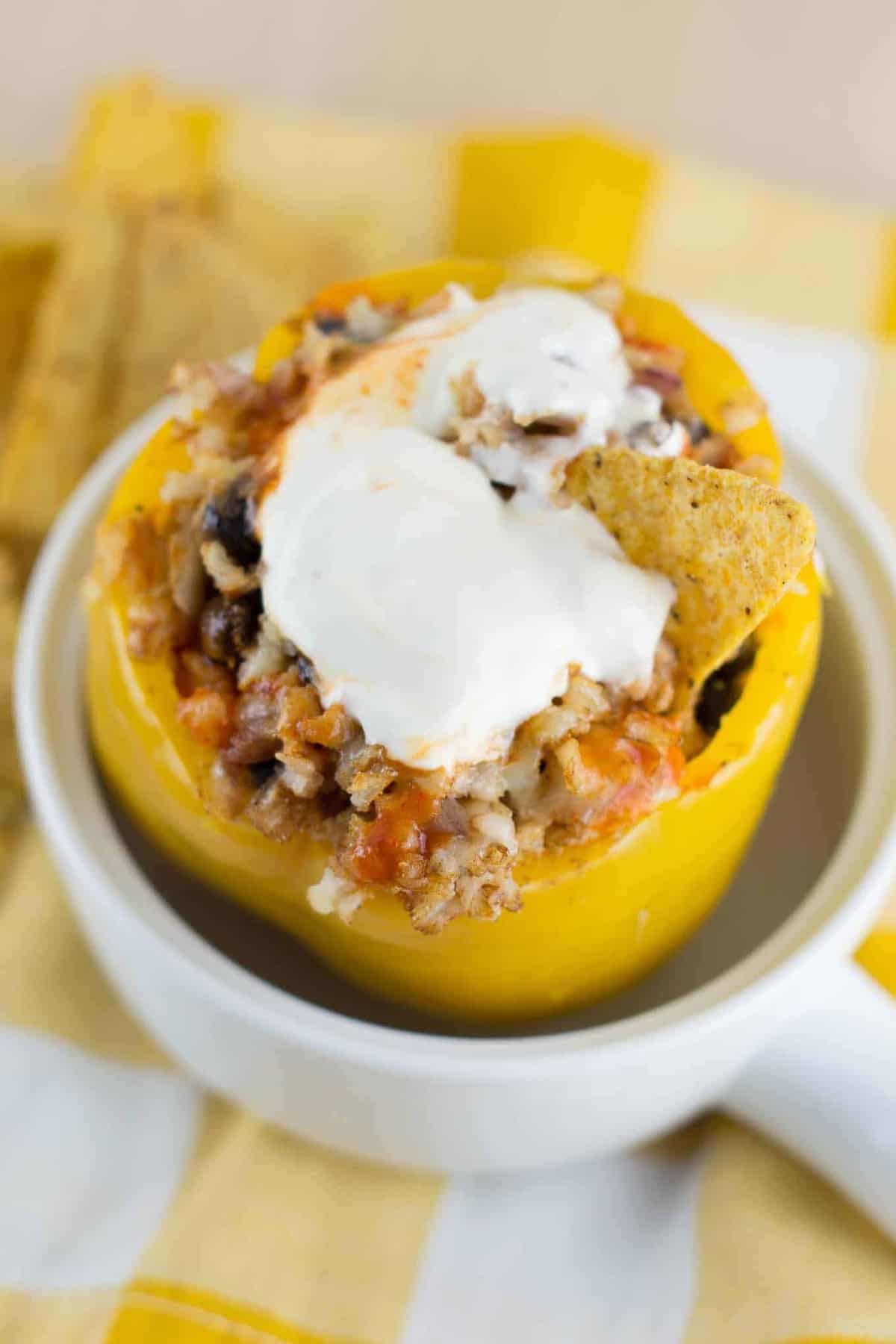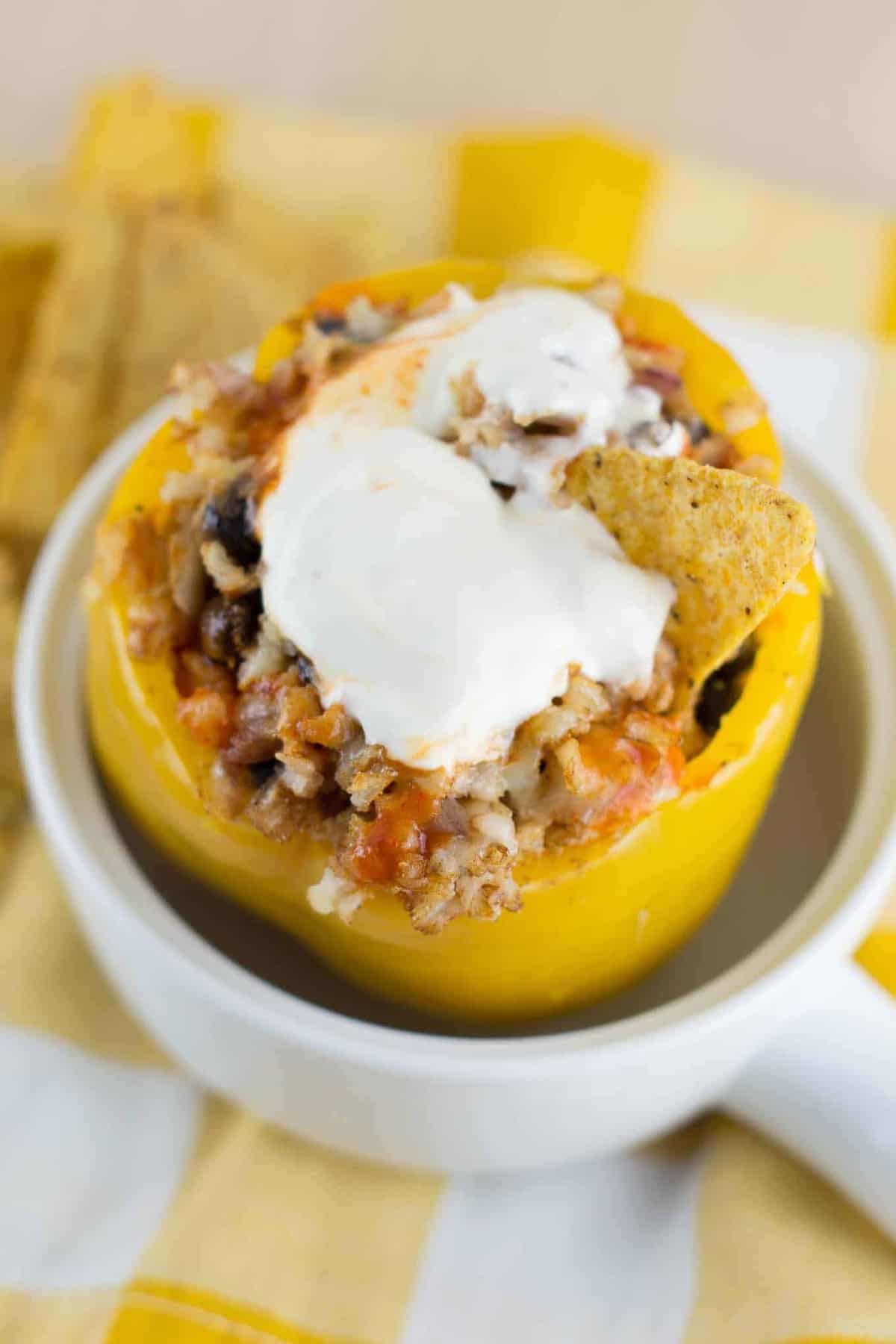 Ingredients
2 cups of cooked brown rice
1 cup diced red onion
1 (15 oz) can of black beans, drained
2 tablespoons cumin
1 tablespoon garlic powder
1/2 teaspoon sea salt
1/2 teaspoon pepper
1.5 teaspoons smoked paprika
juice of 1 lime
1 cup shredded mexican cheese, plus more for for topping
4 large bell peppers
1/2 cup water
Directions
Cook rice according to package instructions, you will need to measure out 2 cups.
Place cooked brown rice, red onion, black beans, lime juice, cumin, garlic powder, sea salt, paprika, and 1 cup of cheese in a bowl, stir to combine
Cut tops off of peppers and remove inner seeds and ribs
Place peppers in crockpot and distribute filling evenly
Pour ½ cup of water into bottom of crockpot so the peppers are sitting in the water
Cook on high for 2½ to 3 hours
In the last 10 minutes, remove lid and top peppers with additional cheese. Cover and allow cheese to melt
Serve topped with hot sauce or salsa, fresh lime juice, sour cream, and tortilla chips
Loading nutrition data...