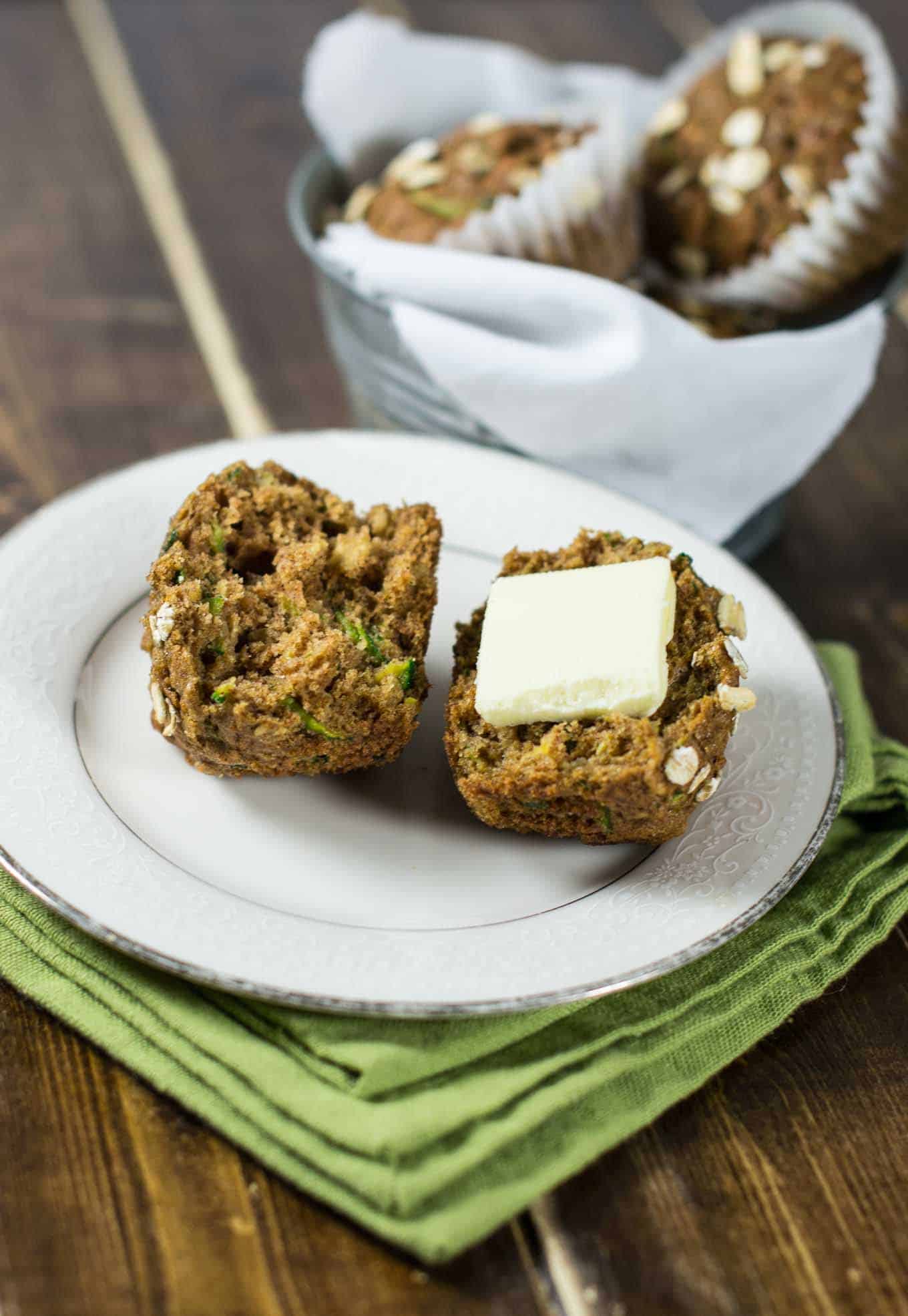 Hard to believe that this post has been almost 3 weeks in the making! For those of you that don't follow me on Facebook and Instagram, we welcomed our first son on August 2nd which explains why things have been a little quiet around the blog. The little guy came 4 days before his due date (and before I had the chance to draft the blog posts that I had planned to have all ready!)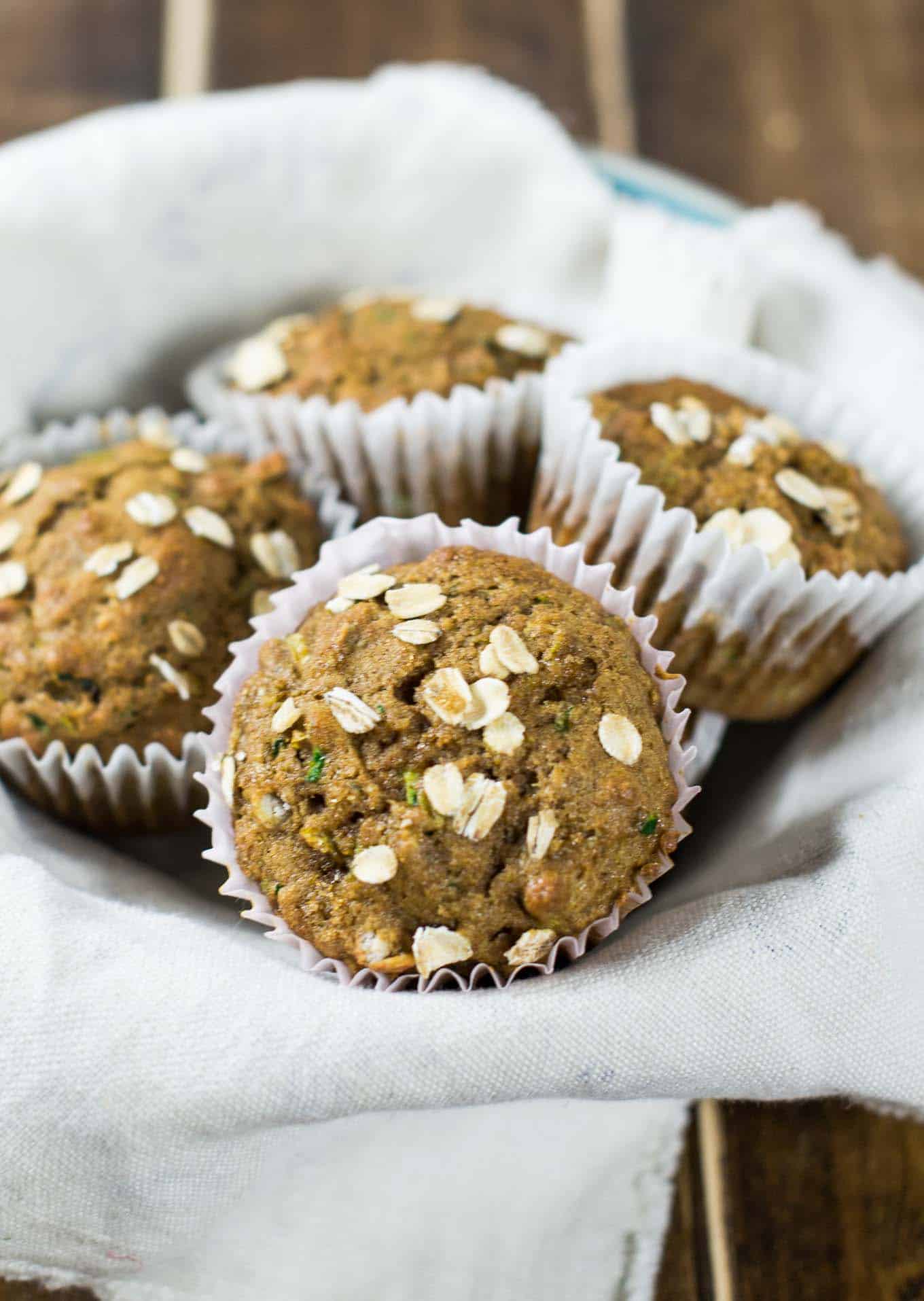 These brown sugar zucchini bread muffins were one of the recipes that I created to have on hand in the freezer for a quick snack/breakfast after Crosby was born. I actually made a double batch of these and put them in the freezer the day that I went into labor – just in time!

I wanted a muffin that was sweet without being loaded with sugar, as well as made with healthier ingredients (like whole wheat flour and applesauce) so that it would leave me feeling satisfied but not crummy.

I am seriously in love with these. When I first tested out the recipe, we went through the entire batch in several days. I made another batch for the freezer and we went through those within the first week home from the hospital. I made another batch just a few days ago and am planning to put my hubby to work to make me some more for this week!
These muffins are dairy free, made with healthier ingredients, and packed with fresh zucchini.

I was surprised how well these froze. I had never attempted freezing muffins before but I definitely will be doing that now! It is seriously such a time saver and they taste so fresh! I just take out how many I want to eat and pop them in the microwave and they are ready in less than a minute!

The hubby loved these for a quick breakfast too!
Everyone seems to be swimming in zucchini all summer and this is the perfect way to use it up!

I love mine topped with vegan butter (I'm weird and actually prefer it to real butter). My latest favorite snack!
Brown Sugar Zucchini Bread Muffins
Ingredients
1 1/2

tablespoons vanilla extract

2 1/2

cups whole wheat flour

3

cups grated zucchini

2

eggs, beaten

3/4

cup brown sugar + more for topping

1/3

cup old fashioned rolled oats + more for topping

1/3

cup pure maple syrup

1/2

cup olive oil

1/2

cup applesauce

2

teaspoons baking soda

1 1/2

teaspoons baking powder

1/2

teaspoon sea salt

3/4

teaspoon cinnamon
Instructions
In a large bowl, stir zucchini, beaten eggs, vanilla extract, olive oil, applesauce, brown sugar, and maple syrup until well combined
In a separate bowl, combine flour, baking soda, baking powder, salt, cinnamon, and ⅓ cup oats and whisk until combined
Make a well in the center of the bowl containing the dry ingredients
Pour wet ingredients into the center of the well and mix by hand until just combined (do not over mix)
Fill muffin liners ¾ of the way full with batter (it should make 24 muffins)
Sprinkle tops with additional oats and a sprinkle of brown sugar
Bake at 350 degrees for 17-20 minutes, or until a toothpick inserted into the middle comes out clean
Cool on a baking rack and store in a ziploc bag for 3-5 days or in the freezer for up to a month