Gluten free chocolate chip muffins made using oat flour and coconut flour. Light and fluffy muffins made gluten free with simple ingredients!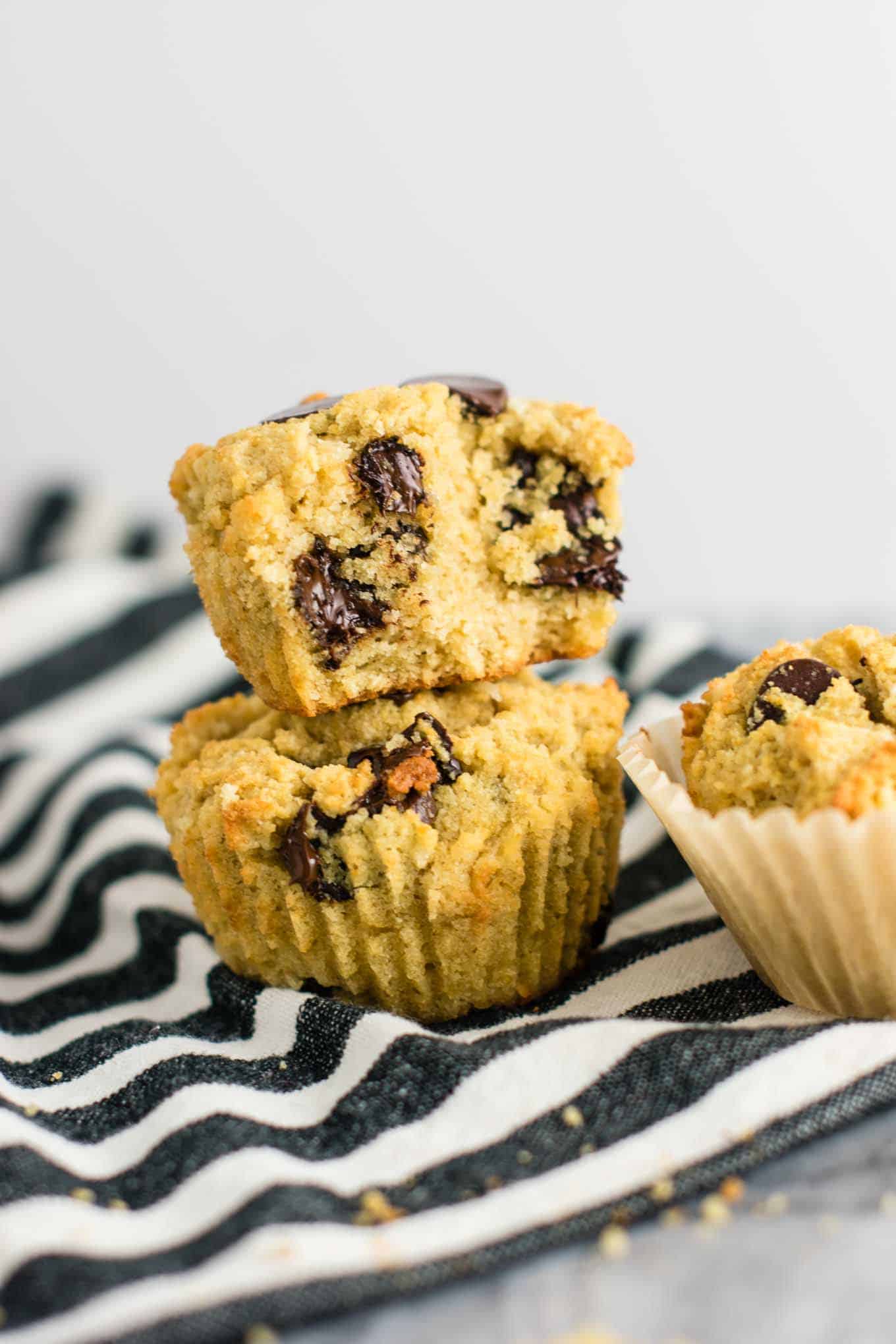 I'm a little late to the MOTW (Muffin of the Week) wagon this week, but I've got a new recipe for you today!
In case you're still catching up, we have been having Muffin of the Week February on Build Your Bite.
I have a son Crosby who is 18 months old.
He is the light of my life and also the world's worst eater which stresses me to no end.
He loves homemade muffins and breads, so I decided to create a new muffin every week of February in the hopes that he would eat more food.
So far it's worked out pretty well!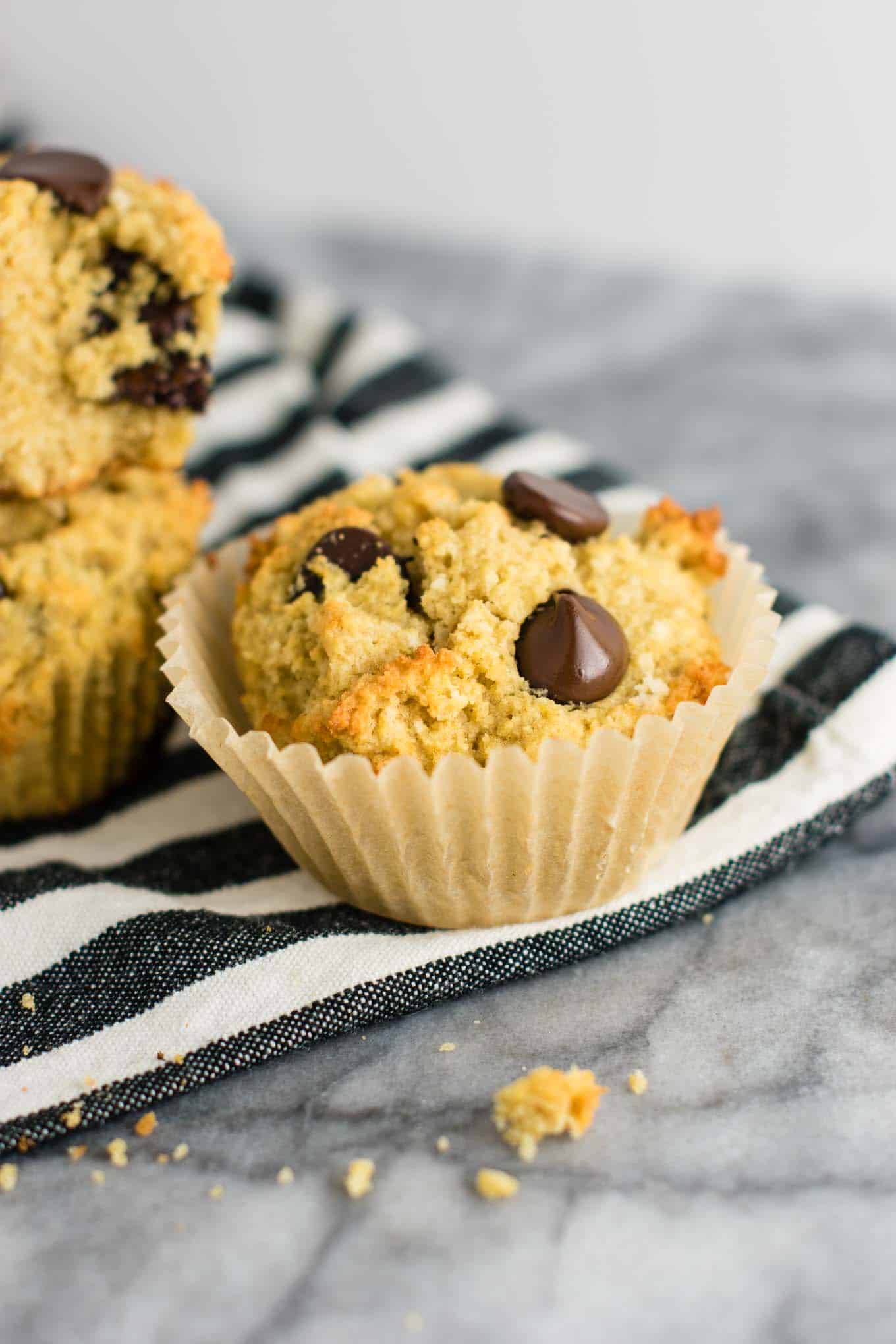 Today's recipe is gluten free and dairy free chocolate chip muffins.
They're super light and soft and so delicious!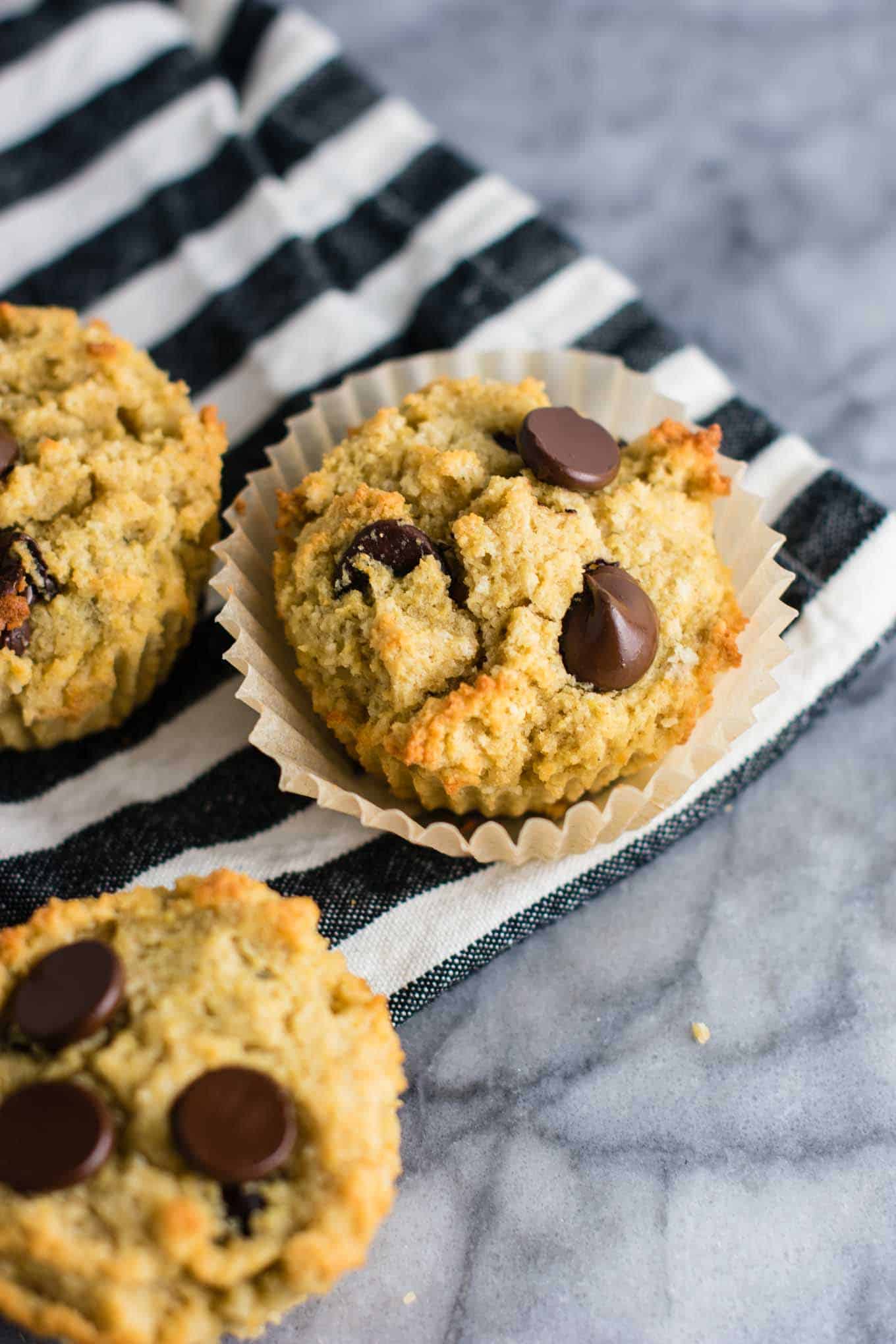 Gluten Free Chocolate Chip Muffins
Naturally dairy free chocolate chip muffins made with oat flour, coconut flour, almond milk, and coconut oil. Coconut oil and almond milk make these super soft without the use of any dairy.
I love baking things gluten free, but I do have one rule: that they must use easy to find and inexpensive gluten free flours.
I feel so bad for those who are gluten free and feel like they have to buy all the expensive gf flour blends marketed as "the best."
That's why most of my gluten free recipes, like my gluten free carrot cake and my gluten free oatmeal chocolate chip cookies, use a combination of oat flour and coconut flour.
Oat flour can be made at home by just grinding up old fashioned rolled oats, or purchased at the store.
Coconut flour is super affordable and also easily available to purchase.
I first discovered this winning combination when I made my Gluten Free Chocolate Mug Cake years ago.
Since then, these two flours have been my gluten free go to's.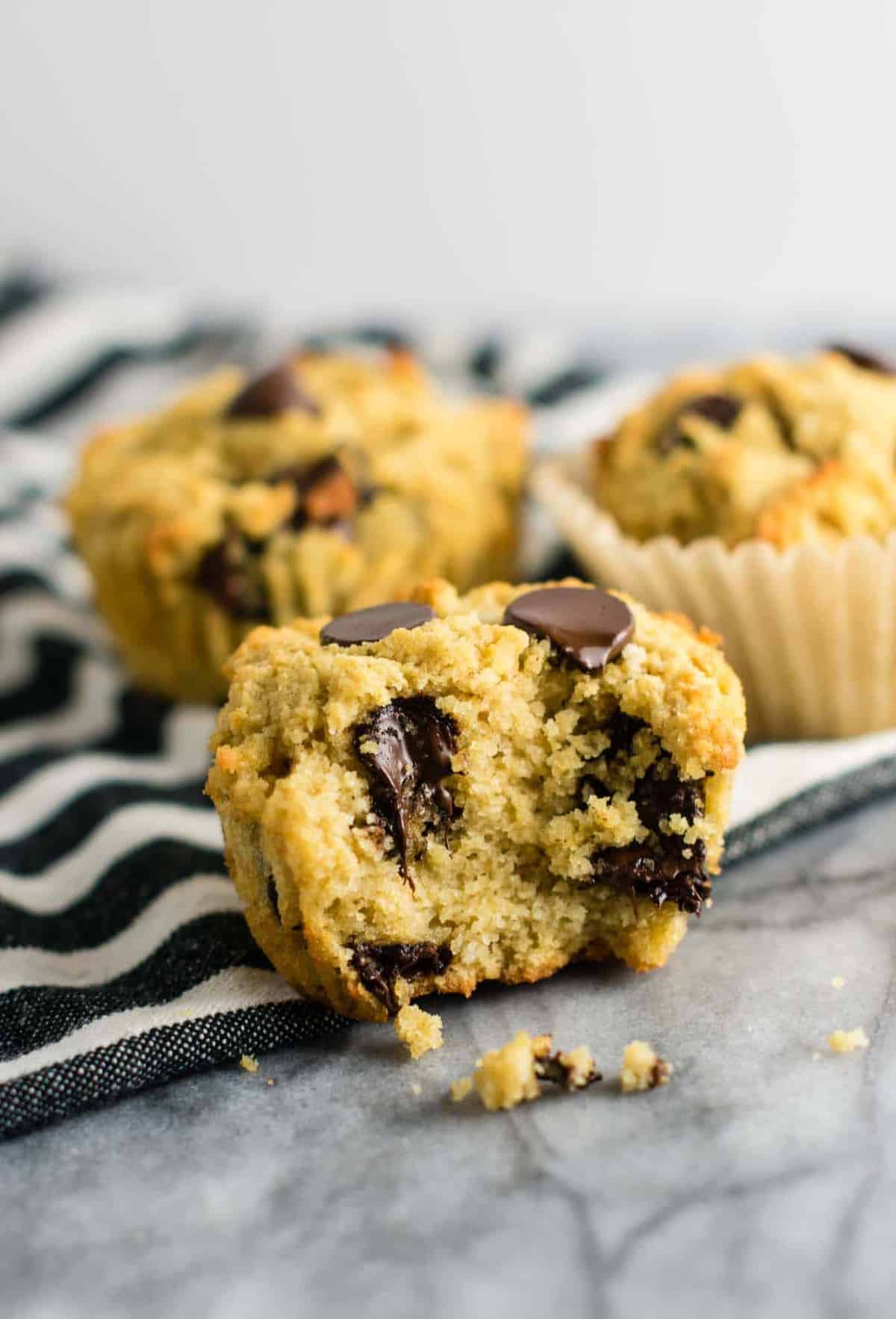 I was a little nervous that these wouldn't turn out, but I was pleasantly surprised!
These are everything I hoped they would be and so soft, yet dense.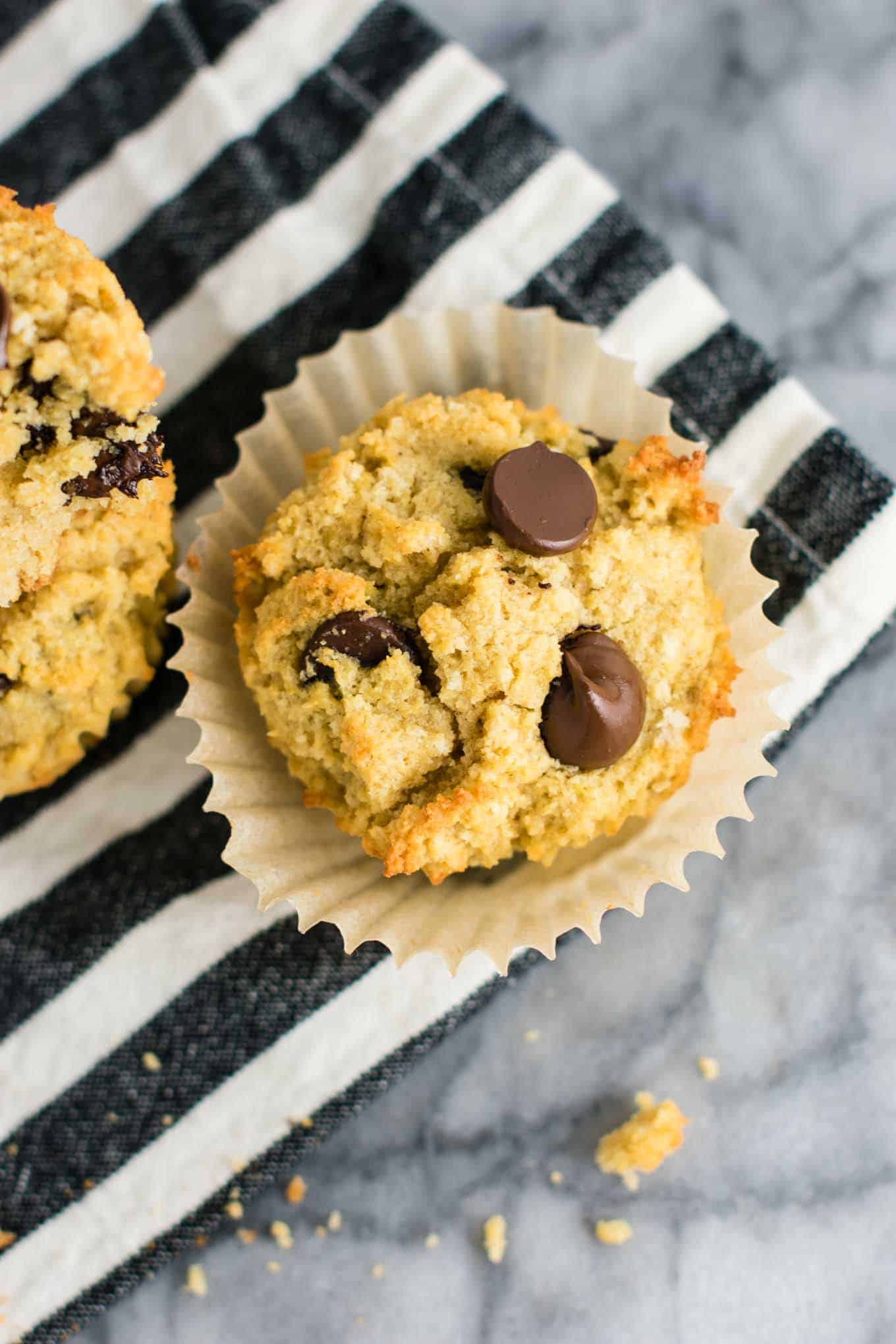 Crosby LOVED them and ate almost a whole muffin his tiny little self.
These are just the right amount of sweet without being too sweet, making them a great breakfast or snack option.
If you missed my other muffin of the week posts, be sure to check out the recipes below!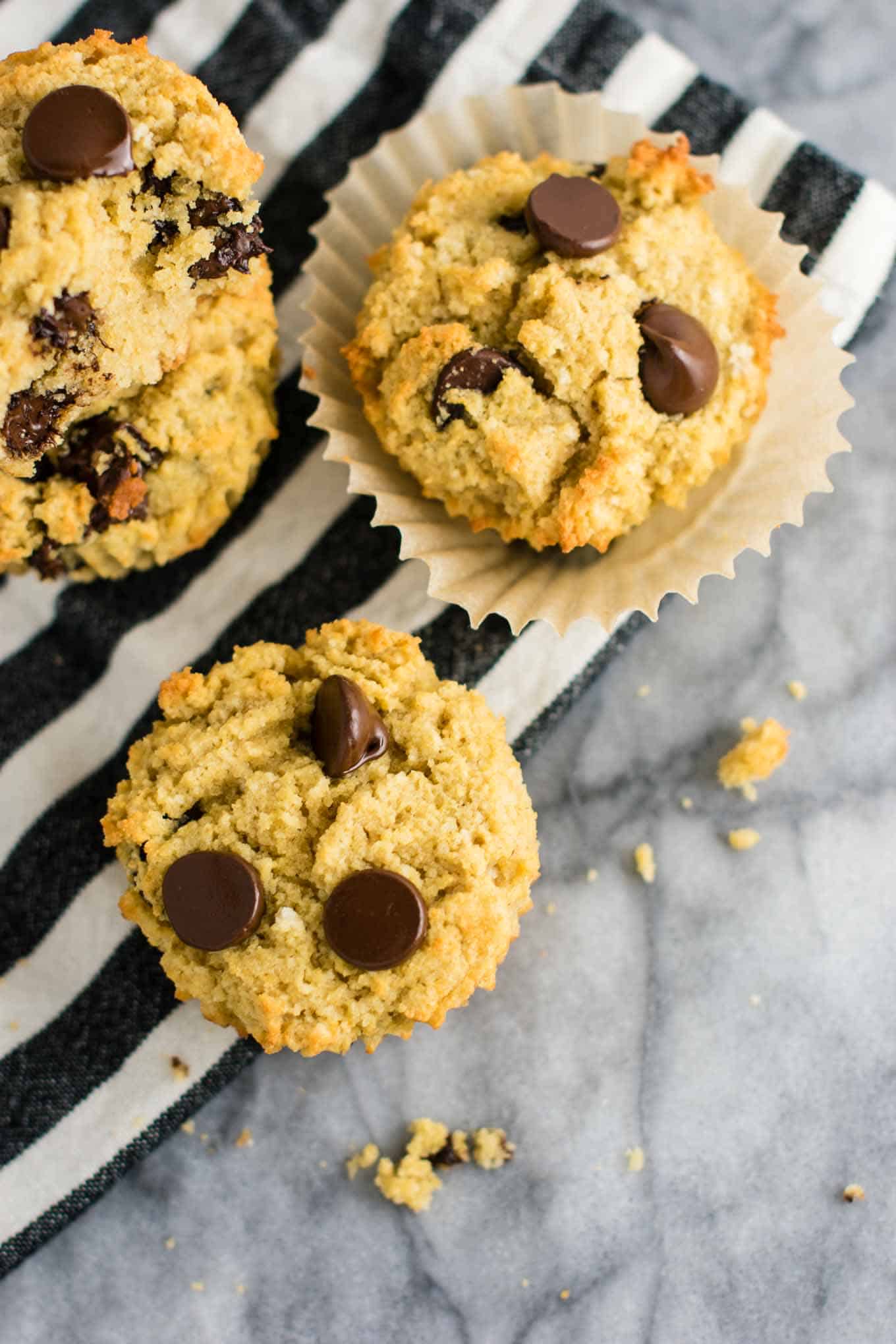 Are you making this recipe? I want to see! Don't forget to tag me on instagram @buildyourbite and hashtag #buildyourbite with your recipe creations!
More healthy muffin recipes:
Click to pin these Gluten Free Chocolate Chip Muffins:
Did you make this recipe? Be sure to leave a star rating below!
Gluten Free Chocolate Chip Muffins Recipe
Gluten Free Chocolate Chip Muffins
Naturally dairy free gluten free chocolate chip muffins made using simple flours and healthy ingredients like coconut oil and pure maple syrup to sweeten.
Ingredients
⅔ cup gluten free oat flour
½ cup coconut flour
½ cup coconut oil, melted
½ cup unsweetened vanilla almond milk
1 teaspoon vanilla extract
2 eggs
½ cup pure maple syrup
1 teaspoon baking powder
¼ teaspoon baking soda
⅔ cup dairy free chocolate chips
¼ teaspoon salt
Instructions
Whisk together oat flour, coconut flour, salt, baking soda, and baking powder and set aside
In a separate bowl, whisk or mix together melted coconut oil, almond milk, vanilla extract, eggs, and maple syrup until well combined
Add the dry mixture to the wet, and use a rubber spatula to mix until just combined
Fold in chocolate Chips
Line a muffin tin with parchment paper muffin liners
Distribute batter into 12 muffin cups, and use a spoon to press down into the holes (see note)
Sprinkle tops with additional chocolate chips, if desired
Bake at 350 degrees for 17 - 20 minutes, or until toothpick inserted comes out clean
Notes
Batter will be thick, this is normal! Use a spoon to shape the muffins as they will not change shape much from how you put them in
Recommended Products
As an Amazon Associate and member of other affiliate programs, I earn from qualifying purchases.
Nutrition Information:
Yield:

12
Serving Size:

1
Amount Per Serving:
Calories:

227
Total Fat:

16g
Saturated Fat:

12g
Trans Fat:

0g
Unsaturated Fat:

3g
Cholesterol:

31mg
Sodium:

128mg
Carbohydrates:

20g
Fiber:

2g
Sugar:

14g
Protein:

3g