This easy one pot lasagna soup recipe is a delicious vegetarian dinner that is ready in less than 30 minutes from start to finish!
Even though it's only mid September, fall has been in the air here in Virginia for weeks now.
With all of these chilly nights I have been cravings warm and cozy dinners.
From crockpot recipes to soups, to everything pumpkin-y, I am soooo ready for fall.
This Easy One Pot Lasagna Soup is a great easy dinner.
Everything cooks in just one dish (even the noodles), and comes together in just 30 minutes.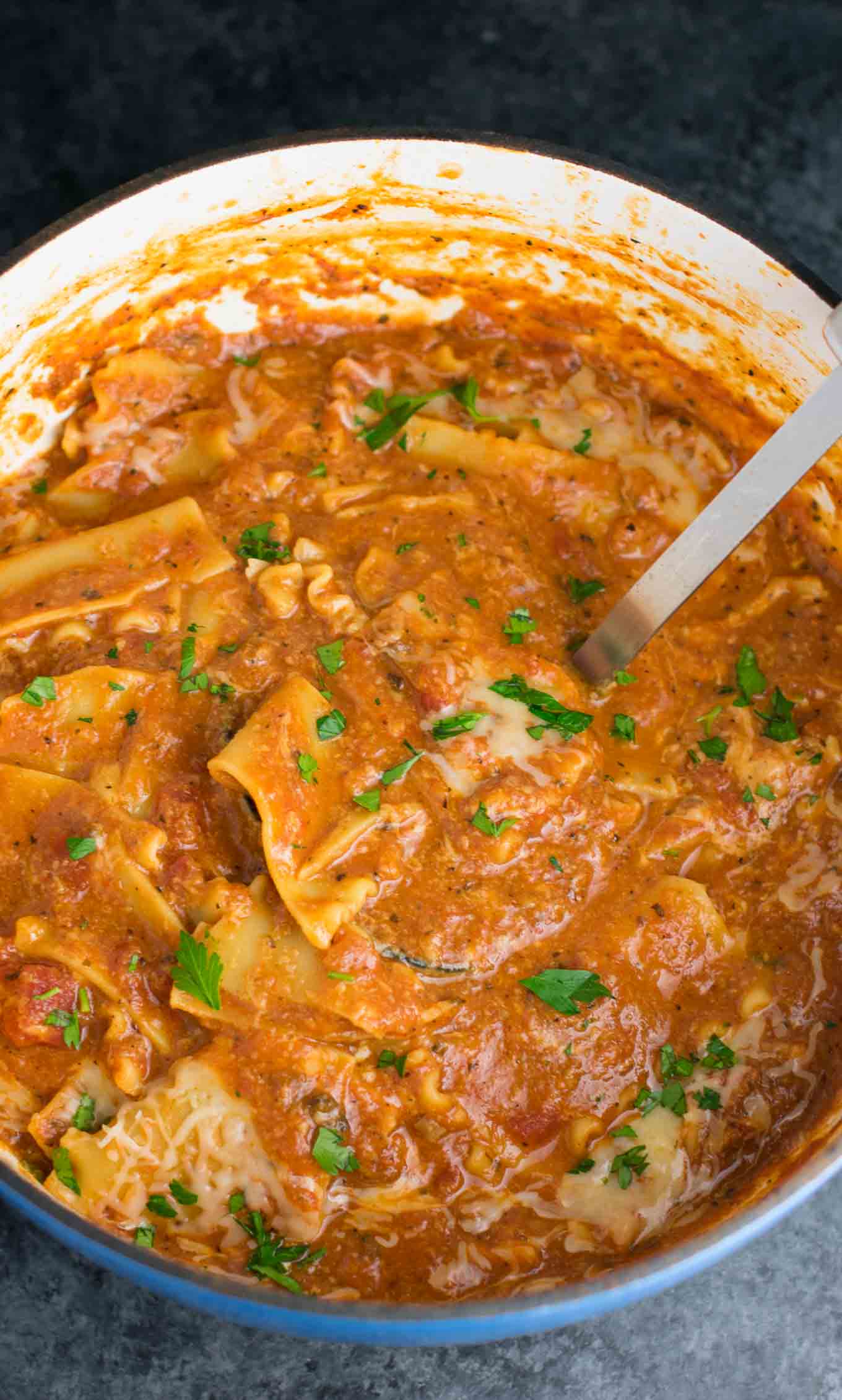 I love love love lasagna, but it can definitely be more time consuming to make.
This lasagna soup has all of the flavors that you love about lasagna with a lot less time and prep work.
I used a food processor to chop up the mushrooms, onion, and garlic until minced.
The mixture looks like meat once we add it to the lasagna soup and really gave it that "meaty" hearty flavor.
Once you cook the mushroom/onion/garlic mixture, you will add the pasta sauce, tomatoes, vegetable broth, and a few spices and bring it all to a boil.
Once boiling, add in some broken up lasagna noodles and cook until al dente.
We topped ours with dollops of ricotta, grated mozzarella, and fresh chopped parsley.
I like my lasagna soup nice and thick and "meaty", but if you want a thinner soup you can simply add more vegetable broth until it reaches the desired consistency.
Serve in big bowls and garnish with ricotta, mozzarella, and parsley.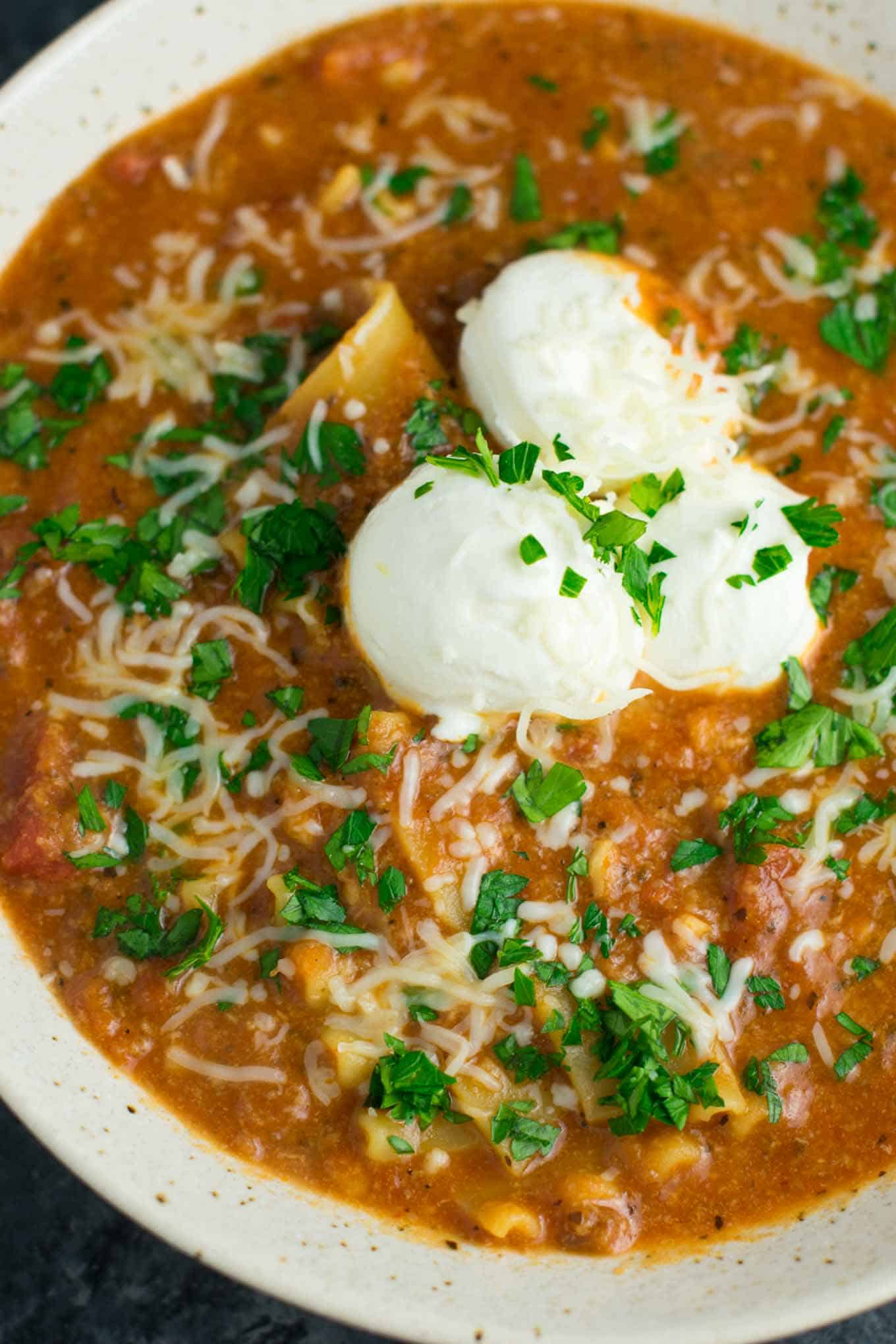 Once you stir the ricotta it will look like a beautiful rosy cream sauce.
So creamy, cheesy and filling.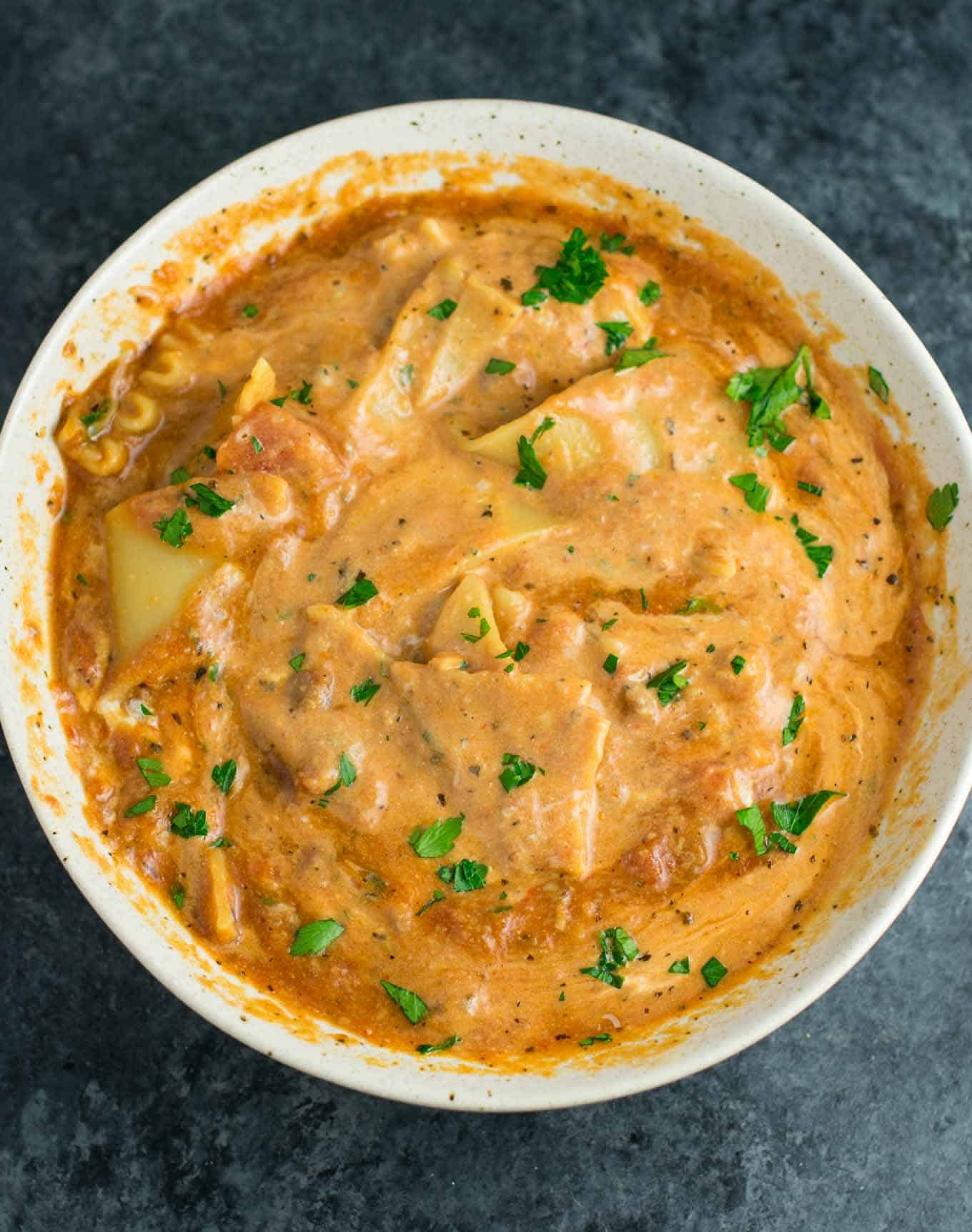 We had this leftover the next day and it thickens up even more overnight but I loved it.
If you love lasagna, you will love this soup!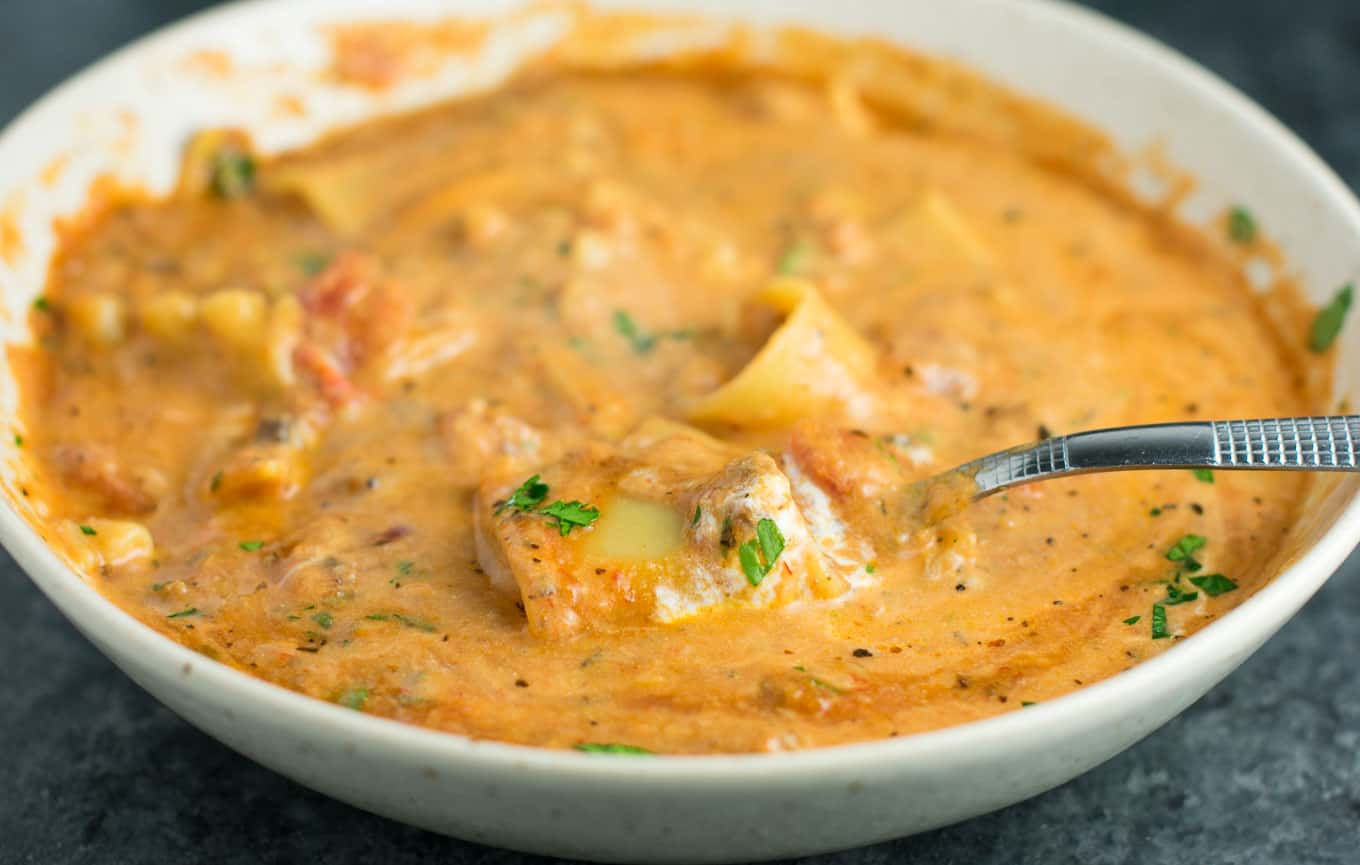 Looking for more fall recipes? You might also like my Crockpot Baked Ziti, Crockpot Alfredo Pasta, Creamy One Pot Spinach & Sweet Potato Pasta, and One Pot Vegetarian Chili Mac.
Easy One Pot Lasagna Soup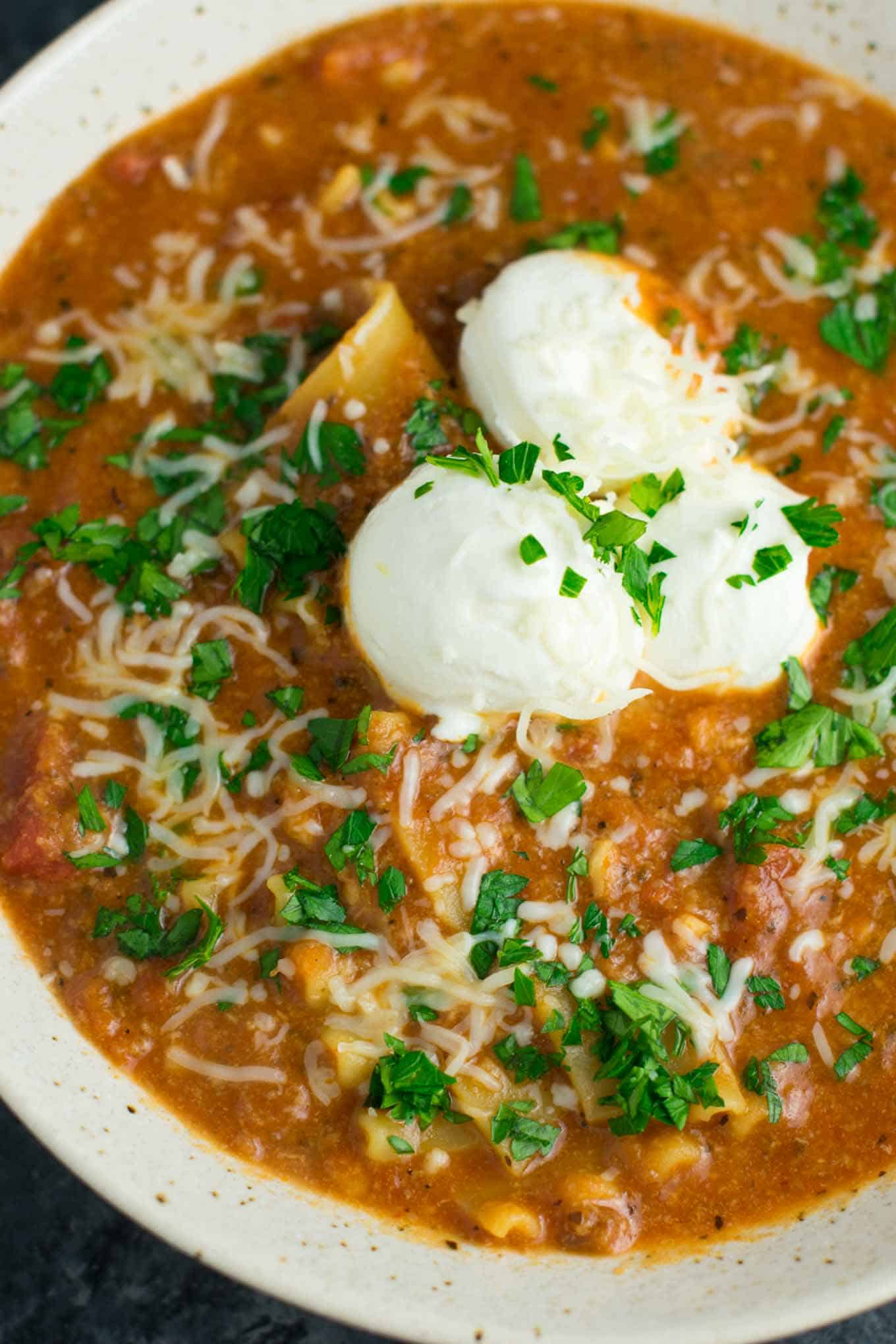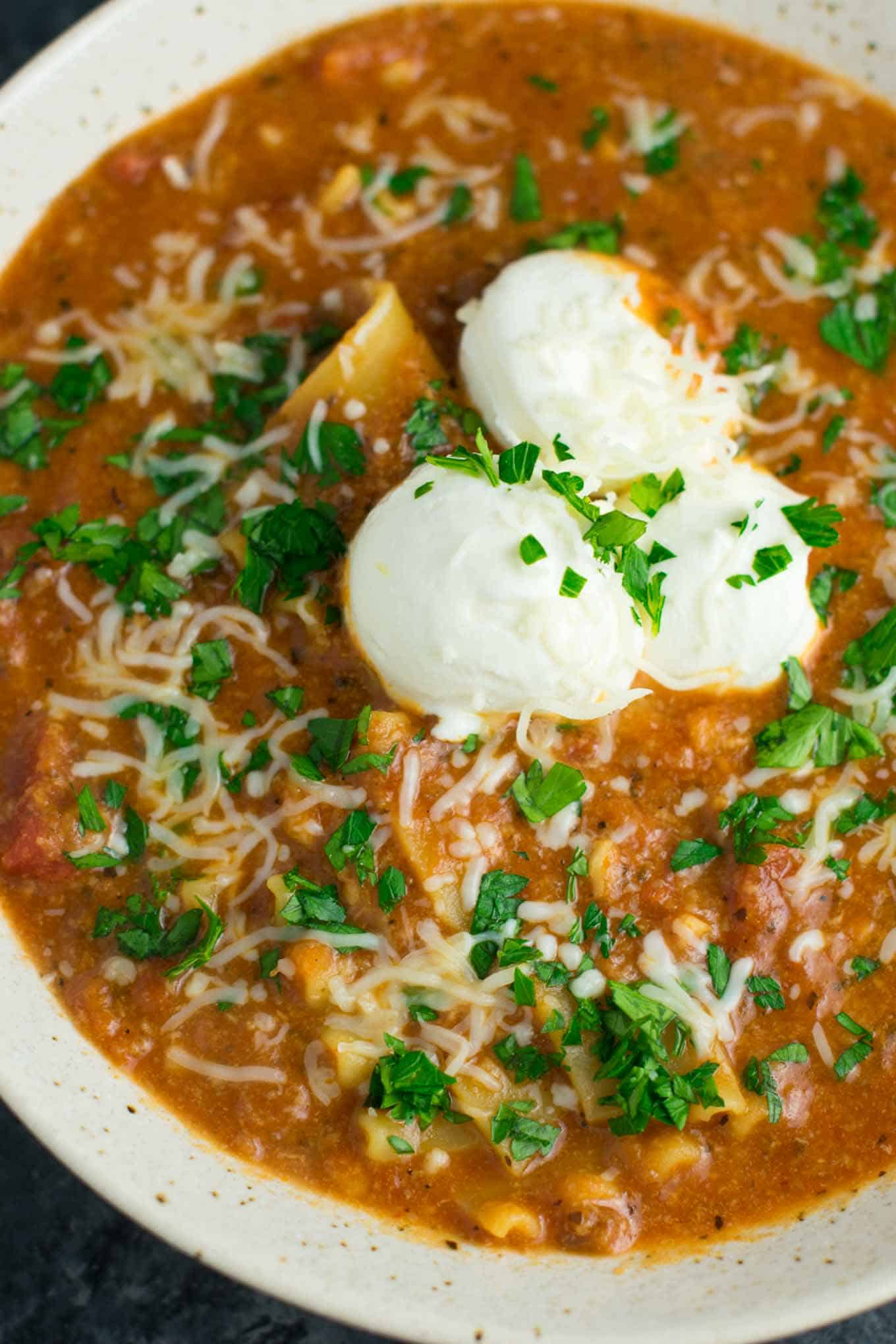 This easy one pot lasagna soup recipe is a delicious vegetarian dinner that is ready in less than 30 minutes from start to finish!
Ingredients
8 oz mushrooms
1 medium yellow onion, quartered
10 cloves of garlic
14 oz diced tomatoes, with juices
25 oz pasta sauce (I used mushroom flavor)
32 oz vegetable broth
10 lasagna noodles, broken into 1-2" pieces
1 teaspoon dried basil
1 teaspoon dried oregano
2 tablespoons tomato paste
1 cup mozzarella cheese, plus more for serving
ricotta cheese, for serving
Fresh chopped parsley, for serving
Directions
Add mushrooms, onion, and garlic cloves to a food processor. Process until minced texture (very small pieces)
Heat a dutch oven or other large pot over medium high heat and add two tablespoons of olive oil
Add mushroom mixture and cook for 8-10 minutes, stirring often, until liquid evaporates mostly
Add in pasta sauce, tomatoes (do not drain), vegetable broth, basil, oregano, and tomato paste
Bring mixture to a boil
Once boiling, add broken up lasagna pieces and cook for 9-13 minutes, or until noodles are al dente
Once noodles have finished cooking, add in 1 cup of grated mozzarella cheese and stir to combine
Add salt to taste, if necessary (I didn't add any)
Serve soup garnished with additional mozzarella, ricotta cheese dollops, and fresh chopped parsley
Loading nutrition data...