This veggie lover's baked rigatoni is packed full of cherry tomatoes, onions, garlic, mushrooms, bell peppers, zucchini, and spinach. A hearty and delicious vegetarian dinner!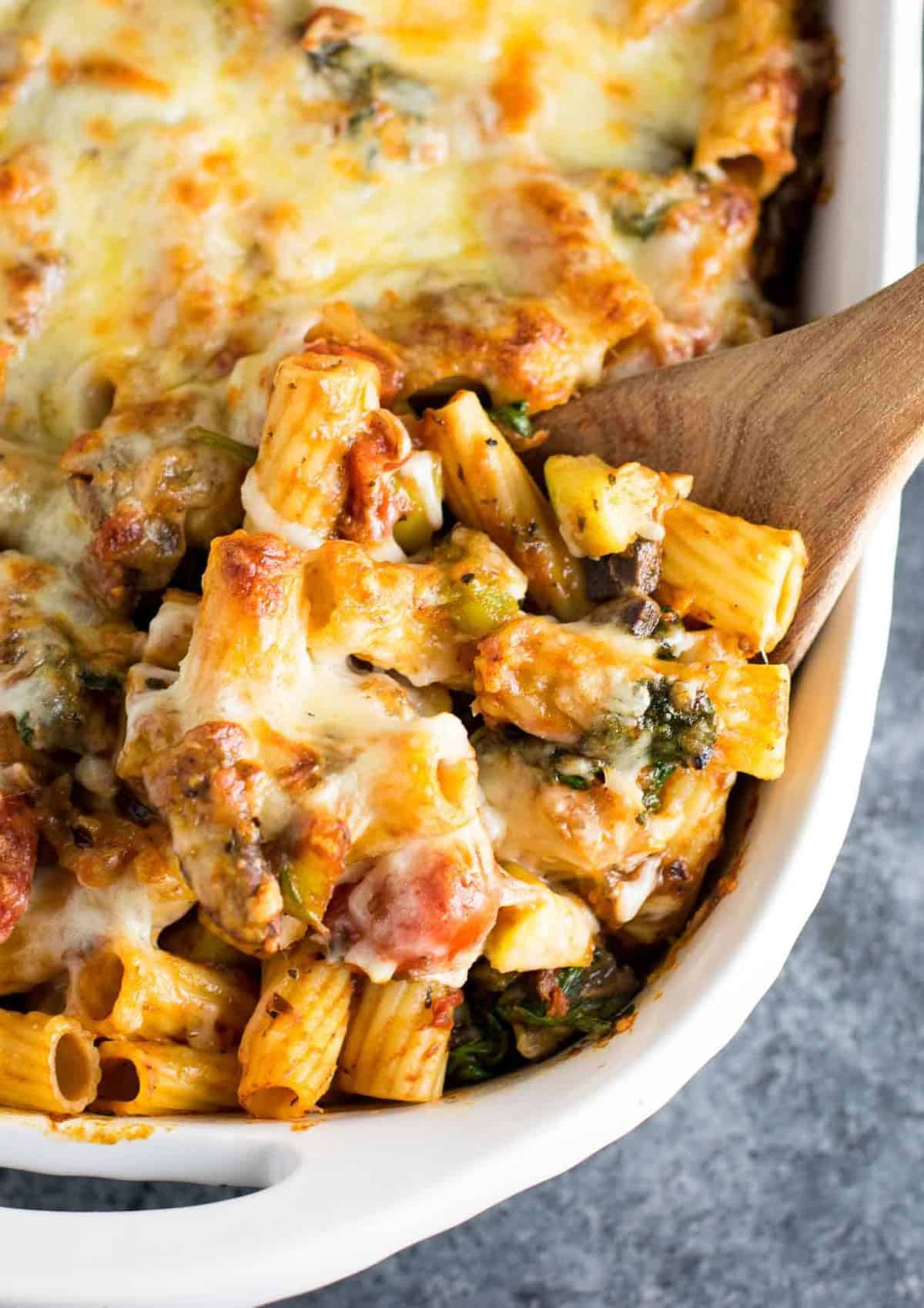 Today's recipe is all about pasta, veggies, and cheese. Three of my favorite things!
This veggie lover's baked rigatoni is a vegetarian's dream come true.
Packed full of tons of super fresh veggies, hearty rigatoni pasta, and topped with gooey mixture of mozzarella and parmesan cheese.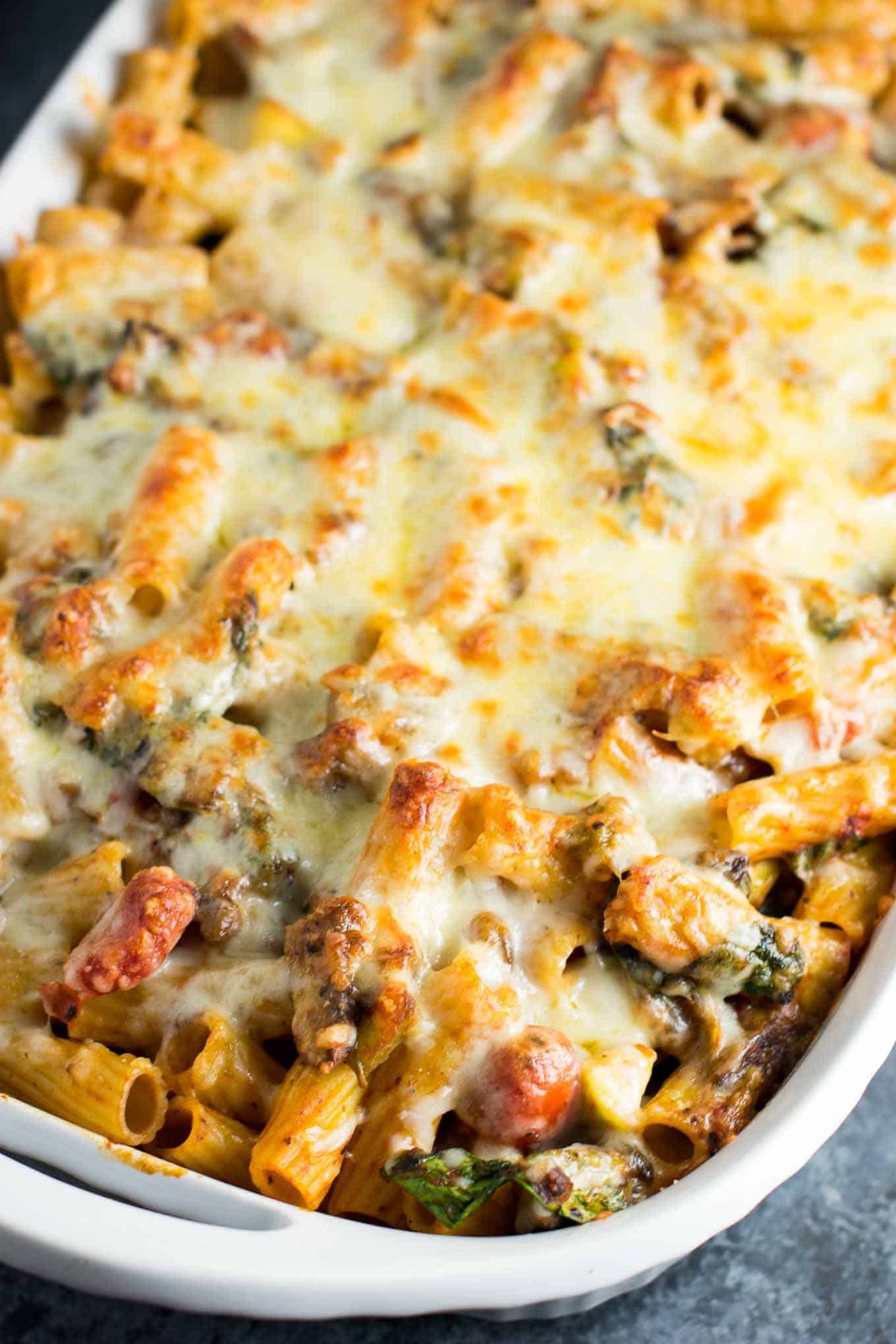 As a vegetarian, I've eaten quite a bit of pasta in my day, but this one is possibly the best I've ever eaten!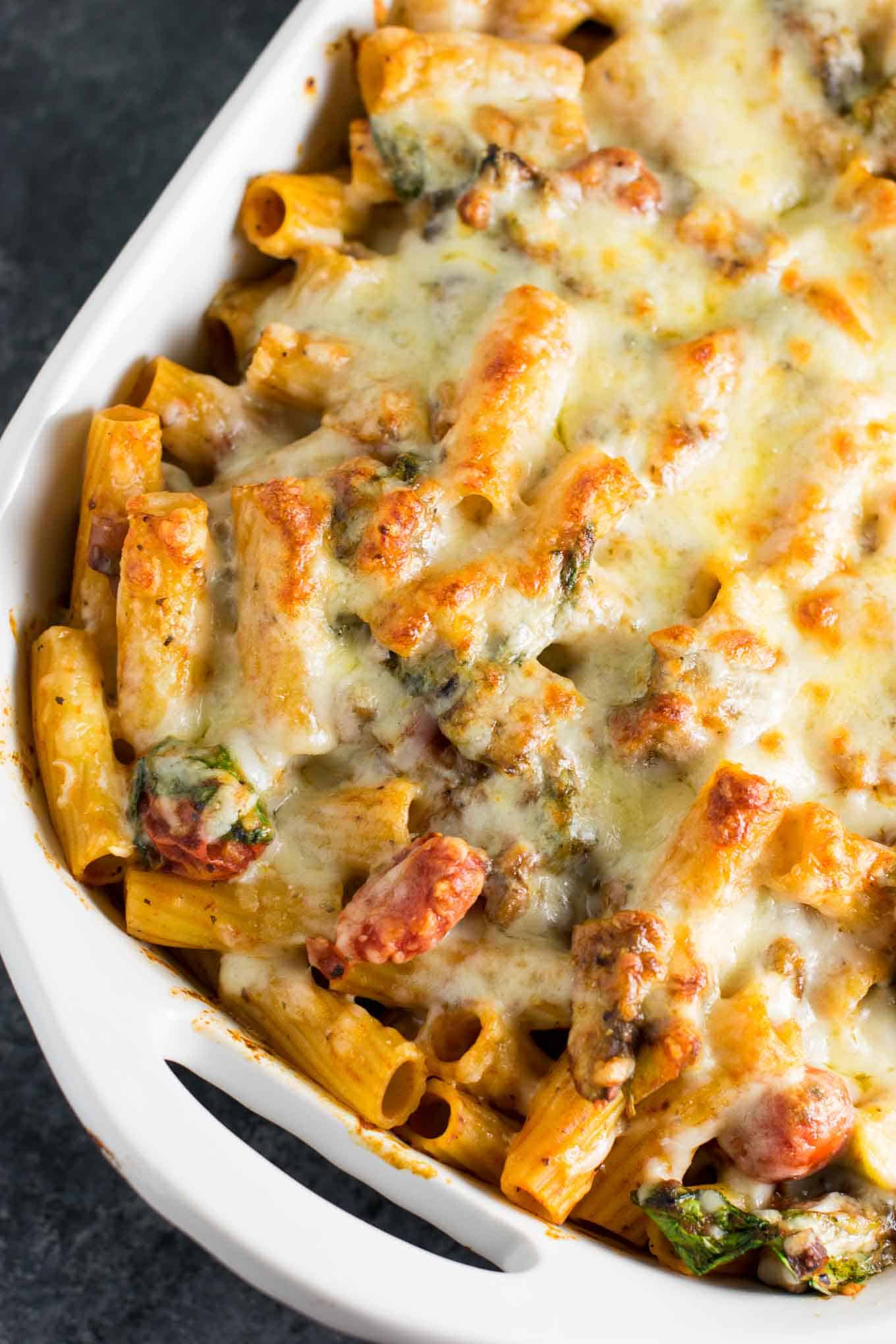 My mission was to create a deliciously cheesy pasta that was heavy on both flavor and veggies so that it didn't sit as heavy as other pastas can on my stomach.
We're going all in on this pasta with cherry tomatoes, onions, fresh garlic, mushrooms, bell peppers, zucchini and spinach!
The result? A hearty meatless pasta that you don't have to feel guilty about!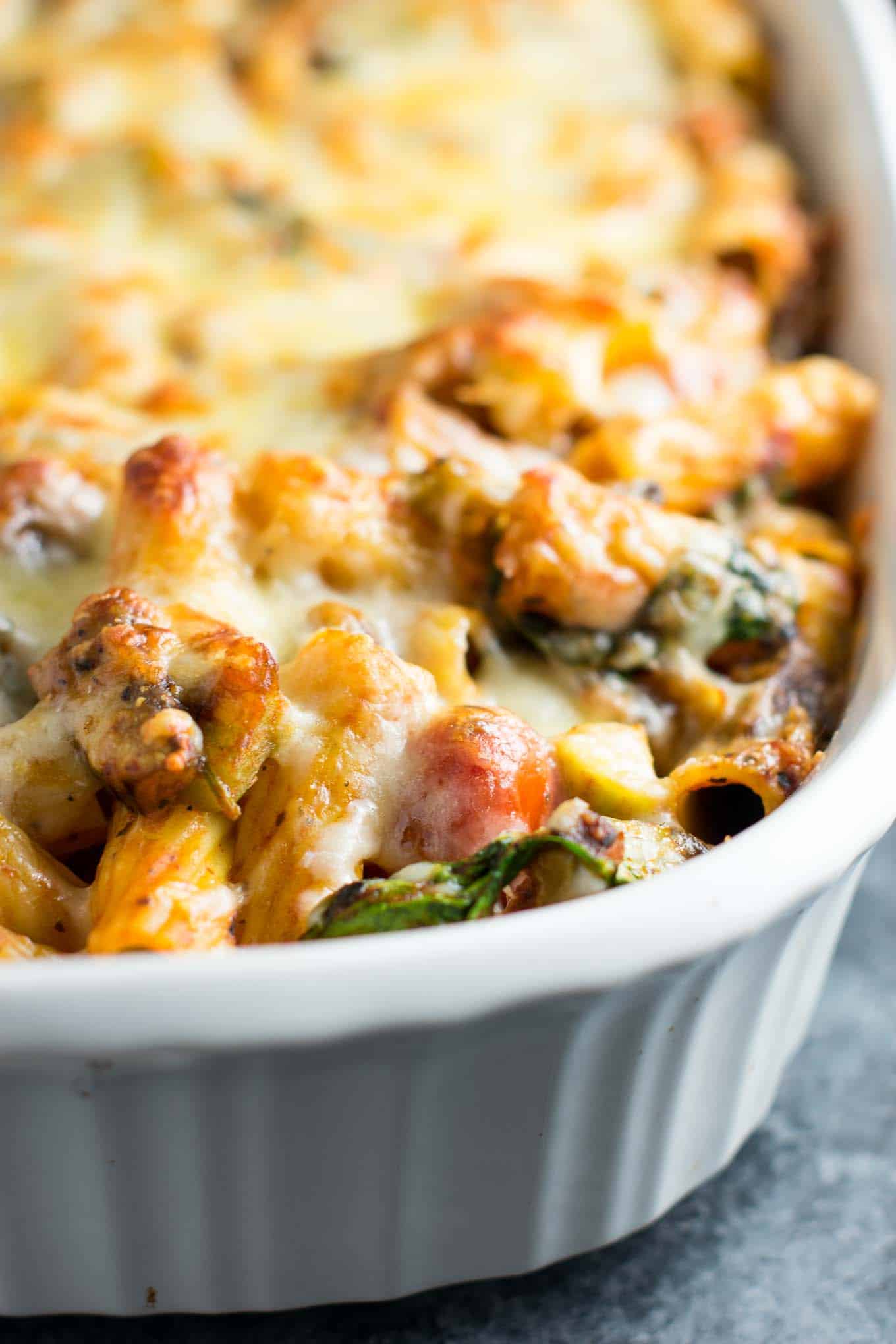 I love the texture and firmness of rigatoni, and it doesn't get soggy quickly when baking, making it perfect for this pasta bake.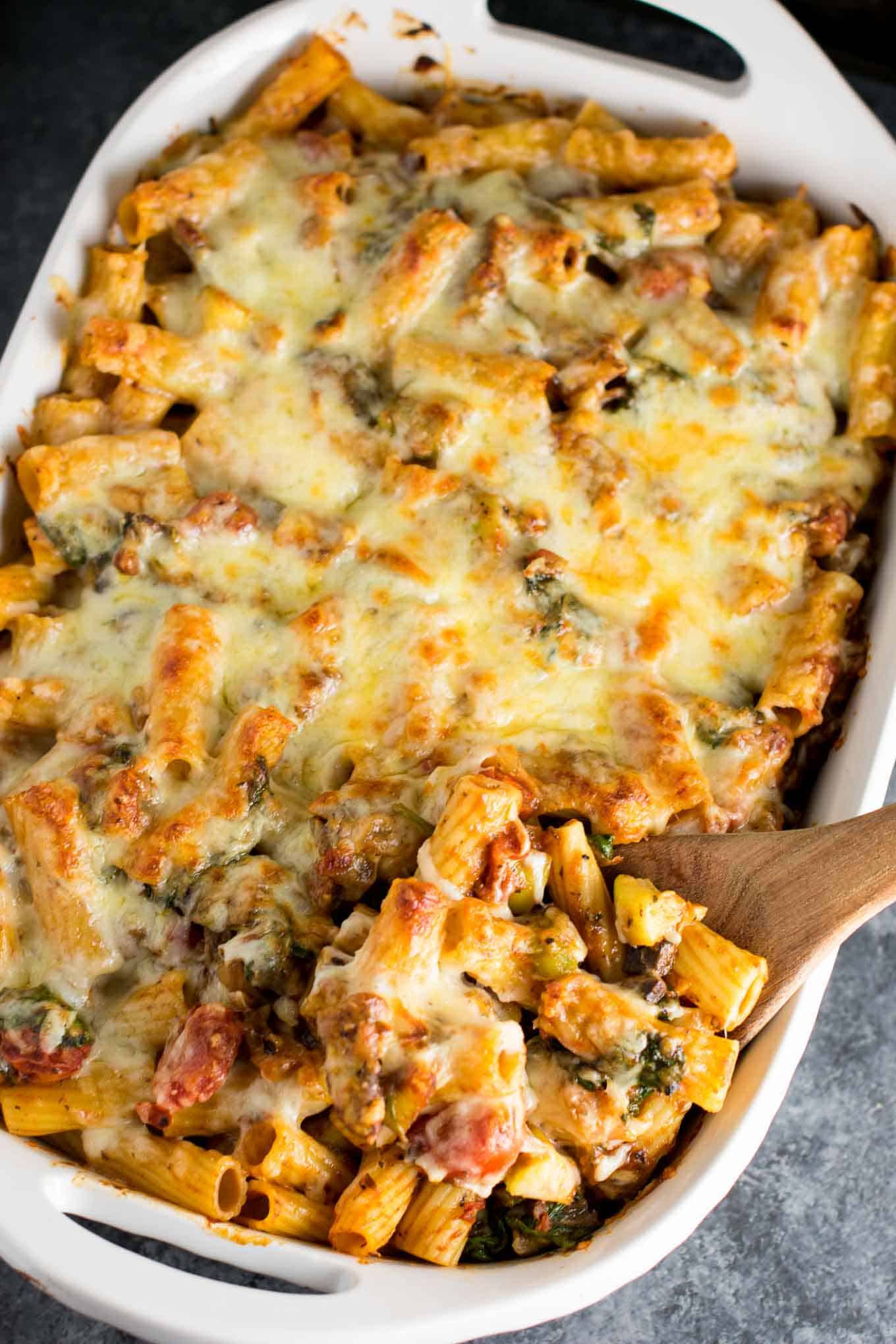 But really guys…how gorgeous is this dish? Yes I know I'm *that* person that refers to food as gorgeous but I just can't help it.
Beautifully symmetrical pasta with tons of veggies and crispy pieces of cheese on top. swoon. 
I used a blend of mozzarella and parmesan on top of the pasta and cooked it just long enough for the cheese to melt and start to get a little browned on top.
This makes a huge 13 by 9 casserole dish and we enjoyed the leftovers for several days.
Serve as is or with some red pepper flakes on top if you like a little heat!
Pin this Veggie Lover's Baked Rigatoni:
Veggie Lover's Baked Rigatoni
Ingredients
5

oz container of fresh spinach (or 4-6 cups of loose spinach)

10

oz container of cherry tomatoes

1

large onion, diced

2

portobello mushroom caps, diced

1

green bell pepper, diced

1

medium zucchini, diced

9

cloves of garlic, minced

1

lb rigatoni pasta

25

oz pasta sauce (I used mushroom flavor)

1

teaspoon salt

2

teaspoons dried basil

1/2

teaspoon pepper

1 3/4

cups grated parmesan cheese

2

cups shredded mozzarella cheese

olive oil
Instructions
Preheat oven to 400 degrees
Toss cherry tomatoes with ⅛ cup of olive oil and place in an even layer on a baking sheet
Roast at 400 degrees for 15 minutes, or until tomatoes start to wilt and burst
Cook Rigatoni according to instructions and set aside
In a large skillet, combine onions, mushrooms, bell pepper, zucchini, garlic, dried basil, salt, pepper, and 1 tablespoon of olive oil
Sautee on medium high heat for 12-15 minutes, or until liquid is released and vegetables have started to cook down
Add spinach and wilt (2-3 minutes)
Add sauce and cooked tomatoes and stir well
Mix the mozzarella and parmesan cheeses together in a bowl
Add 1 cups of cheese mixture to the sauce/veggie skillet and stir
Combine rigatoni with sauce/veggie skillet and transfer mixture to a 13 by 9 baking dish
Top with remaining cheese
Bake at 425 degrees for 10 minutes, or until cheese is bubbly and beginning to brown