This Meatless Million Dollar Baked Ziti is a lightened up take on the classic comfort food. Full of "meaty" mushrooms and four types of cheeses, your family will love this meatless baked ziti!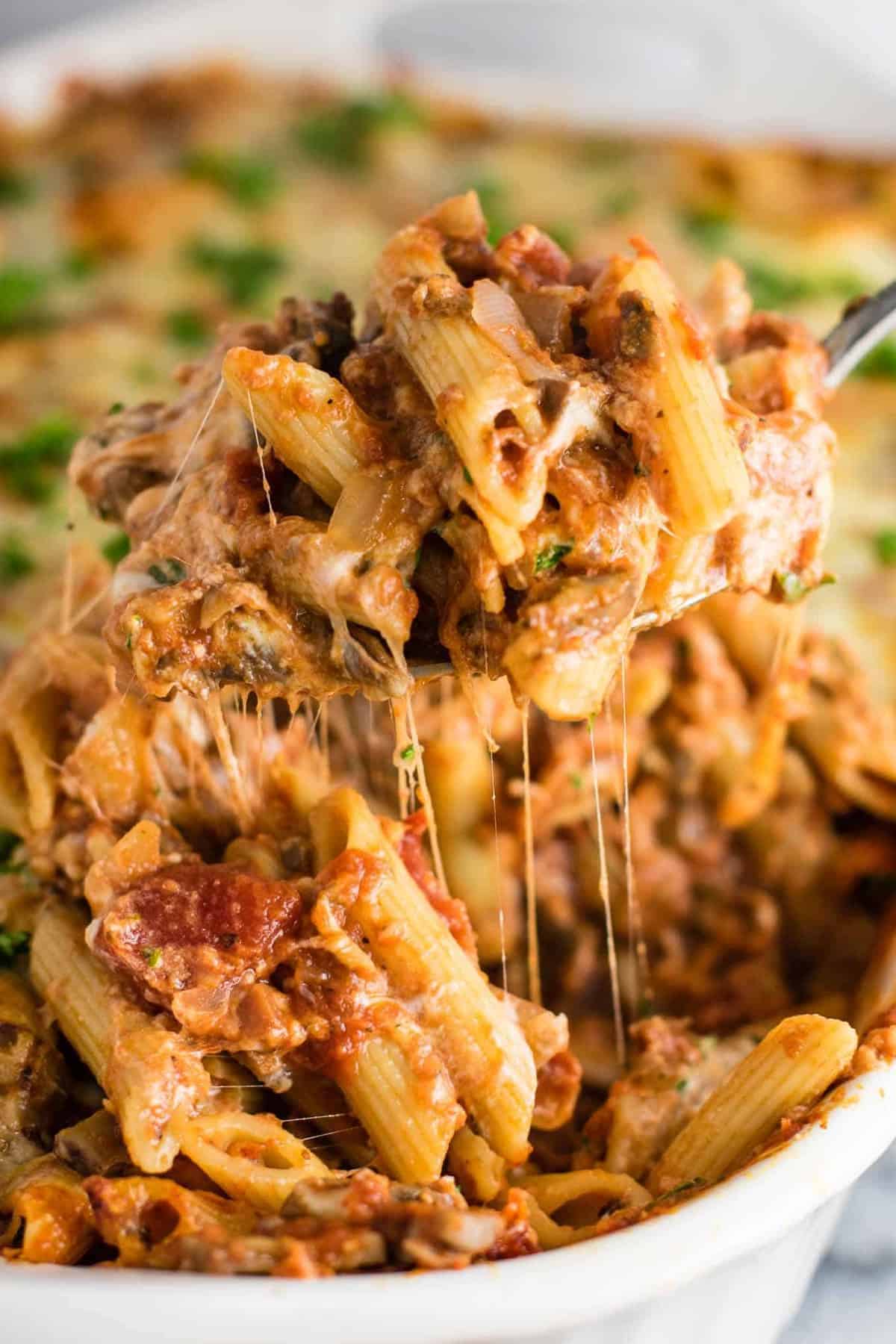 If you haven't heard of "million dollar ziti", you're in for a treat!
Million dollar baked ziti is classically known for a creamy middle layer of cheesy goodness, sandwiched between meaty pasta sauce and topped with even more cheese on top.
As usual, we make meatless baked ziti around here, so this recipe is vegetarian.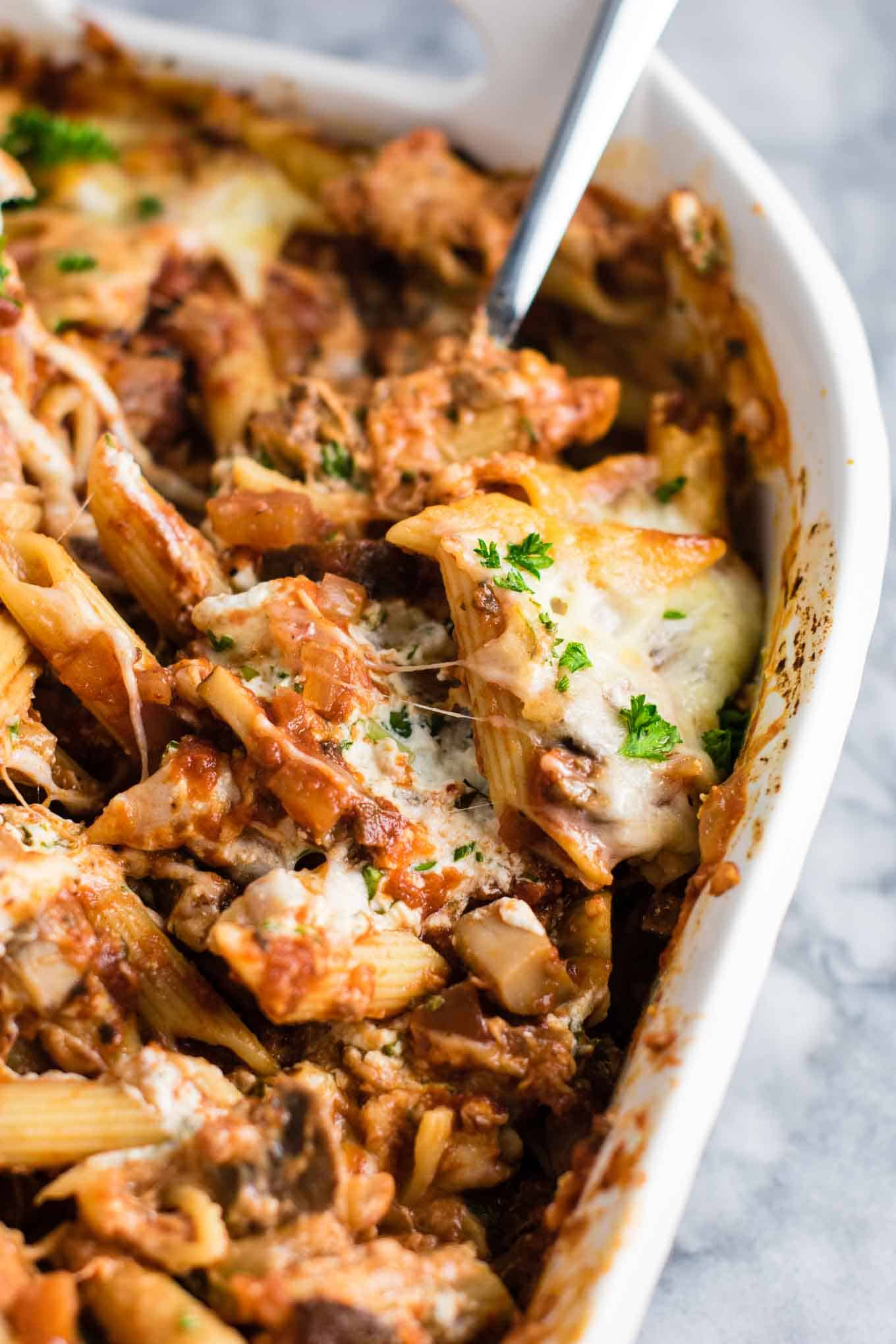 Today I'm sharing that same classic favorite gone meatless.
I use meaty baby bella mushrooms and four different types of cheeses for an irresistible vegetarian baked ziti.
How to make meatless baked ziti
Baby bellas are my mushroom of choice for making a "meat" sauce.
I used them in my easy Meatless Spaghetti Sauce, and they were the perfect choice for this million dollar ziti.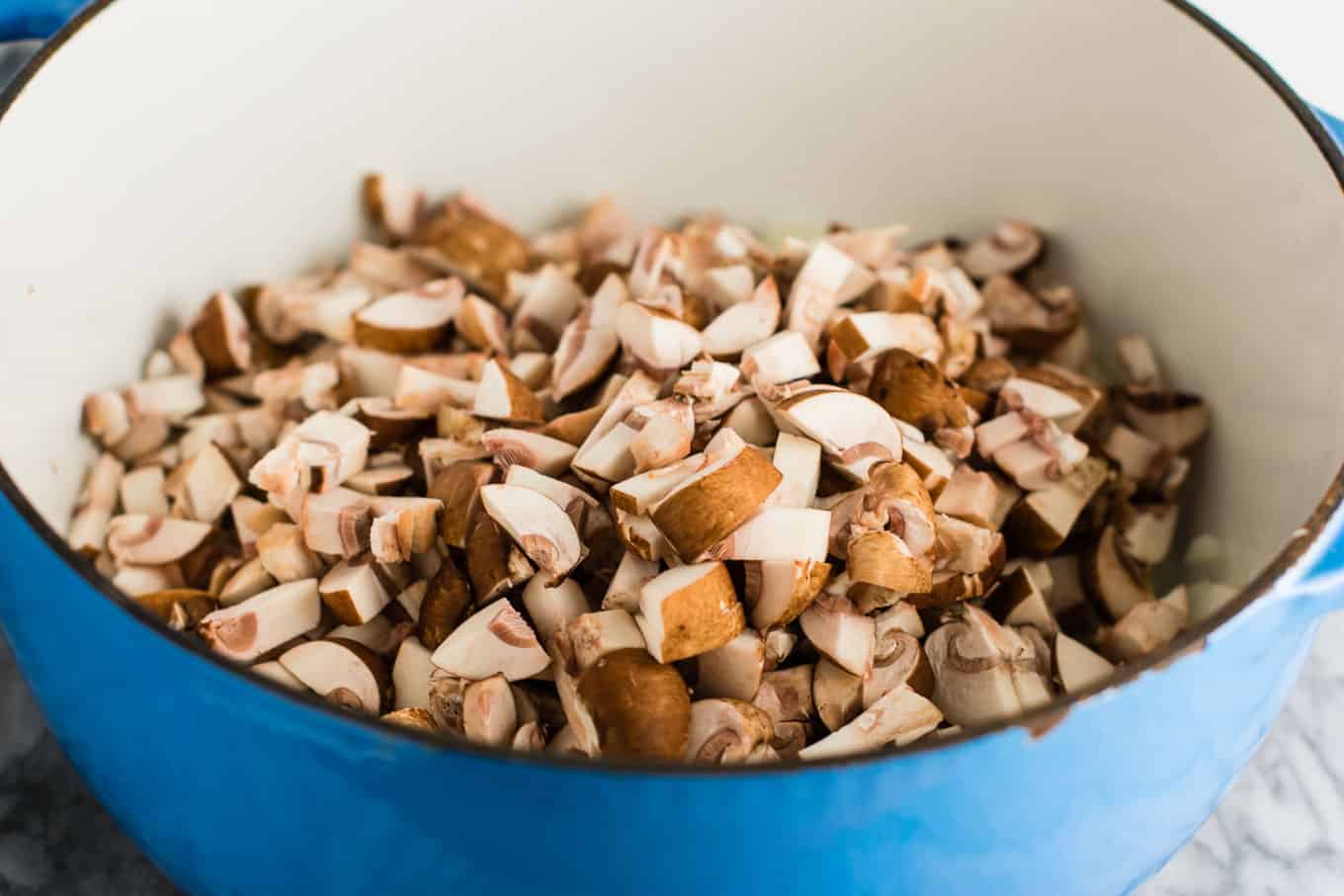 Dice into chunks for just the right texture.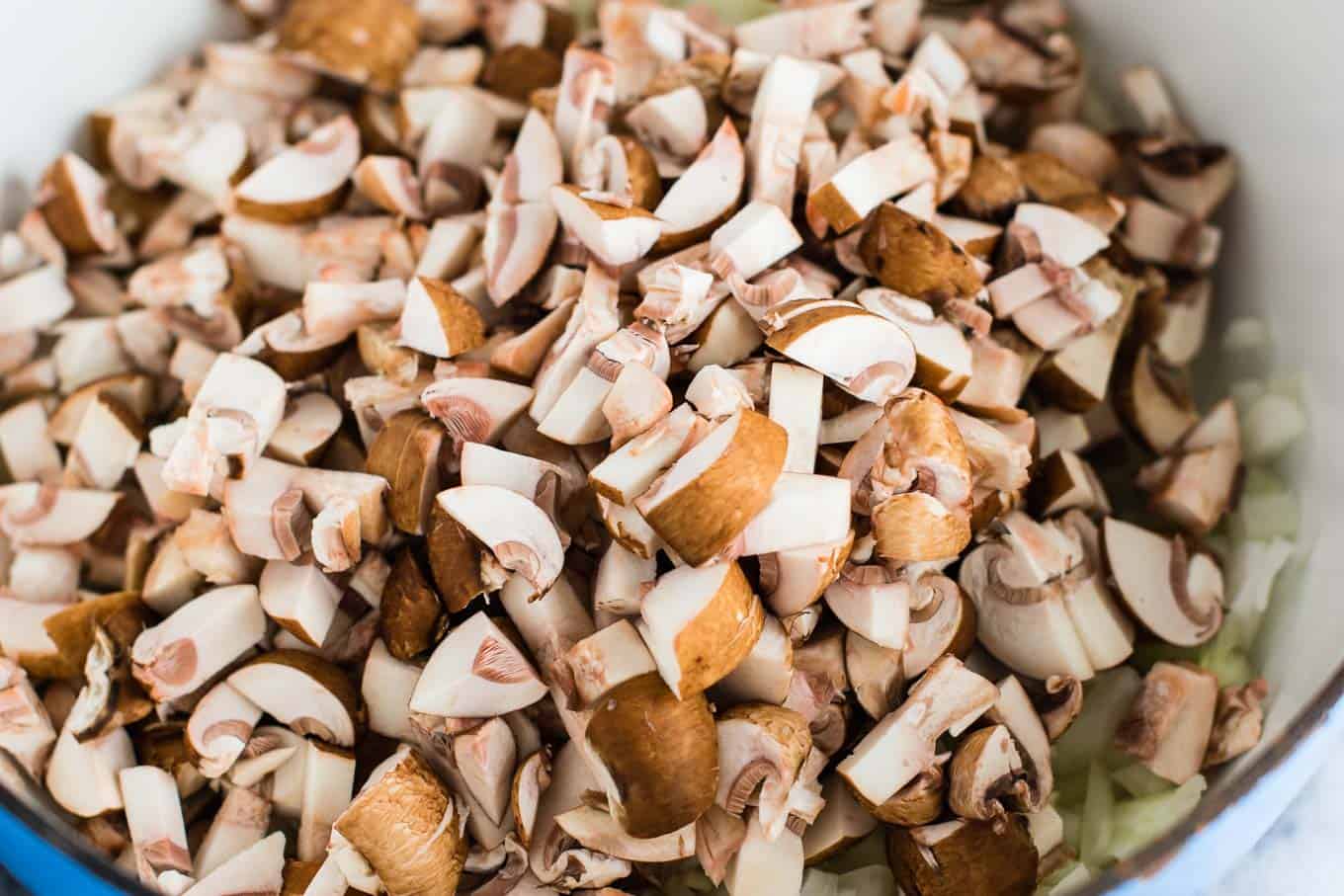 You can't see it well, but hiding underneath all those beautiful bellas is a whole lotta fresh garlic and onion (<— key for BIG flavor!)
The finished meat sauce.
Doesn't that look good?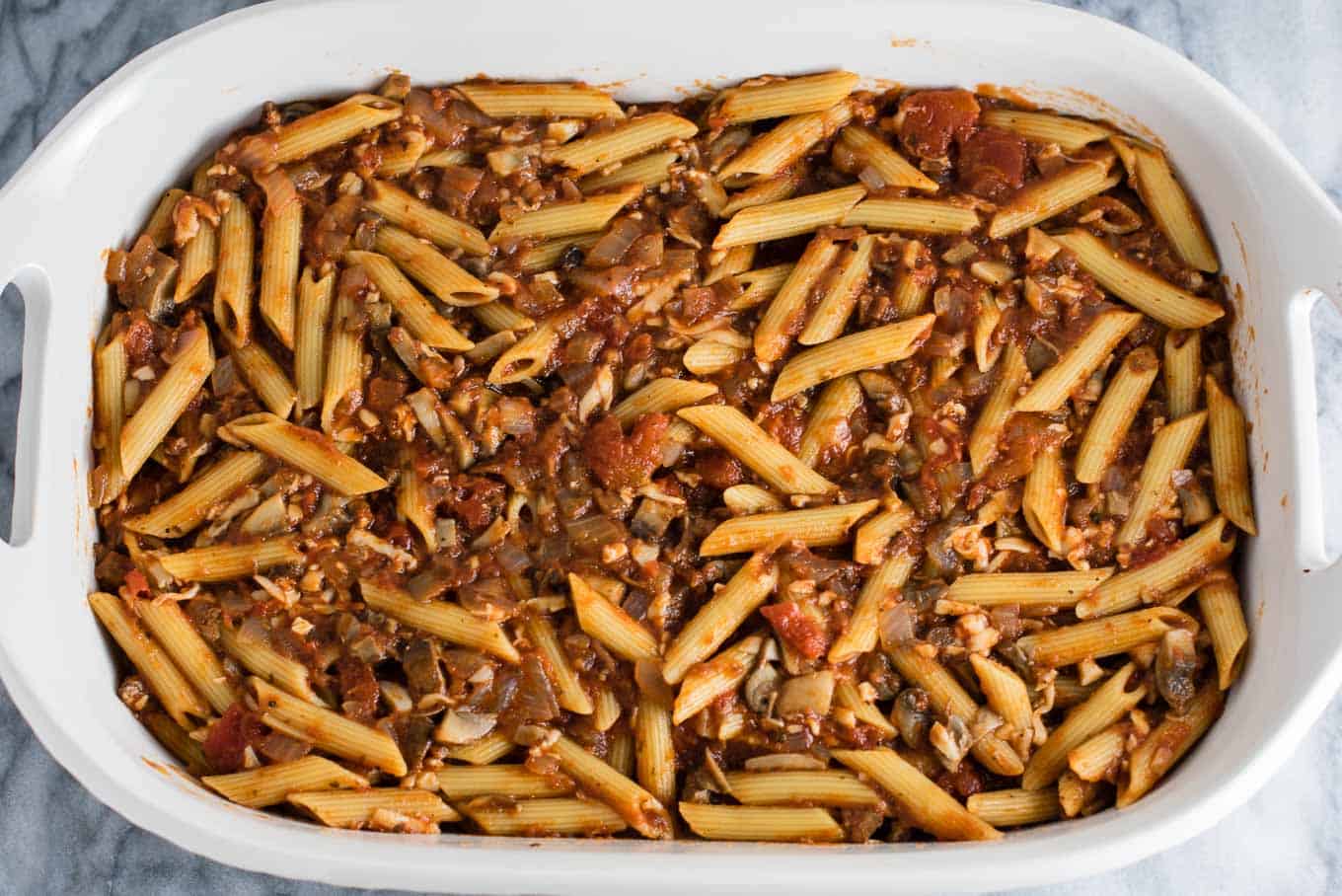 After the pasta sauce is finished, you will mix it together with the cooked penne noodles
Half of this mixture goes into a big 13 X 9 baking dish.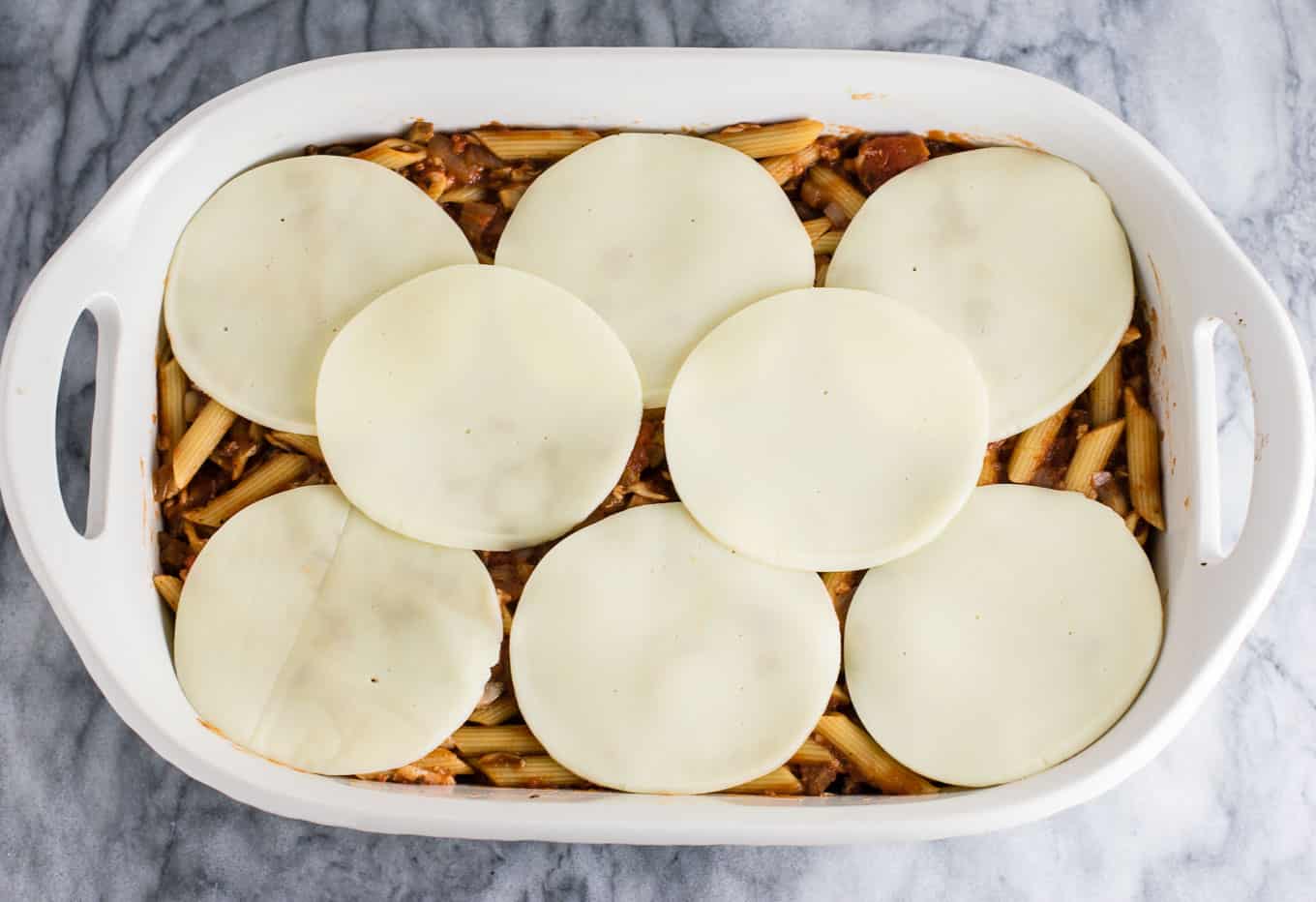 Next up: provolone cheese slices.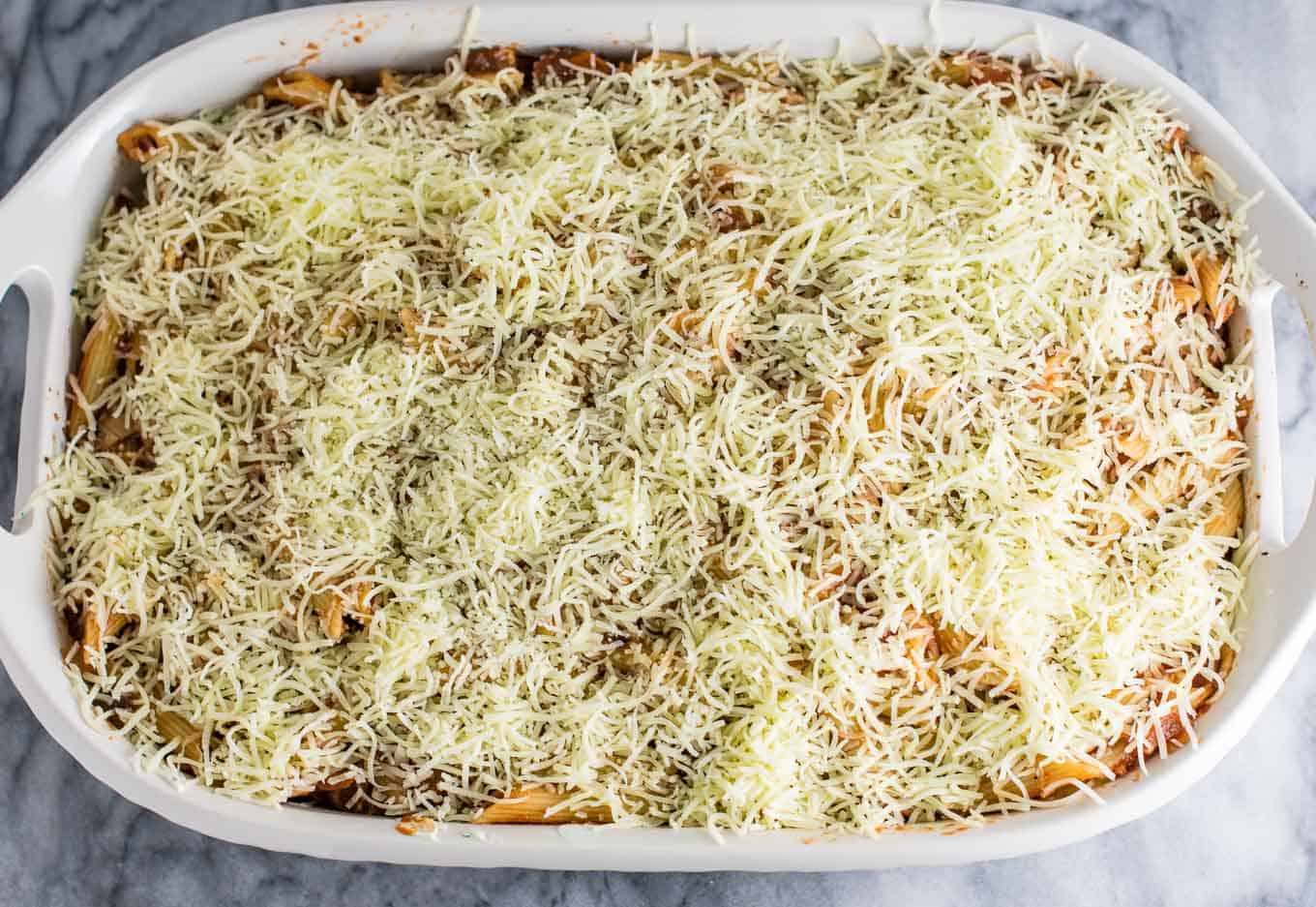 On top of the provolone, you'll add the cream cheese layer, followed by the remaining pasta/sauce.
Top with lots of shredded mozzarella!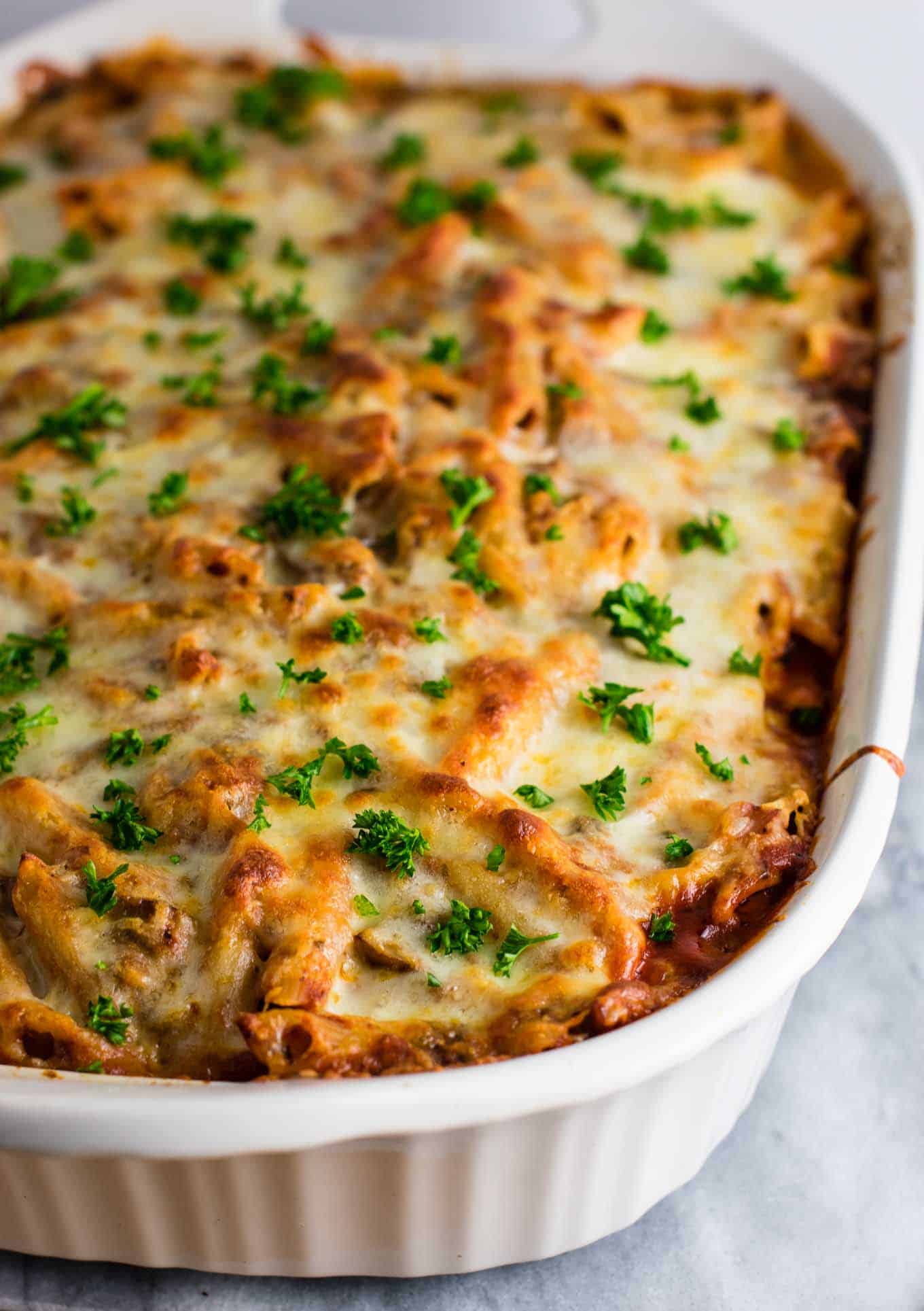 Bake for 15 – 20ish minutes, or until the cheese looks all browned and amazing like this!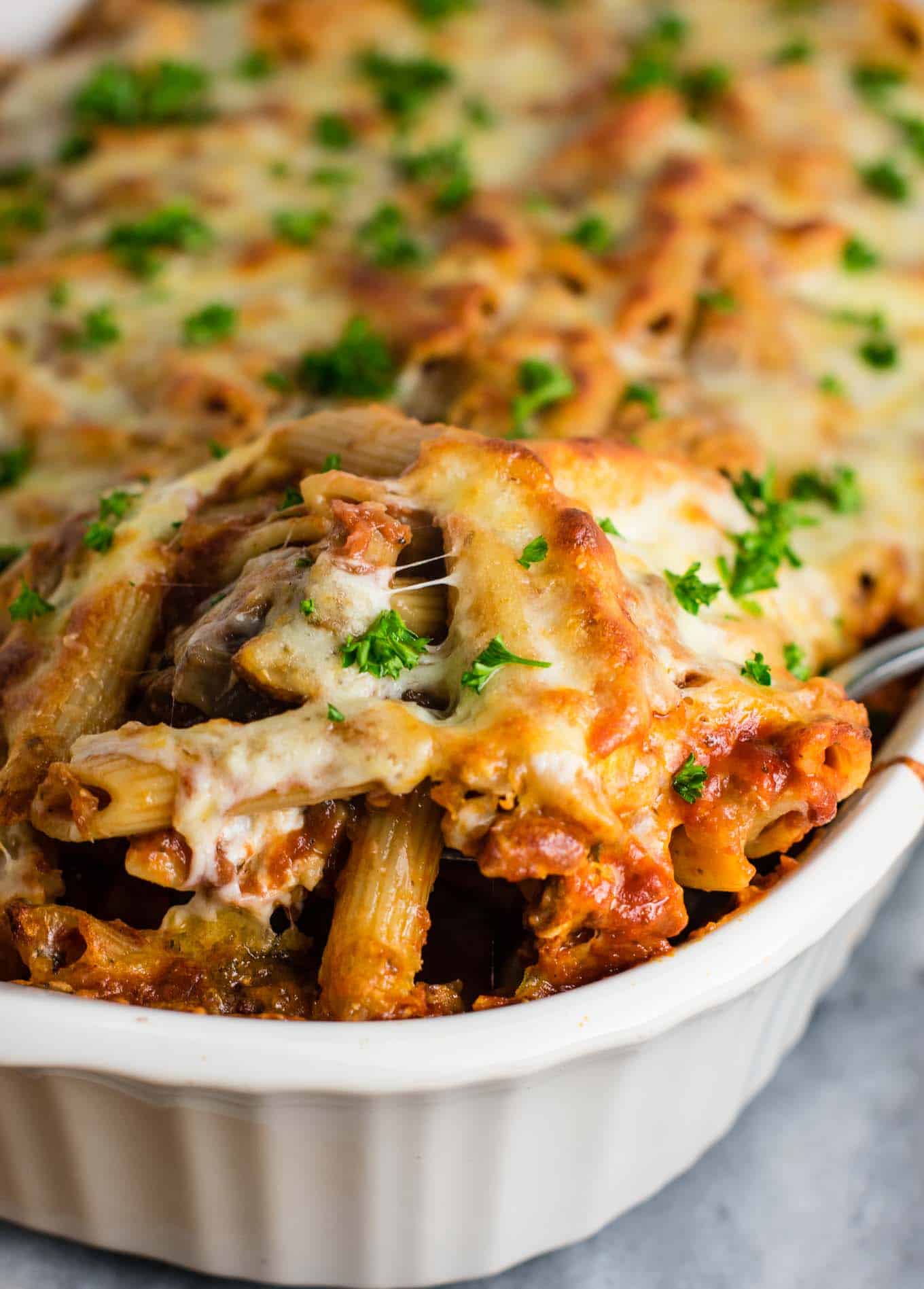 Top with parsley if ya want, and you're ready to serve!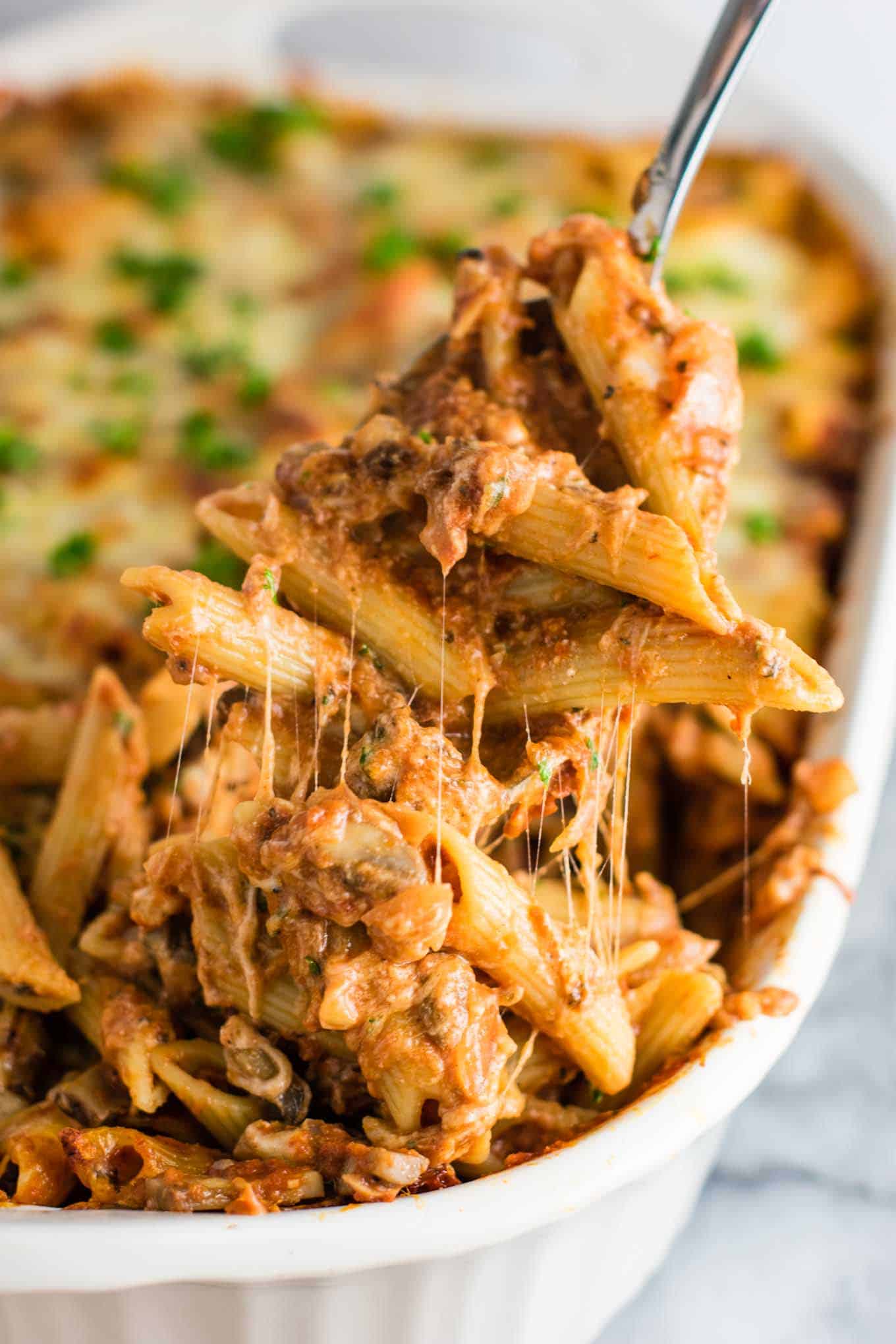 This has HUGE flavor thanks to four cheeses (cream cheese, provolone, parmesan, and mozzarella) and the addition of fresh basil and parsley.
Fresh herbs really bring any dish to the next level!
This makes a huge amount of food and will feed a crowd.
We love leftovers, so this easily feeds our family 3 – 4 times.
You could always freeze leftovers too!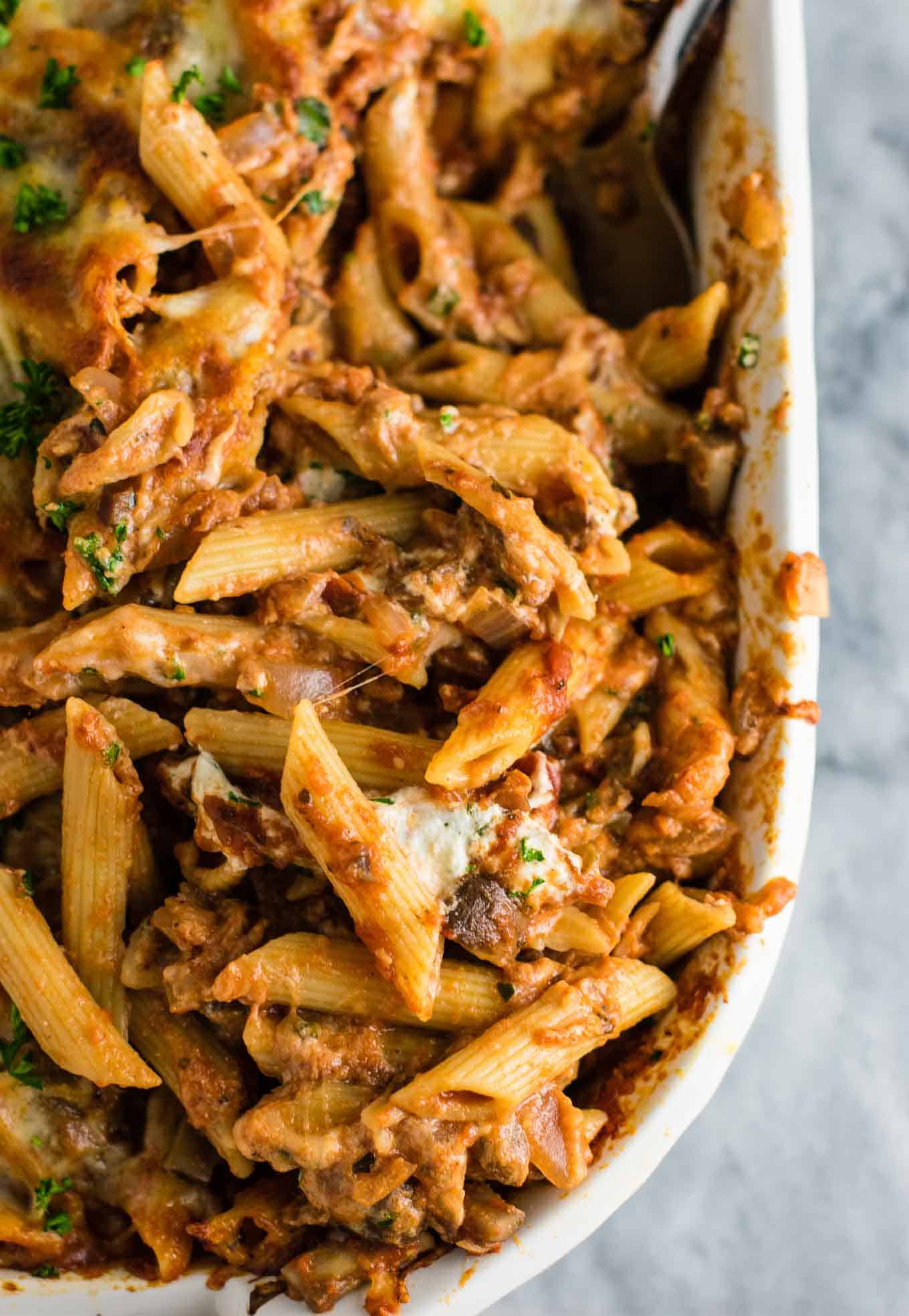 The mushrooms really give this a meaty texture just like the classic favorite.
Serve this to any omnivore, one bite and they won't even question you.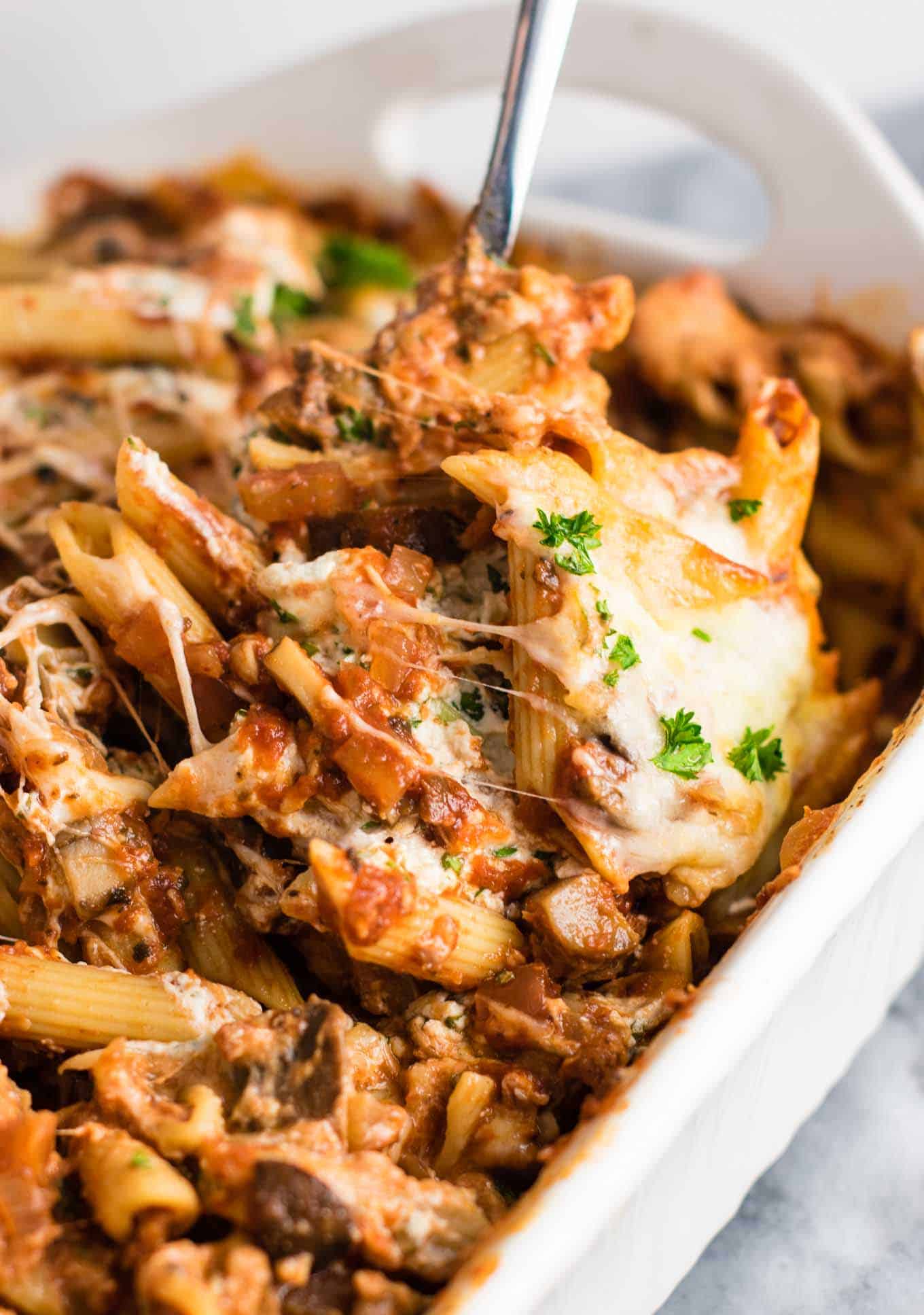 If you loved my wildly popular crockpot baked ziti, you'll love this one too.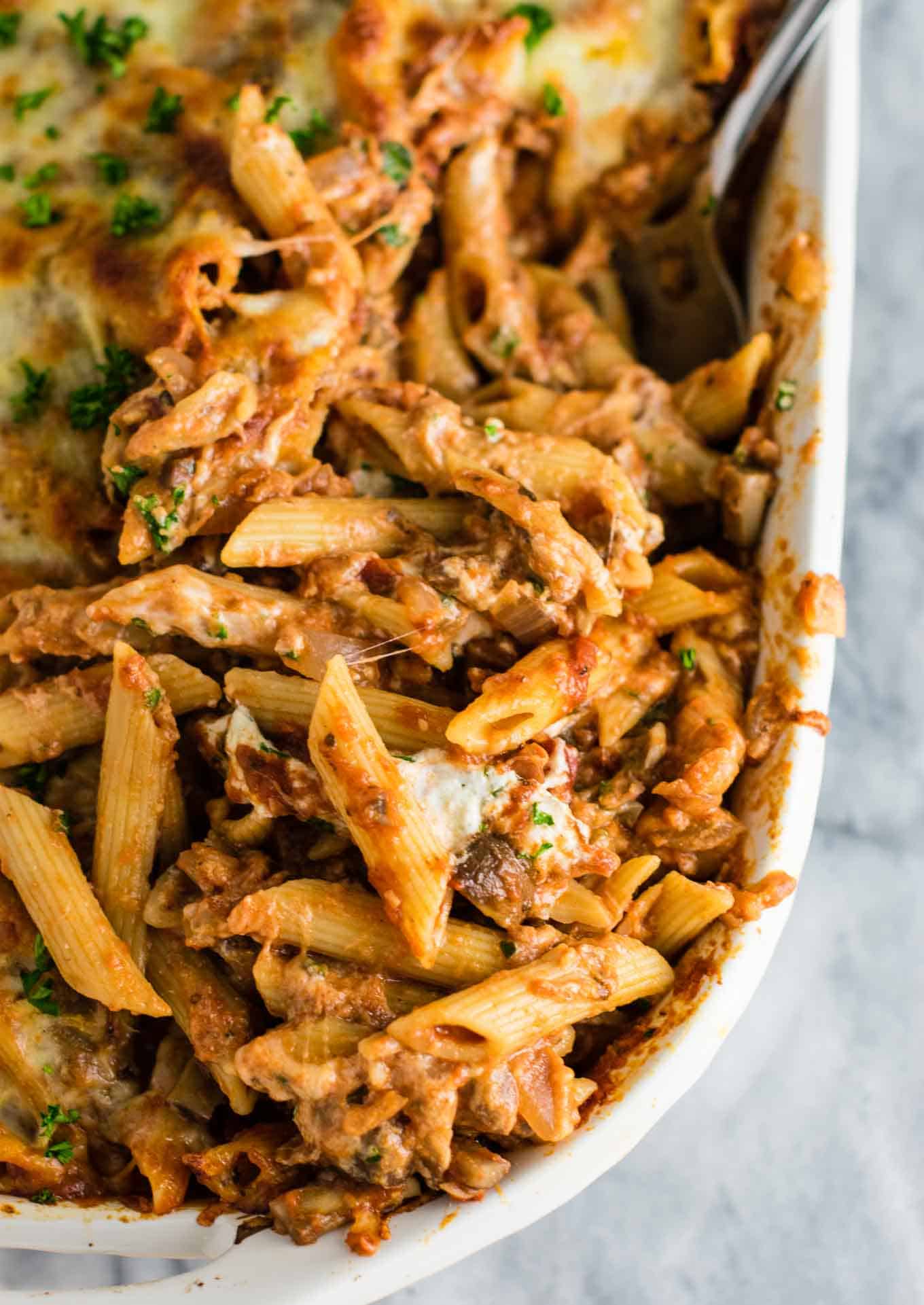 Serve with veggies and garlic bread for the perfect pasta dinner.
I typically roast up a bag of frozen broccoli and the hubs and I split our plates with half veg and half pasta.
Are you making this recipe? I want to see! Be sure to tag me on instagram @buildyourbite and hashtag #buildyourbite with your recipe creations!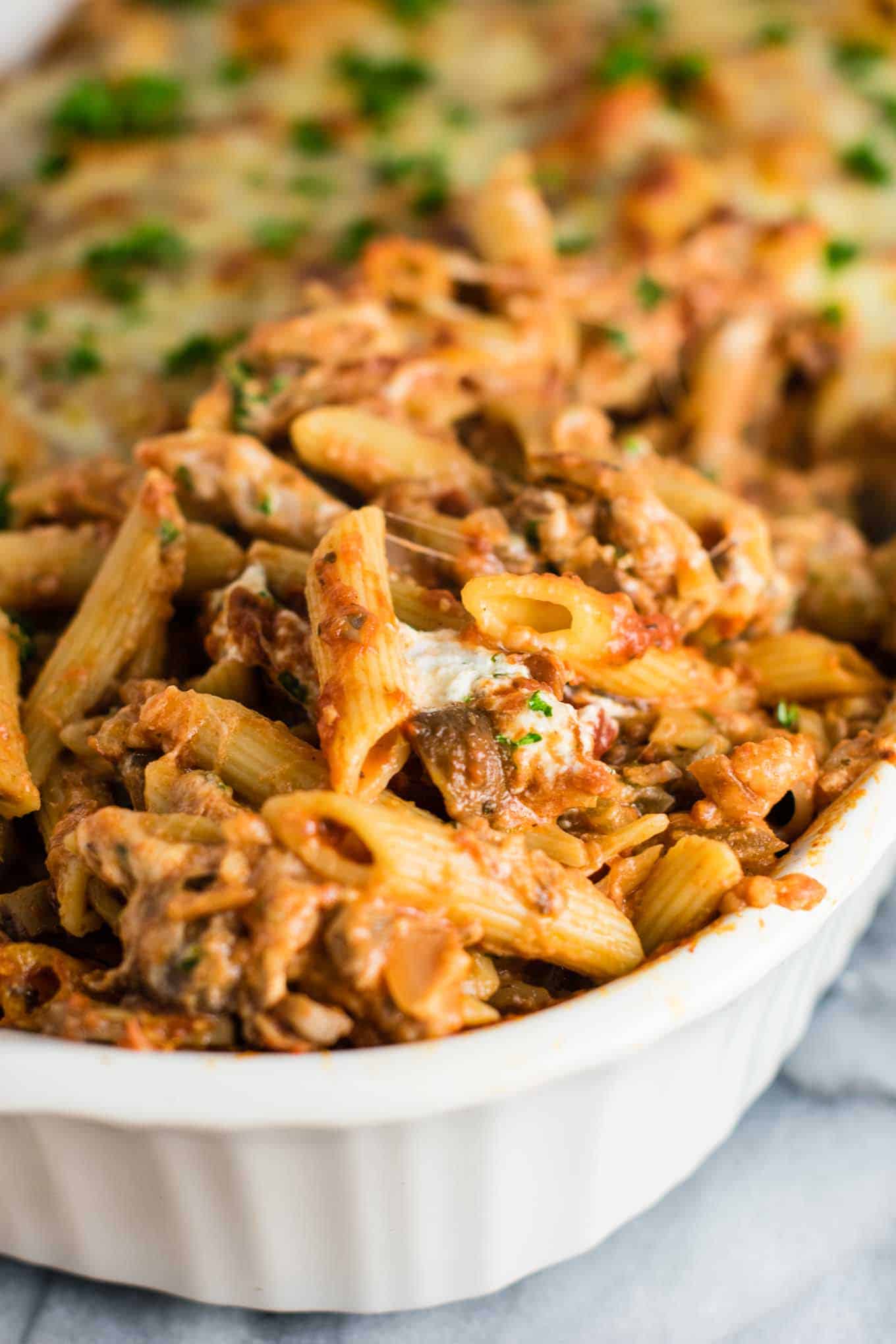 More pasta recipes you might like:
Pin this Meatless Baked Ziti:

Meatless Million Dollar Baked Ziti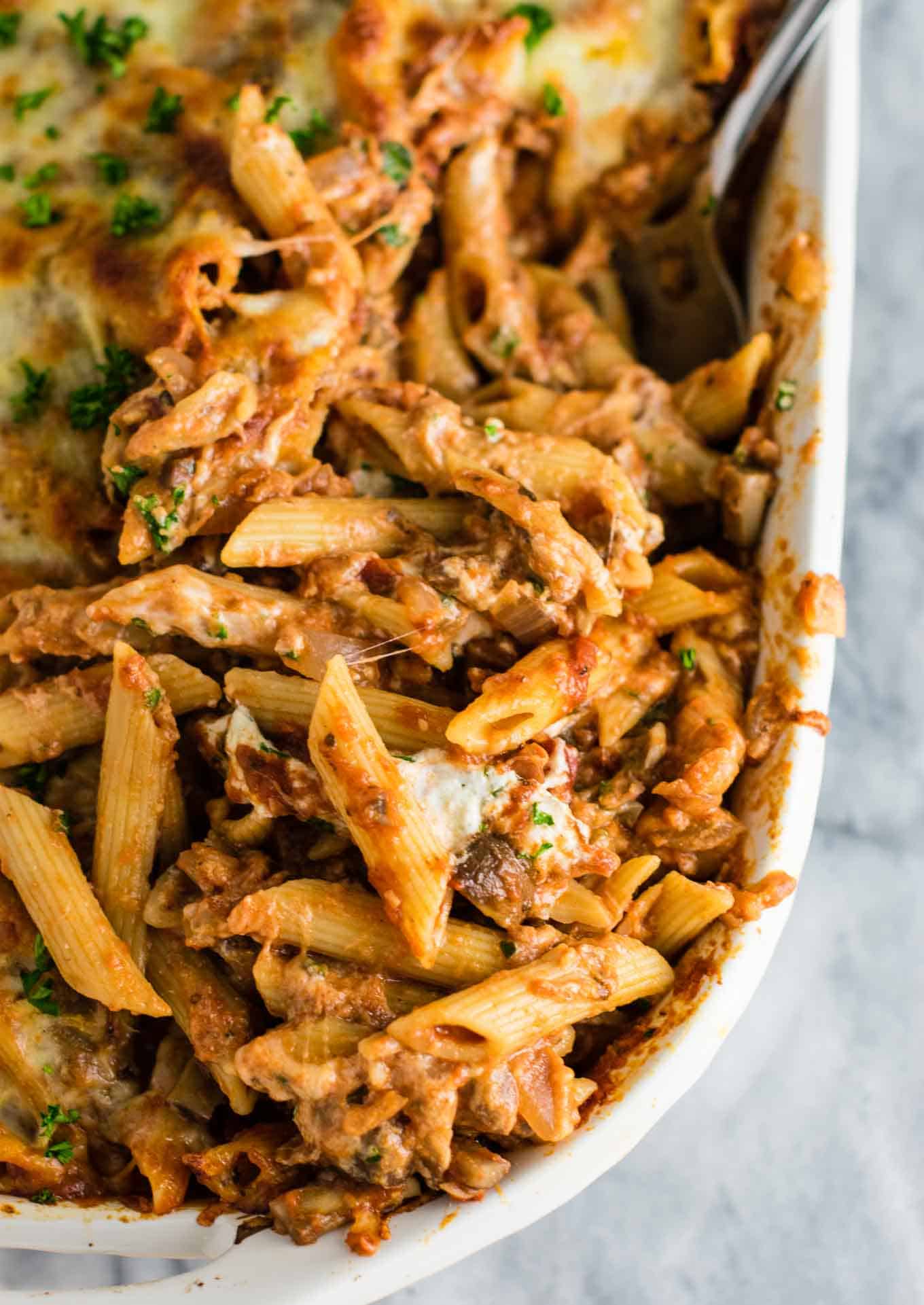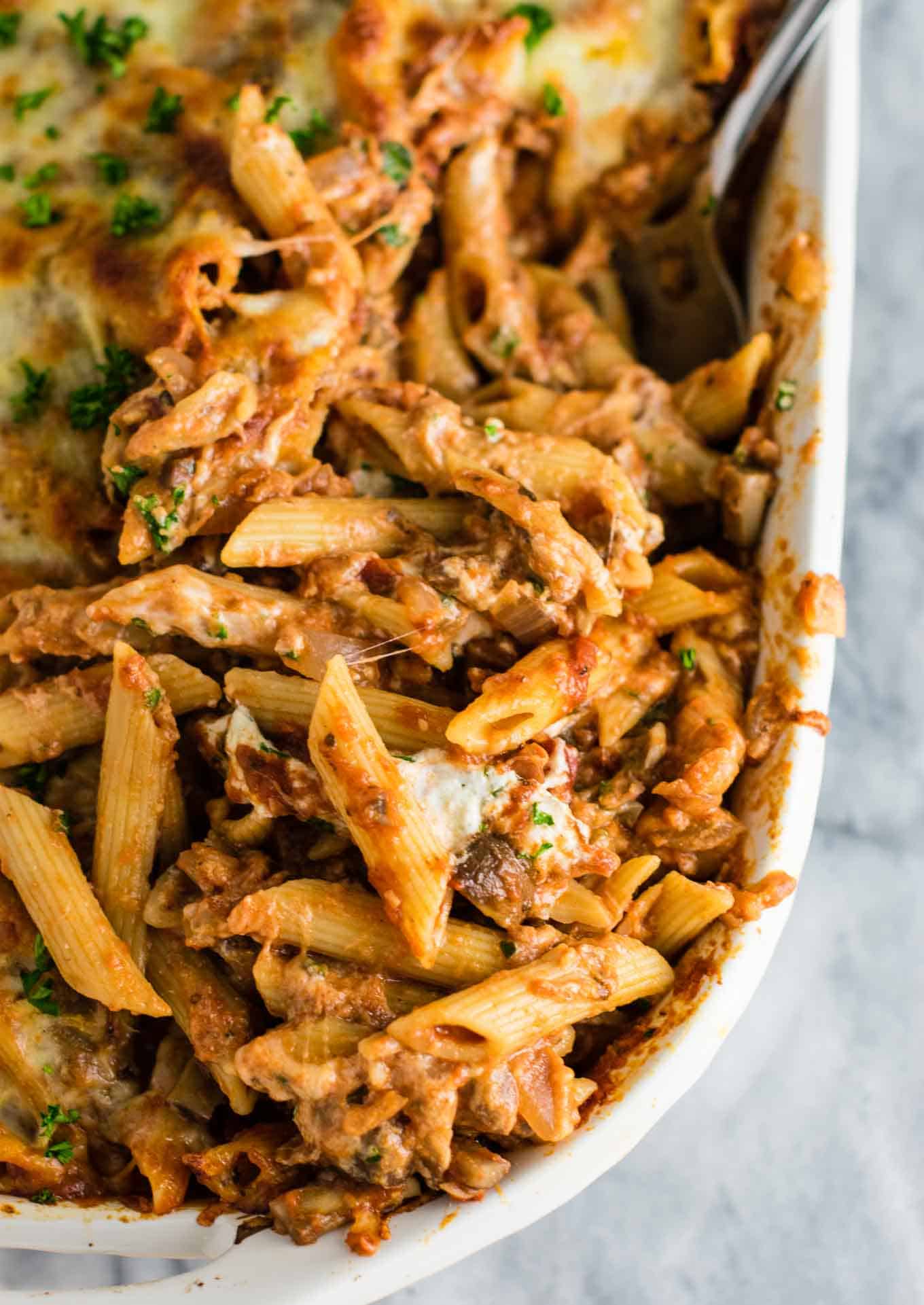 The most delicious meatless baked ziti recipe. Your whole family will love the flavor in this vegetarian baked ziti!
Ingredients
8 oz reduced fat cream cheese, softened
1/2 cup plain 0% greek yogurt (or use sour cream)
1/4 cup fresh chopped parsley
3 - 4 tablespoons fresh chopped basil
50 oz jarred pasta sauce (I used mushroom flavor)
1 lb penne pasta
1 1/2 cups shredded mozzarella cheese
1 cup freshly grated parmesan cheese
1 large onion, diced
15 - 20 cloves of garlic, minced
16 oz baby bella mushrooms, chopped into chunks
8 slices of provolone cheese
Directions
In a medium sized bowl, beat together softened cream cheese, greek yogurt (or sour cream), basil, and parsley. Set aside or place in the fridge
In a dutch oven or large pot, add garlic, onion, mushrooms, 1 tablespoon of olive oil, and 1 teaspoon each of salt and pepper
Saute on medium high heat for 15 - 20 minutes, or until mushroom cook off their liquid
Cook penne to al dente while mushrooms are cooking
Once mushrooms finish cooking, add pasta sauce and 1 cup of parmesan cheese and remove from heat
Add cooked penne to the sauce and stir. Salt to taste (I added another teaspoon of salt)
In a large 13 X 9 dish, add half of the penne/sauce mixture
Top with provolone cheese slices
Spread cream cheese mixture evenly over the provolone, using a rubber spatula to smooth carefully
Add remaining sauce/noodles
Top with mozzarella cheese
Bake at 400 degrees for 15 - 20 minutes, or until cheese is browned and bubbly
Garnish with parsley, if desired
Recipe Notes
I used 0% greek yogurt in place of sour cream to make it healthier. I didn't notice any flavor difference, but you can use sour cream in place if that's what you have!
Loading nutrition data...