An easy and delicious meatless spaghetti sauce recipe for everyday cooking. Learn how to make delicious spaghetti with no meat!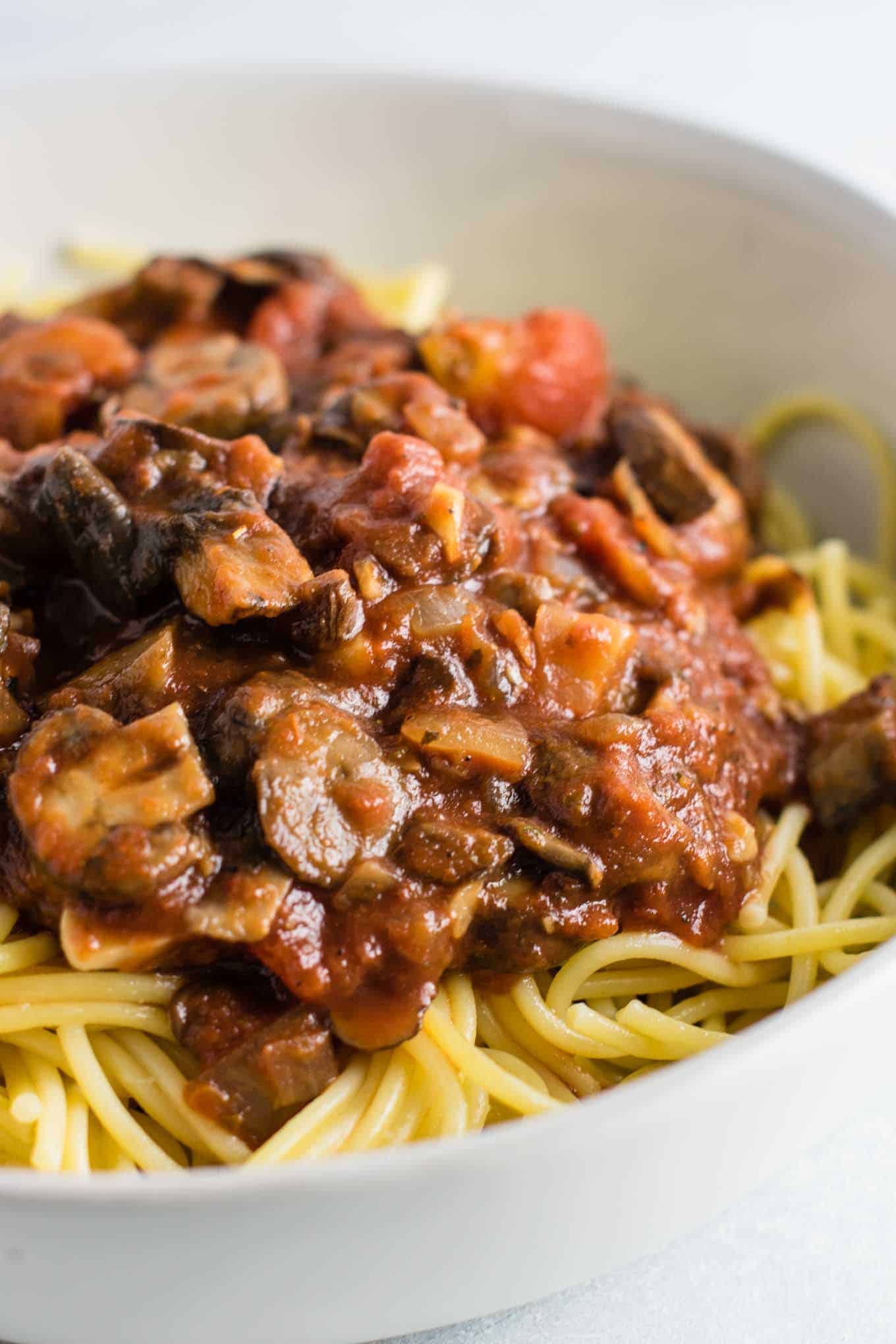 Meatless Spaghetti Sauce
Spaghetti is a staple in our house, and we eat it at least once or twice a month.
This recipe is my go to for easy meatless spaghetti sauce.
It occurred to me recently that not everyone knows just how easy it is to make spaghetti both meatless and delicious.
Whether you're vegetarian, or just looking for a meatless monday recipe, this spaghetti is for you!
Meatless spaghetti sauce is not only delicious but packed full of veggies.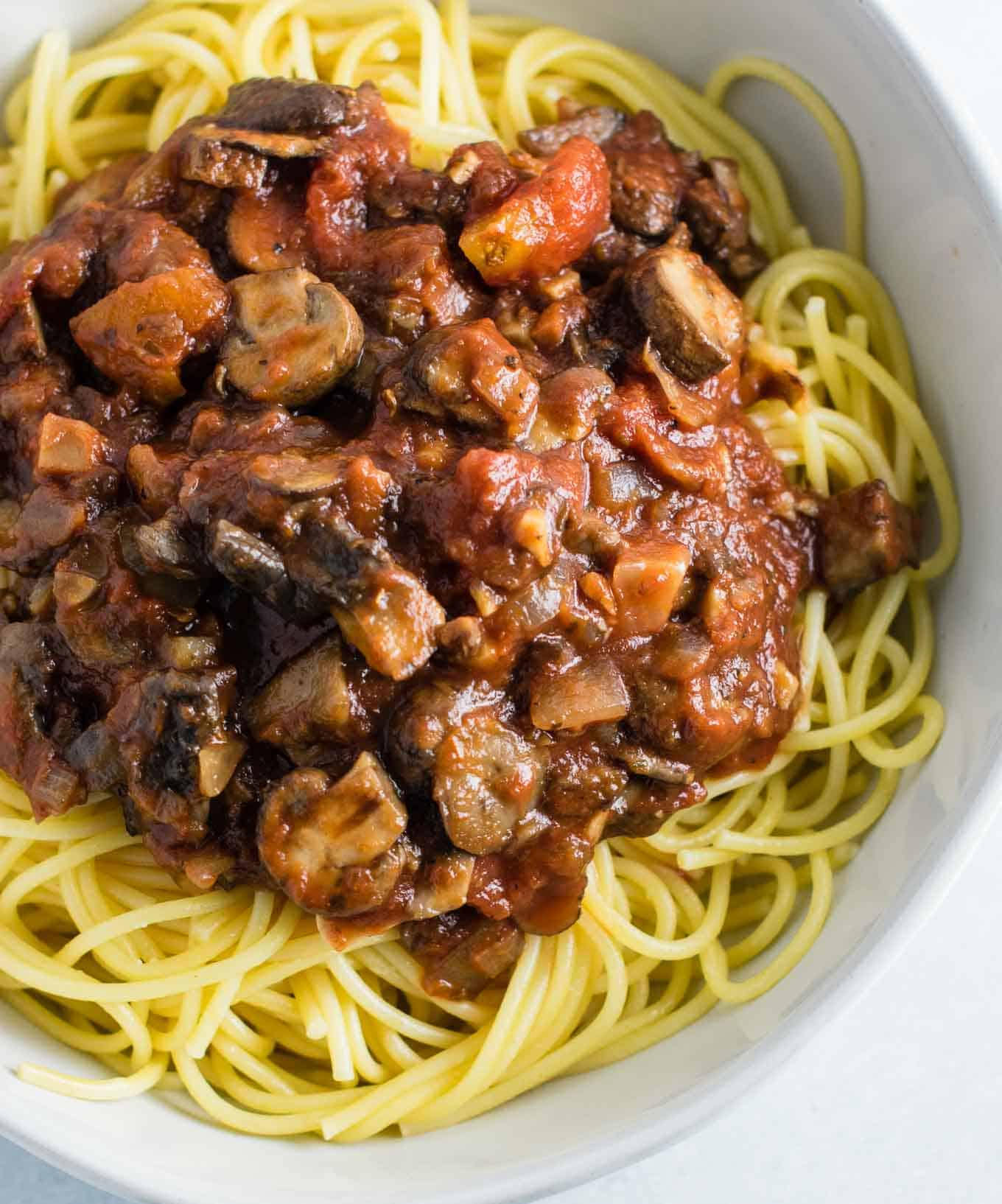 I'm a big fan of mushrooms, and they are perfect for getting that "meaty" texture in spaghetti sauce.
This recipe is mushroom based for that reason!
Mushrooms are just incredible for substituting meat in recipes.
They are also one of the key ingredients in my vegetarian bolognese recipe.
So easy to cook and delicious every time!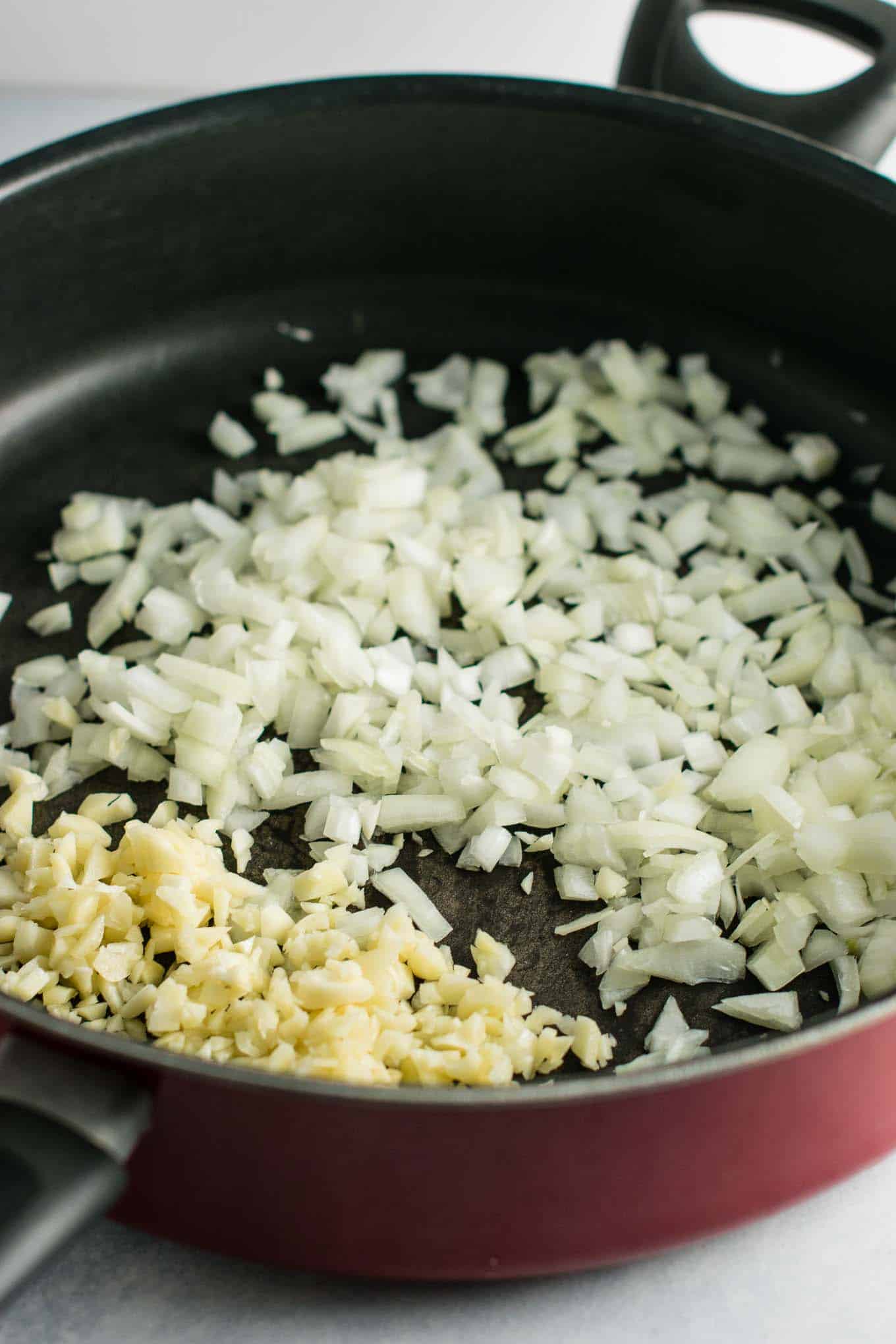 How to make meatless spaghetti sauce
The flavor of fresh garlic and onion add a ton of depth to this recipe, so I start with that as a base.
Add your fresh diced garlic and onion to a large skillet or jumbo cooker.
The pan pictured is called a "jumbo cooker" and I purchased mine from walmart.
It is by far my most used and loved kitchen tool, and I have been buying them for close to 10 years!
If you're looking for a great all purpose pan that will hold just about any recipe, I highly suggest getting one.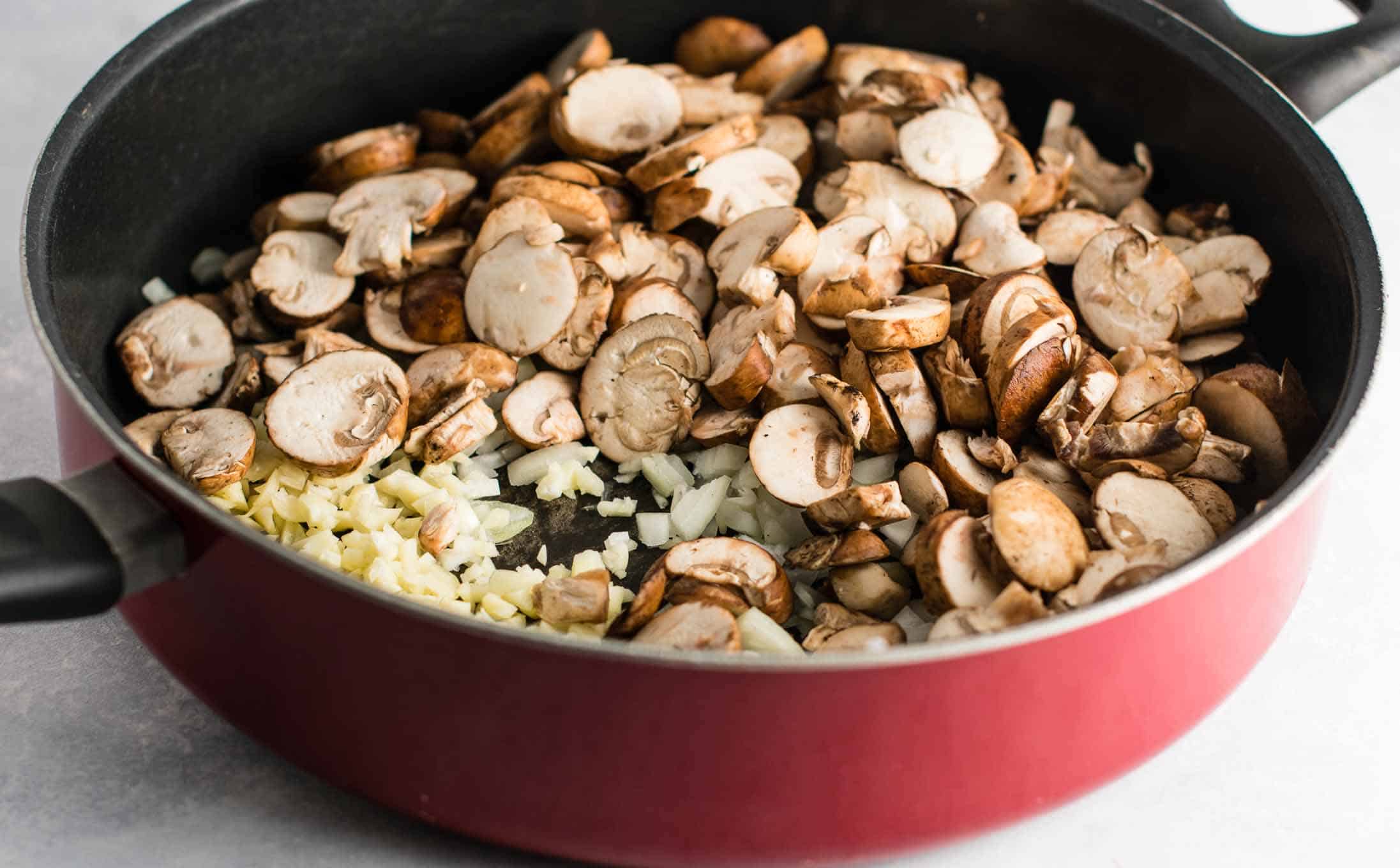 Next, add in your sliced baby bella mushrooms.
These are small and the texture is perfect for meatless substitutes.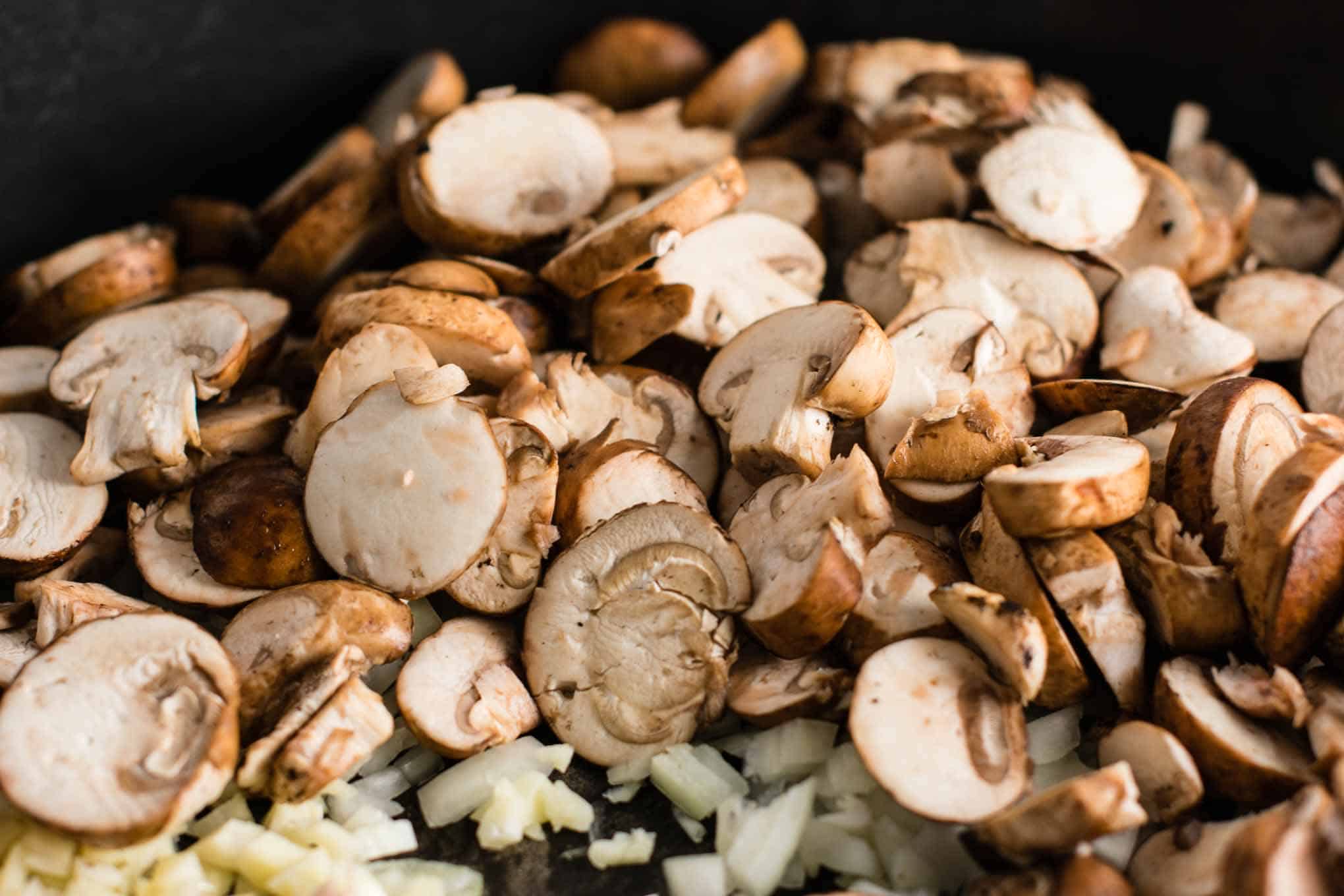 I also use chopped up portobello mushrooms (see below.)
Just buy the caps and dice them up into pieces.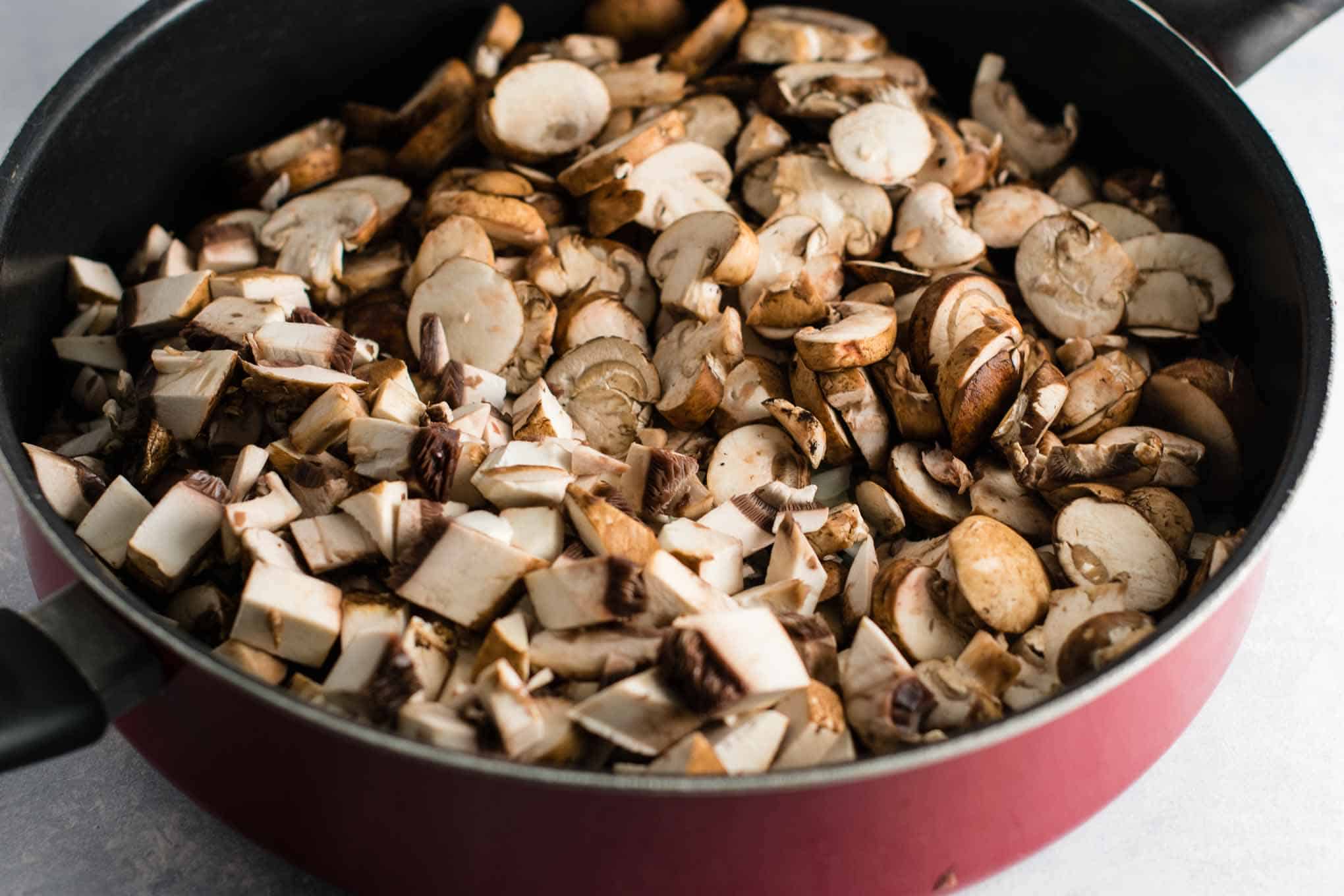 The combination of both mushrooms makes for a super chunky and flavorful sauce.
Texture is everything!
Once your garlic, onions, and mushrooms cook down, they will look like this.
That means they are perfect!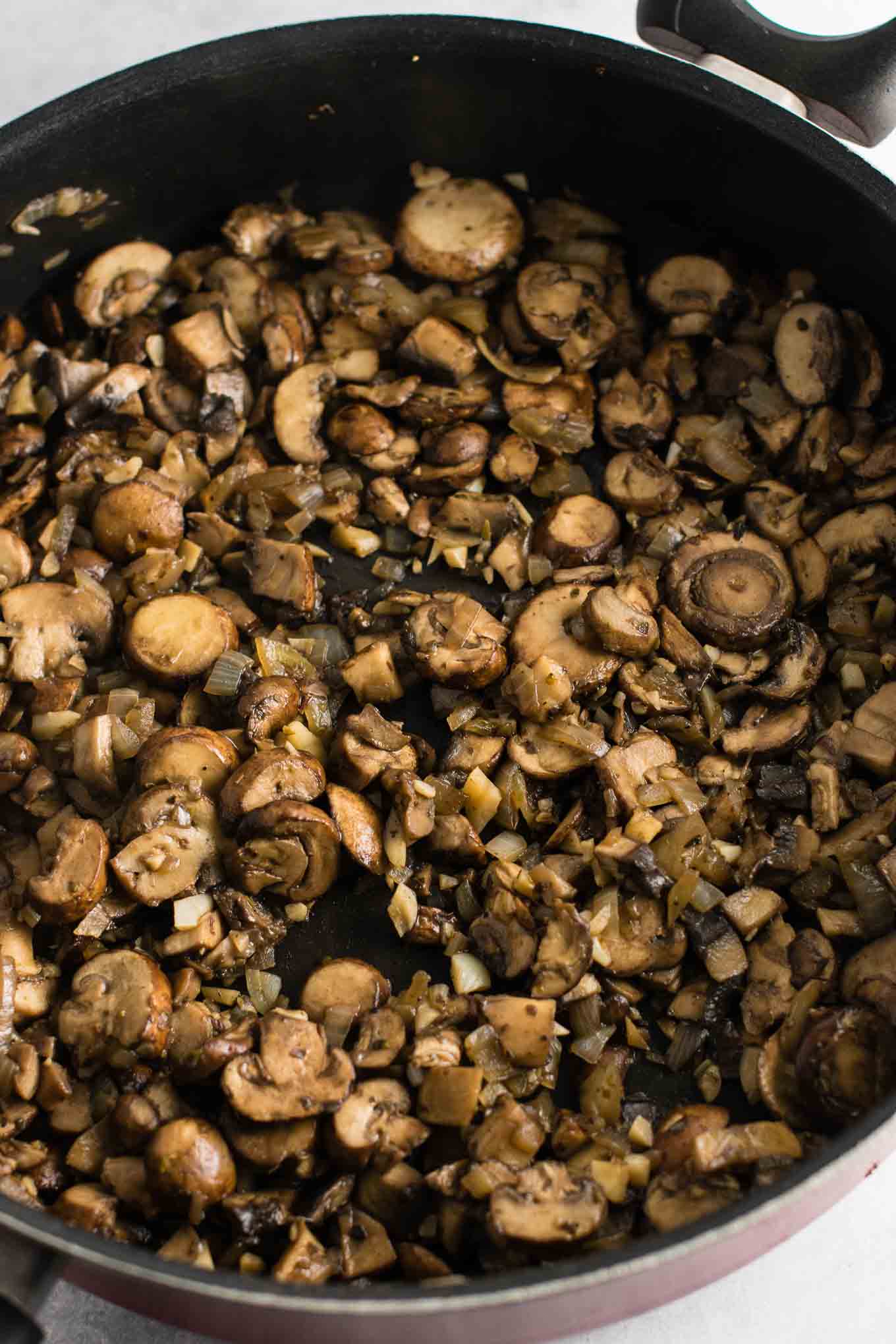 Basically, we are looking for two things: the onion to be caramelized, and the mushrooms to have released and cooked out all of their liquid.
The pan should not have a lot of excess liquid left over.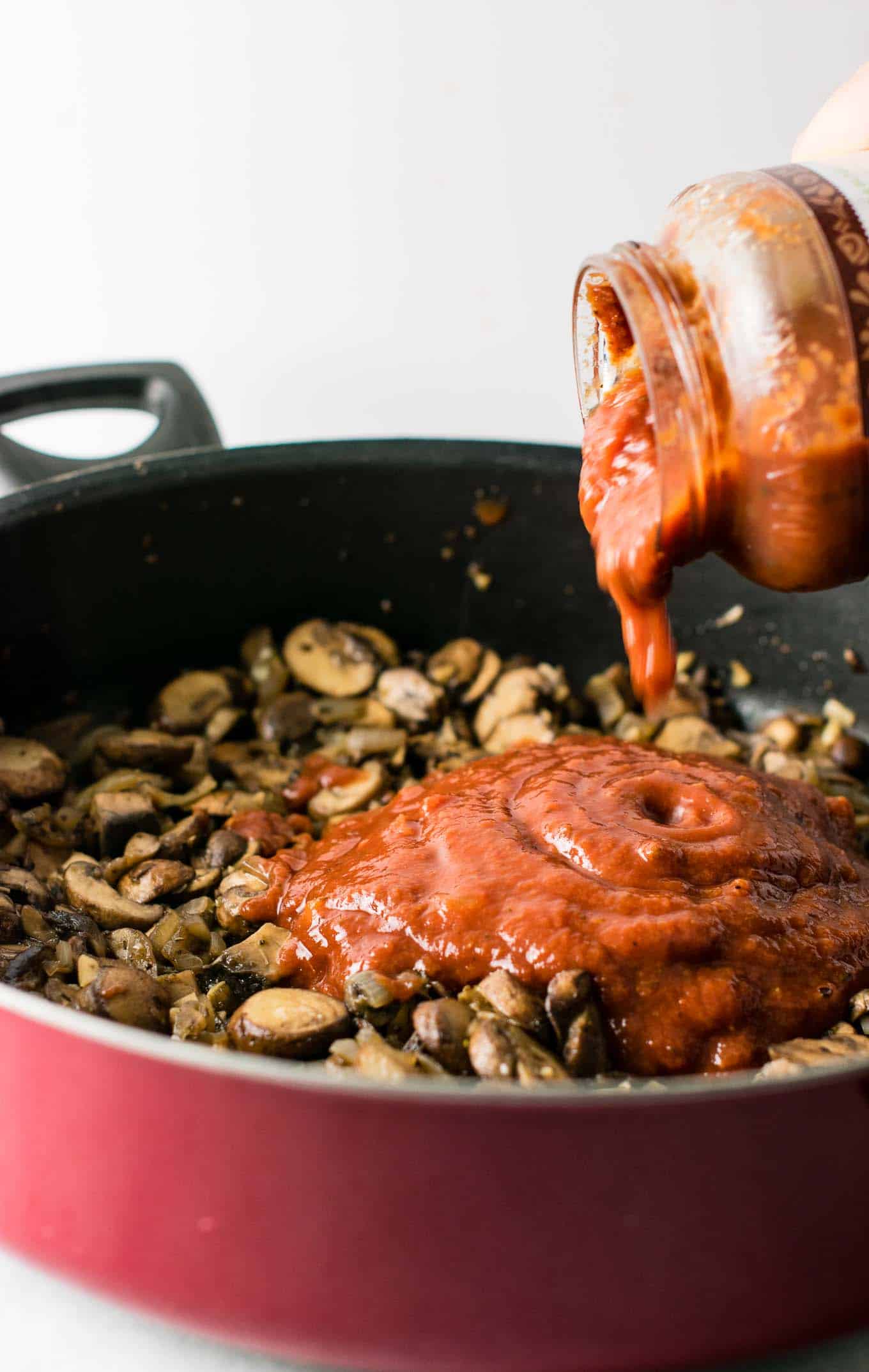 After this is done, pour in a jar of your favorite pasta sauce (I use mushroom flavor because I just love it so much!)
Any flavor of your favorite pasta sauce will work fine.
My current favorite is Kroger brand simple truth organic.
They are affordable and taste great! They come in a variety of flavors.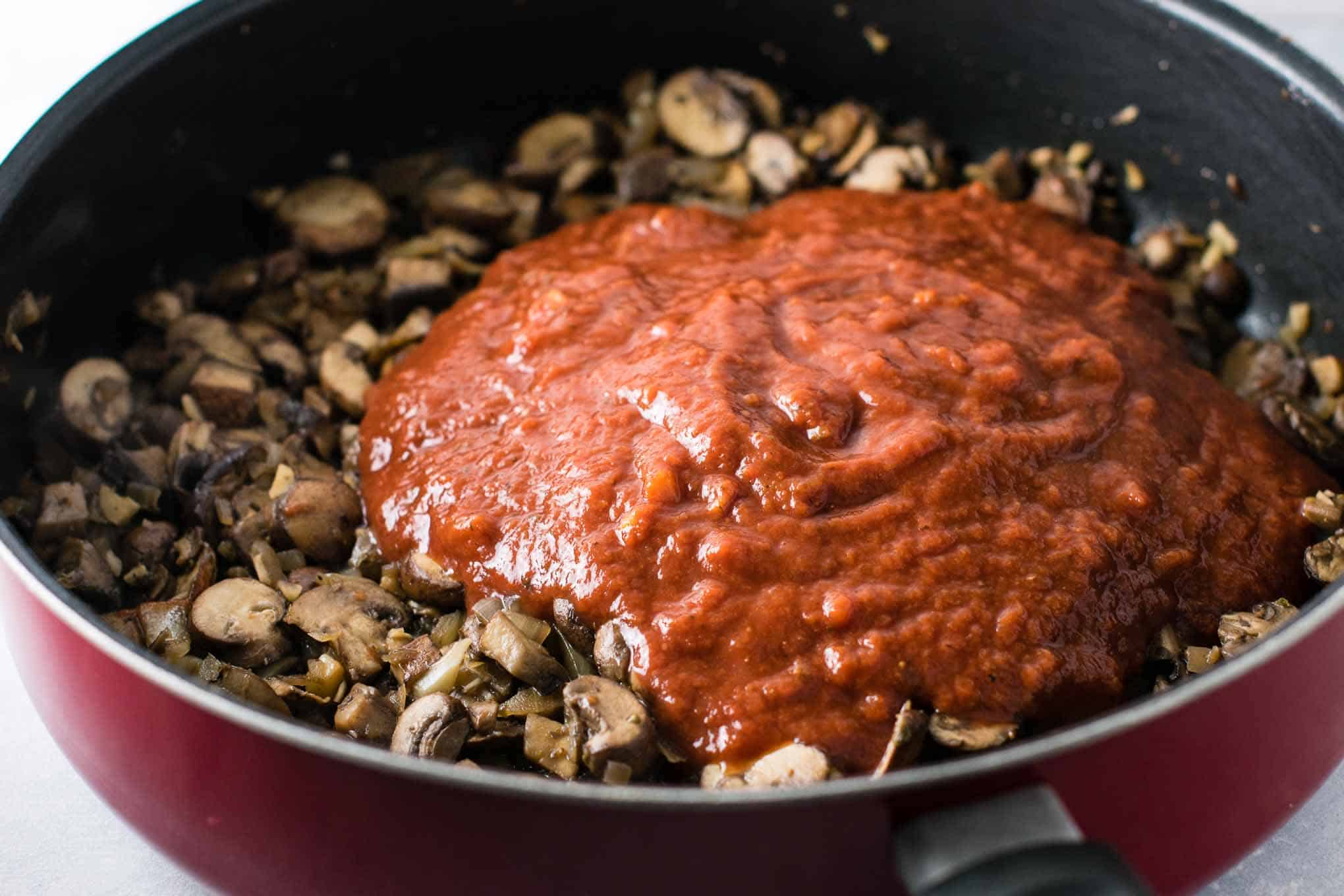 Stir for a few minutes to heat, and it's ready to serve!
We love whole wheat noodles around here, but sometimes go for the traditional white.
Either way you cannot go wrong!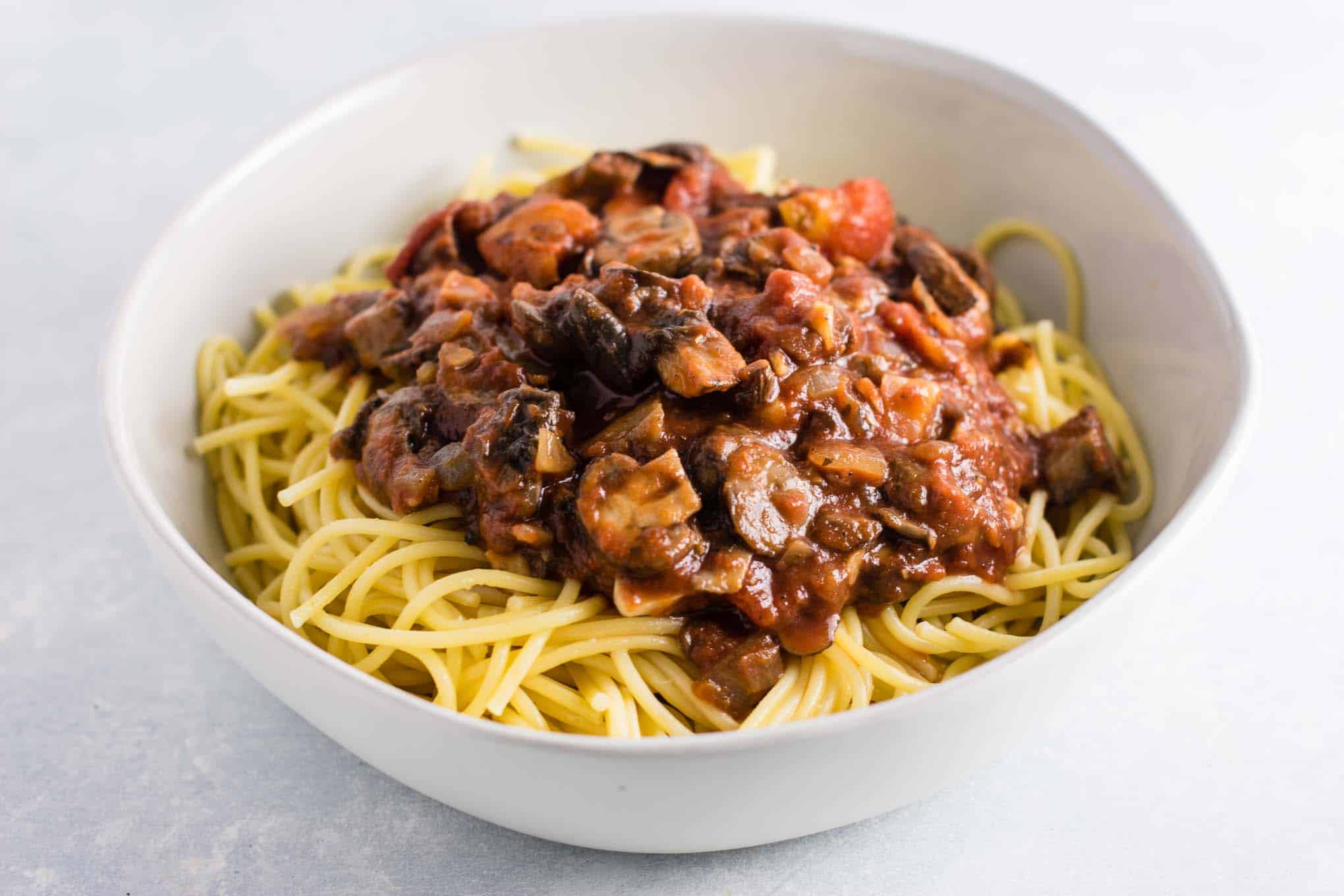 This meatless spaghetti sauce is already vegan, or you can add cheese if you are not vegan.
Freshly grated parmesan cheese will take the flavor to the next level!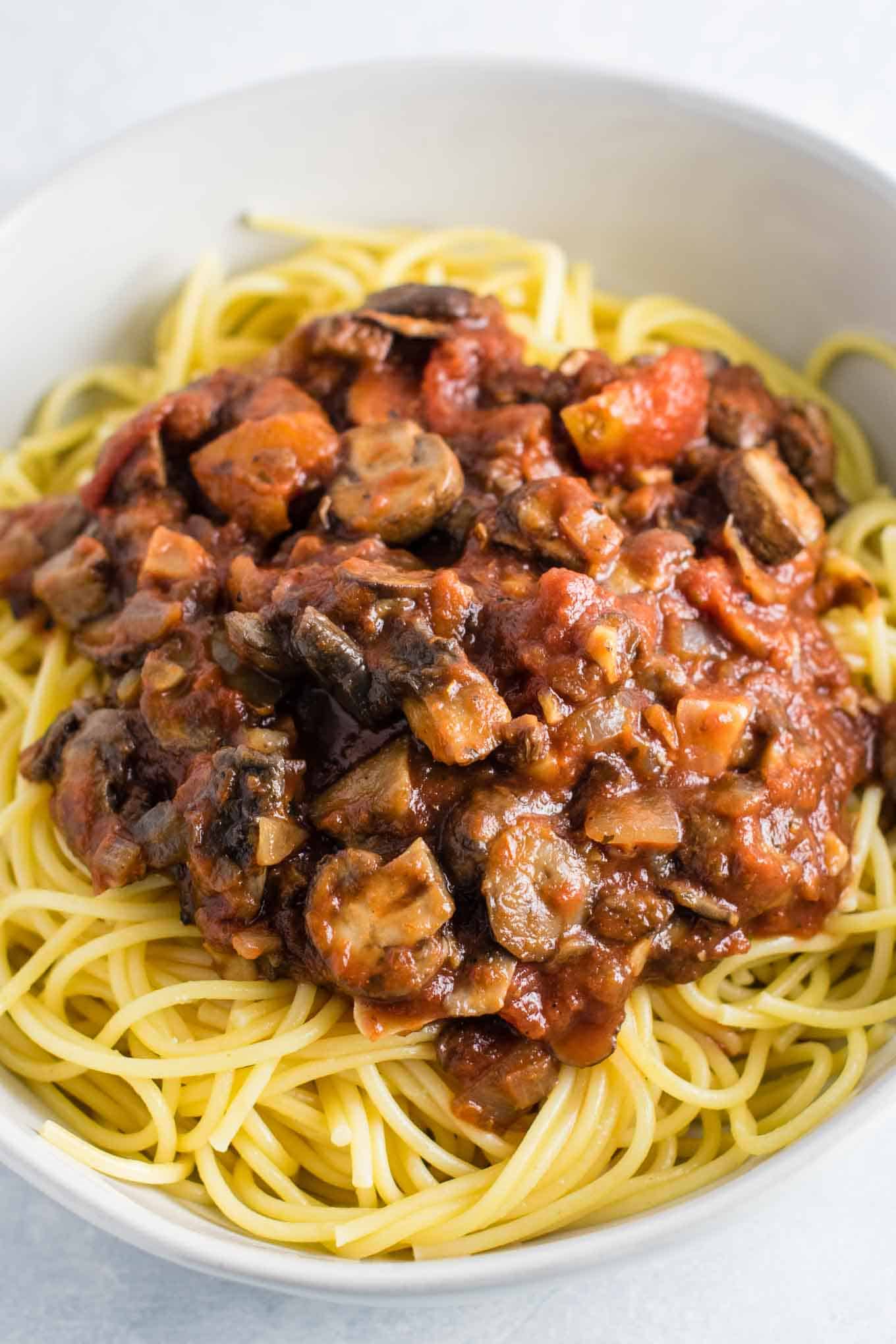 My favorite toppings are shredded mozzarella, freshly grated parmesan, and red pepper flakes for a bit of spice.
If you like a little spiciness, red pepper flakes are so good in this dish!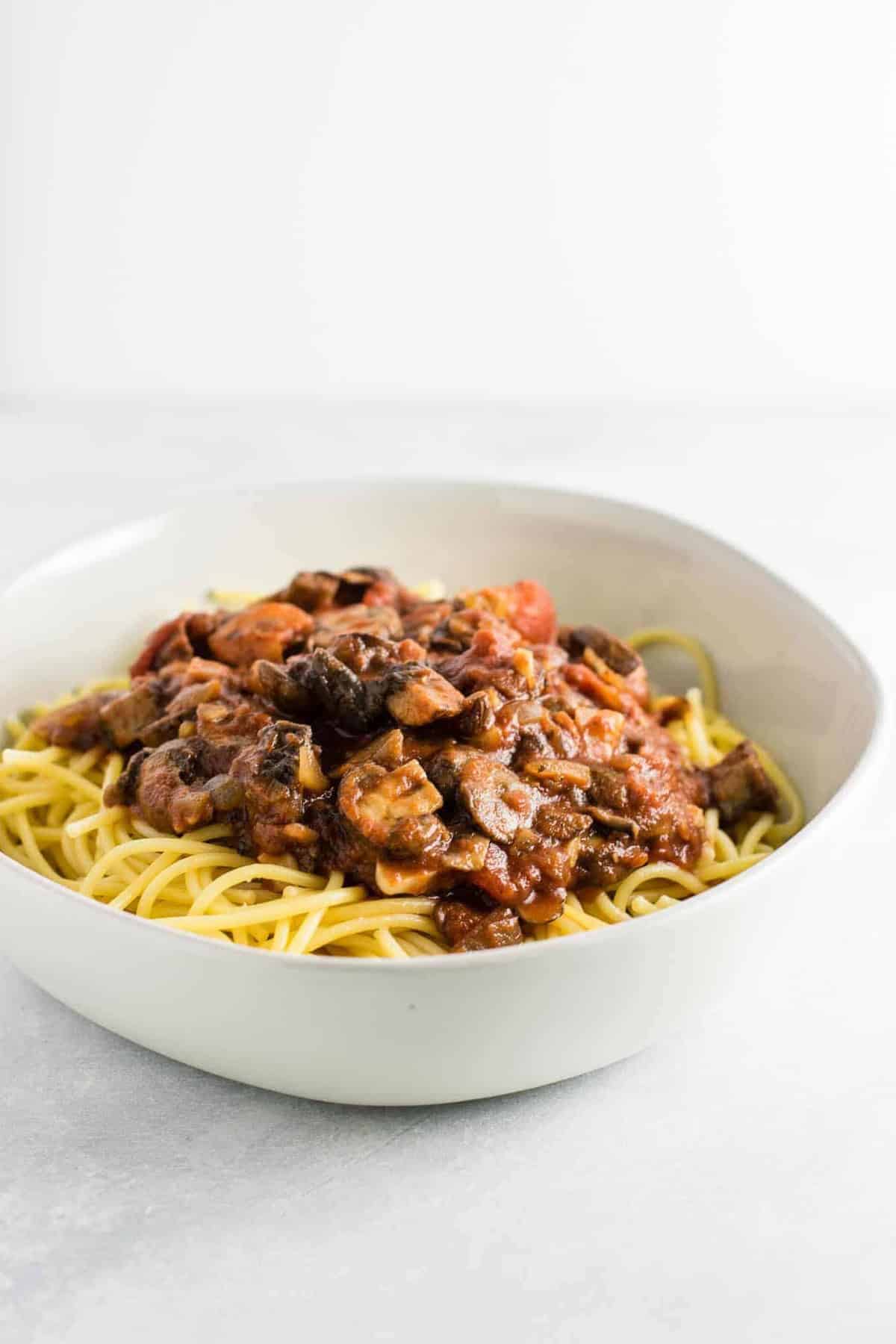 This makes a huge batch and easily serves 5 – 6 adults.
Perfect for leftovers!
Some people don't like leftovers, but I will always love leftover spaghetti.
It is always so yummy!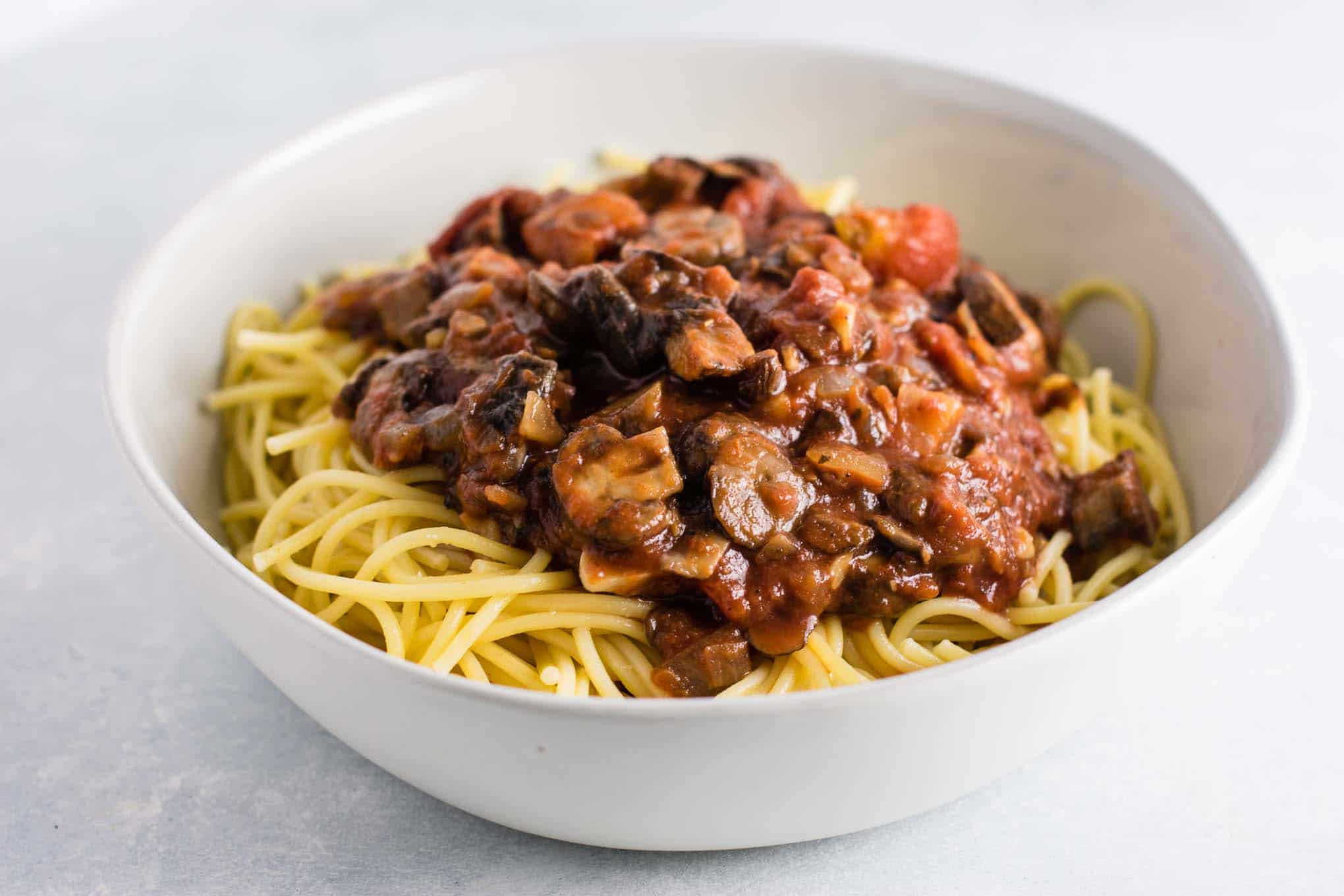 We usually eat this leftover two or three times as a family of 3.
The next night I will mix the sauce and noodles and bake it with cheese to make baked spaghetti.
Crispy cheesy edges are the best part of baked spaghetti!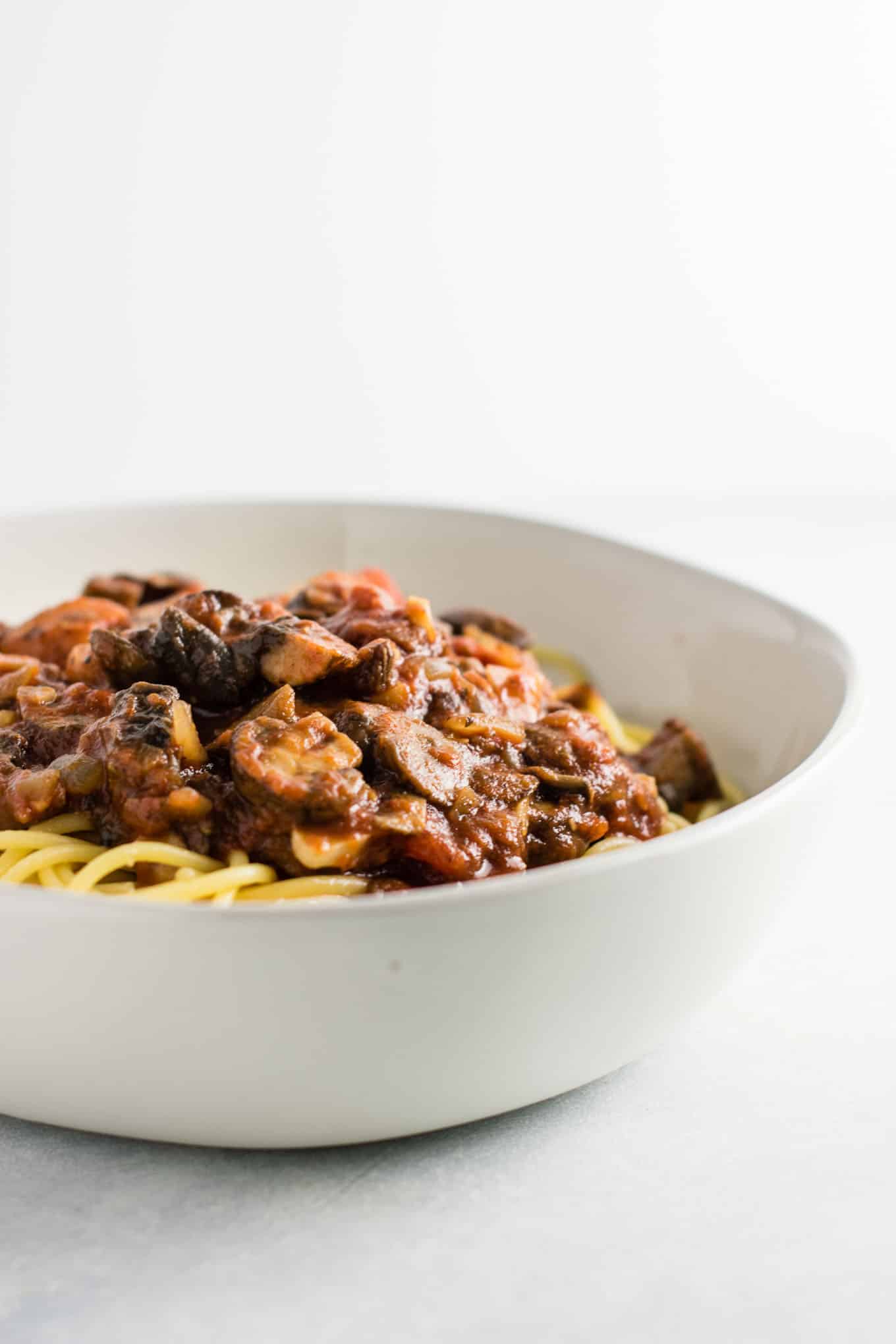 I LOVE the texture of the mushrooms once they cook down.
This is so important to the taste of the recipe, so be sure to let them get all caramelized and delicious!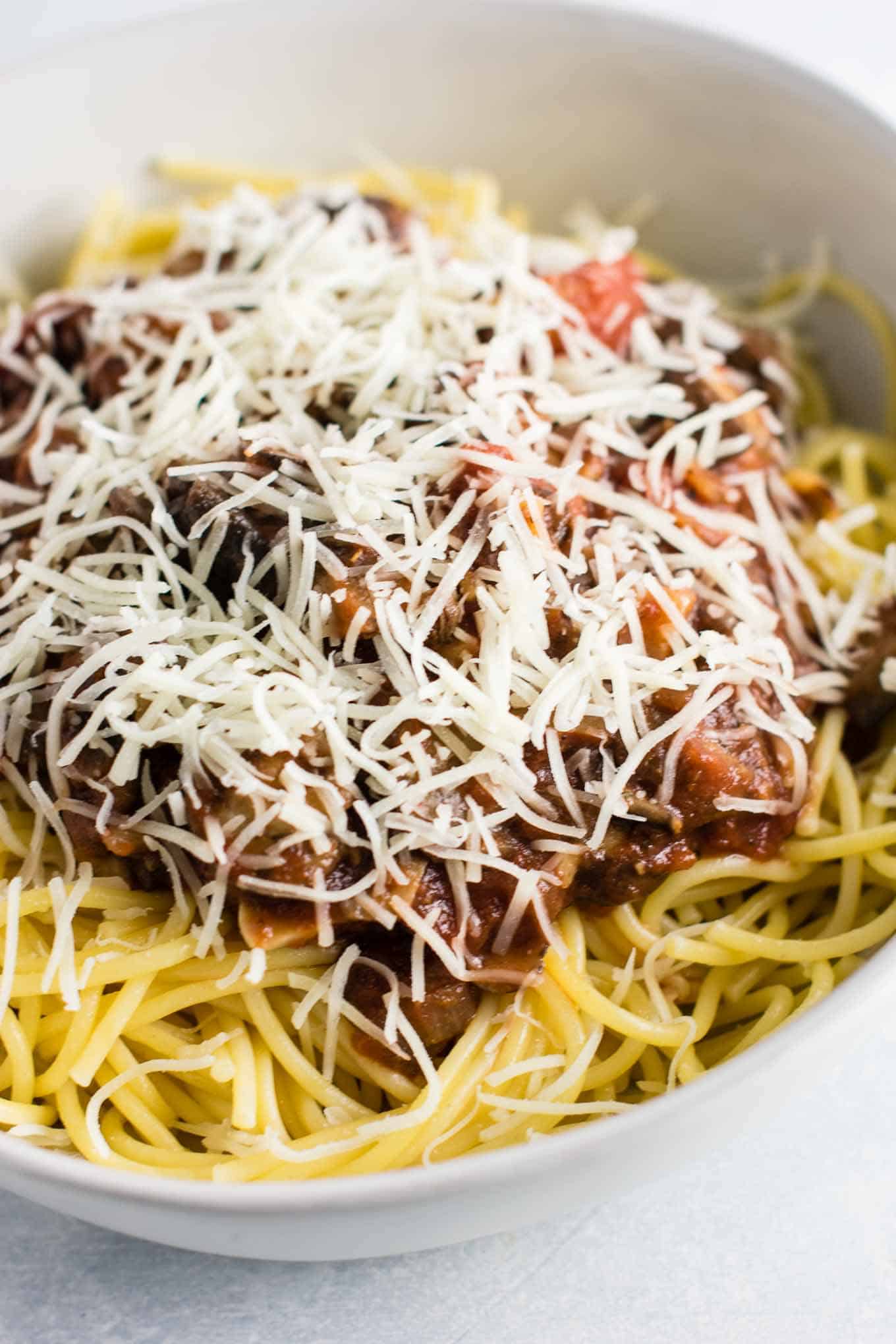 Serve with optional cheese for an easy and delicious meatless dinner!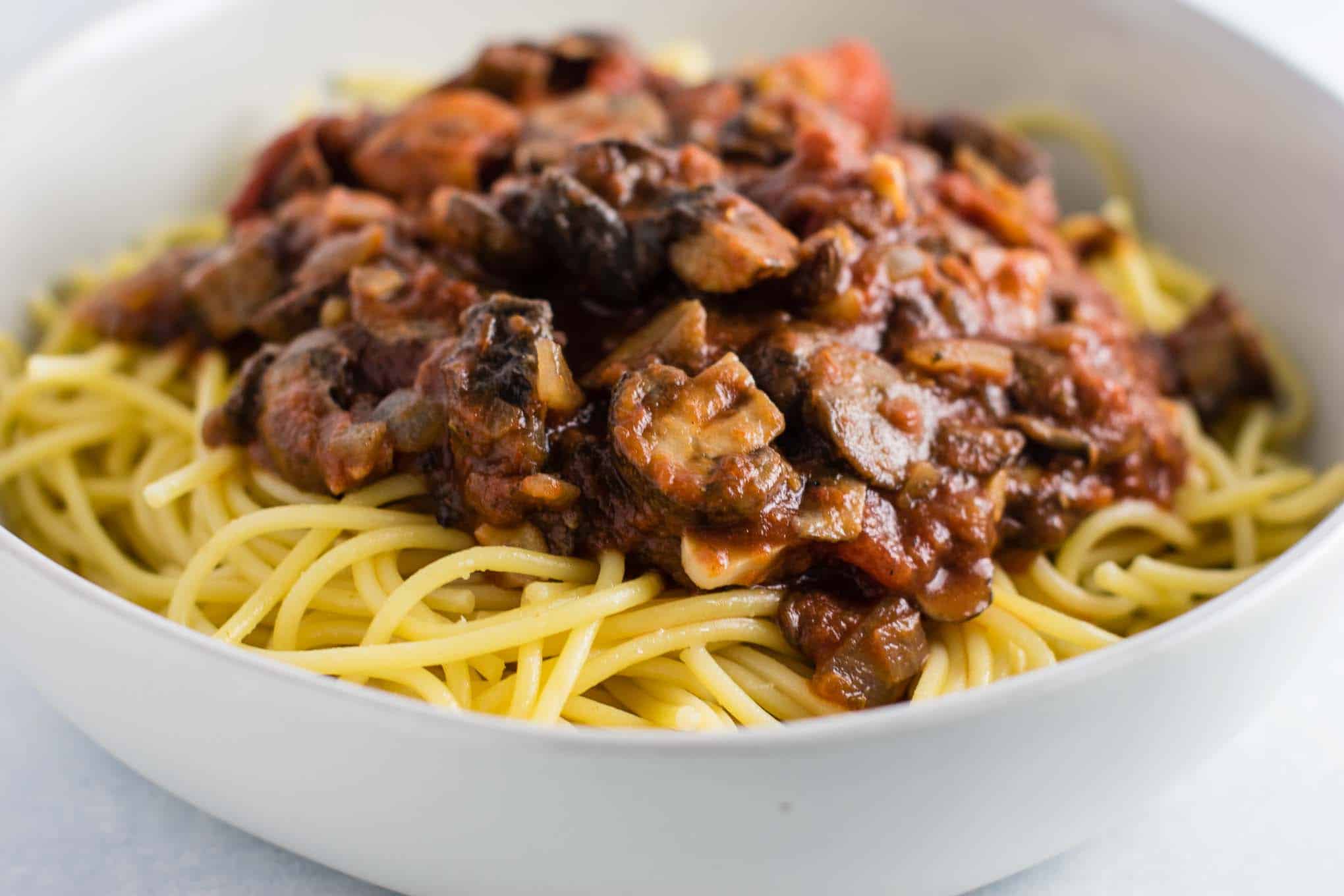 Bonus points: it's ready in just 30 minutes!
Meatless pasta recipes
Hungry for more delicious recipes? Here are some of our favorite meatless pasta recipes!
Are you making this recipe? I want to see! Don't forget to tag me on instagram @buildyourbite and hashtag #buildyourbite.
Saving this recipe for later? Click HERE to pin it!

Did you make this recipe? Don't forget to leave a star rating below!
Meatless Spaghetti Sauce Recipe
Yield: 6 servings
Meatless Spaghetti Sauce Recipe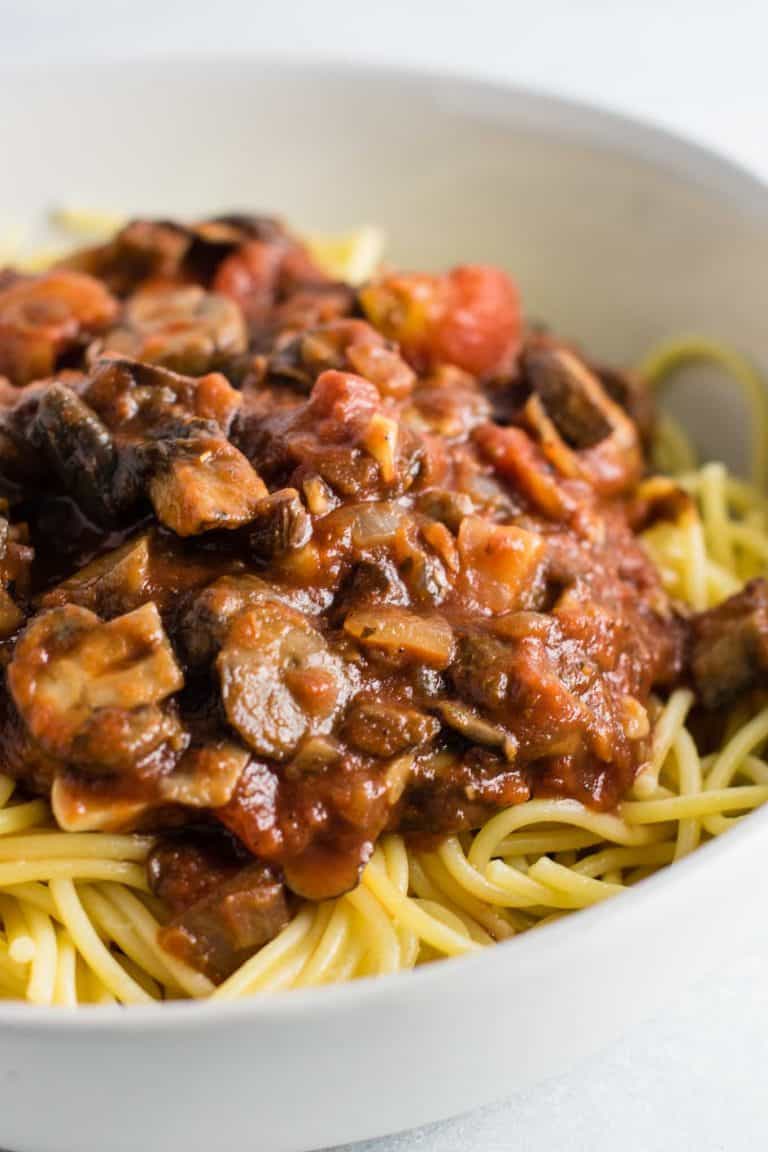 Easy meatless spaghetti sauce recipe for every day cooking
Ingredients
16 oz sliced baby bella mushrooms
1 medium onion, diced
1/3 cup minced garlic (around 15 cloves)
8 oz portobello mushrooms, diced
1 teaspoon sea salt
1/2 teaspoon pepper
2 teaspoons oregano
1 tablespoon olive oil
25 oz pasta sauce
1 lb spaghetti
Instructions
Cook spaghetti according to package instructions
Add salt, pepper, oregano, olive oil, garlic, onion, and all mushrooms to a large skillet
Saute on medium high heat for 15 - 20 minutes, or until mushrooms release and cook off all liquid
Add pasta sauce and stir until hot (1 - 2 minutes)
Serve over spaghetti
Top with optional mozzarella, parmesan, and red pepper flakes
Recommended Products
As an Amazon Associate and member of other affiliate programs, I earn from qualifying purchases.
Nutrition Information:
Yield:
6
Serving Size:
1
Amount Per Serving:
Calories:

254
Total Fat:

6g
Saturated Fat:

1g
Trans Fat:

0g
Unsaturated Fat:

4g
Cholesterol:

3mg
Sodium:

965mg
Carbohydrates:

43g
Fiber:

7g
Sugar:

11g
Protein:

10g