Every summer comes around and I just can't get enough watermelon.
Watermelon is by far my favorite summer fruit and I could easily go through 1-2 watermelons a week just by myself!
This summer has been especially brutal since I am pregnant.
I spend most of my days hiding inside in the AC as much as possible and eating tons and tons of watermelon.
One of the best tips I have for eating healthy is planning ahead.
At the beginning of the week, I buy several watermelons (or other fruits), chop them up and store them in the fridge in plastic containers for a quick and healthy snack.
This has helped me to eat a lot healthier when I reach for a snack 2-3 times a day.
Summer heat is rough and there's nothing like a cool and icy drink to help you cool off!
My husband is a landscaper so he is out in the heat for long hours on end.
He loved how refreshing this frozen watermelon lime cooler was and said he would drink one every day!
The coconut water adds electrolytes and a sweet and subtle coconut flavor that I love.
I froze the watermelon in chunks instead of adding ice to this recipe.
The result is a seriously addictive slushy texture!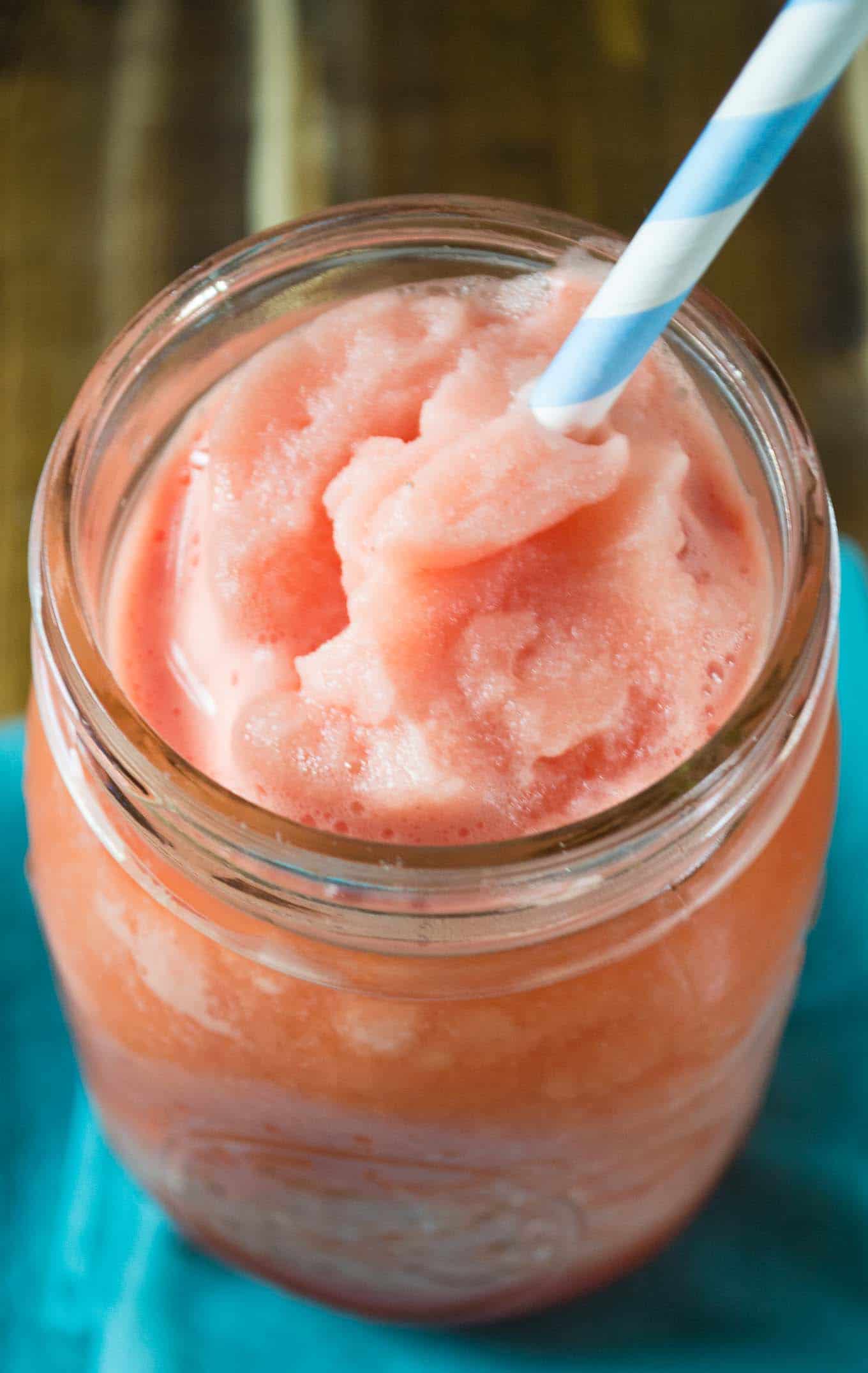 You can add lime juice to taste, but I like to add at least a teaspoon.
It's so light and icy and refreshing!
I've seen a lot of watermelon drink recipes that use loads of sugar in it which I just don't understand!
Watermelon is sweet as is and there is no need to add loads of unhealthy sugars to it.
I use just a touch of maple syrup to sweeten this drink and it is perfect, healthy and deliciously addictive!
Try this recipe for a healthy and delicious way to cool off this summer!

Frozen Watermelon Lime Cooler
Ingredients
2 cups frozen watermelon chunks
2 tablespoons pure maple syrup
1 cup chilled coconut water
Lime juice, to taste (I used around 1 tablespoon or about ½ of a small lime squeezed)
Instructions
Combine all ingredients in a blender and blend until well combined
Serve immediately and enjoy!