These gluten free pumpkin cookies with cream cheese greek yogurt frosting will make you feel like you're biting into a slice of cool pumpkin pie!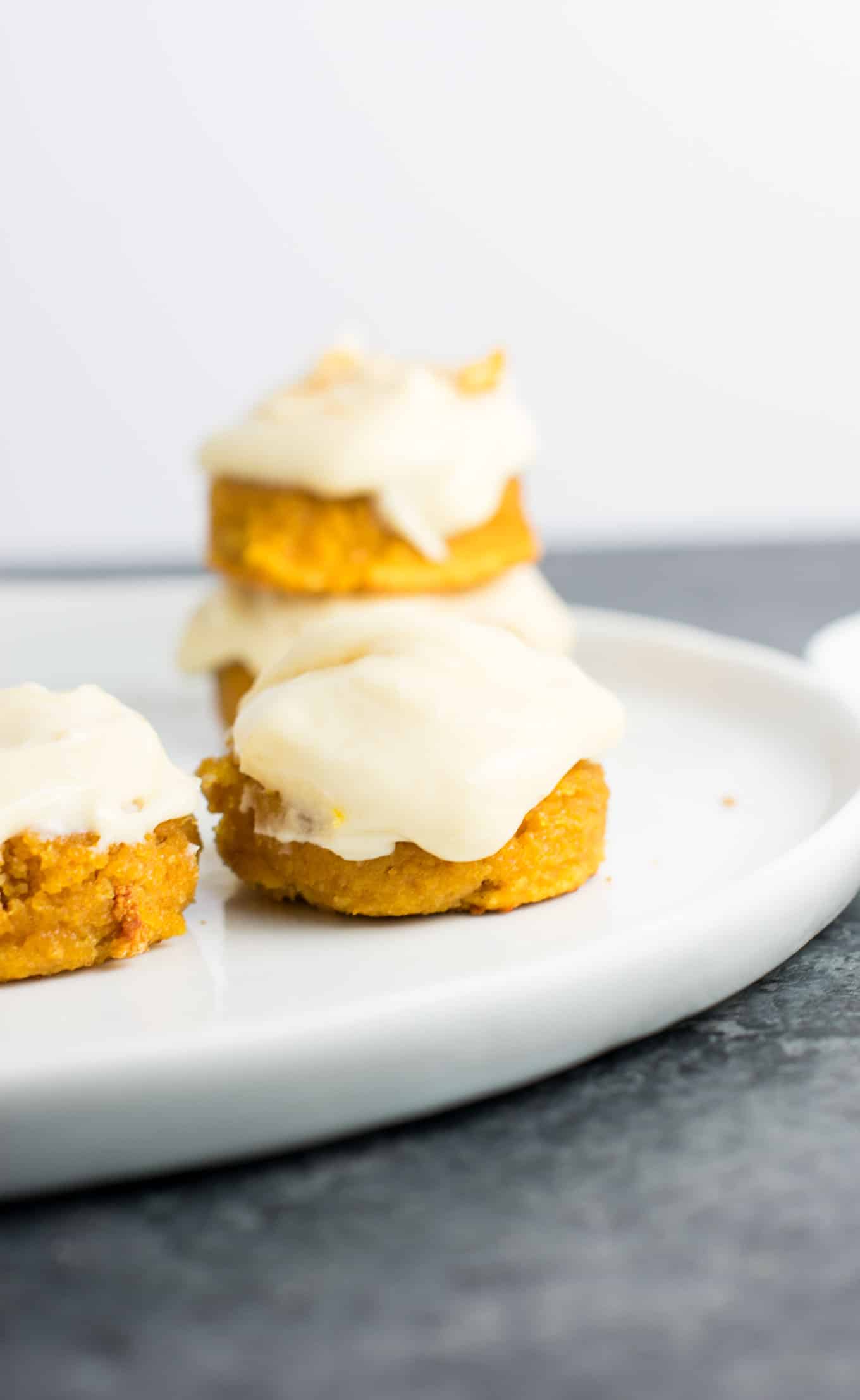 Yesterday I had the idea to make these gluten free pumpkin cookies. With fall just around the corner, I've been dreaming of all things pumpkin!
My mom, like many others, is gluten free.
I wanted to create a pumpkin cookie without gluten in it for everyone to enjoy, no matter their flour restrictions!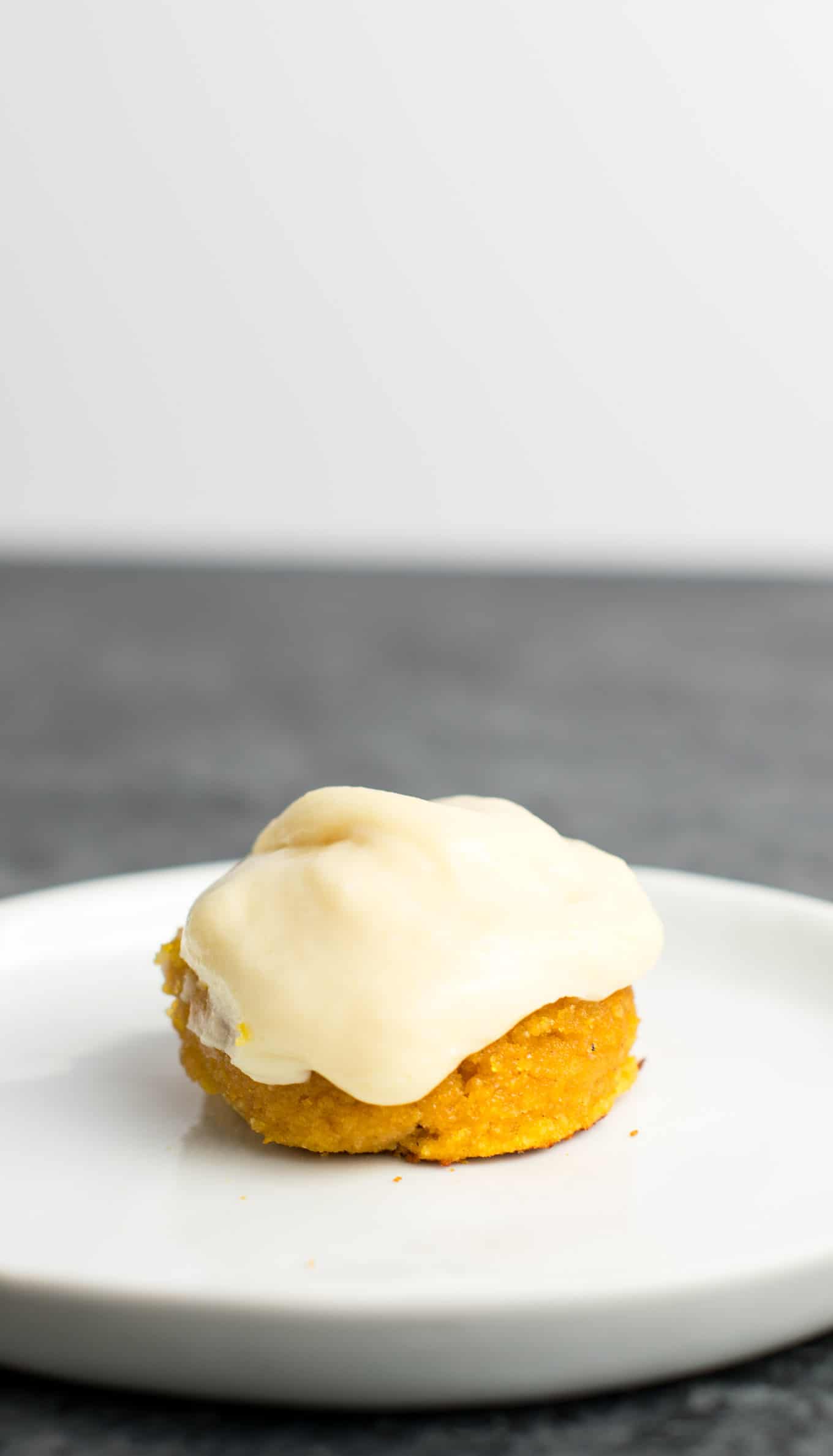 These cookies are not your normal cookies.
They are a bit softer than most, and very delicate.
They do not puff up at all and you can shape them however you wish and they will stay that way.
Once cooled, these cookies actually almost have the texture of a no bake cookie (even though they are baked) and seriously taste very similar to pumpkin pie texture.
For the frosting, I made a maple greek yogurt cream cheese frosting that I am IN LOVE with.
It is sweet and tangy, and doesn't harden like normal cream cheese frosting.
Instead, it's slightly sticky and sweet and oh so indulgent tasting with a hint of maple flavor.
I don't know about you, but I am craving fall weather, pumpkin recipes, and cozy clothes.
The weather this week in Virginia has been in the 60's in the morning and 70's by day and I'm finally seeing the light at the end of the tunnel.
Fall is so close!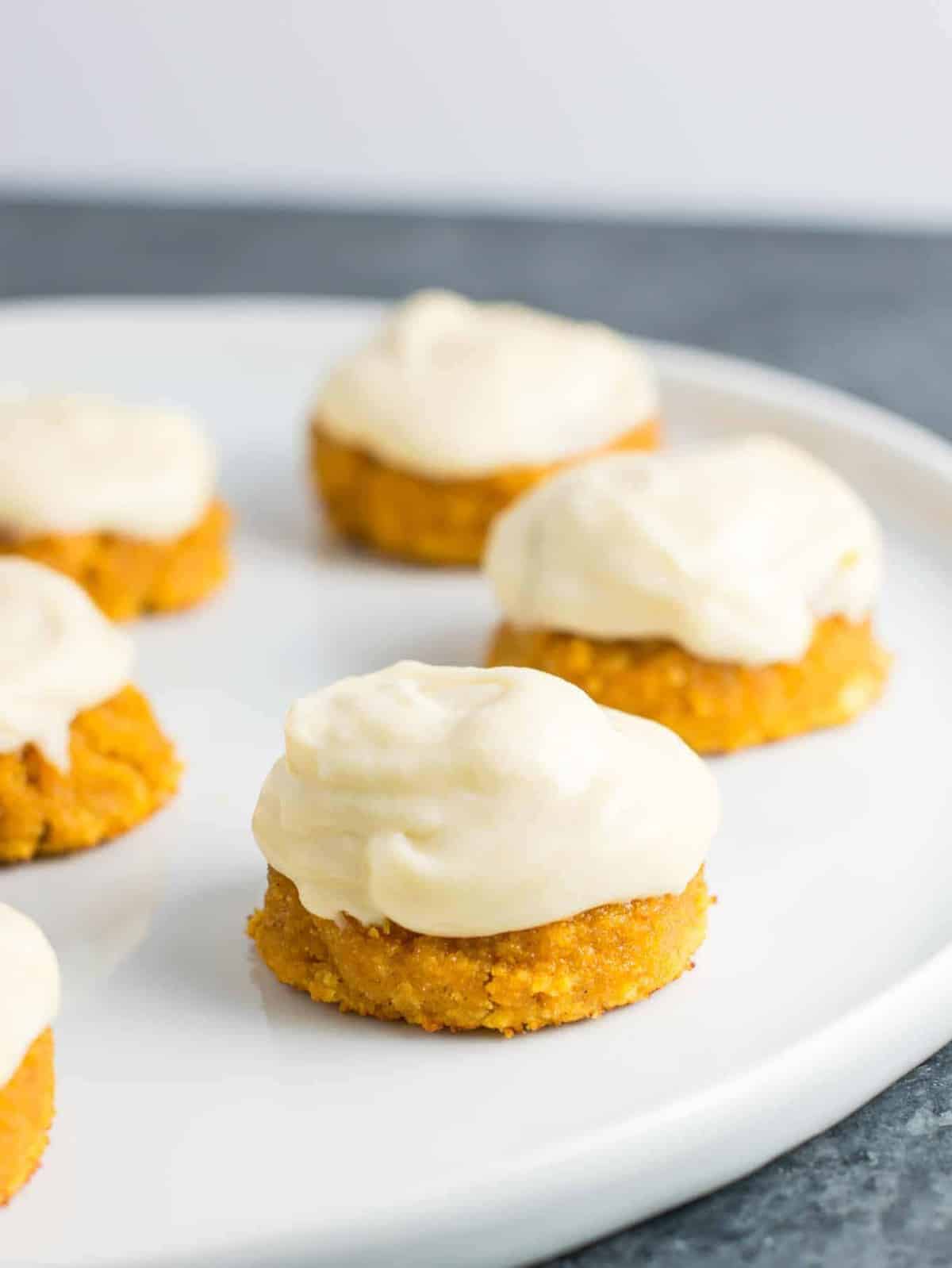 My husband convinced me to call these pumpkin pie cookies as they really are so reminiscent of the classic fall favorite.
He actually suggested we make these for Thanksgiving and I just might!
They are perfect little bite sized desserts and so delicious.
I used coconut flour in this recipe for the binder.
When I make gluten free recipes, I usually try to stay away from expensive or hard to find flours. All you need is coconut flour to make these cookies!
I found a very affordable one at my local Kroger (simple truth brand.)
I have never made frosting with greek yogurt before, but it turned out delicious!
The frosting is silky smooth and you would never know that it has yogurt in it.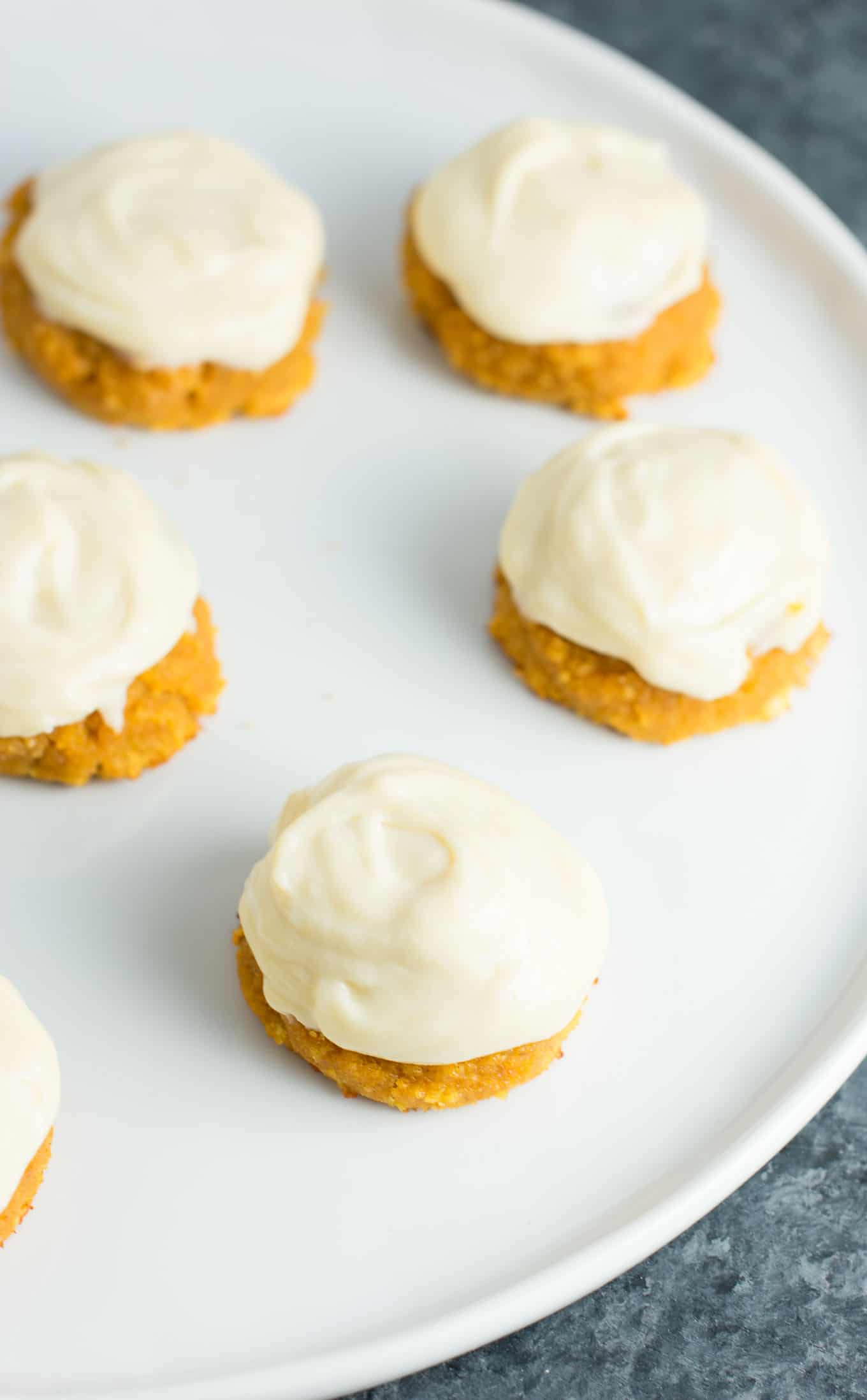 These cookies should be served chilled for best taste (just like pumpkin pie!)
While the frosting will not harden into a shell, I allowed it to chill in the fridge for an hour or so until it was nice and cool.
This recipe will make around 15 cookies with a generous amount of frosting on each one.
Perfect to kick off pumpkin season!
PIN these gluten free pumpkin cookies for later:

Gluten Free Pumpkin Pie Cookies
These gluten free pumpkin pie cookies with cream cheese greek yogurt frosting will make you feel like you're biting into a slice of cool pumpkin pie!
Ingredients
For the cookies
3/4

cup canned pumpkin

1/2

cup pure maple syrup

1

tablespoon vanilla extract

3/4

teaspoon baking powder

1/2

cup coconut flour

1/8

teaspoon sea salt

1/4

teaspoon pumpkin pie spice

2

eggs
For the Frosting
1/4

cup plain nonfat greek yogurt

4

oz reduced fat cream cheese, softened

1/4

cup powdered sugar

1/2

teaspoon vanilla extract

1/4

cup pure maple syrup
Instructions
Add flour, salt, pumpkin pie spice, and baking powder to a mixing bowl and whisk to combine. set aside
Add pumpkin, maple syrup, vanilla extract, and eggs to a separate mixing bowl
Whisk well to combine
Add dry ingredients to the wet, whisking until thoroughly mixed
Form cookies and place them on a baking sheet (they will not rise, so the shape that you form will stay that way for the most part)
Bake at 350 degrees for 10-12 minutes, or until the bottoms are cooked
Gently transfer cookies to a cooling rack using a spatula (they will be delicate while hot)
While cookies are cooling, make the frosting
Add cream cheese and powdered sugar to a mixing bowl and beat until combined (be sure to do this step first and not mix all of the ingredients at once)
Add greek yogurt, maple syrup, and vanilla extract
Use an electric mixer to beat until silky smooth
Once cookies have cooled, add a generous dollop of frosting to the top, using a spoon to swirl the tops
Chill cookies in the fridge for 1 hour, or until nice and cold
Serve chilled and store in the fridge
Recipe Notes
When making the frosting, be sure to just beat the softened cream cheese and powdered sugar together first before adding the other ingredients. The frosting will not combine properly if you attempt to mix it all at once