These dark chocolate pumpkin truffles will be your new favorite no bake fall dessert. Gluten free, vegan, and taste like a pumpkin spice truffle! A mouthwatering healthy truffle that everyone will love.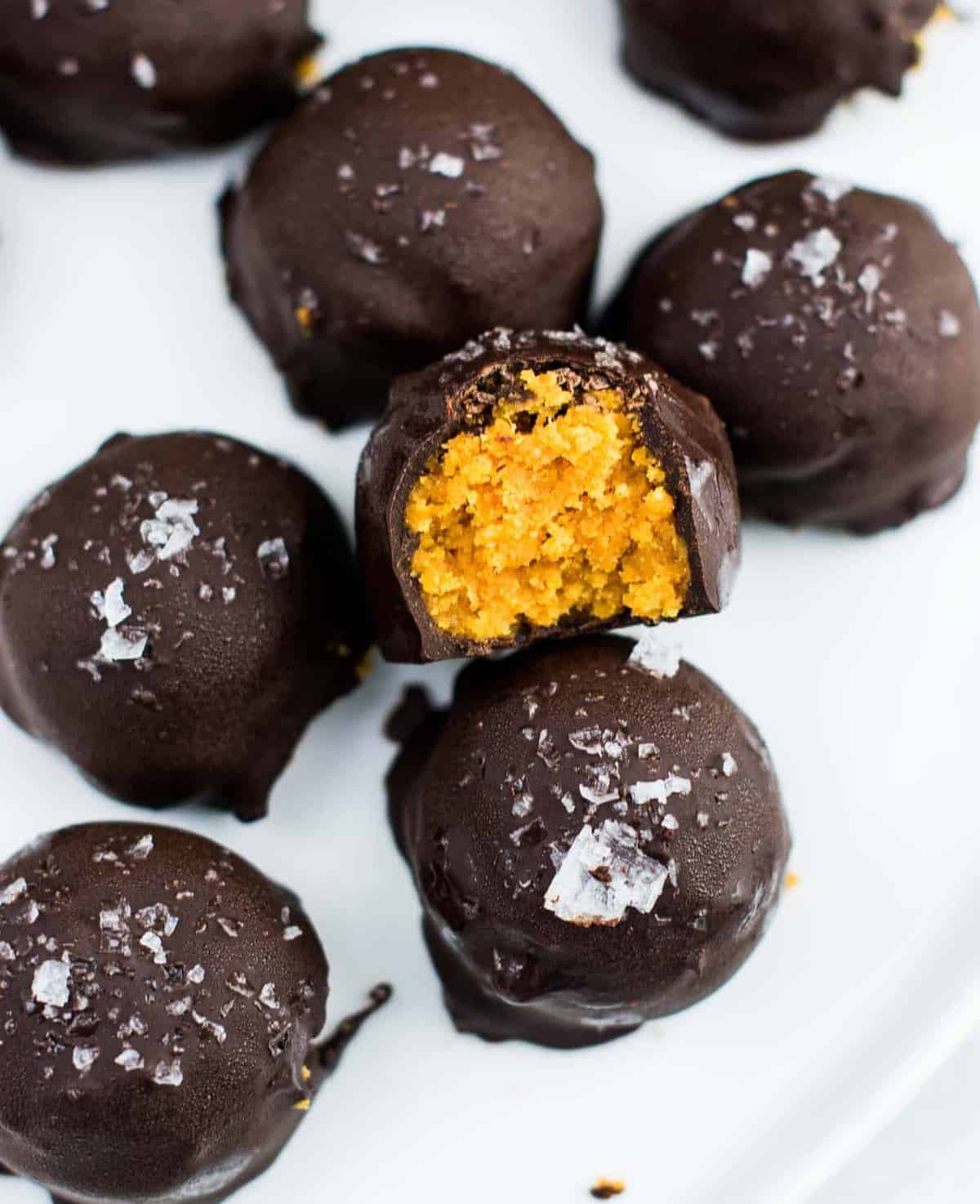 It's pumpkin season and today I'm introducing you to the magic that is these Dark Chocolate Pumpkin Truffles!
Sweet pumpkin spice filling coated in melted dark chocolate and topped off with flaked sea salt.
Guys, if you love pumpkin you will go nuts for these delicious little bites!
After I made peanut butter truffles last year, this year it inspired me to make these delicious pumpkin truffles.
No worries if you aren't a truffle making expert (I am definitely not!)
Truffles don't have to look perfect to taste incredible!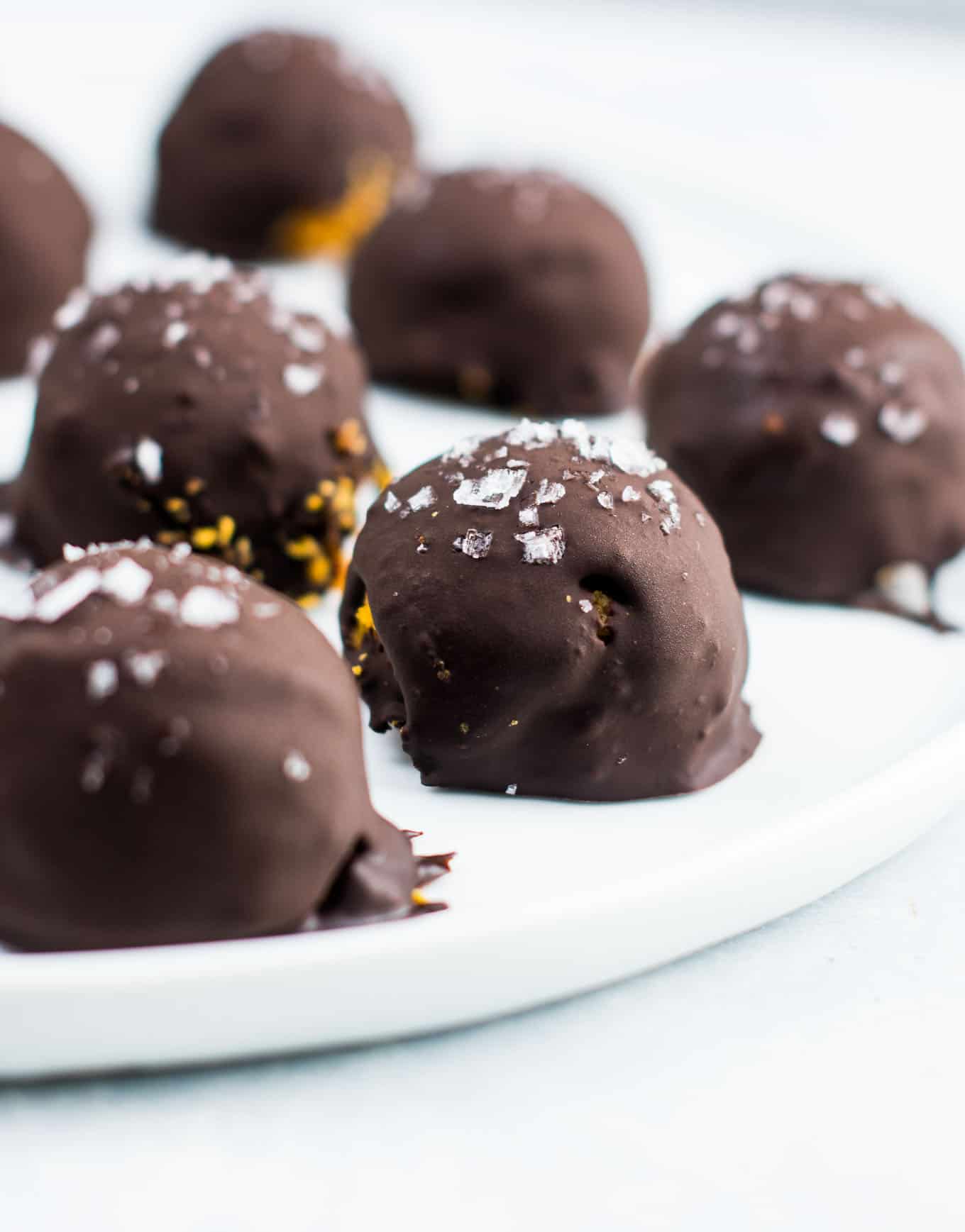 How to make pumpkin truffles
In a bowl, you will mix together all of the ingredients for the pumpkin truffles.
You will need: canned pumpkin, coconut flour, maple syrup, vanilla, salt, pumpkin pie spice, cinnamon, sugar, and coconut oil.
The batter will be nice and dense, and not sticky.
Perfect for making truffles!
I specifically made this recipe to use a whole can of pumpkin.
That way you won't have to worry about coming up with a use for leftover canned pumpkin, or wasting it!
Plus, it makes more than 30 truffles so these are great to make for a party!
These truffles are also vegan, gluten free, and no bake.
So easy and perfect for everyone to eat!
Shaping the pumpkin truffles
My #1 hack for making these truffles super easy is a mini ice cream scoop, which is really called a cookie scoop technically.
Just grab a cookie scoop, press the batter firmly into it, and drop onto a lined cookie sheet.
This way is so much easier than using your hands, and cuts a lot of time off of the prep.
Totally worth it to me!
My cookie scoop is a well loved tool in my kitchen.
If you do not have a cookie scoop, simply use your hands to roll the batter into balls.
Once you have scooped all of the truffles, place the cookie sheet in the freezer for 20 minutes.
Cold truffles make for easier dipping, and less batter getting into the chocolate.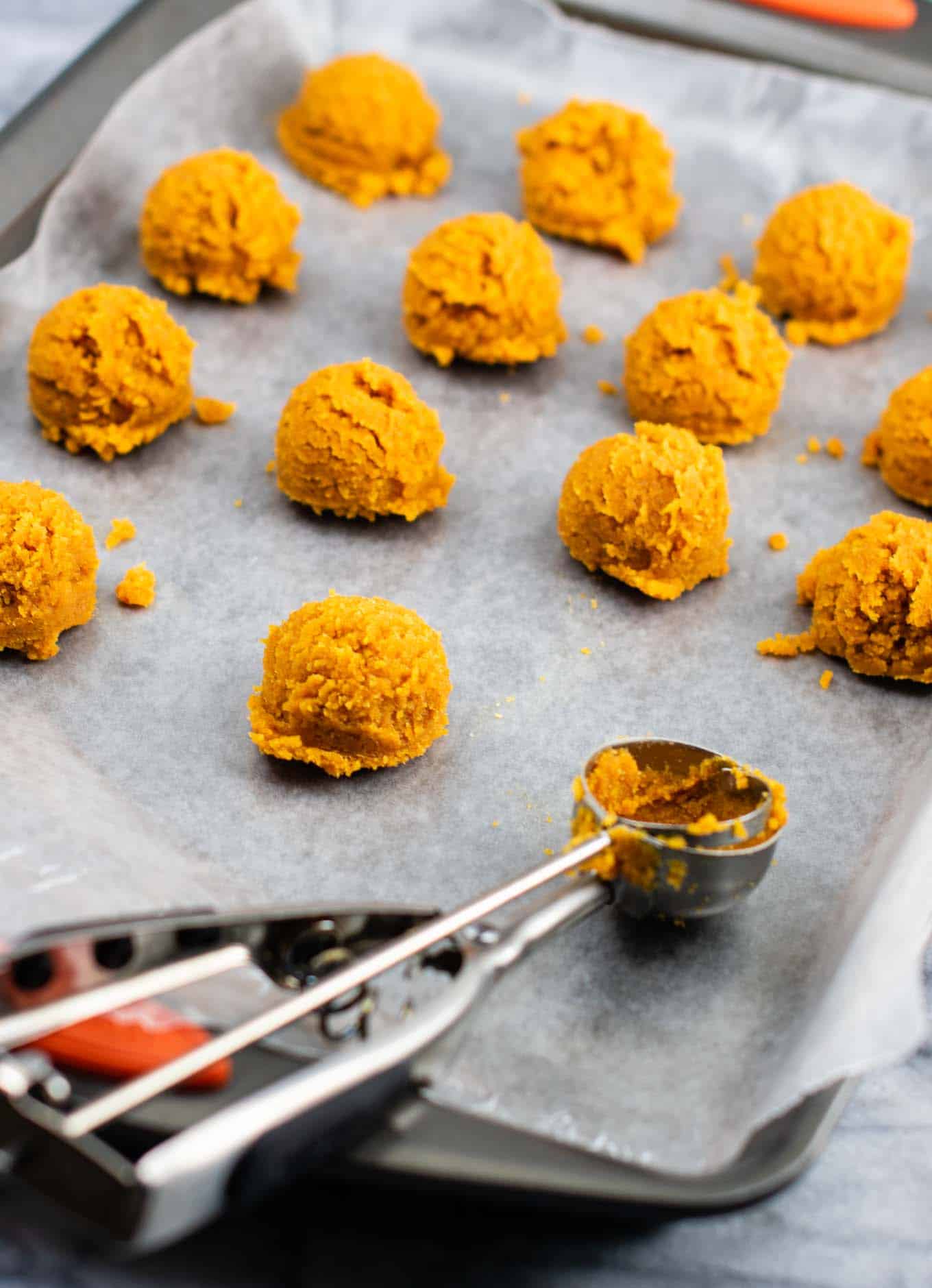 While the truffles are chilling, melt your chocolate.
You will need 3 1/2 cups of dark chocolate chips.
I used 69% cacao which is pretty rich dark chocolate.
The filling is very sweet, so the rich slightly bitter chocolate is the perfect flavor contrast!
Dipping the truffles in dark chocolate
Once the truffles are chilled, it's time to coat them in the chocolate.
For each truffle, drop it into the bowl of melted chocolate.
Use a spoon to drizzle chocolate over the top, then quickly remove with a fork and toothpick.
I usually google a truffle tutorial online before making them just as a quick refresher!
Just remember that they don't have to be perfect (mine certainly were not!)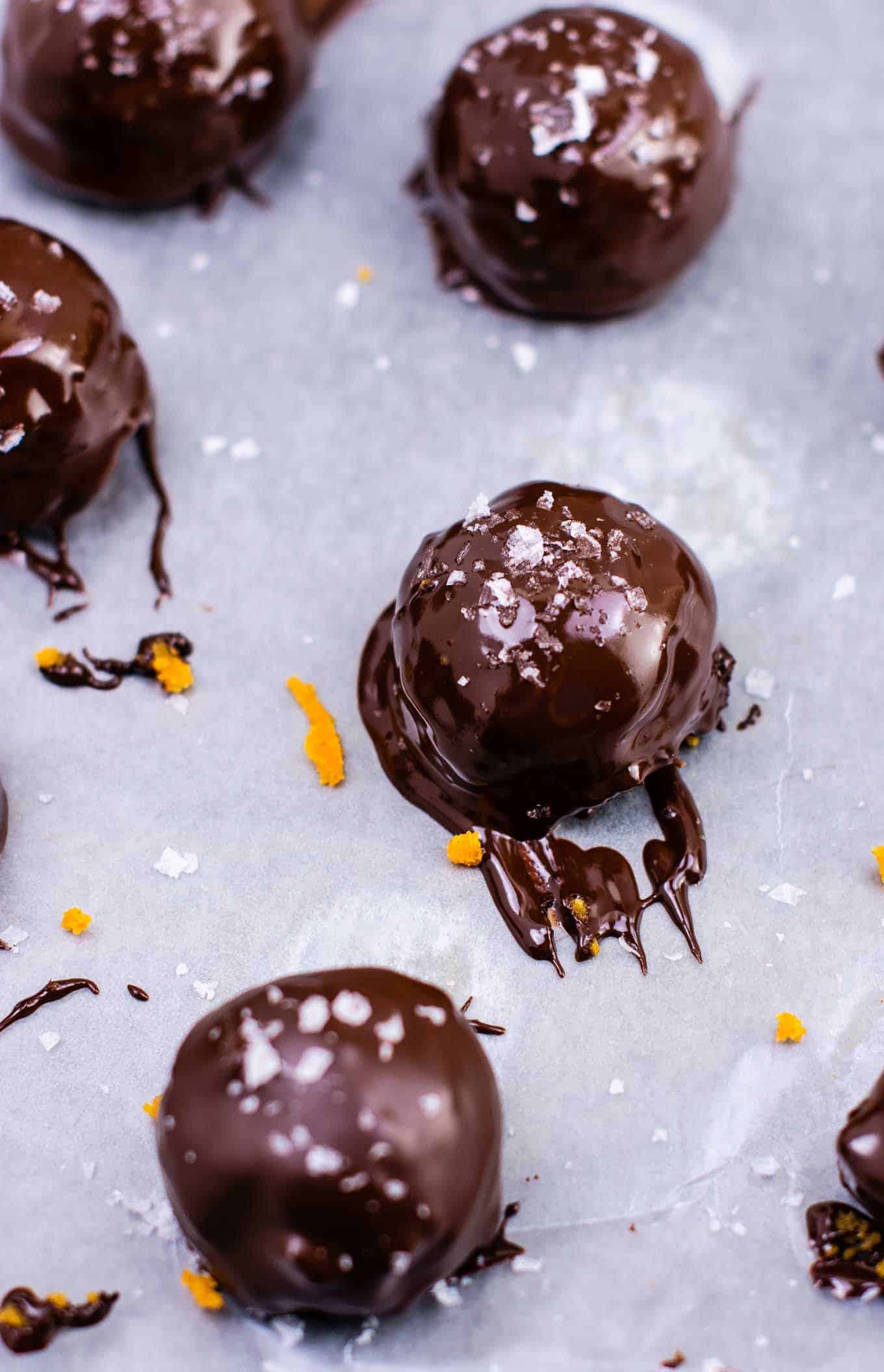 After each truffle is dipped, place it back onto the wax paper lined cookie sheet.
Sprinkle immediately with flaked sea salt.
This is important to do this after each truffle, as the chocolate hardens quickly.
If you wait until the chocolate is hardened to add the flaked sea salt, it will not stick to the top and will fall off.
The sea salt is key for the perfect bite so don't skip it!
Sea salt flakes on chocolate are LIFE CHANGING.
Just try vegan chocolate sea salt pretzel bark or almond butter cups if you need any more convincing!
My vegan pumpkin chocolate chip cookies also are topped with sea salt and they are incredible!
It really takes the flavor to the next level.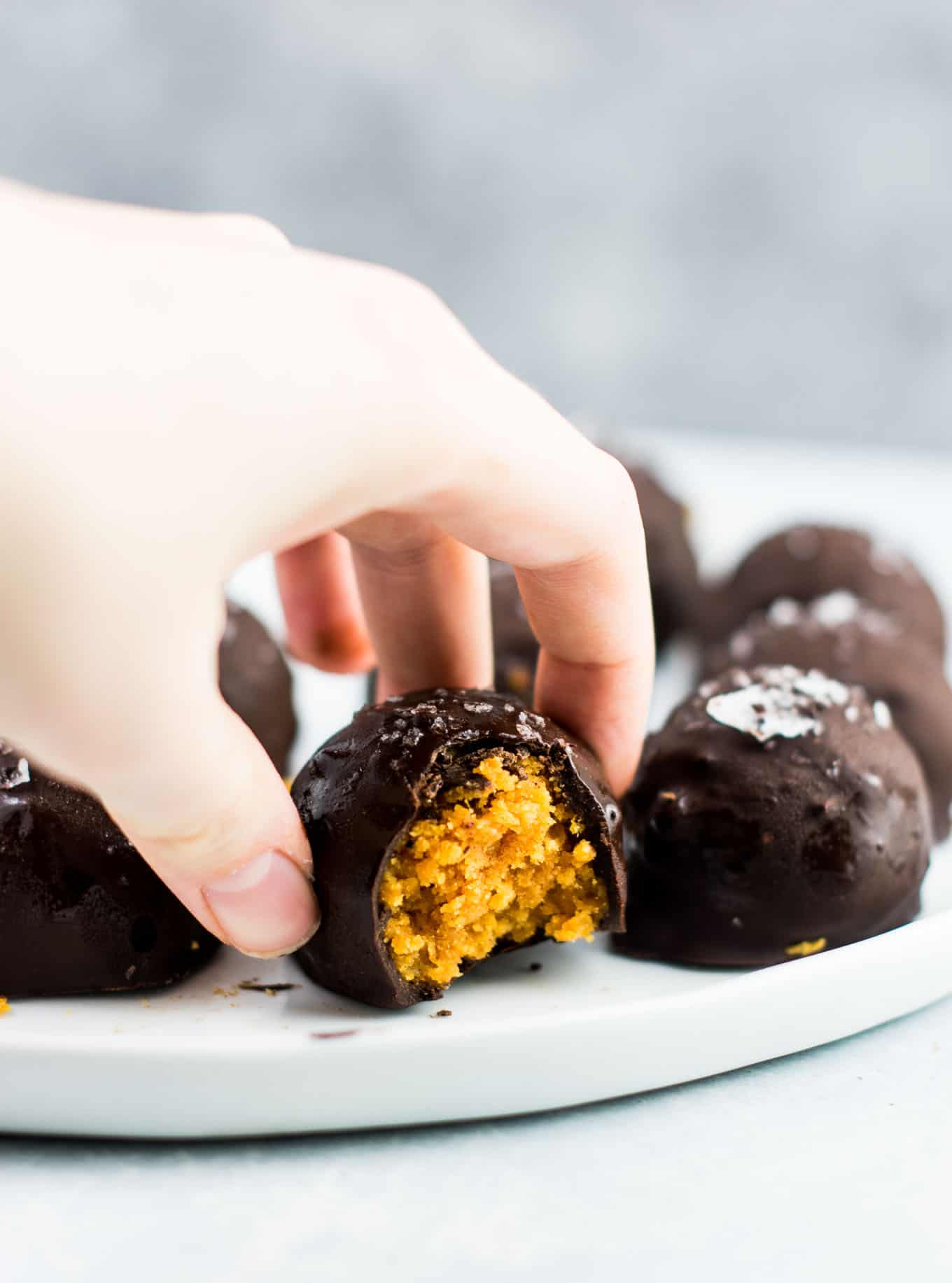 Try making truffles at home and let me know how they turn out!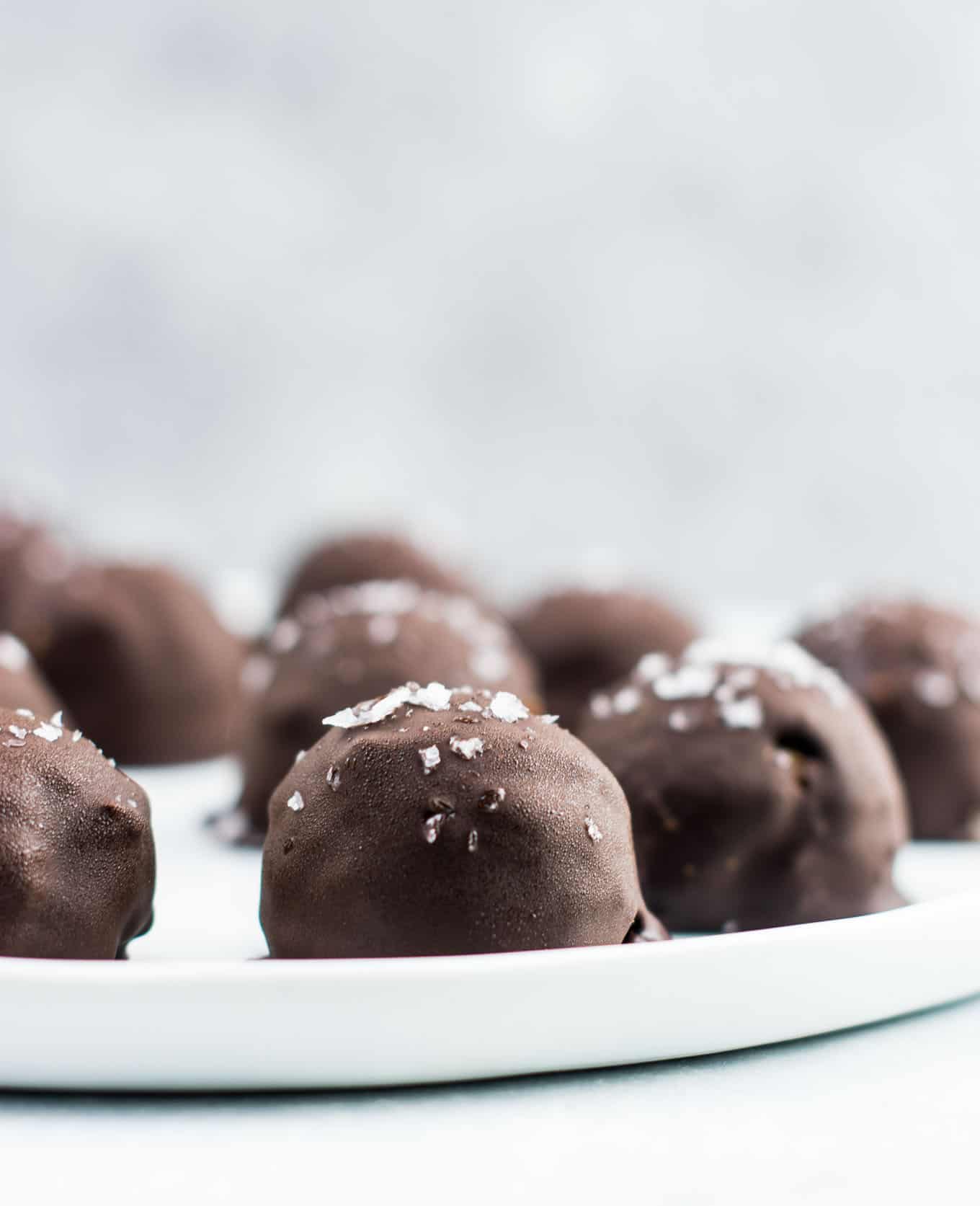 We can't wait to hear what you think of these delicious pumpkin treats.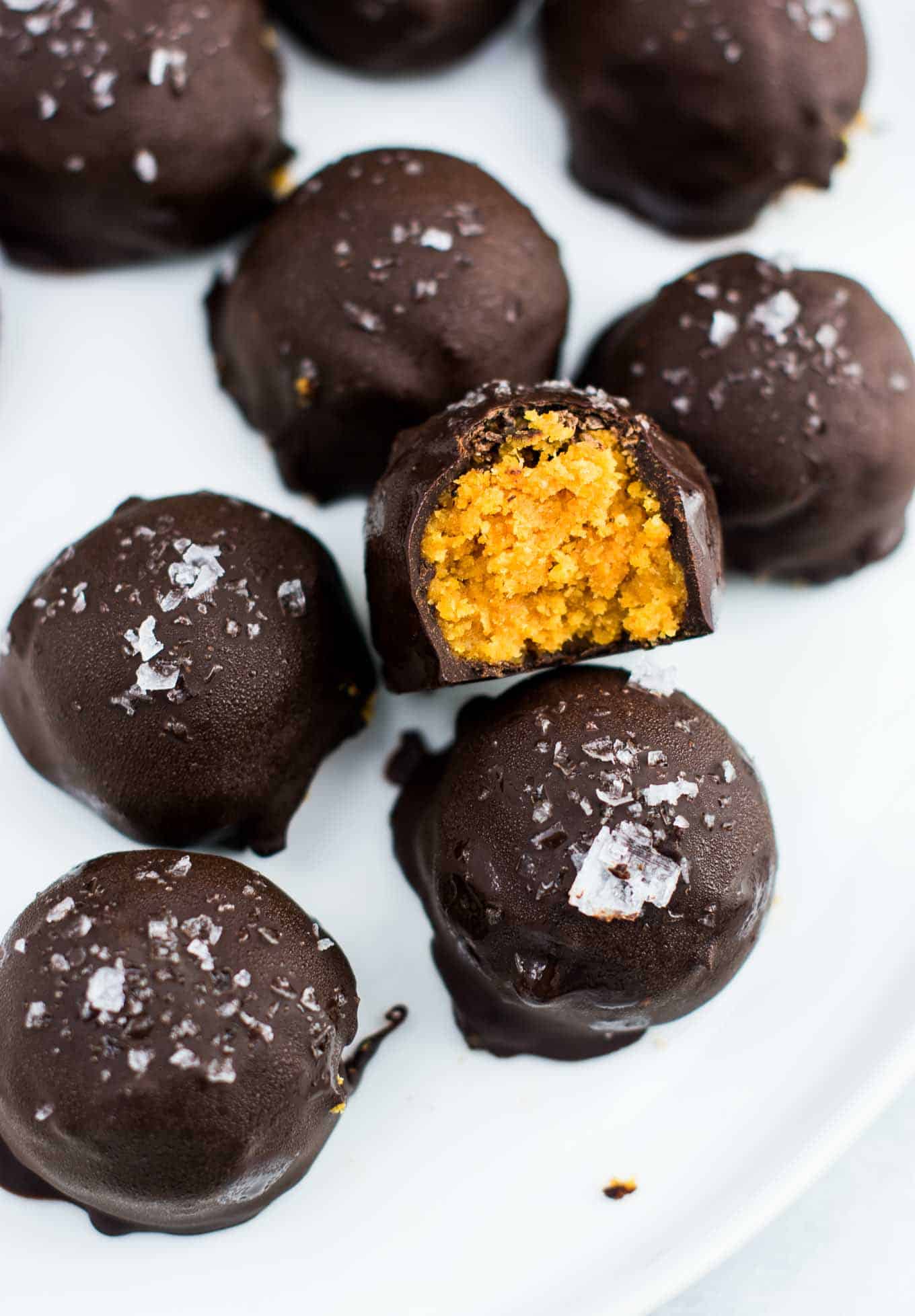 More pumpkin recipes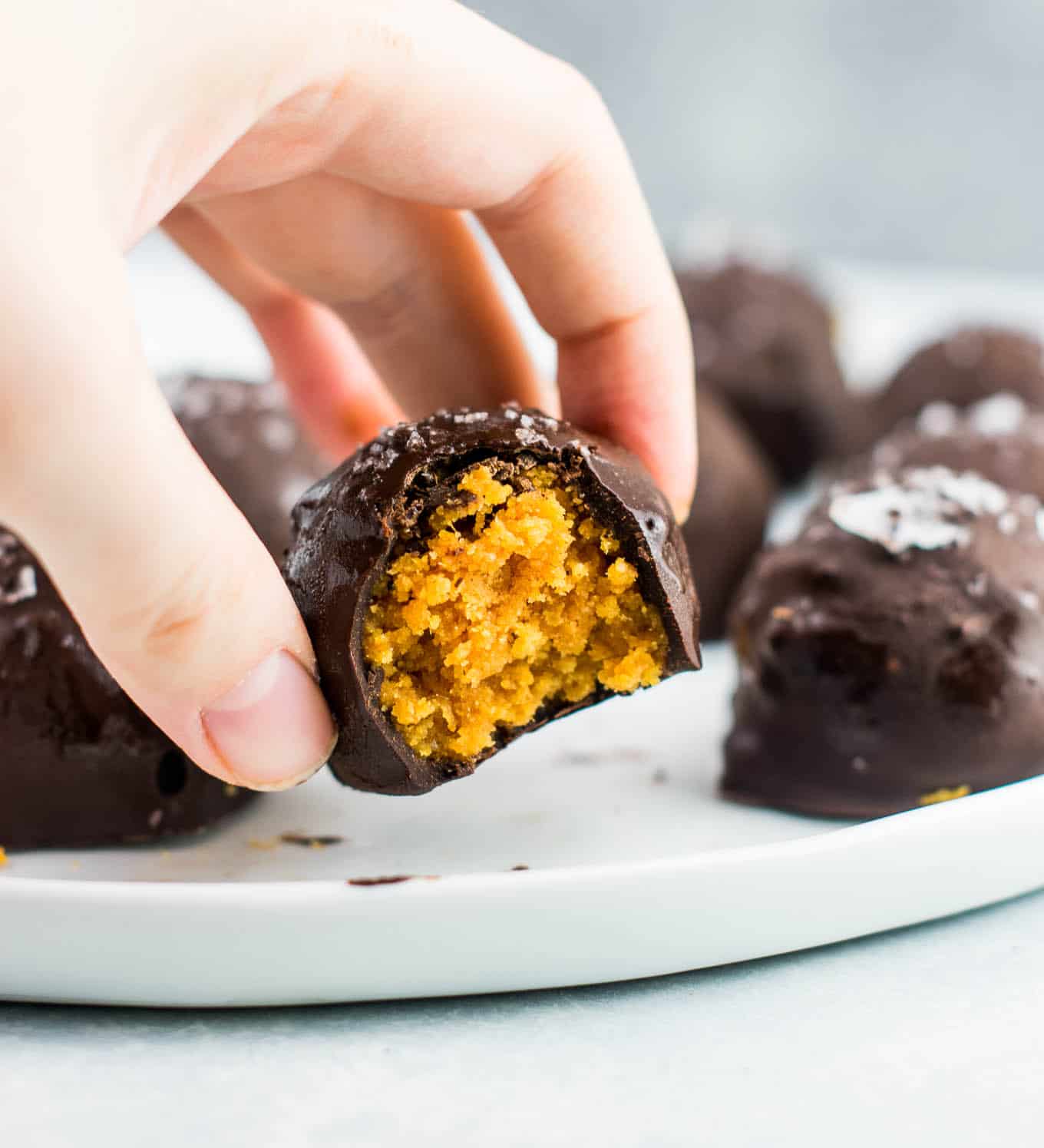 Are you making this recipe? I want to see! Don't forget to tag me on instagram @buildyourbite and hashtag #buildyourbite with your recipe creations!
Be sure to pin this recipe for later and follow Build Your Bite on Pinterest for all the latest delicious recipes!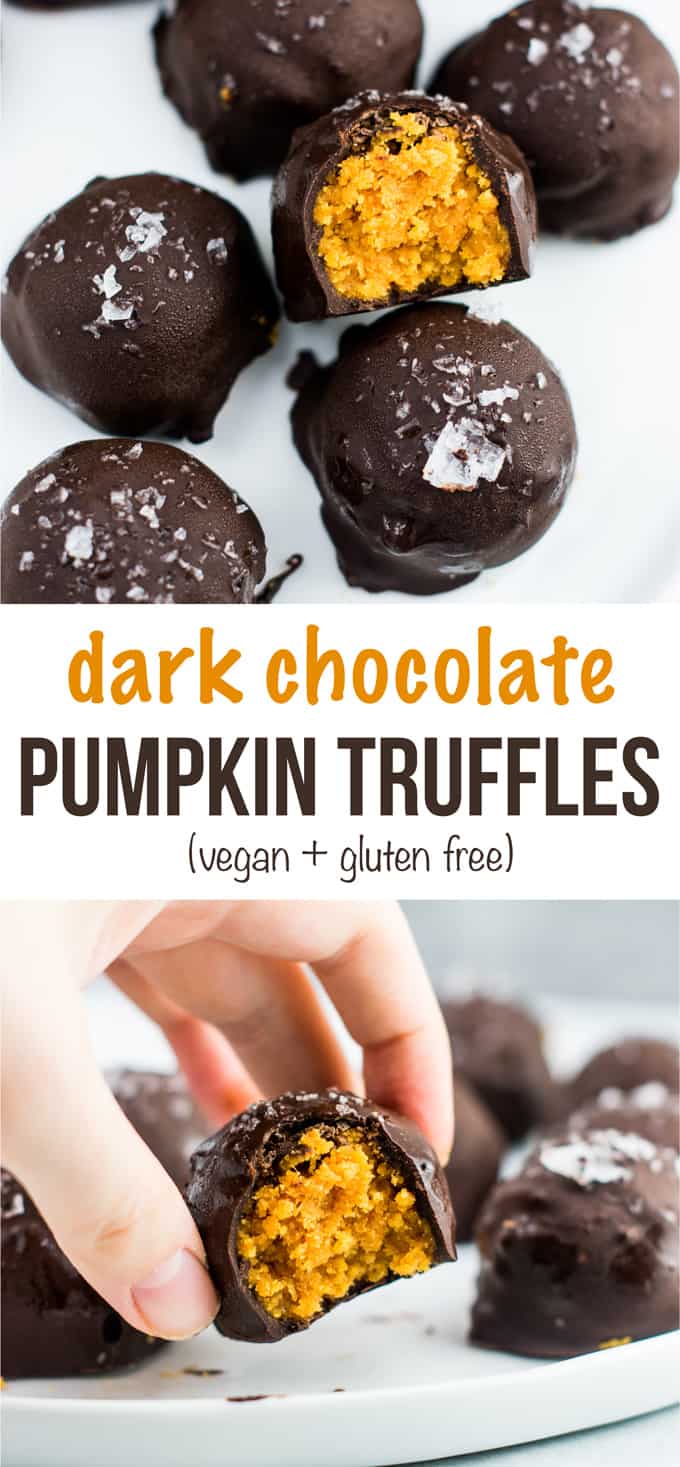 Did you make this recipe? Be sure to leave a star rating below!
Yield: around 35 truffles
Dark Chocolate Pumpkin Truffles
These dark chocolate pumpkin truffles are so delicious and naturally gluten free and vegan. A healthy pumpkin spiced truffle that is perfect for fall!
Additional Time
20 minutes
Ingredients
15 oz canned pumpkin
1 cup coconut flour
3/4 cups pure maple syrup
1 teaspoon vanilla extract
1 teaspoon pumpkin pie spice
1/2 teaspoon salt
1/2 teaspoon cinnamon
1/2 cup pure cane sugar
1/8 cup coconut oil, melted
3 1/2 cups dark chocolate chips
flaked sea salt, for topping
Instructions
Add pumpkin, maple syrup, vanilla, pumpkin pie spice, salt, cinnamon, sugar, and coconut oil to a bowl and mix well.
Add coconut flour and mix until well combined (batter will be thick and not sticky)
Use a mini ice cream scoop (see pictures), or a spoon to form truffles
Place truffles on a baking sheet covered with wax paper
Freeze truffles for 20 minutes
Melt chocolate while the truffles are freezing
For each truffle, drop it into the melted chocolate. use a spoon to drizzle the chocolate over the top
Use a fork and toothpick to place truffle back onto the baking sheet
Top immediately with flaked sea salt
Repeat until every truffle is dipped in chocolate and topped with sea salt
Place back in the freezer until solid
Store in a ziploc bag or freezer safe container
store in the fridge or freezer (I prefer the freezer)
Notes
You can easily google "how to dip truffles" to find a visual tutorial if you have never made them before!
Nutrition Information:
Yield:
35
Serving Size:
1
Amount Per Serving:
Calories:

150
Total Fat:

8g
Saturated Fat:

5g
Trans Fat:

0g
Unsaturated Fat:

2g
Cholesterol:

1mg
Sodium:

53mg
Carbohydrates:

20g
Fiber:

2g
Sugar:

16g
Protein:

1g