Healthy banana bread pancakes made with whole wheat flour and greek yogurt.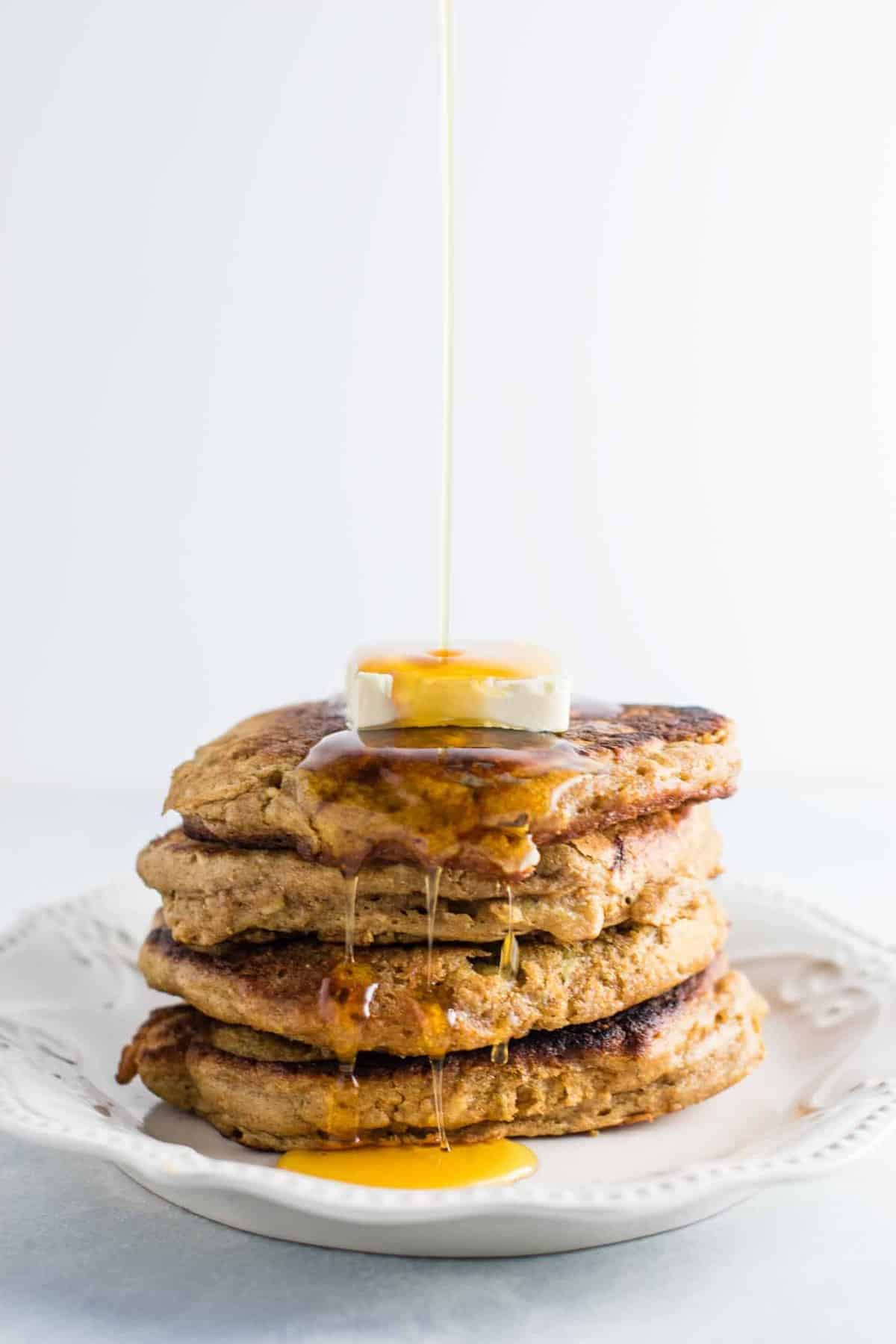 We're throwing it wayyy back today.
I first made these healthy banana bread pancakes way back in 2015.
The pictures were very outdated, so I am revamping this recipe to share again today!
These banana bread pancakes are my go to pancakes.
I'm not someone who often makes pancakes, simply because I prefer easy recipes.
Luckily, these babies are super simple to throw together, healthy, and filling too.
I know I'm not the only one who can't make perfect pancake circles, but these are still so delicious even if they aren't the prettiest.
Every fluffy bite tastes like banana bread to me.
If you love banana bread, you'll be all over these.
Top with butter and pure maple syrup for lightened up pure comfort food.

The whole wheat flour makes these a lot more filling and I was full for hours after eating around 2 – 3 of these.
So good. So easy. You can't go wrong!
Are you making this recipe? I want to see! Don't forget to tag me on instagram @buildyourbite and hashtag #buildyourbite with your recipe creations!
More breakfast recipes I love:
Pin these healthy banana bread pancakes:

Try these for a healthy and filling breakfast!
Healthy Banana Bread Pancakes
Ingredients
2 cups of whole wheat flour
2 teaspoons of baking powder
1 1/2 teaspoons of baking soda
1/2 teaspoon sea salt
2 tablespoons brown sugar
2 eggs
1/2 cup plain 0% greek yogurt
1 1/3 cups unsweetened original almond milk
1 cup mashed ripe bananas
1 teaspoon cinnamon
1 teaspoon vanilla extract
1/4 cup peanut butter, microwaved until melted (around 1 minute)
Directions
Combine flour, baking powder, baking soda, sea salt, and cinnamon in a large bowl. Whisk to combine
Microwave peanut butter until runny (around 30 seconds - 1 minute)
In a separate bowl, whisk together eggs, milk, mashed banana, brown sugar, yogurt, vanilla, and melted peanut butter, until combined
Make a well in the center of the bowl of dry ingredients
Pour in wet ingredients and use a rubber spatula to mix until just combined (be careful not to over mix)
Cook pancakes on a griddle or large skillet, melting butter on the surface before each use.
Serve with butter and maple syrup
Enjoy!
Loading nutrition data...