The best vegan breakfast burrito recipe made with scrambled tofu and homemade crispy potato hash. Meal prep and fill your freezer with a batch of these delicious burritos!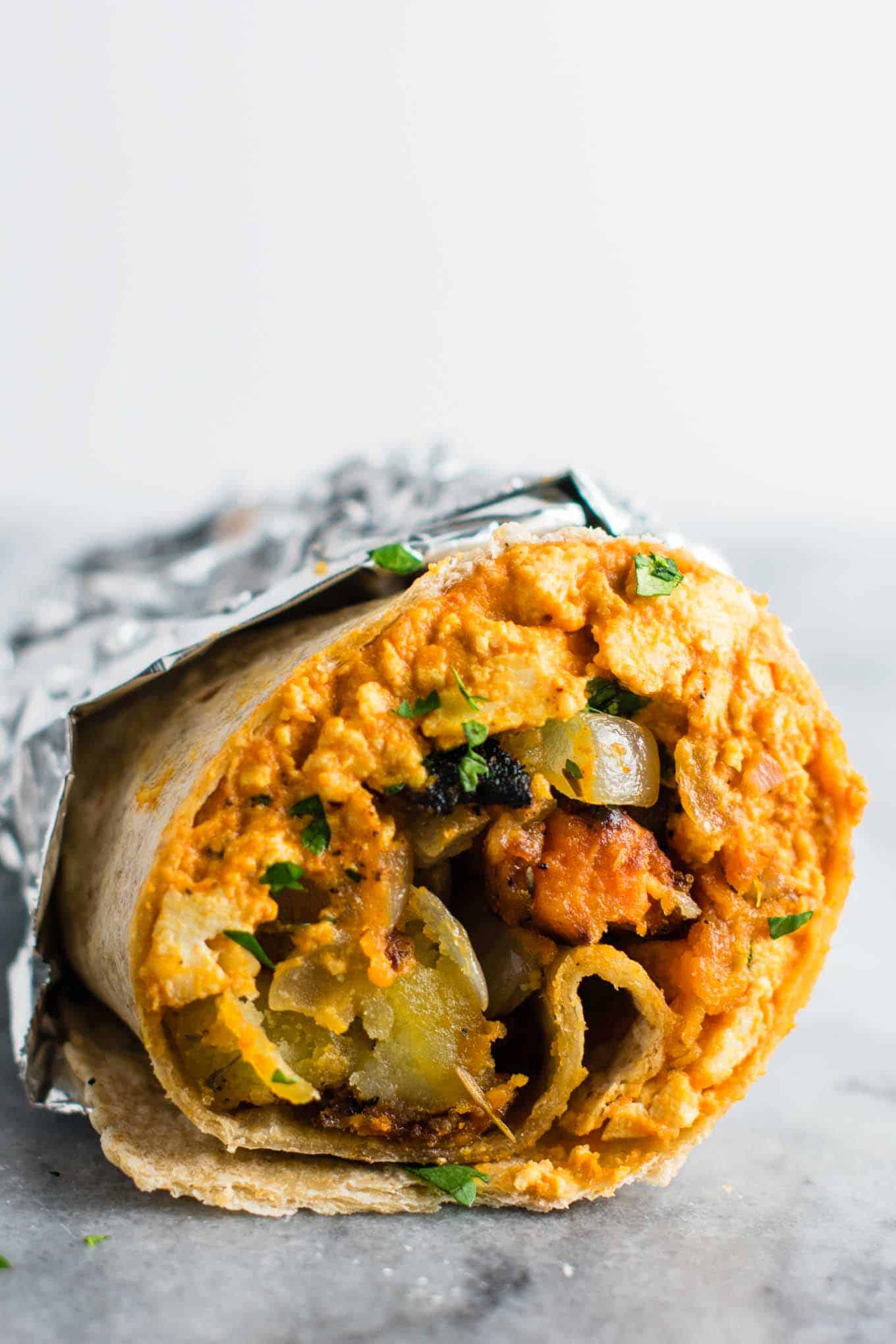 Vegan breakfast burritos.
With tofu cooked in homemade enchilada creamy cashew sauce (that tastes like vegan queso.)
And crispy slow roasted hash.
I kind of don't even know how to express how incredible this recipe is.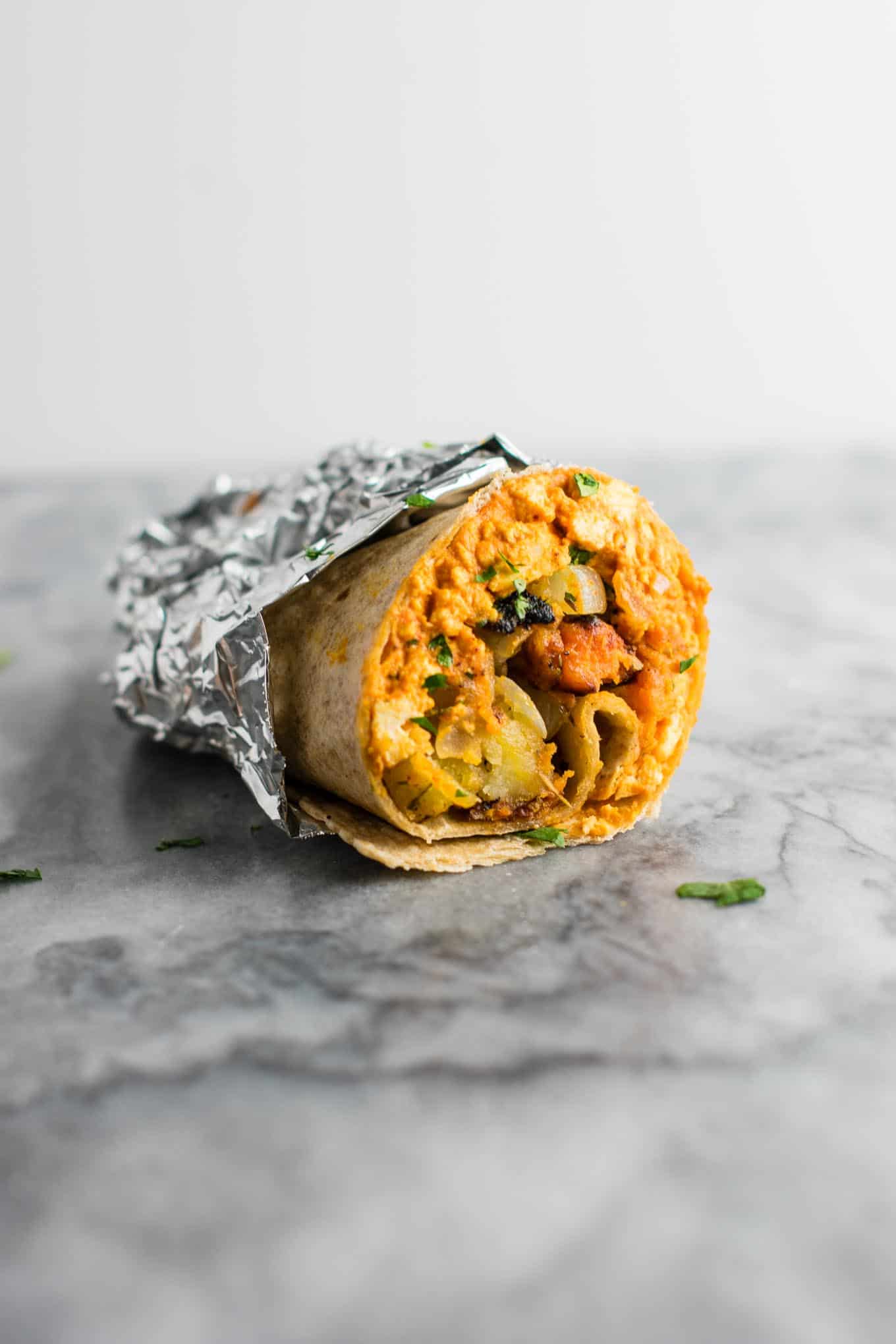 One of my most popular vegan recipes is my Simple Vegan Breakfast Hash.
Several of you commented how hard it was to find vegan breakfast options that weren't smoothies or oatmeal.
While I love smoothies and oatmeal, everybody deserves to have some savory breakfast deliciousness in their lives!
Enter the best vegan breakfast burritos ever: freezer friendly, packed full of huge flavor, and even gluten free if you use gluten free tortillas.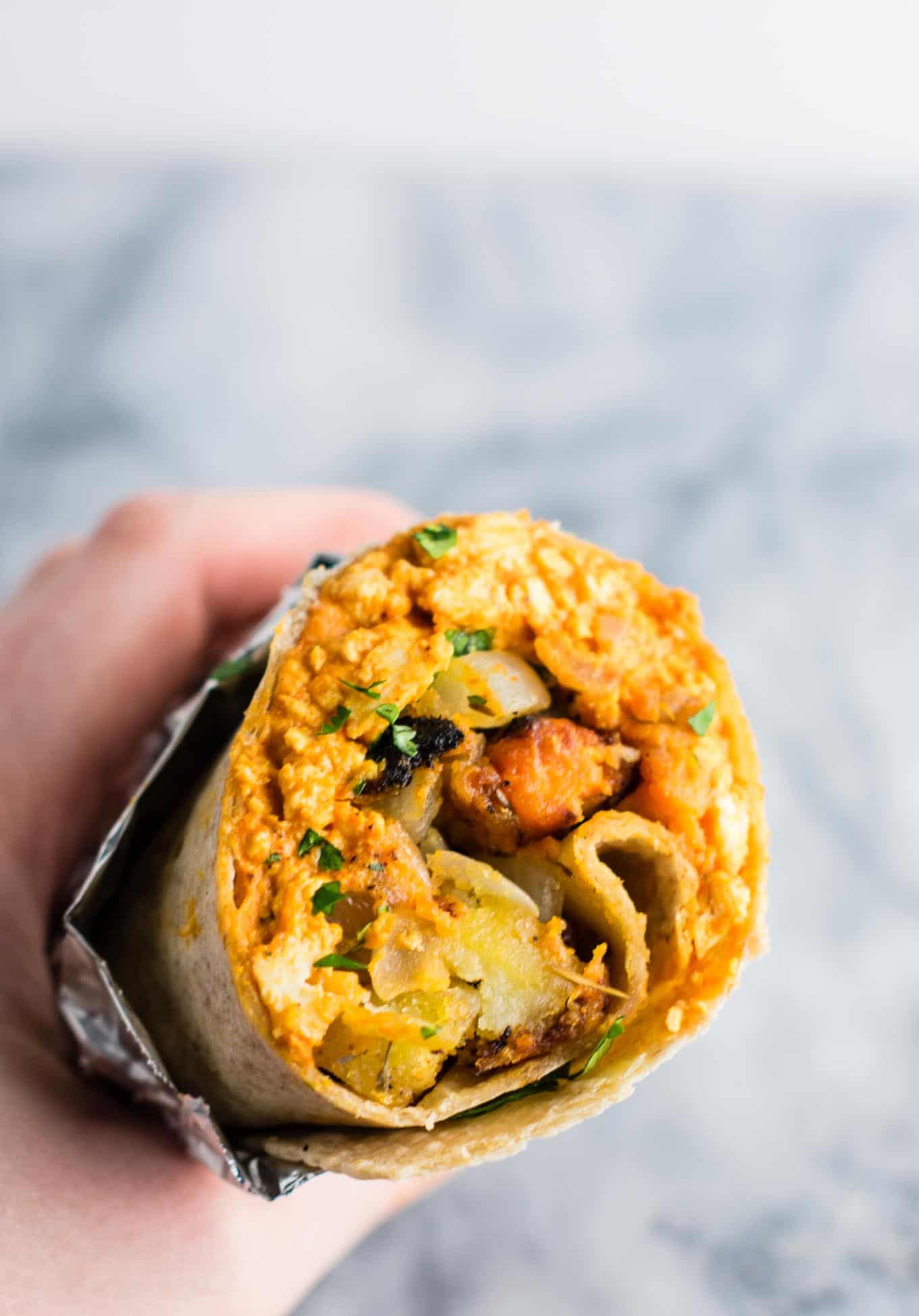 A good breakfast burrito is packed full of flavor and easily freezable, and this vegan breakfast burrito does not disappoint.
These are so great for busy mornings!
How to make this vegan breakfast burrito
There are only two components of this burrito: the scrambled tofu and the vegan breakfast hash.
The homemade sauce for the tofu is so creamy and flavorful that you don't even need condiments.
You can your burrito in salsa if you want, but I just eat mine plain!
Even my husband who dips about everything in sour cream or salsa ate these vegan burritos as is.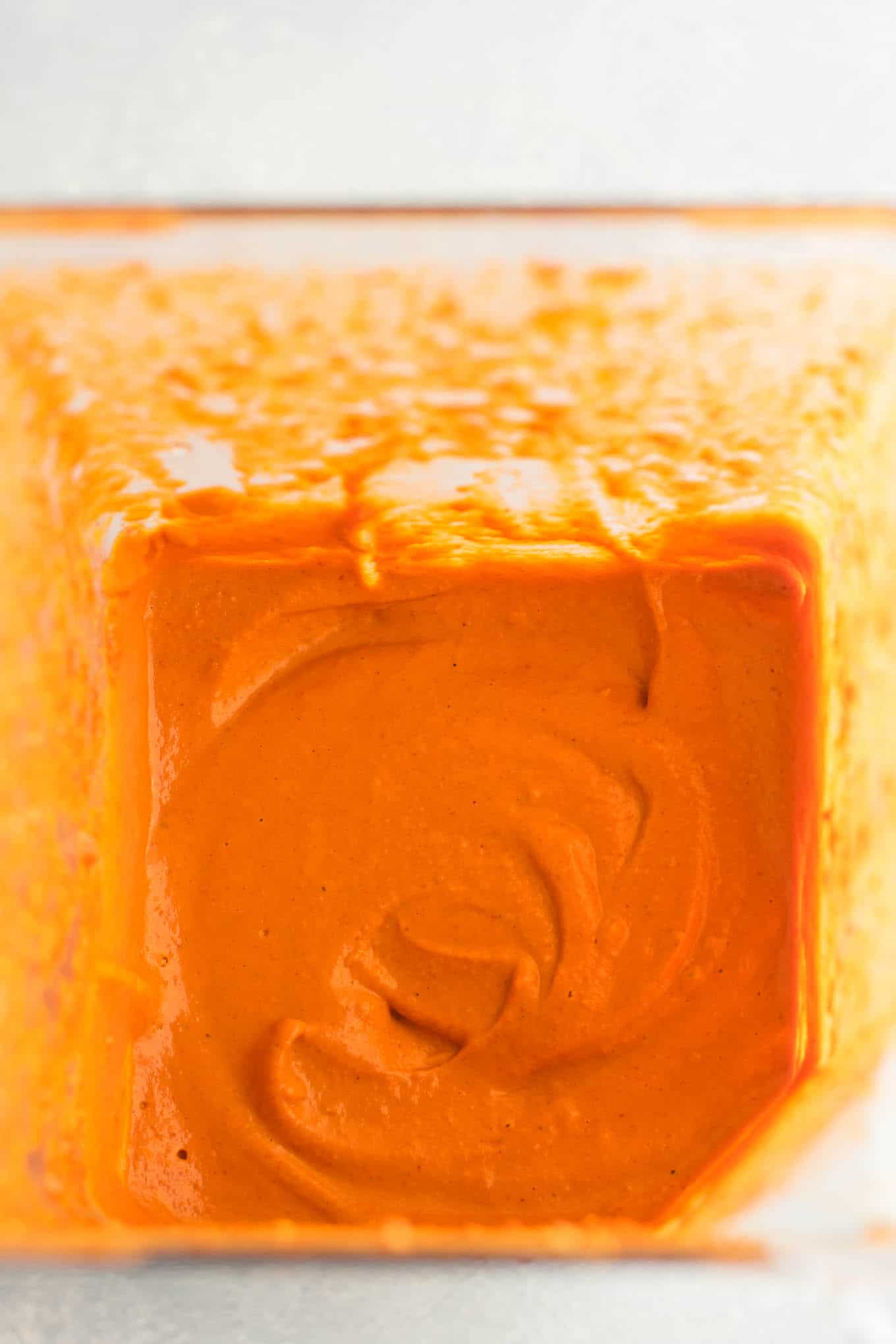 This sauce is what we are cooking the tofu in.
All you'll need is: enchilada sauce, roasted cashews, salsa, and nutritional yeast.
Mix it all up in your high speed blender until smooth.
Do you need to soak the cashews first?
No. Since they are roasted instead of raw, they will blend smoothly.
Since the cashews are roasted instead of raw, you can just blend them right up!
It basically tastes like a velveety smooth vegan queso dip.
In fact, I'm going to have to create a vegan queso dip based off of this sauce, because the flavor is just CRAZY good.
I use a similar sauce in my vegan quesadillas and it is amazing!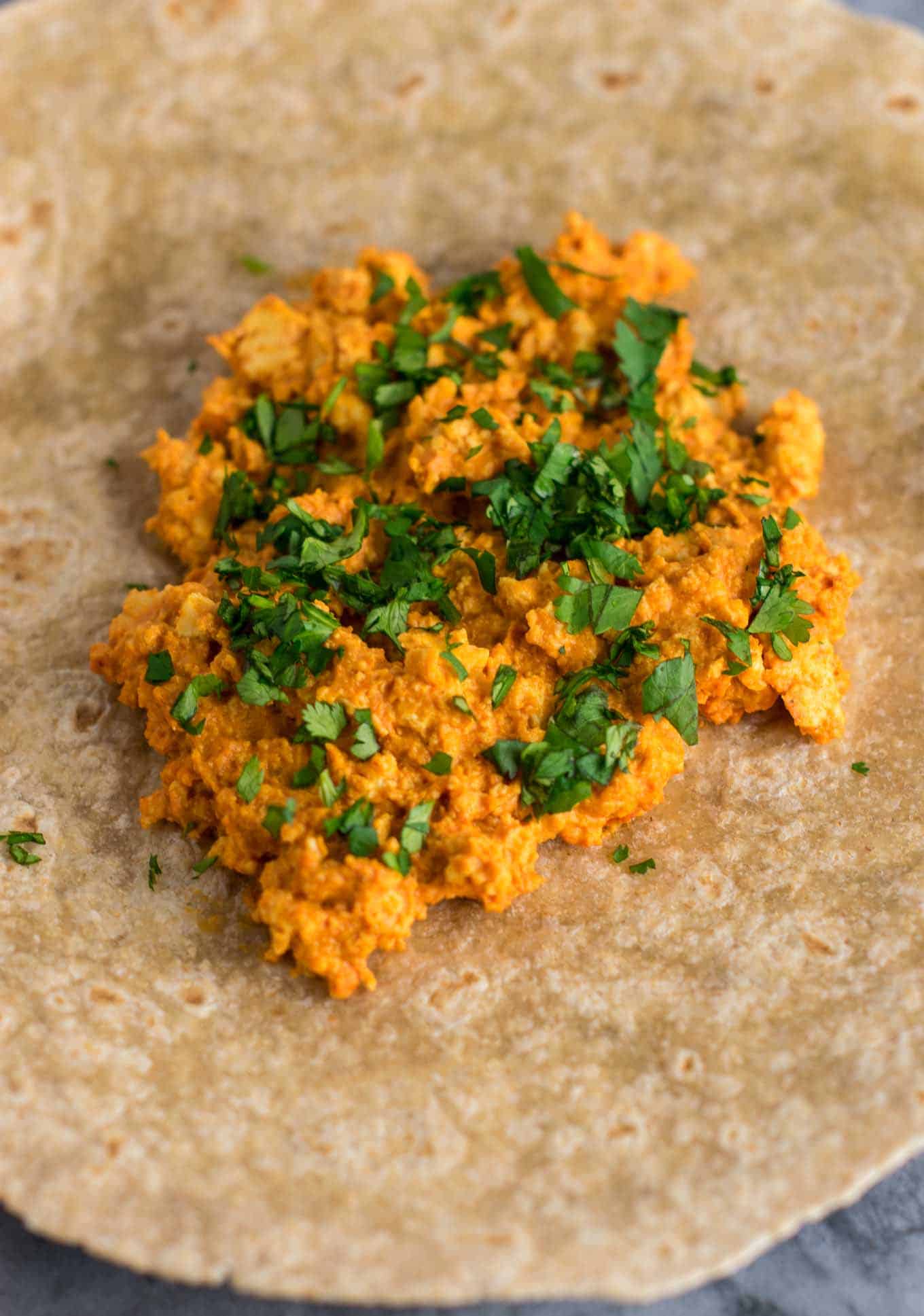 Once you scramble the tofu, add the sauce and cook for around 10-15 minutes, or until it's a little less mushy.
The tofu will look a little like a buffalo dip texture almost.
That sounds like a weird way to describe it, but that is what it looks like to me!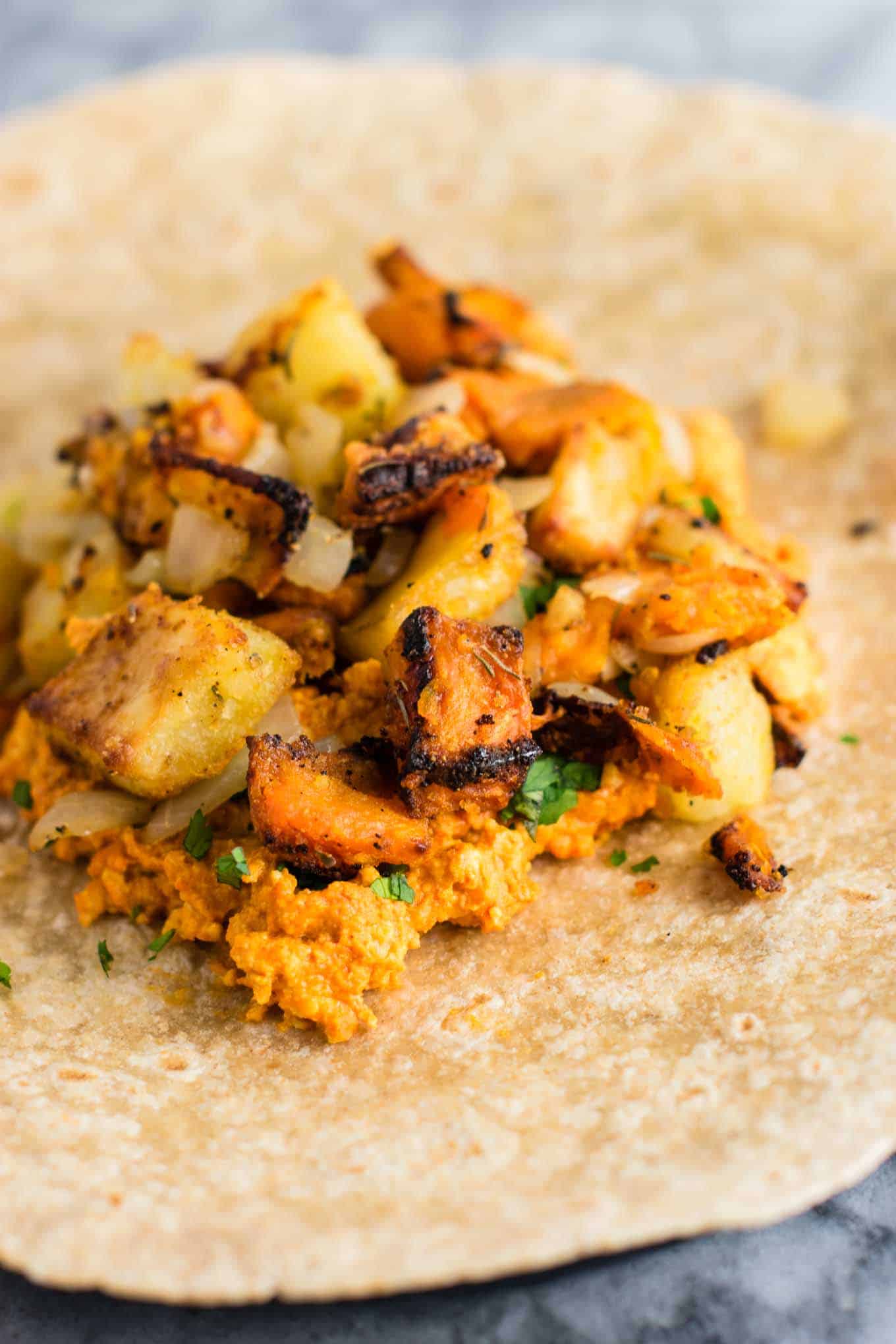 Once your hash and tofu are done cooking, chop up some fresh cilantro and you are ready to start assembling your burritos!
On each tortilla, add a heaping of tofu, and follow it up with fresh cilantro.
Top with a big scoop of crispy amazing hash, roll it up, and you're ready to eat!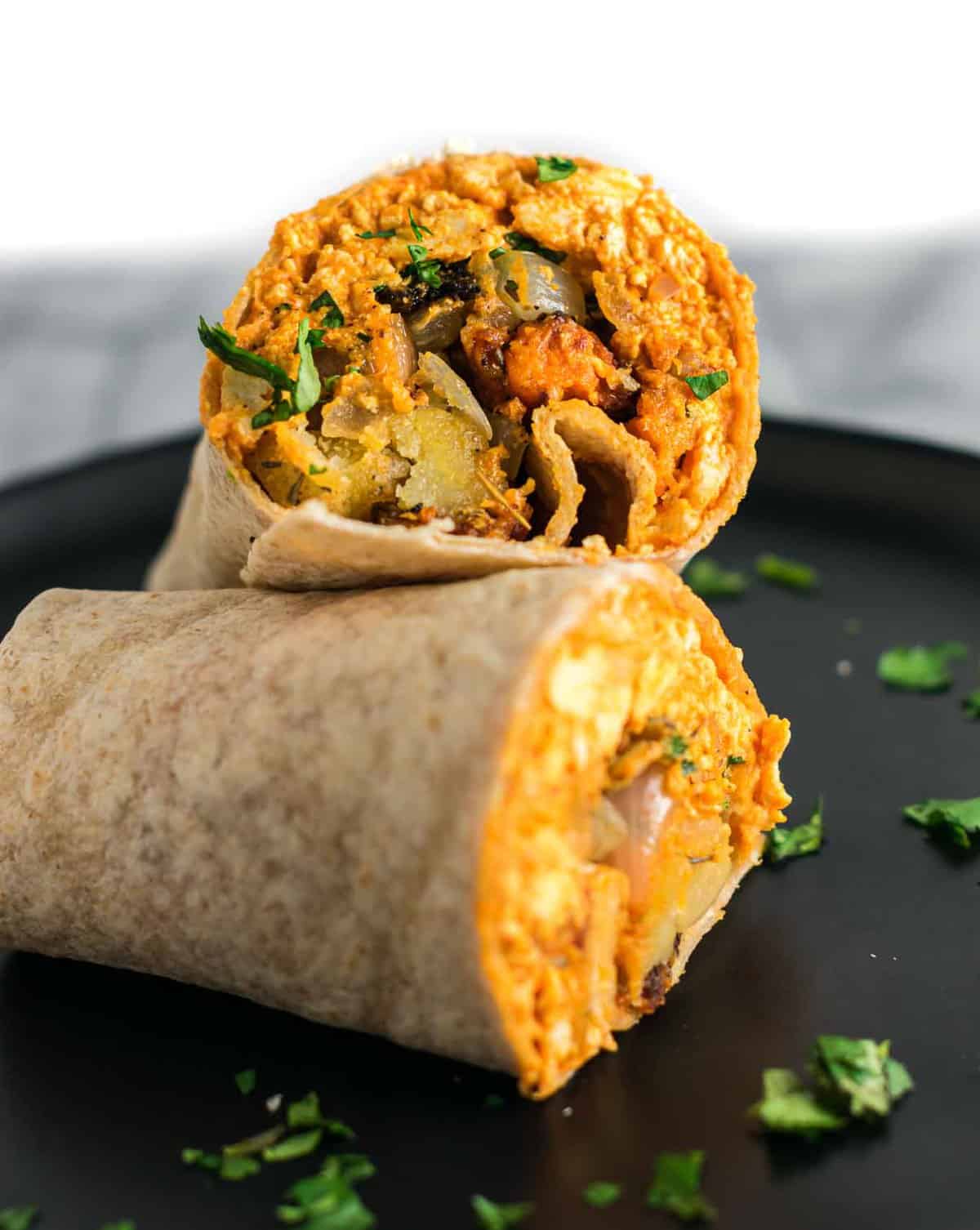 I'm one of those people who needs to have texture when I'm eating.
The tofu is soft in this recipe, so the crunch of the roasted potatoes adds extra chewiness and texture.
The textures play off each other so well and it ends up being the perfect bite!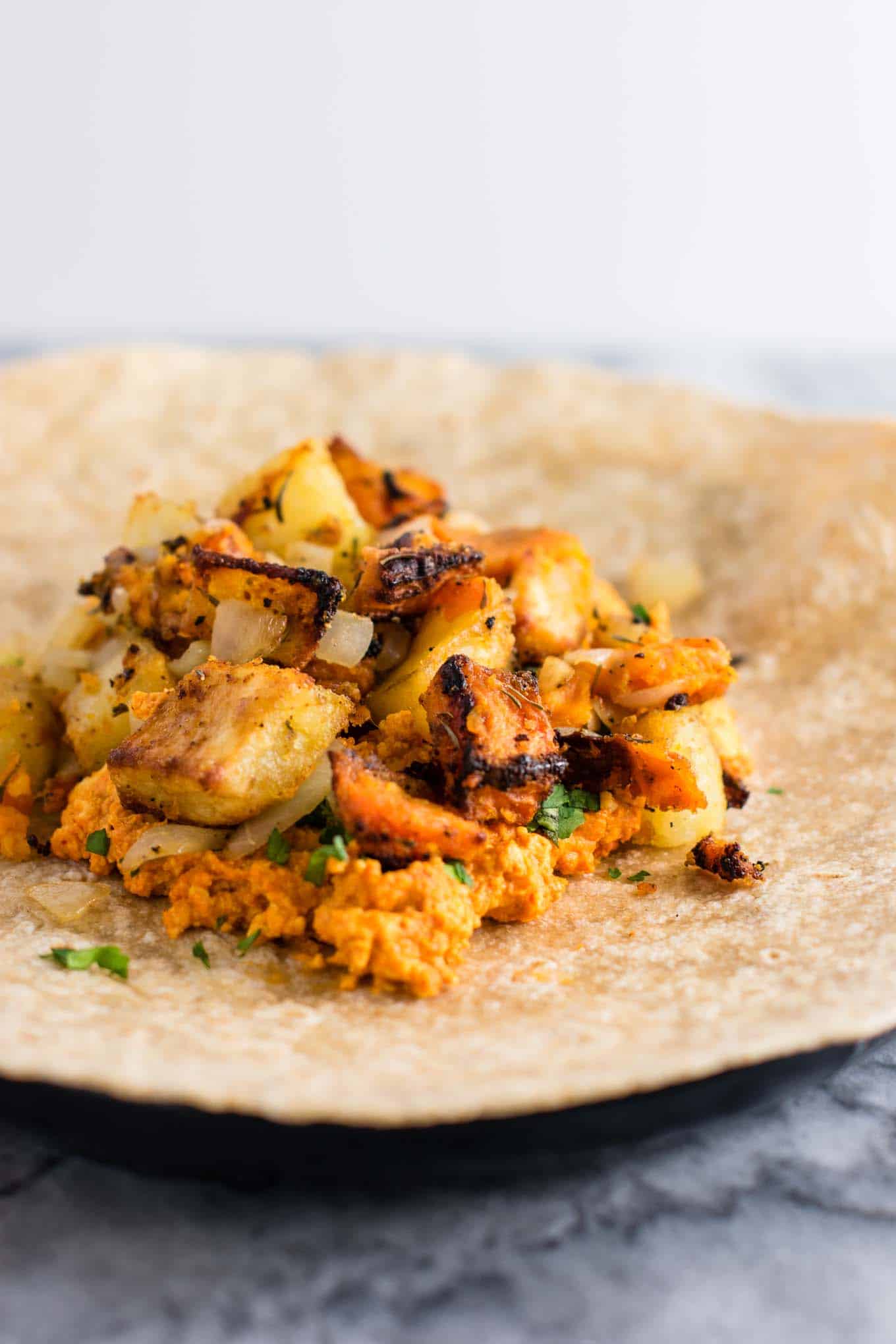 I mean just look at all that roasted goodness!
Those crispy edges on the hash is where all that crazy flavor comes from.
Slow roasted potatoes are the best kind of potatoes!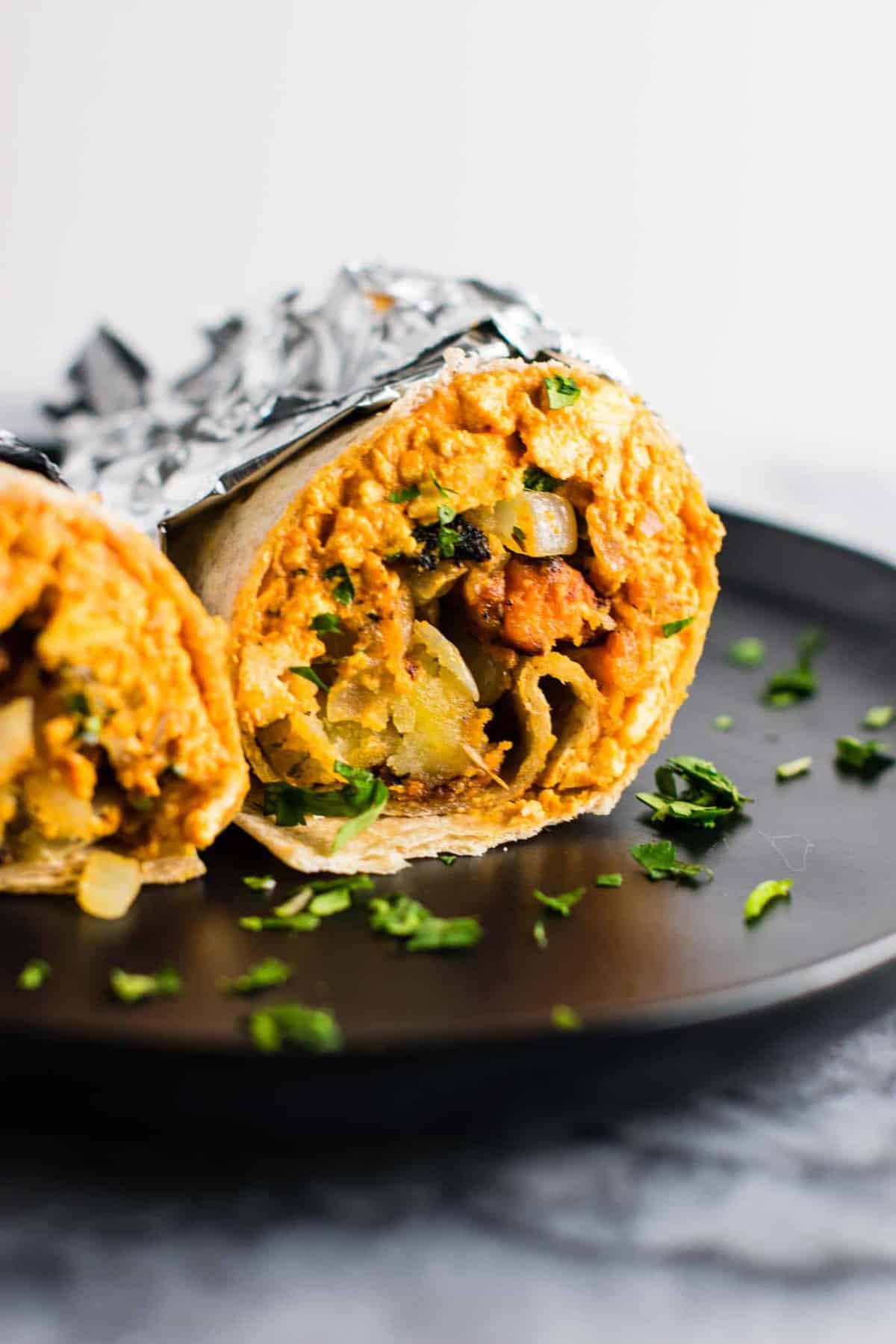 I can't lie, I am absolutely drooling over my keyboard right now.
I had one of these for breakfast to make sure that they froze well (anything in the name of recipe testing) and I am already craving another one!
This vegan breakfast burrito is so full of protein that I was full for hours after just one.
These are perfect for a protein packed breakfast that you can prep ahead and freeze for busy mornings.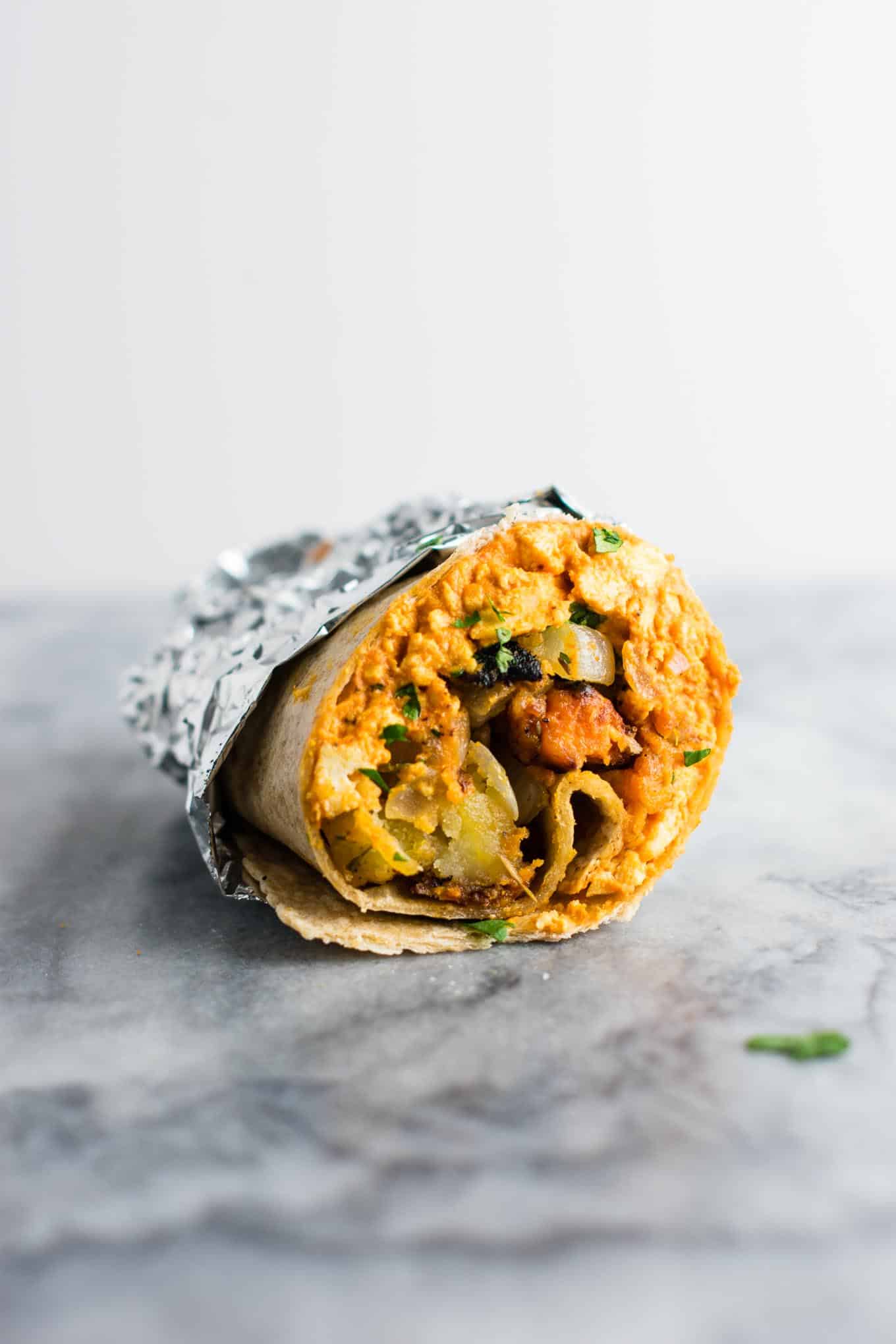 I really can't do the flavor justice by my words.
It has SO much flavor that it is just insane.
I seriously could eat these every morning and never get sick of them!
Reviews on these vegan breakfast burritos
Here are just some of the comments I have gotten so far. If you try it, be sure to leave me a comment on the post!
Lynz: "DUDE. I just tried these the other day and oh my word let me just say that I will be reusing this recipe over and over because I don't think I will ever get tired of these! Thanks so much!"
Becky: "You are right! These are the best breakfast burritos!The hash and the sauce were both yummy on their own and I was afraid I would taste so much of them there would not be enough to put together. But – assembled- they are simply heavenly!!
Jaclyn: "Wow!!! These were AMAZING! It takes time to roast the potatoes then cook the tofu mixture but sooooo worth it and the bonus is, I have two burritos that were leftover and now in the freezer for a quick weekday breakfast!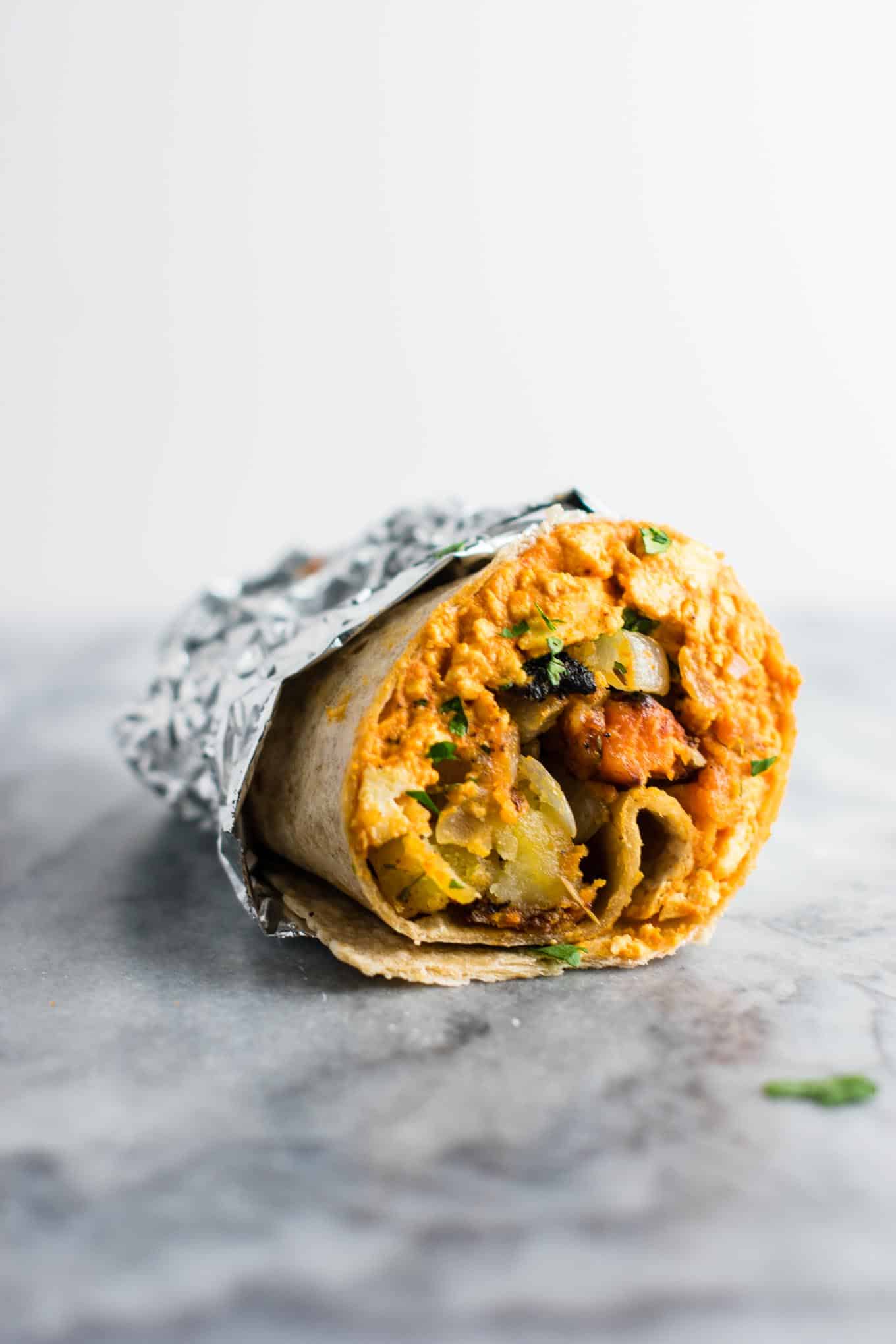 This recipe makes 8 very large burritos.
We had some for dinner after I tested this recipe, and I froze the remainder of them for easy breakfasts.
Just wrap the prepared burritos in tin foil, and place in a ziploc bag in the freezer.
I fit about 4 burritos per gallon sized ziploc bag.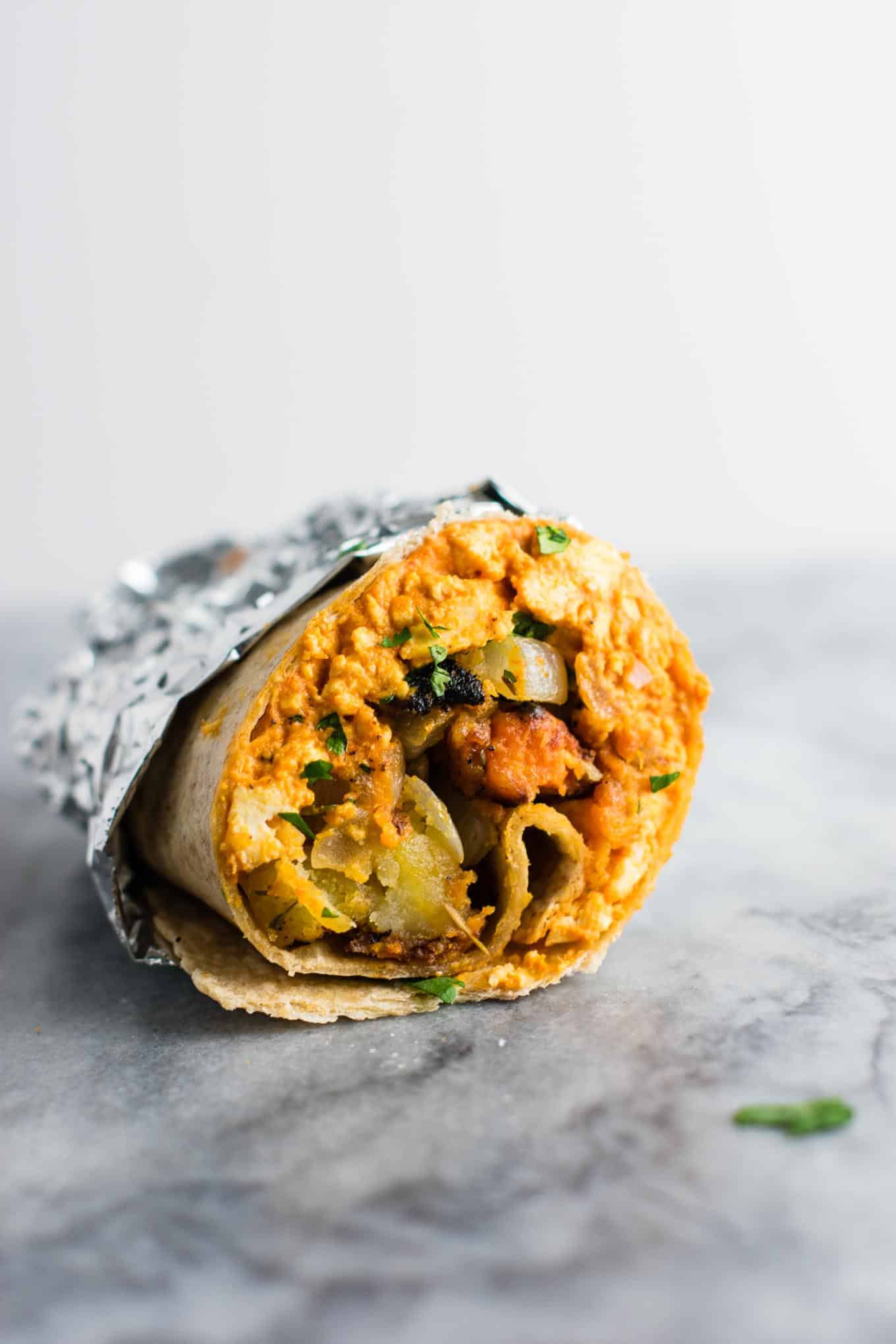 I heated mine up for around 4 minutes in the microwave.
Depending on your microwave, it should heat in around 2-4 minutes.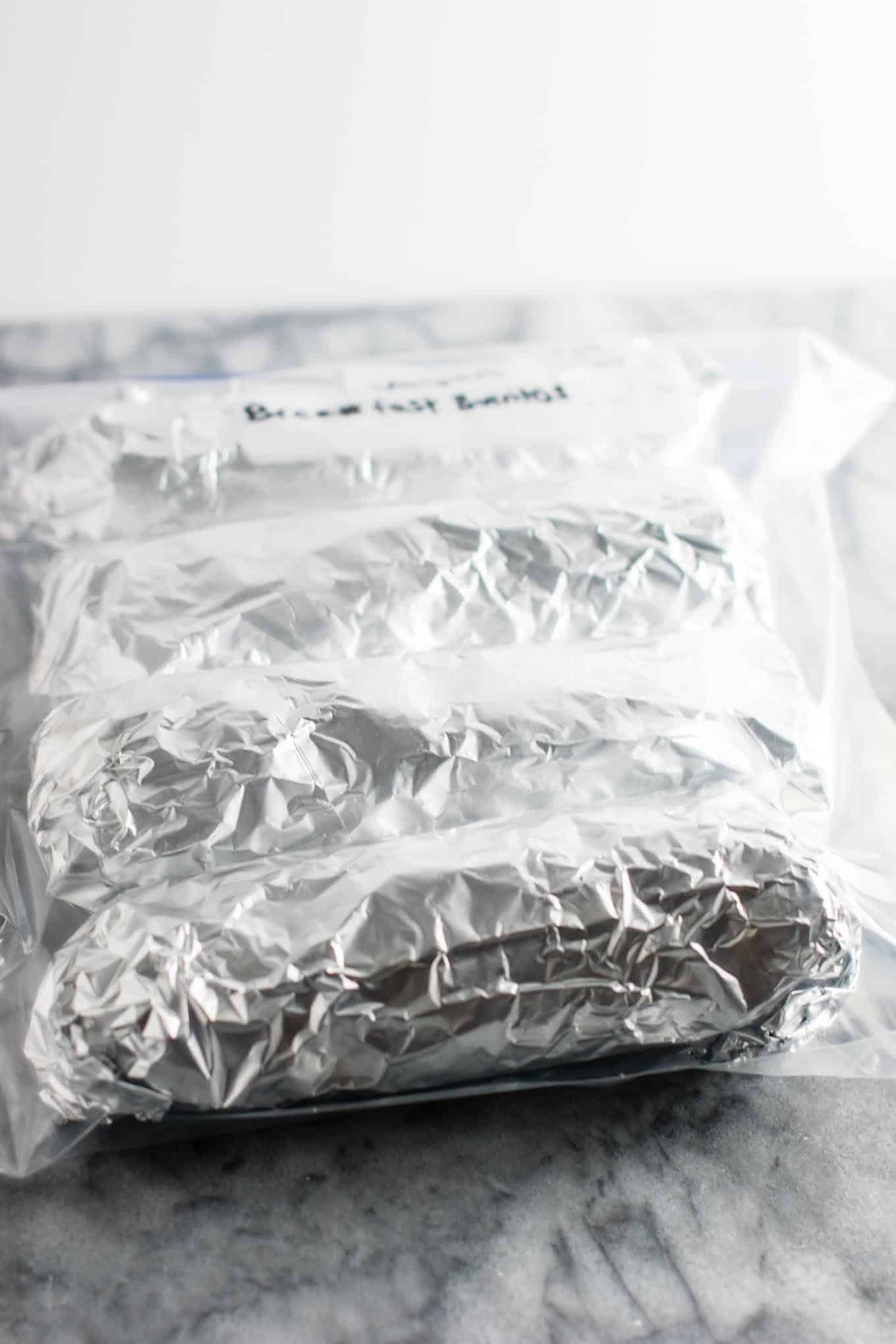 The verdict? Just as good the next day from frozen.
These are literally the best breakfast burritos I have ever eaten!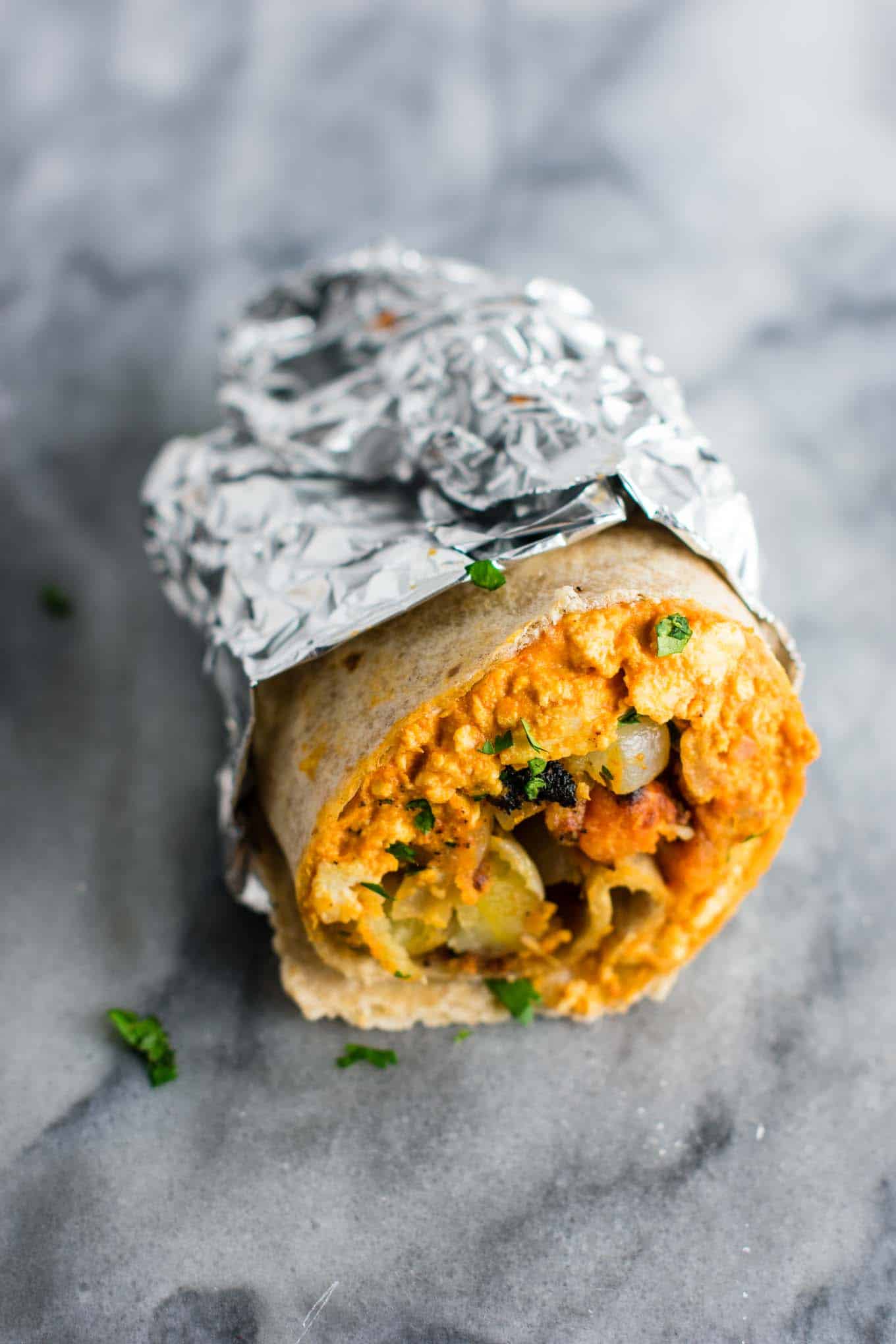 That is really saying something, as I am a former breakfast burrito addict.
For awhile last year, I was addicted to a frozen breakfast burrito from the store that was also vegan.
The difference? I had to absolutely drown it in hot sauce or I didn't care for the flavor plain.
These homemade vegan breakfast burritos NEED NO HELP.
They are perfect as is!
Are you making this recipe? I want to see! Don't forget to tag me on instagram @buildyourbite and hashtag #buildyourbite so I can see your recipe creations!
The Best Vegan Breakfast Burrito
Total Time:
1 hour
10 minutes
The best vegan breakfast burrito recipe with scrambled tofu and slow roasted vegan breakfast hash
Ingredients
1 batch of Simple Vegan Breakfast Hash
14 oz extra firm tofu
8 oz enchilada sauce
1 cup roasted salted cashews
½ cup medium spicy chunky salsa
¼ cup nutritional yeast
Juice of 1 lime
½ teaspoon sea salt
8 large tortillas**
chopped cilantro
Instructions
Make one batch of simple vegan breakfast hash according to instructions
In a high speed blender, blend together enchilada sauce, cashews, salsa, and nutritional yeast until completely smooth
Drain tofu and pat dry
Add tofu to a large skillet and use a potato masher to scramble it until it resembles egg like texture
Heat tofu to medium high and add the the sauce from the blender, lime juice, and salt
Cook tofu for 10 - 15 minutes, or until tofu starts to become a little less soft
Assemble burritos using the tofu, chopped cilantro, and then a scoop of vegan breakfast hash
Serve immediately or freeze for later
To freeze the burritos, wrap each individual one in foil, then place in an airtight ziploc bag in the freezer. To reheat, remove from foil and place on a microwave safe plate. Heat until hot throughout (2 - 3 minutes)
Notes
To make this stretch for more burritos, use smaller tortilla shells and it will yield more medium sized burritos. You can use either whole wheat, regular, or gluten free tortillas.
Nutrition Information:
Yield:

8
Serving Size:

1
Amount Per Serving:
Calories:

224
Total Fat:

9g
Saturated Fat:

3g
Trans Fat:

0g
Unsaturated Fat:

5g
Cholesterol:

0mg
Sodium:

846mg
Carbohydrates:

27g
Fiber:

7g
Sugar:

5g
Protein:

12g