Fluffy scrambled eggs, fresh sharp cheddar cheese, and slow roasted potato hash make this vegetarian breakfast burrito full of irresistible flavor!
Last month I shared with you my favorite vegan breakfast burrito recipe, and this month I'm sharing my favorite vegetarian breakfast burrito!
This recipe is for all you guys who love eating eggs and melty cheese for breakfast!
These burritos use the same simple vegan breakfast hash that I used in my vegan breakfast burritos.
The flavor of slow roasted sweet and russet potatoes mixed with caramelized garlic and onion just cannot be matched.
I have several ideas for more breakfast burritos to try, and all of them involve using this hash.
Once you taste it for the first time you will know why I love it so much!
These burritos have just 3 parts: fluffy scrambled eggs, freshly grated sharp cheddar cheese, and slow roasted potato hash.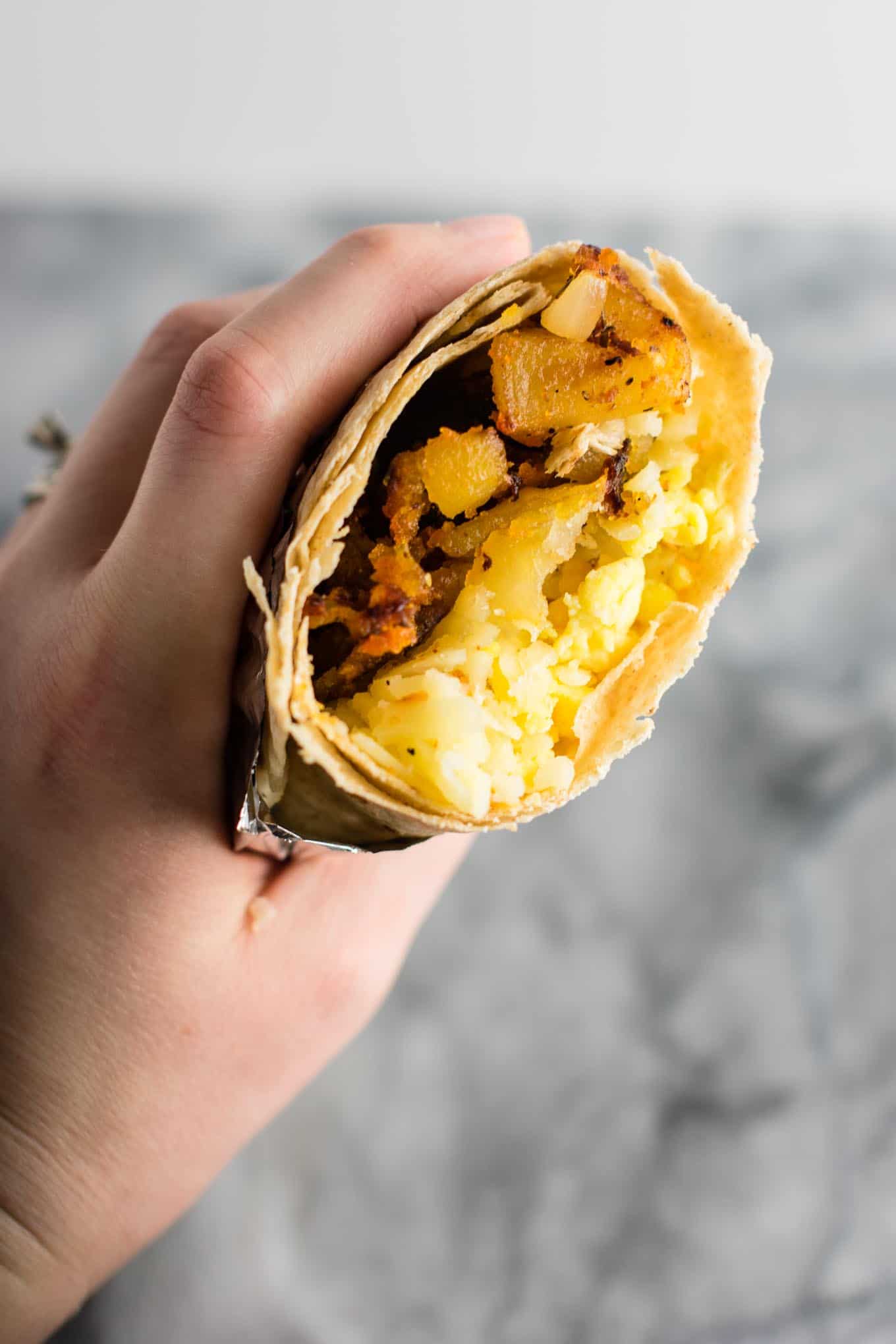 The prep time takes a bit, but the result is 8 breakfasts for your busy mornings.
Worth every minute in my opinion!
We're keeping it super simple with the scrambled eggs. Just salt + pepper + a little butter to cook them in.
You'll make the eggs once the hash has almost finished cooking.
Here's what the hash will look like (you can see the full recipe here).
Roasting potatoes brings out an insane depth of flavor and I have to stop myself from eating these straight from the pan!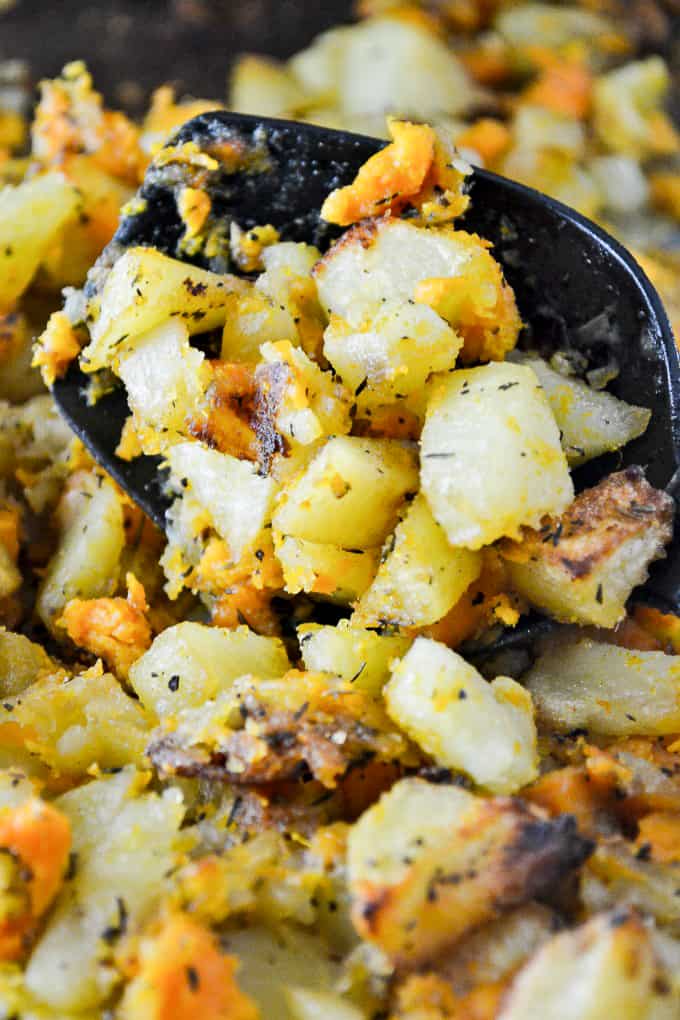 Once your hash is finished, your eggs are scrambled, and your cheese is grated, it is time to assemble!
Please promise me you'll grate your cheese yourself. It tastes sooo much better and fresher and only takes a few minutes.
I'm a big fan of block cheese!
I expected to dip these in salsa, but I ended up eating them without any sauce.
The flavor is just so good that it didn't even need anything!
This makes 8 generous sized burritos, and they're easily freezable.
I love to make a batch of breakfast burritos and eat off them for the week.
They keep so well in the freezer and heat up to taste even better if that's even possible.
These are definitely a breakfast game changer!
Are you making this recipe? I want to see! Don't forget to tag me on instagram @buildyourbite and hashtag #buildyourbite with your recipe creations!
More Breakfast Recipes I love:
Click below to pin this vegetarian breakfast burrito:
Vegetarian Breakfast Burrito Recipe
Ingredients
1 batch simple vegan breakfast hash
10 eggs
1/8 cup 2% milk
1 tablespoon butter
8 whole wheat tortillas
2 cups freshly grated sharp cheddar cheese
salt and pepper
Directions
Make breakfast hash according to instructions
When hash is close to being done, make your scrambled eggs
Melt butter in a large skillet over medium heat
In a bowl, whisk eggs together with milk
Once butter is melted, add eggs to skillet and scramble until done, about 7 - 10 minutes
Salt and pepper eggs to taste
Once hash and eggs are done, assemble burritos
Start with eggs, top with 1/4 cup of sharp cheddar per burrito, and top with hash
Serve fresh or roll in foil and place in gallon ziploc bags to freeze
Serve as is, or with salsa
Loading nutrition data...