A healthy recipe for vegetarian baked spaghetti with mushrooms, garlic, and onions. A delicious meatless spaghetti recipe.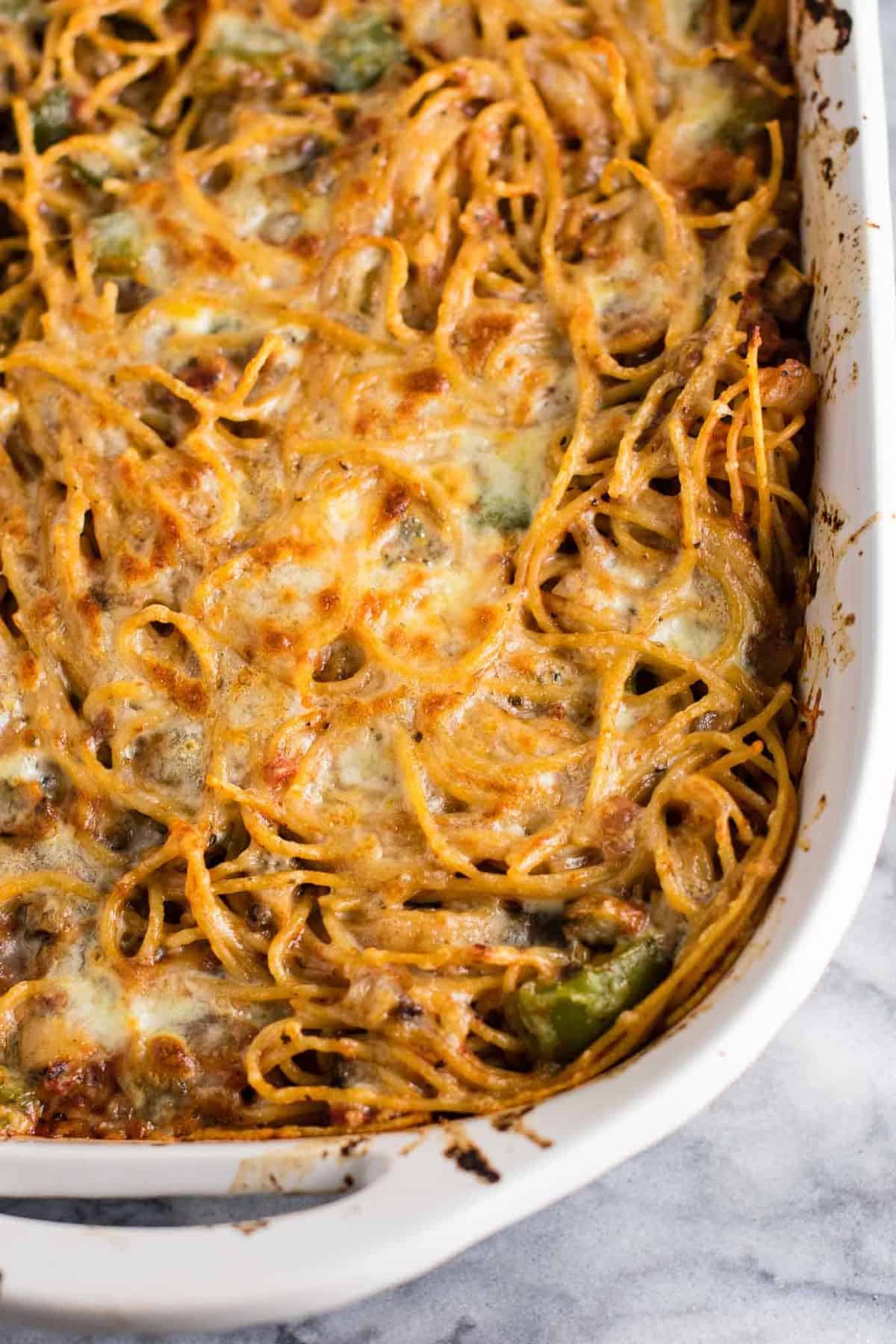 Sometimes you just need good old comfort food.
Baked spaghetti is just that. In my case, I like to make comfort food a bit healthier, while still giving me all of the warm cozy flavors that I crave.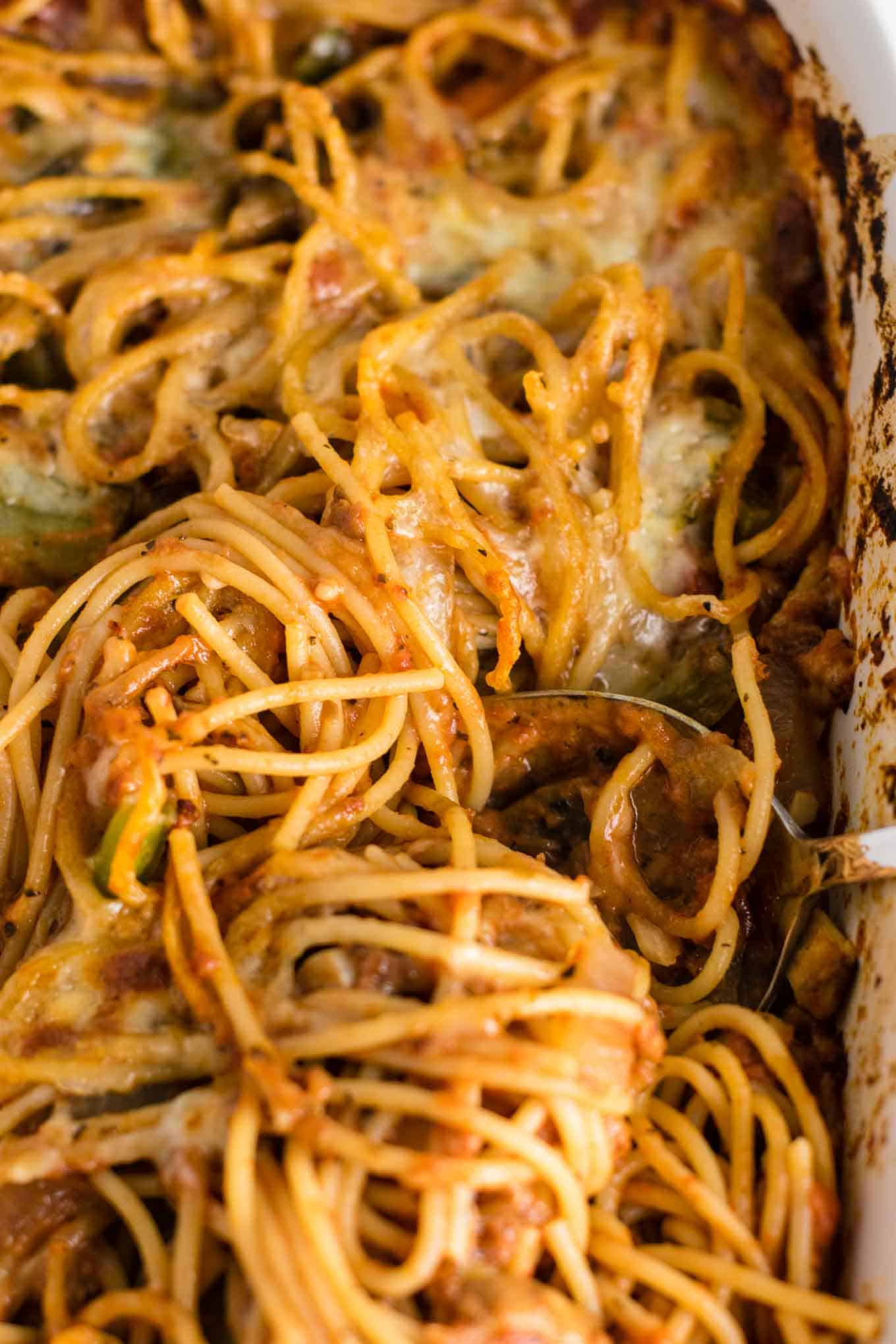 Spaghetti is one of my go-to comfort foods. We have it pretty often, and love that it makes a ton of food.
This meal makes 6 servings total! As a kid I'm not sure I was crazy about leftovers, but as an adult I love them! Less cooking for me. Any night that we are eating leftovers is a good night for me!
How to Make Vegetarian Spaghetti:
Veggies are key for making meatless spaghetti. I personally love mushrooms every time I make a meatless spaghetti sauce, as they have great texture and are really satisfying. For this recipe I also used bell peppers, onions, and fresh garlic.
I love making my baked spaghetti a bit healthier by using whole wheat spaghetti noodles. You don't taste the difference, and they are more nutritious than white pasta noodles.
Lastly, for big flavor, we are using freshly grated parmesan cheese. Grate it yourself and it has so much flavor! I also use shredded mozzarella cheese which pairs perfectly with the parmesan.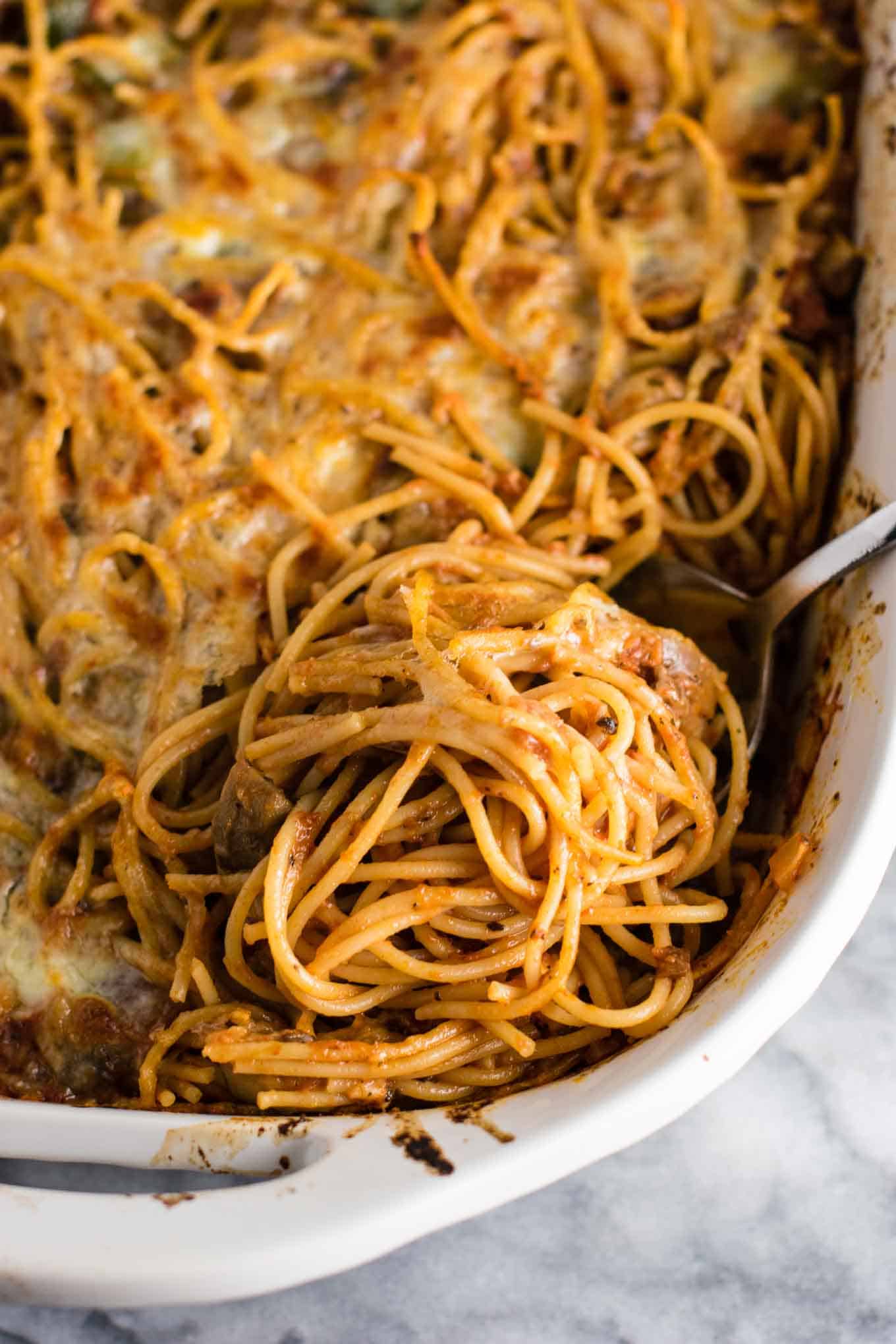 This spaghetti is hearty and filling with bites of warm melty cheese.
It's what pasta lovers' dreams are made of!
Are you making this recipe? I want to see! Be sure to tag me on instagram @buildyourbite and hashtag #buildyourbite with your recipe creations!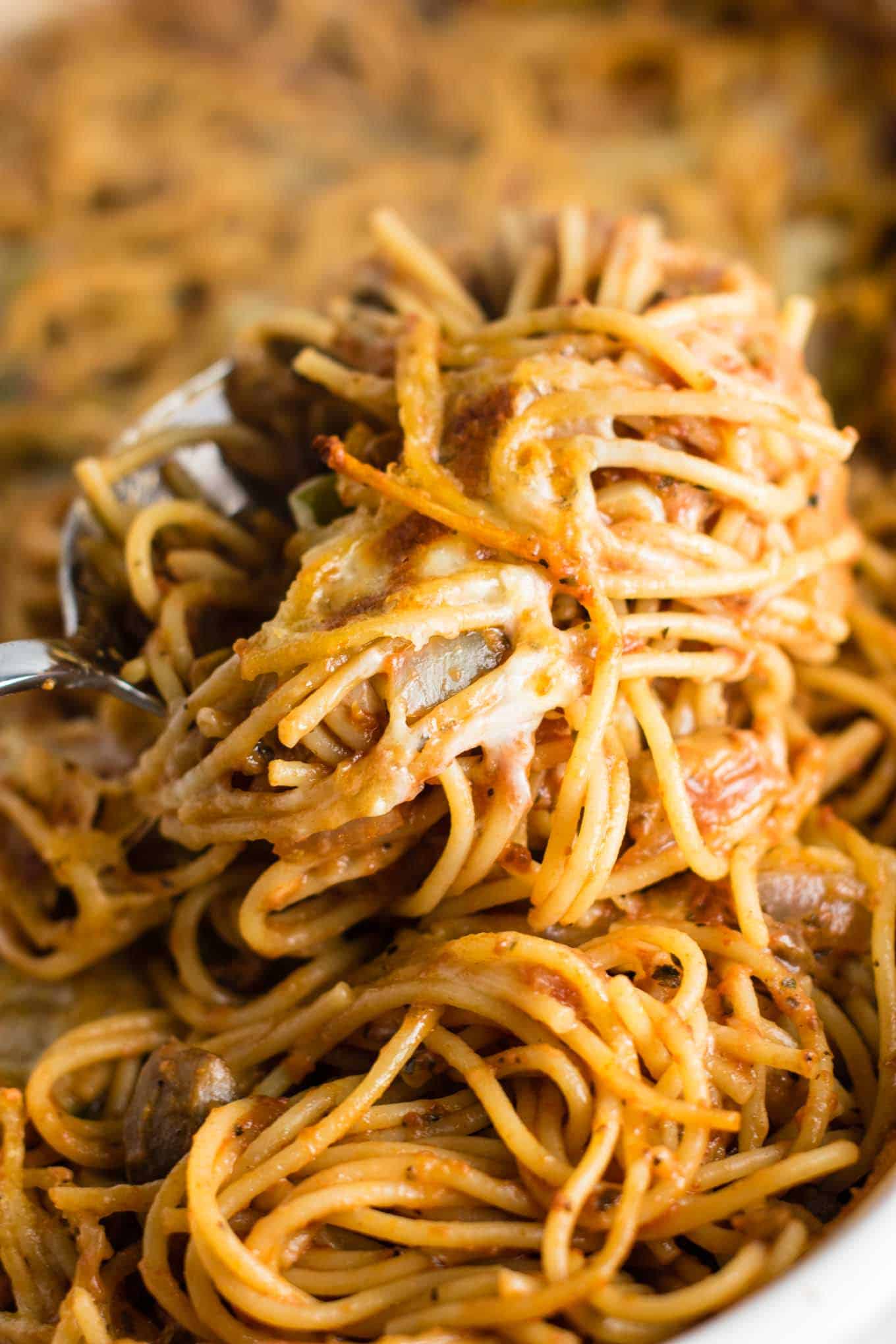 This one's a guaranteed family pleaser, perfect for a quick weeknight dinner!
More vegetarian pasta recipes: 
Pin this recipe:
Vegetarian Baked Spaghetti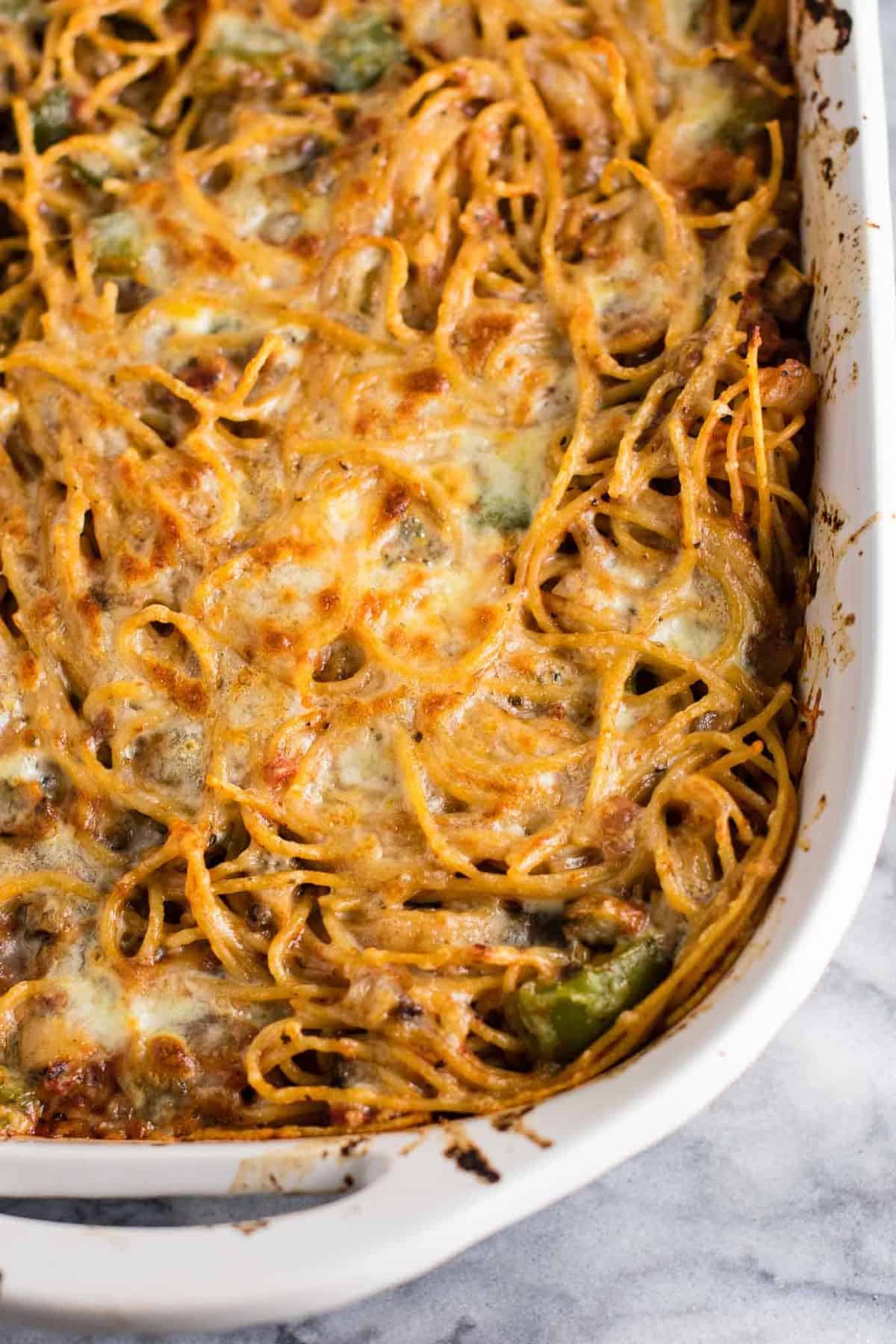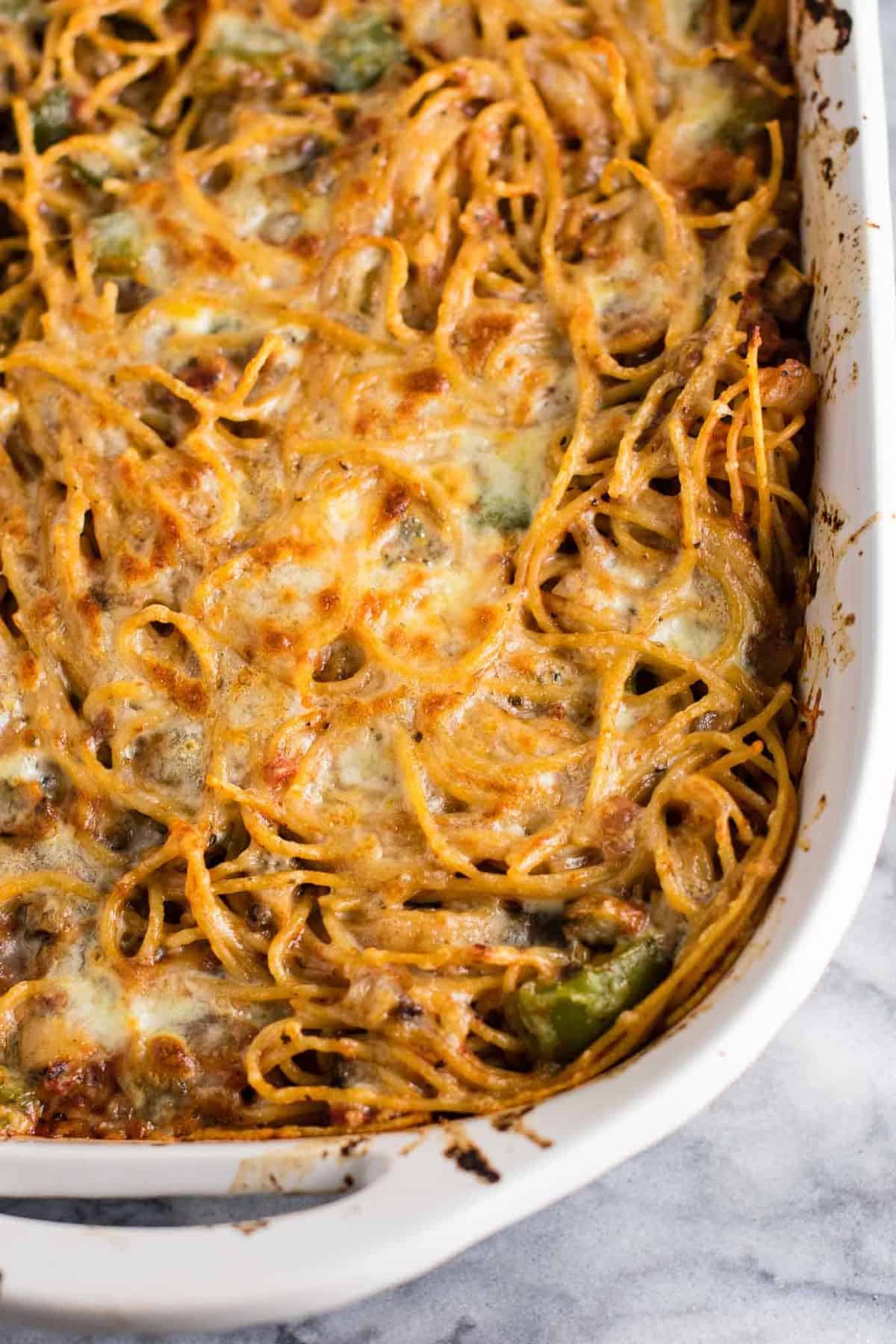 A simple and delicious recipe for vegetarian baked spaghetti
Ingredients
1 large onion, diced
8 large garlic cloves, minced
16 oz mushrooms, diced
1 green bell pepper, diced
2 tablespoons extra virgin olive oil
1/2 teaspoon sea salt
1/2 teaspoon pepper
2 teaspoons dried basil
1 teaspoon dried oregano
1 (25 oz) jar of organic pasta sauce (I used mushroom flavor)
1 cup parmesan cheese, freshly grated
1 1/2 cups shredded mozzarella cheese
16 oz whole wheat spaghetti
Directions
Cook spaghetti according to package directions, set aside
Combine onion, garlic, mushrooms, green pepper, olive oil, sea salt, pepper, basil and oregano in a large skillet.
Sautee on medium high heat, stirring frequently for 10-15 minutes, or until mushrooms cook down and evaporate their liquid
Add pasta sauce to veggie mixture and stir to combine
Using a 9 X 13 baking dish, first lay down all of the cooked spaghetti on the bottom
Top spaghetti with 1/2 cup mozzarella and 1 cup of parmesan cheese
Pour sauce over top and mix up with tongs until well combined
Top with remaining 1 cup of mozzarella cheese sprinkled over the top
Bake at 450 degrees for 12-15 minutes, or until cheese is bubbly and starting to brown
Recipe Notes
Add 1 teaspoon of crushed red pepper flakes if you like a little spicy in your spaghetti. We love it this way!
Loading nutrition data...