This Slow Cooker Vegetarian Chili Mac Recipe is made all in the crock pot (even the noodles!) Make chili in the slow cooker, stir in some macaroni noodles and cheese and you have yourself some easy and delicious chili mac!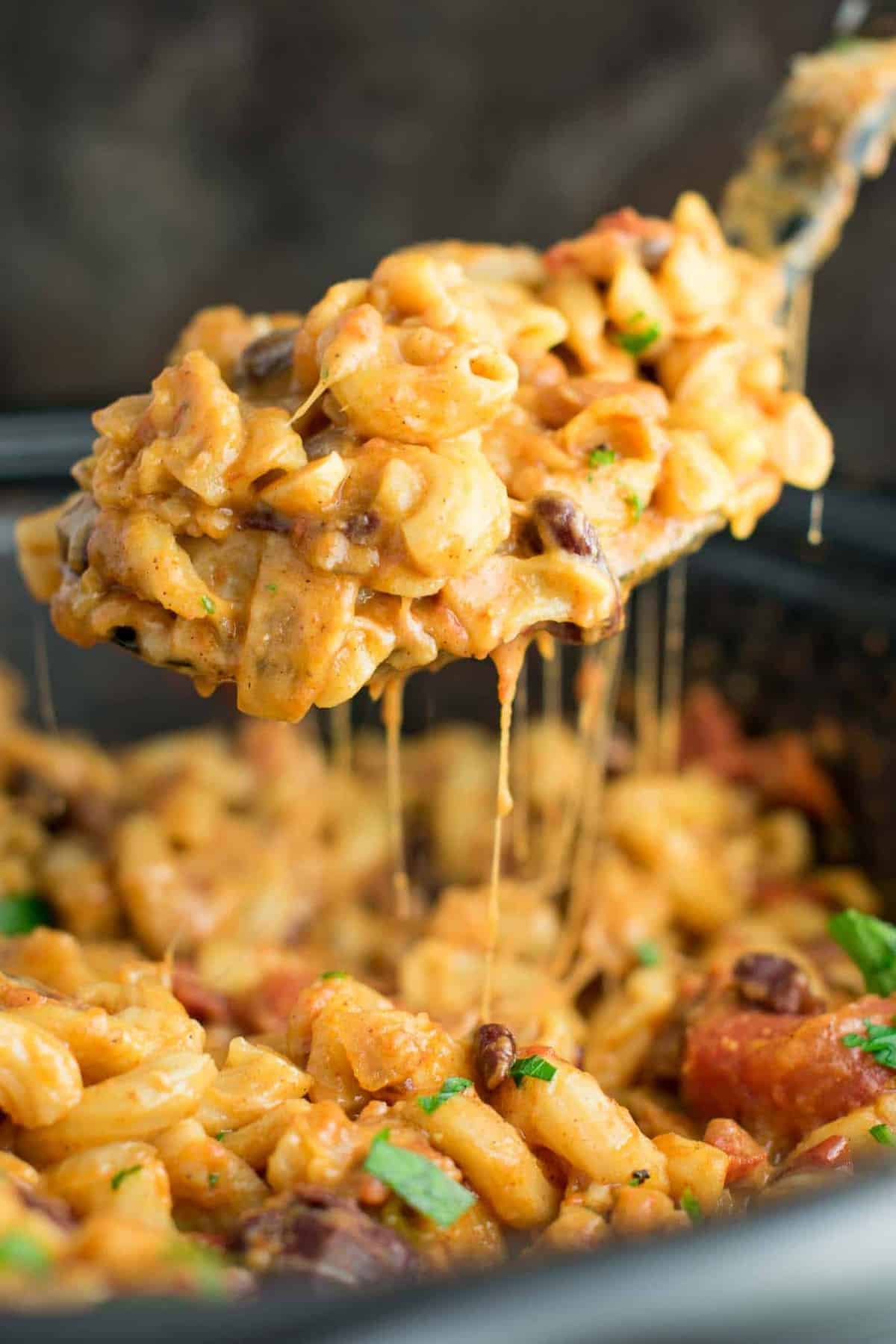 Slow cooker vegetarian chili mac is what's for dinner and I can't wait to share the recipe with you!
Chili is a fall favorite recipe that I always find myself craving as soon as that first few morning chills hit.
This recipe is so simple to make, and tastes incredible.
This is the first recipe I've tried from a blog that has not disappointed my family. My finished dish looked like the pictures above. It was easy to follow and then turned out delicious. – Natalie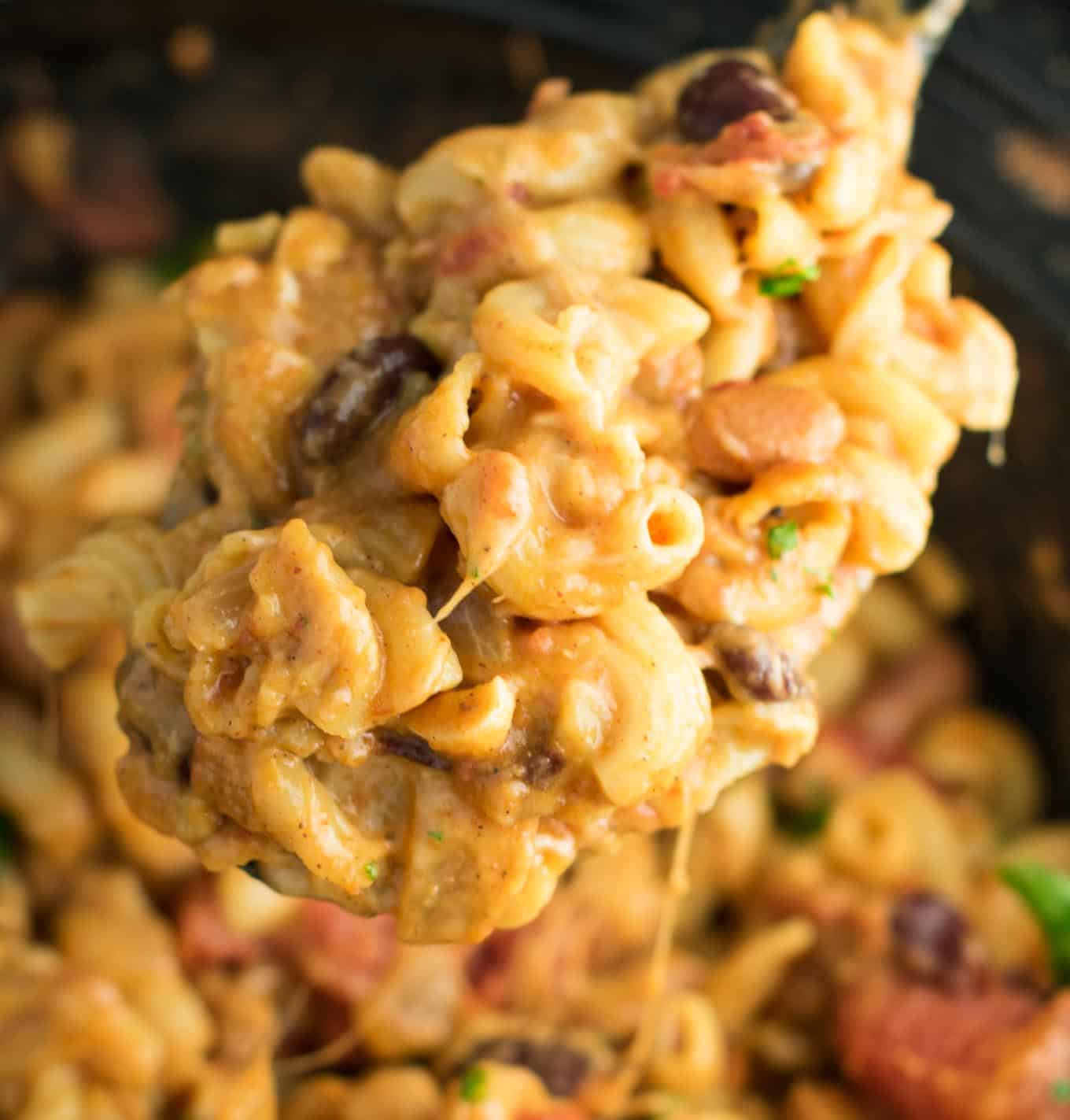 This recipe takes traditional chili to the next level but adding macaroni noodles and cheddar cheese to make the classic favorite chili mac!
It's one of my favorite ways to cook pasta in a crock pot.
That's right, everything (including the noodles) cooks right in the crock pot!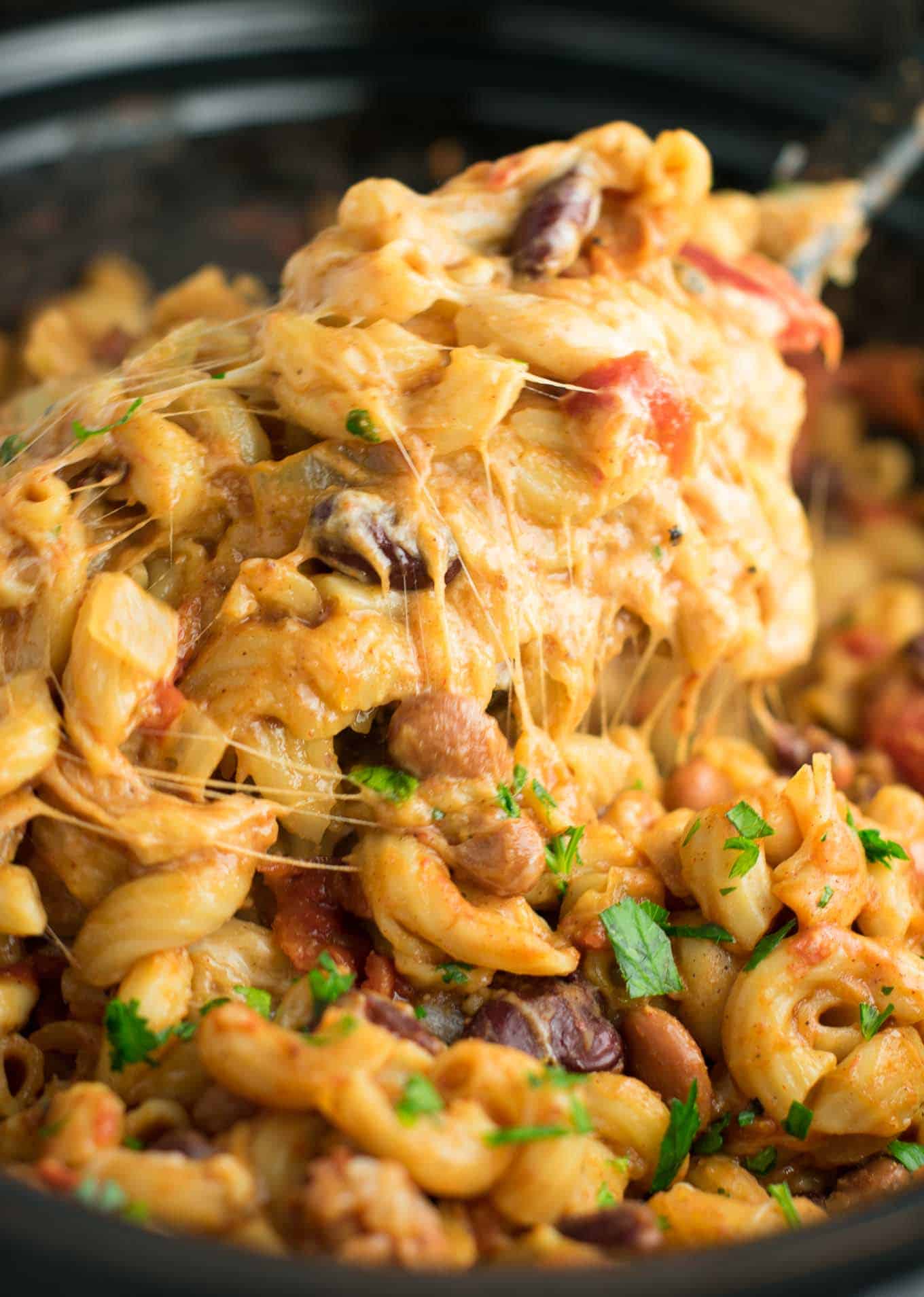 How to make slow cooker vegetarian chili mac
First, you will cook your fresh garlic and onion until soft.
These give the chili mac tons of flavor, but you don't want to end up with crunchy onions, so we are going to cook them first before adding to the slow cooker.
Add your cooked garlic and onion, and all the ingredients for the chili to the slow cooker.
Cook on high for 2 or 2 and a half hours, until chili is hot and bubbly and totally cooked.
Once the chili is done, add in your uncooked macaroni noodles and cook an additional 20 – 40 minutes.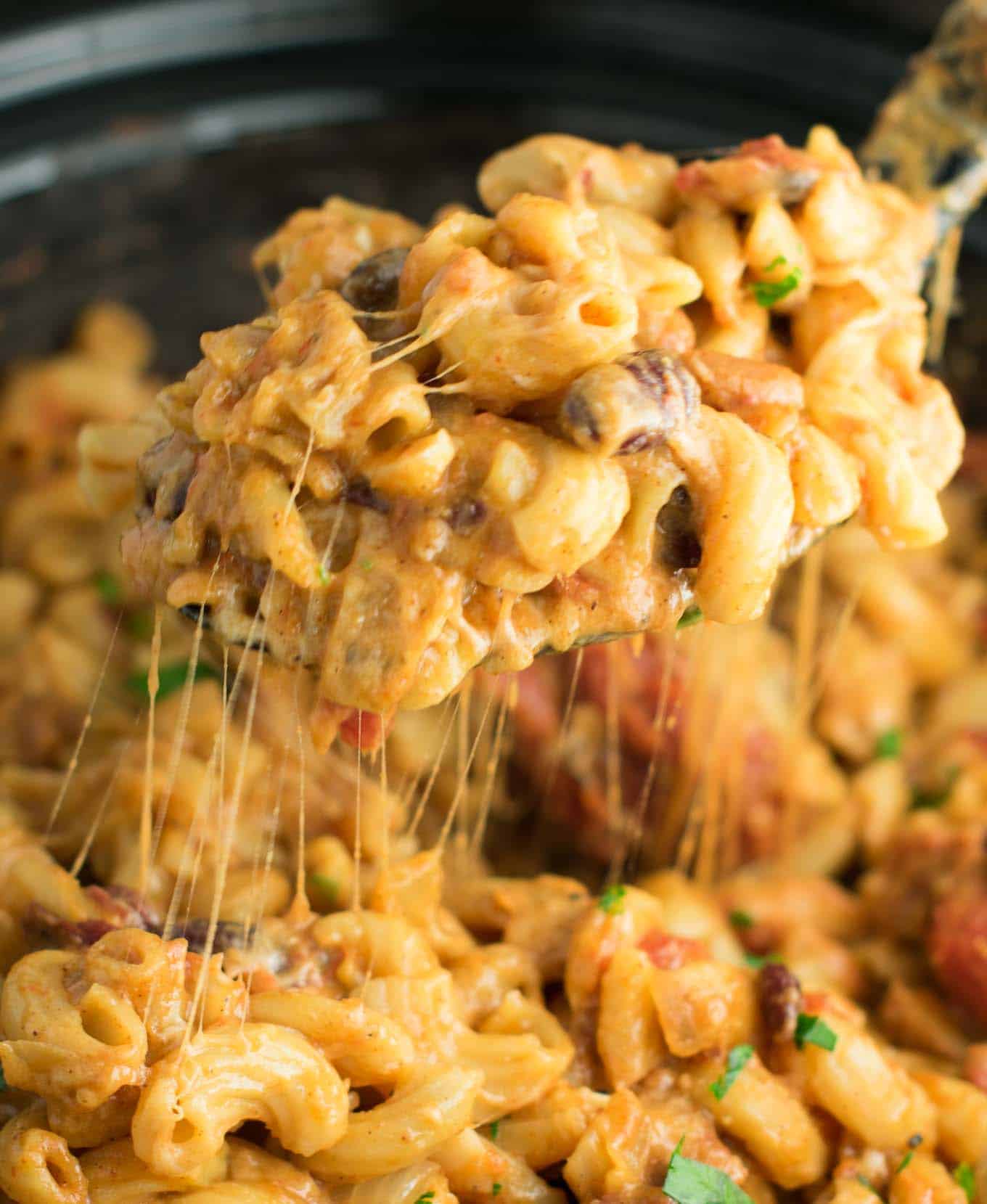 Tips for cooking your pasta in the crockpot
To avoid mushy macaroni noodles, keep a close eye on them while cooking.
Since the chili is already hot, the noodles will cook very quickly.
You want to cook them to al dente and no longer to avoid losing all the texture.
This should take no more than 20 – 40 minutes, but I usually find it is on the shorter side for me!
Check the noodles often to avoid overcooking them.
Once your noodles are done, stir in the cheddar cheese and garnish with fresh parsley and you are ready to eat!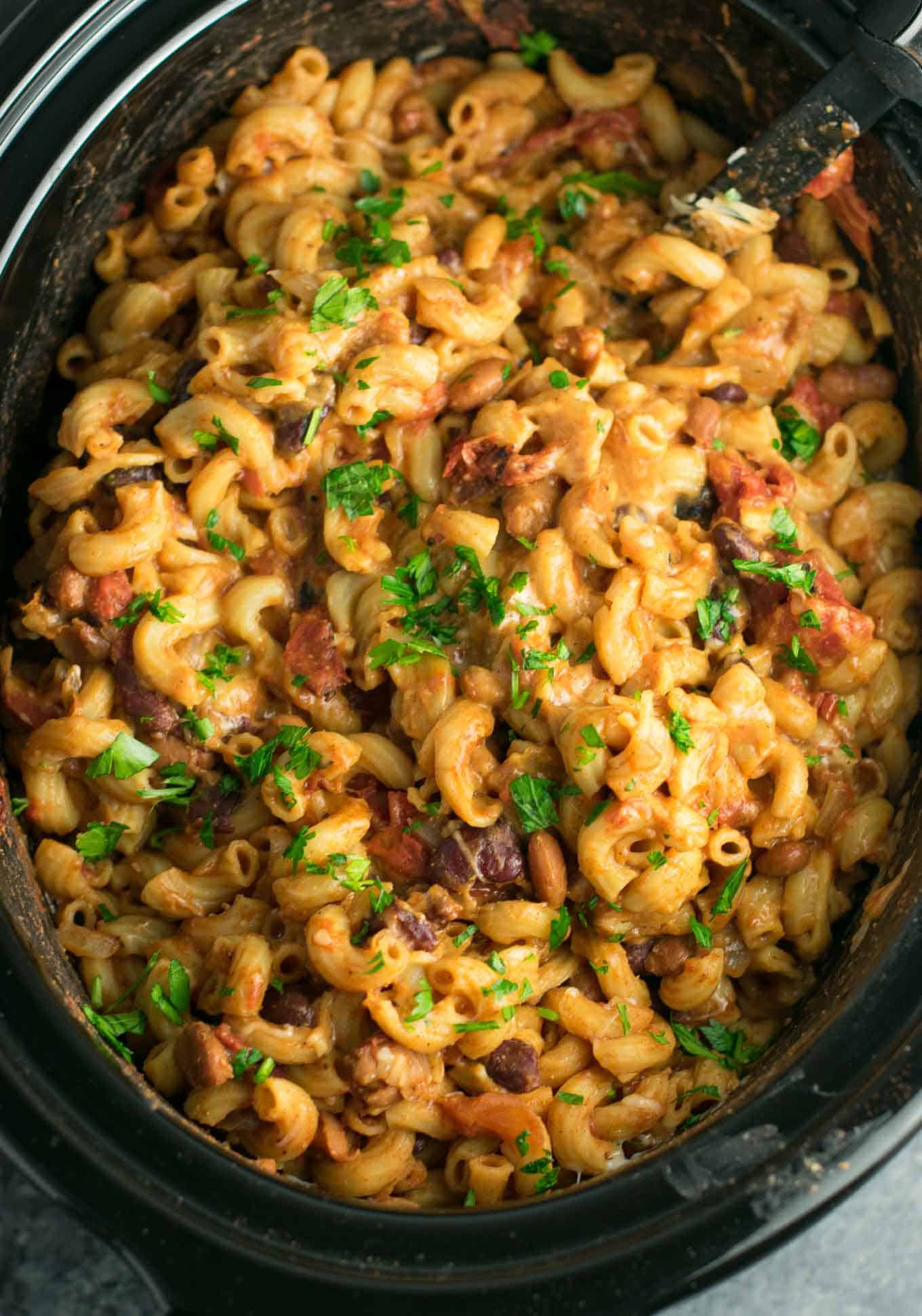 This recipe makes a ton and is great for leftovers!
Can we just take a second to talk about that cheese though.
You just can't make chili mac without a good amount of cheddar cheese!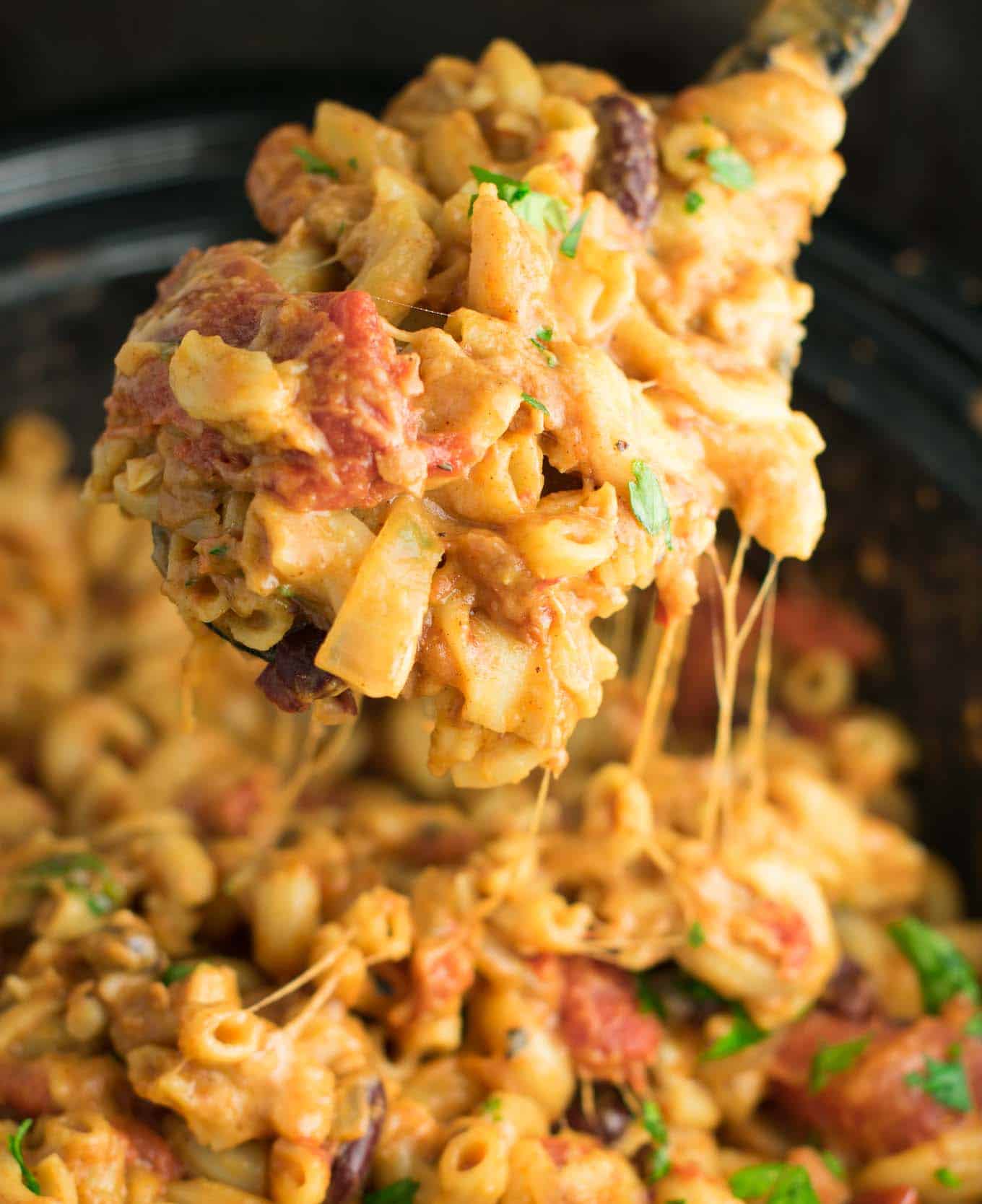 For even more flavor, grate your cheddar from a block.
I love doing this to take the flavor to the next level!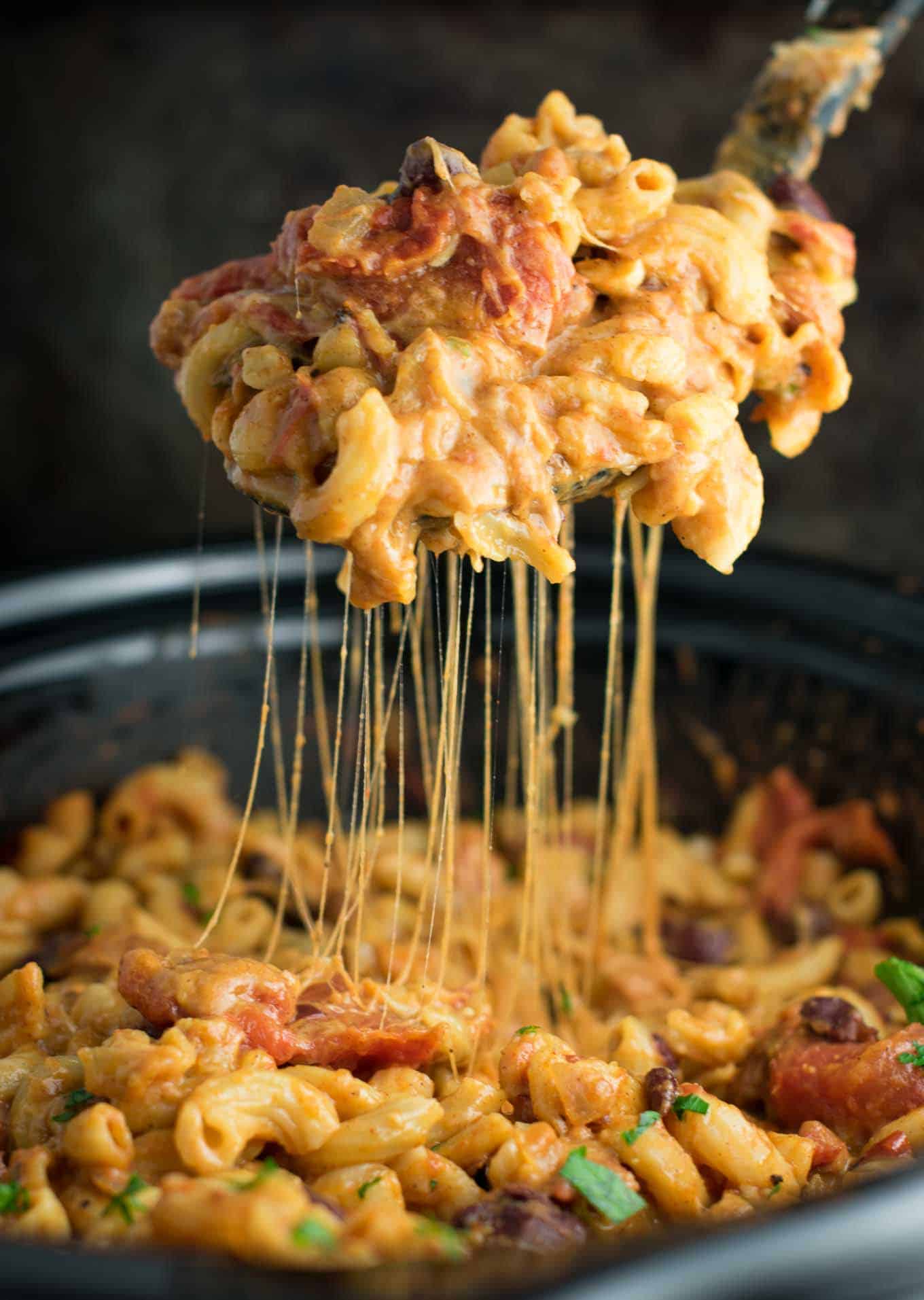 Chili is a great dish to make during the fall and winter for three reasons.
1. It's super easy (lazy dinners are the best!)
2. It feeds a crowd (yay for leftovers!)
3. It is not only filling, cozy comfort food, but it is also super affordable (no fancy expensive ingredients!)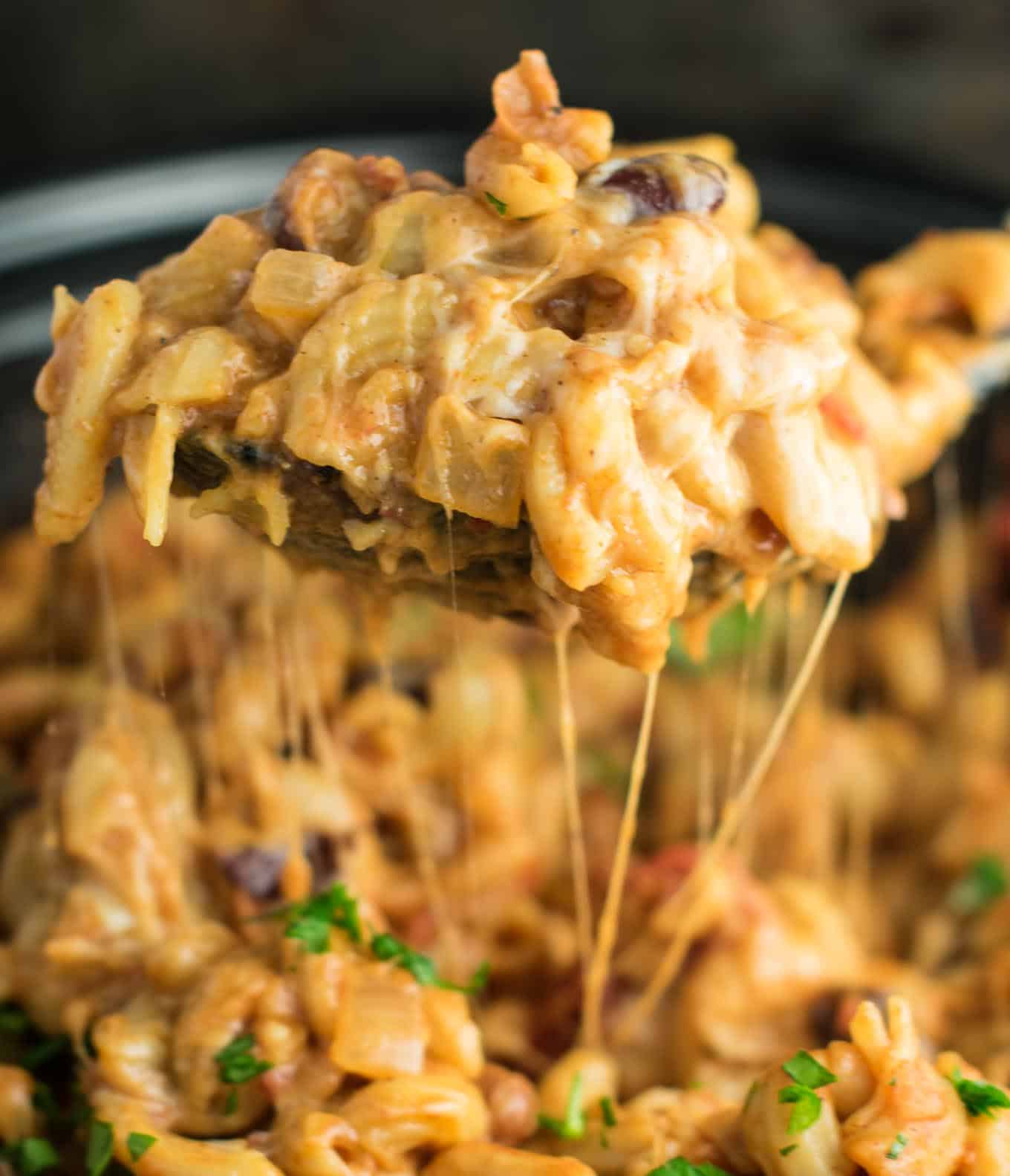 And reason #4? That cheese.
I mean really, do you need another reason after that picture?!
I'm a cheese lover through and through.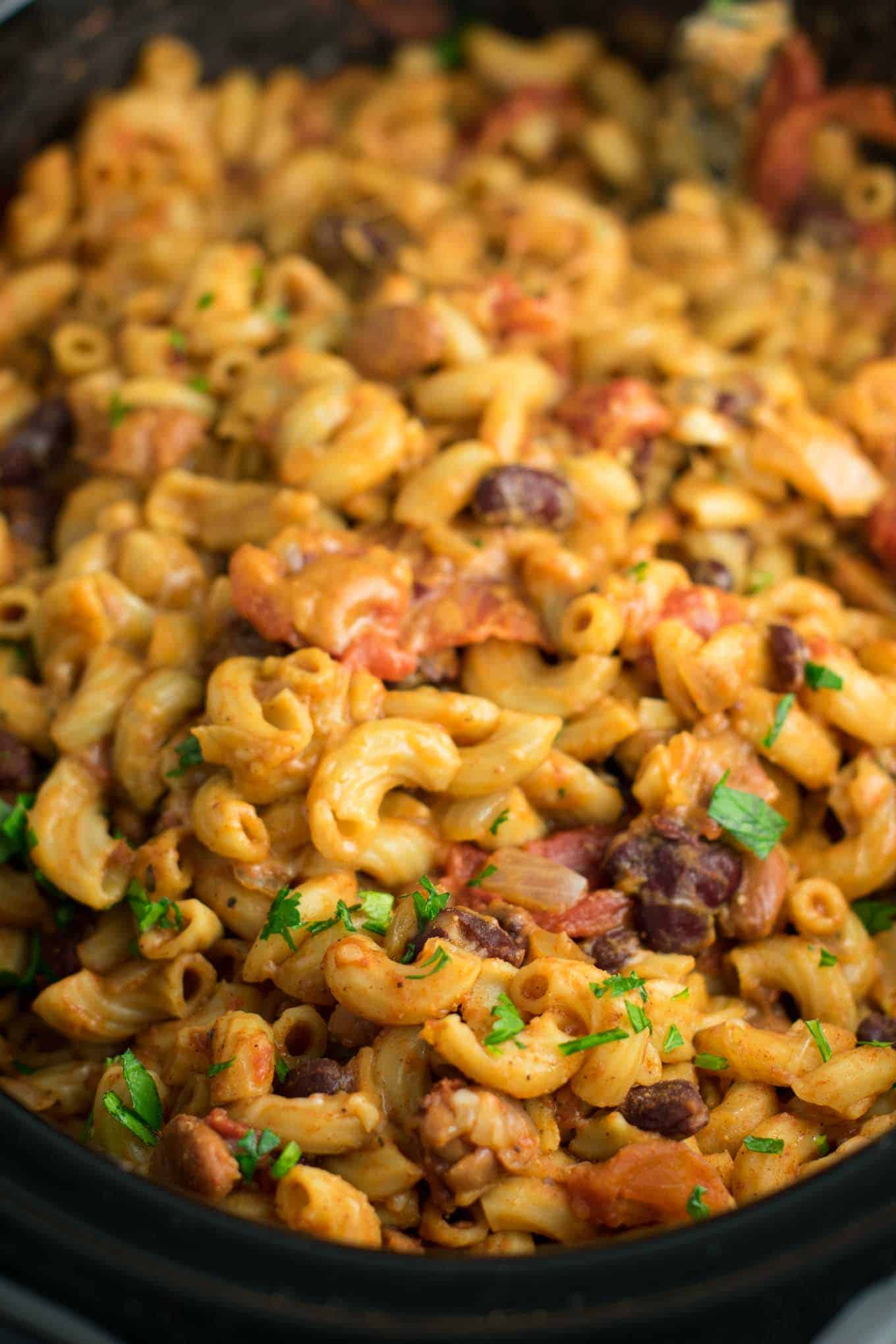 This recipe makes a HUGE amount, so I recommend a 6 quart or larger slow cooker.
You really cannot fit it in a smaller slow cooker because it easily fills the entire 6 qt one.
If all you have is a smaller slow cooker, you should cut the recipe in half to ensure you have enough room.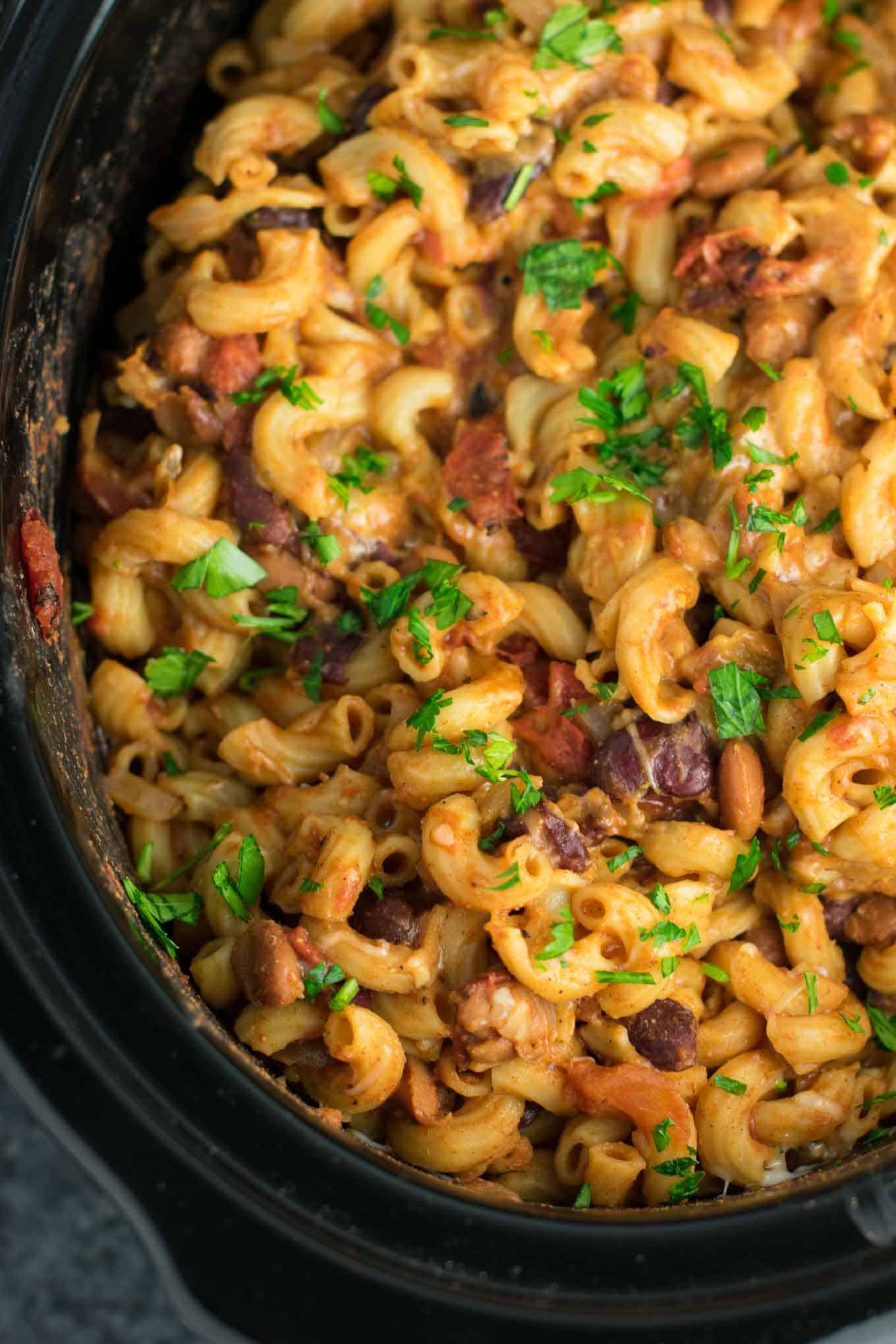 Can I use another type of noodle?
You can use any macaroni noodles in this recipe, but I have only tested normal white noodles.
If you use gluten free or whole wheat, keep in mind that it could change the cook time.
Just keep a close eye to avoid overcooking.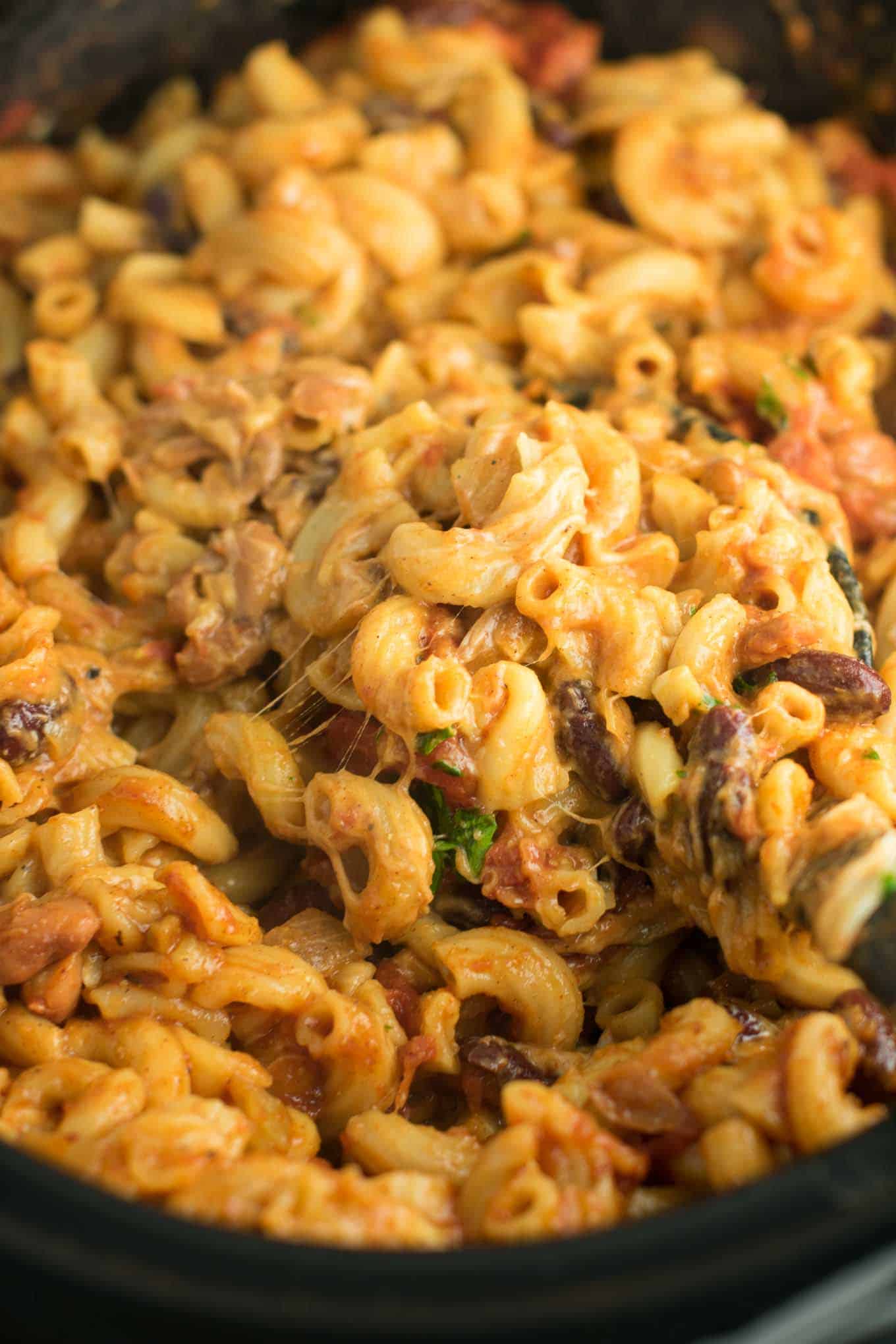 This slow cooker vegetarian chili mac is so easy that you don't even have to cook the noodles first.
No rinsing or anything at all.
Just pour them straight from the box!
If you've tried other crockpot recipes from my blog, you know that I love a good slow cooker dinner with noodles that cook themselves.
Less work for me!
Seriously this is so good and has become a staple at our house. It's perfect for busy nights where I need a no-fuss dinner and some comfort food. Even all of my picky kids eat it with zero complaints. – Cassandra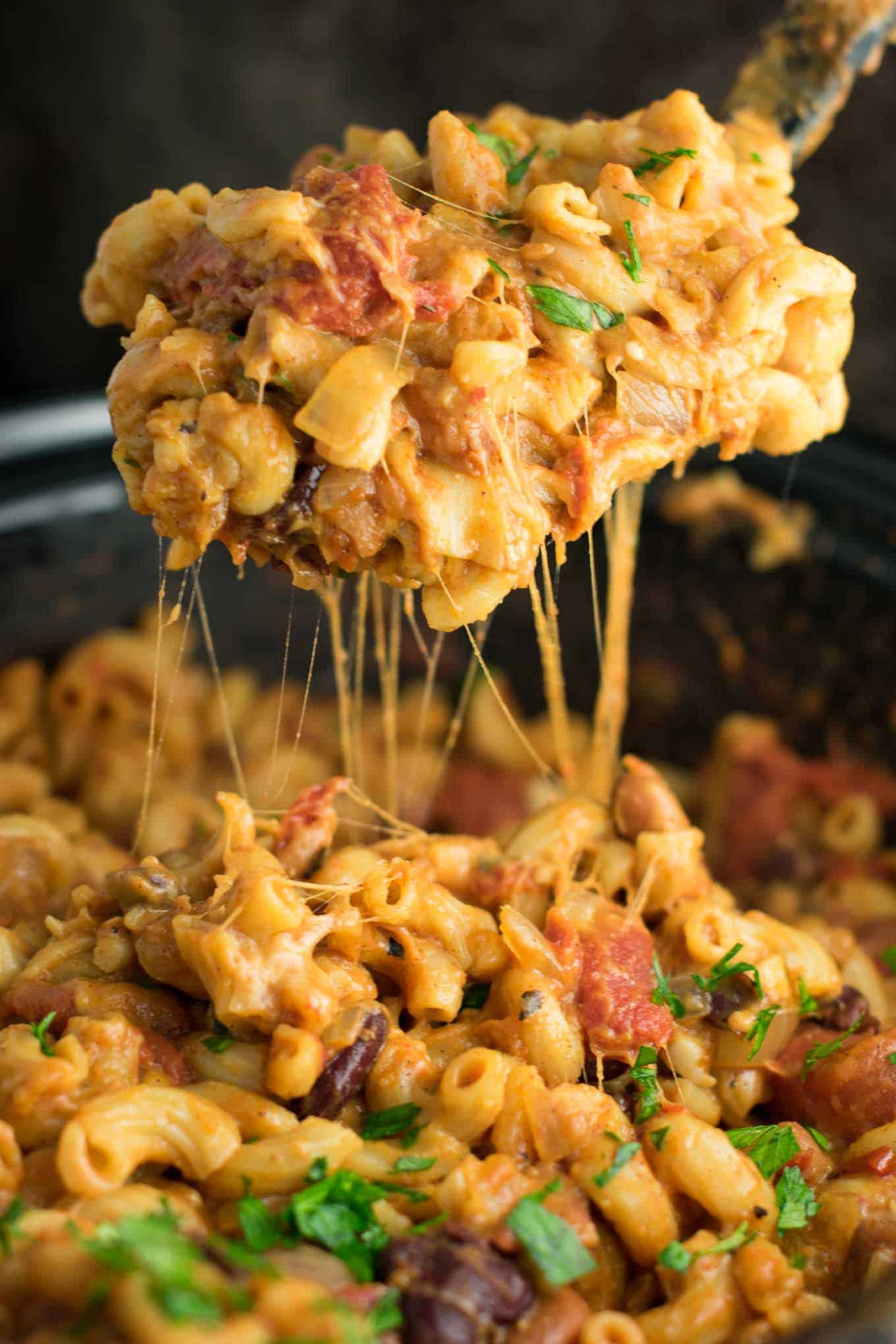 Crock pots are the magical kitchen appliance that I tend to forget about every summer and fall back in love with every fall.
Let's be honest, I don't always have time to make meals from scratch every night.
As a busy mom, some days it's just about keeping the child alive and somewhat entertained let alone making dinner.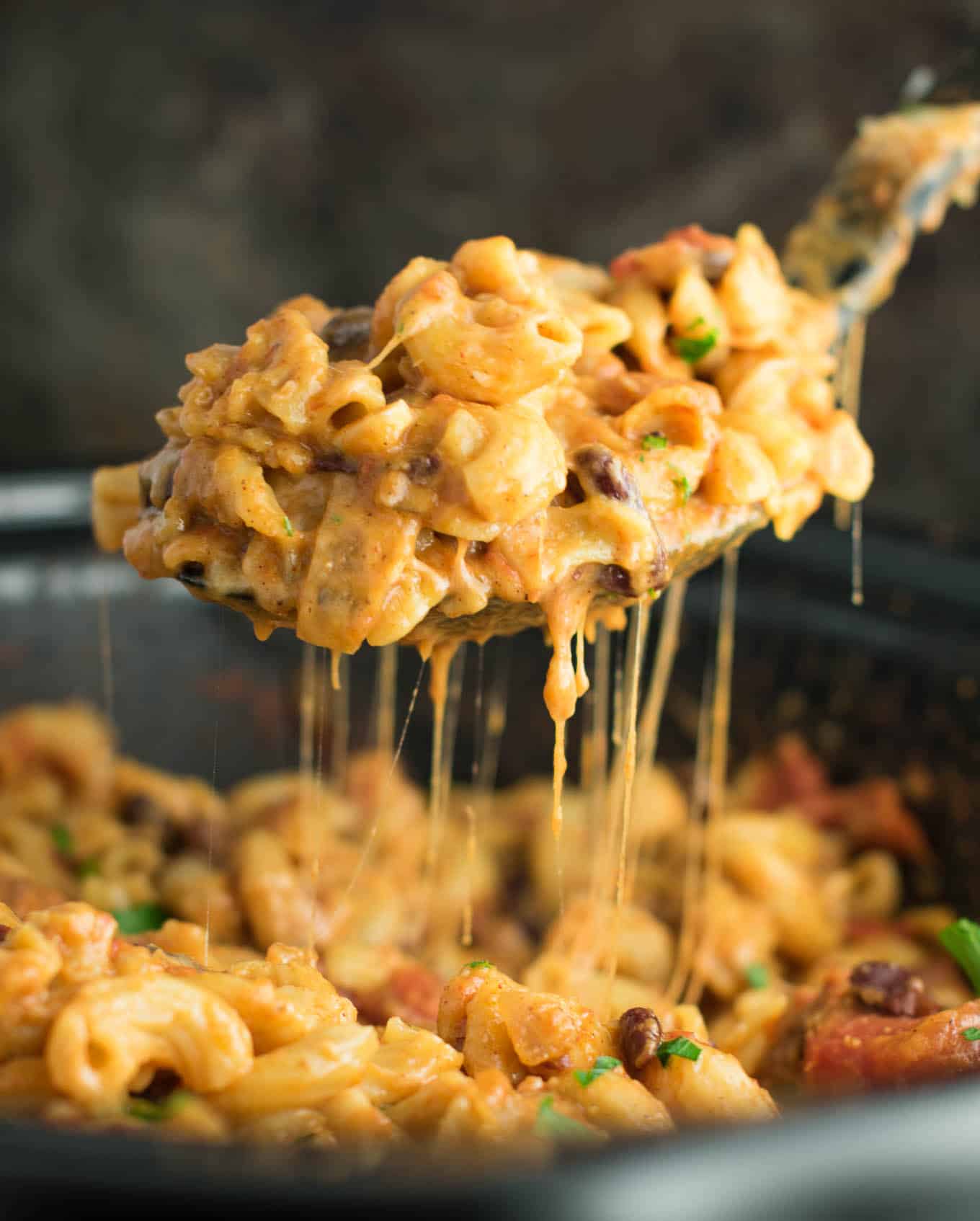 If you need a quick, cheap, filling, CHEESY dinner in your life, try this slow cooker vegetarian chili mac!
More crock pot recipes
Be sure to pin this recipe for later and follow Build Your Bite on Pinterest for all the latest delicious recipes!
Did you make this recipe? Be sure to leave a star rating below!
Slow Cooker Vegetarian Chili Mac
Total Time:
3 hours
15 minutes
This Slow Cooker Vegetarian Chili Mac Recipe is made all in the crockpot (even the noodles!). A super easy vegetarian crockpot recipe to feed a crowd.
Ingredients
10 cloves of garlic, minced
1 medium onion, diced
15 oz kidney beans, drained
15 oz chili beans (do not drain)
15 oz sliced stewed tomatoes (do not drain)
4 tablespoons tomato paste
15 oz diced fire roasted tomatoes
4 cups vegetable broth
2 teaspoons chili powder
½ teaspoon paprika
2 tablespoons cumin
½ teaspoon salt
½ teaspoon pepper
¼ teaspoon cayenne
1 lb elbow macaroni noodles, uncooked
3 ½ cups shredded cheddar cheese
fresh chopped parsley, for serving
Instructions
Add garlic and onion to a skillet with 1 teaspoon of olive oil
Saute 10-15 minutes, or until onion is translucent
Add garlic and onion, kidney beans, chili beans, stewed tomatoes, tomato paste, fire roasted tomatoes, vegetable broth, chili powder, paprika, cumin, salt, pepper, and cayenne to a 6 quart slow cooker
Cook on high for 2 - 2.5 hours, until bubbly and onions are no longer crunchy
Add in uncooked macaroni noodles and cook an additional 15 - 40 minutes. The noodles will cook quickly, so check often until al dente to avoid mushy noodles
Once noodles are desired texture, stir in cheddar cheese
Serve garnished with chopped parsley and additional cheddar cheese, if desired
Recommended Products
As an Amazon Associate and member of other affiliate programs, I earn from qualifying purchases.
Nutrition Information:
Yield:

10
Serving Size:

1
Amount Per Serving:
Calories:

371
Total Fat:

15g
Saturated Fat:

8g
Trans Fat:

0g
Unsaturated Fat:

5g
Cholesterol:

39mg
Sodium:

1208mg
Carbohydrates:

41g
Fiber:

8g
Sugar:

9g
Protein:

19g