This Slow Cooker Vegetarian Chili Mac Recipe is made all in the crockpot (even the noodles!).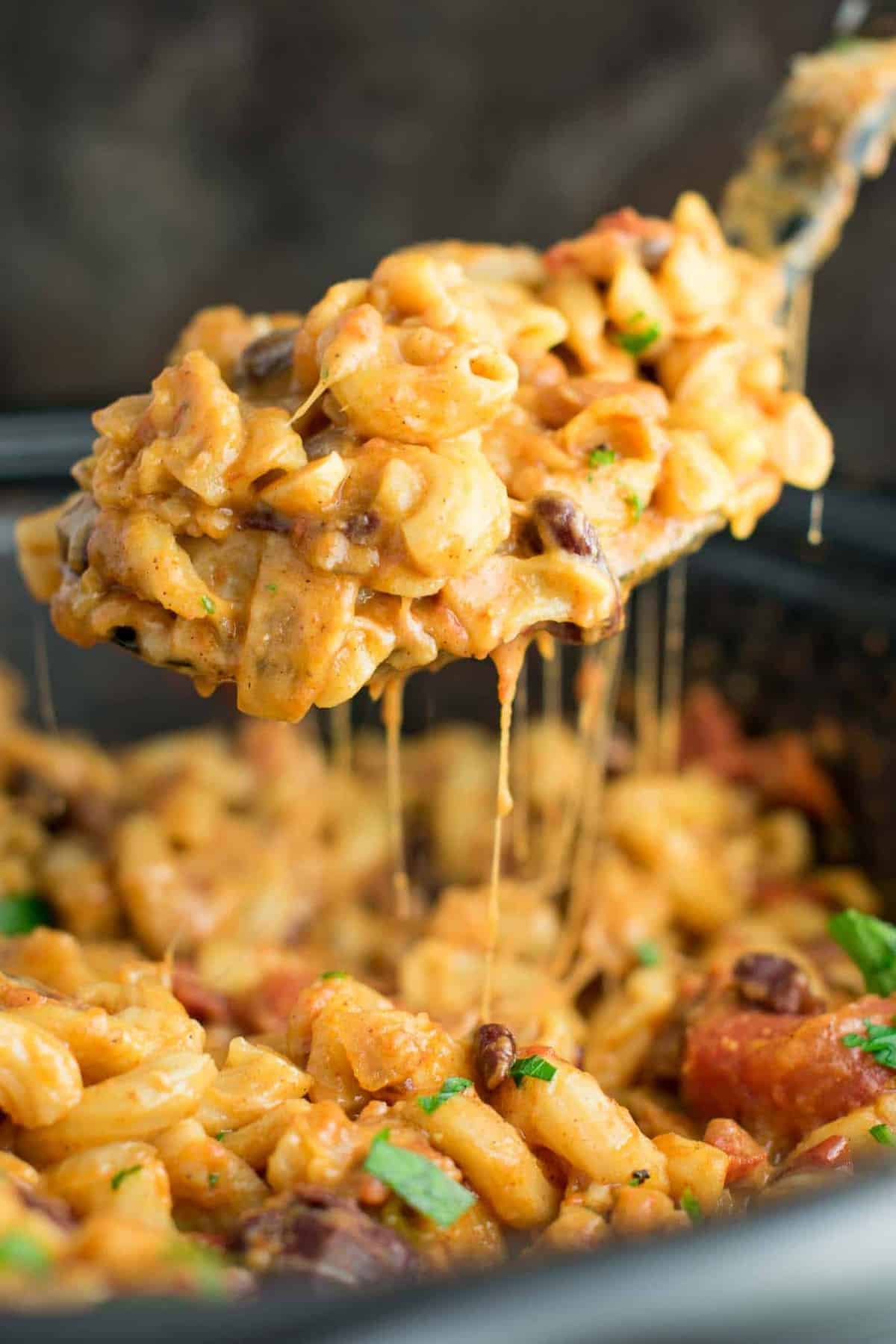 Today I am sharing the recipe for the awesome slow cooker vegetarian chili mac that I showed on my insta stories a few days ago.
If you don't follow me on instagram, you can do so here!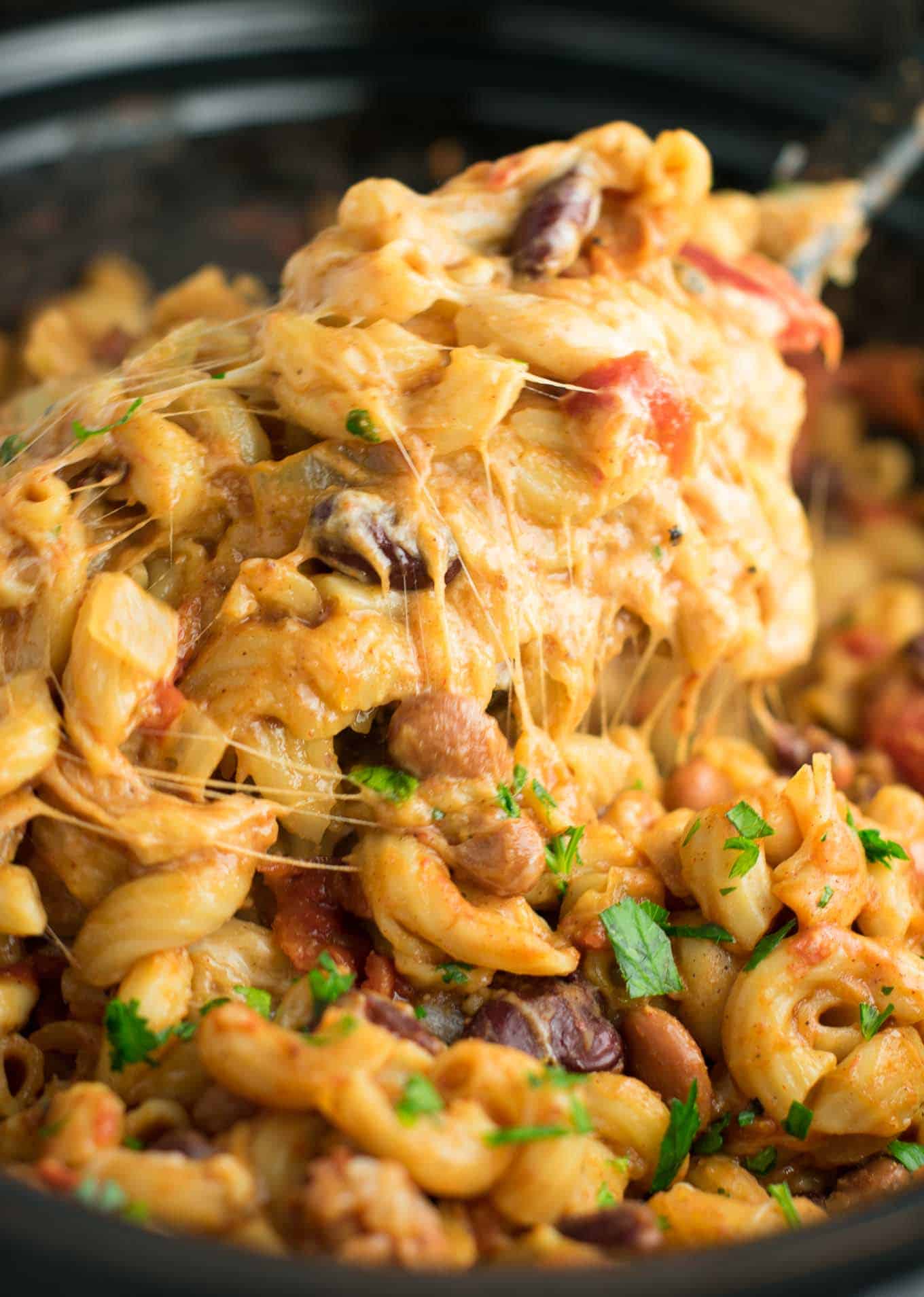 Can we just take a second to talk about that cheese though.
You just can't make chili mac without a good amount of melty gooey cheddar cheese!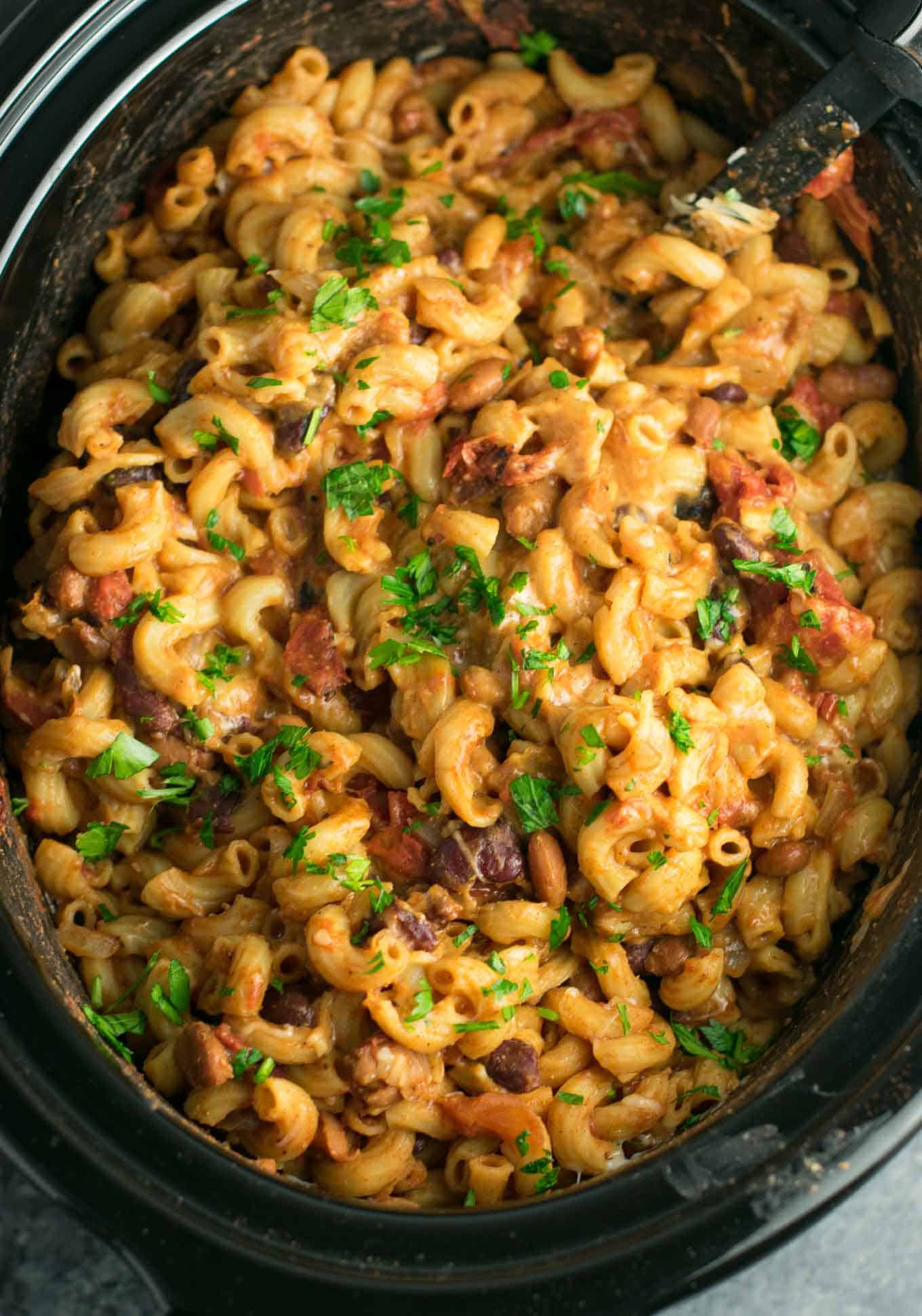 Chili is a great dish to make during the fall and winter for three reasons.
It's super easy (#lazydinnersforthewin)
It feeds a crowd (yay for leftovers!)
It is not only filling, cozy comfort food, but it is also super affordable (who doesn't love to save $$)?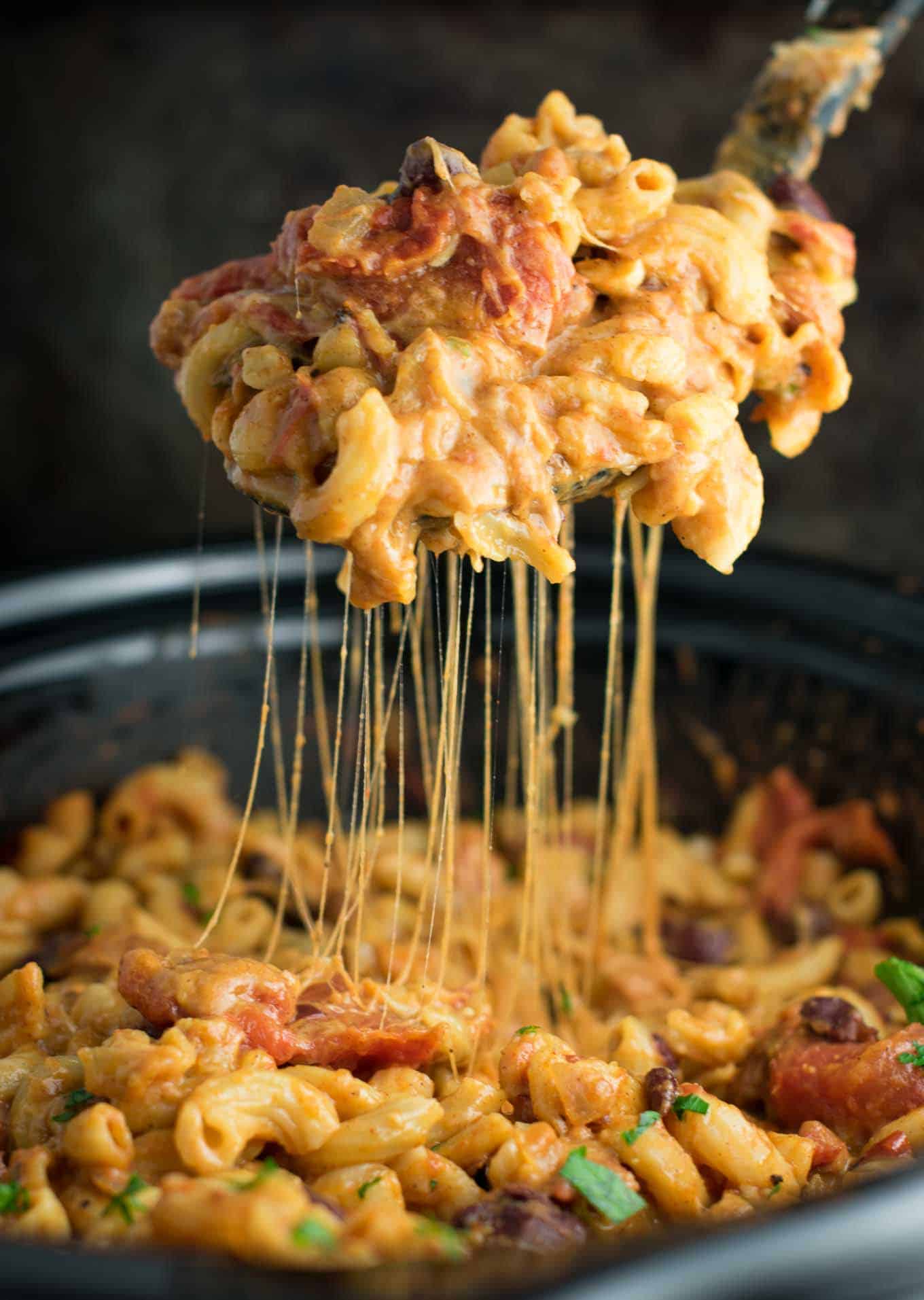 And reason #4? That cheese.
I mean really, do you need another reason after that picture?!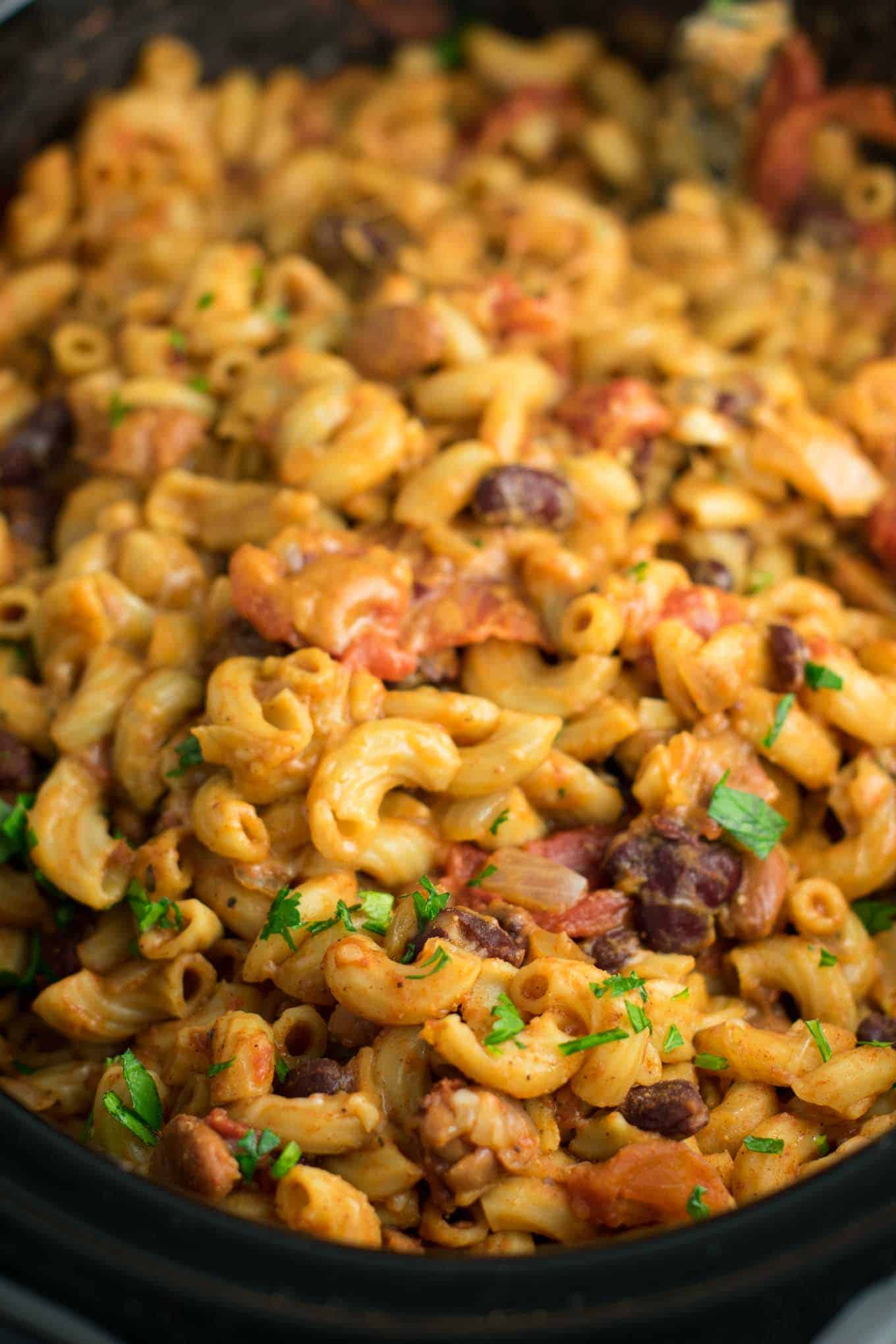 First, you'll start off with pretty much traditional chili ingredients.
After you sauté the garlic and onion for a few minutes, simple toss it all together and let the slow cooker do its magic!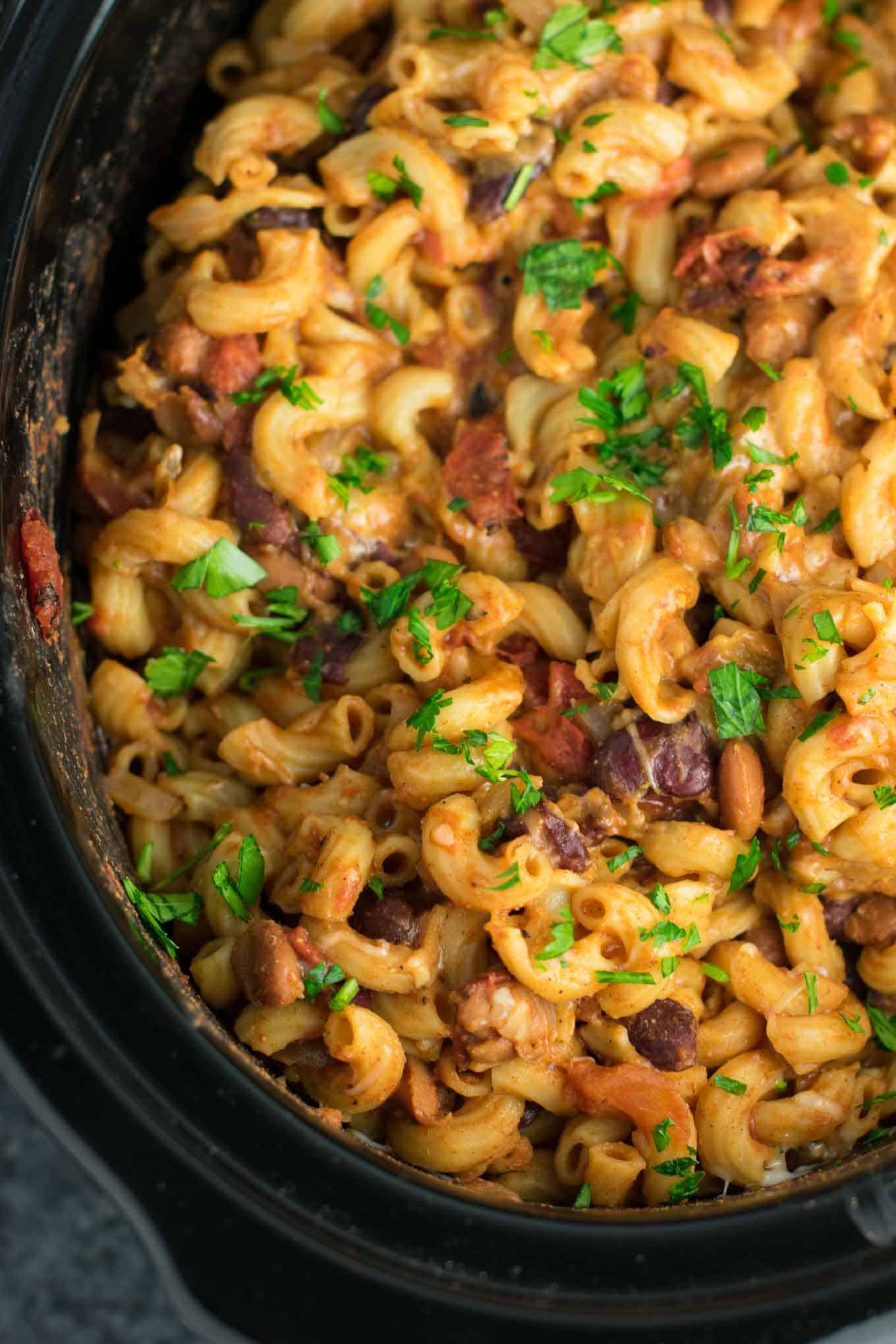 After the chili cooks for awhile, you will add in a pound of uncooked macaroni noodles and let it cook for another hour.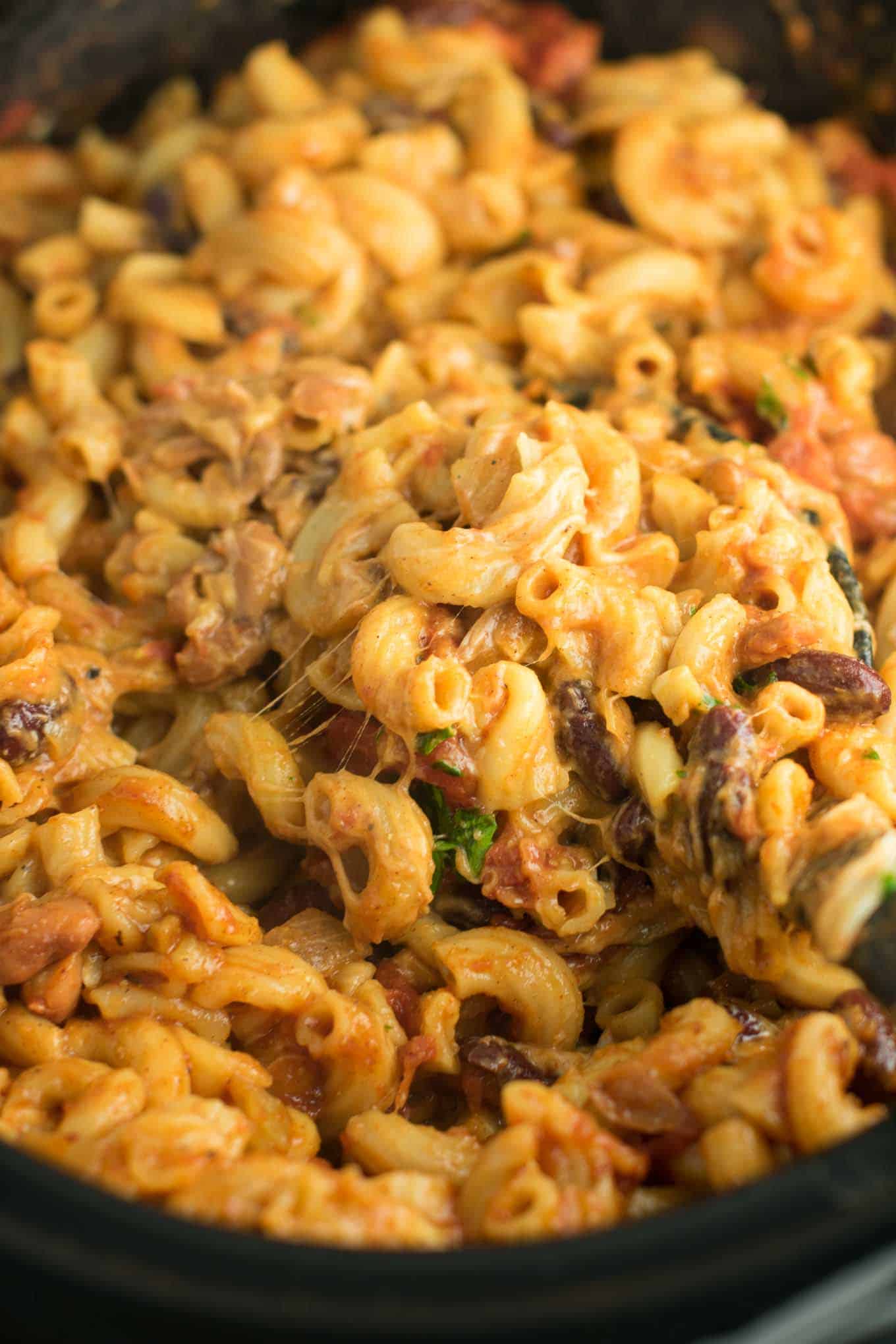 This slow cooker vegetarian chili mac is so easy that you don't even have to cook the noodles first.
If you've tried other crockpot recipes from my blog, you know that I love a good slow cooker dinner with noodles that cook themselves.
Less work for me!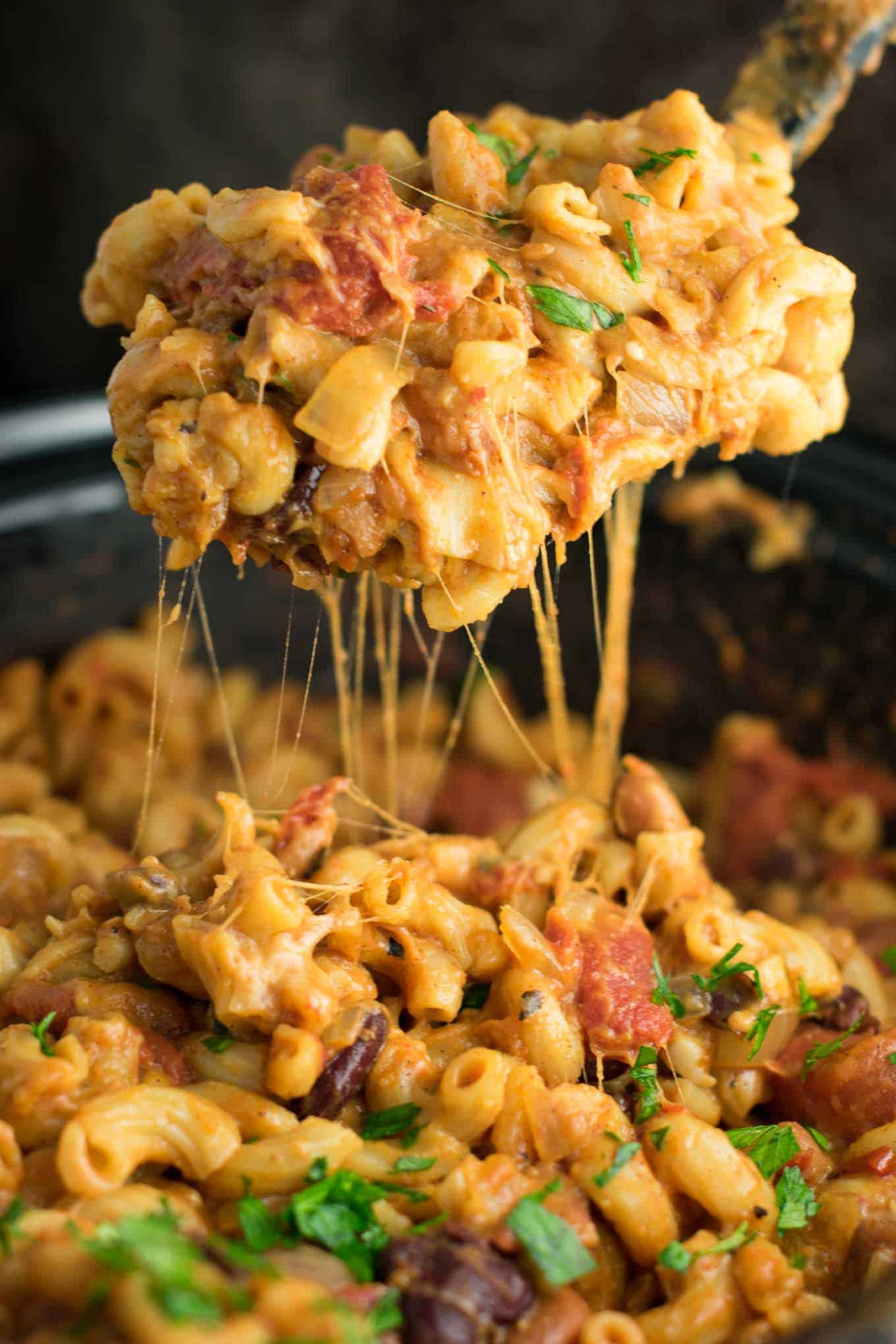 Crockpots are the magical kitchen appliance that I tend to forget about every summer and fall back in love with every fall.
Let's be honest, I don't always have time to make meals from scratch every night.
As a busy mom (like most of us), some days it's just about keeping the child alive and somewhat entertained let alone making dinner.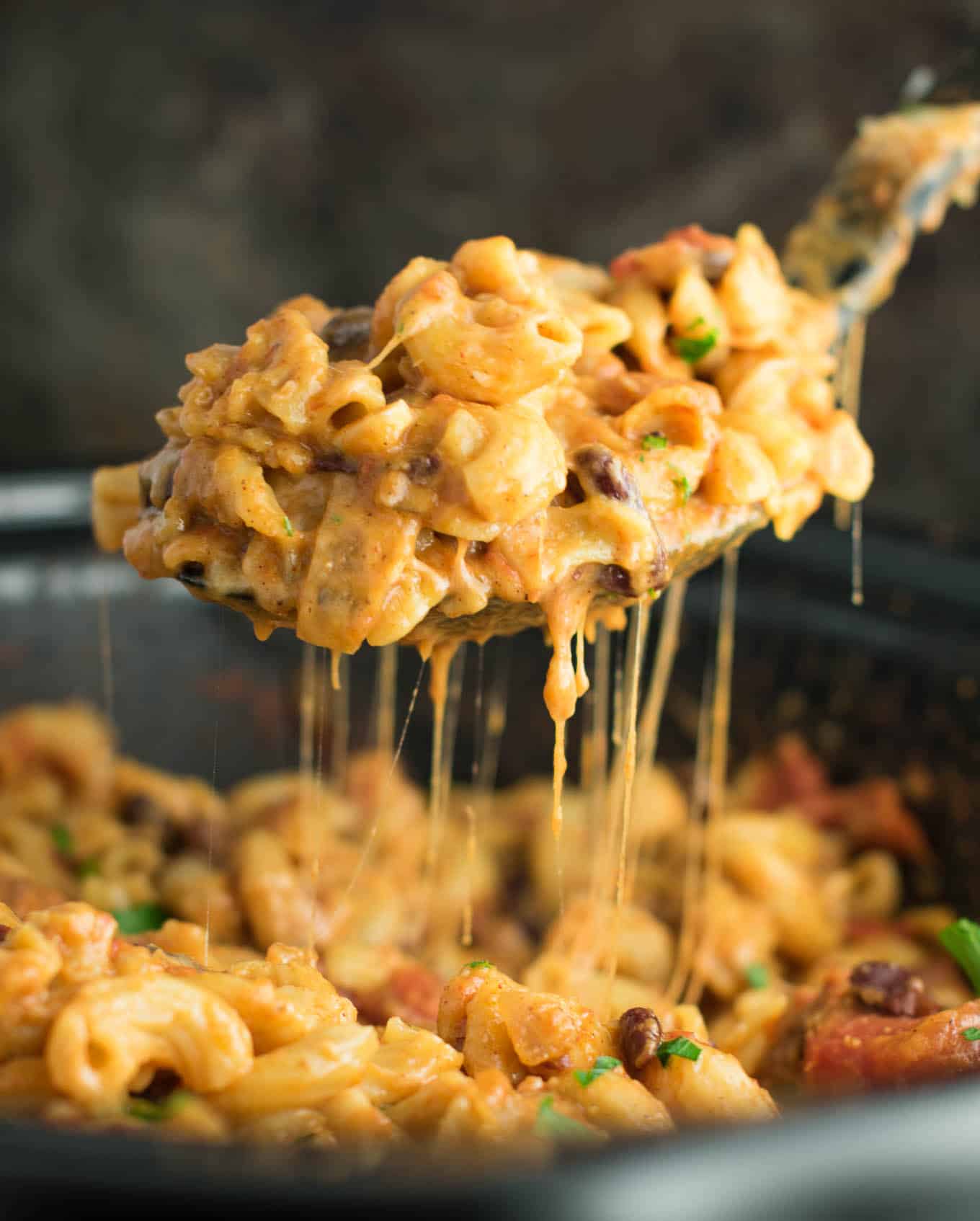 If you need a quick, cheap, filling, CHEESY dinner in your life, try this chili mac.
Love this recipe? You might also like these: One Pot Vegetarian Chili Mac, Crockpot Baked Ziti, Crockpot Alfredo Pasta, Crockpot Stuffed Peppers, Crockpot No Velveeta Queso, Cheesy Vegetarian Chili. 
Slow Cooker Vegetarian Chili Mac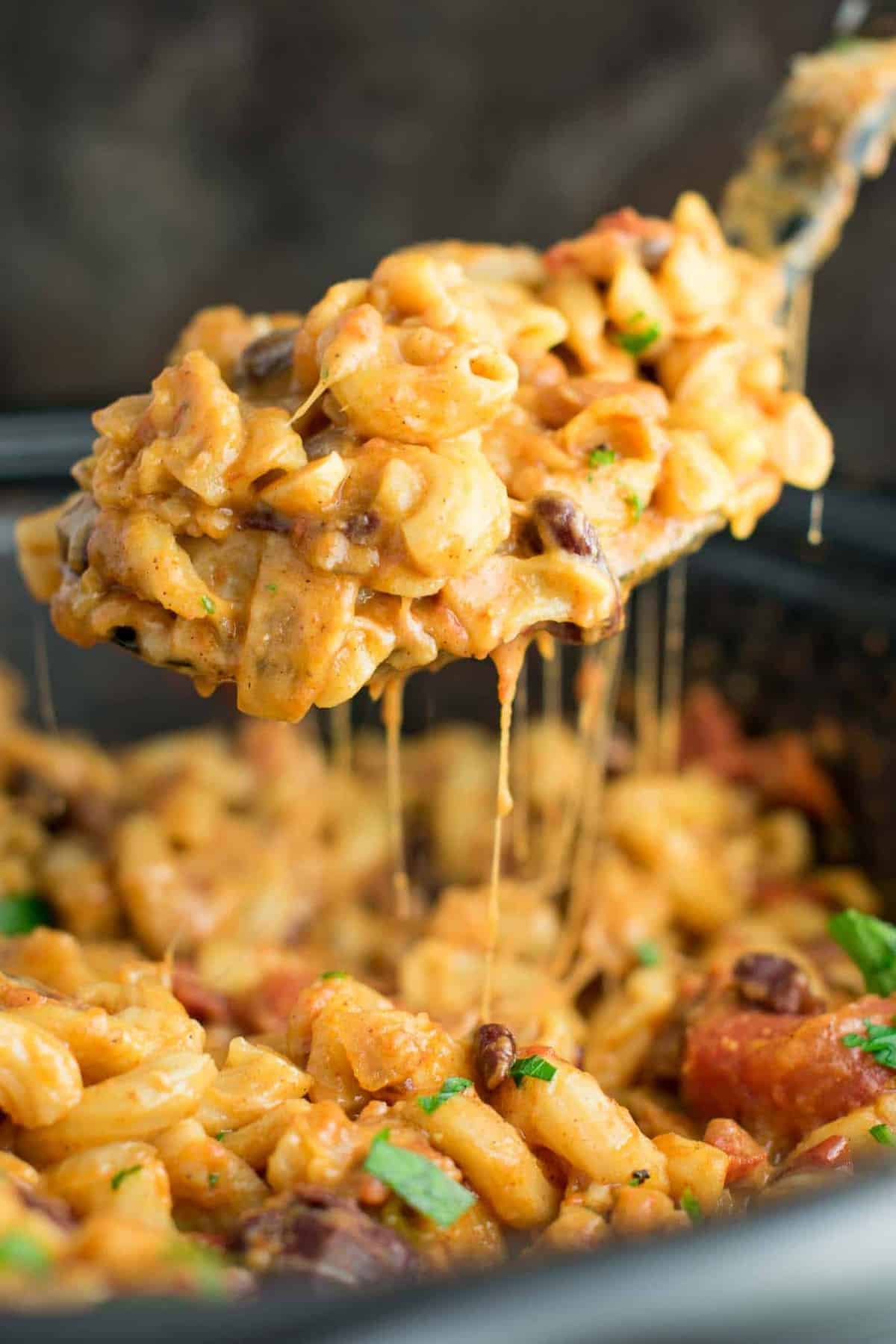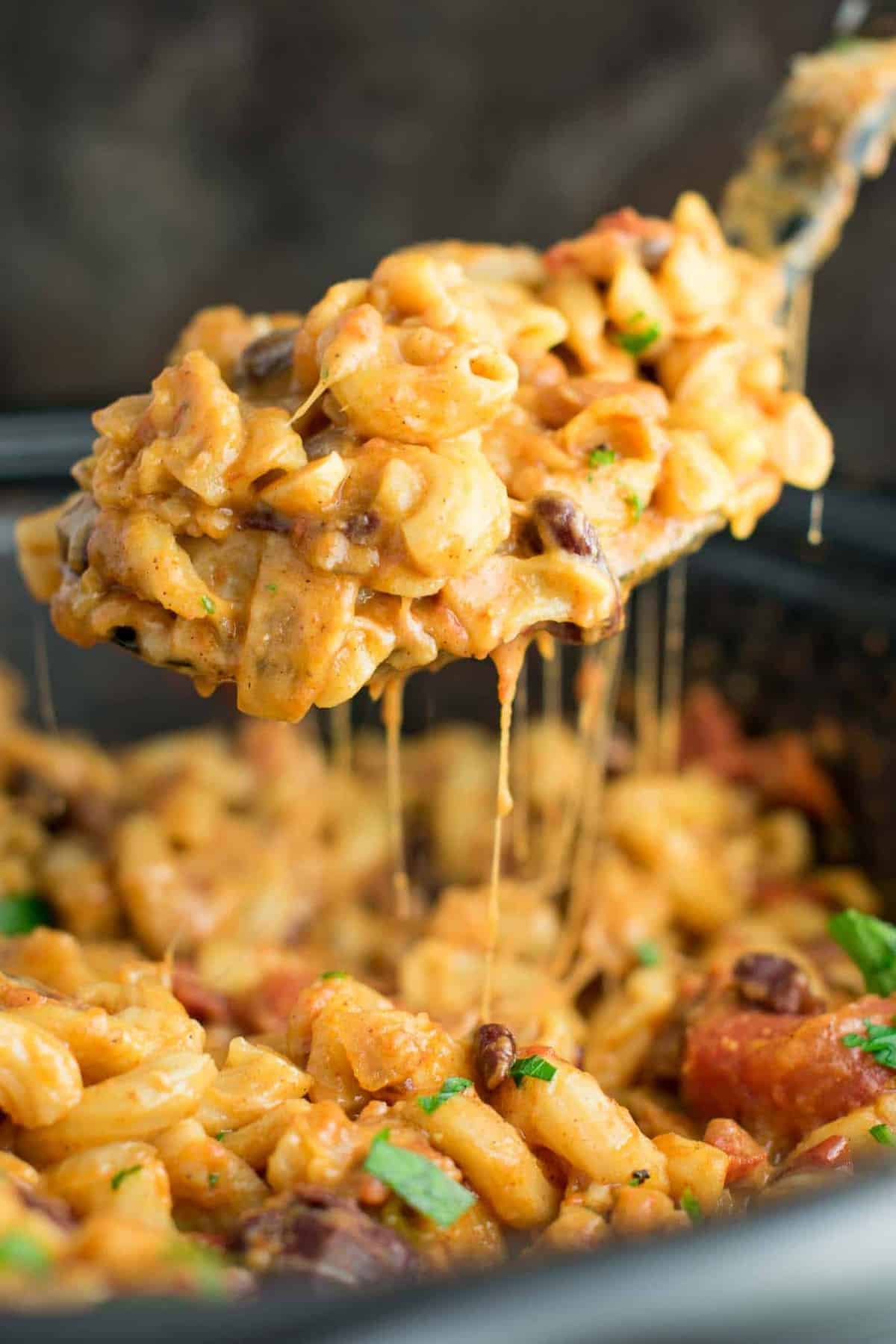 This Slow Cooker Vegetarian Chili Mac Recipe is made all in the crockpot (even the noodles!). A super easy vegetarian crockpot recipe to feed a crowd.
Ingredients
10

cloves of garlic, minced

1

medium onion, diced

15

oz kidney beans, drained

15

oz chili beans (do not drain)

15

oz sliced stewed tomatoes (do not drain)

4

tablespoons tomato paste

15

oz diced fire roasted tomatoes

4

cups vegetable broth

2

teaspoons chili powder

1/2

teaspoon paprika

2

tablespoons cumin

1/2

teaspoon salt

1/2

teaspoon pepper

1/4

teaspoon cayenne

1

lb elbow macaroni noodles, uncooked

3 1/2

cups shredded cheddar cheese

fresh chopped parsley, for serving
Instructions
Add garlic and onion to a skillet with 1 teaspoon of olive oil
Saute 10-15 minutes, or until onion is translucent
Add garlic and onion, kidney beans, chili beans, stewed tomatoes, tomato paste, fire roasted tomatoes, vegetable broth, chili powder, paprika, cumin, salt, pepper, and cayenne to a 6 quart slow cooker
Cook on high for 2 - 2.5 hours, until bubbly and onions are no longer crunchy
Add in uncooked macaroni noodles and cook an additional 20-40 minutes, or until noodles are al dente (check and stir frequently)
Once noodles are desired texture, stir in cheddar cheese
Serve garnished with chopped parsley and additional cheddar cheese, if desired