This Sweet Potato Brown Rice Casserole is made with mushrooms, spinach, mozzarella, parmesan, and cheddar cheese – a hearty vegetarian comfort food recipe.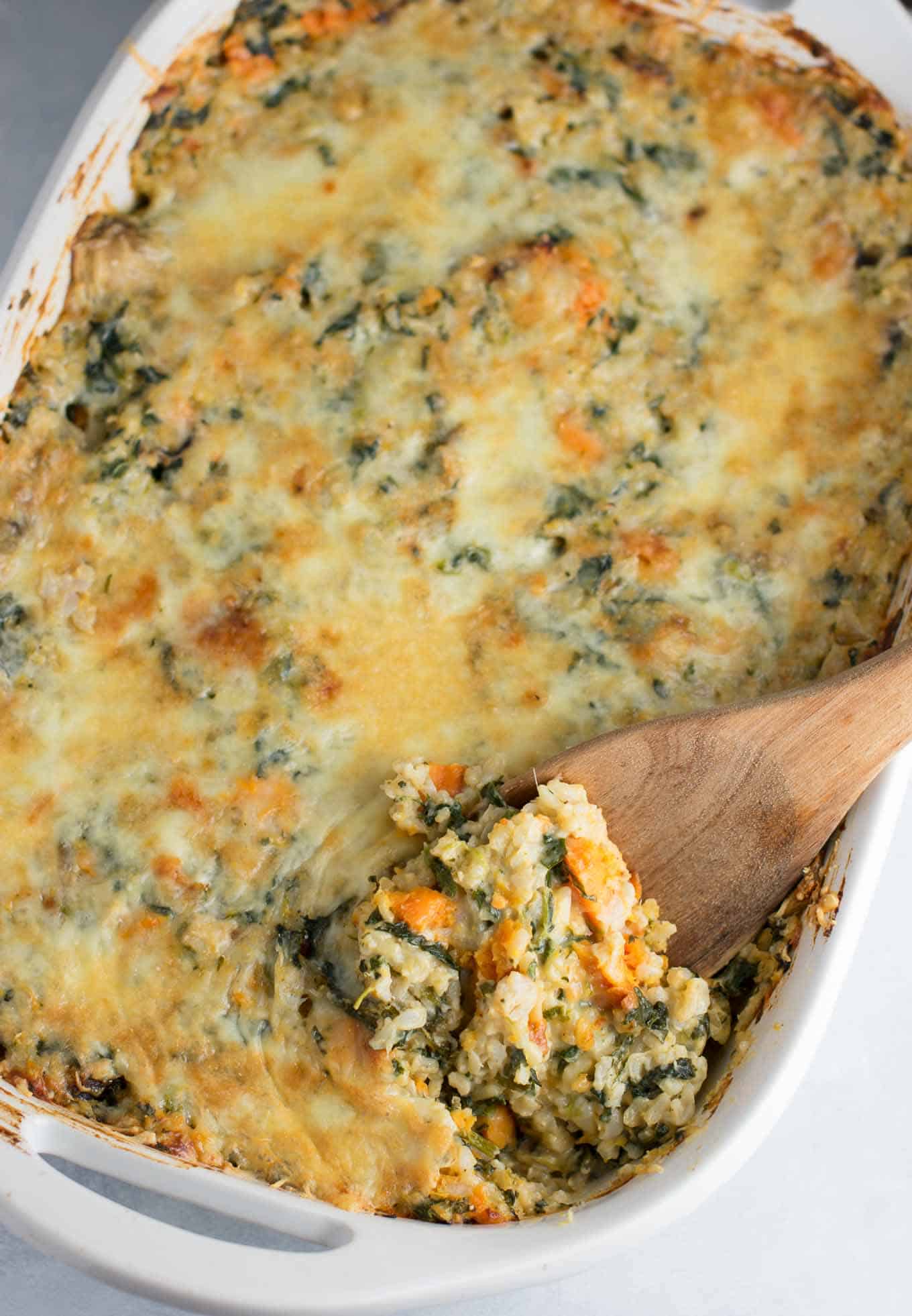 Casseroles are one of my very favorite dishes to bring to any kind of get together.
I love my casseroles loaded with fresh veggies, tons of garlic, and of course cheese!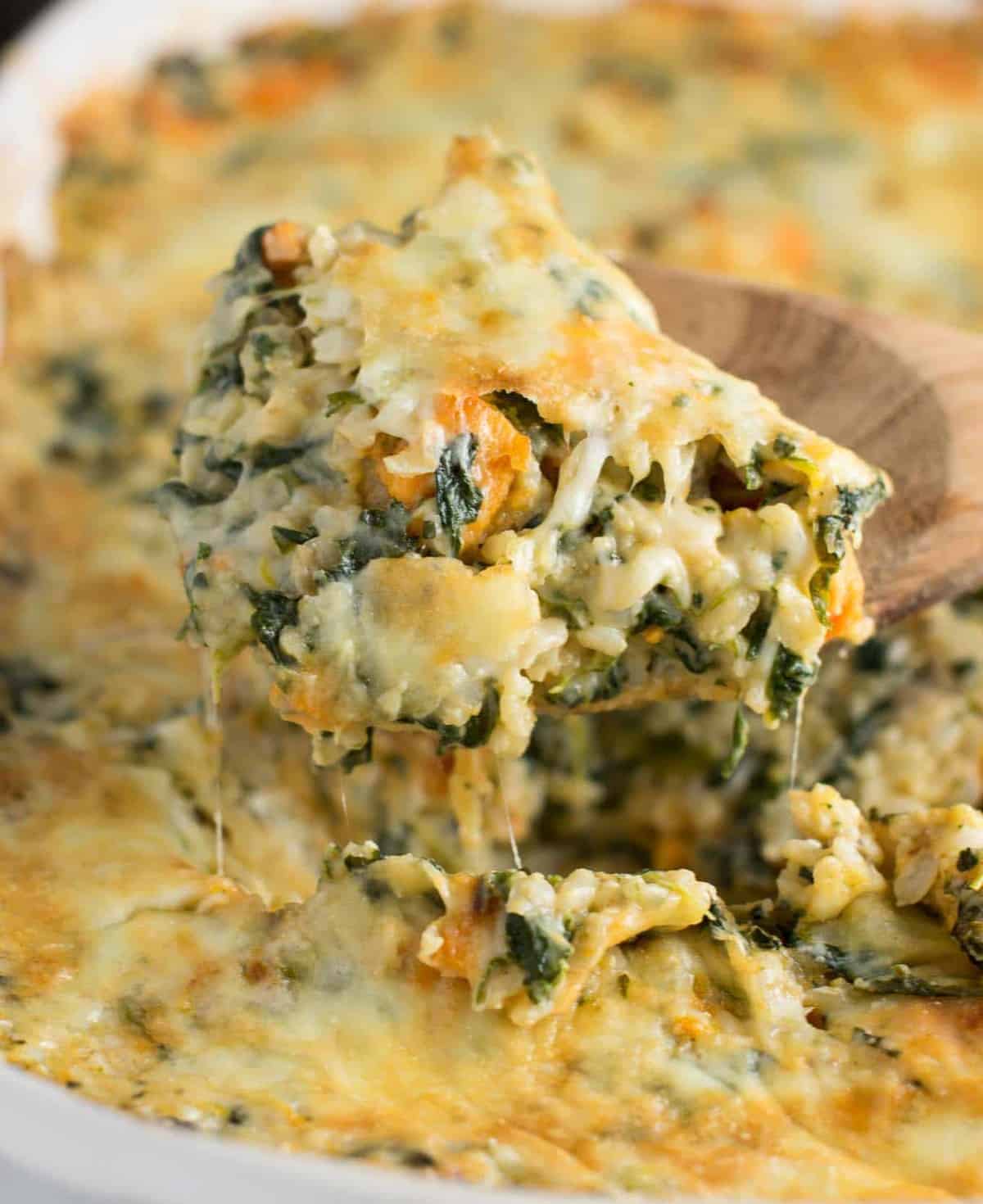 This sweet potato brown rice casserole is packed full of mushrooms, minced garlic, roasted sweet potatoes, spinach, and 3 kinds of cheese.
It is creamy and rich thanks to the addition of greek yogurt, so no cream-of-anything is used in this recipe!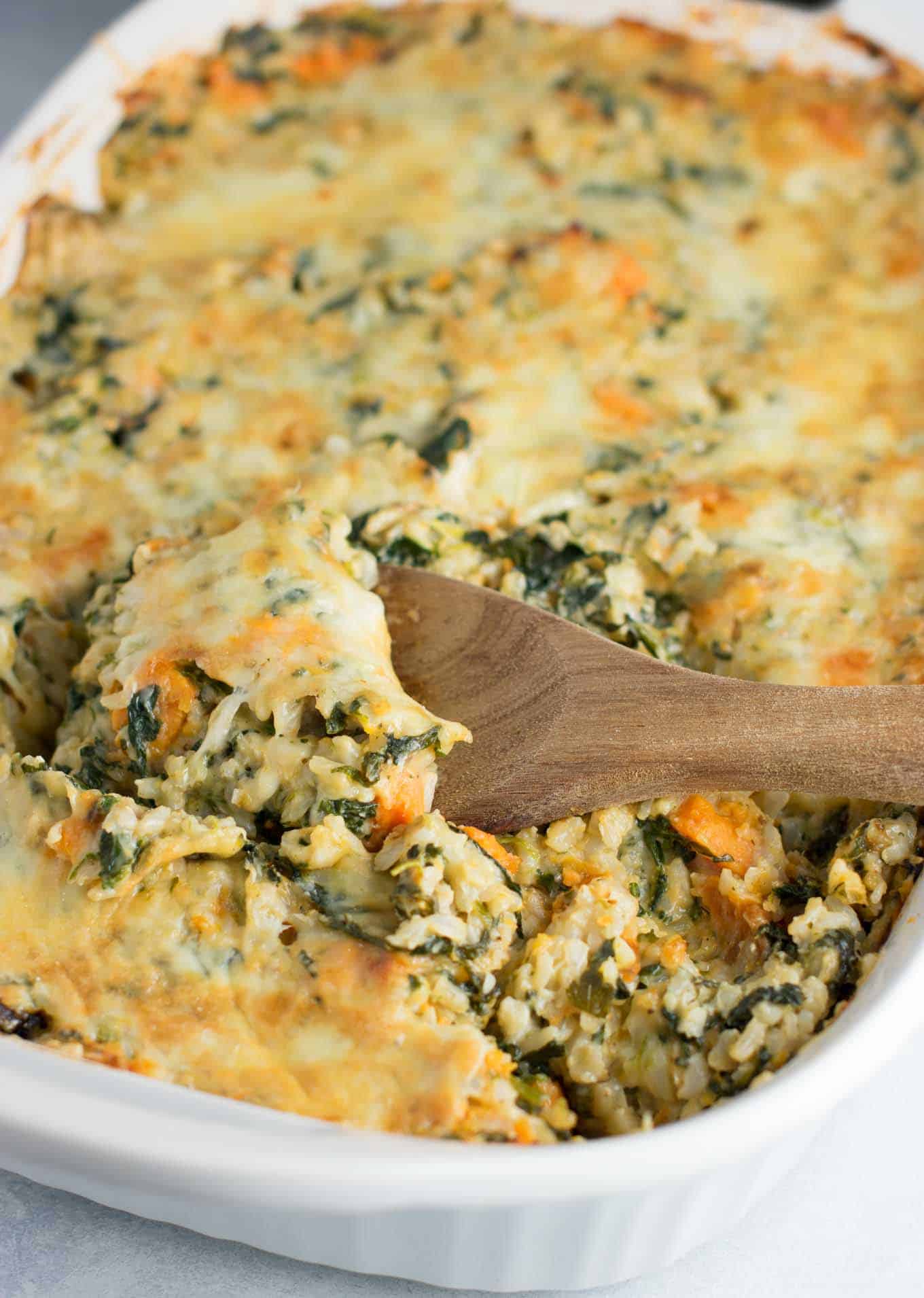 I love casseroles with rice. They are so hearty and filling without any pasta.
Casseroles are definitely a great way to feed your gluten free family and friends without missing out on any flavor.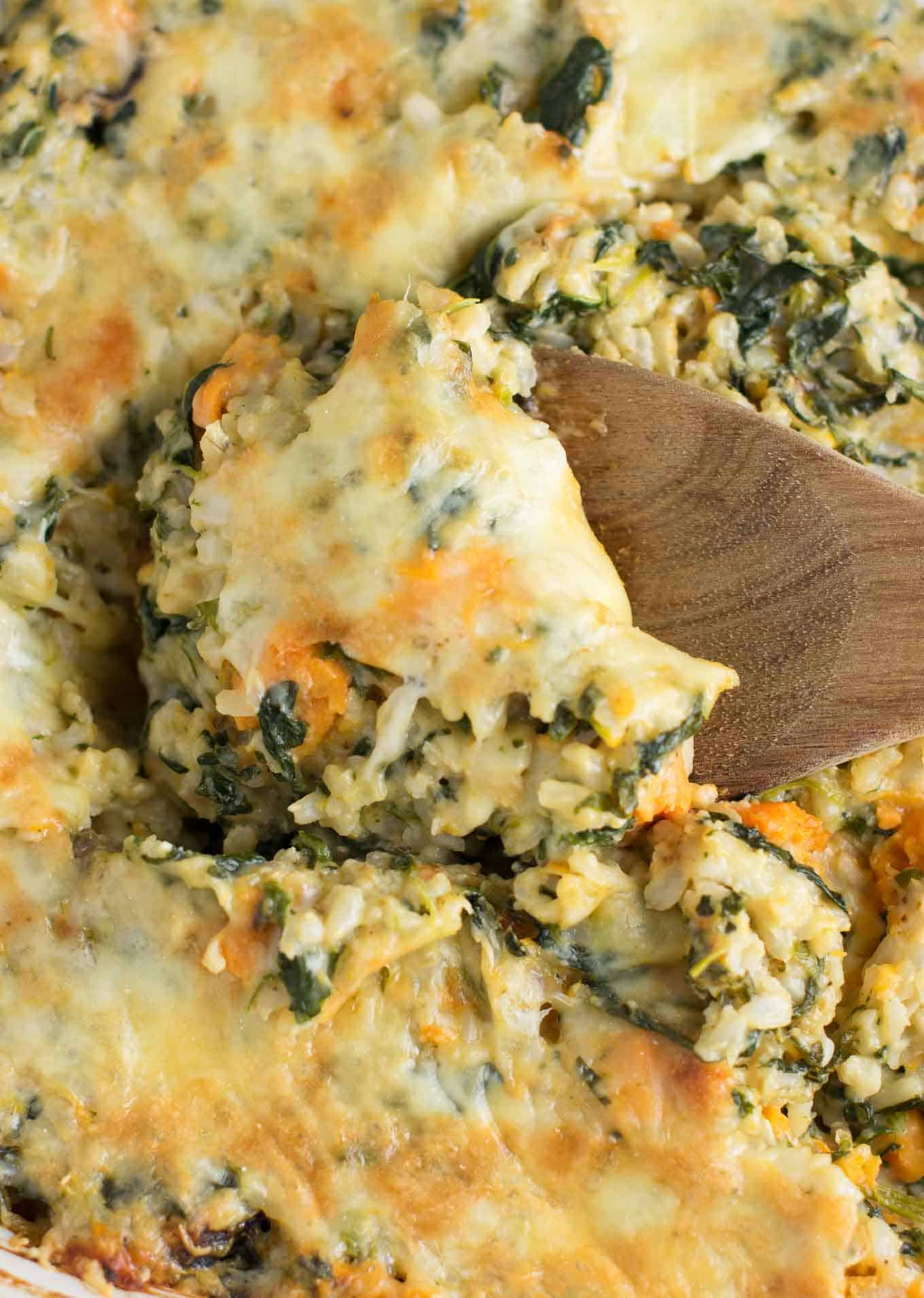 I used a blend of parmesan cheese, cheddar cheese, and mozzarella for extra cheesy deliciousness.
While I love vegan food, when it comes to casserole recipes I am all about that cheeseeee.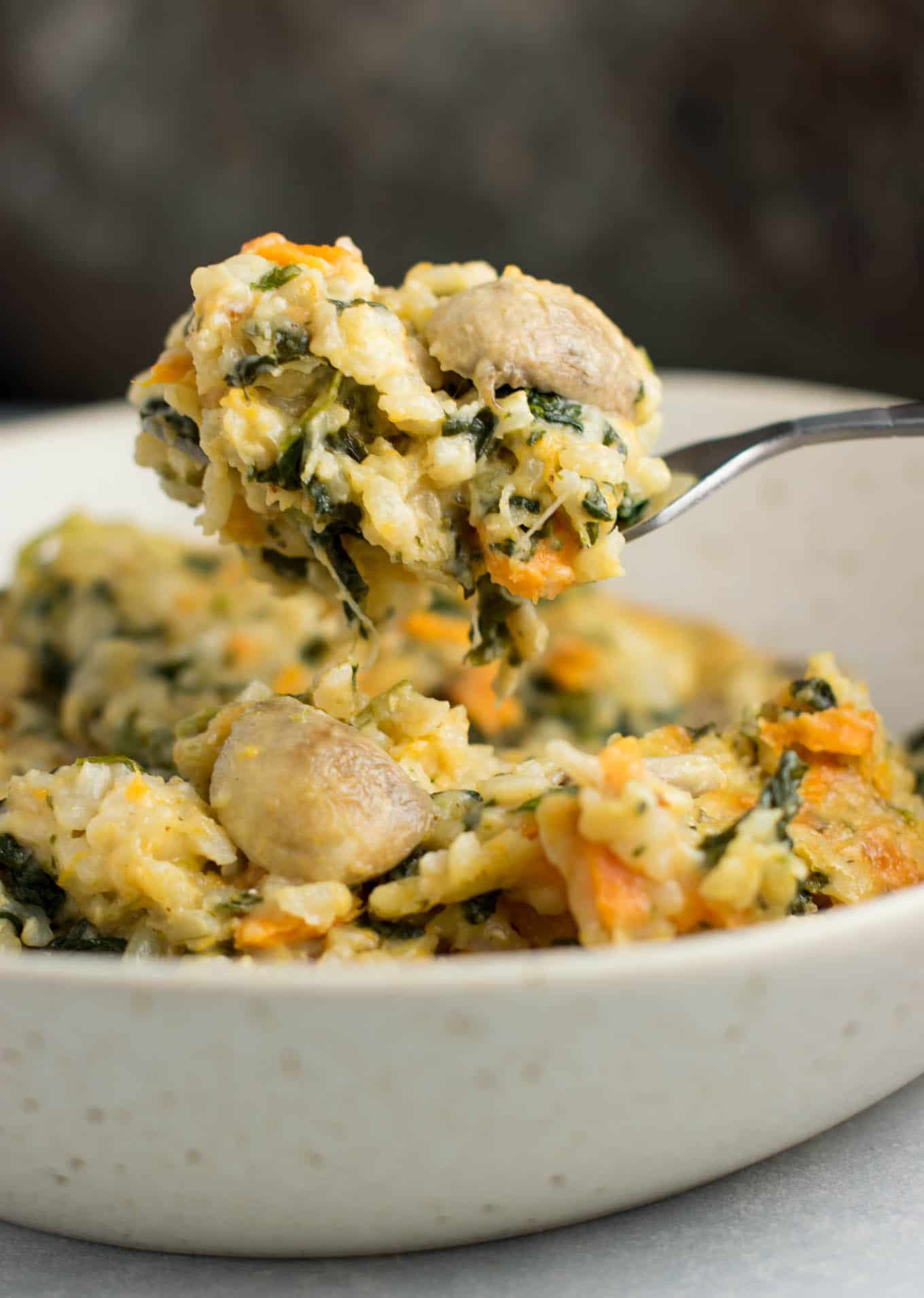 Hubby and I ate this for 3 meals in two days and I didn't get sick of it at all.
It is packed with SO much flavor and so creamy, filling, and light at the same time.
Brown rice is so healthy but more than that it tastes GOOD.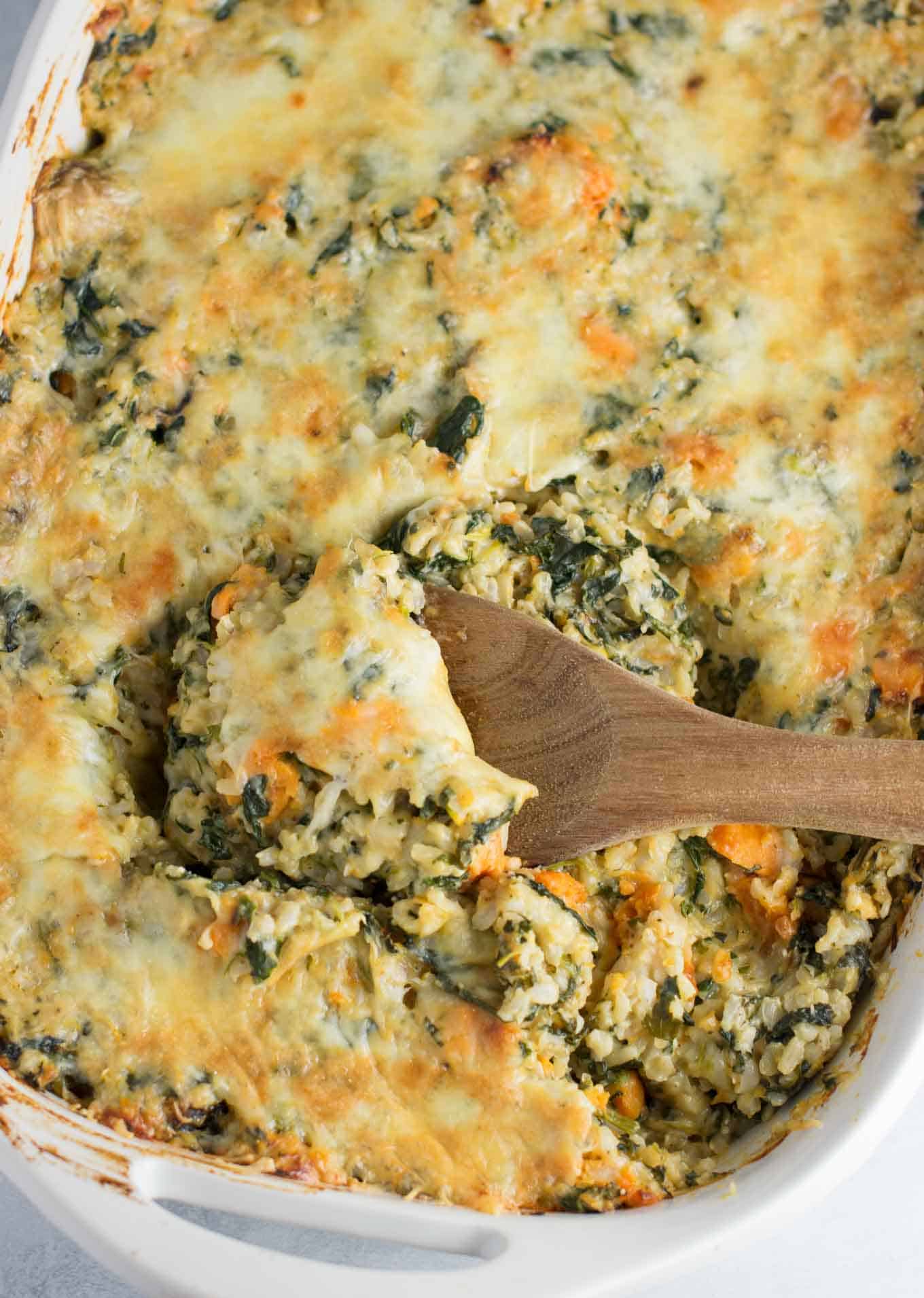 I also added in a bag of frozen spinach to sneak in some more veggies and we loved it!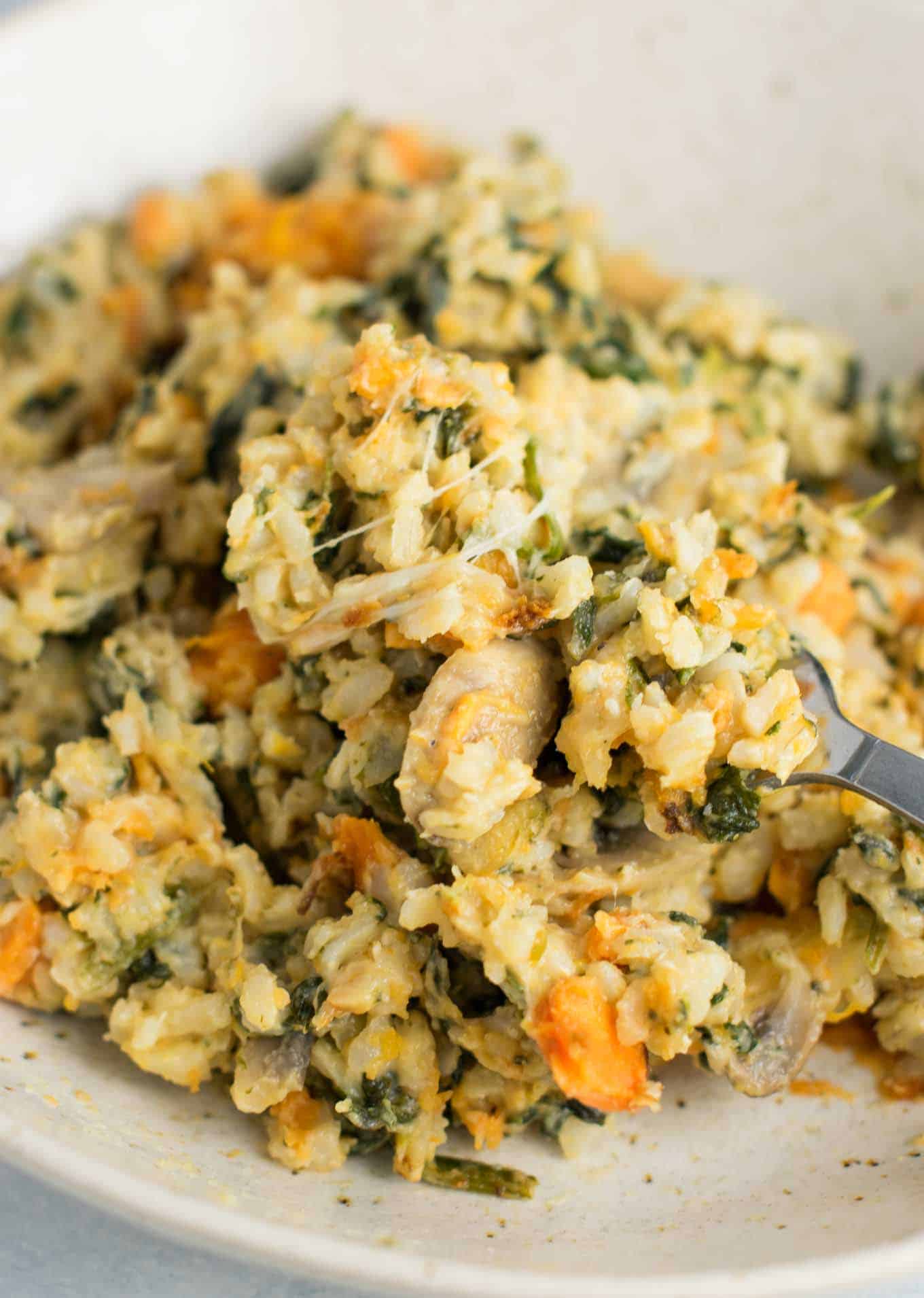 If you're looking for a healthy comfort food casserole made from scratch (no cream of anything soup), this recipe is for you!
This would be a great dish to make as a side for Thanksgiving as well.
If you love casserole recipes like me, be sure to check these out as well: Creamy Vegetable and Rice Casserole, Vegetarian Mexican Rice Casserole, Broccoli and Cheddar Quinoa Casserole, Cheesy Hashbrown Casserole. 
Sweet Potato Brown Rice Casserole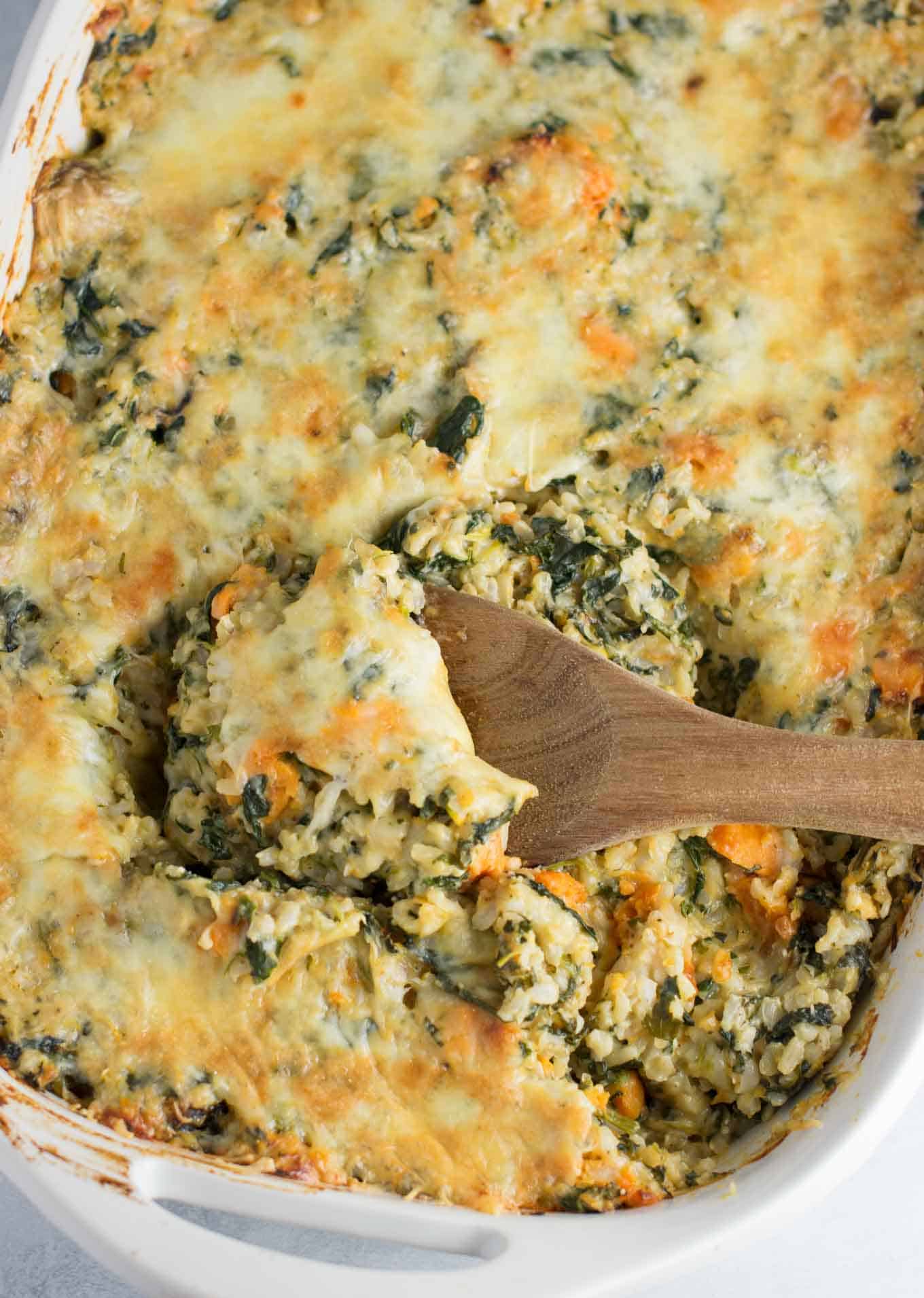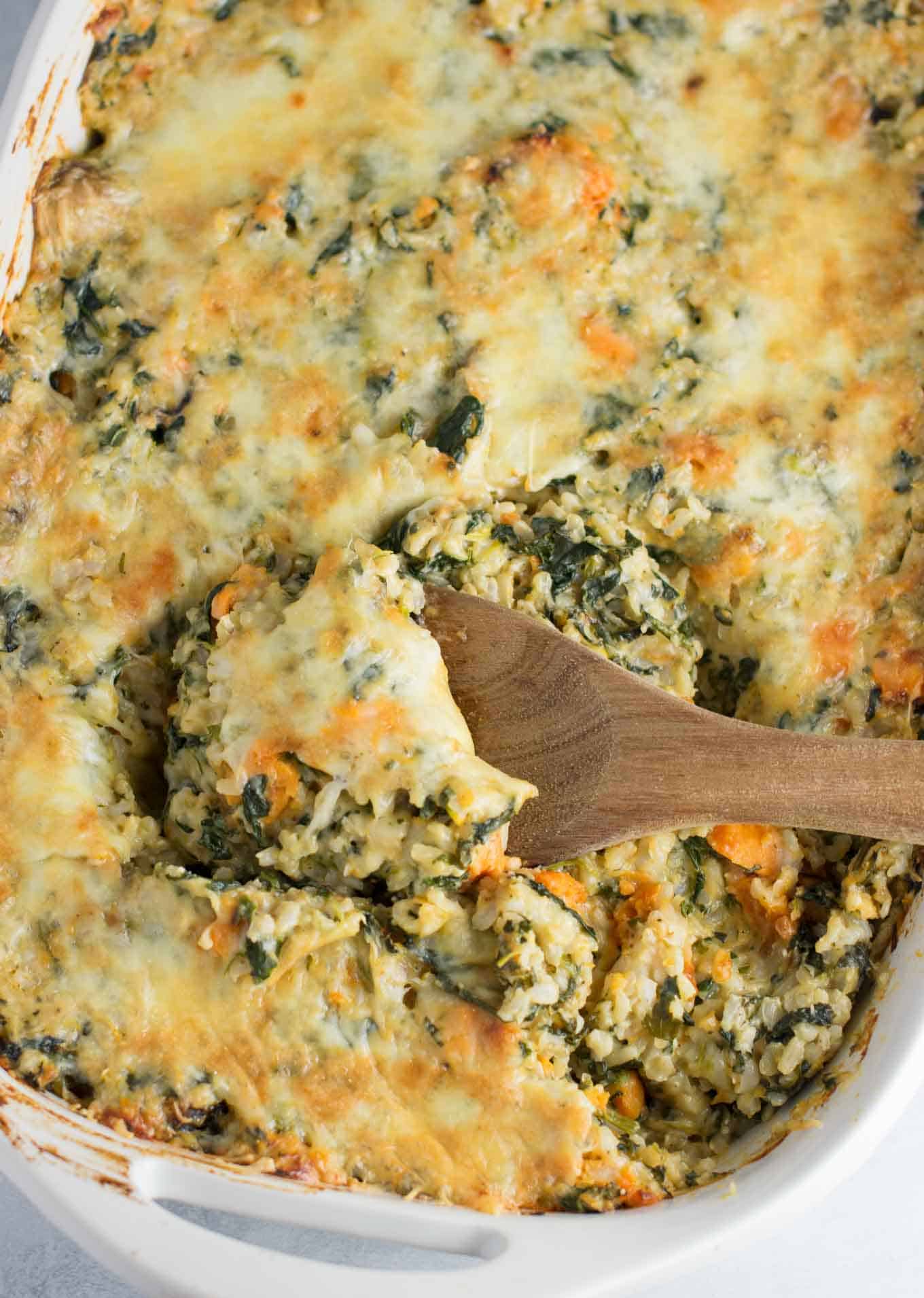 Sweet Potato Brown Rice Casserole made with greek yogurt, mushrooms, spinach, mozzarella, parmesan, and cheddar cheese - a hearty vegetarian comfort food recipe. No cream of anything soup!
Ingredients
5 cups cooked brown rice
1/4 cup fresh chopped parsley
8 cloves of garlic, minced
8 oz mushrooms, sliced
1 large sweet potato, diced
1 cup plain nonfat greek yogurt
1 1/2 cups freshly grated parmesan cheese
1 cup shredded mozzarella cheese
1 cup shredded cheddar cheese
10 oz frozen spinach
olive oil
salt and pepper
1/4 teaspoon onion powder
Directions
Preheat oven to 425 degrees
Dice sweet potato and toss with ⅛ cup olive oil, ¼ teaspoon salt, ¼ teaspoon pepper, and ¼ teaspoon onion powder
Spread sweet potatoes out into one layer on a baking sheet
Roast at 425 for 15 minutes, then stir
Roast an additional 10-15 minutes, until fork tender
Cook brown rice according to package instructions (I used a rice cooker for convenience)
In a skillet, sauté mushrooms and garlic with 1 teaspoon of olive oil
Cook on medium high for around 10 minutes, or until mushrooms emit their liquid and start to cook down
Add frozen spinach and cover with a lid, until spinach thaws and breaks apart
In a large mixing bowl, combine mushroom mixture, brown rice, sweet potatoes, greek yogurt, parsley, cheddar cheese, and parmesan cheese
Salt to taste (I added 1 teaspoon of salt)
Transfer mixture to a 13 X 9 casserole dish
Top with mozzarella cheese
Bake at 400 degrees for 20-25 minutes, or until cheese is bubbly and beginning to brown
Loading nutrition data...