Weekends are my favorite for many reasons!
One of them being that I love to make a nice sit down breakfast for the hubby and I at least one of those days.
We don't always have time to eat together during the week, and if we do it's usually just eating a bagel while half asleep.
I cherish our weekends together when we can sleep in and cook a delicious breakfast together!

One of our favorite breakfast additions is hashbrowns. We make them quite often, but usually just plain and simple.
Last weekend I decided to experiment and make this vegetarian cheesy hashbrown casserole!
My husband used to love the hashbrown casserole from Cracker Barrel, so I was aiming for that same homey cheesy feel for this dish.

This was really so easy to throw together!
Although it's not exactly the healthiest meal in the world, I used organic cheeses and ingredients and it didn't leave me feeling all bloated and gross like many heavy dishes do.

The hubby really flipped for this casserole!
The texture was spot on (according to him – I've never had Cracker Barrel's casserole) and the flavor was just so insanely good.
I used freshly grated sharp cheddar cheese in this recipe to really bump up the flavor.
I often use freshly grated cheese in recipes because the flavor is just so much stronger, and well, fresher!
I can definitely taste the difference!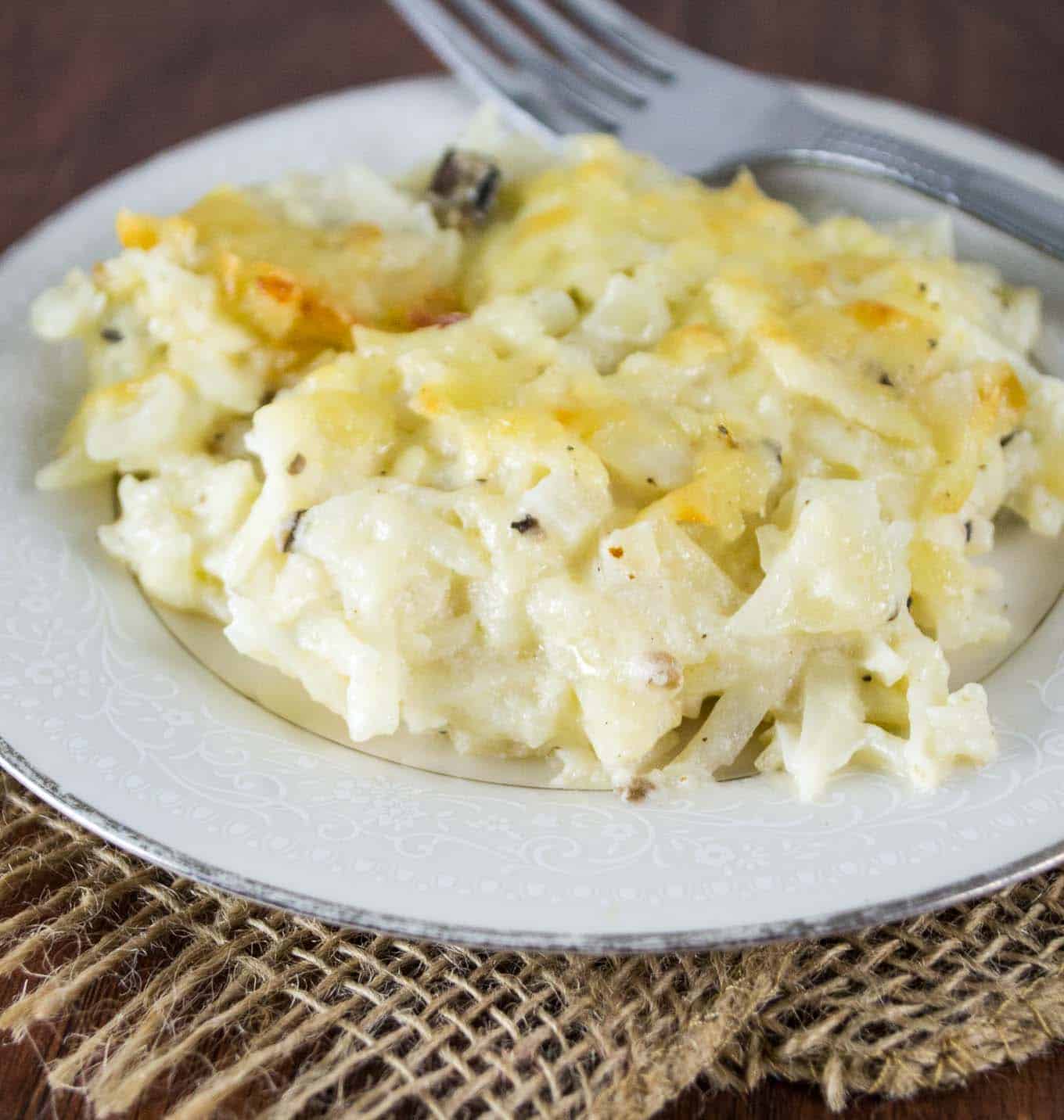 I recommend this for your next family weekend breakfast, kids and adults alike will love it!

Vegetarian Cheesy Hashbrown Casserole
Creamy, homemade vegetarian cheesy hashbrown casserole - a family favorite!
Ingredients
26 oz frozen hashbrowns, thawed partially (see notes)
12 oz cream of mushroom soup
1 large yellow onion, finely chopped
3 cloves of garlic, finely minced
1¼ cups organic sour cream
4 tablespoons melted butter
2 cups of freshly grated sharp cheddar cheese, separated
1 teaspoon sea salt
1 teaspoon pepper
Instructions
Preheat oven to 375
Allow hashbrowns to thaw for at least 10-20 minutes (see notes)
Grease a 3 quart casserole dish and set aside
In a large bowl, mix hashbrowns, cream of mushroom soup, onion, garlic, sour cream, butter, salt, pepper, and 1½ cups of the cheese
Stir until well combined then transfer to greased casserole dish
Bake at 375 minutes for 25-30 minutes
Once casserole is close to being done, remove from oven and top with the remaining ½ cup of cheese.
Cook for an additional 5 minutes, or until melted (I turned my broiler on low to get a little crisp on top)
Enjoy!
Notes
I did not totally thaw my hashbrowns before cooking. I just thawed them enough so that they were not sticking together in chunks. Maybe 10-15 minutes before cooking. You just want to make sure they are not sticking together and are slightly thawed.