This ultimate vegan peanut butter fudge recipe is made naturally dairy free and gluten free. Make this for a delicious Christmas treat.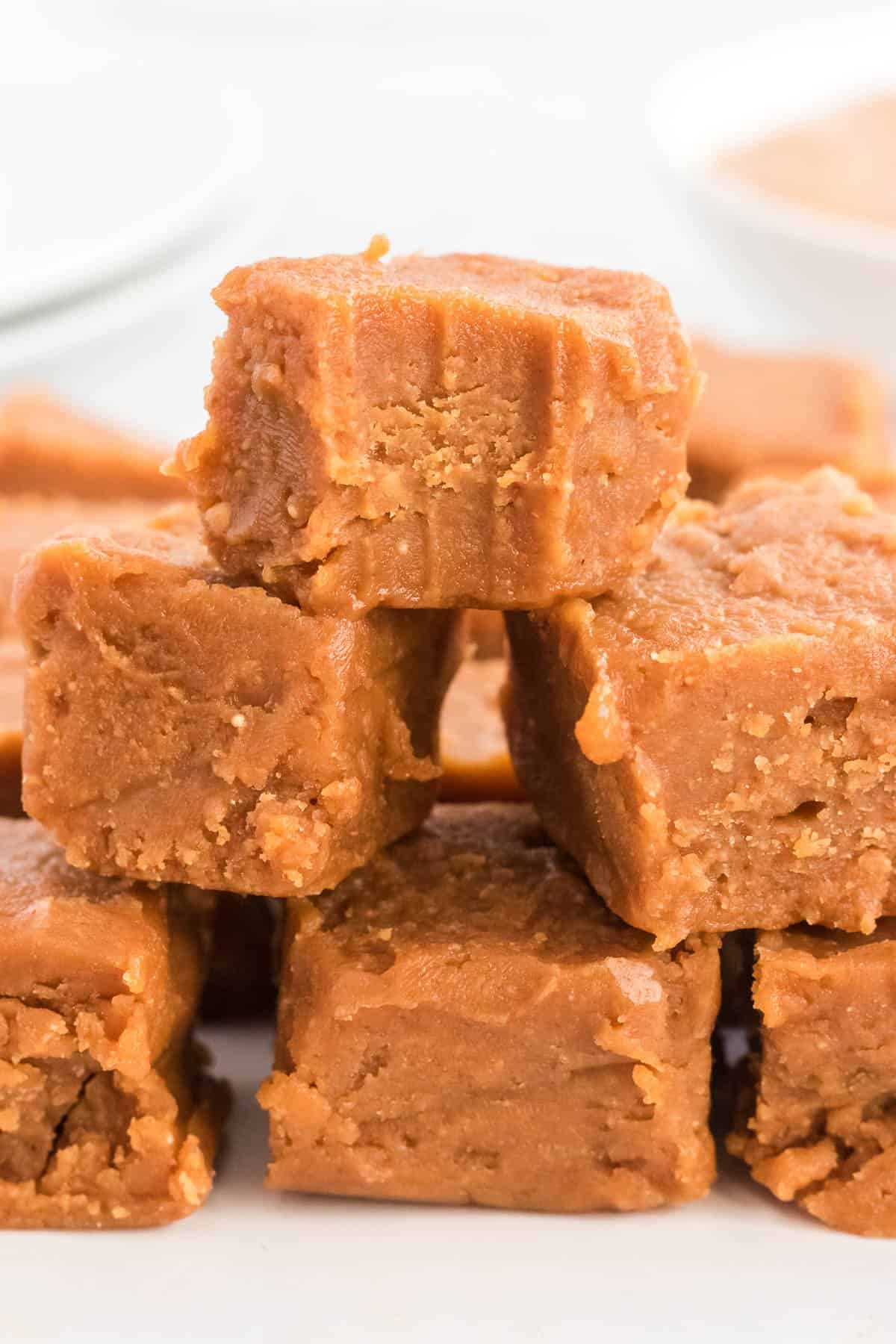 Today we're talking fudge. Vegan peanut butter fudge to be specific.
This fudge and our chocolate peanut butter fudge are two of our favorite easy holiday recipes!
This easy healthy dessert is made with just 6 ingredients, and is great to keep in your freezer for when a sweet tooth strikes!
I love eating healthy no bake cookies and fudge year round, and this is a great dessert to cool off with in the summer, or make in place of traditional fudge at Christmastime.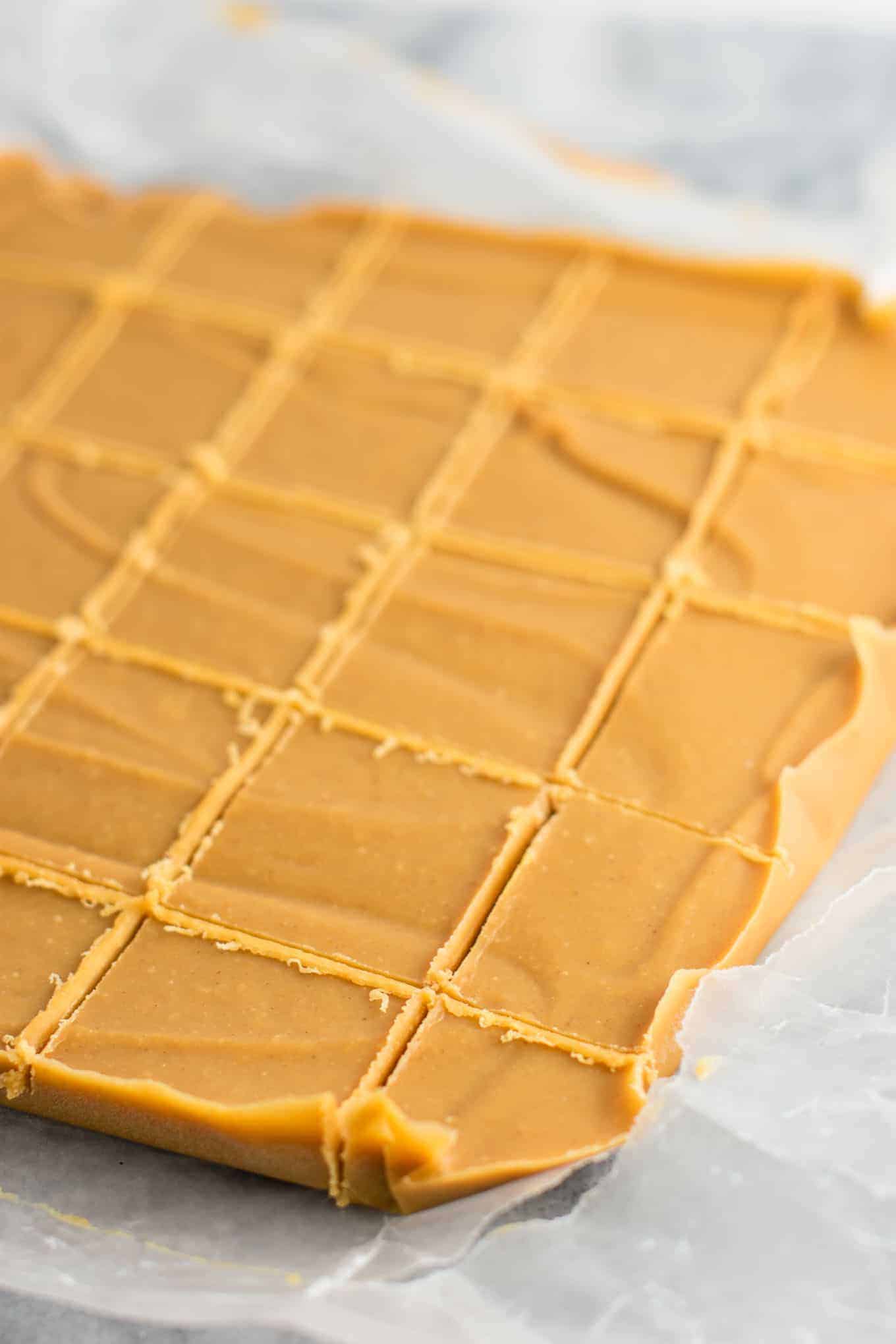 The ingredients are simple and wholesome, and you don't need any fancy techniques to make the recipe.
No temperature thermometers required!
Just plain, simple, delicious fudge that you can make in less than 10 minutes.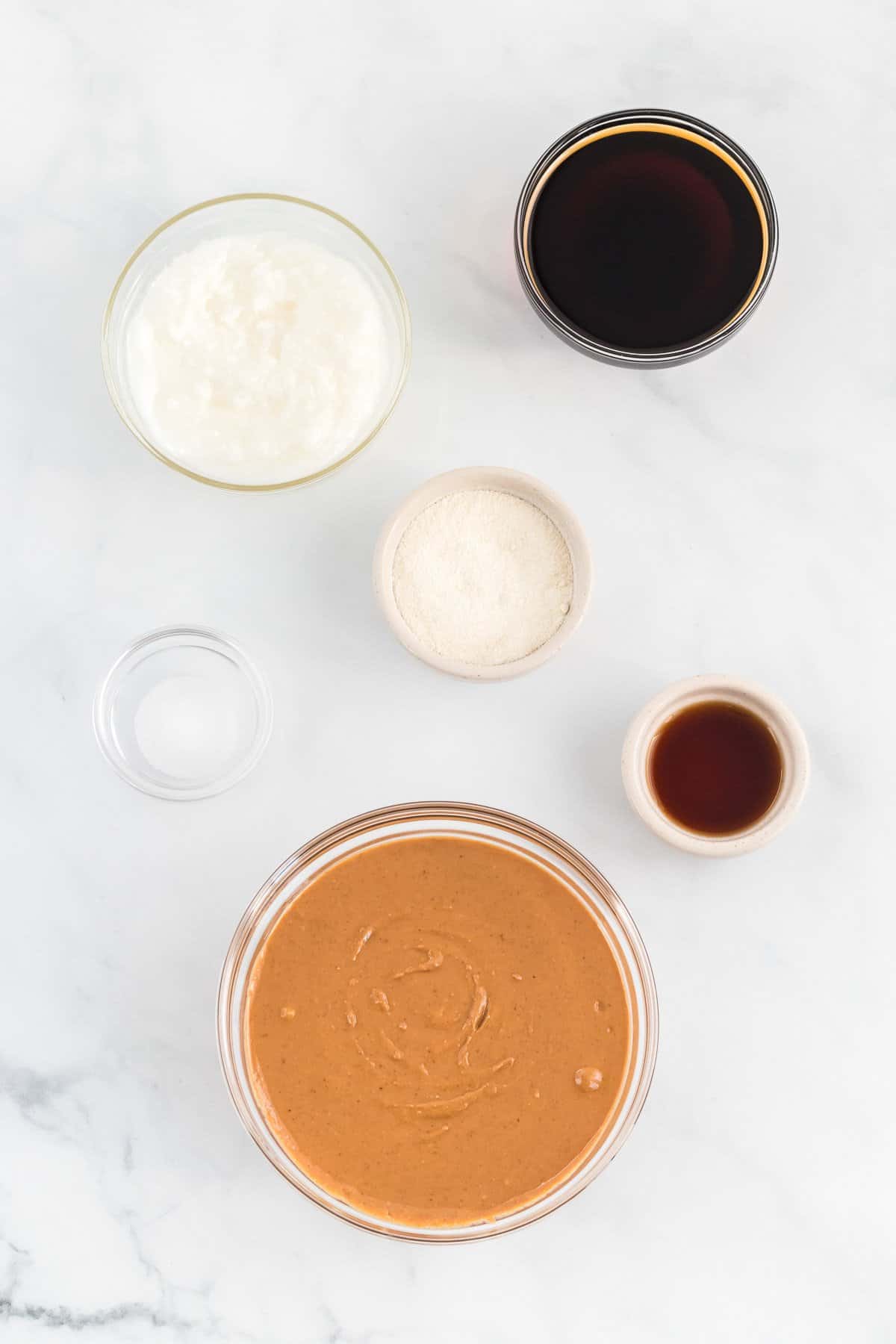 Ingredients to make vegan peanut butter fudge
creamy peanut butter (only ingredients: peanuts + salt)
coconut oil
pure maple syrup
vanilla extract
coconut flour
sea salt
How to make vegan fudge
With only 6 ingredients, it is super simple to make and ready to freeze in less than 10 minutes.
This recipe is so easy that even your kids could make it!
First, add the peanut butter, coconut oil, maple syrup, vanilla extract, and salt to a sauce pan.
Whisk over medium heat until melted and combined. Stir in the coconut flour and whisk until mixed in.
Line an 8 X 8 dish with wax paper and pour the fudge batter into it. For a thicker fudge, use a loaf pan. Flatten the top using a rubber spatula.
Transfer dish to the freezer and allow to set at least one hour.
Once fudge is set, remove from freezer, lift the wax paper with the fudge out, and cut it into pieces.
Transfer fudge to a container and put back in the freezer to enjoy chilled!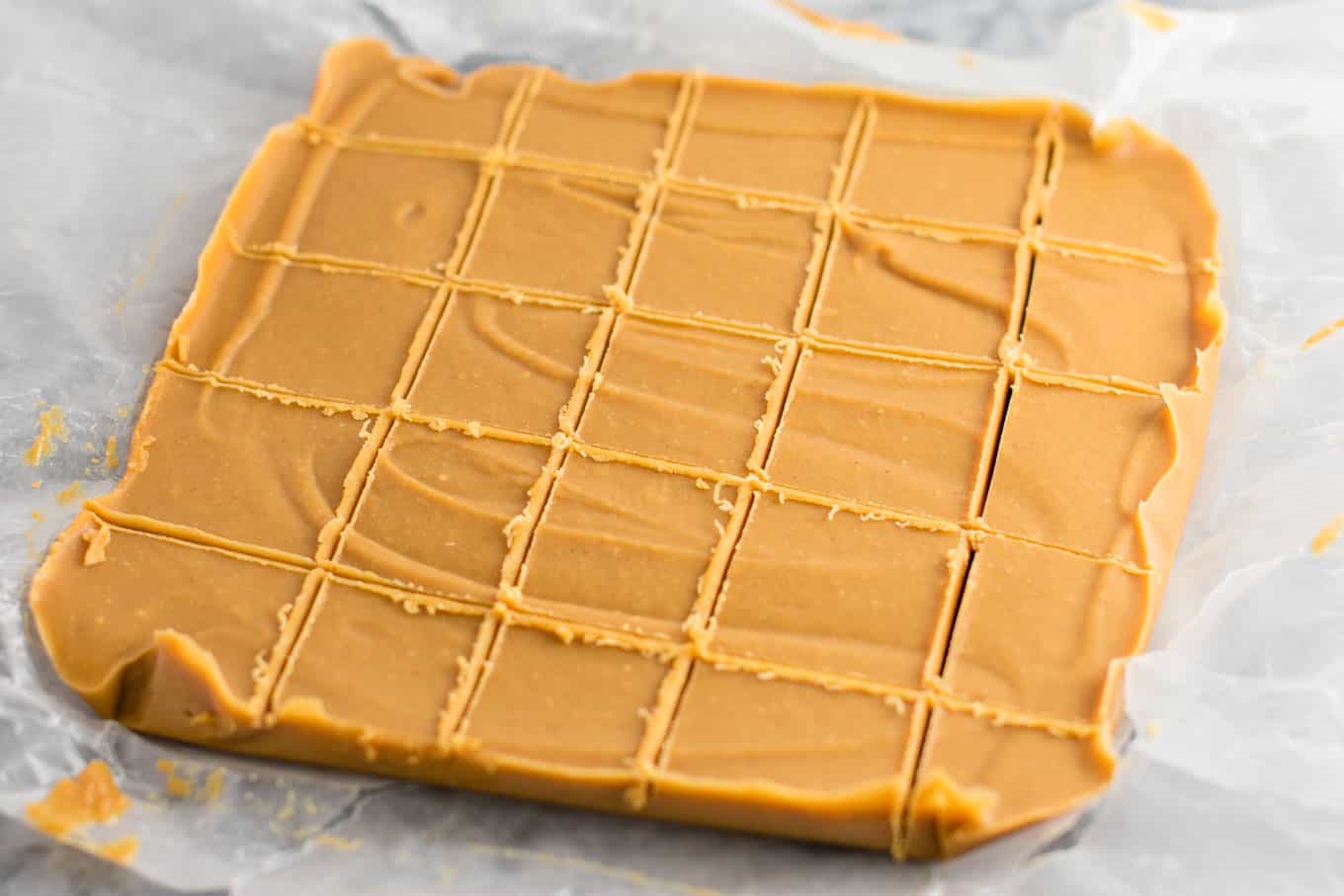 This fudge is super creamy and sweet without being full of artificial sugar and junk.
I love using pure maple syrup to sweeten recipes for a slightly healthier alternative to traditional sweeteners.
This fudge has WAY less sugar in it than a traditional recipe would but is still plenty sweet.
Just a little salt adds the perfect slight contrast for this sweet dessert.
If you have sea salt flakes, you could also use those in place of salt!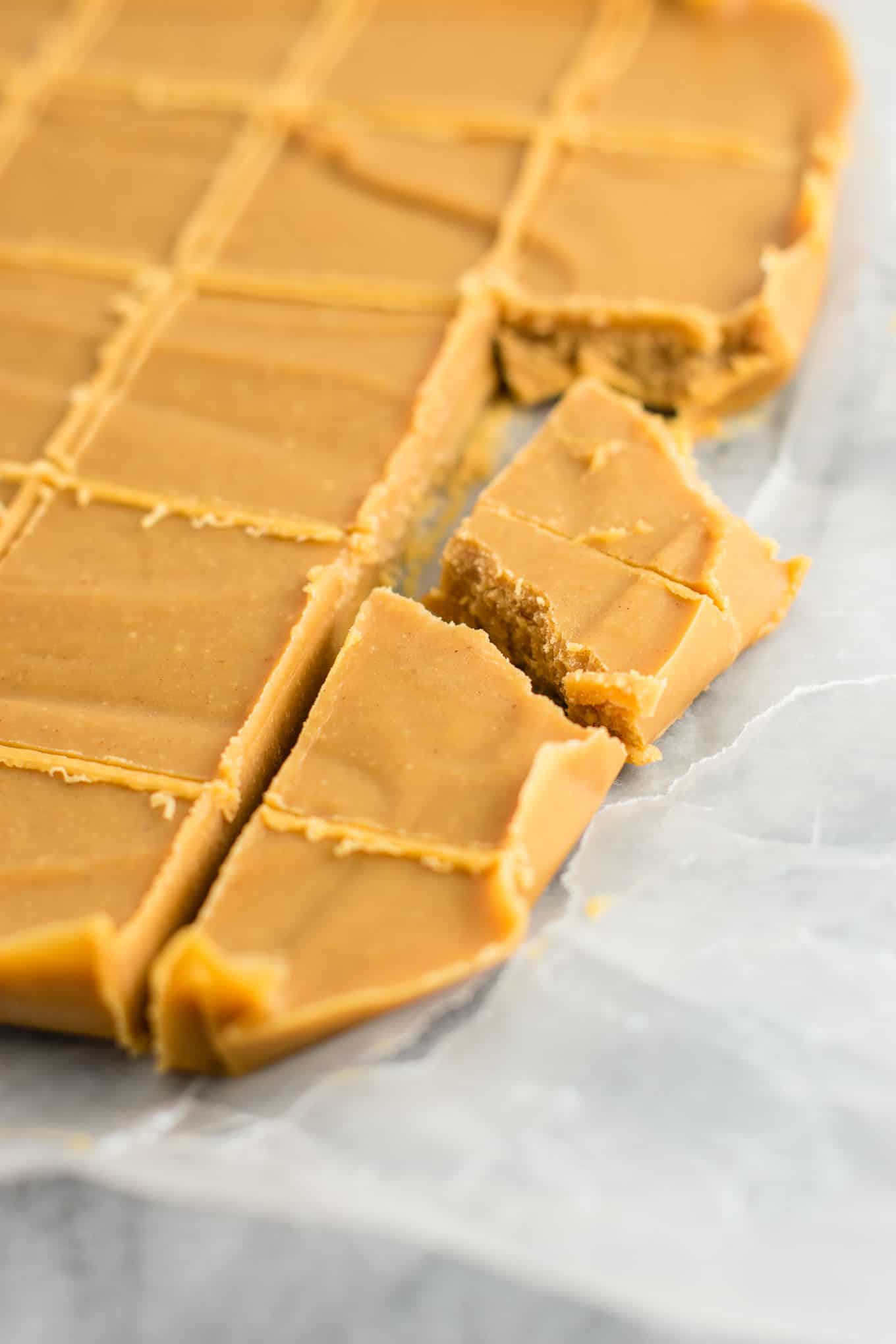 Since this vegan peanut butter fudge is sweetened with pure maple syrup, it doesn't leave me feeling bad after I have a piece (or 3!)
This fudge is basically my perfect dessert.
I'm super sensitive to too much sugar, and get a sugar headache within minutes of eating anything that is loaded with tons of artificial sugar.
No headache after this! Just plain delicious sweets that I don't have to pay for later.
Store this healthy peanut butter fudge in the freezer for best texture (in my opinion), but the fridge would work as well.
You just want to keep the fudge cold to avoid it melting.
It will melt pretty fast at room temperature.
I recommend keeping it in the freezer and just grabbing a piece when you want some.
If you love fudge you will LOVE this recipe.
I never ate much fudge growing up, but this healthy fudge has converted me.
I now look forward to making it every year!
Have you made fudge before? If not, I hope you will try this easy recipe!
Don't like peanut butter? You could substitute almond butter! That would definitely work too.
Feeling crazy? Sprinkle some chopped chocolate or m & m's for extra crunch.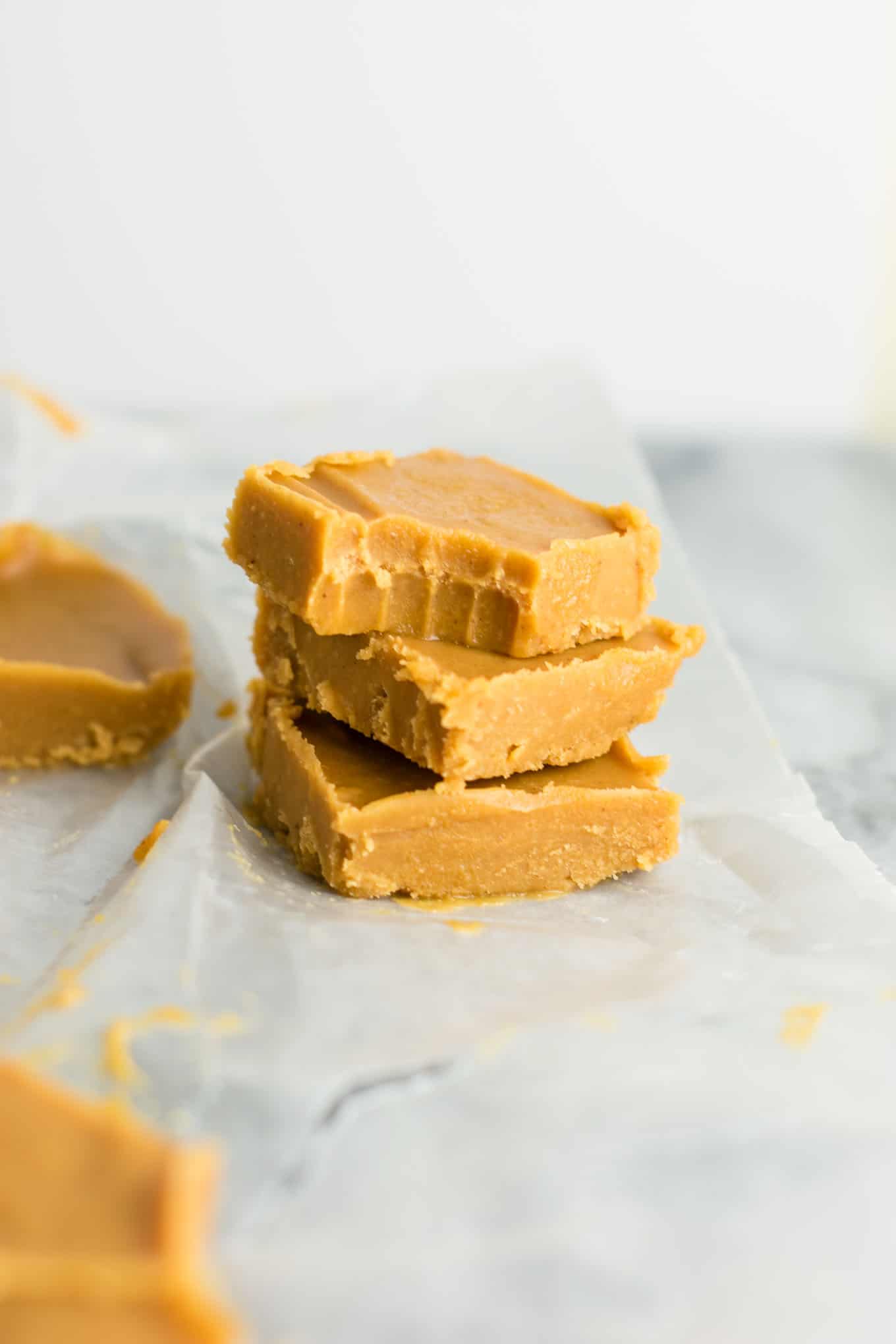 I make a version of this fudge every Christmas and it's always gone so fast.
Everyone loves it!
Are you looking for more desserts? Check out my roundup of 25 Gluten Free Dairy Free Desserts.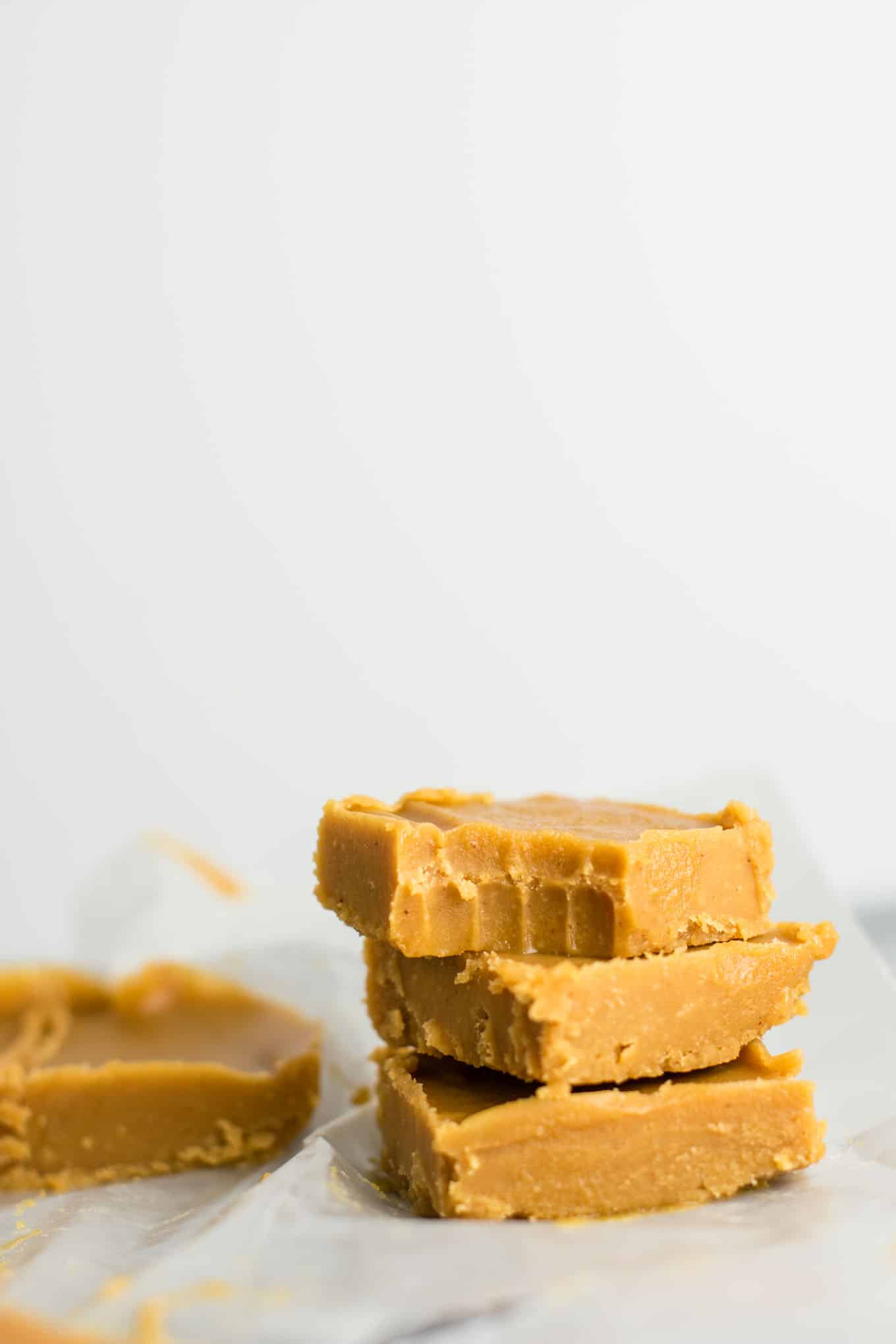 I used an 8 by 8 dish for medium thick fudge, but you could also use a smaller pan to make thicker fudge.
Or for really thin fudge, just use a longer dish.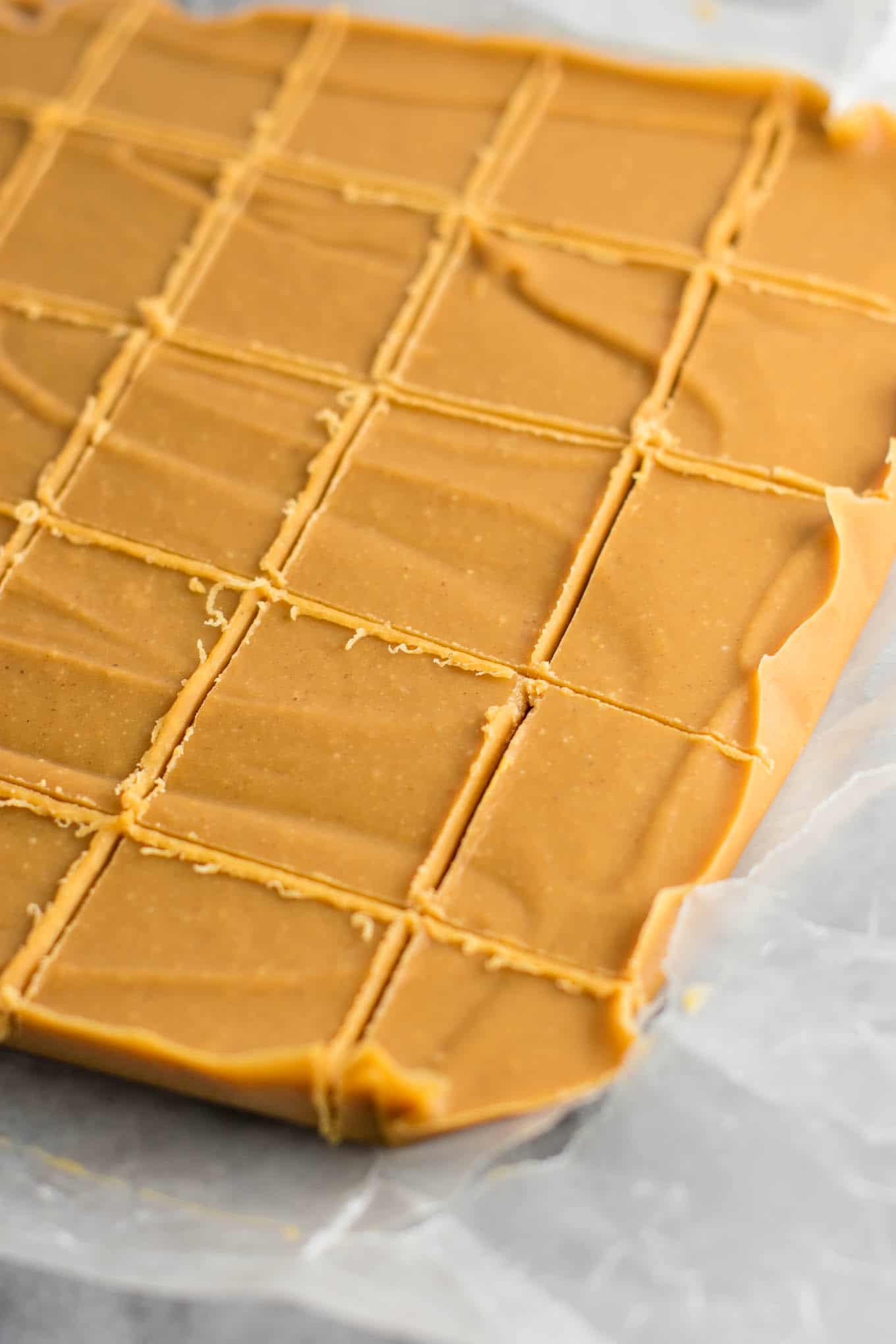 I serve mine straight from the freezer but you can also store in the fridge!
Are you making this recipe? I want to see! Don't forget to tag me on instagram @buildyourbite and hashtag #buildyourbite with your recipe creations!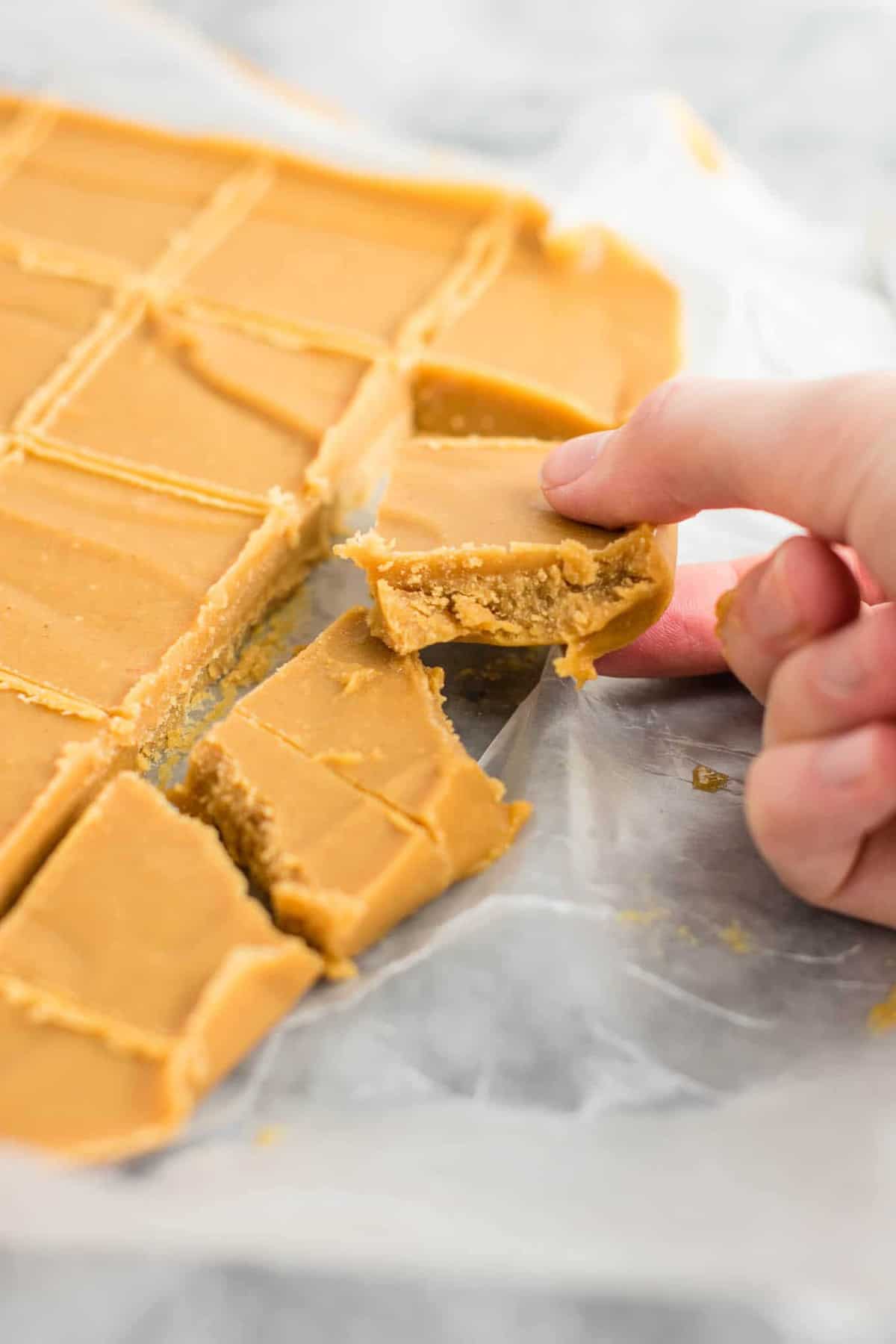 Be sure to pin this recipe for later and follow Build Your Bite on Pinterest for all the latest delicious recipes!
Did you make this recipe? Be sure to leave a star rating below!
Vegan Peanut Butter Fudge
The best easy vegan peanut butter fudge recipe.
Ingredients
1 ½ cups creamy peanut butter (only ingredients: peanuts + salt)
6 tablespoons coconut oil, measured while solid
½ cup pure maple syrup
2 teaspoons vanilla extract
2 tablespoons coconut flour
½ teaspoon sea salt
Instructions
Combine peanut butter, coconut oil, maple syrup, vanilla extract, and salt in a medium sized sauce pan
Whisk on low heat until thoroughly combined (2-3 minutes)
Whisk in coconut flour
Line an 8 by 8 dish with wax paper. For a thicker fudge, use a loaf dish instead
Pour fudge into the lined dish and spread evenly with a rubber spatula
Allow to set 1 hour in the freezer
Lift wax paper up to remove the fudge, then cut into pieces
Return to freezer to store
Serve chilled for best texture
Nutrition Information:
Yield:

20
Serving Size:

1
Amount Per Serving:
Calories:

177
Total Fat:

14g
Saturated Fat:

6g
Trans Fat:

0g
Unsaturated Fat:

7g
Cholesterol:

0mg
Sodium:

146mg
Carbohydrates:

10g
Fiber:

1g
Sugar:

6g
Protein:

4g