Easy vegan pasta salad recipe with homemade olive oil dressing and fresh parsley.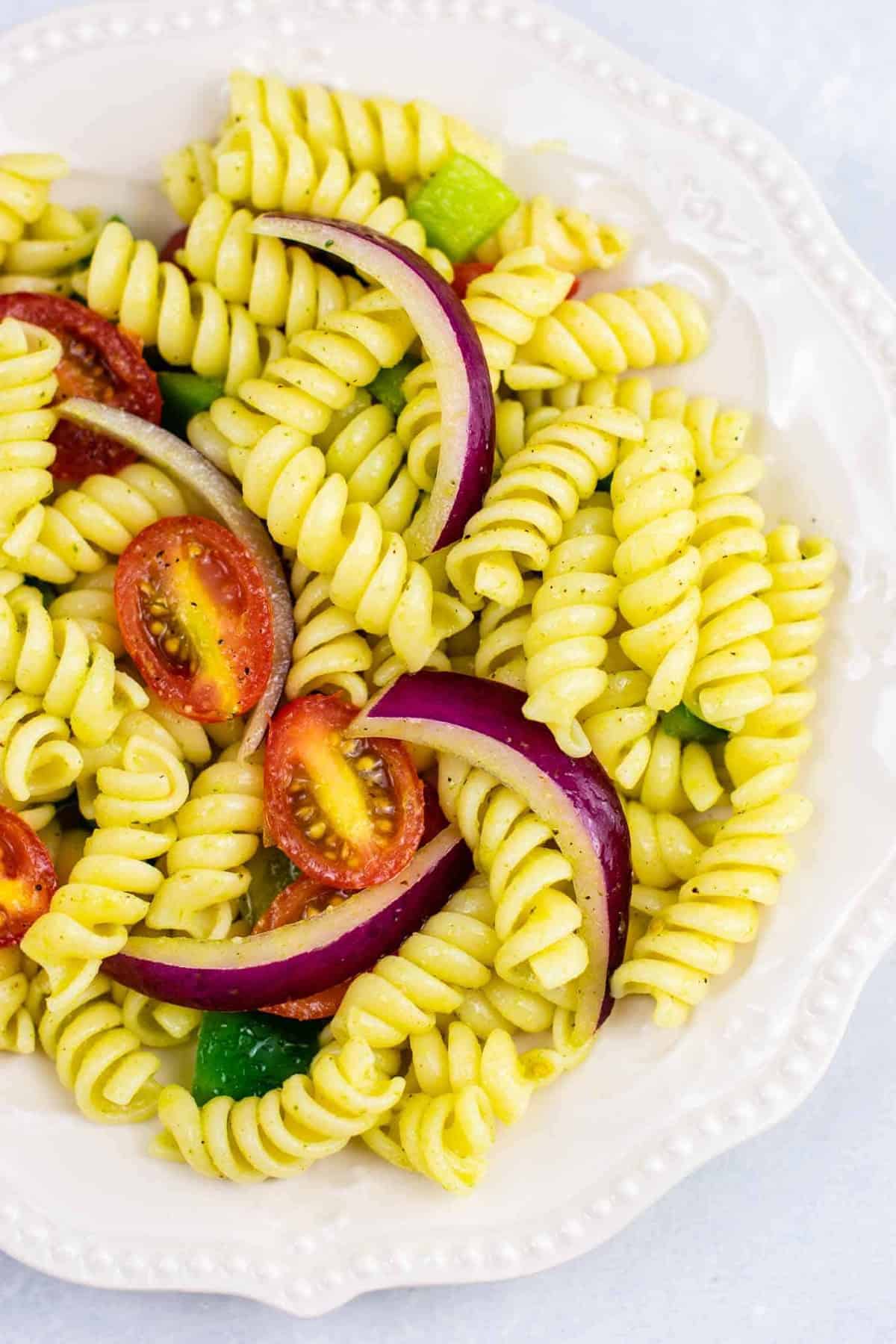 If you would have told me 10 years ago that I would one day be blogging about how much I loved pasta salad, I would've called you crazy. The truth is that I have not always liked pasta salad.
Over the last few years I have noticed my tastebuds changing rapidly and find myself enjoying foods I once wouldn't consider. I've made it a point in my adult life to keep trying new flavors and recipes to see what tastes good.
I made this vegan pasta salad recipe this week and I was in love! Fresh veggies with rotini noodles and a flavorful olive oil dressing packed full of flavor.
I was eating it straight from the mixing spoon! I can't wait to share this delicious easy recipe with you.
How to make vegan pasta salad
First, start cooking your rotini noodles. You will cook them to al dente, then immediately drain and rinse with cold water.
We want them to keep that great texture without getting too mushy. Rinse them well and stir around so that the cold water reaches all of the noodles. You should be able to touch the noodles without them being too hot.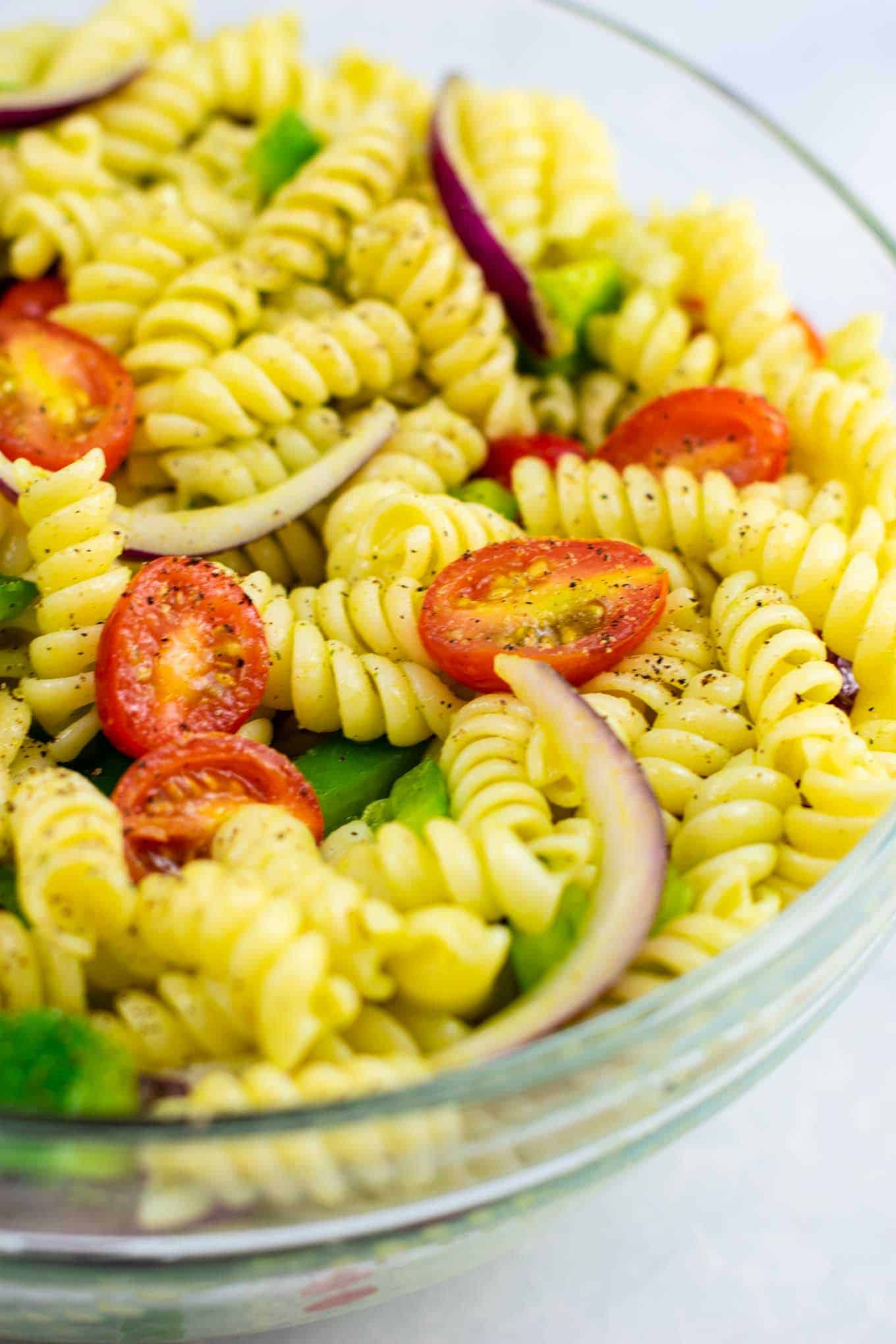 JUST TAKE ME TO THE VEGAN PASTA SALAD RECIPE!
If you would rather skip my tips and tricks and similar recipe ideas – and get straight to this vegan pasta salad recipe – just scroll to the bottom of the page where you can find the printable recipe card with instructions, ingredients, and measurements. Enjoy!
While the rotini is cooking, chop up your fresh veggies! For my vegan pasta salad, I used sliced red onion, halved cherry tomatoes, and diced crunchy green bell pepper.
If you are into olives, those would be a good addition here too.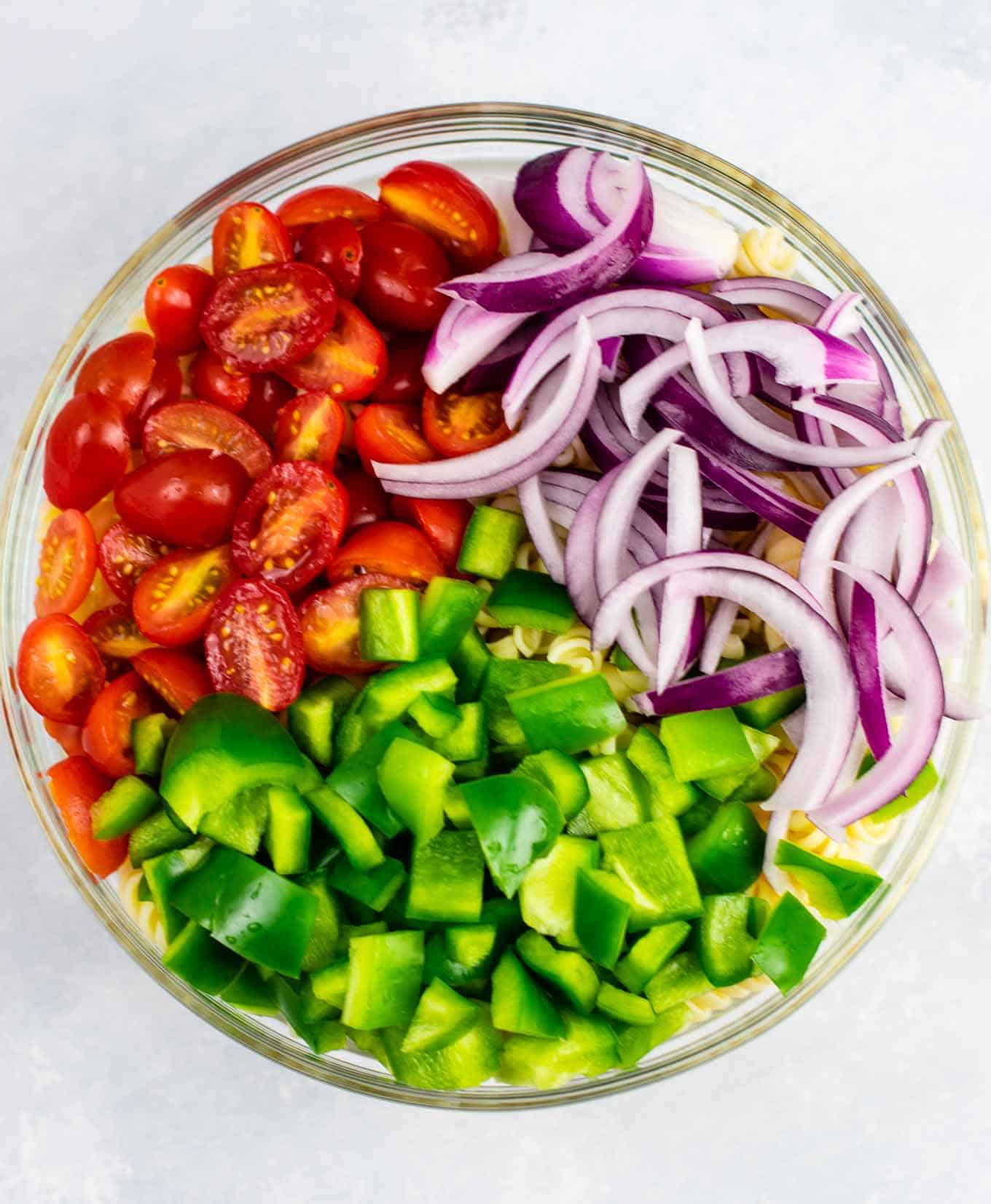 Next up: it's time to make the dressing.
I used my magic bullet to blend my dressing up for ease of convenience. I just added the olive oil, fresh parsley, lemon juice, maple syrup, garlic, and onion powder and whirred it up until smooth.
If you don't want to use a blender, you can just finely chop the parsley and mince the garlic, then mix all ingredients with a whisk.
Once your dressing is ready, stir together the cooled pasta (no need to chill it first, just rinse with cold water), dressing, and fresh veggies.
Stir well until all the pasta and veggies are coated in that yummy dressing.
Salt and pepper to taste. Don't be shy! Salt brings out all of the flavors, so add it to your taste. I added enough salt until I took a bite and the flavor wowed me.
That's when I knew it was perfect!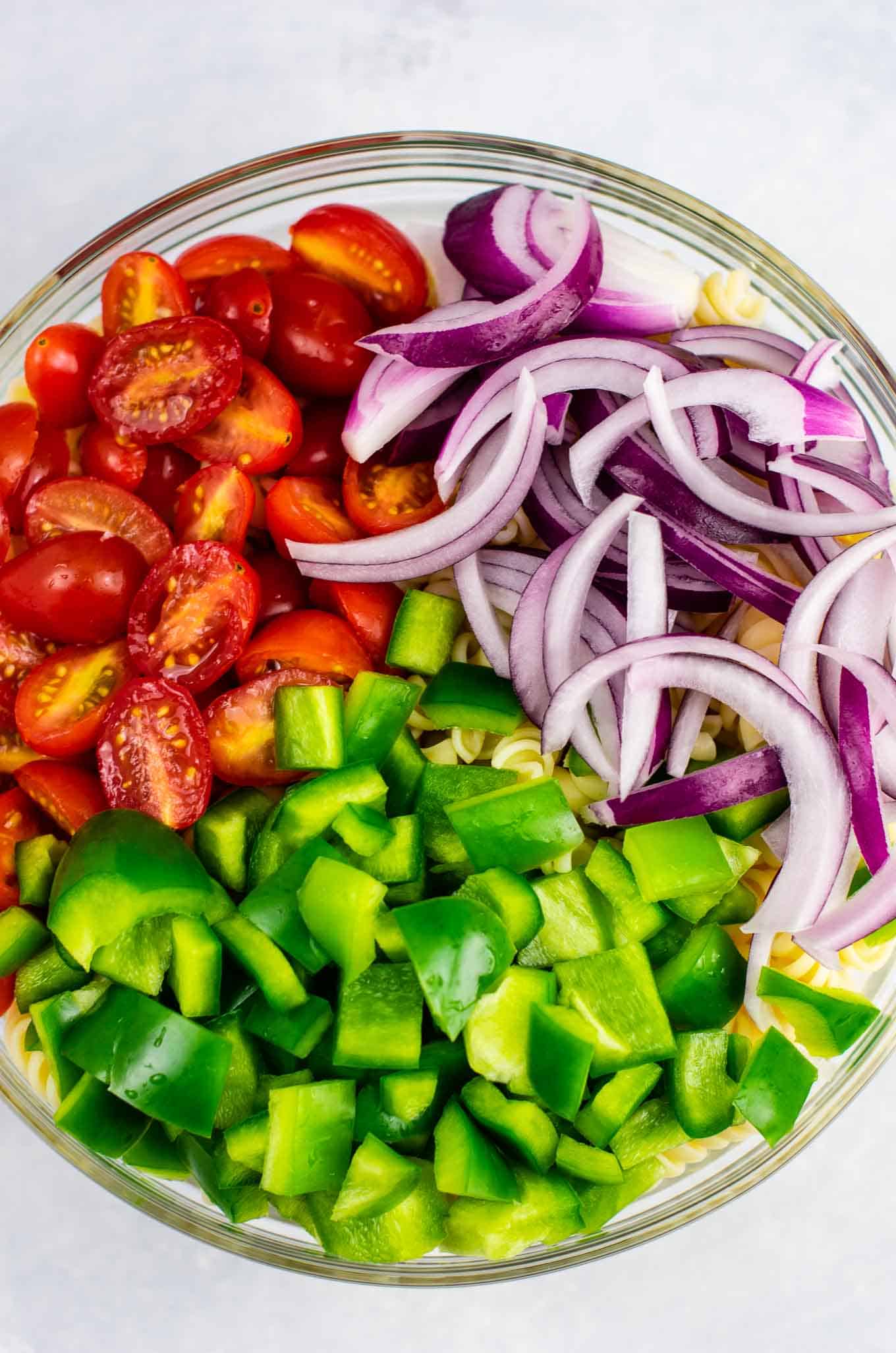 Tips for the best pasta salad
My number one tip for the best pasta salad is to plan to make it the same day you serve it. Ideally, you won't refrigerate the pasta salad before eating.
The reason for this is that once you put that pasta salad in the fridge, the noodles will soak up the dressing and become dry.
If served fresh, the noodles will be coated in that buttery olive oil dressing and taste heavenly.
I suggest planning to make this and serving it right away for optimal flavor!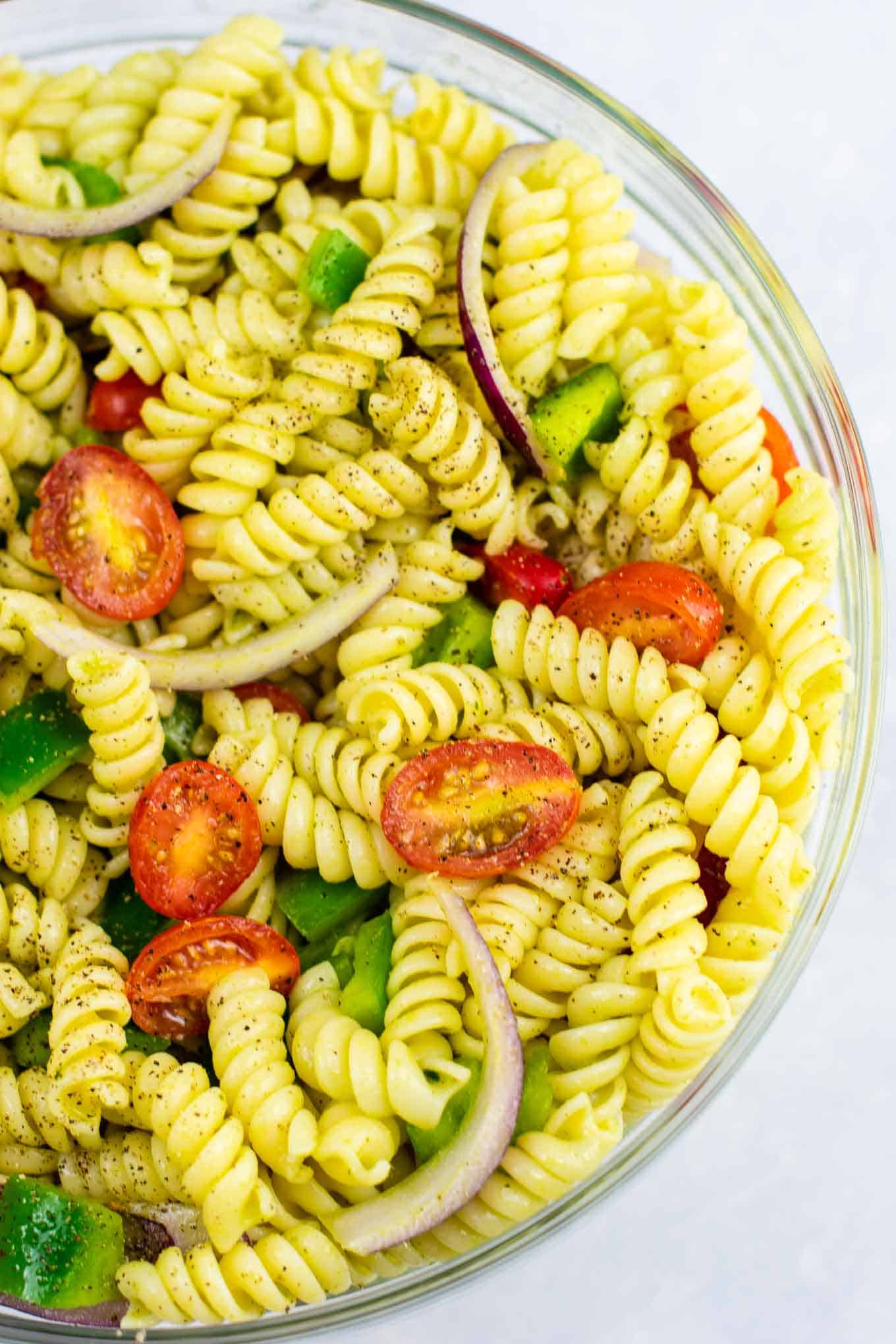 While you can keep leftovers in the fridge, keep in mind that it's best fresh. This would be a great recipe to make as a side dish for lunch or a potluck!
What to serve with vegan pasta salad
Here are a few recipes that would be delicious paired with this vegan pasta salad!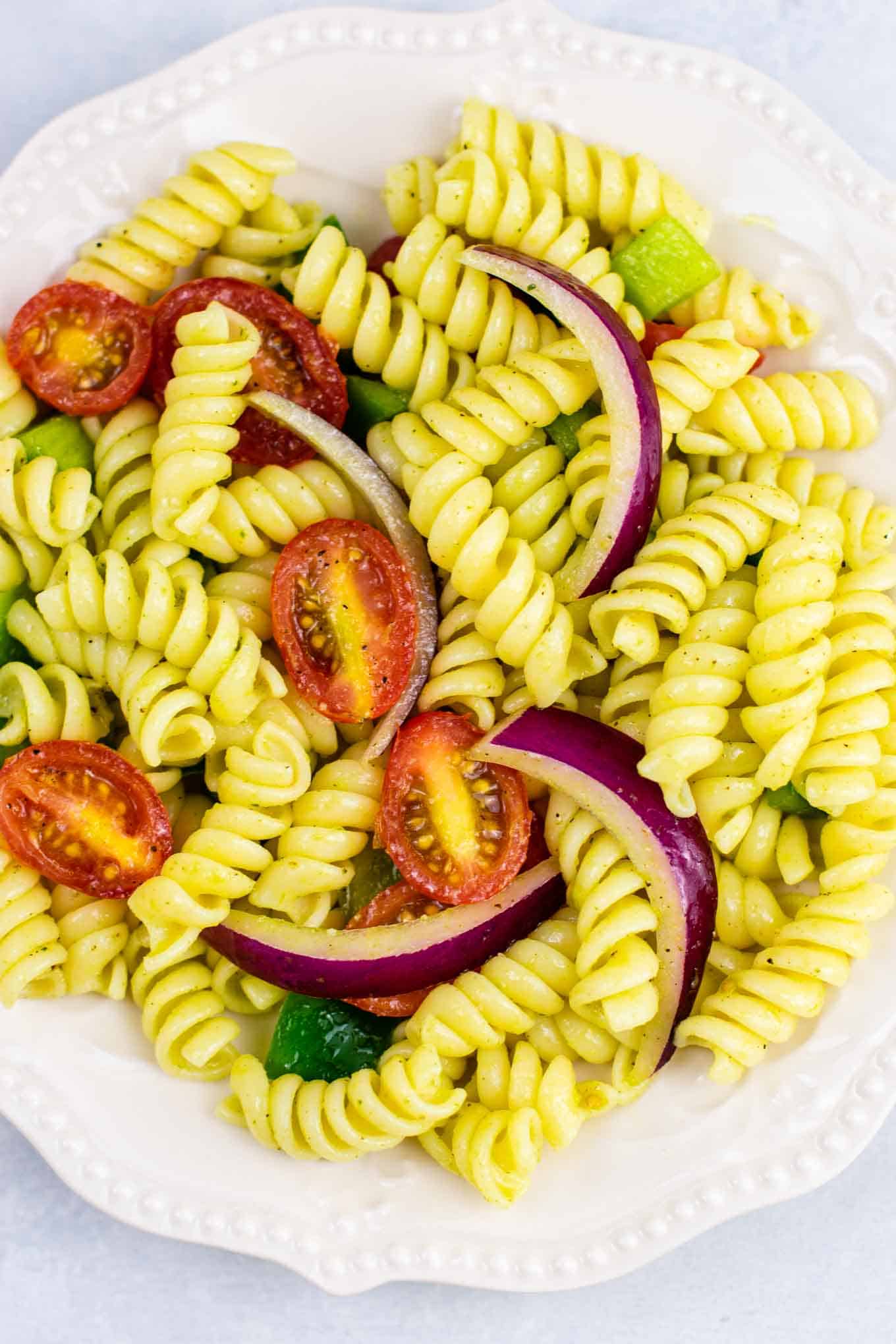 Are you making this recipe? I want to see! Be sure to tag me on instagram @buildyourbite and hashtag #buildyourbite
Be sure to follow me on FACEBOOK, PINTEREST & INSTAGRAM to never miss a recipe!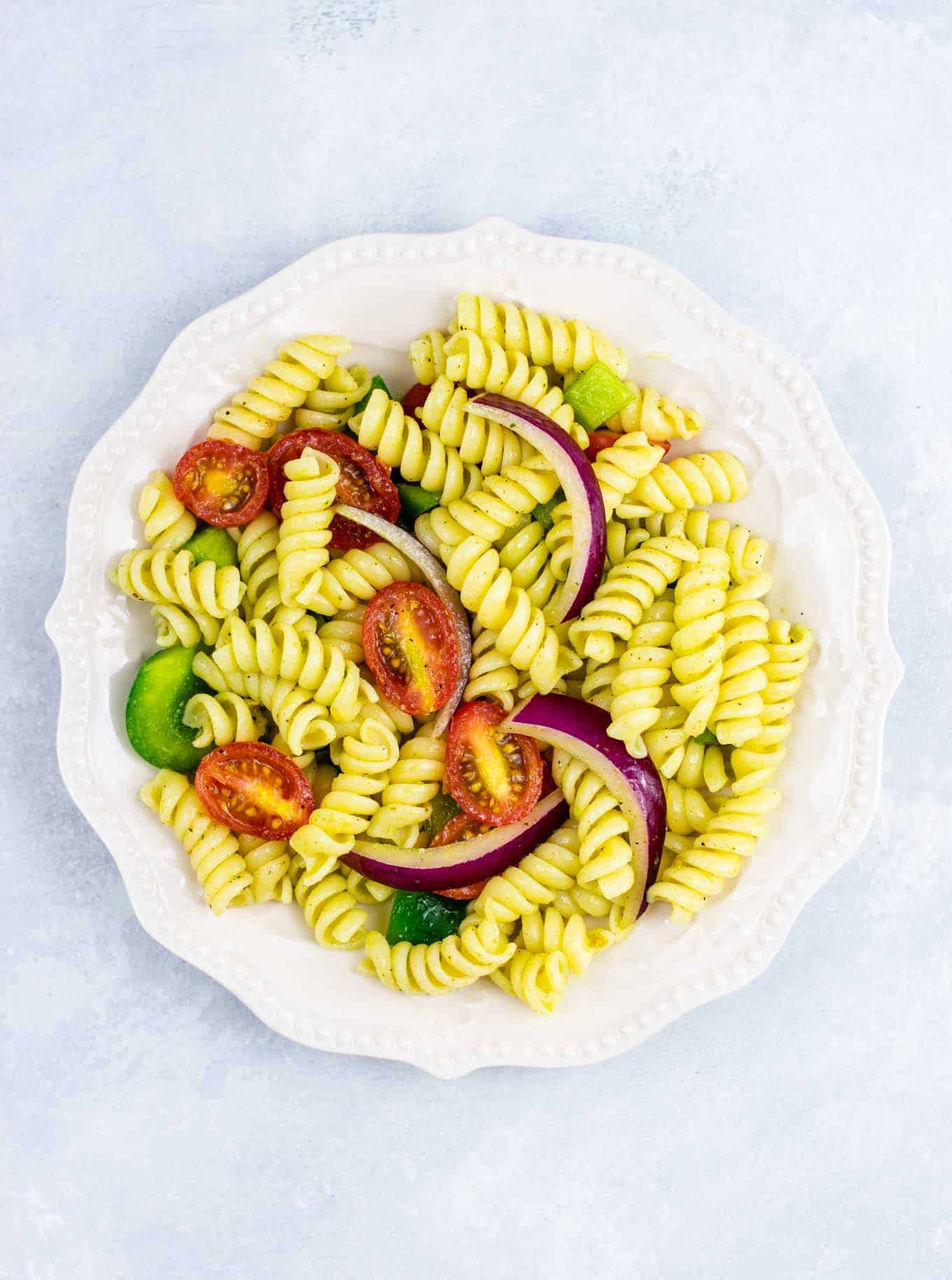 Saving this recipe for later?
Click HERE to pin this recipe
Vegan Pasta Salad Recipe
Vegan Pasta Salad
Easy and delicious vegan pasta salad recipe
Ingredients
1 lb rotini pasta
1 cup sliced red onion
1 large green bell pepper, diced
1 cup halved cherry tomatoes
⅓ cup olive oil
½ cup fresh parsley
juice of 1 lemon
1 tablespoon maple syrup
½ teaspoon onion powder
1 clove of garlic
salt and pepper, to taste
Instructions
Cook rotini to al dente and drain immediately. Rinse with cold water until no longer hot
While rotini is cooking, chop up red onion, green bell pepper, and tomatoes
To make the dressing, add olive oil, parsley, lemon juice, maple syrup, garlic, and onion powder to a blender. Blend until smooth
Toss pasta with vegetables and dressing, then salt and pepper to taste
Serve and enjoy!
Notes
If you do not want to use a blender, you can chop up your parsley instead, and mince your garlic, then whisk together the remaining dressing ingredients
Like most pasta salads, this recipe is best served fresh and will dry out once chilled in the fridge.
Nutrition Information:
Yield:

8
Serving Size:

1
Amount Per Serving:
Calories:

199
Total Fat:

10g
Saturated Fat:

1g
Trans Fat:

0g
Unsaturated Fat:

8g
Cholesterol:

0mg
Sodium:

43mg
Carbohydrates:

25g
Fiber:

2g
Sugar:

4g
Protein:

4g